After doing the extensive photo coverage for Miss Sabah 2007 in early May, I didn't plan to make any big photo album for Unduk Ngadau 2007 this year. Somehow I was involved coz they needed someone to document their activities and happening. It is silly to decline such a great opportunity to get closer to 36 beauties (Unduk Ngadau) from all over Sabah, so… why not? Lucky lah you, this year can see them in 3D (= casual Dress + evening Dress + traditional Dress), 288 photos of both their classic and modern look.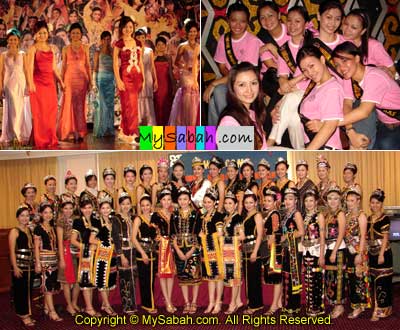 Click Here to see more photos of Unduk Ngadau >>
Unduk Ngadau (Harvest Queen) pageant is one of the most important highlight of Pesta Kaamatan (Harvest Festival). Starting from early May every year, over 30 Sabah districts will organise their local Unduk Ngadau pageant to choose their beauties to compete again in State-Level Unduk Ngadau pageant, which is usually held annually on May 31 at HK ("Hongkod Koisaan" of KDCA Penampang, not Hong Kong lah). After 40 years (since 1967), this competition has become a KadazanDusun + Murut cultural heritage, as well as tourism event. This year they have 36 contestants (there should be more coz they disqualified those who are under 18 or over 25 years old). To help you to see which region they come from, I create the map below. The numbering order is based on the number of the contestants. Pagalungan (No.12) is the new region this year. I have travelled whole Sabah for years, but still never hear some of the names on the list.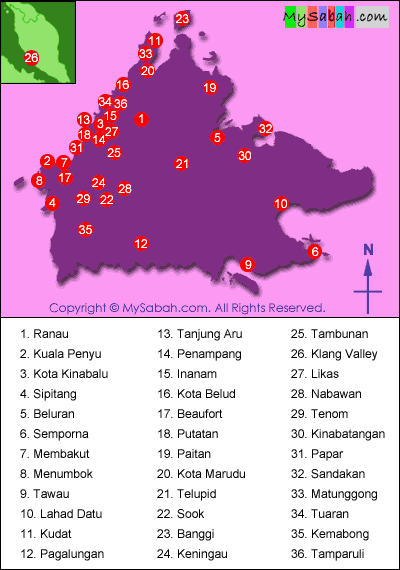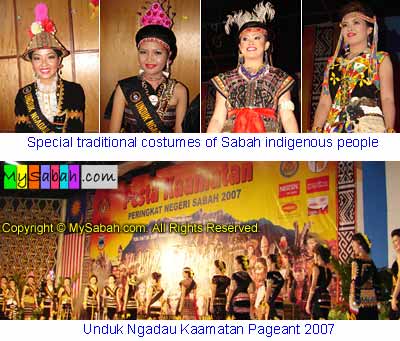 Click Here to see more photos of Unduk Ngadau >>
The coolest thing about Unduk Ngadau pageant is that the contestants will dress in traditional costumes such as KadazanDusun, Murut, and Rungus, which usually represents the main ethnic group of their region. The ladies will be judged on their beauty, presentation, costume and intelligence. 1st Round is the introduction round. 2nd round is the catwalk (minus the vigorous butt-shaking like fashion models). Then 15 finalists will be selected to enter the 3rd round, IQ test. Lastly, top 7 will be decided.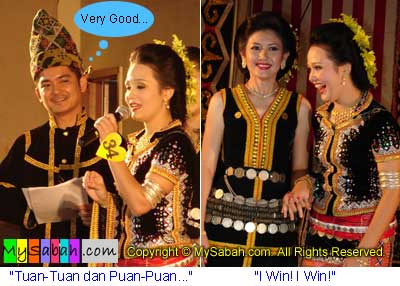 Click Here to see more photos of Unduk Ngadau >>
Hearing the big cheer and applause from the crowd, everyone knew that Jo-Anna Sue Henley Rampas (Tuaran) would win the queen title this year. Her father is a British, so she looks like orang putih. In the IQ test, she was nervous at first, but the audiences just cheered at every word she said, so she became brave and gave a long speech that impressed the judges. Poor girl… why try so hard? Actually I am sure that she still could win, as long as she didn't say the wrong thing or say nothing in this round. Haha… If I am not mistaken, the BIG crown on her head was ordered from Thailand. Below is the final result, same as the one I posted in my last blog. It was so hard to get the shoot, hundreds of people were totally out of control and pushed around to take their photos. Aiya come on lah, those with stupid handphone camera step aside please…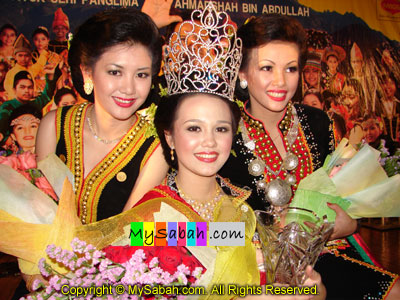 1st Runner-Up (left): Brenda Mellonie Johnny Takom (Putatan)
Unduk Ngadau 2007 (middle): Jo-Anna Sue Henley Rampas (Tuaran)
2nd Runner-Up (right): Cherylanne Chok Binti Chok Kui Eng (Beluran)
3rd Runner-Up: Dorina Darick (KK City)
4th Runner-Up: Viola Fidilis (Inanam)
5th Runner-Up: Cassey V. Pilos (Tawau)
6th Runner-Up: Jaslinder Kaur A/P Harjit Singh (Klang Valley of Peninsular Malaysia)
Subsidiary Titles
Miss Popular (by SMS Voting): Cassey V. Pilos (Tawau)
Miss Friendly (Tati Tosuau): Viola Fidilis (Inanam)
Miss Natural Beauty (Tati Topiodo): Jo-Anna Sue Henley Rampas (Tuaran)
The Miss Friendly and Miss Natural Beauty were awarded in Sedap Unduk Ngadau night. No, sorry… I mean Sodop Unduk Ngadau (Gala Night) on May 29. The Miss Popular by SMS voting is something new this year, to make the telco rich. I was so tired, after following them and taking their photos for 3 days, so I accidentally deleted 100 images, which haven't been downloaded, from a memory card (banging my head to the wall). Fortunately, those are not very important pictures. Otherwise I would have jumped out of the window.
Related Posts
Unduk Ngadau 2006
Unduk Ngadau Gala Night 2006
News Clips
Borneo Post (Jun 1, 2007): Strong favourite Joanna of Tuaran crowned Unduk Ngadau
Daily Express (Jun 1, 2007): Joanna's the choice…
Overseas Chinese Daily News (Jun 1, 2007): Joanna crowned Unduk Ngadau
See Hua Daily News (Jun 1, 2007): Joanna: Not prepared to be a winner
Borneo Post (May 30, 2007): The ideal Unduk Ngadau is…
Daily Express (May 30, 2007): Joyful occasion for all: CM
Borneo Post (May 30, 2007): Kaamatan forges unity: CM
Borneo Post (May 29, 2007): Who's the fairest of them all?
Photos taken in Kota Kinabalu, Sabah, Malaysia Borneo