Tag Archives:
kayaking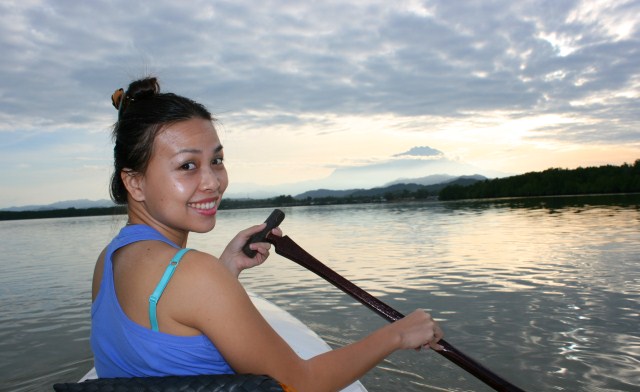 For those of you who have been to Shangri-La Rasa Ria Hotel in Tuaran, you would not miss the beautiful view of Mengkabong River (estuary) from a bridge nearby. In fact, that bridge is the most photographed point for Mt. Kinabalu, almost every photographers got a sunrise photo of majestic Mt. Kinabalu from this angle.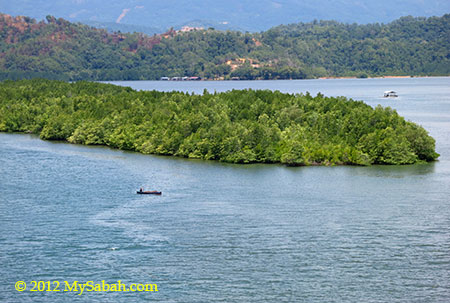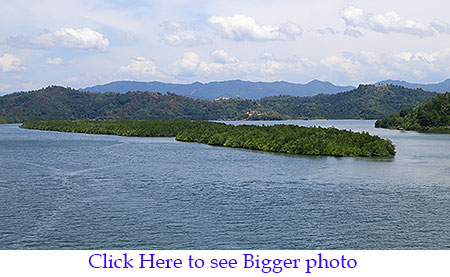 >> Click Here to see more photos of Kayaking
Anyway, personally I think that angle is "shot to death", so I am not interested in photographing it at all. However, every time I pass by, I do think, "wow, isn't that wonderful if I can do kayaking in that river?" And it did happen last month, but at a price of waking up at 4am!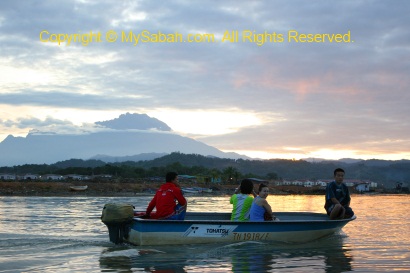 Transfer to Mengkabong water village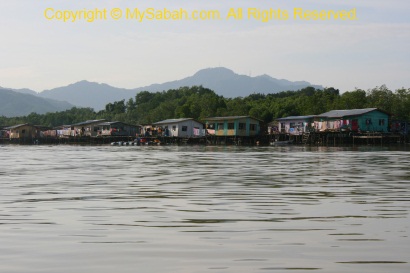 Mengkabong Village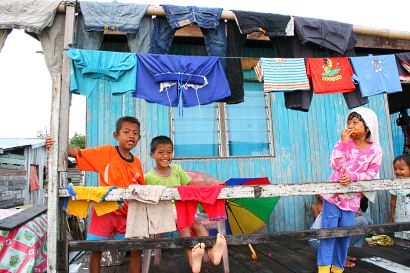 Friendly and shy children of Mengkabong
>> Click Here to see more photos of Kayaking
Our guide, a friendly and gentle Japanese named Yasushi (but we like to call him "Sushi"), runs a kayaking programme at Mengkabong River. He picked us up in Kota Kinabalu at 5am, then we headed to the kayaking site in Mengkabong Village, which is in Tuaran and about 35KM away from the city. We arrived the village around 6am and have a coffee break in the house of a villager, Uncle Usop. Mengkabong Village is a traditional fishing village and most of the population are Bajau people. Many tourists come here to see the stilt houses on the riverbank here.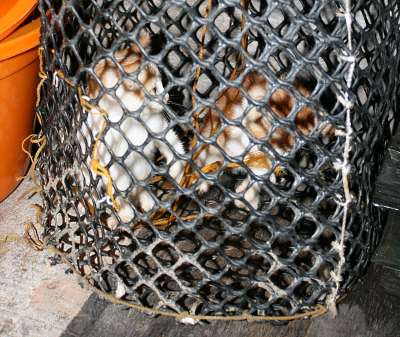 Above: cute devil of Mengkabong. The owner locks them up coz worry that they might fall into river.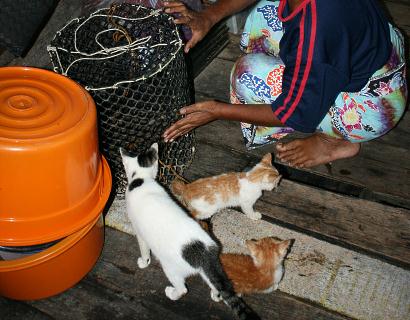 Release of cute devil..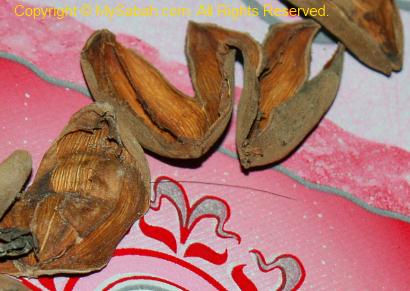 Dry langsat fruit skin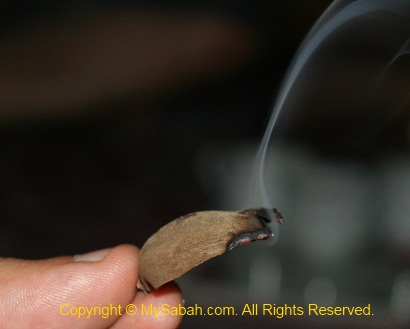 Above: locals burn langsat peel to remove odour and also believe it can calm the wind.
>> Click Here to see more photos of Kayaking
After having light refreshment, we started our kayaking on fiber glass kayak (2 seats). At first I worried that the kayak could capsize, so I only brought my old (spare) camera. Later I found that I worried too much. The Kayak is very stable and the water in estuary is calm. The activity is very simple and relaxing, we just paddle and follow the kayak of Sushi to explore the river and mangrove area.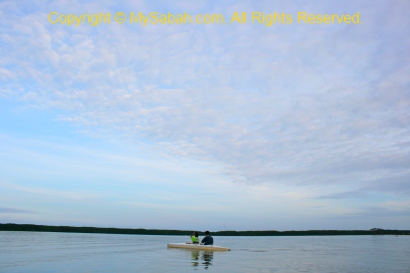 Above: see the dark line? It's the wide area of mangrove on the river.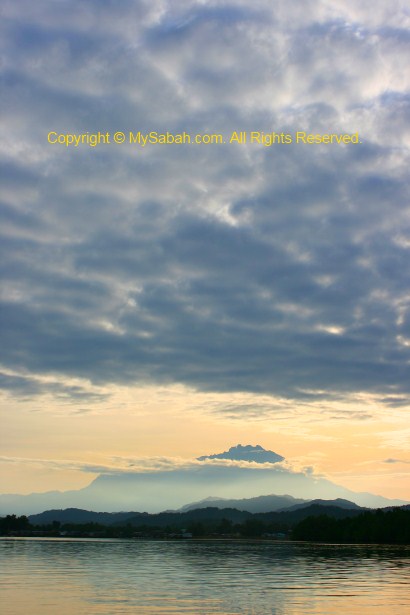 Sunrise view of Mt. Kinabalu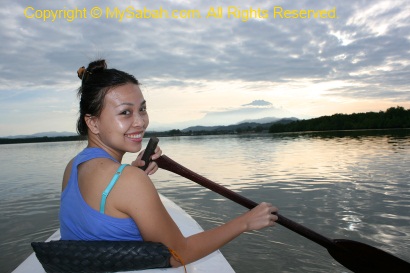 >> Click Here to see more photos of Kayaking
Luckily the weather was good and the air was refreshing. The sky is lighten up by sunrise and Mt. Kinabalu becomes a beautiful backdrop over the river. Now I know why we need to wake up so early, to catch the breath-taking view in magic moment. FYI, you also can try sunset kayaking, the view would be less impressive but you can see the fireflies in mangrove. You can do fishing on the kayak too. This estuary is a mix of freshwater and sea water, so you could get both types of fishes. We saw oyster farm in the river, an evident that the water is clean.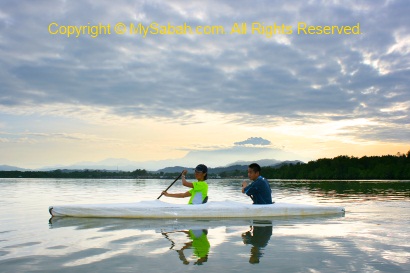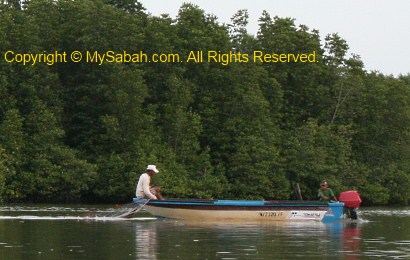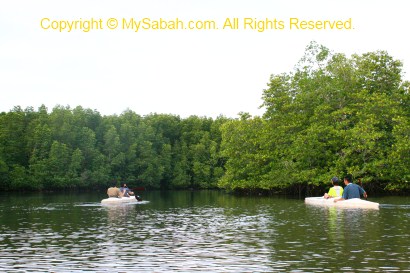 >> Click Here to see more photos of Kayaking
Besides sunrise view of Mt. Kinabalu, the network of densely-grown mangrove forest on river is also fun to explore. The mangrove forest is so vast, and soon we are surrounded by walls of mangrove trees, as if we are inside a maze. I saw a pair of beautiful Stork-billed kingfisher. Btw, you should apply sunblock before kayaking. There are some mosquitoes in the mangrove, so you better bring insect repellant too. Anyway, according to the villager, the mosquito in mangrove is not dangerous and doesn't carry terrible diseases such as malaria, though their bites are very itchy.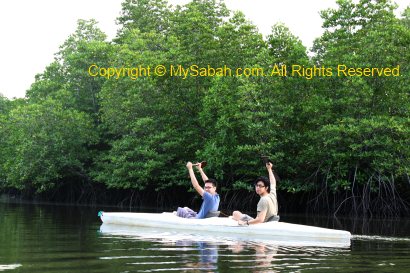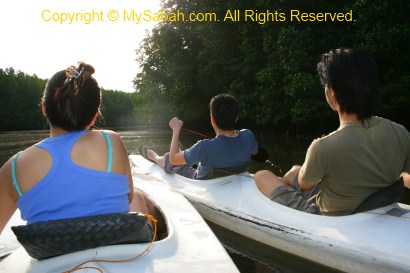 We stay close to chit chat.
>> Click Here to see more photos of Kayaking
The last part of the kayaking is to navigate through the very narrow passage inside the mangrove. It is challenging but quite fun, and require team work of front and rear kayakers. Finally the kayaking ended at 8am. Frankly I don't mind kayak until afternoon. Some of my friends are asking for such trip, if you are interested, you may contact Mr. Yasushi at 019-8109510 (Website (Japanese version): http://www.kayakdeborneo.sakura.ne.jp/). His clients are mainly Japanese but he welcomes local group to join too.
>> Click Here to see more photos of Kayaking
Photos taken in Tuaran, Sabah, Malaysia Borneo
We live in a peaceful country of no war and no big natural disaster, work in company that ran by no risk-takers, normal is the norm. That's why I think KK Adventure Park is a good place to unleash our adventurous spirit and challenge ourselves. Instead of being scared by the high ropes and great height, players learn to overcome their fear and know that they are better than they think. And it is also a fun and safe way to experience something extreme and thrilling.

This park is in Kinarut, about 30 minutes away from Kota Kinabalu city. On the new road to Papar town, pay attention to your right after you passby Outward Bound School, you will see its entrance sign within a minute. I was there to take pictures of their 1st Krazy Ken's Team Challenge competition. There were 5 teams to compete in four events, namely, (1) Wall Climbing, (2) High Ropes Challenge, (3) Flying Fox, and (4) Kayaks. The team who takes the shortest overall time to complete them will be the winner.


Click Here to see more photos of Adventure >>
Though the setting looks like the stunt in Fear Factor, it is safe (they concern more than you) and you don't need to buy insurance before trying them. Whatever, any kind of sport carries risk, so just be careful. There are no other Sabah places where you can try all these. What I post here is just part of their activities. Next time I will introduce their quad bike and bungee trampoline, which are more exciting, after I organise a trip there and take more photos + videos.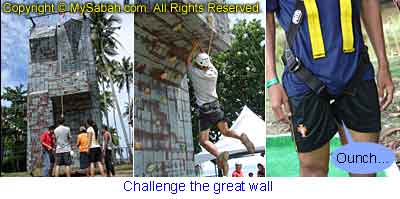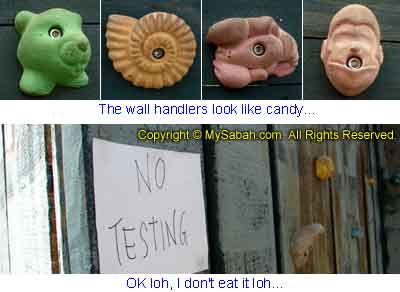 Click Here to see more photos of Adventure >>
There were short briefing, warm-up and ice-breaker exercises before the competing teams started the first challenge. The tower for wall climbing is 30-feet high and has 3 sides, with varied difficult levels. They used the tough one. Frankly, I don't think I can make it to the top, it just looks so difficult. Don't worry if the photos here are not big and clear. You can see these photos in high quality, with description, in the photo gallery. I love the coconut tree background, which adds a "tropical" feel to the adventure.



Click Here to see more photos of Adventure >>
The second challenge is the high rope course, looks easier but scarier than wall climbing. The players have to cross to other side in 4 different rope settings, which always swing left and right, bounce up and down, 25 feet above the ground. The last setting is really hard and take the most time, coz the supporting ropes at both sides of the climber are not aligned at the same level (i.e. one high one low). I was impressed that none of them fell.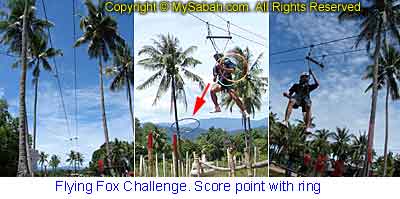 Click Here to see more photos of Adventure >>
Third challenge, Flying Fox. Each player will slide to the end of a 137 Meter cable by gravity force, until they hit a coconut tree (just kidding. They have brake system). To score point, they need to throw 3 rings to the marked poles on the ground, near the end. For every ring that circles the pole, they will earn 1 point. Look simple huh. The fact is – due to speed acceleration, the player will move in very high speed and have at most 3 seconds to do the job. In most cases, they will miss it totally. The starting point of Flying Fox is 40-feet high. I requested to go up to take some pictures. My legs were shivering when I climbed the ladder. I also recorded a 40-second video clip (Windows Media Format, 1.4MB) of the flying fox game. You can Click Here to watch the video clip.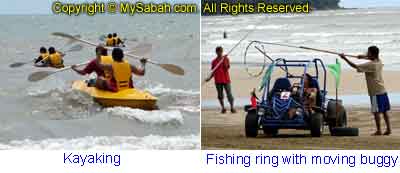 Click Here to see more photos of Adventure >>
The last team challenge is kayaking. There is a beach behind the park. It was fun to see their kayak capsized or pushed back by the tide. While waiting for the final result, they also have a bonus round: "fishing" the rings with a fixed rod on the beach buggy (pardon my poor English. Don't know how to name the game). Hmmm… maybe next time I can have a date at the park. But renting beach buggy (2 seats) is expensive, RM60 for 15 minutes only. You will $ave a lot if you take their RM99 package (about USD33), which allows you to try Buggy Ride, Bungee Trampoline, Wall Climbing, Flying Fox and High Ropes (Total value: RM260).


Click Here to see more photos of Adventure >>
Photos taken in Kinarut, Sabah, Malaysia Borneo