Among all the islands near to Kota Kinabalu City (KK), Sapi Island (Pulau Sapi) wins the most votes as the favorite of tourists. Not only it offers more nature experience, the new activities such as Coral Flyer (longest island to island zipline in the world) make this little island more exciting. After you see all its features and secrets in this article, you will love Sapi even more.


Sapi Island is only 25-acre (10 ha) big and the second smallest island of Tunku Abdul Rahman Marine Park. Though it's about ⅓ the size of more popular and developed Manukan Island nearby, people like its less commercialized setting and every facility is just a short walk away.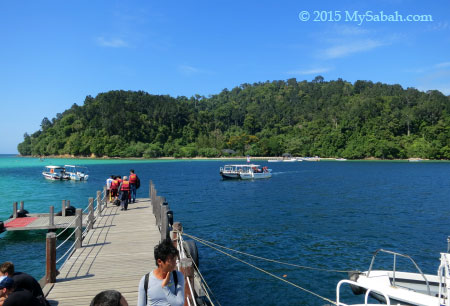 Pic: jetty of Sapi Island, with Gaya Island in the background
Once you arrive Sapi Island, thousands of fishes and beautiful sea view at the jetty already impress you, most will think "it's gonna to be an awesome tour!" I feel the same no matter how many times I visit Sapi. Sapi is really a gift to KK, how many cities in the world have nice tropical island only 7 KM away?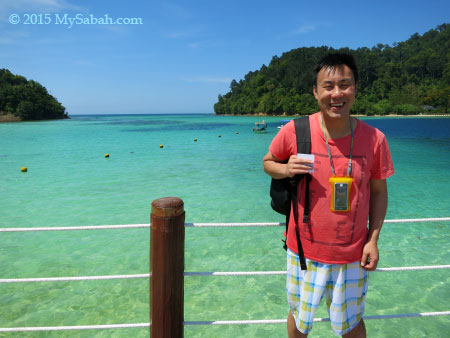 Pic: my friend was so delighted in his first visit to Sapi Island. He also says he likes Sapi better than Manukan.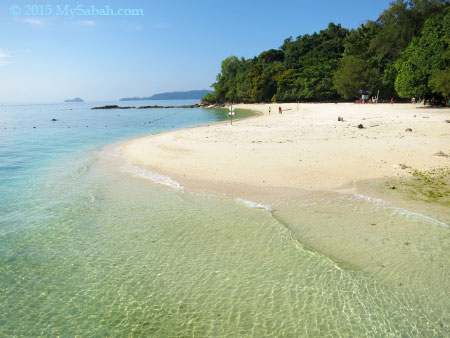 Sapi Island has everything it takes to be a cool island destination, i.e. blue sky, white sandy beach, crystal clear seawater, green forest, and… how about some wildlife?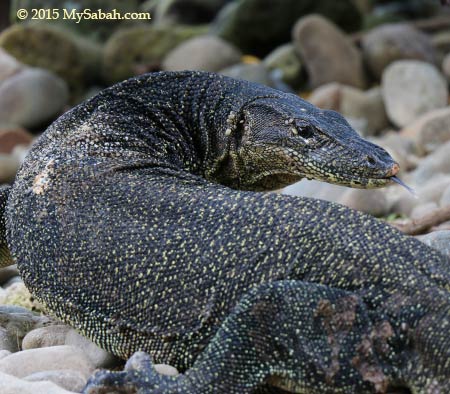 Let's meet the "dragons" of Sapi. I mean Monitor Lizard. Dozens of monitor lizards roam freely at the forest edge of Sapi and some grows up to 2 Meters long, so big that tourists mistake them as Komodo Dragon. Monitor Lizards are not aggressive and they are never a problem to the tourists. Just ignore them like how they ignore you. They only bite when you leave them no choice.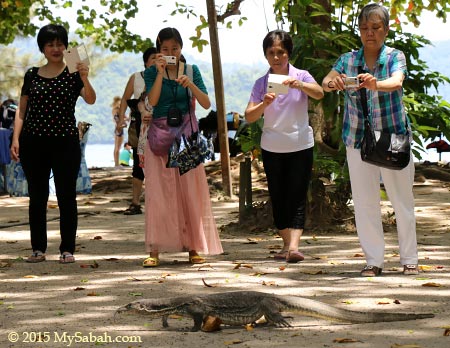 At first tourists would find these reptiles a bit intimidating, then they will enjoy it as part the nature experience. In fact, this is an attraction to green tourists who love the idea of sharing space with wildlife. Wild boars and macaques are also present occasionally.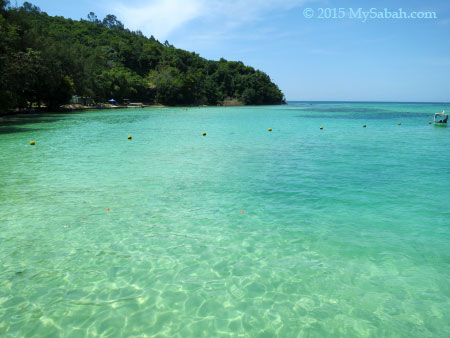 You can just laze on the beach or go swimming. If you are not a swimmer, don't go too far out. Certain sections, especially the area near to jetty, have a sudden incline of 2 to 3 Meters deep. So always keep an eyes on your children, though there are lifeguards around.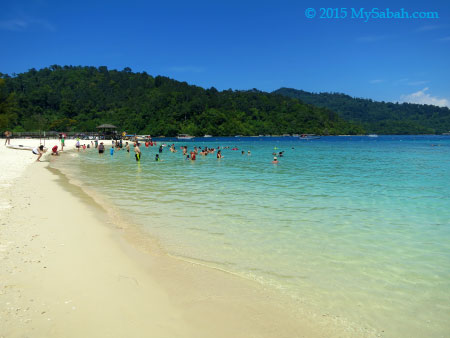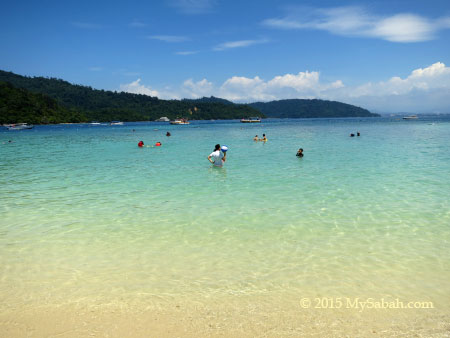 The beach of Sapi Island is small so it can be quite crowded during weekends and school holiday. Sapi is a forested island covered by old secondary jungle, the forest is fully protected after this island was gazetted as a national park since 1979. The trees grow very dense and tall, providing good shade behind the beach. The best months to visit Sapi are from Feb to May.
Below is a short video that shows what Sapi Island has (and its least explored corners):
Snorkelling
Fire your tour guide if he doesn't recommend you to snorkel in Sapi Island. It's a must-try. The best concentration of corals is located at southern side of the island. You won't see much coral if you snorkel near the beach full with tourists.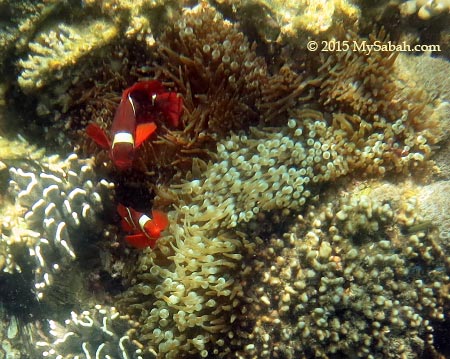 You don't need to make any appointment with Nemo. They are always there. Sapi Island seems to have more fishes than other islands of KK. If you want to go fishing near to KK, experienced anglers will bring you to water around Sapi Island.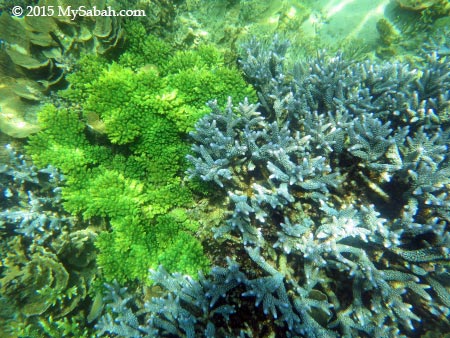 Most corals I saw during snorkelling are hard corals such as lettuce and staghorn corals. During low tide, they are just a few feet under my belly. In sunny day, the visibility is excellent. Corals also need sunlight like plant, the clear water helps them to flourish.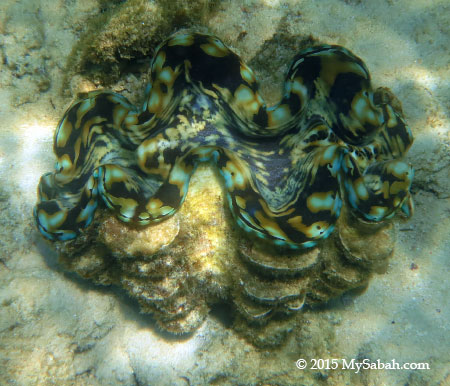 Pic: This giant clam is about 1-feet wide, about 4 to 6 years old I think.
You can rent a life jacket for snorkelling if you don't know how to swim.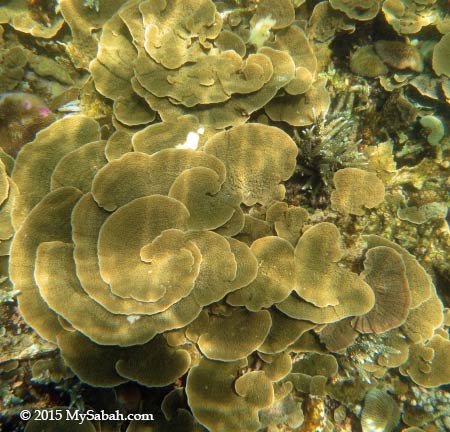 Ok, no picture, no evidence, so the following is the moving pictures of my snorkelling in Sapi:
Besides snorkelling, there are many other fun things you can try on Sapi Island, for example, Coral Flyer (World's longest island to island zipline), Sea Walking, Scuba diving.
Hidden Beaches
As I said, the beach can be packed with tourists in peak season. Since you can't ask everyone on the beach to keep quiet, you can move to "hidden" beaches at other side of the island for more tranquility. It's also the area that faces the rich corals I mentioned above.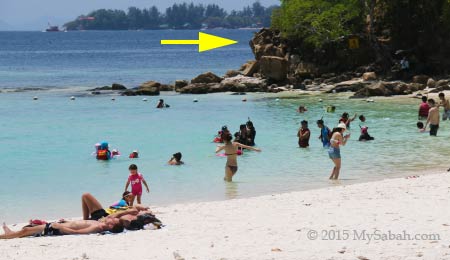 Pic: the way (yellow pointer) to hidden beaches are behind the rock outcrop next to tourist beach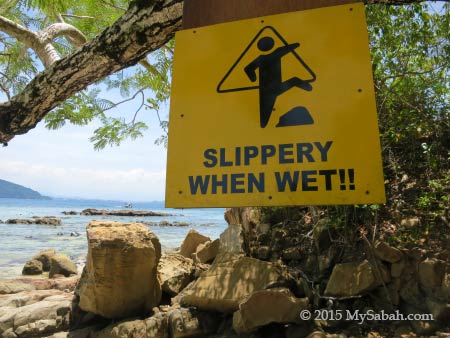 But there is a little obstacle course for you to cross to other side. The rocks in the water are quite slippery. For me, climbing over the dry boulders along the rocky shore is easier.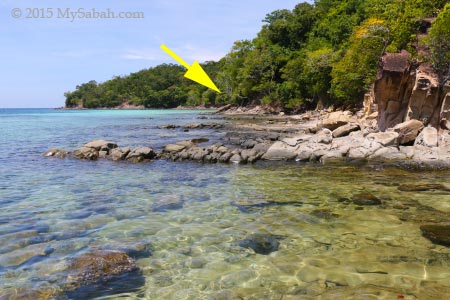 It's a walk of about 200 Meters that worths your effort. Bring some water (and snorkelling gears) with you. Otherwise it's very troublesome to walk back to tourist area to get it.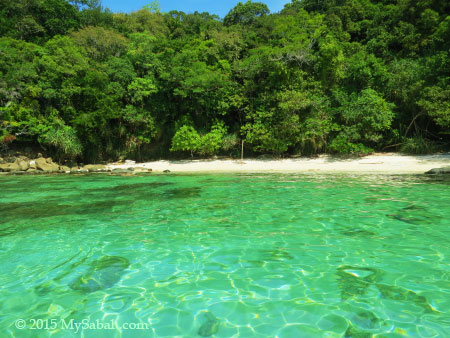 Pic: there are two hidden beaches on the same side. Some locals also don't know this. They are all yours. You are welcome.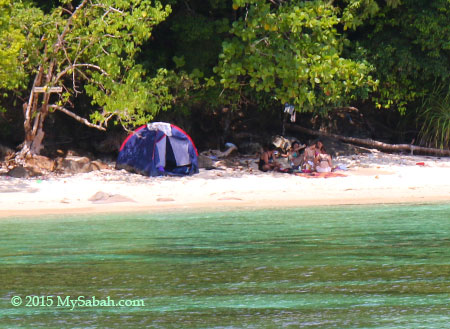 Pic: campers at the secret beach
Secret Cliff
Here is another secret location with rewarding view, only for those who are keen to walk 800 Meters to higher ground. Your friends who are lazy to follow you will regret, after they see the nice photos you share on Instagram.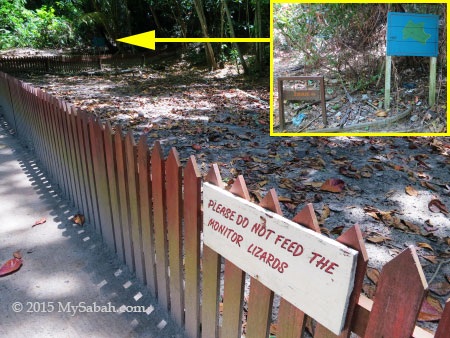 The starting point of the trail is next to a fenced area behind tourist beach and a shelter named "Pondok Tenggiri". It's guarded by a few dragons. Don't worry, they (monitor lizards) will flee when you approach lol. You will spot a not-so-useful trail map at forest edge.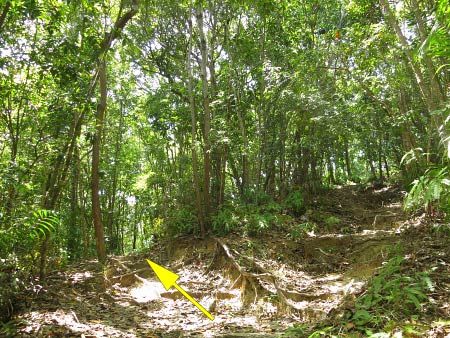 The route starts with steep ascend in the beginning. After 486 Meters, you will reach a Y junction, follow the trail at the left. There is no direction sign along the trail, keep your eyes wide open so you won't miss the junction.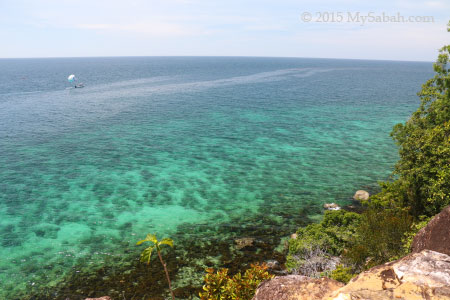 After 300 Meters, you will come to an open area with exposed sedimentary rocks and greeted by a few noisy White-breasted woodswallow (bird). Congratulations! You have discovered the secret cliff that is unseen by 99.9% of the tourists. Even though it's only a 25 minutes walk, it feels like a major achievement for getting there.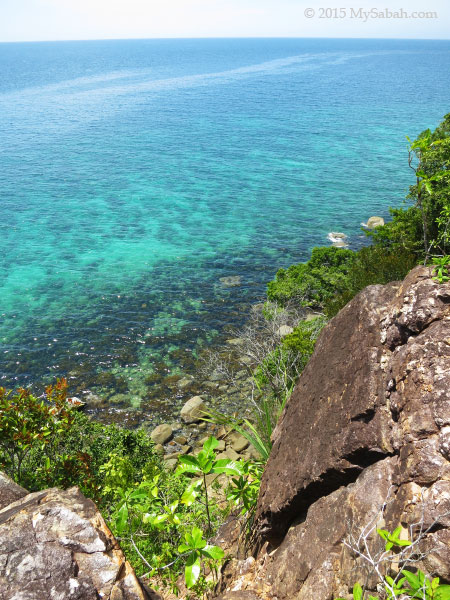 The cliff gives you a magnificent view of rocky shore facing the vast blue ocean behind Sapi Island. Watch your footing as there is no fence. A fall from this 50 feet cliff is hazardous to your health, and there are very few people come here, in case you need help badly. Anyway, this cliff could be a potential spot for recreational abseiling.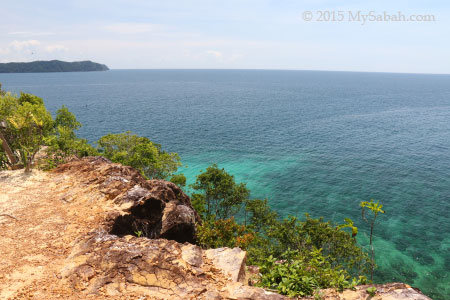 Pic: view of Manukan Island from the cliff
You can see more photos of this secret cliff in my photo album. I also recorded the panoramic scene of secret cliff in my video.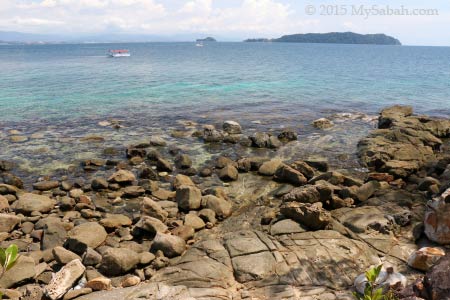 On another side of the secret cliff is a descending path leads to a rocky beach, where you can get very clear view of hidden beaches.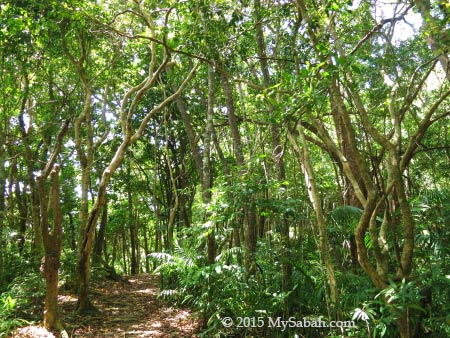 You may turn back to the starting point after taking some photos on secret cliff, or you can continue to explore another route at the junction, by walking another 500 Meters on the ridge to complete the loop trail of Sapi Island. The remaining jungle trail is not well-maintained. Unless you are very interested in trees, there are some big Keruing and other beautiful trees to see, otherwise don't waste your time.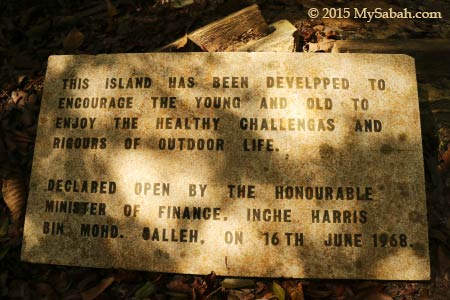 Pic: a monument near the end of jungle trail. How many typo do you spot? If this thing happens today, sure it'll go viral on the Net.
Rocky Beach
Another beach worths checking out is the Rocky Beach at the 200-Meter narrow channel between Sapi and Gaya Island. During low tide, you can even walk to Gaya Island, the biggest island of Tunku Abdul Rahman Marine Park. Wildlife also uses this as a migration shortcut between islands.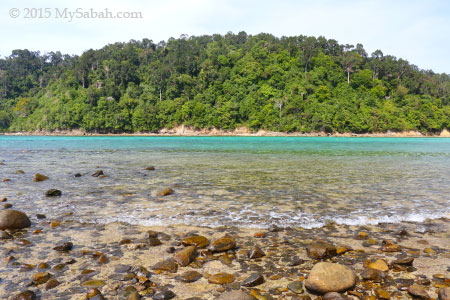 The shore is blanketed by tens of thousands of sandstone pebbles and rocks, this likes an upstream river in interior of Sabah.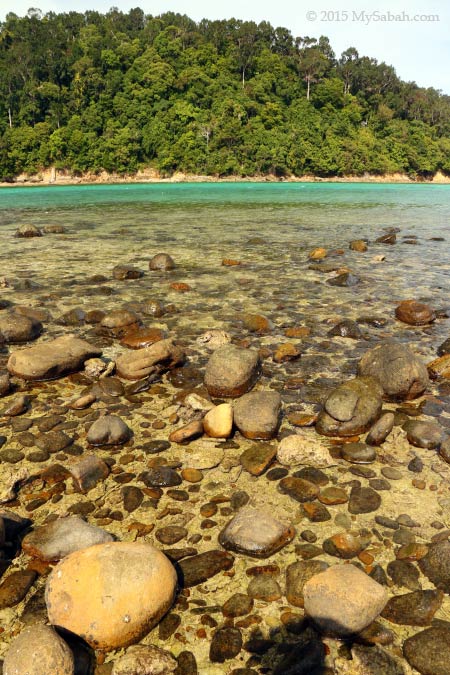 The 235-Meter zipline Coral Flyer can be seen from here.
Facilities on Sapi
The amenities for tourists are basic but quite complete on Sapi Island. Jetty, toilets / changing rooms, benches, cafe, grocery shop and shelters are available for public access. The only thing that Sapi doesn't have is island accommodation. Camping is allowed but you must inform the Park Warden at reception counter for the permission.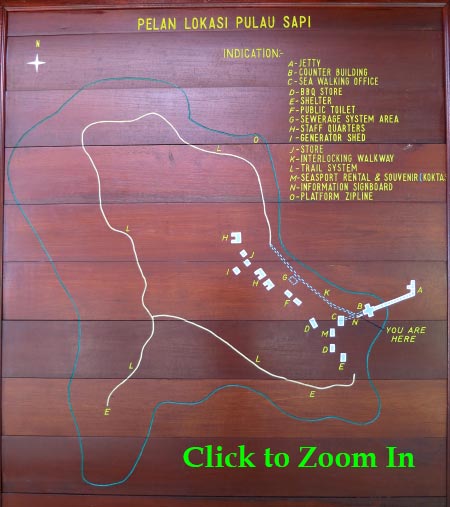 Pic: above is the layout map of Sapi Island. You can click to enlarge it.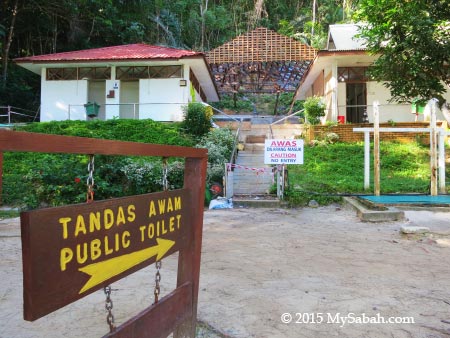 Pic: public toilets of Sapi Island. Thank you for not peeing in the sea. There are shower heads outside for you to rinse your body.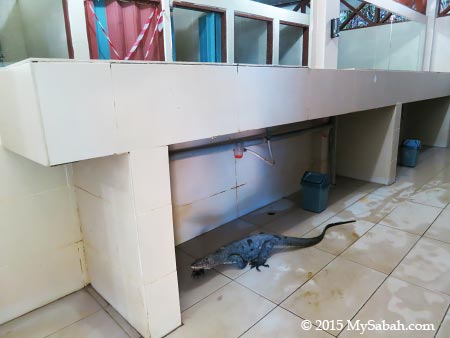 Pic: I was so shocked to see this monitor lizard in man's toilet because it's a female. An awkward moment when we both were speechless and stared at each other. Nature, remember this is Nature. Wildlife has the right to enjoy the amenities like human does. Just kidding.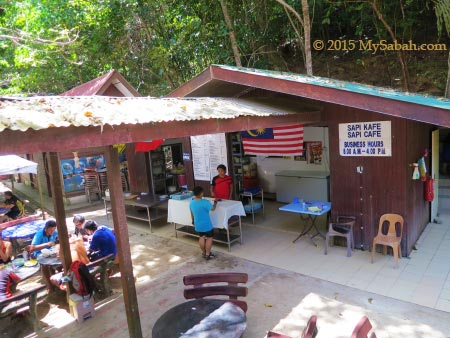 Sapi Cafe is open from 8am to 4pm every day, and they serve common food and drink such as fried rice from RM7 to RM23 (≈US$2-7). You can click here to see their menu (prices as of Apr 2015), which has good variety of choices (Note: Some food items may not available sometimes).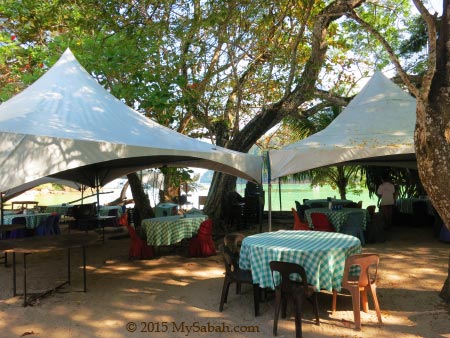 Pic: lunch buffet stalls on the island, usually run by travel agent for their tour groups, but they might accept walk-in customers.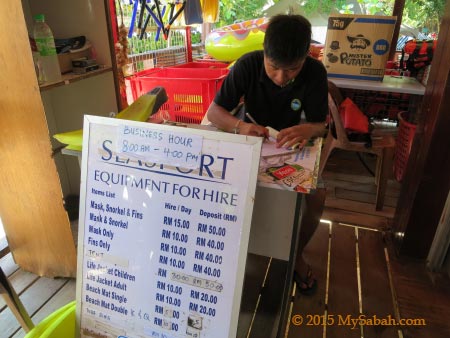 You can rent snorkelling gears (RM25/day≈US$7.60/day for snorkel, mask, fins & life jacket), beach mat, camping tent, etc. from a shop in island. Small locker is available for rent for RM10 (≈US$3) a day. Refundable deposit applies so bring extra cash. You may click here to see the list of items and their rental/deposit rates (prices as of Apr 2015).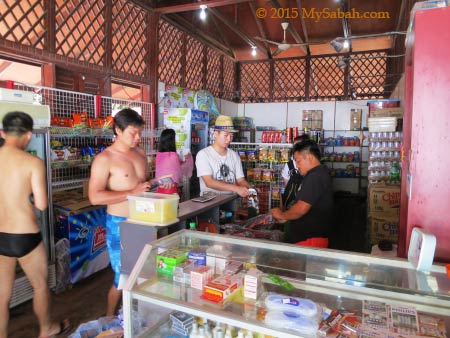 Pic: island grocery shop, opens from 8am to 4pm, some items sold include snacks, soft drink, beer, sunblock lotion, insect repellent, soap & shampoo, batteries, medicines.
Travel Fees
Sapi Island is a public marine park managed by the government (Sabah Parks) and open to walk-in local and international tourists every day. After you pay for the return boat transfer, you need to purchase ticket (which is called Conservation Fee) to enter the island. The table below is the ticket rates.
| Nationality | Adult | Below 18 | Below 6 | 60 & above |
| --- | --- | --- | --- | --- |
| Malaysian | RM8 | RM5 | Free | Free |
| Non-Malaysian | RM25 | RM20 | RM20 | RM20 |
Conservation fee, with effect from 1 Jan 2023
*Rates updated in Jan 2023. The entry is free for visitor with disability.
Some travel agents may charge you RM150 to RM180 (≈US$45-55) per person for a tour package (include land/boat transfer, lunch, entrance fee, snorkelling gears, guide service) to Sapi Island. If you arrange the trip on your own, it'll cost only RM100 (≈US$24) or less. For example, let's say you are a foreign adult tourist, below is the sample budget:
Return Boat Transfer (& Terminal Fee): RM30
Island Entrance Fee: RM25 (non-Malaysian adult)
Snorkelling Gears: RM25 (rent from shop in island)
Lunch: RM15 (bring your own lunch)
Camping Fee
For camper, the park imposes a small Camping Fee of RM5 (≈US$1.50) for adult and RM2 (≈US$0.60) for child (below 18). Please be informed that you need to pay additional RM50 (≈US$15) to boat operator for next-day pickup. Camping tent (fit 4 people) is available for rent at RM30/day (≈US$9/day) on the island. The island shops close at 4pm, so you better take out your belonging from locker or buy your last-minute supply such as food before they close.
How to get there
Sapi Island (see Location Map) is only 10 to 15 minutes away from KK by boat. You can hire a boat at any one of the boat terminals in KK City (open from 8am to 4pm). Please note the last boat returning to KK City departs at 4pm or 4:30pm.
More Photos
Please feel free to browse 100 latest and bigger photos of Sapi Island: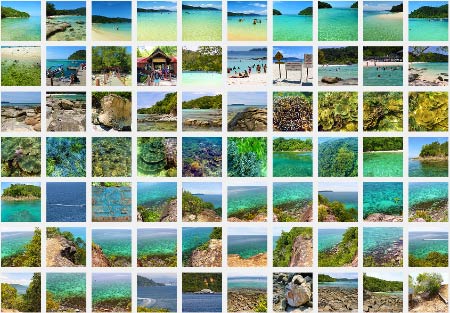 Photos taken in Kota Kinabalu, Sabah, Malaysia