Tag Archives:
fishing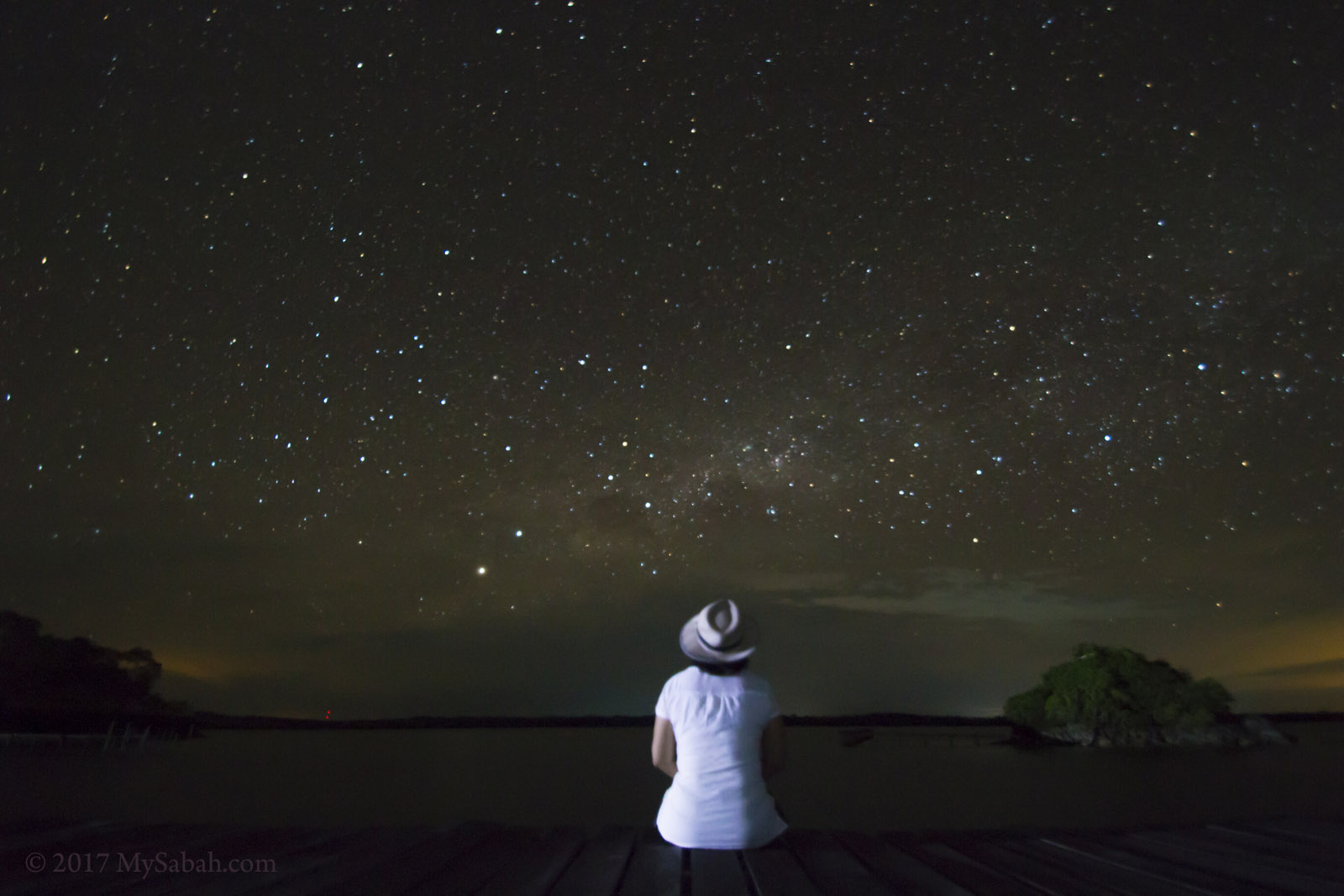 When I was on a quest to explore the legend of Supirak, I found myself another wonderful seaside vacation at Malubang Village (Local Name: Kampung Malubang), a remote fishing village in Pitas near the tip of northern Sabah. Spend a few days there and you will experience a simple village life without electricity, Wifi, water heater, air-conditioner, asphalt road, etc.
Kampung Malubang (Malubang Village)
Malubang Village is located at a beach in Marudu Bay. Most villagers are Sulu people who mainly work as a fisherman. Every morning you can see their fishing boats depart for fishing trip.
Malubang is facing Kudat town and Tip of Borneo is clearly visible at the horizon. In fact, Kudat is less than an hour away by boat, and Banggi Island takes about 20 minutes.
Though tourists seldom come here, the friendly villagers are ok with outsiders taking a stroll in the village. They are shy but smile a lot. It's a small fishing village with about 30 houses. Foreigners would find the fence-less stilt houses there interesting.
During my visit, there was an open house wedding reception (of Mizrul and Mastura) in the village. They were kind to invite me to have lunch with them and watched them dancing and celebrating.
This village is a close community, in contrast to city. I confess I don't know most of my neighbours and never visit their home too. May be it's not only me.. Nowadays kids in same neighbourhood don't mix around. In old days, I went cycling, fishing and climbing tree with my young neighbours, so Malubang brings back memory.
I enjoyed every moment in Malubang. The only thing I don't like is that a lot of rubbishes washed up to the shore there.
Supirak Legend
Supirak Island and its surrounding legendary rocks are the main attractions of Malubang (as well as Pitas district). Legend says Supirak Island was a ship turned into a rock due to a curse by mother to her ungrateful son.
At Malubang, you can charter a small boat easily (for less than MYR80) to visit these island and rocks around the bay, as every villager owns a boat (life vest may not be provided).
Besides Supirak Island, there are many other places of interest in Pitas, to name a few, traditional fishing platform named Bagang, long-nosed monkey in mangrove forest of Bengkoka River, and Esplanade Bengkoka. Due to limited tourism facilities and lack of promotion, Pitas isn't a popular destination.
Accommodation
Malubang Homestay is the only accommodation in Malubang Village. At the edge of Malubang, the lodge is a longhouse style accommodation with 6 Rooms. The rate is MYR40 to MYR50 (about USD$10 to 12.50) per room per night. It could be fully booked during peak season such as school holiday.
Each room is big enough to fit a group of 3 to 4 people, and it comes with attached bathroom cum toilet, beds, and fan. You can cook in common kitchen area, but you need to bring your own cooking utensils.
Please note there is no restaurant in the village. You can request the lodge to prepare the meals for you (Fee per head: Breakfast MYR4.00, Lunch MYR10.00, High Tea MYR2.00 and Dinner MYR10.00).
Everything in this lodge is basic. Power supply is only available from 6pm to 6am (by power generator), which provide lighting and sufficient electricity to charge your phone and camera.
But hey, the nice sea view makes up for it, and beach is less than 20 Meters away. Some beach resorts want guests to pay thousands for such view. The little rocky island at the left is Bum-Bum with a half-completed jetty (lack of fund to finish).
There was no mosquito net in the room. To prevent mosquitoes eating me, I had to position the standing fan to point to my bed to blow those buggers away.
For booking, you can contact Mr. Moktar at cellphone: +60 19-8212597 (Whatsapp available). Moktar is Orang Sungai married with 5 kids. He starts the lodge in 2008. The GPS location of Malubang Homestay is 6.956184, 117.060140 (see Location Map). Moktar also can arrange the tour and boat transfer to visit the attractions nearby.
Most guests are families from Pitas and Kota Marudu. Moktar will be happy to receive some international tourists. He understands that his lodge could be better, so he plans to improve his accommodation.
When we were ready to check-out, Moktar was missing in action for nearly an hour. Then he suddenly showed up and brought a covered plate, with mysterious smile on his face. He cooked us a big plate of yummy and steaming fresh crabs. Thank you Moktar! You are such a nice guy.
Sunset
Malubang Homestay is facing west, so you can enjoy watching giant yolk sinks into sea every day. I need not to say more.
After dusk, the brightest thing at night here is the city light of Kudat at the horizon. Power line hasn't reached this village yet.
Fishing
You might think that this peaceful fishing village becomes even quieter after nightfall. Wrong. Many villagers, both young and old, are busy fishing at the jetties at night. FYI, Malubang Village is famous for fishing giant squid (Sotong Gergasi), which can weigh up to 6 Kilograms and abundant from Oct to Feb every year. Now I understand why every visitors brought a fishing rod.
Malubang is so lucky to have 3 jetties that extend a few hundreds Meters to the sea, so the people can fish anytime, even during low tide. I didn't bring a fishing rod, so I was just busybody and check out what they caught. There were mainly stingray and fishes, some are over 2 Kg, quite big.
FYI, my Maxis mobile phone got one bar of signal at the end of the jetty, enough for me to check Whatsapps and emails.
Milky Way
It's quite windy in the evening. I felt so relax laying on the platform of jetty and enjoyed the sea breeze. The sky was full of stars and shooting stars appeared almost every few minutes, some are quite big and last 4 or 5 seconds.
That's crazy that by 7:30pm I already could see Milky Way spanned across the sky like a silver belt. I didn't know Pitas is an excellent place for stargazing.
Kampung Pansuran
I also walked around Kampung Pansuran (Pansuran Village), a smaller fishing village about a stone's throw from Malubang Village. Most residents there are Bajau Sama people.
The villagers there are also equally nice and friendly. They were busy with fish caught and dried some of them under the sun to make dried seafood.
They still use traditional fishing methods such as fishing net and fishing line. Pitas is famous for its dried seafood.
Talking about village life, you might visualize I become a shirtless muscle guy playing soccer and laugh with the local kids, a cliche scene common in many movies. No, I didn't do that, LOL.
Mondou Hill (Bukit Mondou)
To make sure I didn't miss out any attraction near Malubang Village, Moktar took me to Bukit Mondou, a small hill only a few minutes drive from the village.
Though Bukit Mondou is the highest point in Malubang, it is less than 80 Meters high, and it took us less than 30 minutes to reach the top. The trail is mostly flat and not challenging at all.
However, the trail is not tourist-friendly and covered by long grasses. Please don't go there alone.
The view on top of Bukit Mondou is nice, as you can see Supirak Island and have a panoramic view of Malubang and Marudu Bay.
How to get there
From Kota Kinabalu City (KK), you need to drive about 5 hours to reach Malubang Village. The first 3 hours drive from KK to Pitas town is on 140 KM of paved road in good condition. The last 60 KM further north from Pitas to Malubang Village will be a bumpy 2-hour ride on gravel road.
Therefore, you need 4-Wheel Drive to enter this remote place. Though small sedan such as Kancil also can make it, it'll be a pain to move around the potholes, mud ponds and uneven surface. The GPS Coordinates of Kampung Malubang is 6.956184, 117.060140 (see Location Map).
It's advisable you stop by Pitas town to have lunch and fill up the gas tank. For first timer, avoid to drive there at night because there is no street light along the way. Please also note that Uber and GrabCar aren't available in Pitas district. Internet and mobile phone coverage are limited in most part of the journey.
Btw, one the way home, you may buy some dried seafood from the roadside stalls around Pitas, for great bargain.
Photos taken in Pitas, Sabah, Malaysia Borneo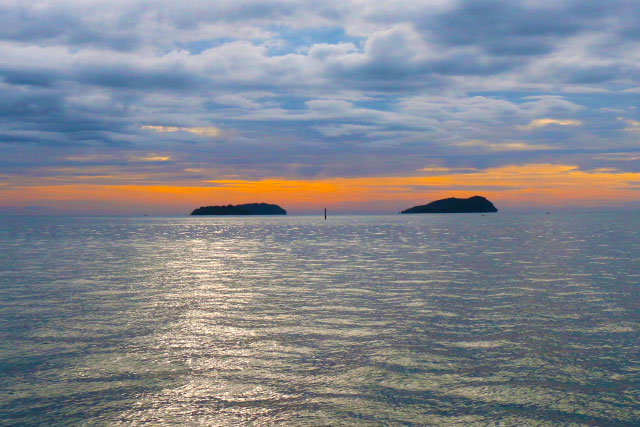 Sunlight can't enter a room full of furniture, similarly, we need more spaces sometimes to light up our hearts. That's why I like the sense of freedom in sunset cruise. The feeling of watching sunset from the vast open sea is very different. On the land, sunset is only a nice background to mark the end of day. On the ocean, you are like an audience standing on the stage of sunset for its magic moment.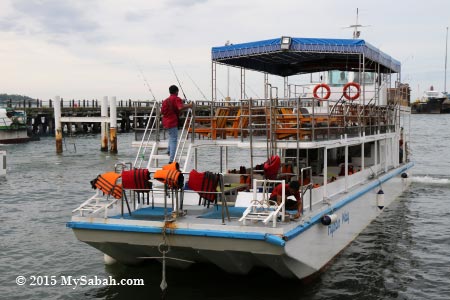 Pic: our cruise boat, Hydian Way
Kota Kinabalu City (KK) has nice sunset and our beautiful islands are just a few Kilometers away, so all we need is a boat for the trip. For the New Year Sunset Cruise Gathering, Sabah Wetlands Conservation Society chartered a cruise boat which could accommodate up to 50 people.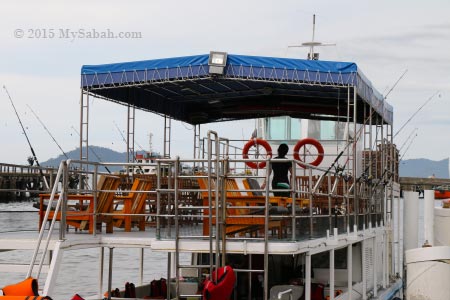 Hydian Way looks like a double-decker bus of the sea. It's a 60-feet passengers cruise boat designed for short distance tour cruise. The lower and upper decks are flat surface with many chairs and tables, so passengers can carry out any activity and enjoy open view of the sea, exactly what we need for a leisure ride. Most area is sheltered from rain and hot sun, another plus.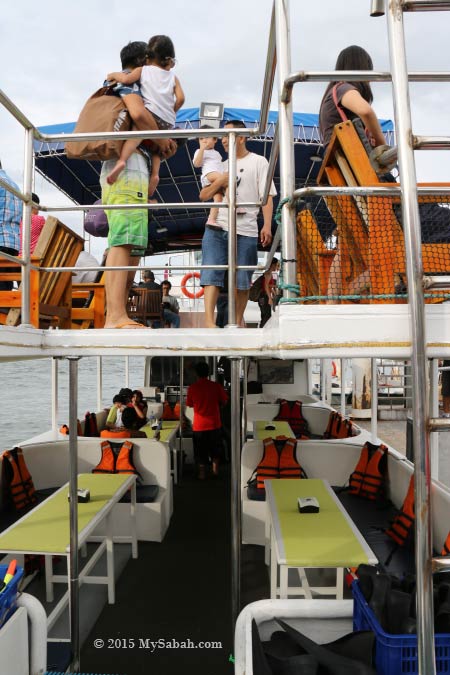 Pic: lower and upper decks of Hydian Way. The toilet and bathroom are at the rear of lower deck.
We departed around 5pm from Jesselton Point Ferry Terminal and headed to the sea and islands of Tunku Abdul Rahman Park. Everyone was so excited onboard, we explored around as this was our first time experience on sunset cruise. The boat has an area of 1,500 square feet.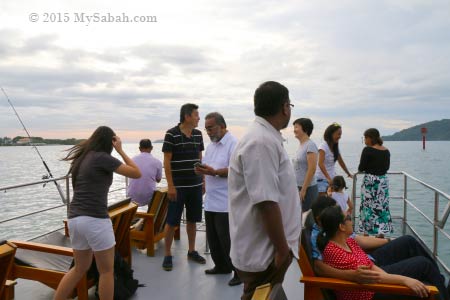 Most seemed to like upper deck better, where we could see the surrounding on higher vantage point and enjoyed the sea breeze. Lower deck is more stable and suitable for those who are prone to seasick. Anyway, the swaying motion wasn't strong when the boat was moving.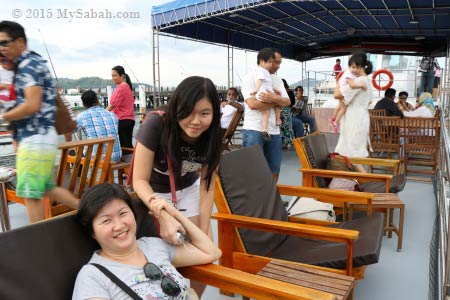 I also walked around to find the best viewpoint. After a while, everyone was settling down and started their romantic or family time.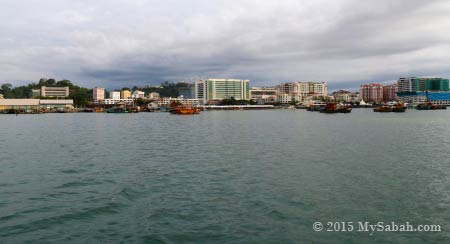 Pic: our boat leaving KK and head to the sun!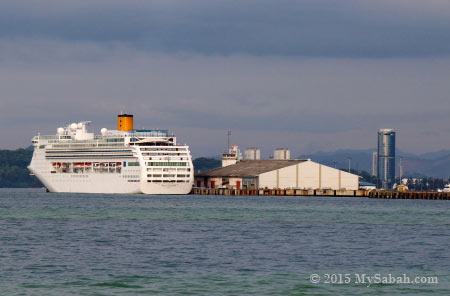 Pic: a cruise ship in Sabah Port. I wonder how it feels to see sunset from that huge ship.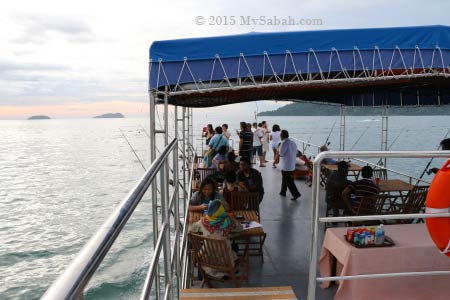 It had been raining in past few days, we didn't know if the sunset view would be nice. The sky was cloudy, so I didn't expect a spectacular sunset. As long as it didn't rain, I was happy.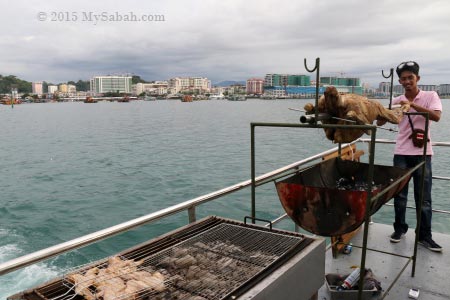 Even if the sunset wasn't nice, we still had nice food onboard. Yeah, check out that BBQ lamb, it's the one of the highlight man.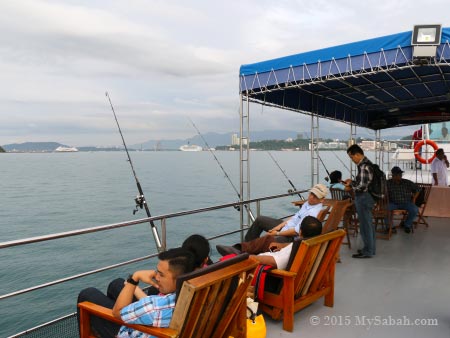 Everyone's spirit is high. For company annual dinner, you may consider organizing a sunset cruise party. Conventional dinner in hotel is just boring and everyone wants to leave after meal.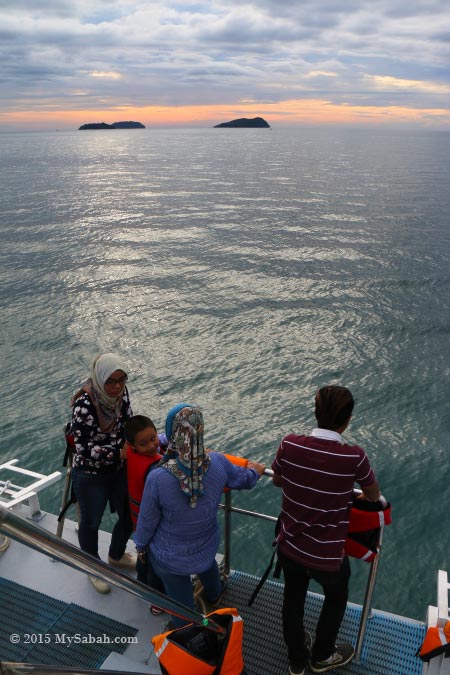 Pic: the sunset is about to start. When the sun moved closer to the horizon, the sea water turned into silvery blue, an interesting color that only can be seen from open sea.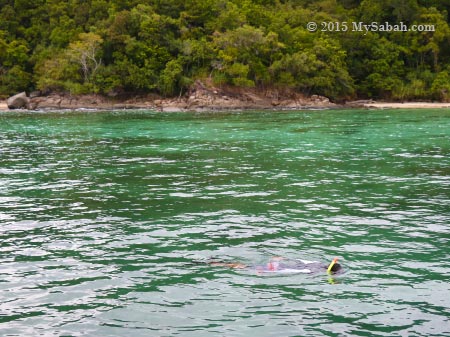 Then the boat brought us behind Sapi Island, where we could snorkel (snorkelling gears provided onboard). It was a bit cool probably due to the recent rainy season, so only one person doing it. Just to let you know that you can have this activity, and the boat can take you to snorkelling spot far away from crowded tourist area. If it was a hot day, I would take a swim.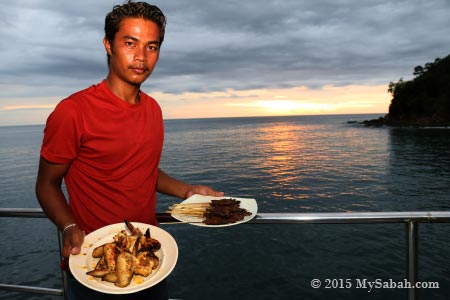 Our barbecue chicken wings and satay were ready, just in time for the sunset. With free flow of soft drink, it couldn't be better.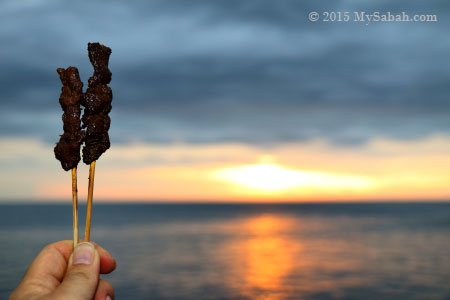 Pic: satay for the sunset!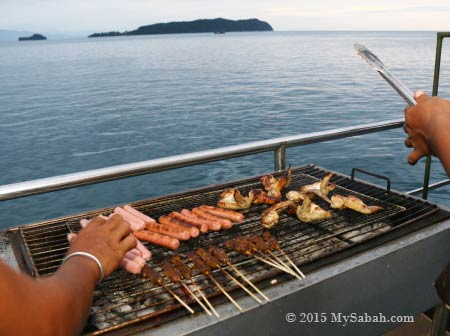 Pic: more BBQ food. Wish you were there.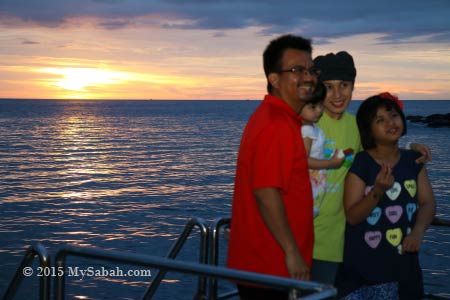 We were so happy about the exceptional view of sunset. In fact, we thought of postponing the trip because of the possible bad weather, now we have no regret.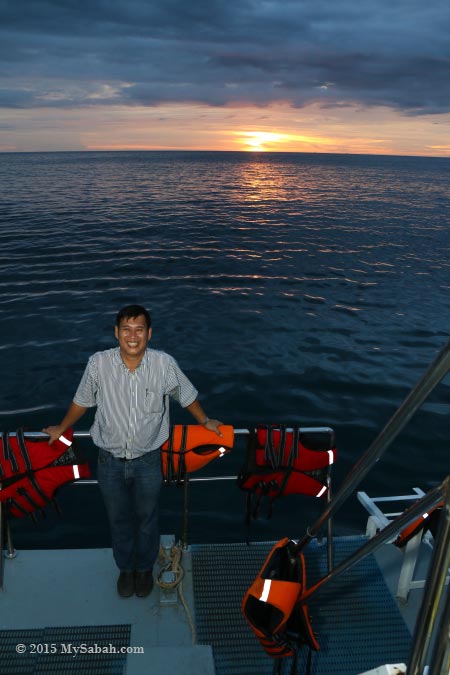 Alex, the owner of the boat, was happy too. We were the only group on the open sea that day, this sunset view was exclusively for us.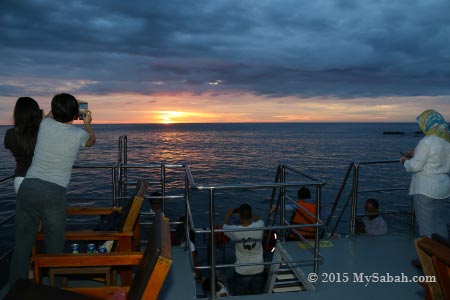 We were busy taking and posting sunset photos to our Facebook. Some even updated their profile photos with sunset as background. Bet these photos got many likes and made their friends envious.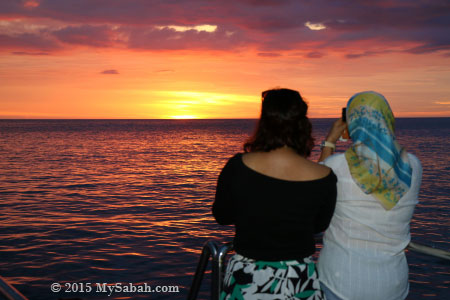 Pic: the magic moment with the most intense colors, cloud and sea were painted with rosy colors but only lasted a few minutes.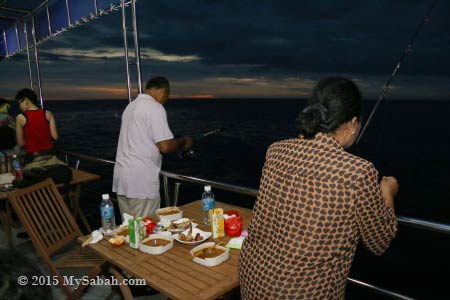 After the sunset was over, our boat moved further and anchored in open sea for next activity, fishing. The crews had prepared fishing rods and bait for us.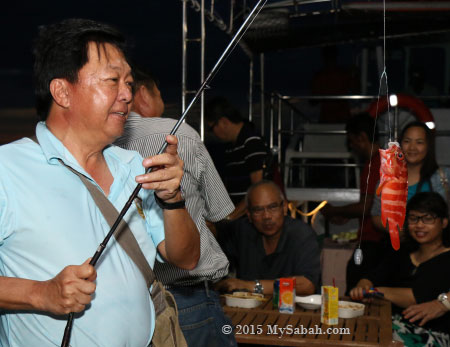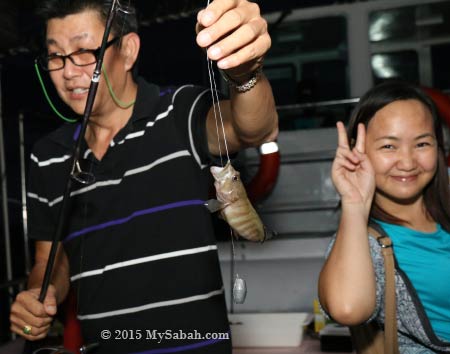 We caught a few snapper and grouper. However, the fishes were too small, so we released them back into the sea after photo taking. If we were lucky, we would have BBQ fishes.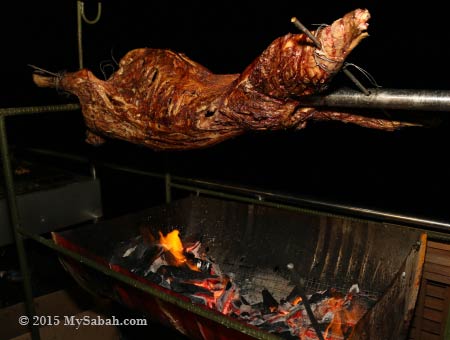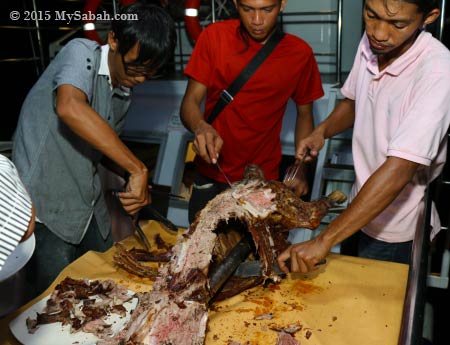 Though we have no BBQ fish, there's something better waiting for us. Our BBQ lamb is ready. We started second round of feasting. The lamb was roasted slowly, so the meat was kept juicy inside, very yummy.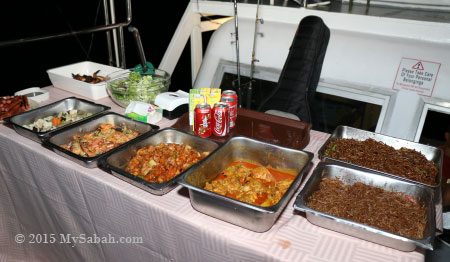 For buffet dinner, we also had fried noodles, curry chicken, butter prawns, mixed vegetables, salad and sweet & sour fish. The BBQ just now was more like high tea lol.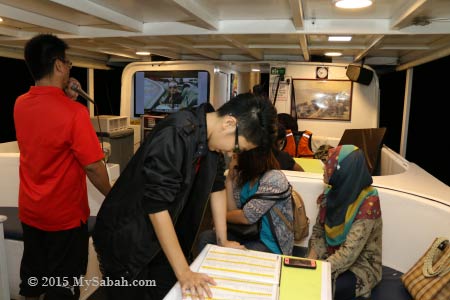 Our eyes and mouth were satisfied, next it's the turn for our ears. Let's have some music. The boat has karaoke set in lower deck, so you can show your talent. Your voice will be broadcast to upper deck too, so nobody could escape from your performance, unless they jump into the sea. Sing as loud as you can, because there no neighbour will complain you.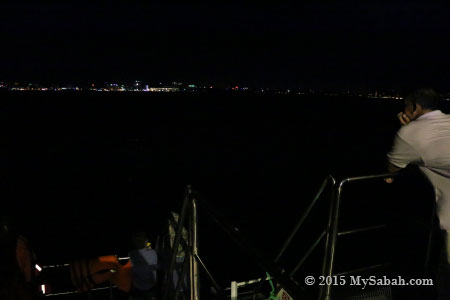 We had fun until 8:30pm, then we had to go home at last. Watching night view of KK city is the last part of our trip. The bustling KK looks like a sleepy city from a distance.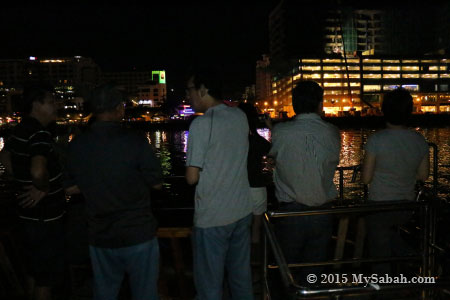 Instead of heading straight to the port, our boat cruised slowly along the shoreline of KK, to have closer look of KK city night.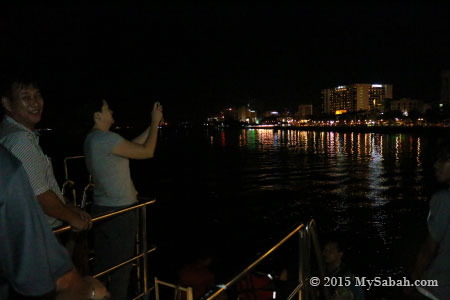 To be honest, though lovely, the night view of KK is not as magnificent as big cities. Anyway, I don't see this every day, so I still enjoy the moment.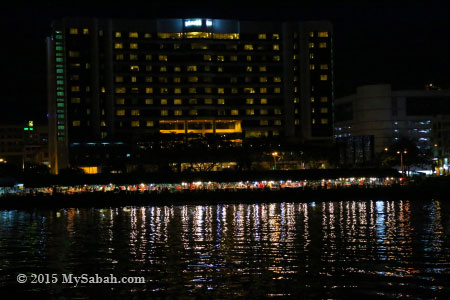 Pic: Le Meridien Hotel and Sinsuran Night Market are the brightest section of the KK night view.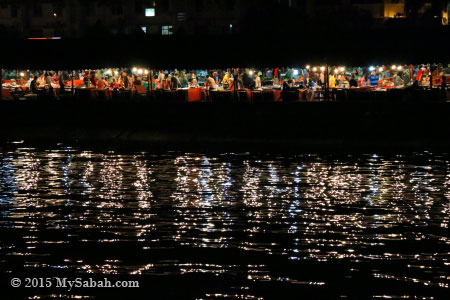 Pic: Sinsuran Night Market with busy hawkers and customers. Guess they didn't know they were being watched.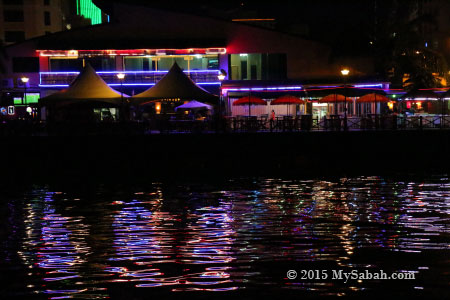 Pic: KK Waterfront Esplanade won my award as the most colorful night view of KK, haha.
Overall, this is a delightful trip and a luxury to me, who spend most of my time living and working in a world as small as an office cubicle and bedroom. I bet you will enjoy such tour.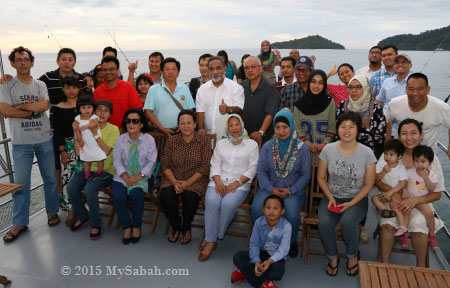 Pic: 40 passengers and 40 happy faces
Joining a Sunset Cruise
You can either join a tour or organize a party yourselves. The following are the packages and prices for tours by Hydian Way (as of Jan 2015). You can download their brochure for full details.
Type of Tour
Activities
Fee
Morning Cruise
(10am-2pm)
Snorkeling, Fishing, Lunch with free flow of drinks
RM249 per person (≈US$70)
Sunset Cruise
(5pm-7pm)
Night Cityscape, Sunset Viewing, Refreshments
RM199 per person (≈US$56)
Sunset Cruise with Fishing
(4pm-8pm)
Fishing, Night Cityscape, Sunset Viewing, Refreshments
RM249 per person (≈US$70)
Private Chartered
Customized
Hydian Way can host up to 50 people (30 would be the most comfortable size)
Rental Fee: RM2,500 to RM5,000 (≈US$700 to 1,400) for 4 hours
For booking and enquiry, please contact Huang Long Travel & Tour (皇龙旅行社) at:
E-mail: info.hydianway@gmail.com
Tel:: +60 16-557-0211 (Terita – Marketing Manager), +60 13-863-1982 (Melessa – Sales Manager)
Address: Ground Floor, Premier Golf Center, Jalan Istiadat, Kompleks Sukan Likas, 88400 Kota Kinabalu, Sabah, Malaysia.
More Photos
The photos in this article are small. You may browse my photo album for bigger and better photos: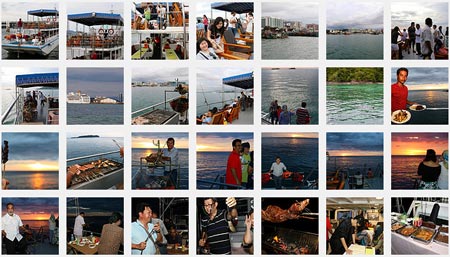 Related Posts
I had tried sunset cruise with different types of boats too. You may check them out and compare the experience:
Photos taken in Kota Kinabalu, Sabah, Malaysia Borneo