I like fishing since I was a little boy. I was used to fish with my friends and cousins at the rivers and streams. However, we mainly did it for fun. We either released the fishes later or we kept them as pet in our fish tanks, and we never ate them. FYI, Sabahans don't really like freshwater fishes as seafood is so abundant.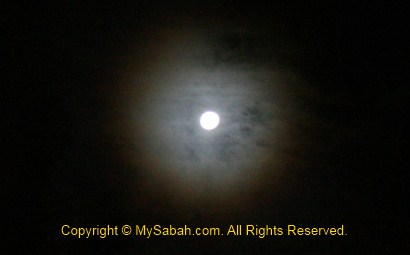 Few months ago, I was invited to a half-day fishing trip. "The worst fishing day is still better than the best day in office". Fishing is always fun, no matter I catch anything or not, so I joined.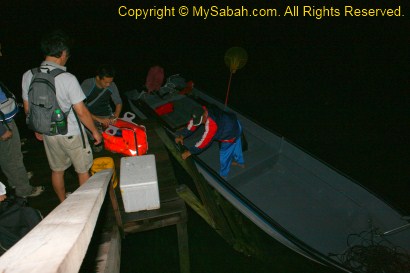 We departed from a jetty of Tanjung Aru Water Village around 5am. We used a wooden boat (powered by engine) commonly used by local fishermen, not the fancy fiber-glass angler boat. Slowly our boat headed to the sea near the island. On the way, I saw the silver moonlight cast on the rippling sea. It is such a beautiful and peaceful view. Too bad my camera can't capture it!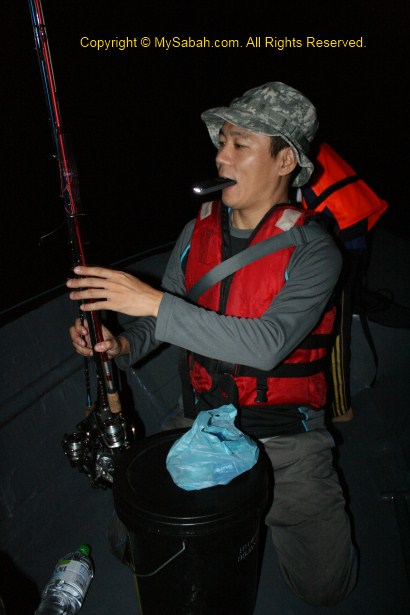 About 20 minutes, our boat is in the middle of the sea. We were fishing just outside the park boundary of Tunku Abdul Rahman Marine Park. Mr. Sushi prepared the fishing rod and bait for us in the dark.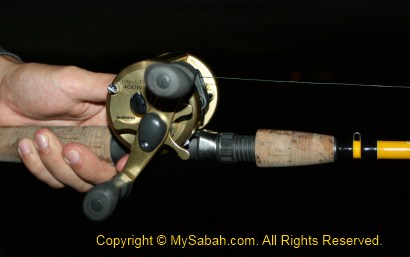 To be honest, I don't really know how to use a fishing rod properly. During my childhood, I only used bamboo pole as fishing rod. Even the fishing hook was made from sewing needles I stole from my grandmother. You guess it right, even the fishing line was the thread for weaving cloth, lol. After few short instructions on how to release and pull the fishing line, we start to fish.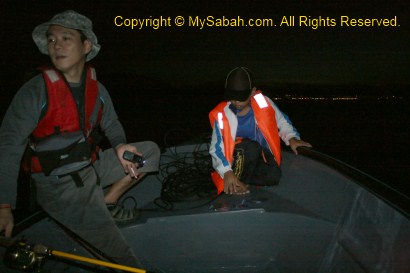 The depth of water is about 20 to 60 feet (7 to 20 Meters). My friend told me that usually you get fishes about the size of palm, but in lucky occasion, you might get big fish such as barracuda. See the city light in photo above? It is Kota Kinabalu city. We were so far away from shore.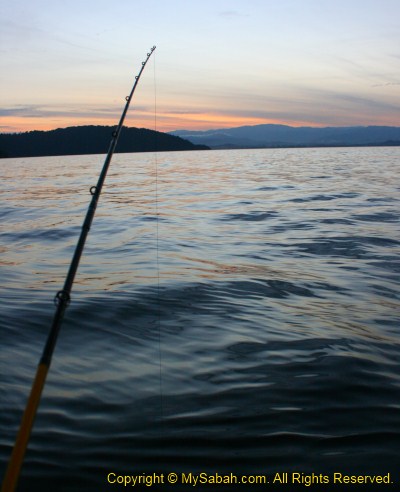 Soon the sunrise appears at the horizon, a calm moment. What I like about fishing is to empty my mind, free from bombardment of noisy city life and loud media/people. Probably that's why most women don't like fishing, as they love to keep their mind busy, hehe. Women love to interrupt men who try to "empty" their mind. They like to ask "what are you thinking?" If the man says "Nothing", then she will think that he is hiding something.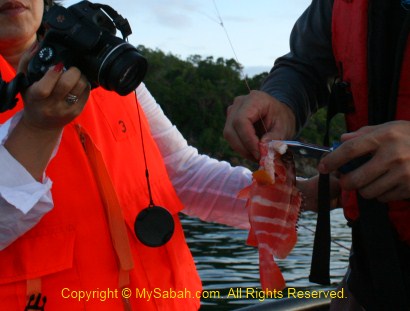 It's not long my mind is interrupted by a bite signal from fishing line (it must be a female fish, just kidding). I pulled the fishing line and catch a red fish!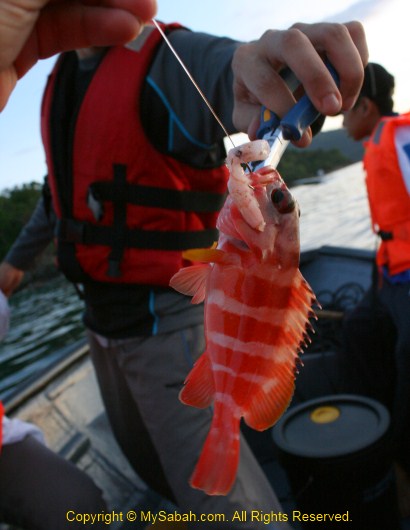 The fish is so small that I use less than 1 Calorie of energy to pull it out of the water. Anyway, it's our first catch so it generates some excitement (and hope) and attention among us.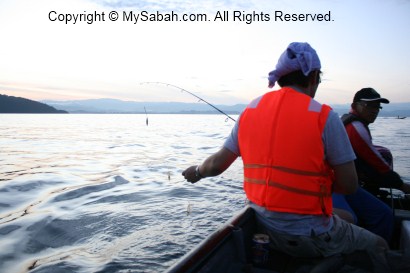 However, no more fish for the next 15 minutes, so we relocate our boat. Without any sonic device to scan for density of fishes in the water, we just try our luck.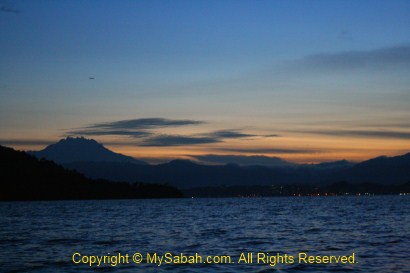 Now we can see the Mt. Kinabalu and Kota Kinabalu city from our boat clearly.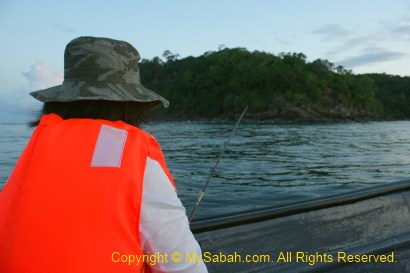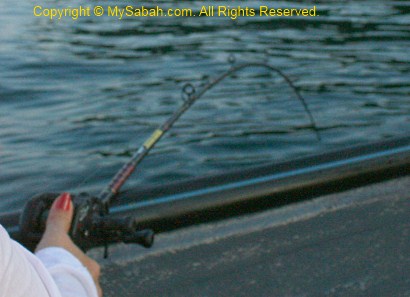 Though I got a few fish bite signals, the fishes escape with the bait.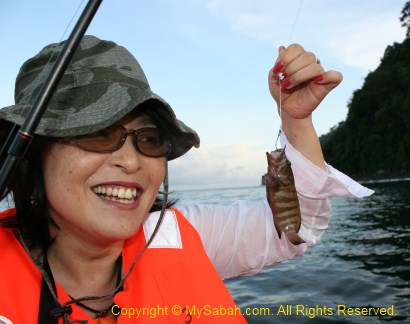 Then the luck is on Rie side, she got a fish!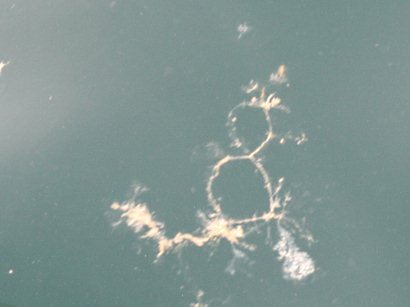 Forgot to tell you. I have sea-sick problem. As our fishing boat is small, it swings with the waves so I vomit, so embarrassed… I don't feel better after vomit. Whatever, my stomach is empty, nothing to puke already.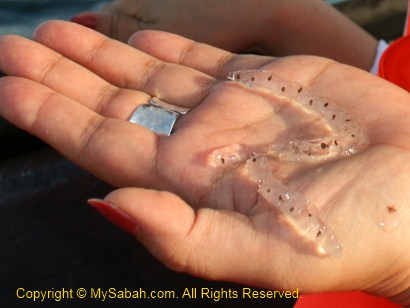 The sea is not as quiet as it looks. We see many jelly-like creatures floating on the sea. Anyone knows what they are? Is it plankton?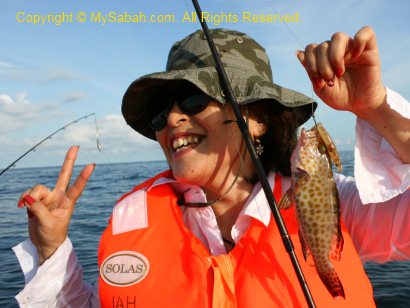 The fishes like Rie. She got her second fish! This time it's bigger. She is the winner for today.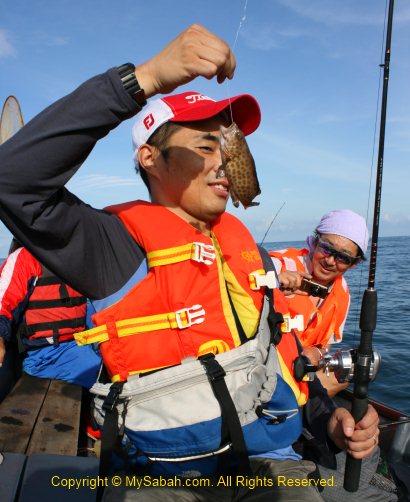 Shortly Mr. O also got one fish. It's the 4th fish for our group. As long as we got fish, we are happy, we don't care if it is big.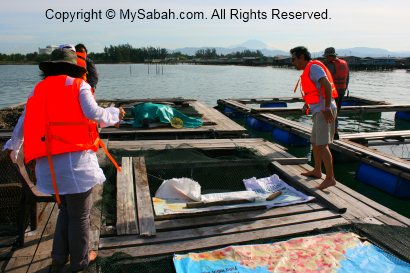 The sun is getting hot at 9am, so we decide to go back. On the way, we stop by a fish farm in the sea.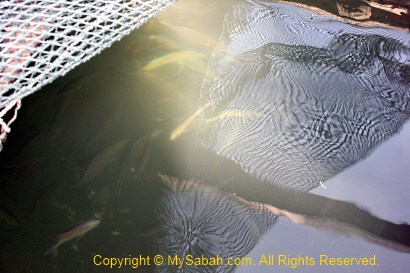 There are many hungry fishes in the net cage.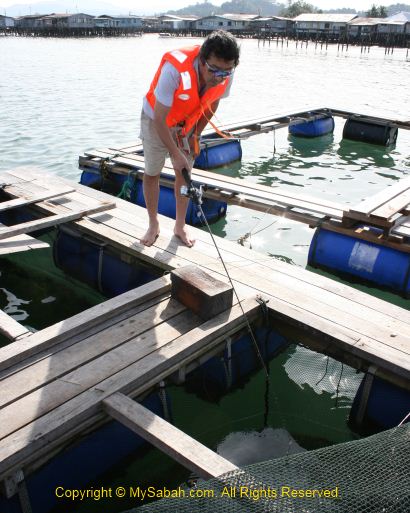 Without getting any fish today, Mr. Y tries his luck by fishing in the fish farm!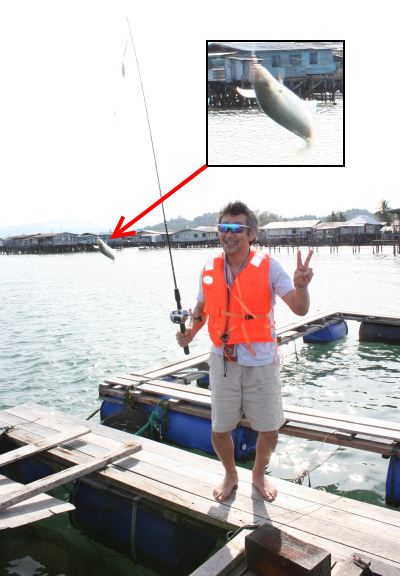 Congratulations! He got his first fish. It is cheating though. At least none of us goes home empty-handed now, haha..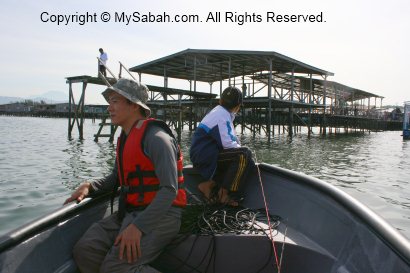 The day is bright so I can see the jetty and surrounding of Tanjung Aru clearly now.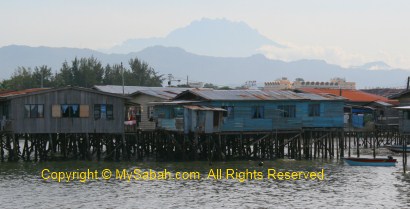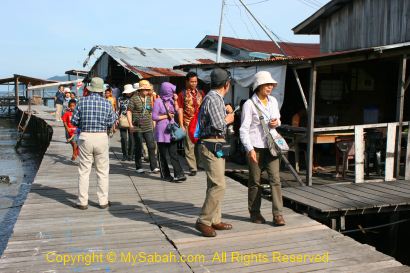 We are in Tanjung Aru Water Village. The stilt houses on the beach is a common sight to Sabahans, but for tourists, these are something unique. We see some tourists tour around and take photographs in the village.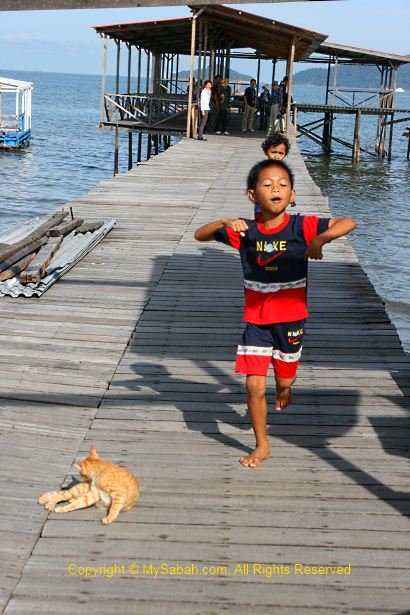 Running kids, friendly cats and dogs lazing around are also the features of our village.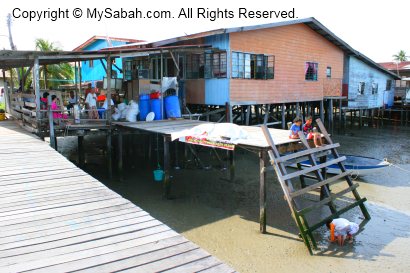 Before going home, we have a short tea break in a local family. They are very friendly fishermen and keen to share their stories with you.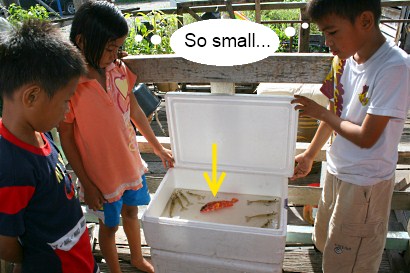 My catch is on proud display. I think the kids are very impressed, HAHAHA!
It's possible to get big fishes here, but it was not my day. If you want to have a good time and get away from city and your nagging wife, please contact Mr. Sushi for a fishing trip (Mobile phone: 019-8109510, E-mail: sakaborneo@yahoo.co.jp). He is a Japanese but can speak good Malay.
More Photos
You may check out the photo album of Deep Sea Fishing for more nice pictures: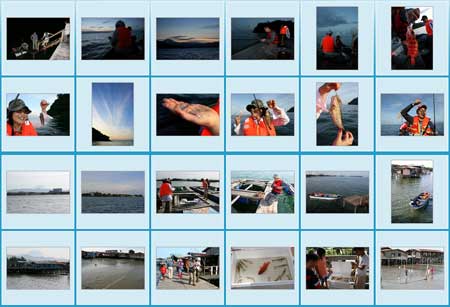 Related Post
Deep Sea Fishing at Usukan Cove
Photos taken in Kota Kinabalu, Sabah, Malaysia Borneo