Category Archives:
Festivals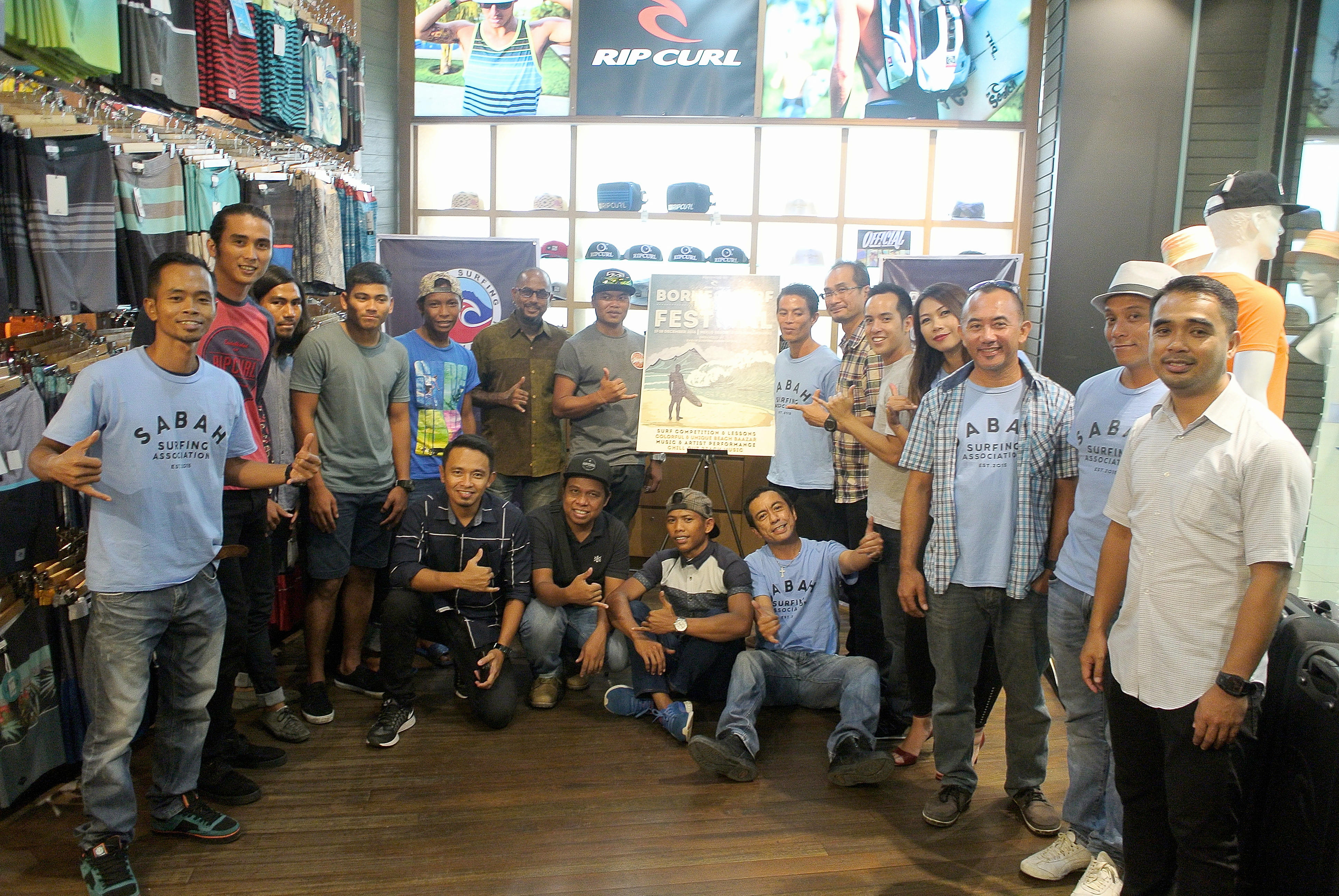 Sabah Surfing Association is proud to announce the third instalment of Borneo Surf Festival. This yearly anticipated event is slated to be held on it's home ground venue at Nexus Resort & Spa Karambunai Kota Kinabalu for 2-days from Dec 17th through Dec 18th 2016 and is open to the public to attend. As with the previous years, this year the event promises an exhilarating surf competition open to local and international surfers alike.
This year Borneo Surf Festival is presented by main sponsor Rip Curl alongside Happy Plugs and supported by The Ministry of Tourism and Culture, Tourism Malaysia and Sabah Tourism Board.
"We are extremely excited to partner with Rip Curl again this year and getting strong support from tourism agencies like MOTAC, Tourism Malaysia and Sabah Tourism Board. We are also delighted to have Happy Plugs to be a part of Borneo Surf Festival", says Ivan Tan, the president of Sabah Surfing Association.
This year will see the event being graced yet again by Rip Curl's PRO surfers from Bali after the success and overwhelming response from the previous event. They will be having a demonstration to impress the crowd with their surfing techniques and skills over Sabah's very own local waves.
Apart from the competition, the public can expect many fun and family oriented activities to be enjoyed with their family and friends at The Borneo Surf Festival. Among others is Tamu Pantai bazaar that offers varieties of local sourced products and services ranging from clothing, arts and crafts, food and drinks, self-pampering and family fun
activities.
There will also be chill beach music performances by local talents throughout the 2 days event. Sabah Surfing Association is looking forward to a larger crowd this year seeing that there has been a healthy growth and awareness towards the local Sabah surfing scene locally and internationally fuelled by the recent acknowledgement and inclusion of surfing as part of the upcoming Olympic 2020 in Tokyo.
The Association also hope to be the catalyst to the potential of surfing a as a sustainable tourism product and growing Sabah as a surf touristic destination.
Facebook.com/BorneoSurfFestival
For more info contact:
Shafina Adly
Sabah Surfing Association Committee
Mobile: +60 12-3069977
E-mail: sshafina@gmail.com
Hastags: #BSF16 #BorneoSurfFestival #SabahSurfing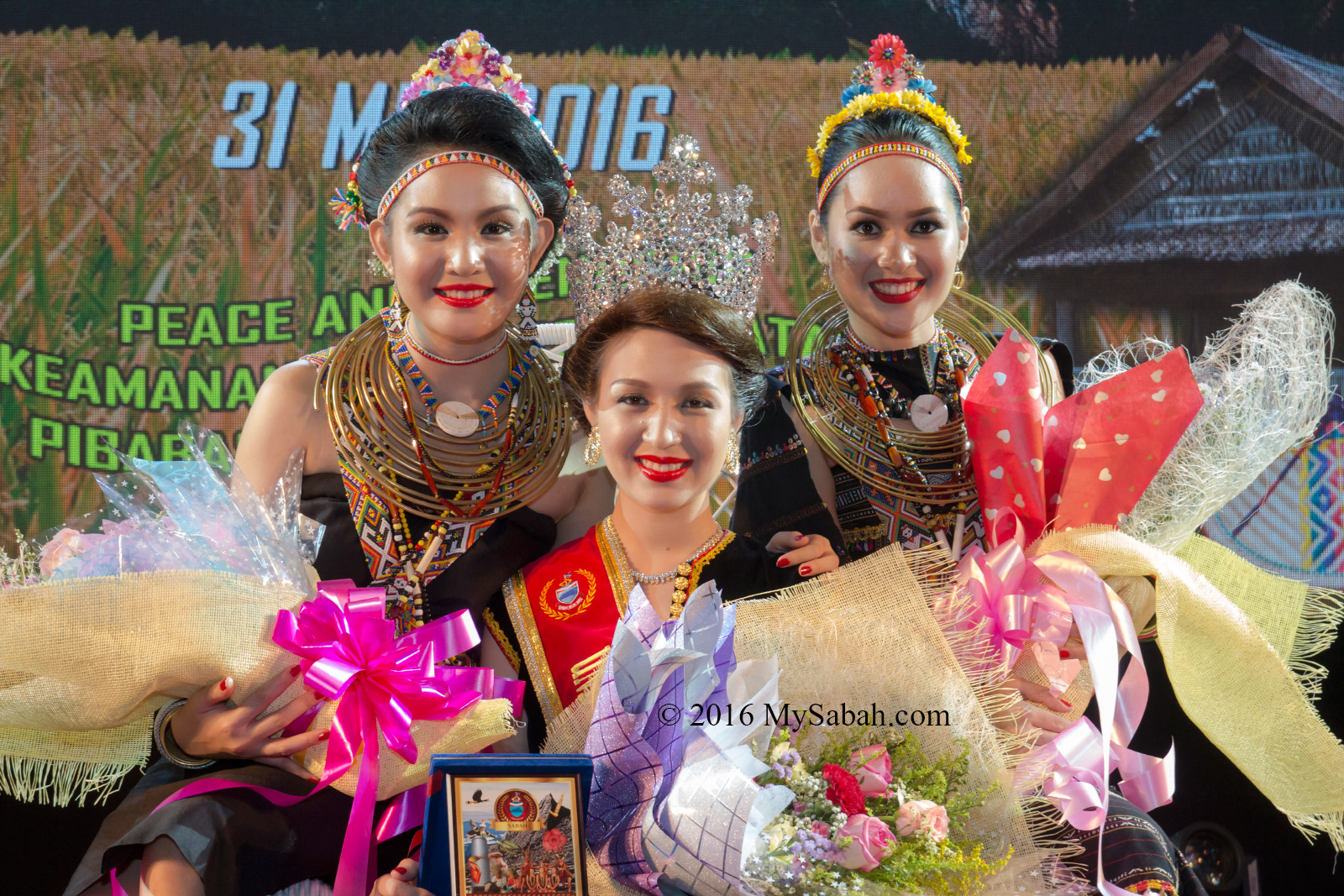 A new queen was born on 31 May 2016, after 44 contestants from different Sabah and Malaysia districts competed for the State-Level Unduk Ngadau 2016* title (Miss Harvest Festival of Sabah), which marks the end of month-long Kaamatan celebration (Harvest Festival). The photos below are clickable to zoom in.
Result: Unduk Ngadau 2016
The following is the result:
Unduk Ngadau 2016: Sherry Ann Laujang (Penampang)
1st Runner-Up: Claryssa Henry (Kudat)
2nd Runner-Up: Fenny Ester Joslin (Banggi)
3rd Runner Up: Vinny Alvionitta Sasising (Matunggong)
4th Runner Up: Christine Joan Charles (Papar)
5th Runner Up: Patriciaelsa Jimy (Klang Valley)
6th Runner Up: Charmine Bartholomew (Kapayan)
Unduk Ngadau Beauty Pageant has been around since 1940s, but it only becomes an official annual competition in 1960. It is the highlight of the Kaamatan, and in the video below, you can see the crowd went crazy when the top 7 finalists were "unveiled".
Unduk Ngadau 2016: Sherry Ann Laujang (Penampang)
Sherry is simply gorgeous. Her skin is so "radiant" that it almost makes my photos overexposed, no kidding. She has the look of a queen. However, she was extremely nervous during the contest. Her elder sister, Samantha Sharon C.E. Launjang, is the 4th runner-up of State-Level Unduk Ngadau 2012.
Most guys would agree with me that many beautiful Kadazan sumandak (girls) are concentrated in Penampang area. Out of 56 State-Level Unduk Ngadau contests in the past, Penampang won the title 25 times (now 26)!
Sherry is 21-year-old, and she is from Kampung Ramayah. She is a Kadazandusun with 25% British blood (her great-grandfather was a Briton), and she just earned her accounting diploma from UiTM Sabah.
1st Runner-Up: Claryssa Henry (Kudat)
Claryssa was the strongest rival of Sherry. Her name was heard everywhere in the beginning, and she has a lot of supporters.
After the competition, there is a hot debate which says Kudat should have won the first place, because most people think Claryssa was doing better than Sherry in Q&A session.
I don't understand Kadazandusun language, so I don't know who is right. Anyway, the judges had mentioned that 40% of the score is based on beauty, 30% on traditional costume, 20% on presentation and 10% on attitude.
Therefore, Q&A is not the sole factor for winning, though it's important. No matter what, hopefully everyone will stop quarrelling about this during festive time. Both of them are fabulous girls.
2nd Runner-Up: Fenny Ester Joslin (Banggi)
3rd Runner Up: Vinny Alvionitta Sasising (Matunggong)
Vinny is my favorite candidate actually. She is picture perfect. She will definitely win the Miss Photogenic title if there is one. She is awarded the subsidiary title of Miss Natural Beauty.
4th Runner Up: Christine Joan Charles (Papar)
Whenever Christine showed up, the people went gaga, and their scream almost broke my eardrums. There must be something special about her. Can anyone tell me please?
She is also the winner of Miss Conservation WWF Subsidiary Title. She will be attached to Sabah WWF to raise awareness on the conservation and wildlife issues from 1 Jun 2016 to 31 May 2017.
5th Runner Up: Patriciaelsa Jimy (Klang Valley)
Besides contestants from Sabah, we also have participants from Klang Valley, Labuan and Johor.
6th Runner Up: Charmine Bartholomew (Kapayan)
The Crowning
As there are over 40 Unduk Ngadau, so the competition took a long time and finished at 7:40pm.
In first round, 15 contestants were selected, then shortlisted to top 7 in second round, and at last the Q&A round to decide the winners.
The Rungus ladies from northern district rocked the stage this year, when contestants from Kudat, Banggi and Matunggong won 1st, 2nd and 3rd runner-up (plus Miss Natural Beauty) respectively. Besides, Unduk Ngadau of Pitas also won the Most Creative Evening Gown (with Rungus motif as theme).
Kudat district is used to be famous for three things, i.e. longhouse, coconut and peanut. Now I guess it is famous for pretty girls too lol.
Subsidiary Titles
There are three Subsidiary Titles being awarded during Sodop Unduk Ngadau Charity Dinner on 29 May 2016. Below is the result:
Miss Conservation WWF: Christine Joan Charles (Papar)
Miss Friendly (Tati Tosuau): Dorizah Noh Tongod (Tongod) (Can I add her in Facebook?)
Miss Natural Beauty (Tati Topiodo): Vinny Alvionitta Sasising (Matunggong)
Top 7 Most Creative Evening Gown
That evening every Unduk Ngadau was wearing evening gown designed with Sabah ethnic theme. Top 7 best designs were selected, and the dress (designed by Petrus Boyd Pensin) of Treacy Chee from Pitas won the Most Creative Evening Gown award.
This colorful theme is inspired by Rungus motif. I saw patterns that symbolize flower, lizard and people.
This gala night is a good time to see the youthful side of Unduk Ngadau. You can check out my Facebook album for more photos.
Congratulations to all the Winners!
You may notice this beauty pageant is very different. First, everyone is on bare feet. Second, "Gong Hair" is the standard hairstyle for the contestants. If you like their hair, watch the video by Beverley Shim to make one:
In fact, Unduk Ngadau Contest is a tradition to commemorate Huminodun, a maiden who sacrificed herself to save the starving people. You can read the very interesting and informative article titled Not just a beauty pageant, written by Melissa Leong, to understand the true meaning of this event.
"Kaamatan without Unduk Ngadau is not kaamatan. It will be like a song without rhythm." -Joanna Kitingan (Chairperson of Sabah state-level Unduk Ngadau)
*"Unduk" literally means the shoot of a plant, signifying youth and progressiveness, and "Ngadau" means sun, connoting the beauty of the heart, mind and body of an ideal Kadazan­dusun woman.
Photos taken in Kota Kinabalu, Sabah, Malaysia Borneo