Category Archives:
Beauty Pageant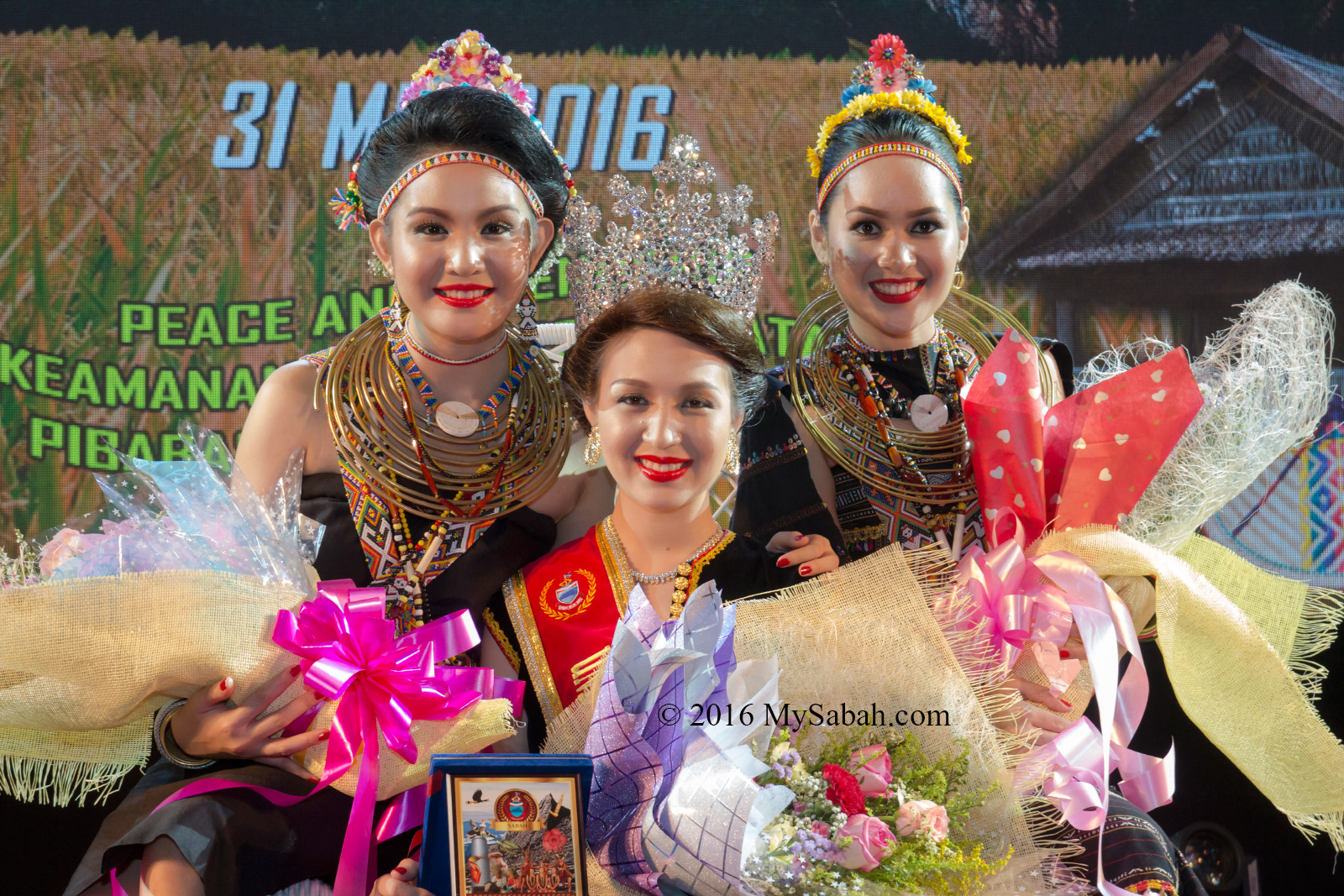 A new queen was born on 31 May 2016, after 44 contestants from different Sabah and Malaysia districts competed for the State-Level Unduk Ngadau 2016* title (Miss Harvest Festival of Sabah), which marks the end of month-long Kaamatan celebration (Harvest Festival). The photos below are clickable to zoom in.
Result: Unduk Ngadau 2016
The following is the result:
Unduk Ngadau 2016: Sherry Ann Laujang (Penampang)
1st Runner-Up: Claryssa Henry (Kudat)
2nd Runner-Up: Fenny Ester Joslin (Banggi)
3rd Runner Up: Vinny Alvionitta Sasising (Matunggong)
4th Runner Up: Christine Joan Charles (Papar)
5th Runner Up: Patriciaelsa Jimy (Klang Valley)
6th Runner Up: Charmine Bartholomew (Kapayan)
Unduk Ngadau Beauty Pageant has been around since 1940s, but it only becomes an official annual competition in 1960. It is the highlight of the Kaamatan, and in the video below, you can see the crowd went crazy when the top 7 finalists were "unveiled".
Unduk Ngadau 2016: Sherry Ann Laujang (Penampang)
Sherry is simply gorgeous. Her skin is so "radiant" that it almost makes my photos overexposed, no kidding. She has the look of a queen. However, she was extremely nervous during the contest. Her elder sister, Samantha Sharon C.E. Launjang, is the 4th runner-up of State-Level Unduk Ngadau 2012.
Most guys would agree with me that many beautiful Kadazan sumandak (girls) are concentrated in Penampang area. Out of 56 State-Level Unduk Ngadau contests in the past, Penampang won the title 25 times (now 26)!
Sherry is 21-year-old, and she is from Kampung Ramayah. She is a Kadazandusun with 25% British blood (her great-grandfather was a Briton), and she just earned her accounting diploma from UiTM Sabah.
1st Runner-Up: Claryssa Henry (Kudat)
Claryssa was the strongest rival of Sherry. Her name was heard everywhere in the beginning, and she has a lot of supporters.
After the competition, there is a hot debate which says Kudat should have won the first place, because most people think Claryssa was doing better than Sherry in Q&A session.
I don't understand Kadazandusun language, so I don't know who is right. Anyway, the judges had mentioned that 40% of the score is based on beauty, 30% on traditional costume, 20% on presentation and 10% on attitude.
Therefore, Q&A is not the sole factor for winning, though it's important. No matter what, hopefully everyone will stop quarrelling about this during festive time. Both of them are fabulous girls.
2nd Runner-Up: Fenny Ester Joslin (Banggi)
3rd Runner Up: Vinny Alvionitta Sasising (Matunggong)
Vinny is my favorite candidate actually. She is picture perfect. She will definitely win the Miss Photogenic title if there is one. She is awarded the subsidiary title of Miss Natural Beauty.
4th Runner Up: Christine Joan Charles (Papar)
Whenever Christine showed up, the people went gaga, and their scream almost broke my eardrums. There must be something special about her. Can anyone tell me please?
She is also the winner of Miss Conservation WWF Subsidiary Title. She will be attached to Sabah WWF to raise awareness on the conservation and wildlife issues from 1 Jun 2016 to 31 May 2017.
5th Runner Up: Patriciaelsa Jimy (Klang Valley)
Besides contestants from Sabah, we also have participants from Klang Valley, Labuan and Johor.
6th Runner Up: Charmine Bartholomew (Kapayan)
The Crowning
As there are over 40 Unduk Ngadau, so the competition took a long time and finished at 7:40pm.
In first round, 15 contestants were selected, then shortlisted to top 7 in second round, and at last the Q&A round to decide the winners.
The Rungus ladies from northern district rocked the stage this year, when contestants from Kudat, Banggi and Matunggong won 1st, 2nd and 3rd runner-up (plus Miss Natural Beauty) respectively. Besides, Unduk Ngadau of Pitas also won the Most Creative Evening Gown (with Rungus motif as theme).
Kudat district is used to be famous for three things, i.e. longhouse, coconut and peanut. Now I guess it is famous for pretty girls too lol.
Subsidiary Titles
There are three Subsidiary Titles being awarded during Sodop Unduk Ngadau Charity Dinner on 29 May 2016. Below is the result:
Miss Conservation WWF: Christine Joan Charles (Papar)
Miss Friendly (Tati Tosuau): Dorizah Noh Tongod (Tongod) (Can I add her in Facebook?)
Miss Natural Beauty (Tati Topiodo): Vinny Alvionitta Sasising (Matunggong)
Top 7 Most Creative Evening Gown
That evening every Unduk Ngadau was wearing evening gown designed with Sabah ethnic theme. Top 7 best designs were selected, and the dress (designed by Petrus Boyd Pensin) of Treacy Chee from Pitas won the Most Creative Evening Gown award.
This colorful theme is inspired by Rungus motif. I saw patterns that symbolize flower, lizard and people.
This gala night is a good time to see the youthful side of Unduk Ngadau. You can check out my Facebook album for more photos.
Congratulations to all the Winners!
You may notice this beauty pageant is very different. First, everyone is on bare feet. Second, "Gong Hair" is the standard hairstyle for the contestants. If you like their hair, watch the video by Beverley Shim to make one:
In fact, Unduk Ngadau Contest is a tradition to commemorate Huminodun, a maiden who sacrificed herself to save the starving people. You can read the very interesting and informative article titled Not just a beauty pageant, written by Melissa Leong, to understand the true meaning of this event.
"Kaamatan without Unduk Ngadau is not kaamatan. It will be like a song without rhythm." -Joanna Kitingan (Chairperson of Sabah state-level Unduk Ngadau)
*"Unduk" literally means the shoot of a plant, signifying youth and progressiveness, and "Ngadau" means sun, connoting the beauty of the heart, mind and body of an ideal Kadazan­dusun woman.
Photos taken in Kota Kinabalu, Sabah, Malaysia Borneo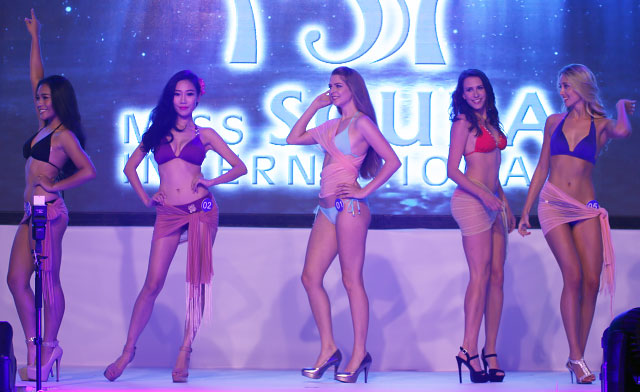 Seafood has been an important source of protein for human. The ocean is so vast that people think it can take anything. When pollution and overfishing become a global problem now, we know we were wrong. Not only we are exhausting the limited fish stock, we are also contaminating and destroying the habitat of marine lives.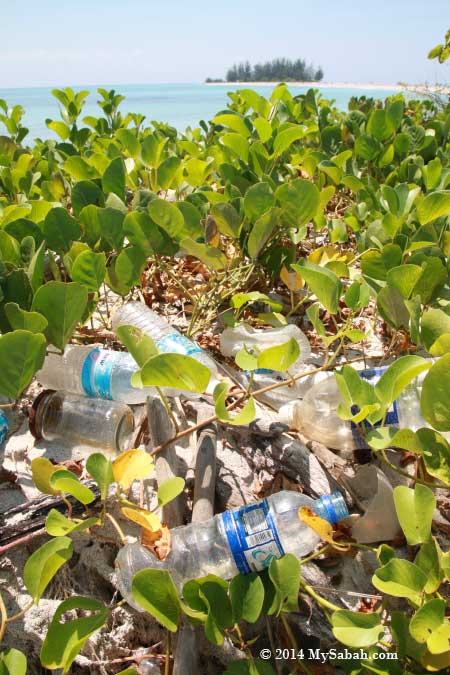 Nowadays you can find trash even in the most remote beach in the world. Pollution is no longer a local issue only. Garbage in the sea is many times harder and costlier to remove. It is estimated that over 100 million marine animals are killed every year due to plastic debris in the sea. Thousands of turtles die each year because they swallow plastic bag that looks like their food – jellyfish. The plastic particles also enter our food chain, causing various illness such as cancer.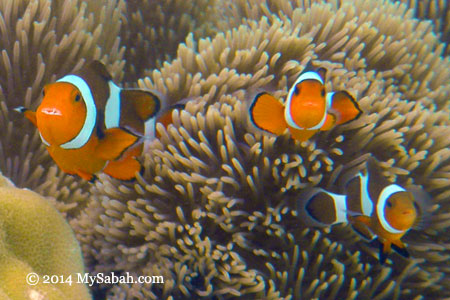 We all laugh at the greedy man who slaughters his goose that lays golden eggs in a fable. Such foolish things happen daily in fishery. For example, blast fishing (fish bombing), cyanide poisoning and trawling are common fishing methods in our waters and these unsustainable fishing practices damage corals, the home of seafood. One day seafood will be so scarce that we need to buy sashimi and Tuna sandwich with gold bars.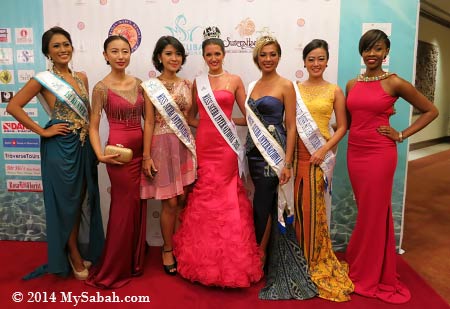 Therefore, Miss Scuba International was started in 2011 to select the "Superhero" to fight for the rights of our marine animals, as other Superheroes are too busy with villains in cities and alien invasion from outer space. Miss Scuba will take care of the ocean, which covers 71% of earth's surface, more powerful huh? Just kidding. She will involve in ocean conservation and educate the public to safeguard our fragile ocean ecology.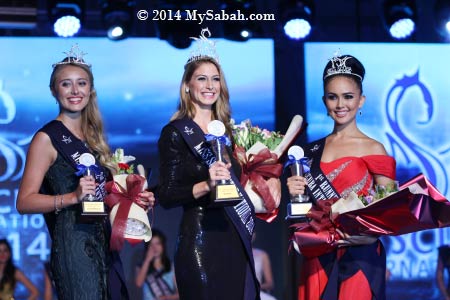 Pic: winners of Miss Scuba International 2014
Miss Scuba International 2014 Pageant was held in Magellan Sutera Hotel in Kota Kinabalu city on 28 Nov 2014. Miss Scuba finalists from 14 countries were competing in 3 rounds (National Costumes, Bikini and Evening Gown) then top 5 were selected for final Q&A session.
Below are just my (shallow) comments and random photos on the contest. You may check out my photo album to see 124 photos.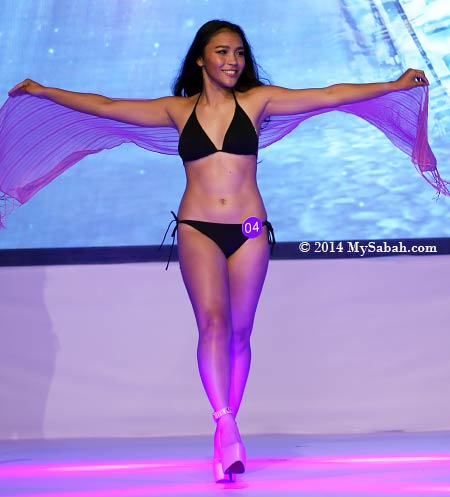 Pic: Rima Saradiani Demensah from Indonesia. I call her Miss Smiley because she always smiles. I bet she also smiles even if she is angry.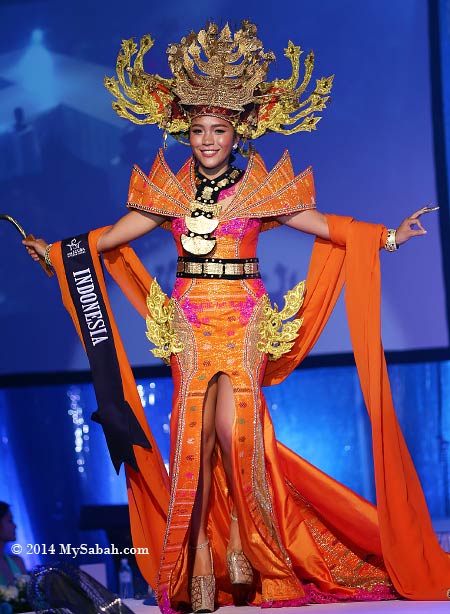 With such a heavy headgear, she still can smile like sunshine, so she deserves the Best National Costume subsidiary title.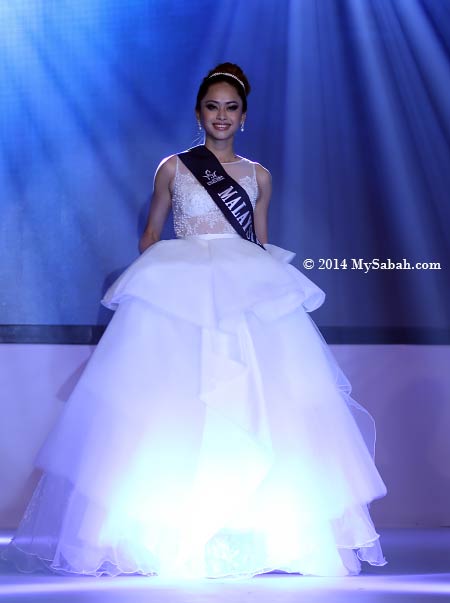 Pic: Here is Joanne Kimberley Majalap / Kimmy from Malaysia, our Sabah mermaid, yea~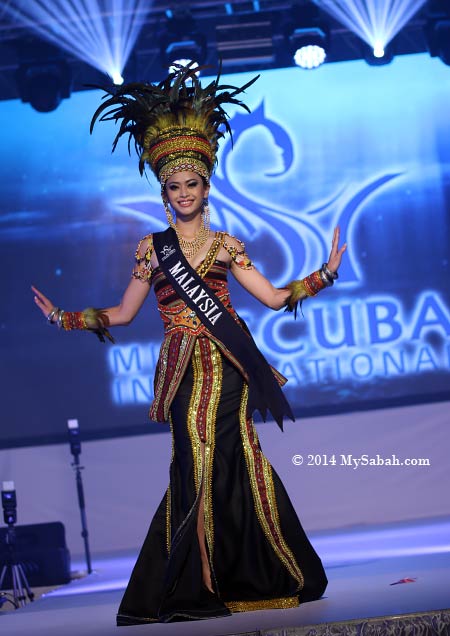 Her headgear reminds me of Bobohizan (high priest of Kadazan people). She looks like Huminodon (Goddess in Sabah legend) in Sumazau dance pose.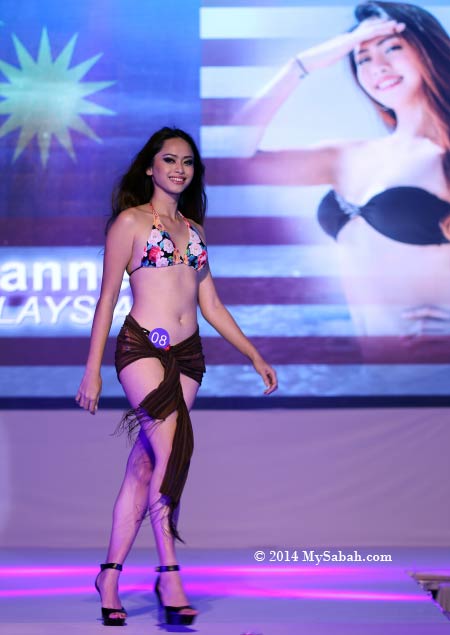 I could sense that she was very nervous. She made it to Top 5 nevertheless. Well done Kimmy!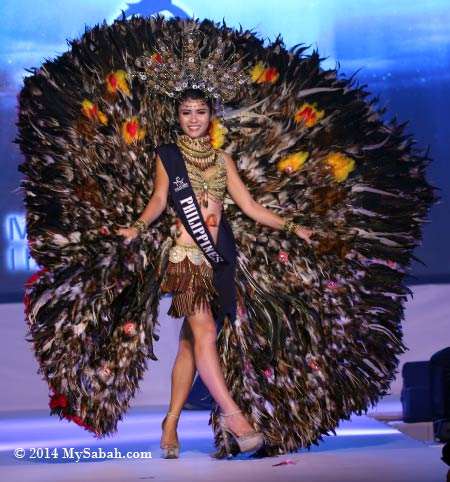 Pic: Amanda Arbitrario / Dada from Philippines in her flamboyant peacock costume.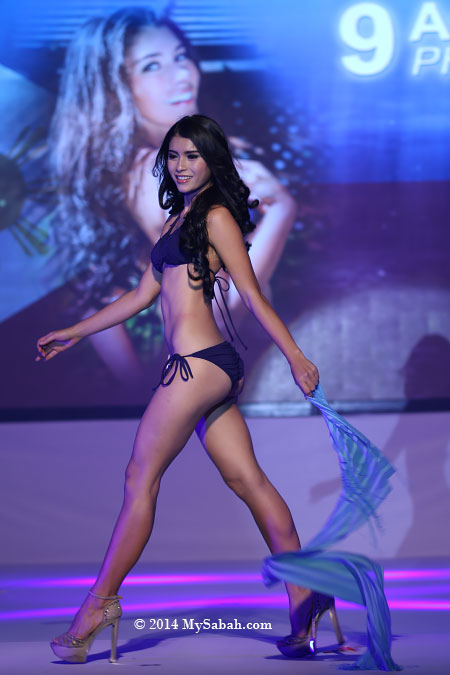 Dada performed the best cat walk, making a very good presentation of herself.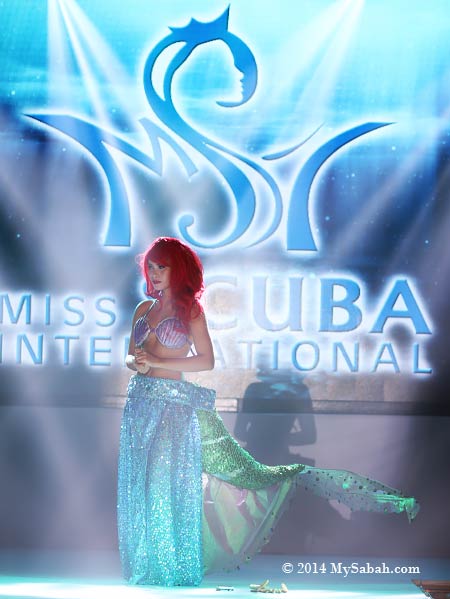 Dada also sang and danced well in her talent show. I'm a bit disappointed that she didn't enter final round.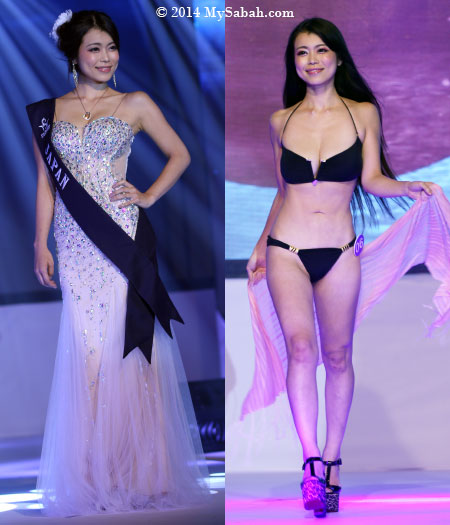 Oh, here is my favourite, Saori Tahara / Tara from Japan. With long hair, fair skin, pretty face, sweet smile and a vital statistics of 36″ 23″ 35″, she is a killer.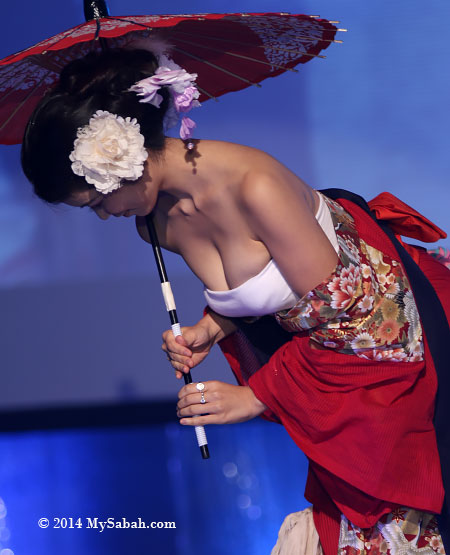 To me, she is the sexiest finalist. No offense Tara, it's not a sin to be beautiful and sexy. Please keep it up and thanks for the nose-bleeding (stimulating) moment..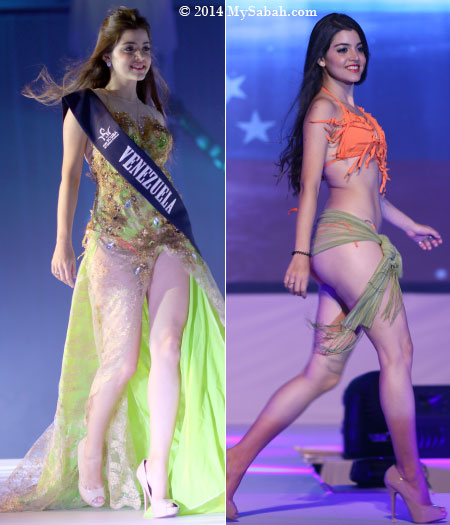 Pic: "Hola" to Krystel Bendahan Corrales / Kyky from Venezuela. Venezuela seems to produce a lot of beauty queens and models (and that's the only thing I know about Venezuela), she is no exception. I think Latin girls are hot because they inherit the nice physical features of westerner and oriental.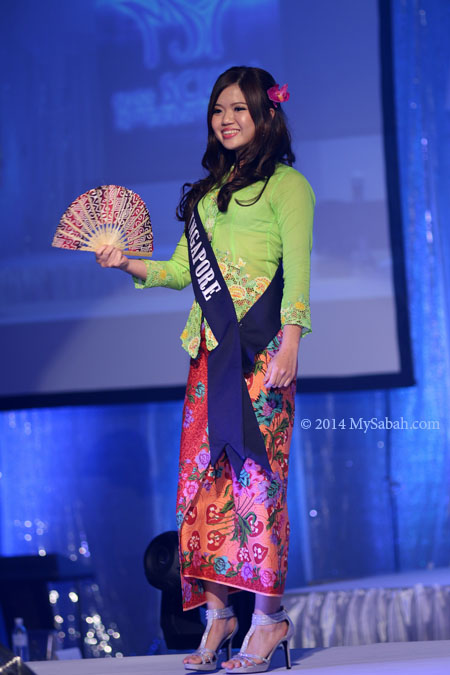 Pic: Let's welcome Jeraldine Phneah Jialin from Singapore. She is small but she has the biggest brain. She won the Miss Marine Conservation subsidiary title because of her good knowledge in marine.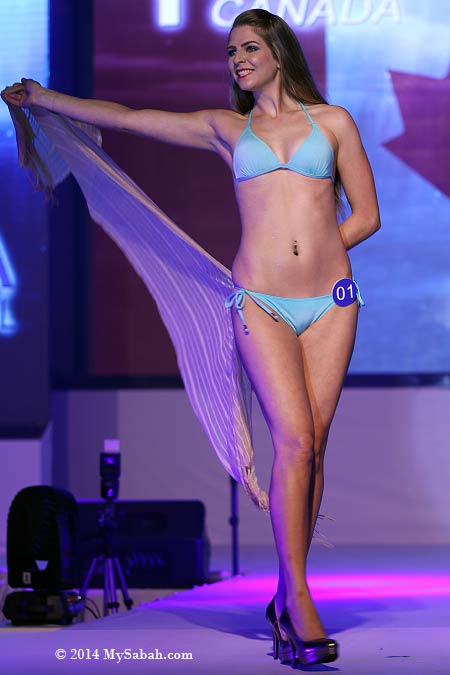 Pic: Winner of Miss Scuba Tourism, Allison Nicole Pelletier from Canada. Another goal of this pageant is to promote scuba diving in tourism. People will protect the sea after they learn to appreciate the beauty of ocean through diving.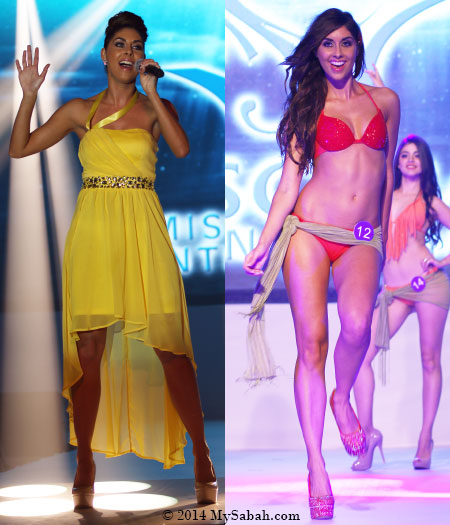 Pic: Michelle Katie Paraskeva / Chelle looks like a superstar from United Kingdom (may be a Bond girl), she radiated self-confidence and everyone could feel her energy. She sang the song "Mercy" in talent show, and all judges and audiences were so impressed when they saw a contestant turned into a professional singer. Of course, she won the Best Talent award.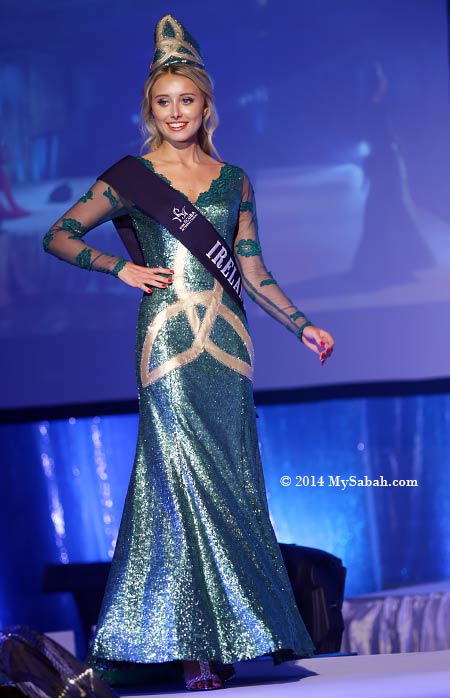 Pic: Amber Ryan Marie Gamble from Ireland. Does she look like Elsa in the movie Frozen?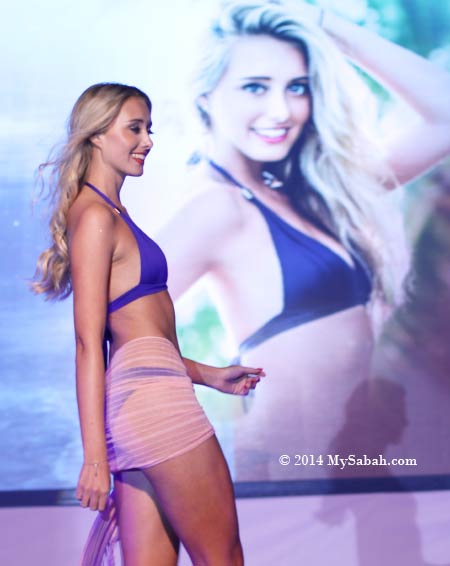 Amber won 2nd Runner-Up and Miss Photogenic in Miss Scuba International 2014.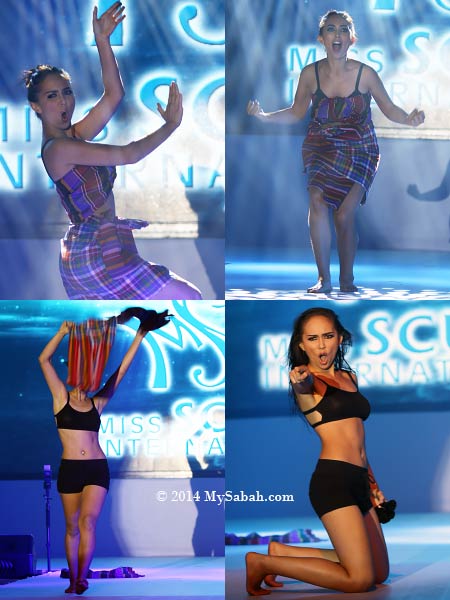 Pic: Next is Cattaleya Schulze / Catt from Thailand, the Land of Smiles and she did make everyone smiled. In her talent show, first she acted with many funny expression, then music changed and followed by a crazy dance (I Will Survive) of her.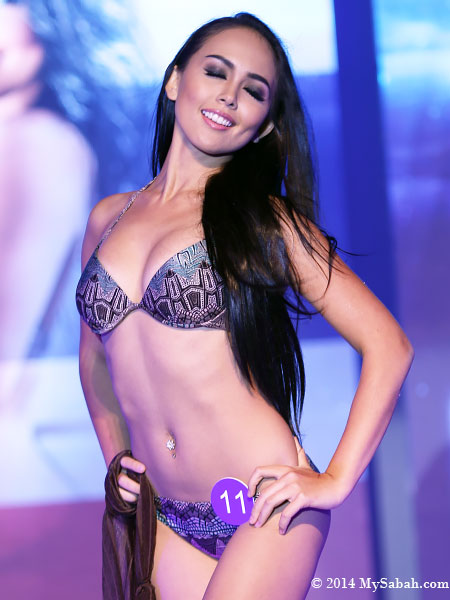 She seemed to enjoy the pageant and able to show her outgoing and playful personality. In fact, she is the most popular candidate since the beginning.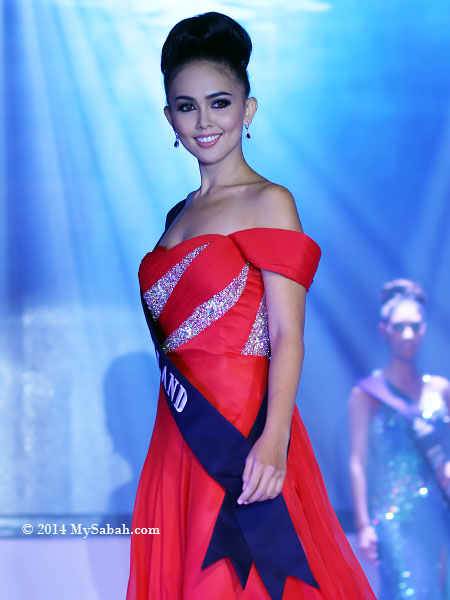 She is really gorgeous (when she doesn't try to act funny). Look at her perfect teeth. No surprise that she won First Runner-Up in this pageant.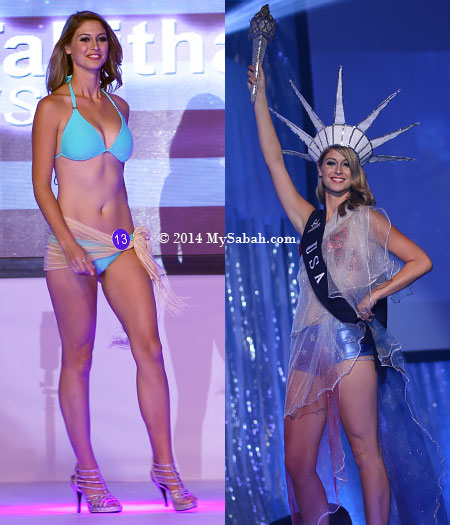 Congratulations to Tabitha Eleanor Lipkin from USA for winning the titles of Miss Scuba International 2014 and Miss Congeniality. Though she is no.13 and the contest was held on Black Friday, it's her lucky day. I like her costume with ice-cream.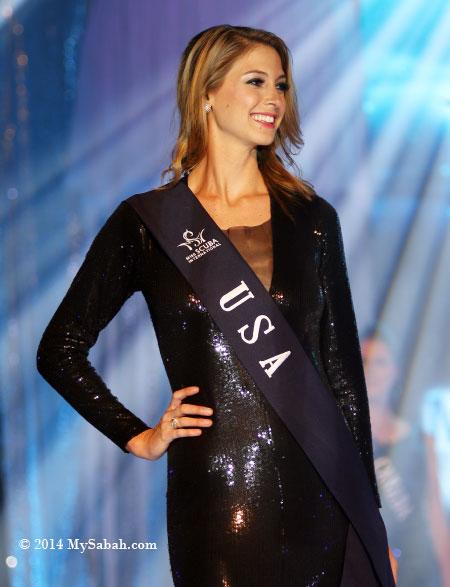 USA is really a birthplace of Superheroes, probably she will join Avengers team to save the earth lol. Tabitha is a journalist and her speech won the heart of judges in Q&A round.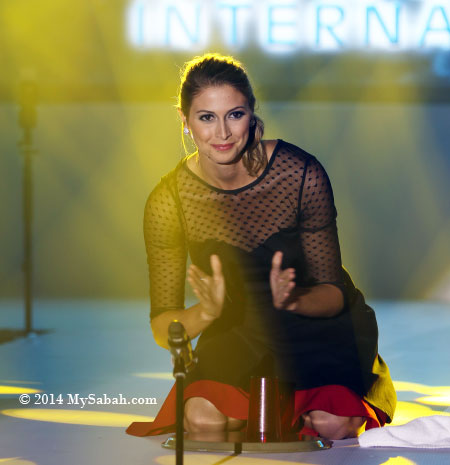 Pic: cup song by Miss Scuba USA
Ok, that's all. Let me ends this article with a few more photos.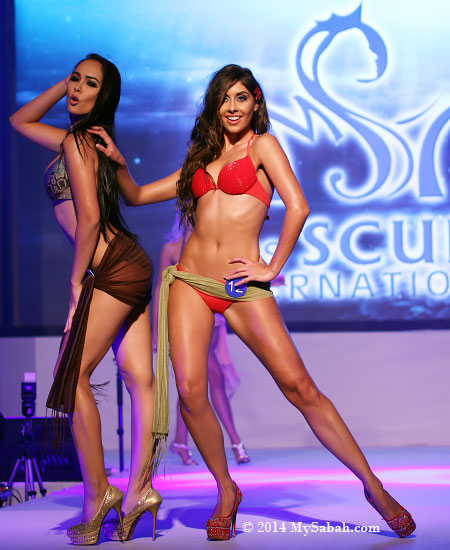 Pic: Miss Scuba Thailand and UK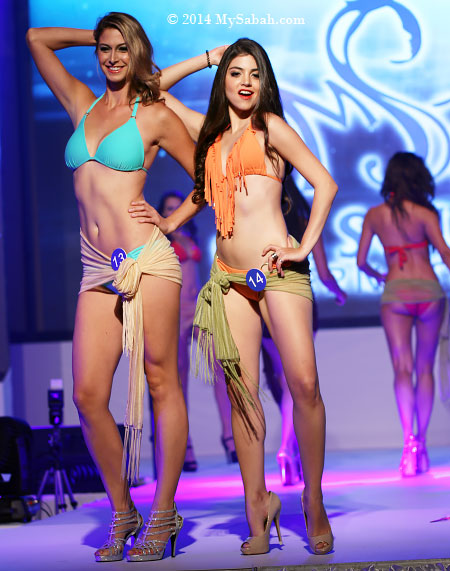 Pic: Miss Scuba USA and Venezuela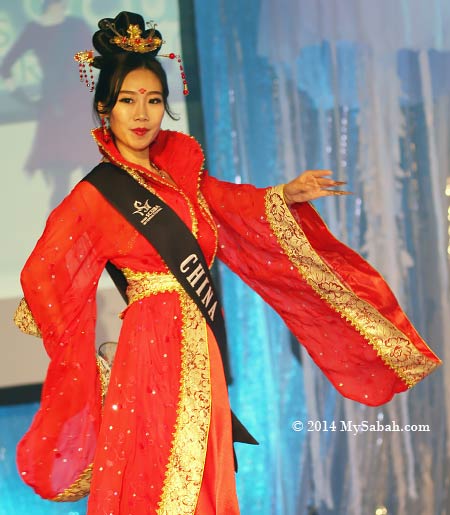 Pic: Miss Scuba China, Qian Ya / Quennie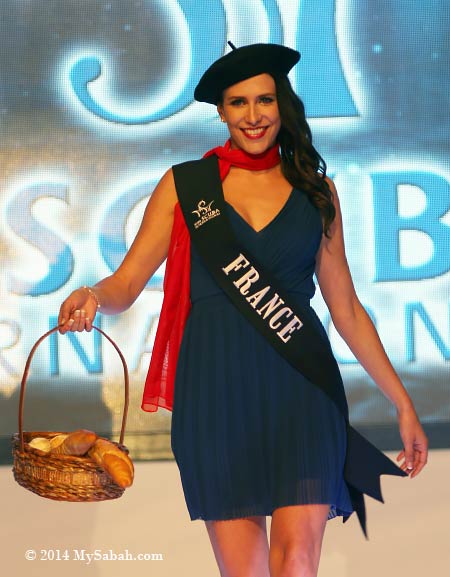 Pic: Miss Scuba France, Melanie Marie Louise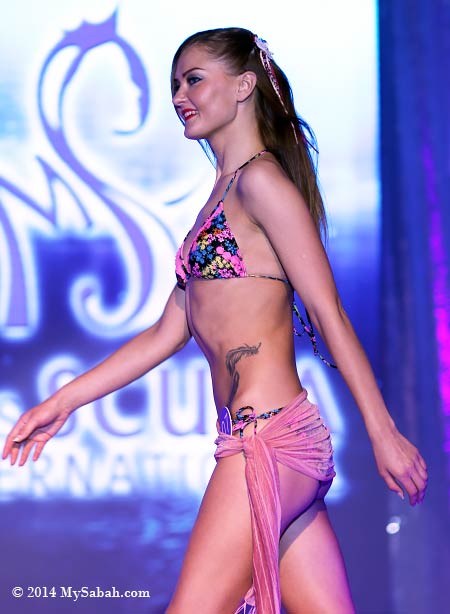 Pic: Miss Scuba Latvia, Liene Larko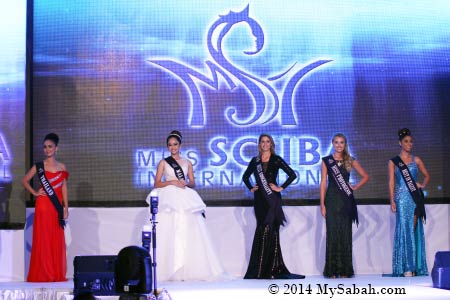 Pic: Top 5 of Miss Scuba International 2014. From Left: Thailand, Malaysia, USA, Ireland, UK.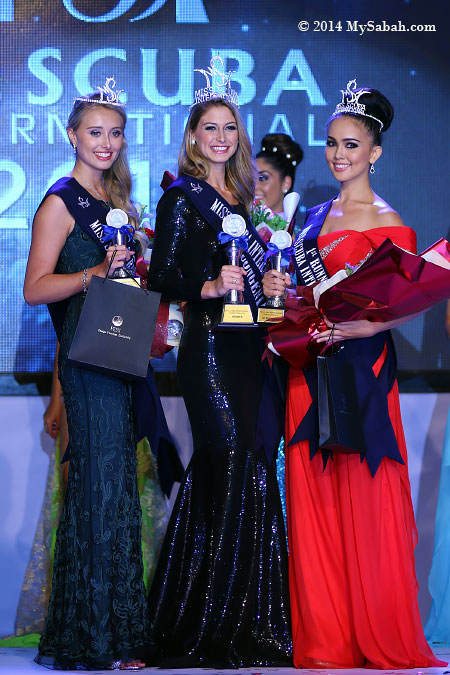 Pic: Winners of Miss Scuba International 2014
From Left:
2nd Runner-Up: Amber Ryan Marie Gamble, Ireland
Miss Scuba International 2014: Tabitha Eleanor Lipkin, USA
1st Runner-Up: Cattaleya Schulze / Catt, Thailand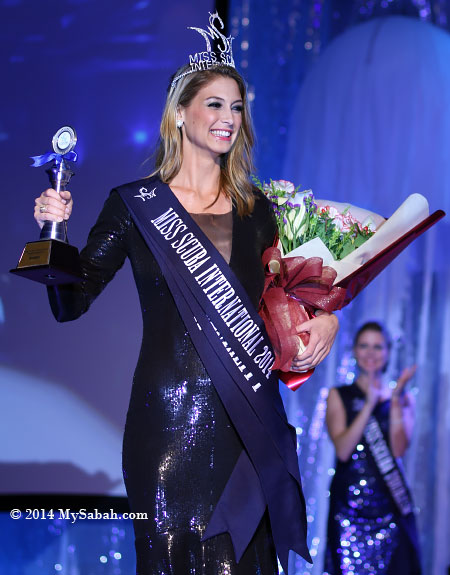 Pic: Miss Scuba International 2014
More Photos
There are 124 more photos in my Flickr album: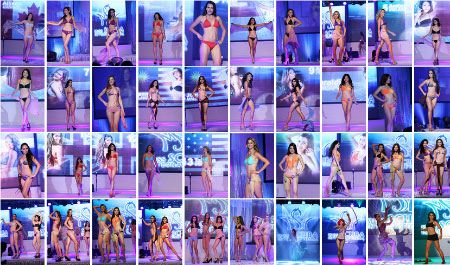 More Information
Below are the official websites of Miss Scuba International if you want to find out more about this pageant.
Website: www.missscuba.com
Facebook: Miss Scuba International, Miss Scuba Malaysia
Photos taken in Kota Kinabalu, Sabah, Malaysia Borneo