There have been some model competitions in Sabah every year. I started photograph model competition back in year 2005, 2006 and 2007. At that time, there was only a few photographers stood next to me. Now for every model and beauty pageant, there are always dozens of them around (sometimes even hundreds) to shoot the same thing, so it is like having many photocopy machines around. Surprisingly, my old web sites still get a lot of hit, according to my web report. Maybe this indicates that people love to see models.


Click Here to see more photos of Models >>
Anyway, Supermodel & Man Hunk competition is worth a mention coz it is a large scale and "real" model competition. The models had their catwalk on a proper LONG and big stage (unlike the small stages in pub that takes less than 15 steps to finish). They also wore designer's cloth and have Amber Chia, the real supermodel, as one of the judges. It is the first time model contest is properly done rather than a crowd-puller event for nightlife centre and pub. Not only that, it was a charity dinner to raise fund for SM St. John Tuaran, Pensioners Association and others who need it.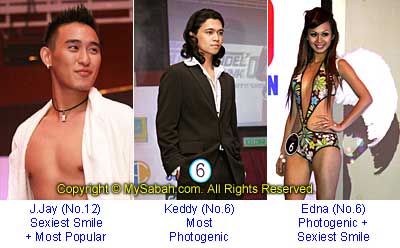 Click Here to see more photos of Models >>
Besides modeling show, we also enjoyed other entertainment such as song & dance performance and hair show. The models tried to impress the judges in 3 rounds (casual wear, swimsuit and evening gown). They were tested in catwalk, personal style, presentation skill, make-up, confidence, etc. The audiences also could vote for their favourite (Miss/Mr. Popular). Many say the face of female model winner (Evonne) looks like a singer in FIR group. In fact, I had seen a lot of her photos on the net before that, she does have the look of a star.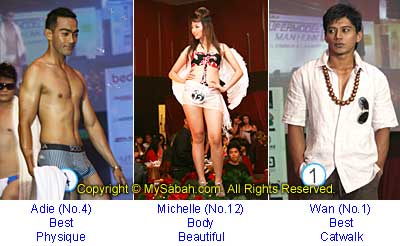 Click Here to see more photos of Models >>
Modeling doesn't seem like a sound choice of career in Sabah. So probably the biggest question for models after the competition is "What's Next?" Are they able to earn a living as a full time model? Sabah is not really a good place to breed models. When the models struggle for a living, they already have to take a lot of harsh comments from people who know shit about modeling. These poison tongues start to have a lot to say about your nose, your butt, your skin… as if they are expecting models should look like a perfect goddess from heaven. I'm glad that Amber Chia, who grew up in Tawau, didn't give up her dream. That requires a lot of courage and determination. She has showed a good example that model is not a dreamer.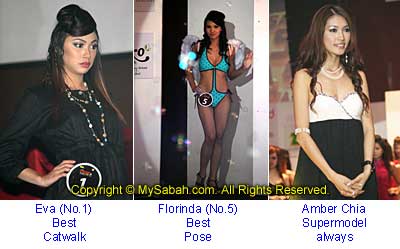 Click Here to see more photos of Models >>
Anyway, please allow me to make fun of one thing. After checking out the height of female models, I find that most of them are nearly or more than 170cm. I wonder if that includes the height of high heels? If they are near to 170cm, I am 180cm then, haha. Please tell me that the numbers are right. Actually a few of them are really tall.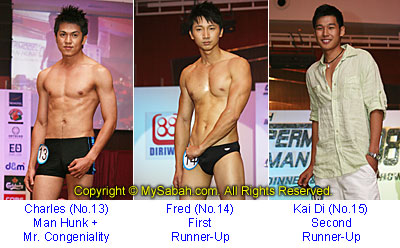 Click Here to see more photos of Models >>
Thanks Diriwan (88) for inviting me as one of their volunteer photographers. I am only a bit sorry about the poor quality of my photos coz I used the wrong method to shoot. Sigh… there is no good shot, only some ok shots, which I posted in my photo album. Don't expect too high lah oh.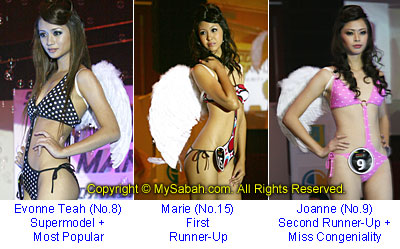 Click Here to see more photos of Models >>
Photos taken in Kota Kinabalu, Sabah, Malaysia Borneo