Living in a stressful world, we need a place to wash away our worries. Scientific studies show that being near water gives us a powerful mental health boost. How about a water therapy at Taralamas River Canyon, a 15-million-year-old canyon that is hidden deep inside the rainforest of Sabah? Its unique geological feature is a wow factor to visitors. Most people decide to visit Taralamas just by looking at its photos.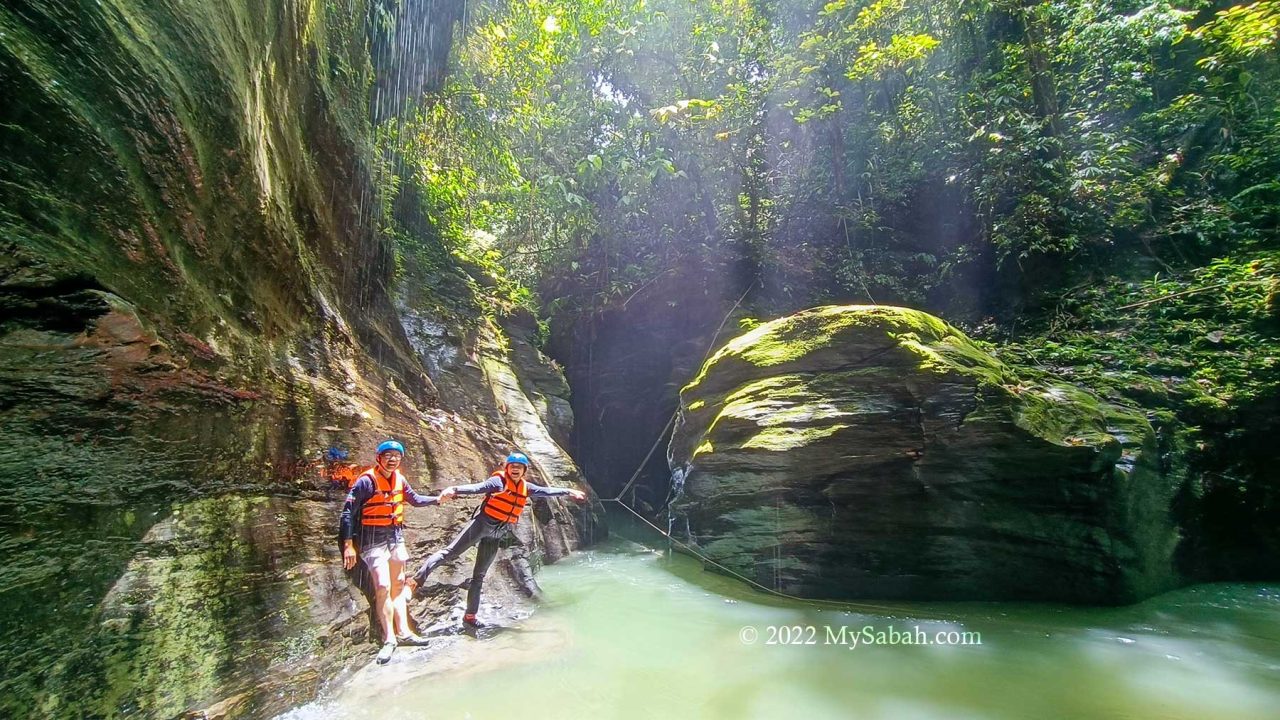 Taralamas River Canyon, which is formed earlier than Mount Kinabalu, is a work of water erosion. It's a great canyon, though it's not as big as Grand Canyon. Besides the interesting landscape, a trip to Taralamas allows you to enjoy various nature-based activities such as hiking, picnic and swimming that cover forest, river, waterfall and hill.
Standard Itinerary
Most visitors prefer a day trip at Taralamas River Canyon. The following is the standard itinerary (shortest trail). Please note you need to book the tour in advance. Walk-in tourists may not be accepted.

5am: Depart from Kota Kinabalu City (KK)
8am: Arrive Tiang Lama Village (in Ranau) and start hiking (3 KM)
10am: Reach Taralamas River Canyon (Lunch and river canyon walk there)
12pm: Going back to the Starting Point
2pm: Return to KK
6pm: Arrive KK
The downside of day trip is more than 7 hours of driving back and forth. You can consider spending a night in homestay of Tiang Lama (walking distance to the starting point) for a more relaxing experience.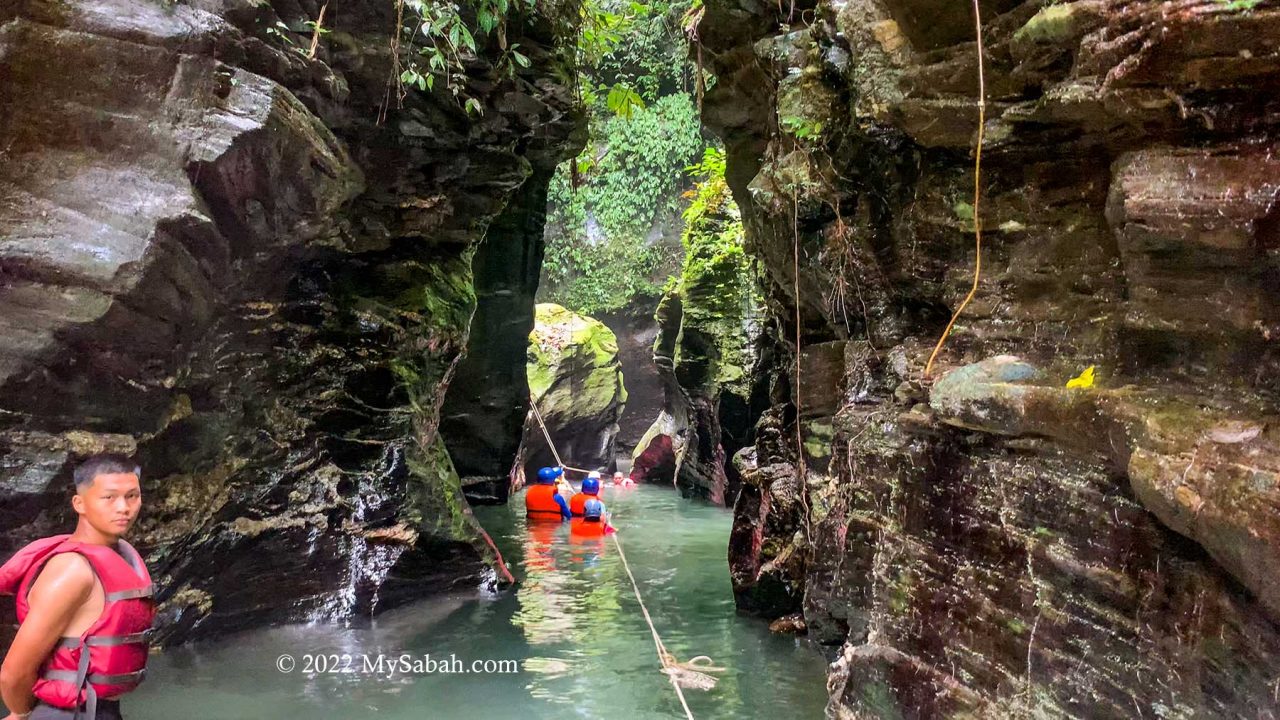 Below is a useful walk-through with photos, or you can watch the video below:
Gather at Starting Point (at Tiang Lama Village)
The starting point of the hike is at the Community Hall near the end of Tiang Lama Village (or Kampung Tiang Lama) in Ranau district. Group of hikers congregate there between 7am and 9am. It's better to start hiking in early morning, as it's more likely to rain in the afternoon.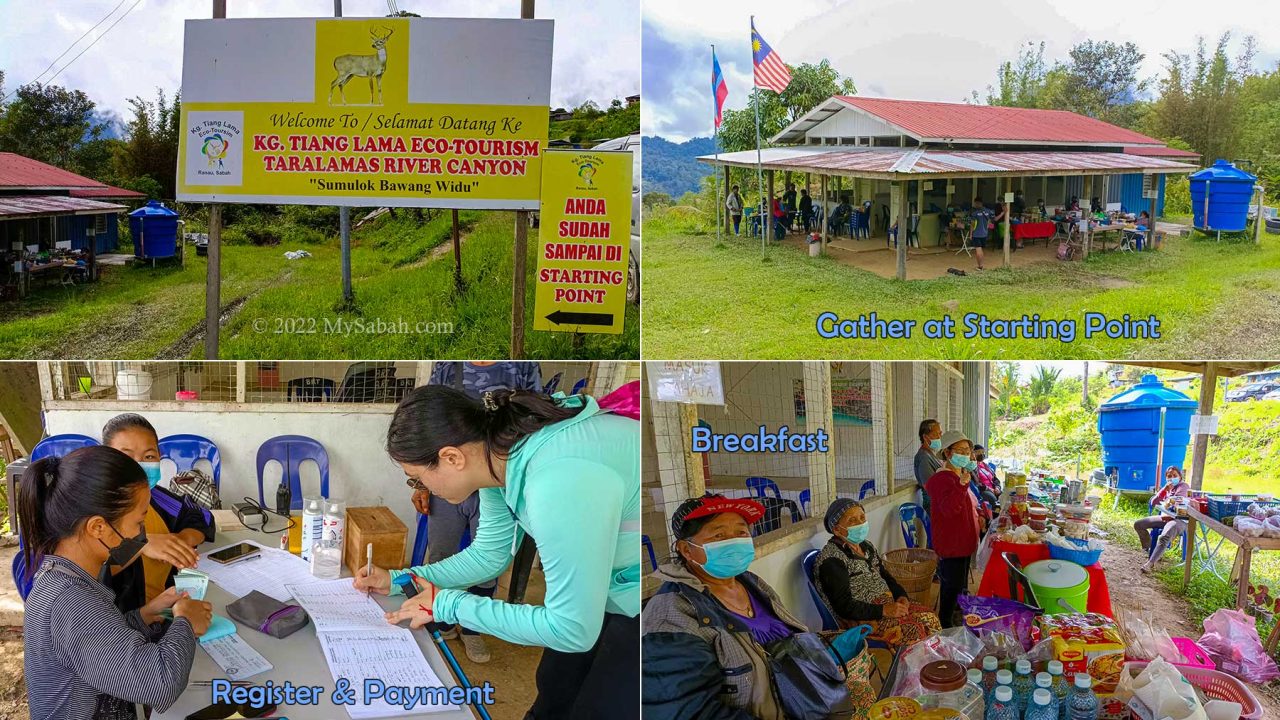 After you register and pay the operator, a village guide will be assigned to your group. Most guides are youngsters from the village. There is a small toilet near the hall, in case you want to relieve yourself before the 2-hour hike. A short briefing on Do & Don't will be given before the hike begins.
At the hall are some stalls that sell food, (e.g. fried noodle, linopot packed rice, instant noodle, snacks, biscuit, pinjaram, hinompuka, traditional kuih), drink, fruits and vegetables. You can have your breakfast there and buy packed lunch from the villagers, as there is no restaurant at the canyon.

The stalls are also around in the afternoon, so you can buy some fresh produce at a very reasonable or cheap price, before you head home. Depending on the season, you would find different fruits and vegetables such as durian, tuhau and rambutan.
Hiking to Taralamas River Canyon
Once everyone is prepared, we start hiking from the village. The morning at Tiang Lama Village is cooling and refreshing. Within minutes we come to the plantation in the mist.

The temperature is about 25°C. You might need a jacket to keep warm in the beginning. Very soon you would feel warm after some walk among the dense shrubs and trees.
We choose the standard loop trail, which is 6 KM back and forth and the shortest hiking distance. If you want to visit the Sadoron Waterfall, it'll be a total of 8 KM walk.

Everyone start out dry and high in spirit. Just don't expect to come out dry since you would face muddy trail, river canyon walk or rain later. Waterproof shoes such as Adidas Kampung would help a lot. Very likely you will need an extra pair of dry socks.
The trail is well-trodden. I've been to Taralamas twice and the muddy trail in the first 30 minutes is quite a drag, because the slippery trail on uneven ground can slow you down.

After one KM, you will enter the secondary rainforest. If you are lucky, you would see flock of Rhinocerus hornbill flying over the canopy. There are some leeches but only a handful of them. Wearing anti-leech socks will keep them at bay. The deer fly is more annoying when they find you by the smell of your sweat. The presence of blood sucking bugs means the forest is rich with wildlife.

Normally it takes about 1.5 hours to reach the river canyon 3 KM away. Overall the trail is not very challenging. Accident is rare. Only the one KM before the canyon is steep. The difficult sections have rope support. Ladies would need gloves to protect their skin while using the coarse ropes.
Anyway, you don't need to rush. Just enjoy the view along the trail. I've seen Alocasia cuprea (ornmental plant), bamboo groves, Begonia, mushroom, fungus, big fern tree, and many unknown flora.
Reaching the River Canyon
After 3 KM, you will reach the river bank of Widu River. You are probably very excited, but please keep quiet. Making noise in the forest are taboos.
You can place your bag and belonging under the canvas shelter in case it rains. There is a small toilet nearby for you to change or doing your business.

One of my favourite moment is to enjoy my linopot lunch by the river. During dry season, the river water is clear with emerald colour. I'm always tempted to collect the beautiful blue-grayish river rocks but this is forbidden (and would bring bad luck).
Some insects such as butterflies and bees attracted by our sweat. They land on our skin to harvest salt, which is a vital but rare mineral in the jungle. The bees won't sting you unless provoked. But be careful and bring medicines (to treat anaphylactic shock) if you are allergic to bee stung.

Butterflies are more timid and would target the fresh mud on our shoes. Entomologists will be pleased to find Borneo endemic species among them, for example, Bornean swallowtail (Graphium stratiotes) and Bornean sawtooth (Prioneris cornelia). I also see Bornean Straight Pierrot (Caleta manovus), Orange Gull (Cepora judith hespera), Grass Yellow, Green Dragontail, Mormon, and Common Cruiser at the river bank.

The gap of the river canyon is only 2 to 5 Metres width, and there are more than 30 visitors. Therefore, we take turn to go in, to avoid overcrowding. Usually the walk in river canyon takes about an hour.
Enter the River Canyon
Finally it's my turn. We are required to put on a life vest and a helmet to protect us from drowning and falling rocks. The canyon is about 150 Metres long. However, in most cases, the guide would bring you up to 120 Metres. You can fully explore it only when the water is very shallow in dry days.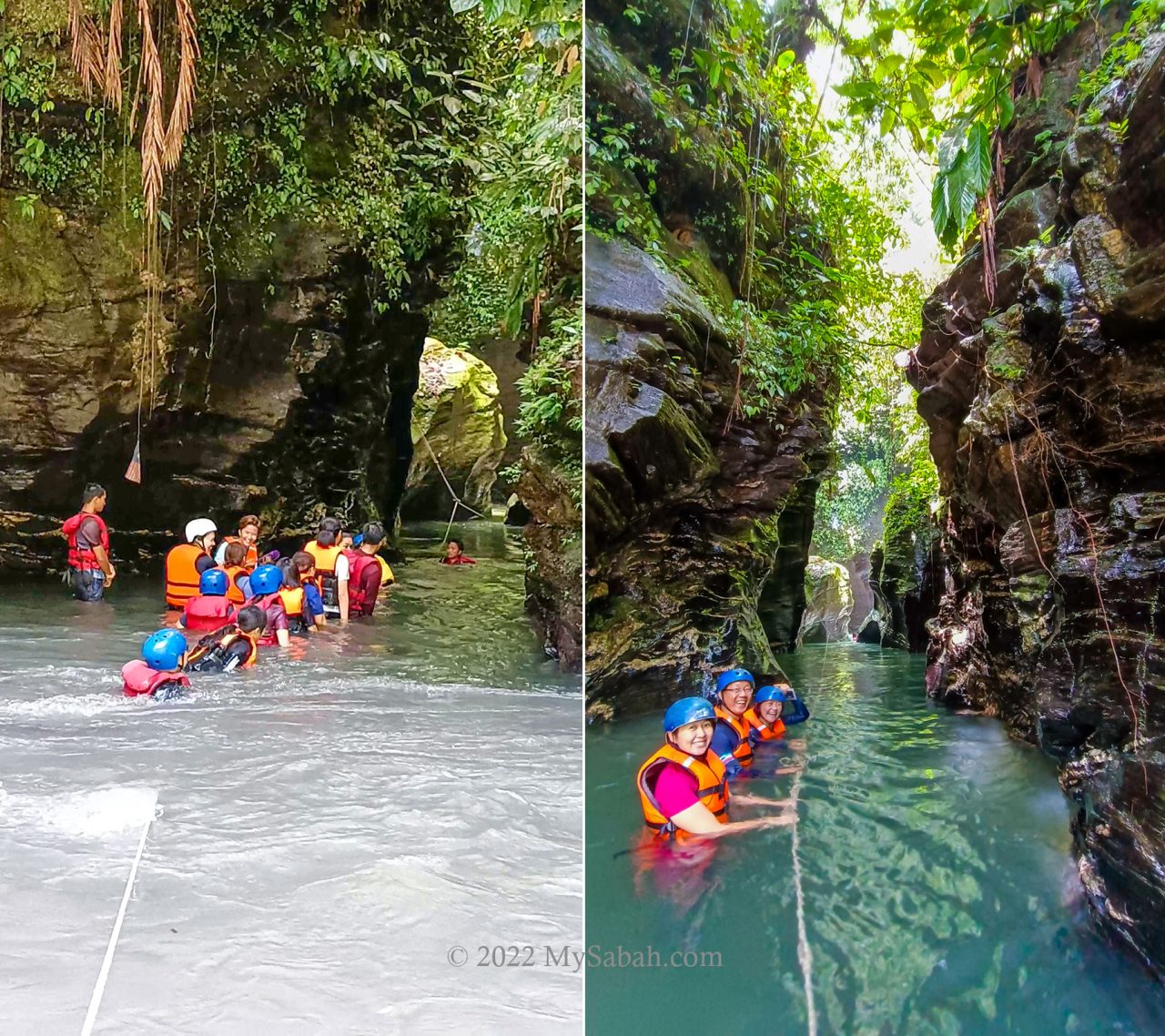 I cross the river to enter the canyon at the other side. The temperature of the water is about 25°C degrees, it's cold but probably not enough to cause hyperthermia, unless you stay for long hours. It's bearable once my body gets used to it.
During drought season, you can walk across the river easily. It rained the night before, so the river reaches my chest level and the current is quite swift. I hold on the guiding rope to move to the entrance of the canyon, and fight another stream coming out from there.

Though I struggle a bit with the cold and strong current, I feel no regret the moment I see the gorgeous rock walls in the canyon. Like most people say, it looks so unreal and doesn't resemble any place in Sabah.
The rock walls in the canyon marked with layers horizontally, a characteristic of sedimentary rock. I feel like being sandwiched between two giant chocolate crepe cakes of 2 to 5 floors high. The walls are comprised of rock layers that are stacked and deposited since 60 millions years ago. After river flows on these rocks for million of years, it carves out the Taralamas River Canyon today. The wall surface is so smooth that I can see my reflection.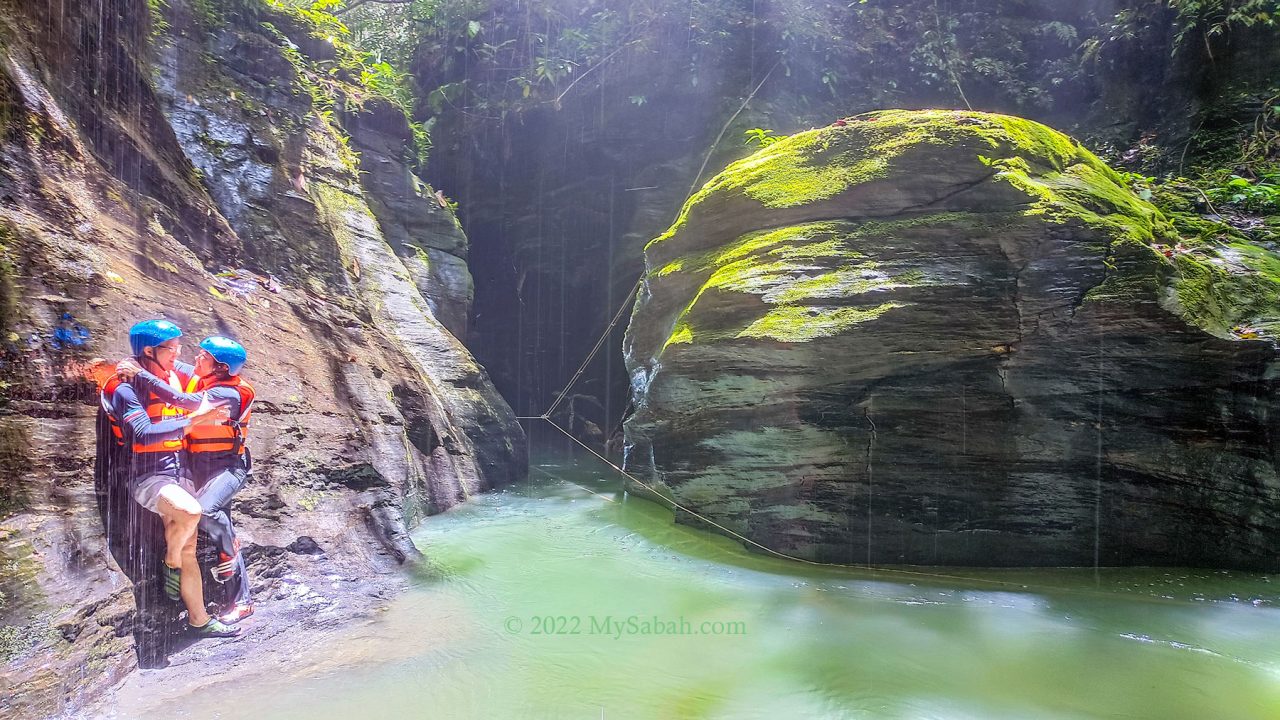 Part of the river is as deep as 9 feet. I float on the water and use the rope to move forward slowly. I look up and see the sky through the narrow opening, which is partially shielded by the translucent green leaves. Some big rocks in the canyon really look like petrified wood. I thought it was wood until my toes kick it.

The first half of the river canyon is the best section for photo-taking because it's relatively well-lighted and some rocks are coloured by green moss. About 40 Metres into the canyon is a wide open area with sandy bank where you can stand. I take a break there and photograph some pictures when the afternoon sun on top brightens up the canyon.

Then I continue to explore the canyon. The deeper side of the canyon is dark and narrow, almost like a cave tunnel, it's a bit scary actually. Large volume of water squeezes through this narrow tunnel and pushes me with force.
I climb over a few mini waterfalls to go further inside, like a rat crawling against the running water in the pipe. Behind each waterfall is a chamber-like space with opening on top. The rain starts to flood the canyon, so our guide advises us to leave before the bad weather hit us. Exit the canyon is easy as we follow the current.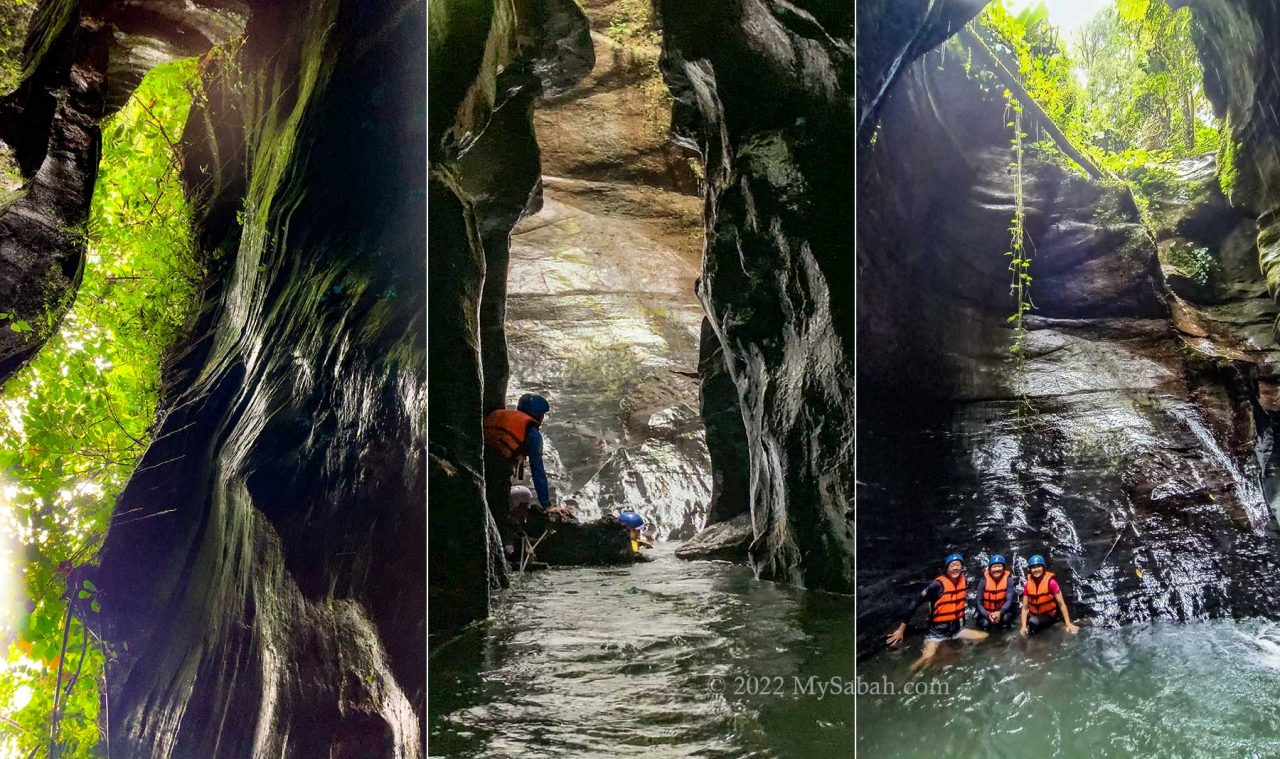 At last we hike back to the starting point and it is pouring rain on the way. None of us was dry. After some clean-up at the community hall, we return to KK. I've visited the canyon twice but more than happy to come back again.
Geology of Taralamas River Canyon
On social media, you may have seen tons of posts that praise the beauty of Taralamas River Canyon, but nobody tells you why it is so special. I did some homework by asking Professor Dr. Felix Tongkul, an expert in geology.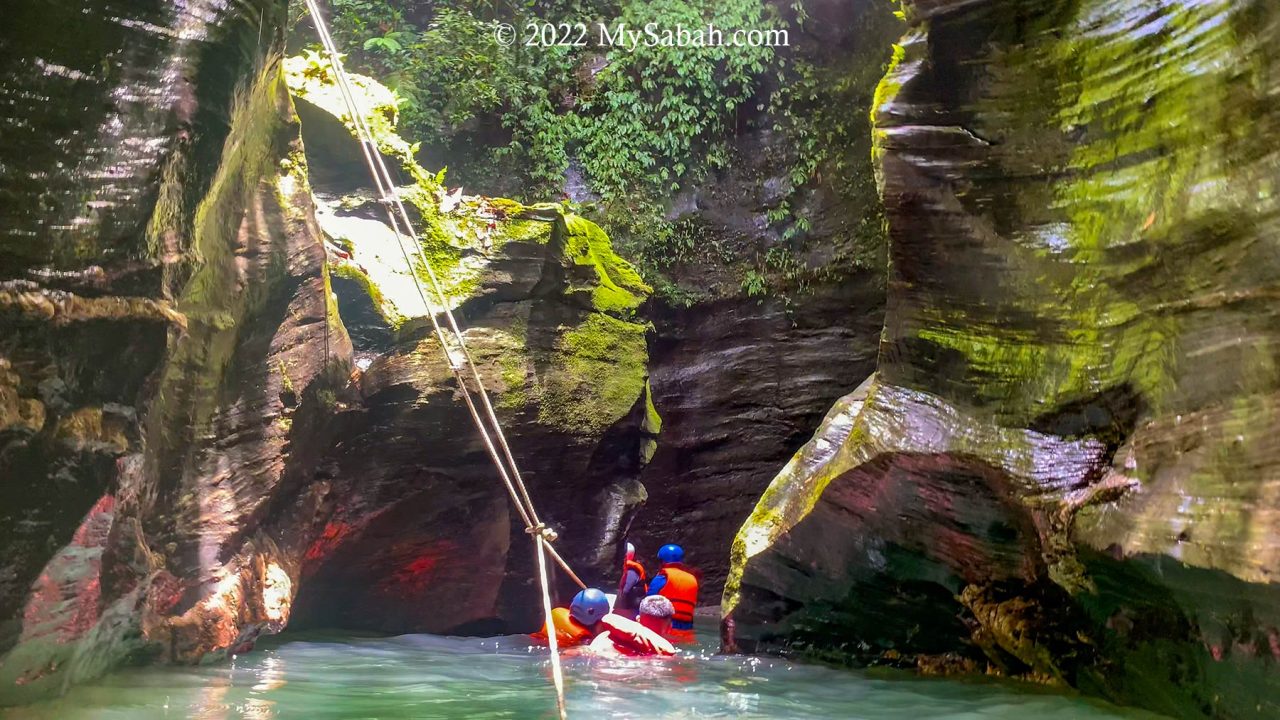 According to Dr. Felix, technically Taralamas is a small river canyon. It was formed by stream erosion along a vertical fracture on the sedimentary rock sequence of the Trusmadi Formation. The sedimentary rock sequence comprising of dark shales and thin sandstones that were deposited about 60 million years ago in a deep sea area. The canyon itself was formed much later after the sedimentary rock sequence were uplifted and exposed on land about 15 million years ago. (Me: Wow, this canyon exists about 7 million years earlier than Mount Kinabalu.)

Dr. Felix also said that there are other small canyons in Sabah too, but they are quite inaccessible. One such canyon can be found along Baliojong River in Kampung Togudon, Tandek in Kota Marudu. In terms of geological significance, Taralamas tells the geological history of Sabah during the Paleogene Period and illustrates the ongoing geomorphological process that shapes the surface of the earth. (Me: It's also an extraordinary geotourism destination.)
Stories of Taralamas
My first impression of Taralamas is its hauntingly beautiful and mysterious vibe. Locals believe that some guardian spirits are living in this canyon. They don't appreciate noisy people and dogs.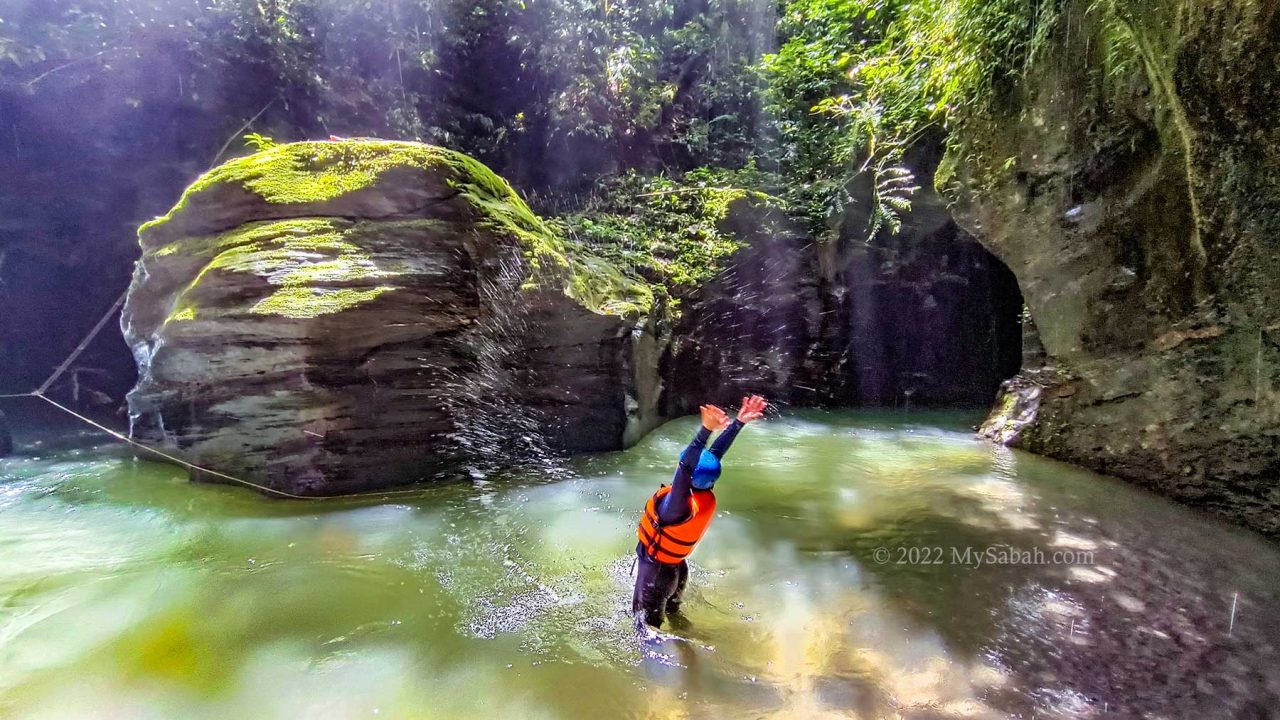 Mr. David Julian, the founder of Tiang Lama Village Ecotourism, has been working on the tourism project there since 2019. He shared some stories of Taralamas with me. He thinks this canyon was probably discovered by the villagers who fished and hunted around Widu River in 1930s.

The name "Taralamas" originated from the local word Dalamas, which means wall of big rocks at the river, or tall and slippery giant rocks along the river. Before Taralamas was open to tourists, it's a fishing ground of the villagers.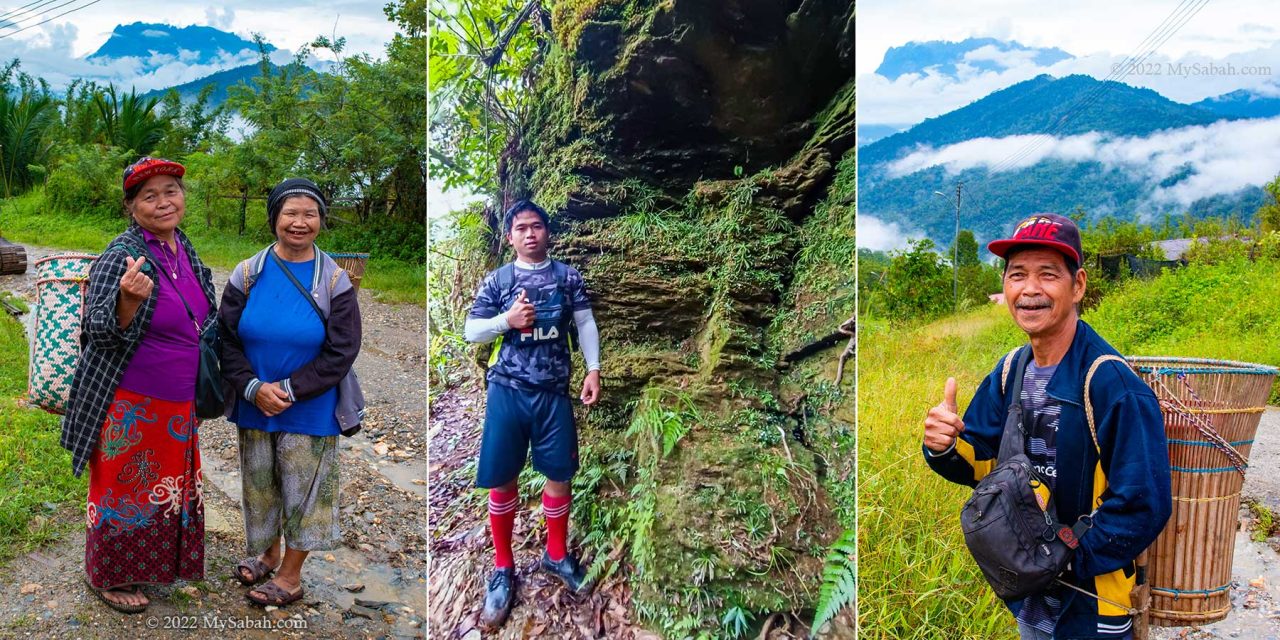 Though the river there is teeming with fishes, the spirits can make fishermen go home empty-handed. Therefore, before the villagers catching the fishes together, their Bobolians (high priest) would perform a ritual to request for a bountiful caught permitted by the bunian (elf). As most villagers are converted to Christians or Muslims nowadays, they are no longer doing this, but they still remain respectful to the spirits in the canyon. That's why shouting, cursing and offensive behaviours are not acceptable at Taralamas.

Another story is a group of hunters were chasing a deer at Taralamas. A dog and deer fell into the canyon. When the hunters went down to search in the river, they were shocked to find that the dog and deer have turned into rocks and sticked on the wall of Taralamas River Canyon. The figures are still there, but faded now due to water erosion.
Fees & Booking Info
To visit Taralamas River Canyon, you can book the tour online with one of the village operators listed below. Both operators offer different packages and services. Besides entrance and guiding fees, you can order add-on such as packed meals, transportation and homestay / camping. And hardcore hikers can opt for the longer trails (8km and 12km) to visit Sadoron Waterfall and Gibai Peak.

1) Noponu Adventure Center
Website (booking): noponu.com
Facebook: @noponucamp
E-mail: davidjulian5583@gmail.com
Phone: +60 19-5803558
2) Tolungan Daralamas River Canyon
Website (booking): tntdaralamas.com
Facebook: @taralamasofficial
E-mail: tolungandaralamas@gmail.com
Phone: +60 19-5826269, +60 13-2343949
Note: They would cancel the tour if the weather is bad (canyon flooded). If you plan to overnight in Tiang Lama Village, do bring some warm clothing. It's very cold at night (about 16°C).
How to get there
Tiang Lama Village is a remote site located between Ranau and Tambunan districts. If you depart from Kota Kinabalu City, the driving distance is about 170 Kilometres (or 106 miles). The last 25 KM to the village is a gravel road, while the rest is paved road in ok condition. It takes 3.5 or more hours to reach the village by car. For day trip, you better move as early as 5am.

The junction (GPS: 5.858062880692335, 116.50639939196654, see Location Map) to Tiang Lama is next to the main road between Ranau and Tambunan towns. The 25-km gravel road is muddy after rain, so getting there by 4-wheel drive is highly advisable. Or you may book the transportation with the operator, who can pick you up in Ranau or Tambunan town.
Things to Bring
The following is a list of recommended items to bring for day trip. It's for your reference only, you may not need them all.

Drinking water & bottle
Backpack with rain cover
Dry bag
Raincoat / poncho
Cash
Jacket or windbreaker
Gloves (for using ropes)
Waterproof casing for phone or camera
Power bank and charger cable
Swimwear / Spare clothing
Towel
Extra socks
Plastic bag (to store wet or soiled clothing)
Toilet paper
Tissue paper or wet wipe
Hiking sticks
Insect repellent
Optional: Lunch Box + spoon, energy bar / snacks, personal medicines, hat, sunglasses, sunblock lotion
Photos taken in Ranau, Sabah, Malaysia Borneo