Category Archives:
Culture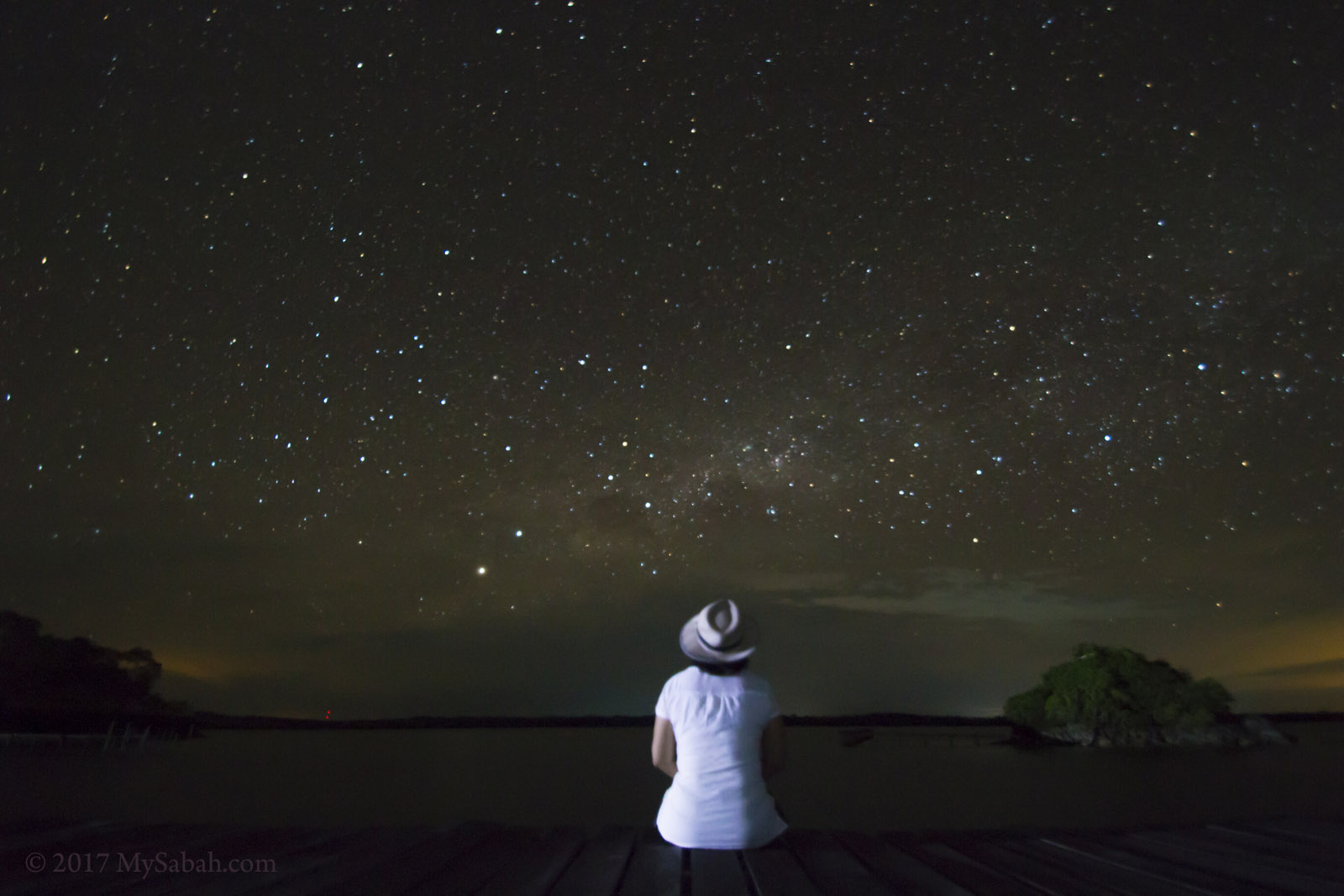 When I was on a quest to explore the legend of Supirak, I found myself another wonderful seaside vacation at Malubang Village (Local Name: Kampung Malubang), a remote fishing village in Pitas near the tip of northern Sabah. Spend a few days there and you will experience a simple village life without electricity, Wifi, water heater, air-conditioner, asphalt road, etc.
Kampung Malubang (Malubang Village)
Malubang Village is located at a beach in Marudu Bay. Most villagers are Sulu people who mainly work as a fisherman. Every morning you can see their fishing boats depart for fishing trip.
Malubang is facing Kudat town and Tip of Borneo is clearly visible at the horizon. In fact, Kudat is less than an hour away by boat, and Banggi Island takes about 20 minutes.
Though tourists seldom come here, the friendly villagers are ok with outsiders taking a stroll in the village. They are shy but smile a lot. It's a small fishing village with about 30 houses. Foreigners would find the fence-less stilt houses there interesting.
During my visit, there was an open house wedding reception (of Mizrul and Mastura) in the village. They were kind to invite me to have lunch with them and watched them dancing and celebrating.
This village is a close community, in contrast to city. I confess I don't know most of my neighbours and never visit their home too. May be it's not only me.. Nowadays kids in same neighbourhood don't mix around. In old days, I went cycling, fishing and climbing tree with my young neighbours, so Malubang brings back memory.
I enjoyed every moment in Malubang. The only thing I don't like is that a lot of rubbishes washed up to the shore there.
Supirak Legend
Supirak Island and its surrounding legendary rocks are the main attractions of Malubang (as well as Pitas district). Legend says Supirak Island was a ship turned into a rock due to a curse by mother to her ungrateful son.
At Malubang, you can charter a small boat easily (for less than MYR80) to visit these island and rocks around the bay, as every villager owns a boat (life vest may not be provided).
Besides Supirak Island, there are many other places of interest in Pitas, to name a few, traditional fishing platform named Bagang, long-nosed monkey in mangrove forest of Bengkoka River, and Esplanade Bengkoka. Due to limited tourism facilities and lack of promotion, Pitas isn't a popular destination.
Accommodation
Malubang Homestay is the only accommodation in Malubang Village. At the edge of Malubang, the lodge is a longhouse style accommodation with 6 Rooms. The rate is MYR40 to MYR50 (about USD$10 to 12.50) per room per night. It could be fully booked during peak season such as school holiday.
Each room is big enough to fit a group of 3 to 4 people, and it comes with attached bathroom cum toilet, beds, and fan. You can cook in common kitchen area, but you need to bring your own cooking utensils.
Please note there is no restaurant in the village. You can request the lodge to prepare the meals for you (Fee per head: Breakfast MYR4.00, Lunch MYR10.00, High Tea MYR2.00 and Dinner MYR10.00).
Everything in this lodge is basic. Power supply is only available from 6pm to 6am (by power generator), which provide lighting and sufficient electricity to charge your phone and camera.
But hey, the nice sea view makes up for it, and beach is less than 20 Meters away. Some beach resorts want guests to pay thousands for such view. The little rocky island at the left is Bum-Bum with a half-completed jetty (lack of fund to finish).
There was no mosquito net in the room. To prevent mosquitoes eating me, I had to position the standing fan to point to my bed to blow those buggers away.
For booking, you can contact Mr. Moktar at cellphone: +60 19-8212597 (Whatsapp available). Moktar is Orang Sungai married with 5 kids. He starts the lodge in 2008. The GPS location of Malubang Homestay is 6.956184, 117.060140 (see Location Map). Moktar also can arrange the tour and boat transfer to visit the attractions nearby.
Most guests are families from Pitas and Kota Marudu. Moktar will be happy to receive some international tourists. He understands that his lodge could be better, so he plans to improve his accommodation.
When we were ready to check-out, Moktar was missing in action for nearly an hour. Then he suddenly showed up and brought a covered plate, with mysterious smile on his face. He cooked us a big plate of yummy and steaming fresh crabs. Thank you Moktar! You are such a nice guy.
Sunset
Malubang Homestay is facing west, so you can enjoy watching giant yolk sinks into sea every day. I need not to say more.
After dusk, the brightest thing at night here is the city light of Kudat at the horizon. Power line hasn't reached this village yet.
Fishing
You might think that this peaceful fishing village becomes even quieter after nightfall. Wrong. Many villagers, both young and old, are busy fishing at the jetties at night. FYI, Malubang Village is famous for fishing giant squid (Sotong Gergasi), which can weigh up to 6 Kilograms and abundant from Oct to Feb every year. Now I understand why every visitors brought a fishing rod.
Malubang is so lucky to have 3 jetties that extend a few hundreds Meters to the sea, so the people can fish anytime, even during low tide. I didn't bring a fishing rod, so I was just busybody and check out what they caught. There were mainly stingray and fishes, some are over 2 Kg, quite big.
FYI, my Maxis mobile phone got one bar of signal at the end of the jetty, enough for me to check Whatsapps and emails.
Milky Way
It's quite windy in the evening. I felt so relax laying on the platform of jetty and enjoyed the sea breeze. The sky was full of stars and shooting stars appeared almost every few minutes, some are quite big and last 4 or 5 seconds.
That's crazy that by 7:30pm I already could see Milky Way spanned across the sky like a silver belt. I didn't know Pitas is an excellent place for stargazing.
Kampung Pansuran
I also walked around Kampung Pansuran (Pansuran Village), a smaller fishing village about a stone's throw from Malubang Village. Most residents there are Bajau Sama people.
The villagers there are also equally nice and friendly. They were busy with fish caught and dried some of them under the sun to make dried seafood.
They still use traditional fishing methods such as fishing net and fishing line. Pitas is famous for its dried seafood.
Talking about village life, you might visualize I become a shirtless muscle guy playing soccer and laugh with the local kids, a cliche scene common in many movies. No, I didn't do that, LOL.
Mondou Hill (Bukit Mondou)
To make sure I didn't miss out any attraction near Malubang Village, Moktar took me to Bukit Mondou, a small hill only a few minutes drive from the village.
Though Bukit Mondou is the highest point in Malubang, it is less than 80 Meters high, and it took us less than 30 minutes to reach the top. The trail is mostly flat and not challenging at all.
However, the trail is not tourist-friendly and covered by long grasses. Please don't go there alone.
The view on top of Bukit Mondou is nice, as you can see Supirak Island and have a panoramic view of Malubang and Marudu Bay.
How to get there
From Kota Kinabalu City (KK), you need to drive about 5 hours to reach Malubang Village. The first 3 hours drive from KK to Pitas town is on 140 KM of paved road in good condition. The last 60 KM further north from Pitas to Malubang Village will be a bumpy 2-hour ride on gravel road.
Therefore, you need 4-Wheel Drive to enter this remote place. Though small sedan such as Kancil also can make it, it'll be a pain to move around the potholes, mud ponds and uneven surface. The GPS Coordinates of Kampung Malubang is 6.956184, 117.060140 (see Location Map).
It's advisable you stop by Pitas town to have lunch and fill up the gas tank. For first timer, avoid to drive there at night because there is no street light along the way. Please also note that Uber and GrabCar aren't available in Pitas district. Internet and mobile phone coverage are limited in most part of the journey.
Btw, one the way home, you may buy some dried seafood from the roadside stalls around Pitas, for great bargain.
Photos taken in Pitas, Sabah, Malaysia Borneo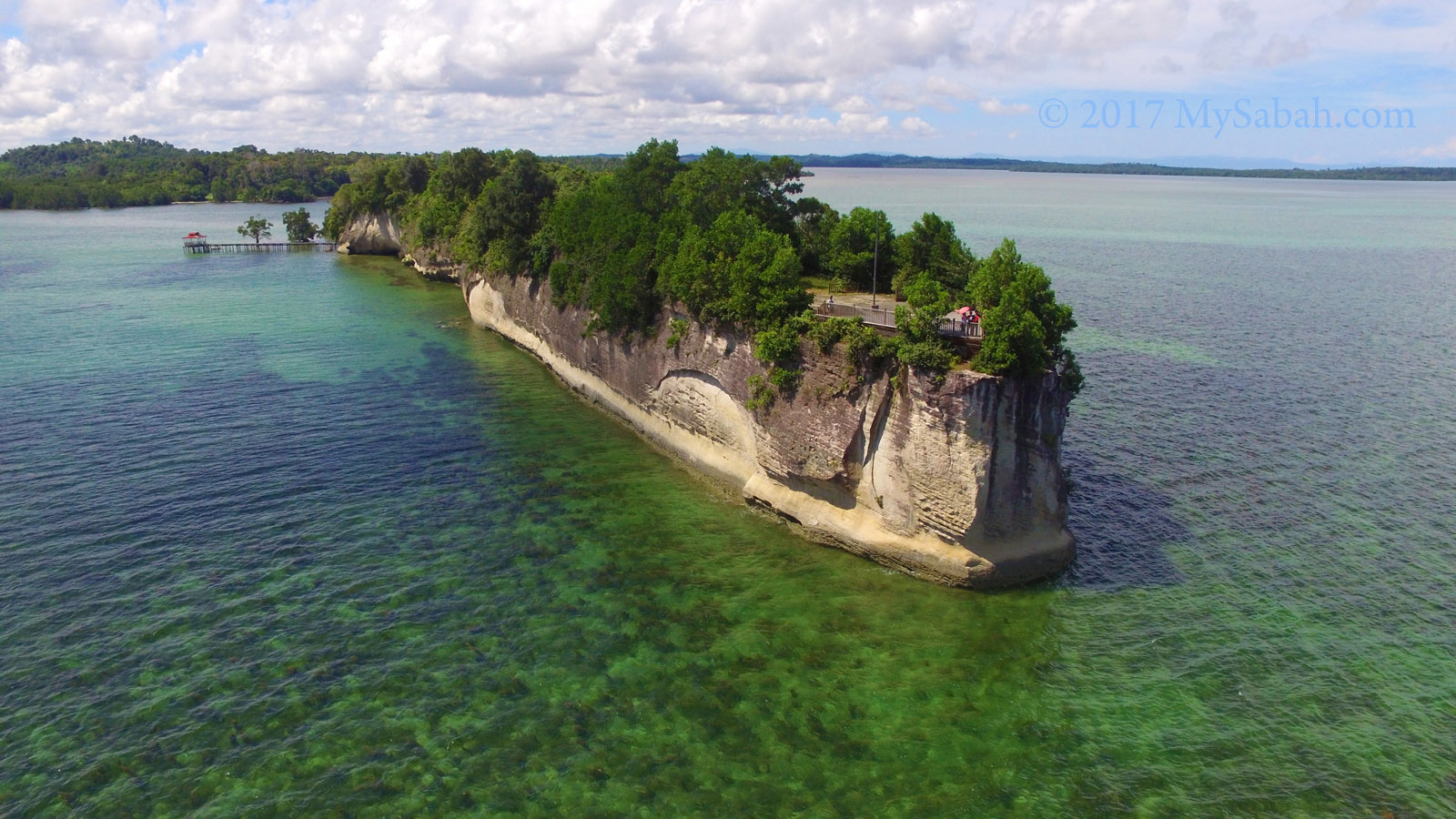 Are you a tourist who loves sightseeing at popular attractions, or a traveller who enjoys exploring destinations off the beaten path? If you are a traveller, visit Pitas, a remote area of Sabah that even Internet doesn't know much. If you google Pitas, you will find a round pocket bread named Pita instead lol.
Kampung Malubang (or Malubang Village), a peaceful fishing village in Pitas, has the saddest legend in Sabah. This story debuted in musical theater of Sabah Fest 2017 and received overwhelming responses. Tickets were sold out to people who wanted a good cry.
The Supirak Legend
Supirak Island is amazing because it resembles a petrified big ship. Locals say it was a ship turned into a rock due to a curse from a mother to her son. It's really shocking because mothers would never want to harm their son. Why did such terrible thing happen?
Ok, the legend goes like this. Long time ago in Kougun Village there lived a couple. The man was a fisherman, who went missing in a fishing trip and left behind his pregnant housewife, Supirak (or Odu Gerawang). She gave birth Si Ragam, a boy grew up as a responsible and hardworking man who really cared about his mother. He built a small hut for both on the seaside of Torong Puteh. To Supirak, Si Ragam means everything to her.
One day, a ship docked at Torong Puteh to be resupplied. Being ambitious, Si Ragam asked for his mother's permission to work on-board for better prospect. He promised Supirak that he would return home one day. Before he left, his mother took a strand of his hair as a keepsake.
Due to his diligence and intelligence, Si Ragam became the captain of the ship. A few years later, his ship landed on an island called Pulau Intan. He met the king in Istana Bahkiah with his merchant boss. During the visit, Ragam fell in love with the princess, Dayang Dundunai, and married her months later.
One day Si Ragam was on a voyage with his wife and parked his ship at Torong Puteh. The villagers were so excited when they recognized Si Ragam. They held a big party to welcome Si Ragam. Supirak was so happy when everyone told her that her beloved son was back.
She boarded the ship to meet her son. Unfortunately, seeing Supirak in ragged clothes, Si Ragam was too ashamed of acknowledging her as his mother in front of his royal wife, and he chased her out of the ship.
Devastated and disheartened, Supirak rowed back to the shore. She was then mocked by the villagers. In deep resentment, Supirak took out Ragam's hair and cursed her son. Suddenly, a heavy storm came to rock the ship. Ragam regretted his wrongdoing and cried aloud begging for forgiveness. It was too late too little. The ship and its occupants turned into stone.
In the next morning, Kougon village turned into canals and small gulfs. The villagers who were dancing a day before had turned into stones forming islets. Si Ragam's carriage and three plates used for the meal had also turned into stones. Odu Gerawang's small hut also turned into a stone arch.
The Rocks
Even today you can see the six "relics" of the legend, which are located near to one another in Malubang. FYI, Batu means "Rock" in Malay language.
Supirak Island
The ship, Supirak Island, is the highlight of the legend. It's accessible as you can hire a boat from Malubang Village to send you there.
The boat ride to Supirak Island takes less than 10 minutes from Malubang Village. In good weather, the shallow sea is in beautiful emerald color, like something from the world of legend.
The district government tries to develop this island as a tourist destination, so jetty and structures were constructed on the island.
When I reached Supirak Island, there was a local fisherman family fishing and swimming around the jetty. Though they are not used to tourists, they are very friendly to outsiders.
We walked on the 30-Meter wooden boardwalk to enter the island, followed by a 12-Meter steep staircase that helps us get to the top of Supirak Island.
When the government developed the island, a few 2,000-year-old skeletons and relics were found. I don't know whether these are Si Ragam and his followers.
In the centre of the island, there is an observatory platform with some exhibition about the legend in English and Malay languages. However, the pictures are faded and the text are barely readable.
Then we walked about 200 Meters on a paved path under the tree shade to reach the bow (front) of the island. I saw a few Megapode nests along the way.
The tip of Supirak Island is pointing to the north of Sabah, so you can see Banggi, Balambangan and Maliagin Islands from its top. In fact, Banggi Island is only 20 minutes away by boat ride.
There is no toilet and other recreational amenities on the island, so nothing much you can do there, except playing Titanic pose and pirates of the Caribbean. The view up there is nice anyway.
Batu Gerawang
At the beach facing Supirak Island, you can find the house of Supirak, which is a stone arch now.
Imagine she was standing there looking at the ship with broken heart. What her son did to her was unthinkable. Abandoning parents is simply an inhuman act in any culture.
Freshwater Wells
Not far in front of Batu Gerawang are three freshwater wells, which were the water supply for Supirak.
During my visit, these waterholes were submerged in high tide, so I wasn't able to taste it to tell if it's freshwater. Anyway, it's confirmed freshwater by the locals.
One of the wells is enclosed in cement structure which is meant to preserve it (see pictures no.1 above). However, the wall obstructs the flow of the freshwater, causing sand piled up and cover the opening, not good.
Batu Talam
Batu Talam is said look like a food cover.
You can land on it and make funny surfing pose under its wave rock lol.
Batu Berunsai
Next is the Batu Berunsai islet that looks like a group of people.
The locals said these standing stones are the villagers who were turned into rocks in the party for Si Ragam.
This is a beautful islet with mangrove trees grow between the rocks. At one side of the island, I saw rocks that look like killer whale and shark fin.
One of the rocks looks like a woman in grief. Could it be Supirak?
Batu Dulang
These three rocks with flat surface were the plates or containers for the food, our guide said.
You can climb onto the rocks to take some interesting shots. It's kind of cool, like a music album cover.
The following video gives you an overview of these rocks:

These six rock wonders are in the sea. You need to get a boat to reach them.
Just ask around in Malubang Village. Most villagers own a boat, so you can easily charter a boat for less than RM80 (about USD$20) for a half-day cruise. The small boat can take about 5 passengers, so each person pays less than RM20 after sharing the cost.
How to get there
A day trip to these rocks is possible, though overnight stay is recommended. From Kota Kinabalu City (KK), there are two ways to reach Supirak Island and other rocks. Try to arrive Malubang before noon, so you can have more time to enjoy the tour.
1. Easy and Fast Way (4 Hours)
In KK city centre, you can get a long distance bus / van / taxi readily near Padang Merdeka (Merdeka Field, see Location Map) to Kudat town, which takes nearly 3 hours one way. Then go to the harbour at the edge of Kudat town to charter a boat. That would cost around RM500 (about USD$125) per boat, and it can reach Malubang within an hour (one way).
2. Long Way (6+ Hours)
This requires you to drive a total of 220+ KM (5 to 6 hours road trip), so consider this option only if you plan to overnight in Pitas or Malubang. You need to own (or rent) a transport, preferably 4-wheel drive. First drive from KK to Pitas town (160 KM) on asphalt road, then drive another 60 KM on gravel road to Malubang (and enjoy 2 hours of free butt massage). At Malubang Village, you can hire a boat to visit the rocks. For accommodation, you can stay in Malubang Homestay in Malubang Village.
The GPS Coordinates of Malubang Village is 6.959509, 117.060136 (see Location Map). Please keep in mind the village is so remote that it has no data and Internet connection. You would have problem if you navigate with Waze or Google Map.
FYI, the plot of Supirak legend is 90% similar to story of Si Tanggang, which is very well-known in Peninsular Malaysia. However, you only can see these legendary rocks in Sabah.
Photos taken in Pitas, Sabah, Malaysia Borneo