After making your friends envious with your Sabah vacation photos in social media, let's buy them some souvenirs, so they can get a share of your happiness. In this article is a list of recommended items to impress them, all fulfill three criteria of a good souvenir:
Exotic and unique local products
Easy to pack and not overly big or fragile
Good quality and look decent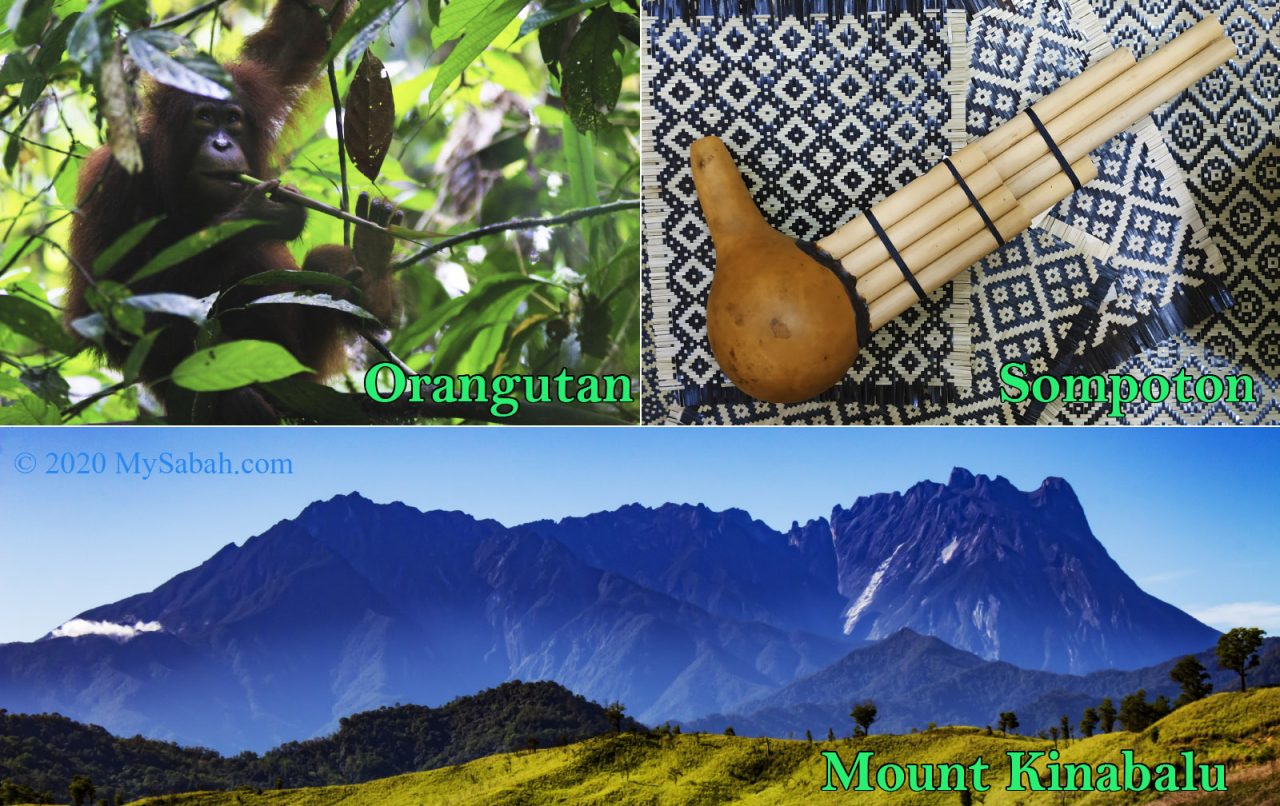 To make the souvenir special and personal, give some thoughts into what the receiver loves, don't just buy random things in the airport in last minute. It's a plus if the souvenir shows iconic elements of Sabah such as orangutan, long-nosed monkey, hornbill, pitcher plant, wakid (basket), Mount Kinabalu, sompoton (music instrument), rafflesia flower and native motif.
1. Sabah Tea
10 out of 10 Sabahans will recommend you to buy Sabah Tea. Sabah Tea is harvested from the only organic tea plantation of Borneo. It's a household brand. You can get a small pack for only a few bucks, or buy those with beautiful gift packs. Sabah Tea also has a few flavors such as Pandan (my favorite!). If you are a real tea lover, go for tea leaves rather than tea bags. Now you can order these from Sabah Tea online shop.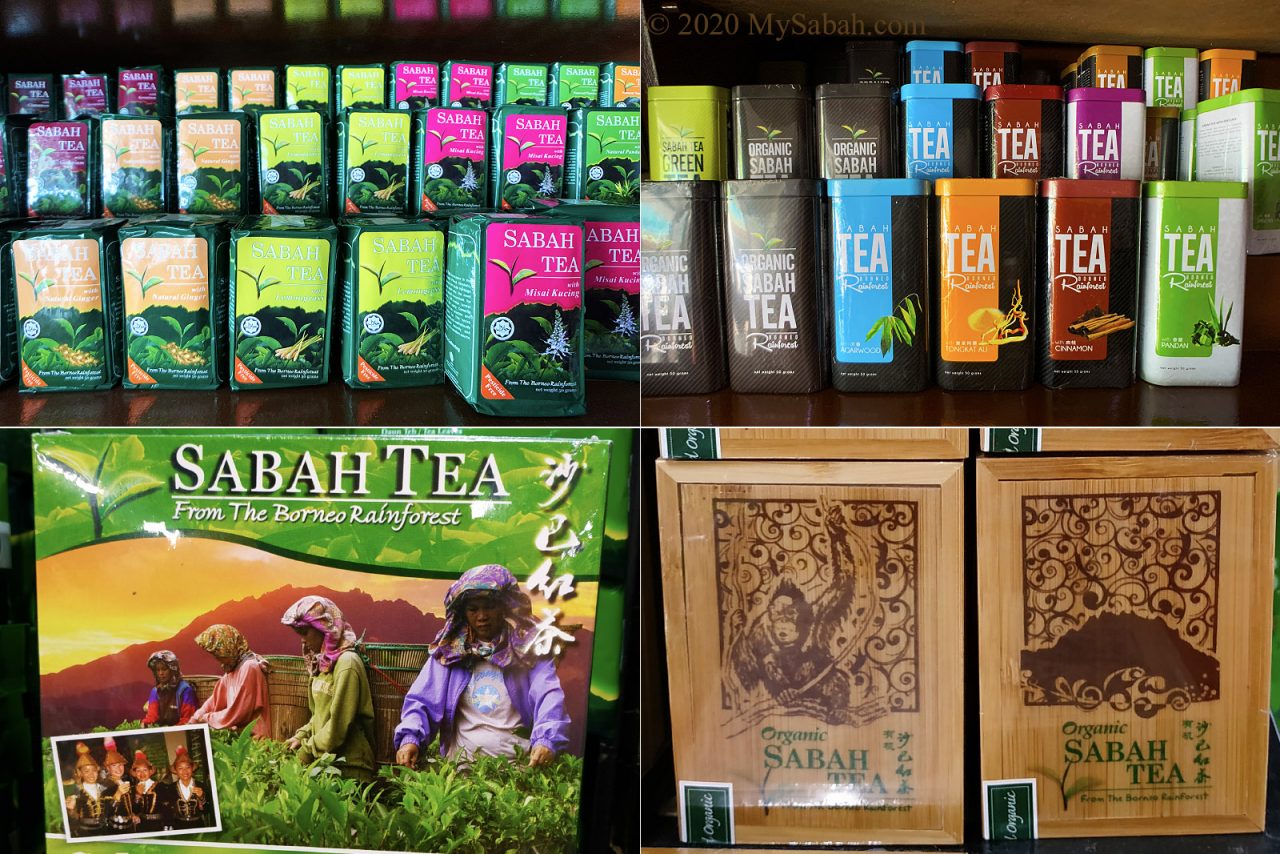 2. Tenom Coffee
Tenom Coffee is also another best choice. You can't go wrong with Tenom Coffee. Just imagine the nice aroma that reminds your friends about you. Tenom is a highland town in Sabah interior and famous for its fruits. Some Tenom Coffee are sold in funky and colourful packs. Besides standard coffee, you may consider white coffee or the ones with special ingredients such as durian and Tongkat Ali (a herb that improves vitality).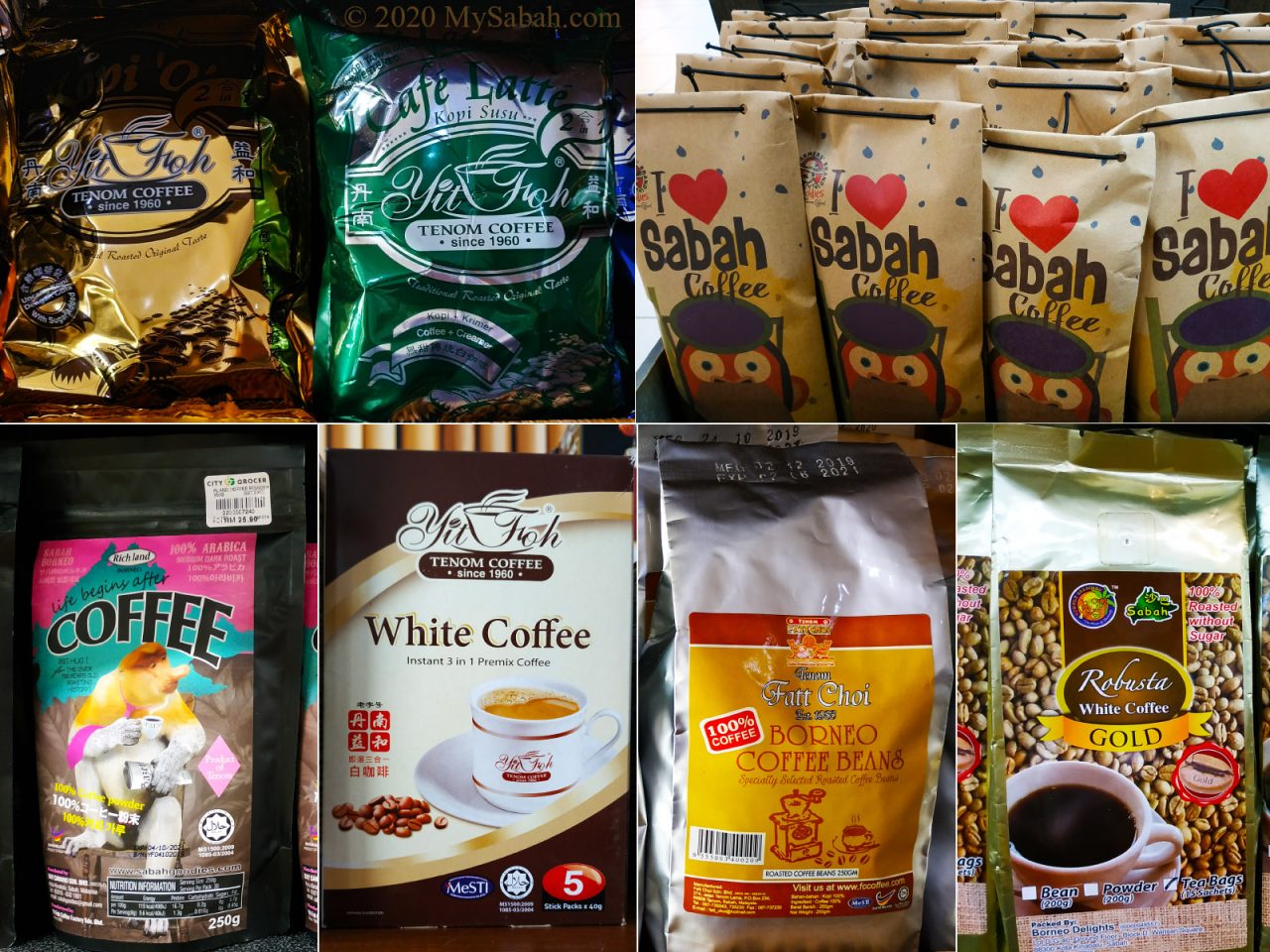 3. Lihing Wine
Drinking is an important part of Sabah culture. Lihing is Sabah's signature wine that we can't live without. This golden distilled rice wine tastes sweet and can be used in cooking too. My mom uses it to make delicious drunken chicken. Most lining is homemade, but tourists can find some sold commercially in nice bottles, some even have fruit flavors like mango and rambutan. As Lihing is a liquor, do check with your airline and customs for regulations if you want to bring some home.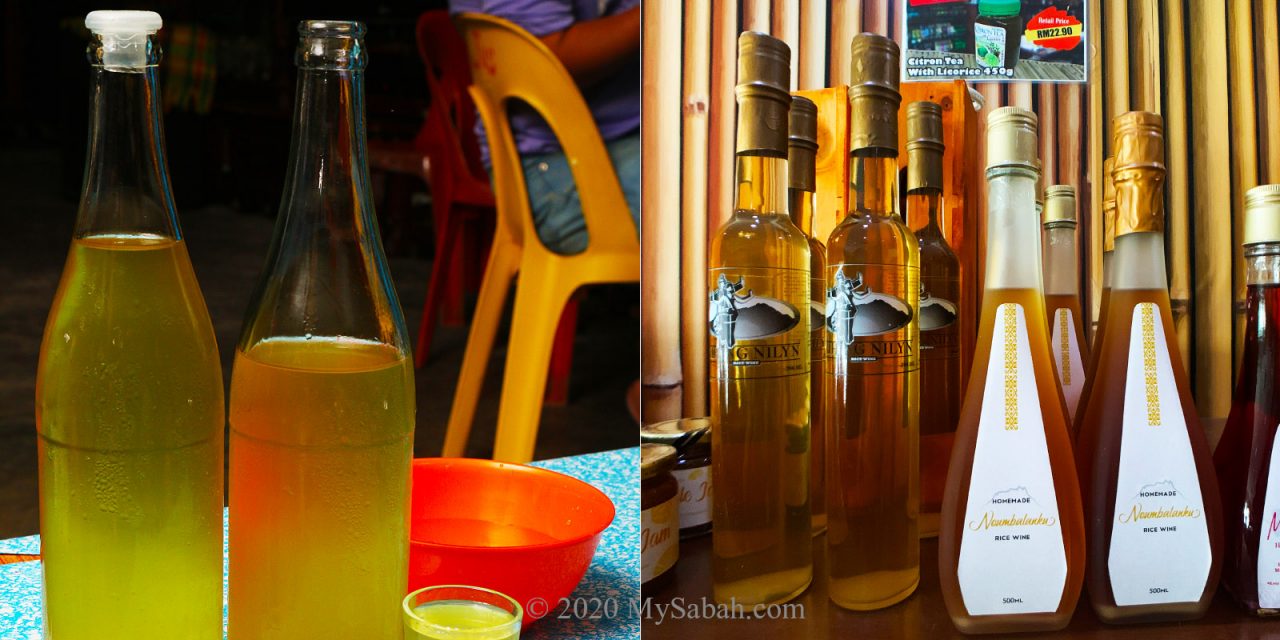 4. Snacks
How about some delightful and interesting treats for your friends? Once you start, you just can't stop. You can find many types of Sabah snacks, and you should stuff the following yummy snacks into your bags:
Crispy Peanuts: peanuts fried with mix of flour, garlic, salt, and sugar.
Kuih Cincin: a sweet and tasty cookie. Go well with tea break.
Amplang: crunchy and savoury cracker that looks like marshmallow. Available in fish, prawn and squid flavors.
Sabah Chocolate: comes with pretty boxes and different flavors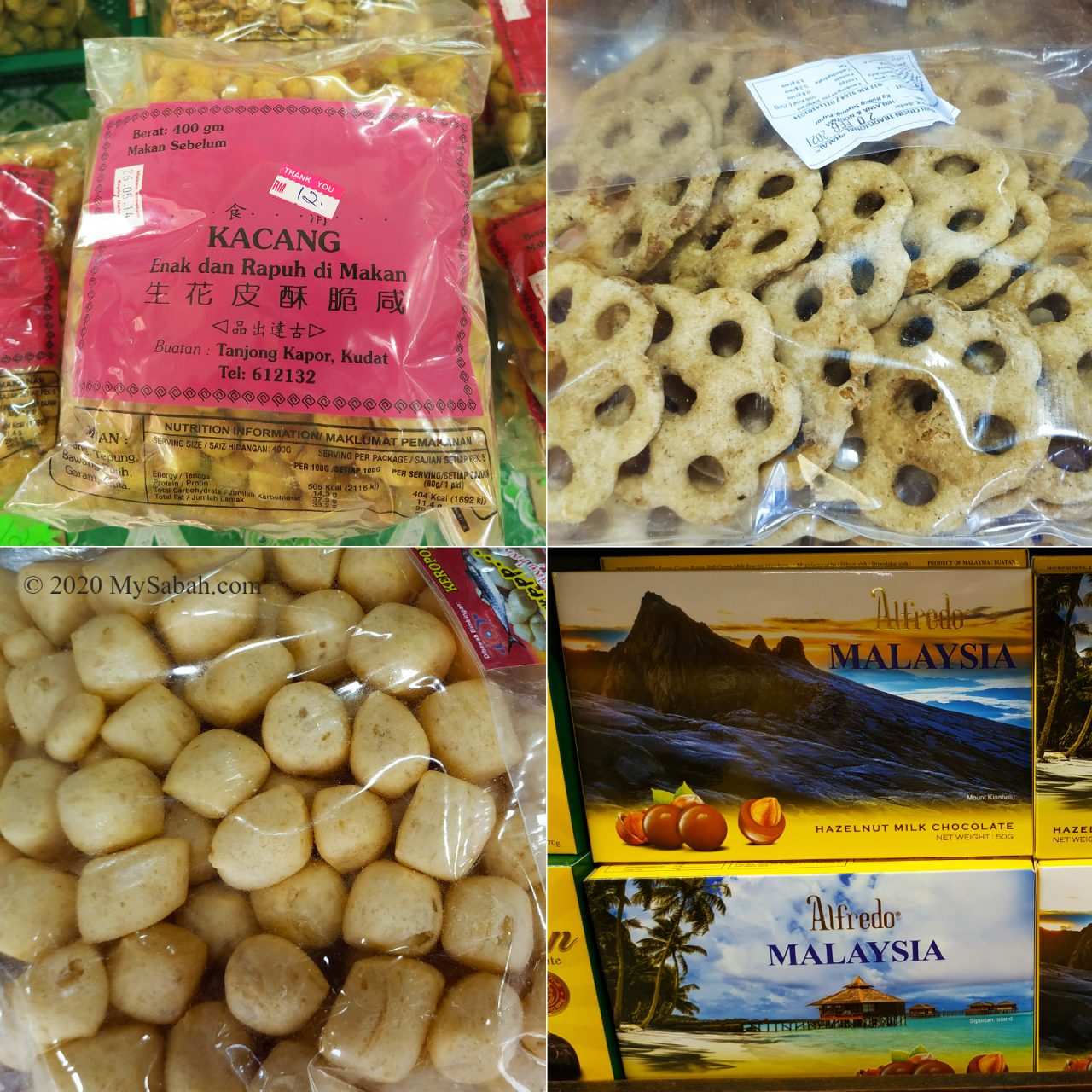 If your return flight takes less than 8 hours, you can buy some fruit popsicle (ice-cream potong) at the airport, the shop will seal it tightly in a styrofoam box so it can last until you reach home.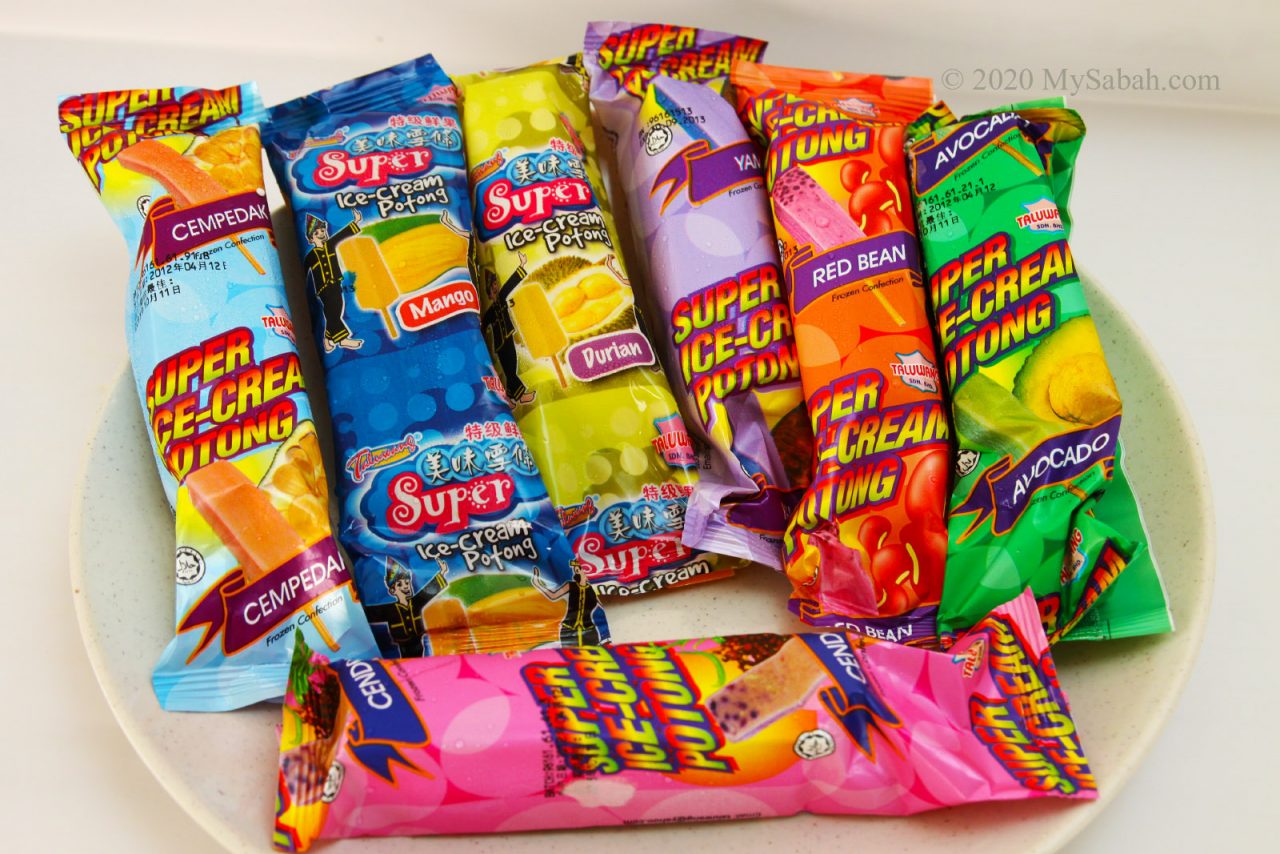 5. Stingless Bee Honey
Ok you want to be healthy, stingless bee honey is for you then. Stingless Bee (locally known as Kelulut) is a small honeybee that lives in warm climate, and they produce sourish sweet honey that claims to have better medical properties. This honey is more expensive than normal honey. A small bottle can cost RM35 or more.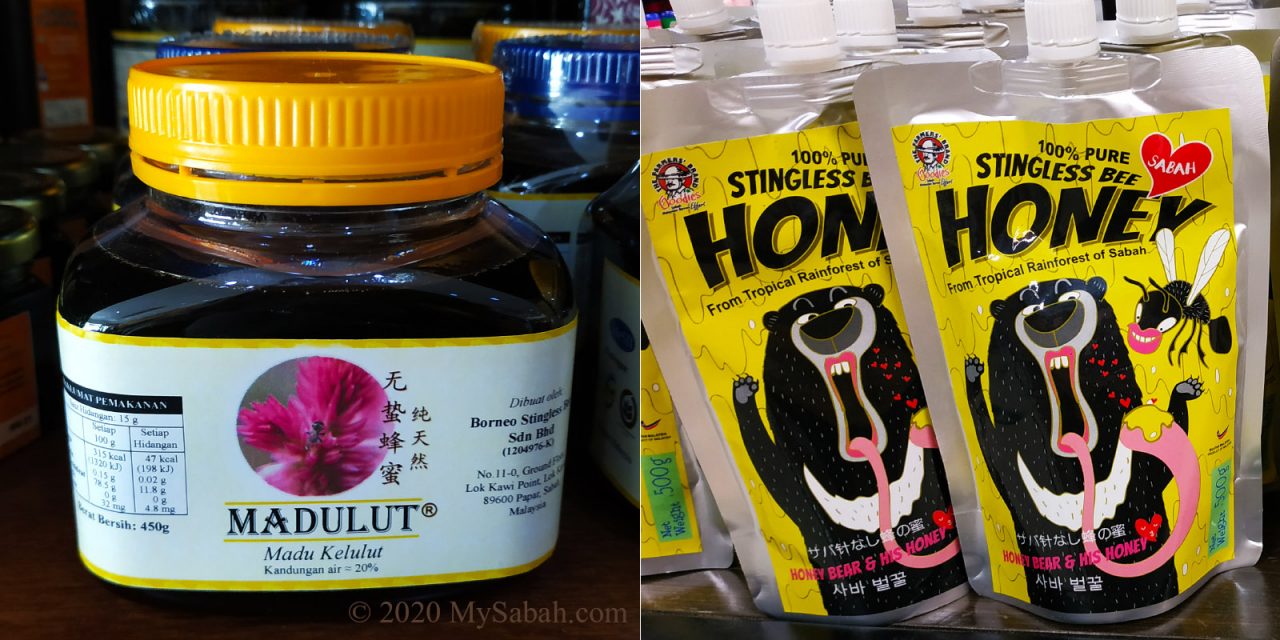 6. Handicraft & Artworks
The most distinct souvenirs are handicrafts from indigenous people of Sabah. They are mainly made of materials from bamboo, rattan, palm, coconut, pandan leaves, etc. Some people are creative to weave these into diary items such as baskets, tissue box, wallet, and handbag. Each ethnic group has different patterns and style. For example, Bajau people love to use bold colors and Rungus is skilled in weaving beads. Personally I like to store some items into a bright-coloured Serdang box to make a gift.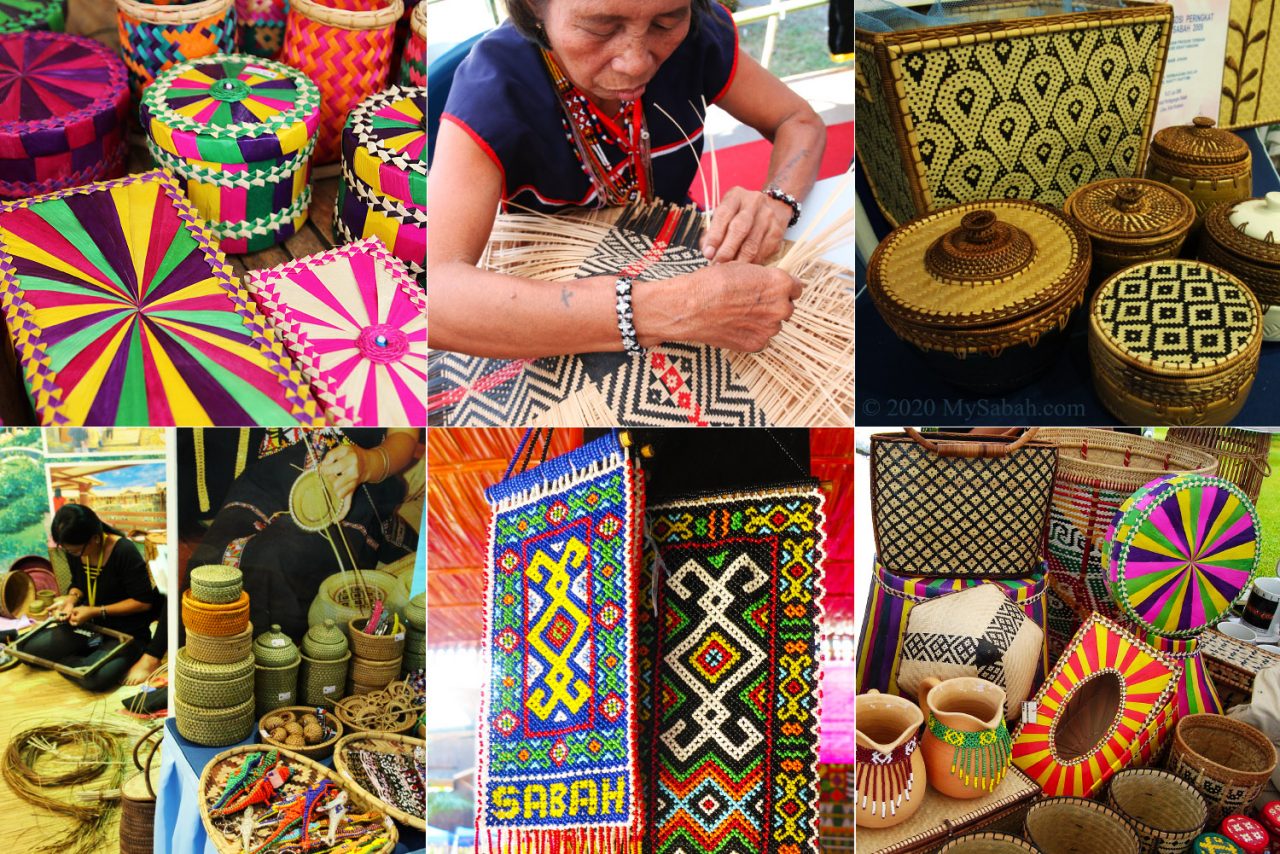 For those who appreciate advanced craftsmanship and collectible items, you may check out the Lepa-Lepa boat figure, Dastar or Tinohian (richly embroidered / weaved traditional cloth), Bajau machete (parang), and Sompoton. If you want the finest painting or folk art by local talents, you may visit Sabah Art Gallery or Laman Seni near Wisma Budaya.

7. Apparel and Accessories
T-shirt with Sabah graphics is available everywhere, but after travelling hundreds of miles to Sabah, you want something more than a I♥Sabah T-Shirt right. Sabah batik is what smart tourists buy. Sabah batik is usually dyed and painted with native motif or other cultural drawing. Shawls, scarf, sash, tapestries, fabric, and table runner with colourful Sabah theme are tourists' favorites too. A visit to KadaiKu and Chanteek Borneo won't disappoint you.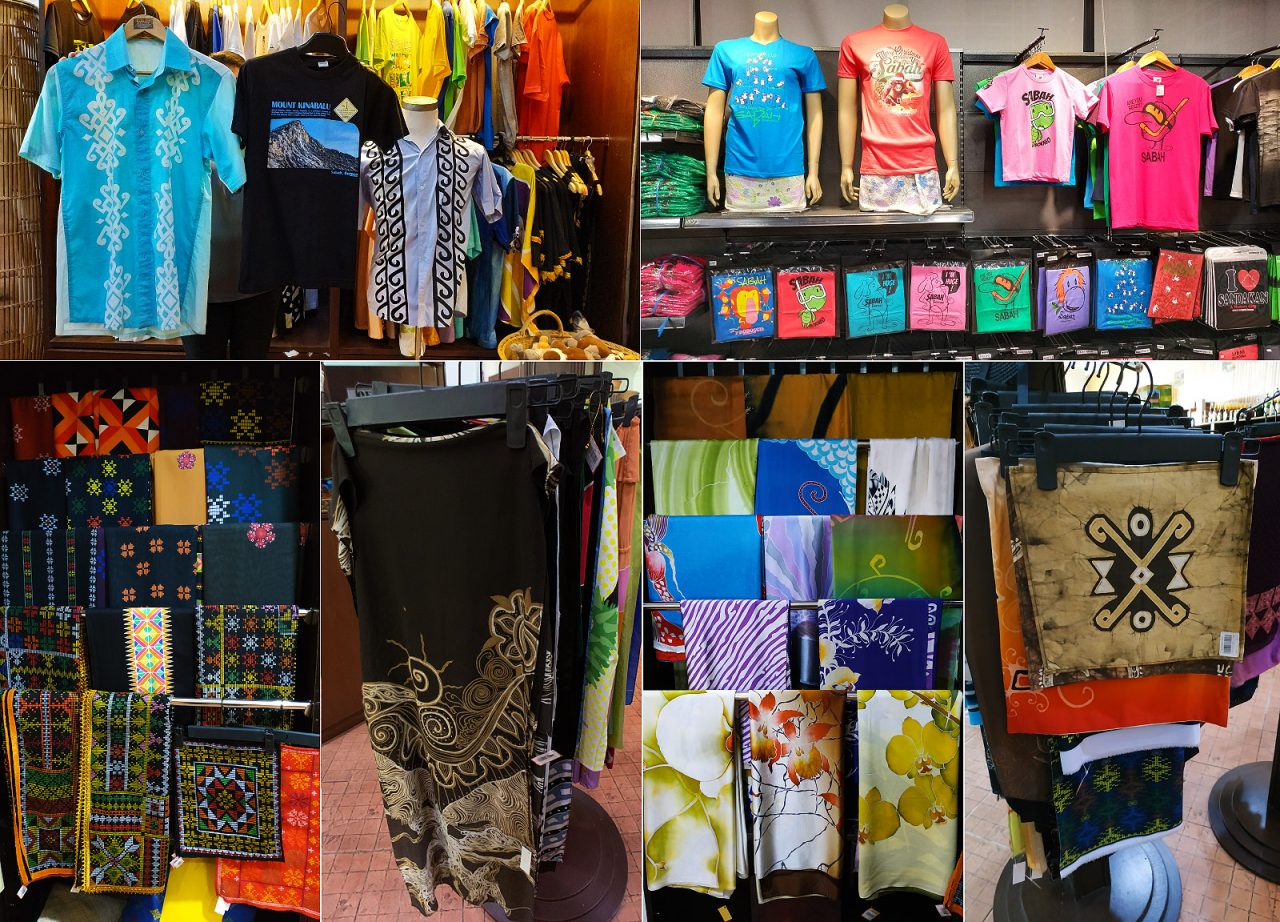 Don't forget hand-weaven beadworks and accessories too (e.g. string necklace, bracelet, earring, handbag, wallet), which can add some exotic touch to your fashion. Many West Malaysians also like to buy the freshwater pearls of Sabah, as the price isn't high. If you want precious jewelries with Sabah elements, you can visit CherleC.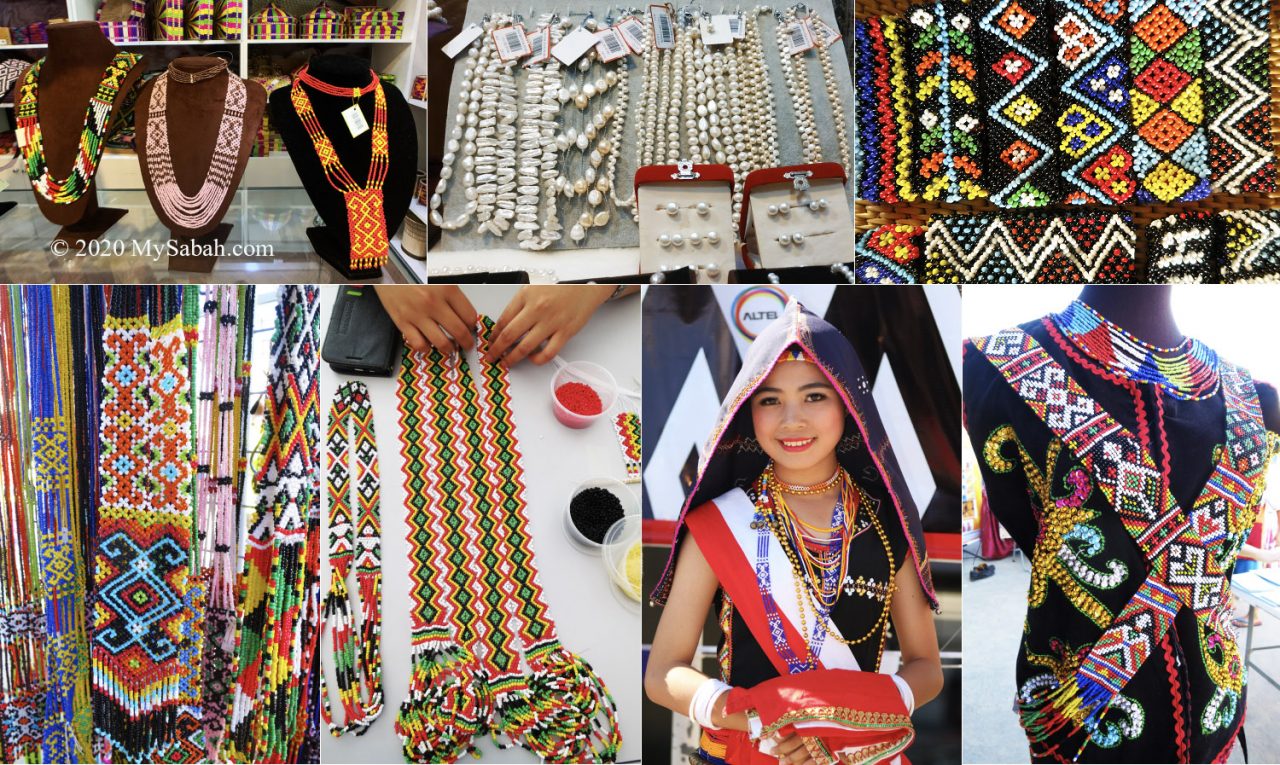 8. Toys
Got kids? Get them a cute plush toy of orangutan or proboscis monkey, the most charismatic wildlife of Borneo, even adults love it. Another alternative is lovely dolls dressed in traditional costumes.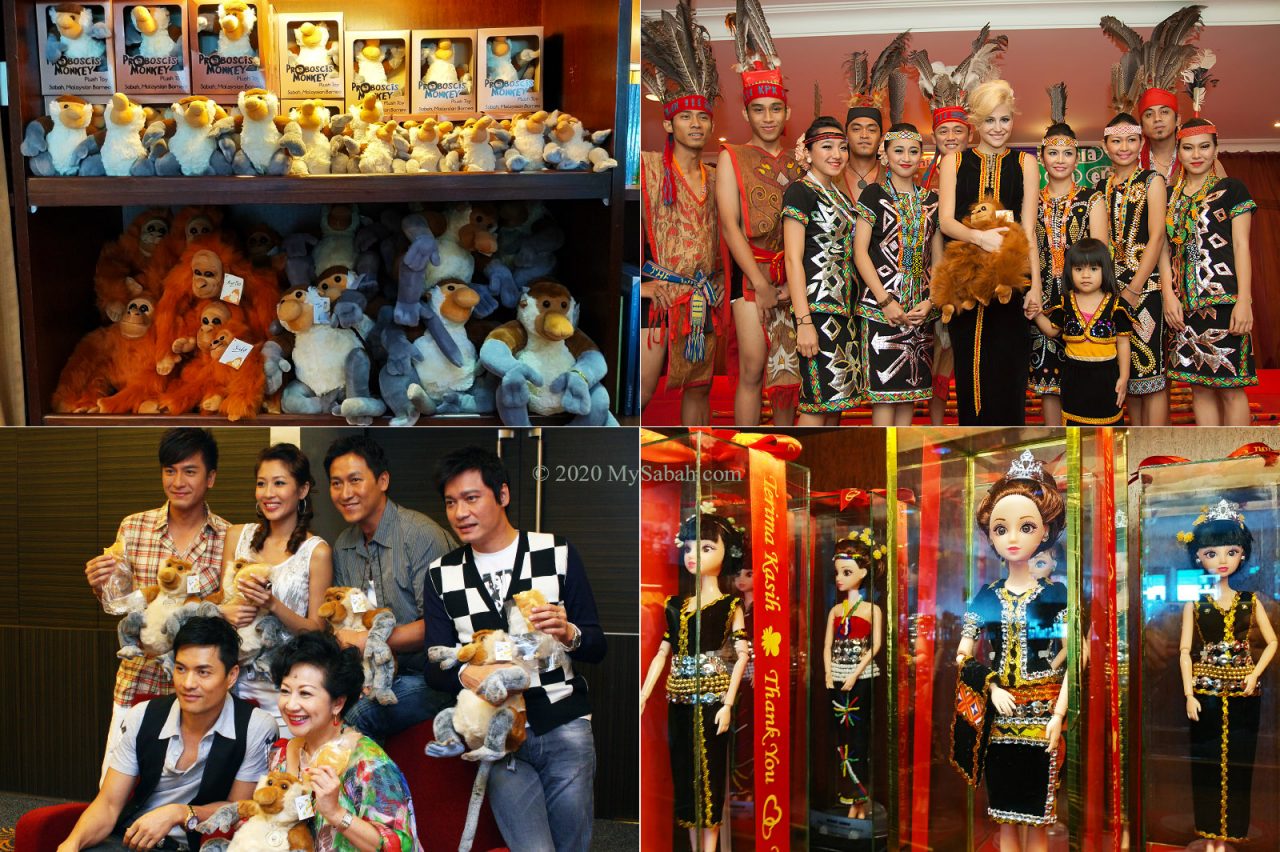 9. Dried or Salted Seafood
I leave this item near the end because non-Asians are not so fond of dried seafood. However, for tourists from East Asia, these are great buy at a bargain price. Sabah is blessed with seafood, so you can find tons of high quality dried or salted fishes, sea cucumber, scallops, shrimps, squid, seaweed, ikan bilis (anchovy fish) and fish maw here.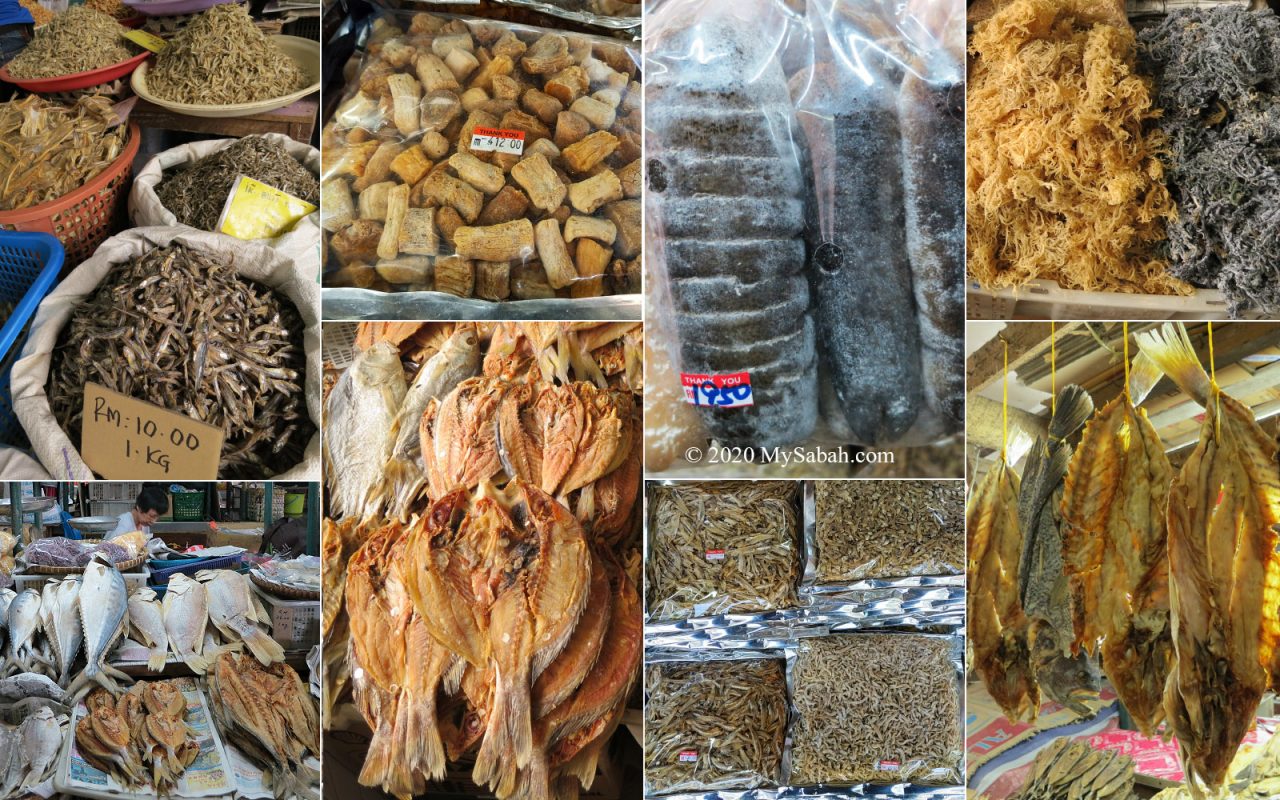 Most dried seafood stalls are just next to fish market, to name a few, KK Central Market, Sandakan Central Market and Tawau Tanjung Market. The hawkers can help you to pack these smelly goods properly into a box, to keep them from stinking your luggage. Believe me, for Malaysian moms, salted fish of Sabah is one of the best souvenirs. The more smelly, the better.
10. Knickknacks and Others
Here are more suggested items for your shopping list: keychains, fridge magnet, drink coaster, stationery (e.g. bookmark, paper weight, notepad, pen, postcard), mini pottery, Bak Kut Teh spices, and fruit candy. They are inexpensive and ok to give to friends and colleagues who are not close.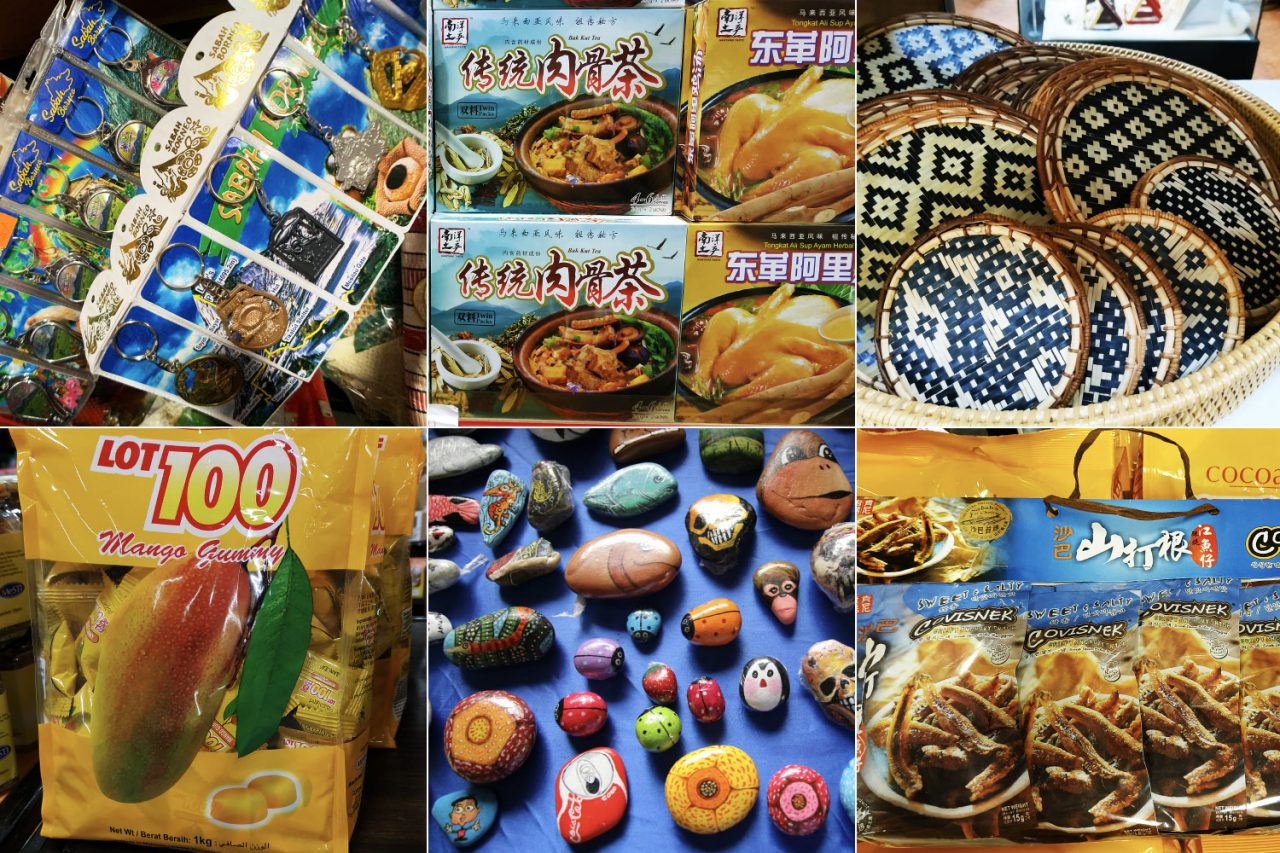 What would you buy in Sabah? Please share your shopping list in the comment section below. ?
Where to Buy
Most shopping malls in Sabah have souvenir shops. Our supermarkets also sell some of these food and snacks. Most souvenir shops are small with limited range of souvenirs. To find everything you really want, you would need to visit two or more places. Below are a few great places to shop.
1. KK Handicraft Market
Located in Kota Kinabalu city centre and adjacent to KK Central Market, KK Handicraft Market is an ideal starting point to buy cheap souvenirs such as keychain and fridge magnet. They are also famous for pearl jewelries. In addition, dried seafood market is just next door, making this place a convenient shopping spot of tourists.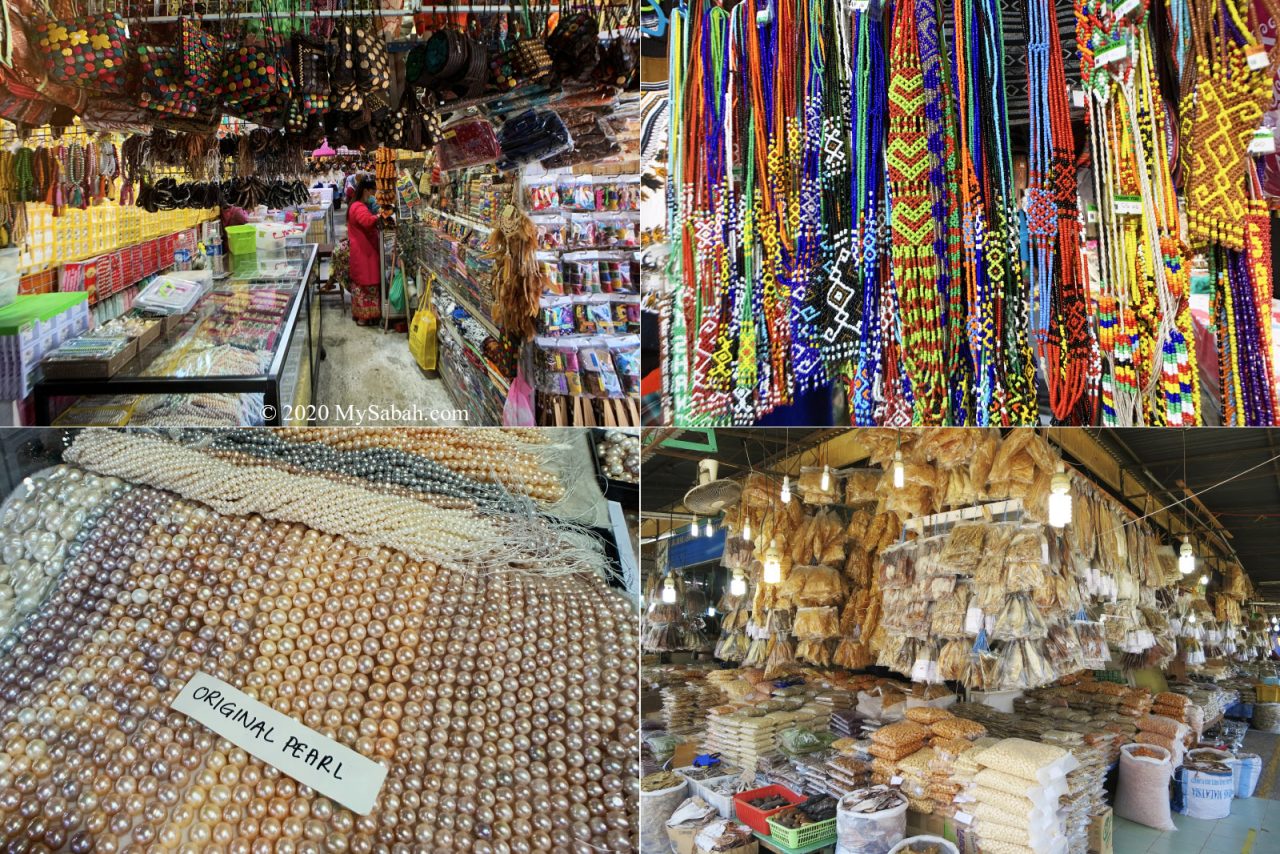 2. KadaiKu
Kadaiku (means "My Shop") is a midsize souvenir shop less than 100 Metres away from KK Handicraft Market. Personally I think it is the best souvenir shop because they sell 100% (almost) authentic Sabah products and have the most complete and diverse collection of Sabah merchandises for tourists. Their prices are relatively higher but reasonable.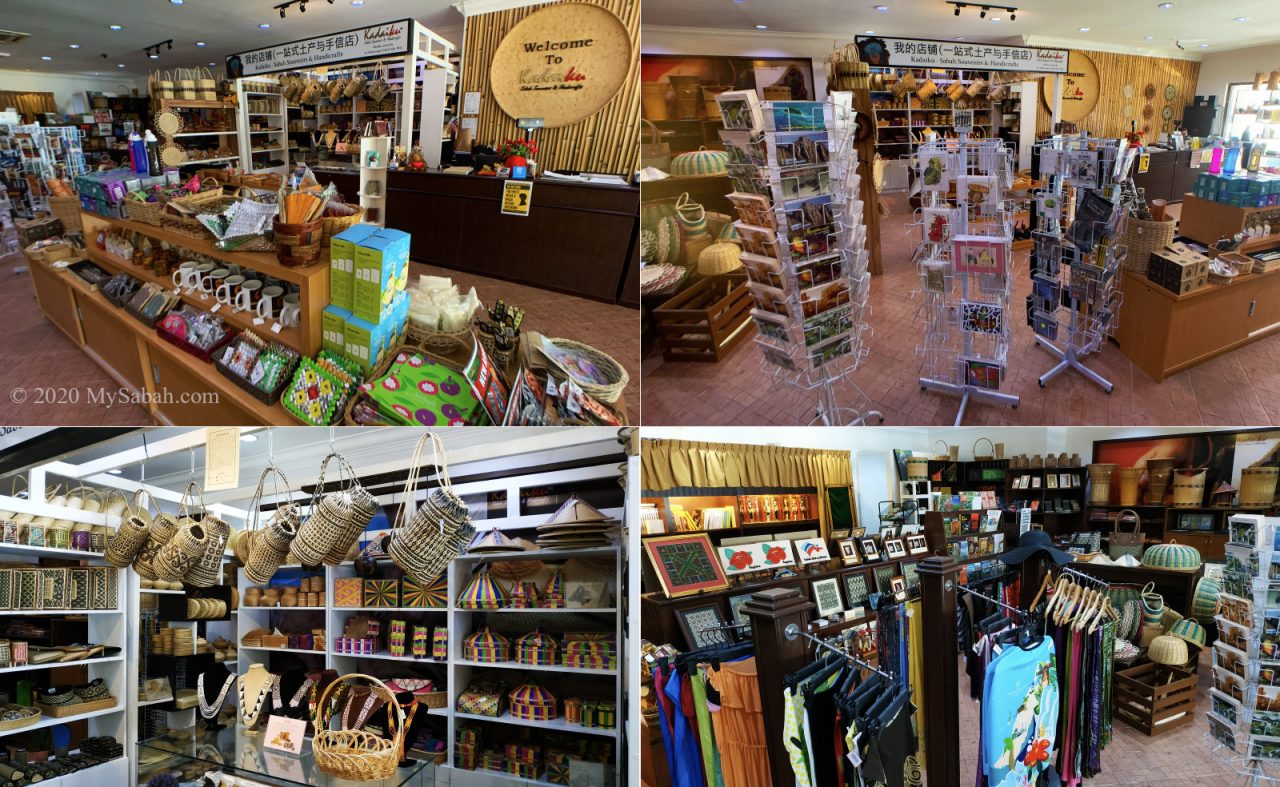 Besides enjoying the air-conditioning, it's like taking a Sabah cultural tours inside. The knowledgeable shopkeepers can tell you the origin and features of each product. One thing I really appreciate is they can package and wrap your order nicely. Just pick a few items and let them make a classy gift hamper for you.
3. Gaya Street Sunday Market
Gaya Street Sunday Market is a well-known tourist attractions that is open weekly (every Sunday morning, 7am to 12pm) in the oldest street of Kota Kinabalu City. Basically it is an open-air market that sells almost anything to locals as well as tourists, from durian seedling, sarong, snacks, fruits and vegetables, local herb, knickknacks, pet, flowers, cloth, antique and myriads of everyday items. Do bargain, or you would pay for full "tourist price".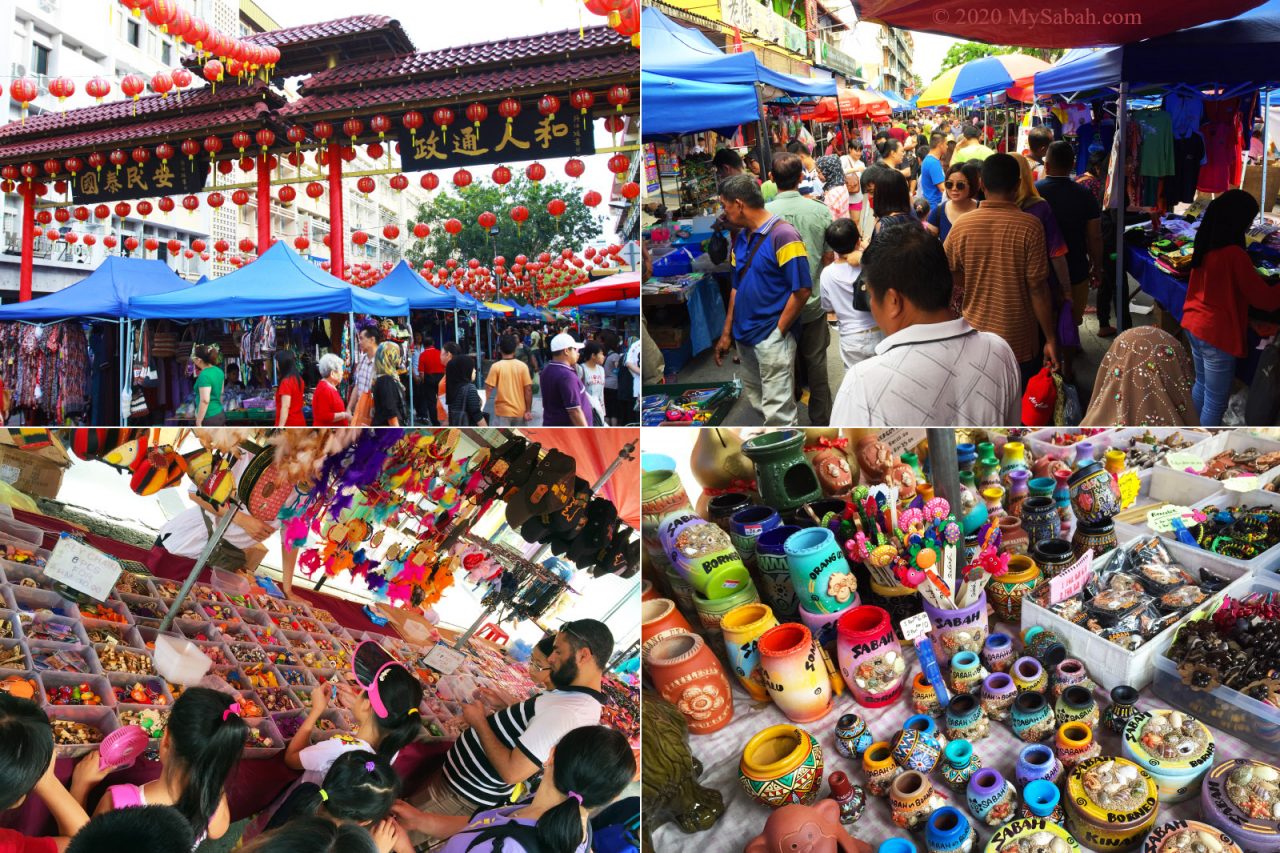 4. Local Market
You can find tamu (weekly open-air native market) in most towns of Sabah countryside, the famous tamu are in Kota Belud (Sunday) and Donggongon (Friday) towns. For hundreds of years, farmers, fishermen, hunters and vendors from different villages gather in tamu every week to sell (or barter trade) their products. This tradition is carried on until today with more modern items (e.g. electronics, gardening tools, gadget) for sale.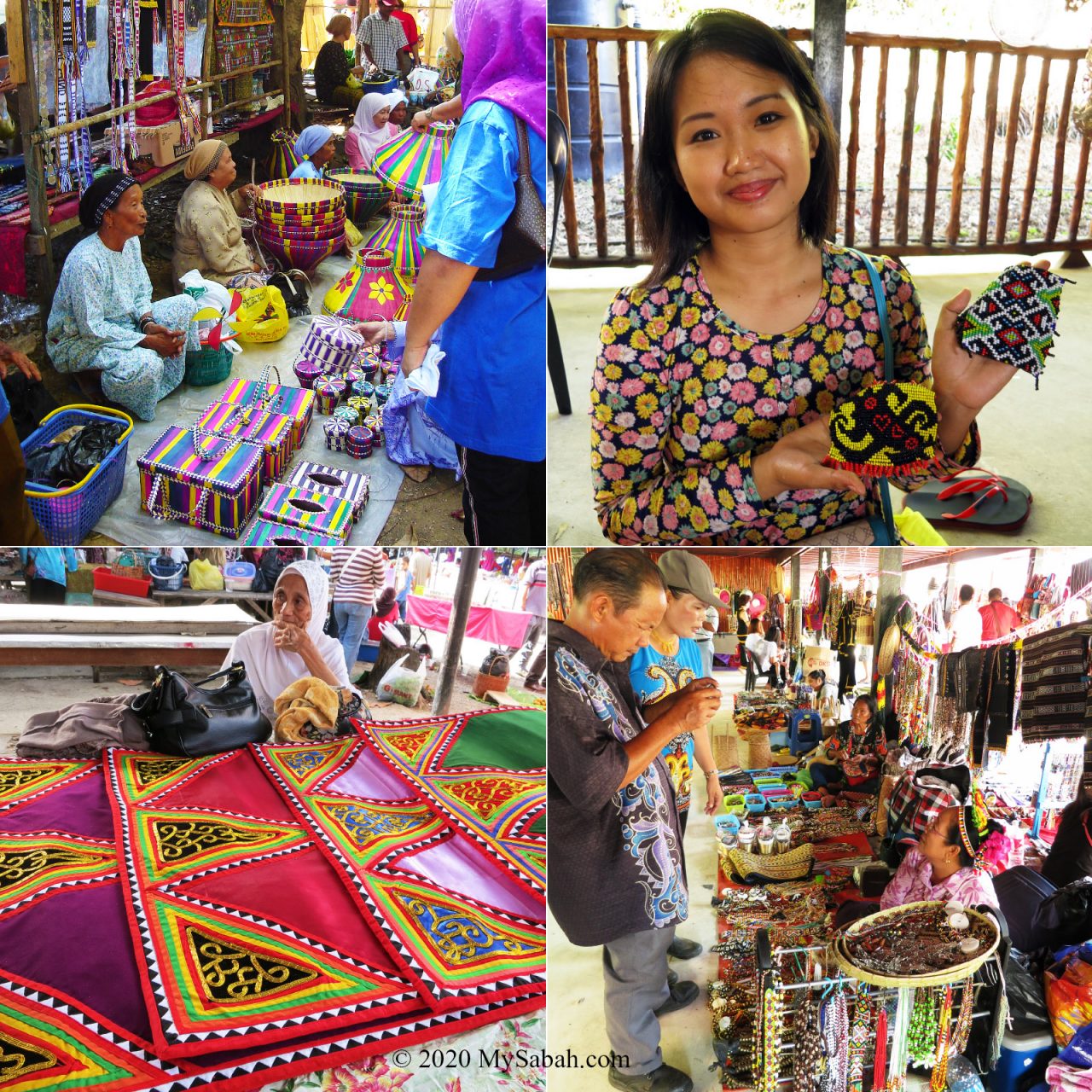 Due to different culture and lifestyle, every tamu is unique, the goods, the people, and the smell. Tamu is also a fun place to sample local snacks, buy some fresh fruits and souvenirs and practice your haggling skill.
Some Advice…
Souvenirs is a global business. Why? Say, some souvenirs you buy in Thailand may be also available in the souvenir shops of Bali, Maldives and even your hometown! It will be quite awkward if your friends tell you that your "Sabah souvenirs" are sold in local shop too. Many souvenirs shops across the world seem to source the similar items from Indonesia, China or 3rd world wholesalers with custom-made label (e.g. adding the word "Sabah").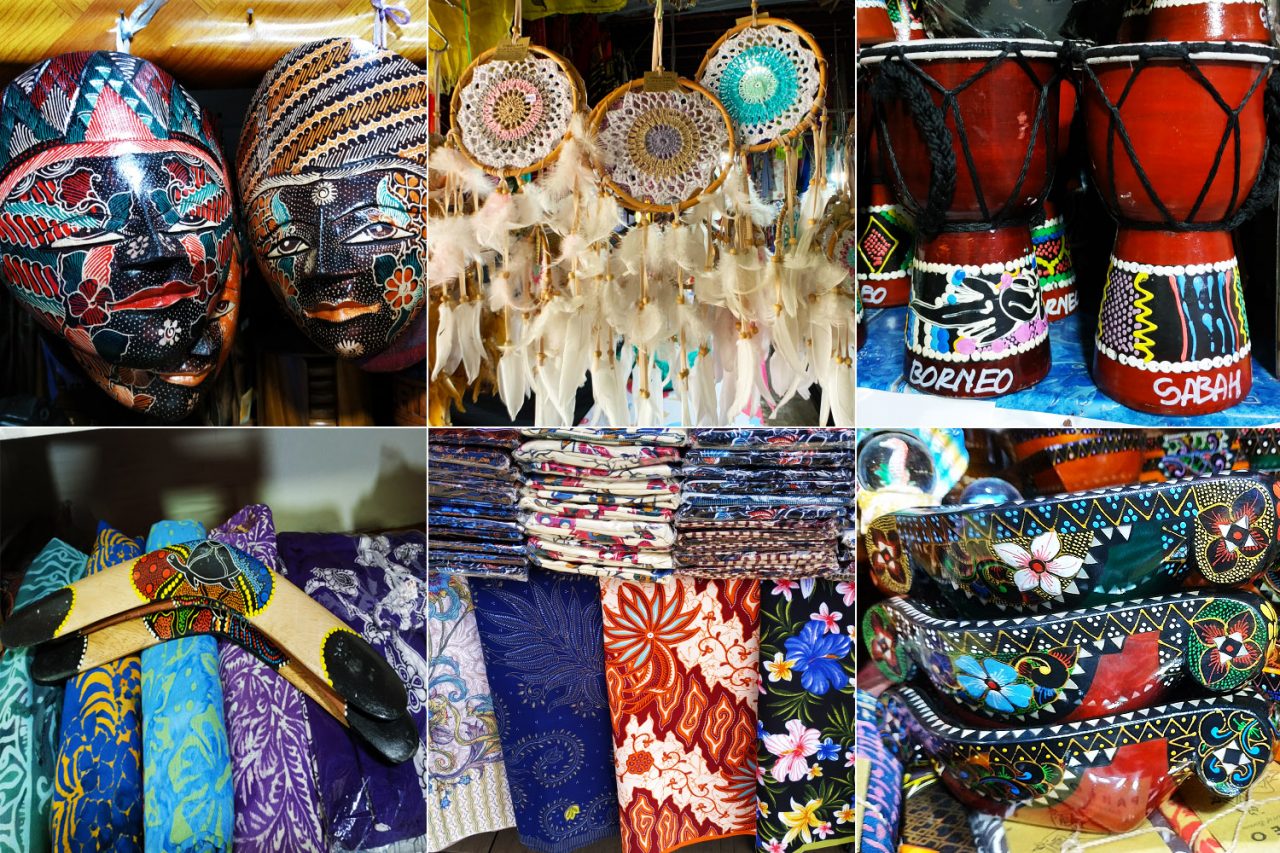 Unfortunately, many Sabah souvenir shops sell such items. Anyway, if this is matter to you, you can always confirm with the sellers. I'm not saying that you shouldn't buy non-Sabah products. If you like it very much and you don't mind about its origin, of course it is perfectly ok to buy.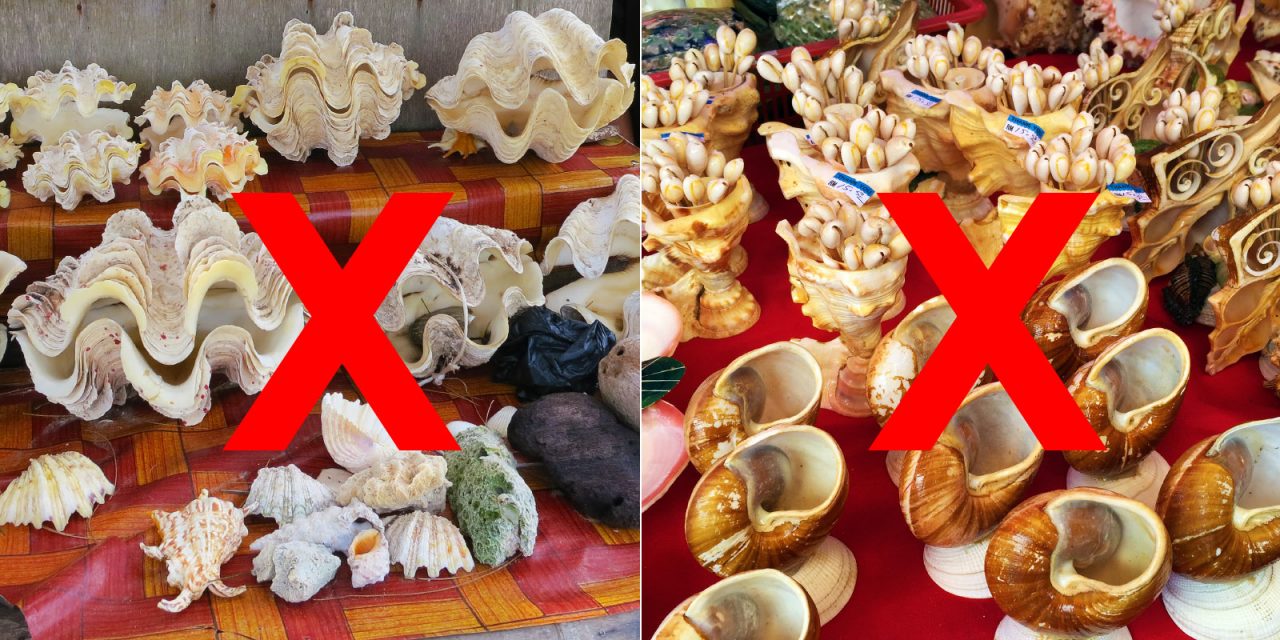 What you really shouldn't buy are the items that contain partly or wholly seashells, corals and protected flora / fauna (e.g. shark fin, pitcher plant, giant clam, turtle eggs, endemic orchid, pangolin). Though they might be sold openly here, it's illegal to bring them out of Sabah. Not only that, you would indirectly hinder our conservation efforts for endangered animals and plant of Borneo.
Happy Shopping! Please share this list with your friends and relatives who will visit Sabah (and tell them what you want haha).
Disclaimer: This is not a sponsored post.
Photos taken in Sabah, Malaysia Borneo