The story of an island boy and a friendly male dugong (named Nicky) in Mantanani was once featured in Discovery Channel. Besides their touching friendship, viewers are also impressed by the beautiful scene of the island. Due to the mysterious and human-like appearance of dugong, the people call it "mermaid". Mantanani consists of three islands, namely, Mantanani Kecil, Mantanani Besar and Lungisan.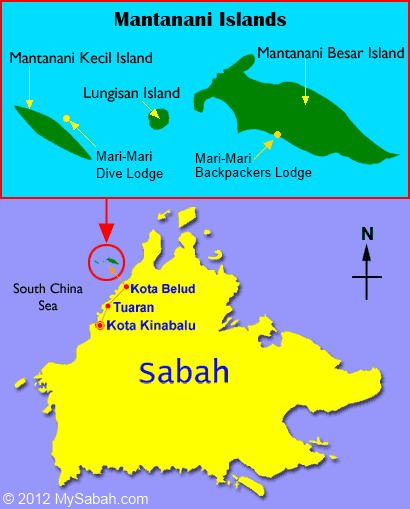 Two years ago, I had a 2-day-1-night trip in Mari-Mari Dive Lodge on Mantanani Kecil Island. Earlier this month, I decided to have a day trip to Mantanani Besar Island this time. FYI, as of this writing, the accommodation (Mari-Mari Dive Lodge) of Mantanani Kecil is destroyed by storm and will be open in later date.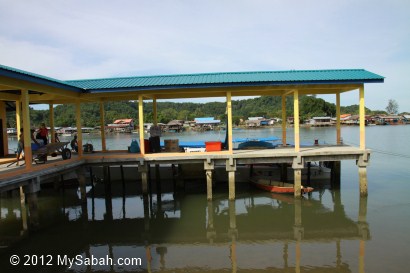 Above: jetty at Abai Village
There are a few tour operators such as Mari-Mari Backpackers Lodge on Mantanani Besar. You need to book the tour with them for day / overnight trip on Mantanani, they will arrange the land transport and boat transfer for you. First, a tour bus will bring you to jetty of Kg. Abai (Abai Village) in Kota Belud in the morning (now boat transfer from Kota Kinabalu is also available daily). The land transfer takes about 1.5 hours. A day trip to Mantanani costs about RM300 (about USD90), which includes return transport, lunch and 2 snorkeling (with gears).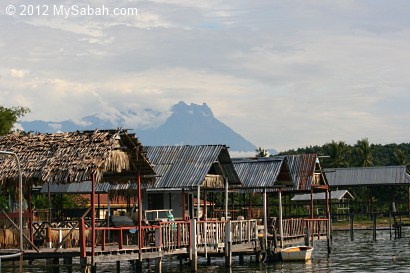 Then you will take a boat at jetty to transfer to Mantanani. The boat ride takes about an hour, depend on the sea condition. It'll take longer time if the sea is rough during bad weather. I know it'll be a good day when I see the face of Mt. Kinabalu is clear of mist.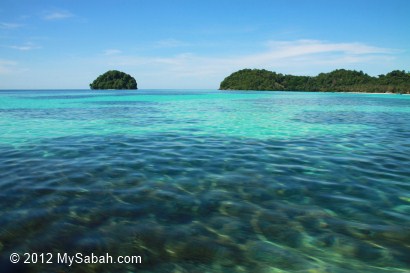 Everyone on the boat is in happy mood and we enjoy the ride and breeze. The ride took less than 1 hour.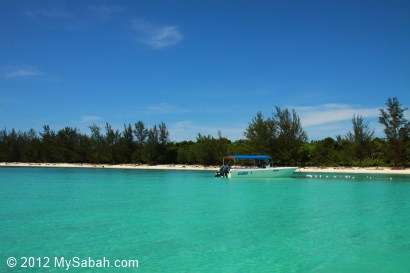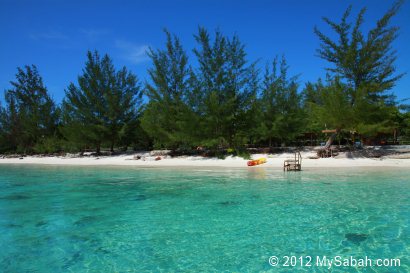 Probably most are first-time visitors. I heard lot of WOW and WAH when they saw the crystal blue sea of Mantanani Besar. Many stood up and took photos like crazy and they couldn't wait to get out of the boat to take a dip. The visibility is so good that we can see the corals deep in the water. You can watch the 2-min video below: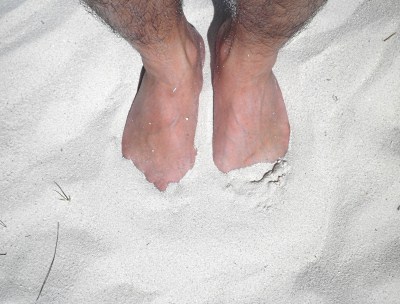 Unlike the yellow sand we see in other beaches, the sand on this island is white and as fine as powder.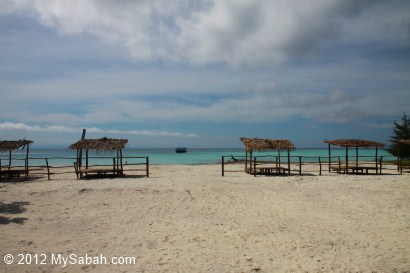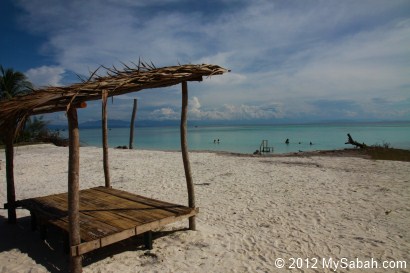 The place we have our tea break is "Sayang-Sayang" (means Lovely), which is an area next to Mari-Mari Backpackers Lodge of Mantanani Besar Island.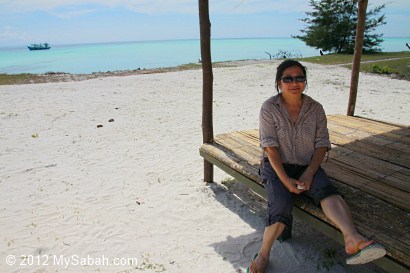 Frankly, I don't mind resting in this little hut and watch the sea all day long. You may watch the 40-sec video below to see the surrounding: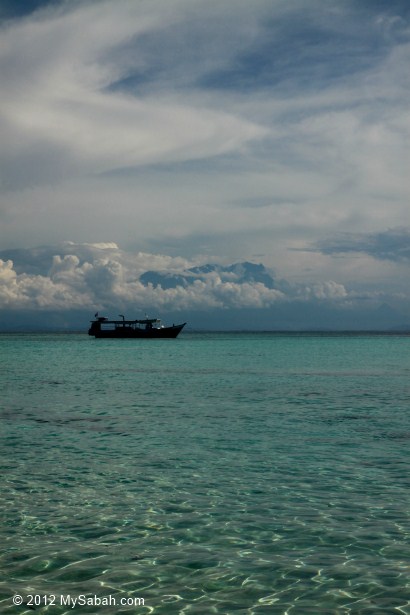 You can see Mt. Kinabalu and mainland from this side. What's better than having blue sky, peaceful sea and our iconic mountain in one open view?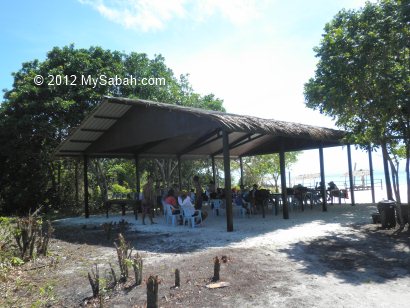 Above: Sayang-Sayang, the place we have our break and lunch.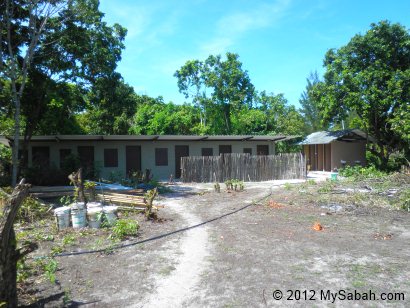 Above: toilets nearby Sayang-Sayang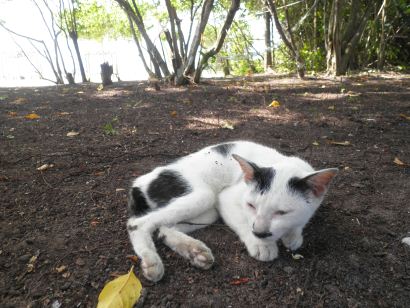 Above: a friendly cat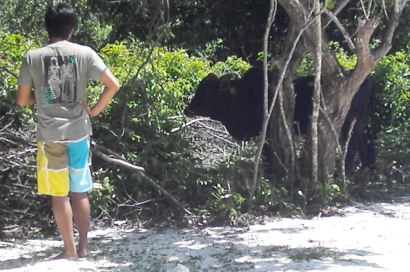 Above: a cattle asks for a share of our lunch. It's from a nearby village of islanders. It doesn't swim all the way here from mainland.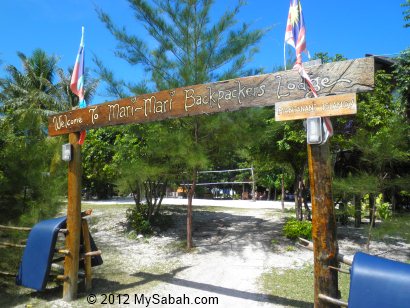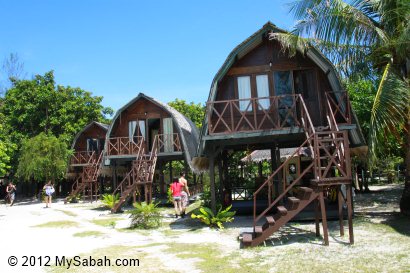 Above: The Mari-Mari Backpackers Lodge of Mantanani Besar looks really nice. Too bad I was on a day trip. There are about 10 of them and each house can host 4 guests. The starting price is about RM80/night per person. They will build more houses like this at Sayang-Sayang soon.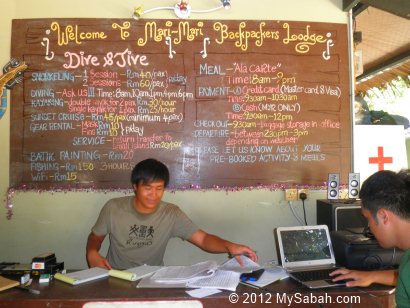 Above: reception counter of Mari-Mari Backpackers Lodge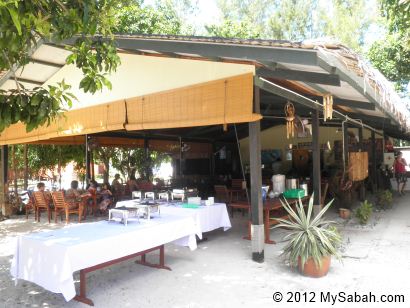 Above: Cafe of Mari-Mari Backpackers Lodge. We collected our snorkeling mask, fin and life jacket behind this cafe.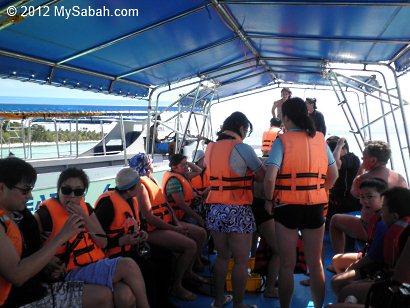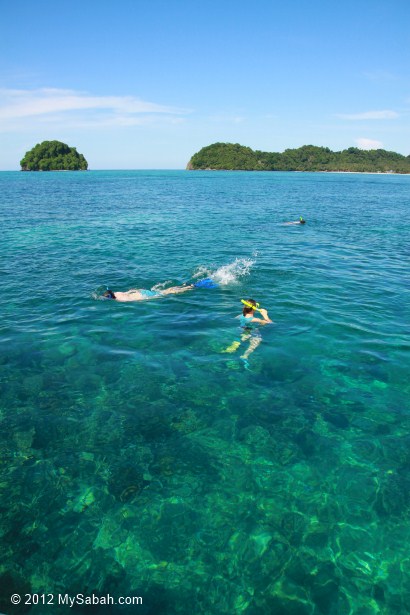 Our day trip includes 2 snorkeling. You may go for Diving Package instead, which costs RM500 (about USD150) and includes 2 discovery scuba diving (no diver license required) in water of 3 to 7 Meters in depth.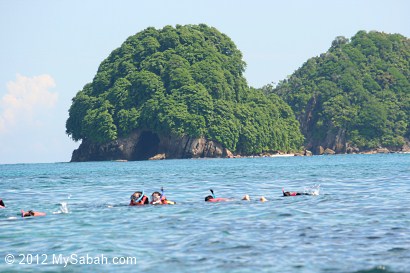 Our first snorkeling site is near Magic Rock, an area near Mantanani Kecil Island. Though our snorkeling sites are far from shore, the depth is only 2 to 3 Meters only. The sea there is quite choppy and we were being tossed around by rough waves. At first I was having fun, then I started to feel dizzy after 10 minutes. All of us got seasick and felt very uncomfortable.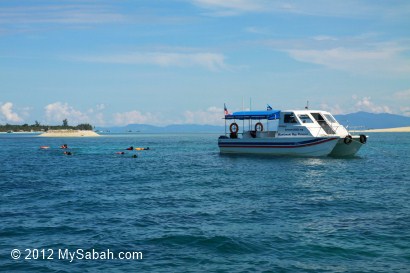 After returning to island for a lunch break, our boatman took us to second snorkeling site near the sand bars. This time the sea is calmer, but the water is quite cool and the current is strong too. Instead of fighting with the current, I just stay relax and let myself flow with the current and I was sent to a warmer zone. Then I felt something stinging me like mosquito. I look carefully and find that I'm in a swarm of translucent jelly bug! Their stings are very light so no worry. I saw a few tiny flashing jellyfishes, so cool..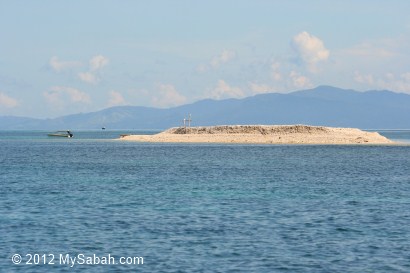 Above: I wonder what is on that sand bar. Too bad we didn't explore it. There might be tons of seashells and corals on it?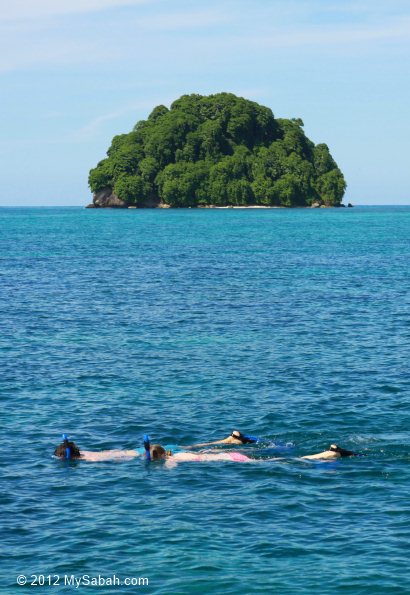 Frankly speaking, I'm a bit disappointed with what I see during snorkeling. Even though I still see quite a number of fishes, many corals are dead and the rest don't look healthy, probably damaged by blast fishing (fish bombing). If you go for snorkeling, the corals at Rocky Point and Magic Rock near Mantanani Kecil Island are still in great shape.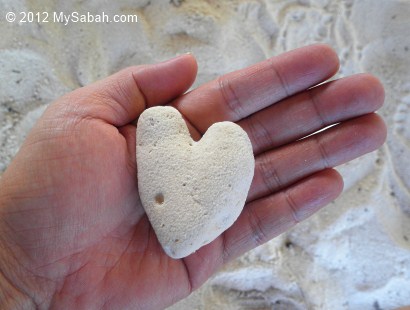 Anyway, Mantanani is still a beautiful island.
More Photos
You may check out my photo album if you want to see more nice pictures: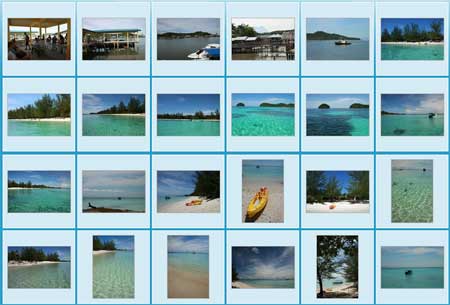 Related Post
Mantanani Kecil (Mari-Mari Dive Lodge)
Fishing at Mantanani Island
Budget accommodation on Mantanani Island
Photos taken in Kota Belud, Sabah, Malaysia Borneo