Lankayan Island is a tranquil tropical island in Sulu Sea off Sandakan. Situated within the Sea Turtle Corridor and Coral Triangle (a.k.a. "Amazon of the Seas"), Lankayan is also declared as Sugud Islands Marine Conservation Area (SIMCA) by Malaysia government in 2001. After visit orangutan and pygmy elephants in Kinabatangan, you must not miss the turtles in Lankayan, to complete your wildlife adventure tour.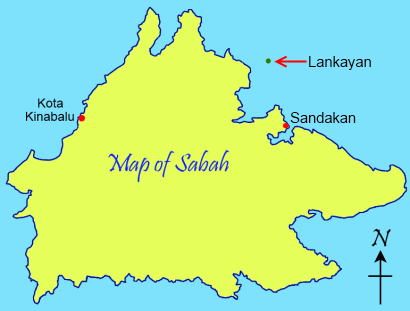 Turtle Hatcheries
Lankayan Island is a nesting and foraging place for Green and Hawksbill Turtles. You have a chance to see turtles laying eggs and hatched baby turtles being released to the sea, especially in peak season from July to October.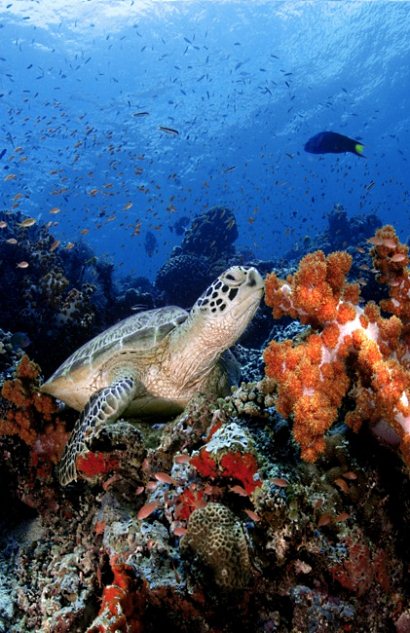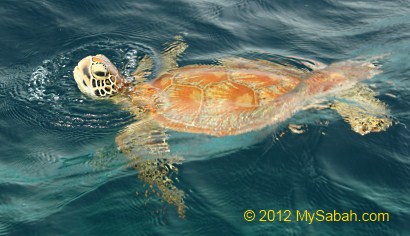 As nesting occurs mostly at night, an overnight stay is recommended. You can request the staff to knock on your door when turtle nesting or hatching takes place. The egg-laying can take about 1 to 2 hours. The clutch size varies between 40 – 200 eggs but batches of 50 – 80 are most common.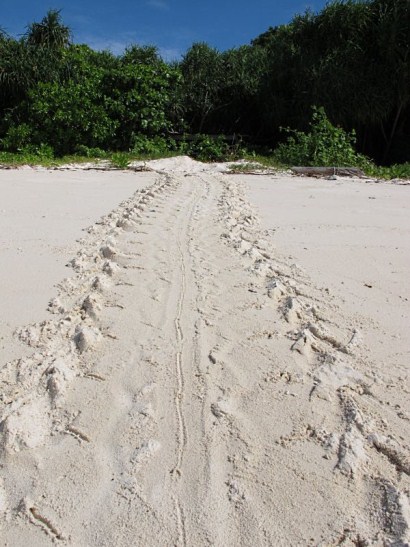 Above: the tracks left behind by mother turtle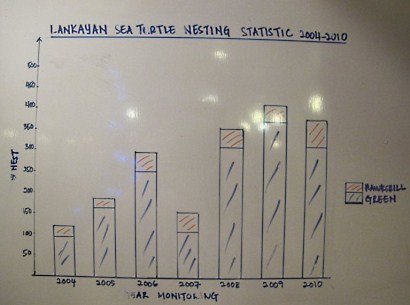 Above: the turtle nesting is growing over the years, thanks to the conservation effort!
For better rate of survival, the staffs will promptly collect the freshly laid eggs and transfer them to the hatchery, where the eggs are buried by hand into 75-cm-deep pits, covered in sand and surrounded by plastic wire mesh. The hatchery will protect the eggs from predators such as monitor lizards and snakes, as well as soil erosion.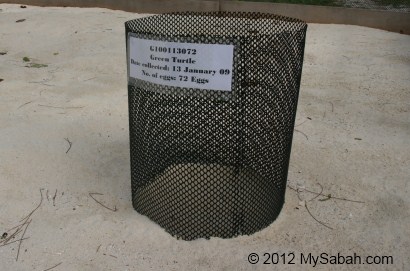 Above: each nest has an information plate displaying a serial number, collection date and number of eggs.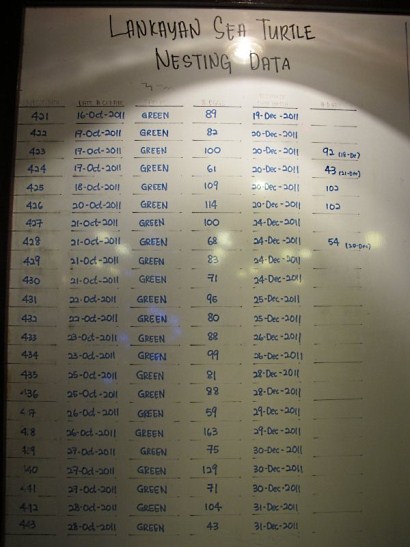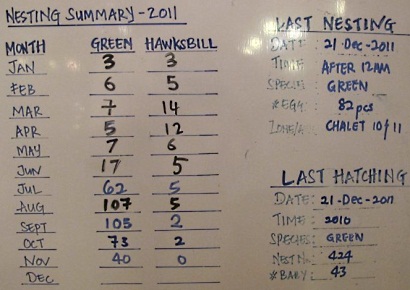 Above: as you can see, the peak season of nesting is from July to October
After 50 to 60 days, the hatchlings will emerge and the guests would have the opportunity to witness the release of baby turtles.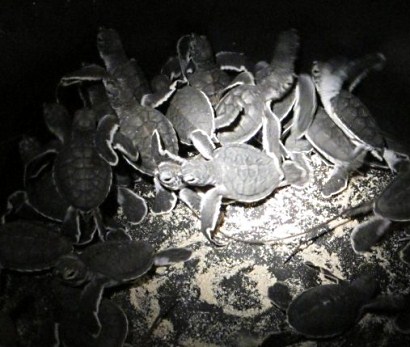 Above: newly hatched baby turtles. Do you know temperature of the sand can determine the sex of the turtles? Higher sand temperatures result in more females.
Watch a 30-sec video of releasing baby turtles:

Click Here for wider video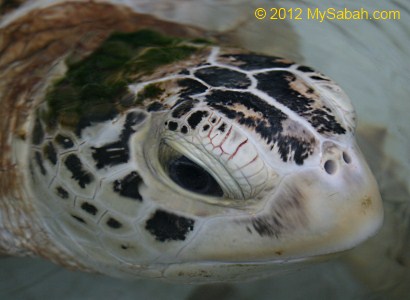 Above: Green turtle has one pair of prefrontal scales and rounded beak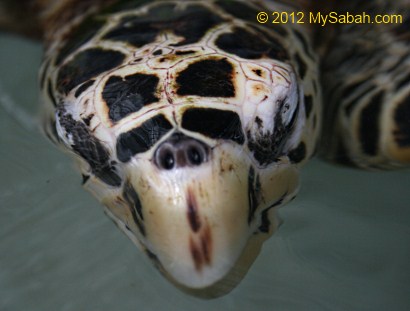 Above: Hawksbill turtle has two pairs of prefrontal scales and sharp hawk-like beak
Diving
What makes Lankayan Island an excellent diving destination is the following 3-in-1 diving deal.
1. Reef & Macro Diving
It's a colorful world under the water of Lankayan. Besides lettuce coral, staghorn coral, jawfish, seahorses, flying gurnards, mimic octopus and porcelain crabs, other pelagic such as scads, barracudas and jacks are found all year round. Lucky divers will see hump head parrotfish, large rays, guitarfish and even manatees.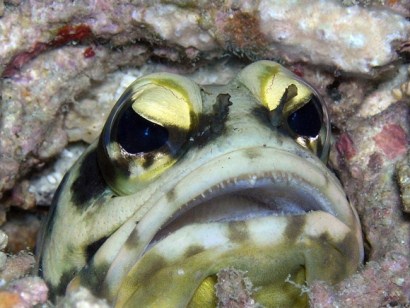 2. Whale Shark
Lankayan is also famous for sighting of gentle whale sharks. You have a better chance of seeing it from March through May.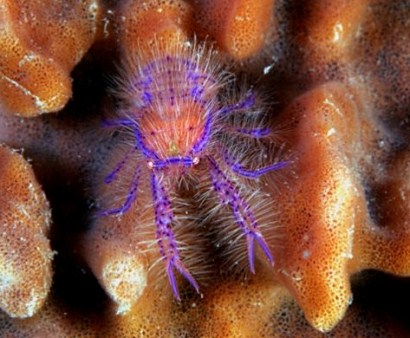 3. Wreck Diving
Lankayan has four wreck diving sites, where divers can observe different types of marine life living there. The highlight is Mosquito Wreck, a cargo ship of Japanese's Mosquito Fleet during World War II and its main structure still remains mostly intact, include its bow gun.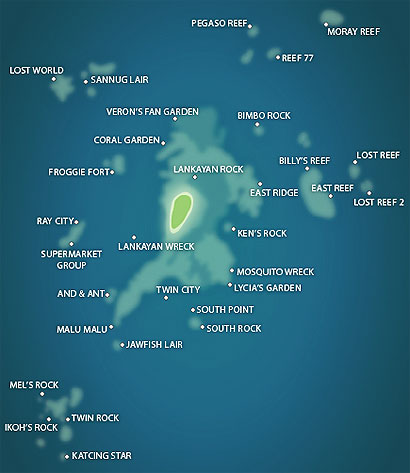 Above: dive map of Lankayan. Click Here for more detail.
Resort
Lankayan Island Resort is the only accommodation on Lankayan and it offers modern amenities, comfortable rooms, and excellent dive facilities. The seafront wooden chalets are well-equipped and attached with private balcony for a breath-taking, open view of white sandy beach and turquoise colored ocean.
For more information or booking of diving tour to Lankayan, please contact Asia Diving Vacation or visit their website at: http://asiadivingvacation.com/resort/lankayan-island-dive-resort
Photos taken in Sandakan, Sabah, Malaysia Borneo