The mountainous terrain of Sabah makes us the land of waterfalls. There are thousands of waterfalls in Sabah forest, most are waiting for explorers to name them. Looking at waterfall can calm our minds better than watching the whirling movement in washing machine. So I compile a list of Sabah's Top 10 Waterfalls for those who want to enjoy heavy doses of negative ions.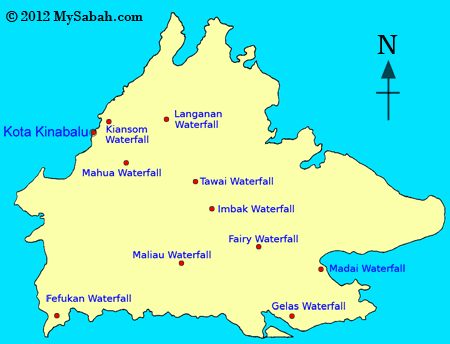 Pic: the location of Top 10 Sabah waterfalls.
Besides Scale, this waterfall ranking is also based on Popularity, Accessibility and Travel Experience. That's why some giant waterfalls are not listed. For example, though Kadamaian Waterfall is the highest waterfall of Sabah, it is too difficult to get there. Please note that most height measurement is by estimation.
No. 10. Kiansom Waterfall
Location: Inanam, Kota Kinabalu
Height: 7-Meter (23 Feet)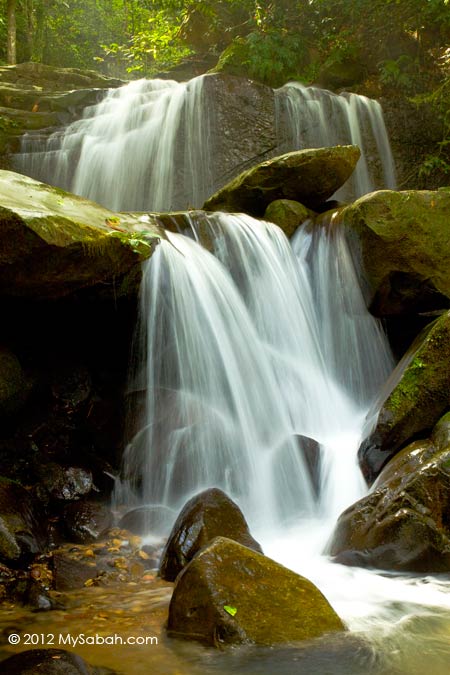 Yes, I know, Kiansom is the smallest waterfall in the top 10 list. It is listed because it is the most famous, accessible and visited waterfall in Kota Kinabalu city. I can't exclude the waterfall that everyone loves.
» Read more about Kiansom Waterfall…
No. 9. Gelas Waterfall
Location: Tawau Hills Park, Tawau
Height: 12 Meters (40 Feet)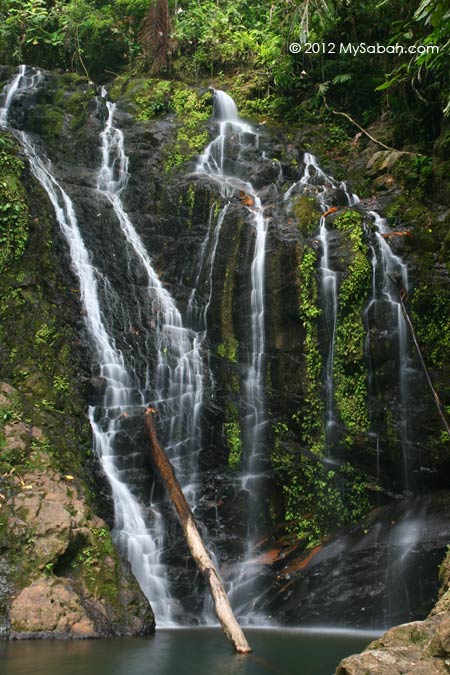 Gelas Waterfall is situated in Tawau Hills Park, a lush rainforest zone and source of five rivers. Hiking to Gelas Waterfall is a pleasure to nature lovers, and you also can soak in sulphurous hot springs in the park.
» Read more about Gelas Waterfall…
No. 8. Tawai Waterfall
Location: Tawai Forest Reserve, Telupid
Height: 95 Meters (311 Feet)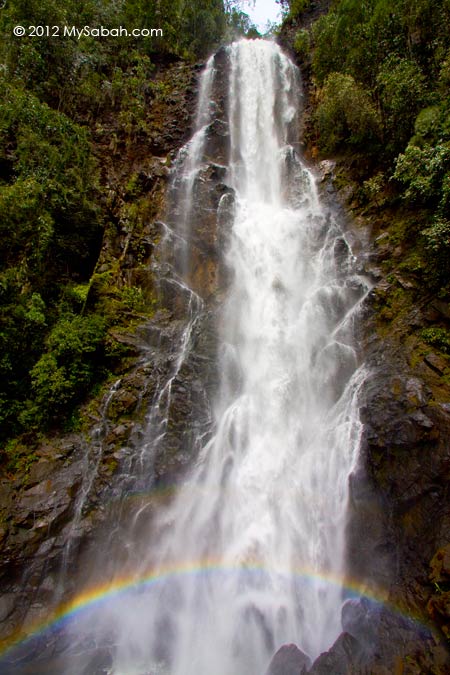 Tawai Waterfall is the least-known waterfall, but its view is so spectacular that it will blow you away. The area around this waterfall is full of Borneo pitcher plant. Denmark's biggest television network, Tv2, has chosen this waterfall for filming of "Girls Off The Beaten Track".
» Read more about Tawai Waterfall…
No. 7. Madai Falls
Location: Madai-Baturong Forest Reserve, Kunak
Height: 40 Meter (131 Feet)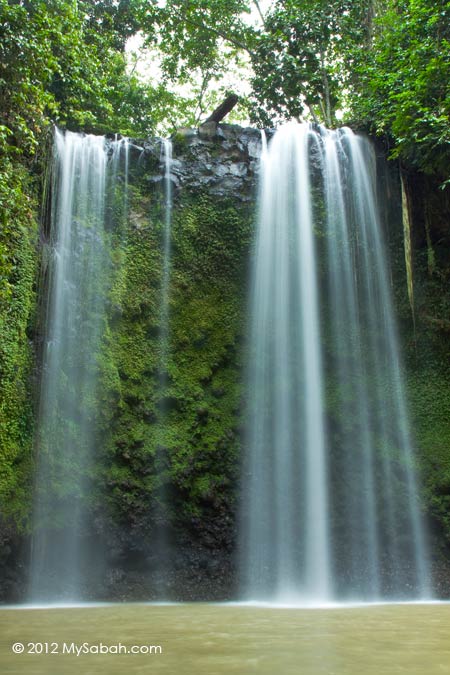 Madai Falls is probably the first Sabah waterfall visited by human, maybe a caveman about 28,000 years ago. I'm not joking. Archaeologists say Madai-Baturong has the oldest human settlement of Sabah. I believe stone-age people love waterfalls as much as we do.
» Read more about Madai Falls…
No. 6. Fairy Waterfall
Location: Danum Valley, Lahad Datu
Height: 27 Meters (89 Feet)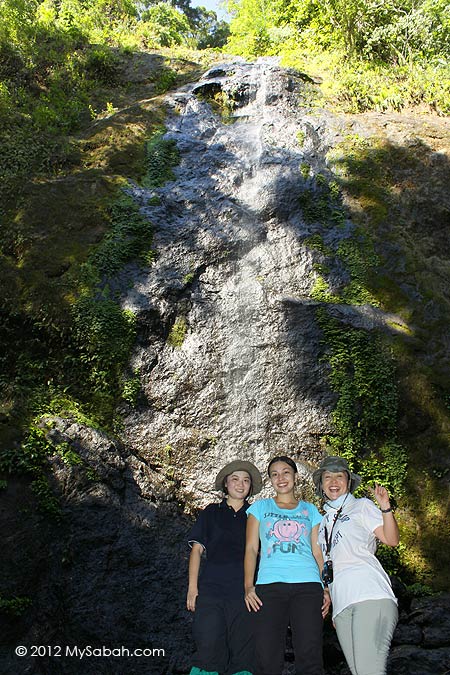 This shy Fairy Waterfall is hiding deep inside the 130-million Borneo rainforest of Danum Valley. The photo here may not look impressive because it was taken during prolonged drought. Danum Valley will be nominated as the next UNESCO World Heritage Site of Sabah/Borneo.
» Read more about Fairy Waterfall…
No. 5. Fefukan Waterfall
Location: Long Pasia
Wide: 20 Meters (66 Feet)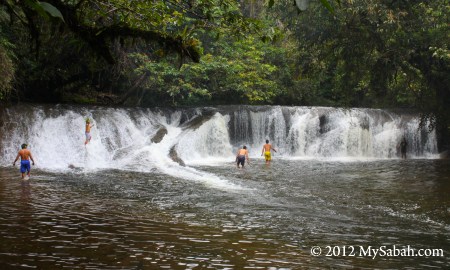 To see Fefukan, Travellers need to hike a long way to the Heart of Borneo, making it the most remote and least visited waterfall in my list. Camping next to this waterfall is one of my most unforgettable experience. Lucky visitors would see blooming rafflesia around there.
» Read more about Fefukan Waterfall…
No. 4. Mahua Waterfall
Location: Tambunan
Height: 17 Meters (55 Feet)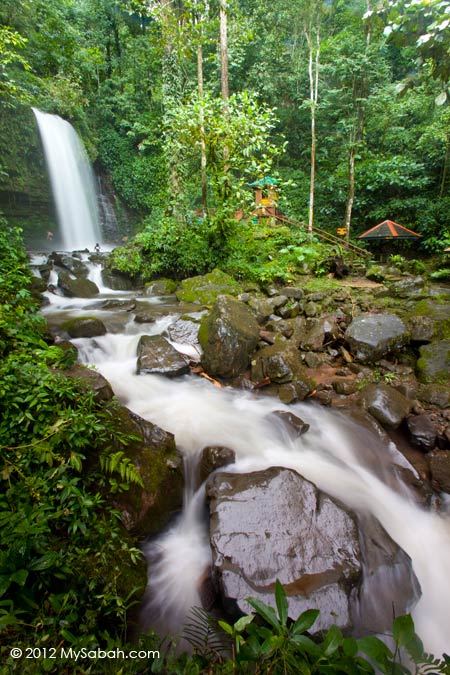 As part of the Crocker Range Park, Mahua Waterfall is protected as a water catchment area. Hence, visitors can enjoy cooling and refreshing water from clean mountain stream. On the way to Mahua Waterfall, you may drop by Tambunan Rafflesia Center to check if you are lucky enough to see a blooming rafflesia.
» Read more about Mahua Waterfall…
No. 3. Imbak Falls
Location: The Heart of Sabah, Tongod
Wide: 30-Meter (98 Feet)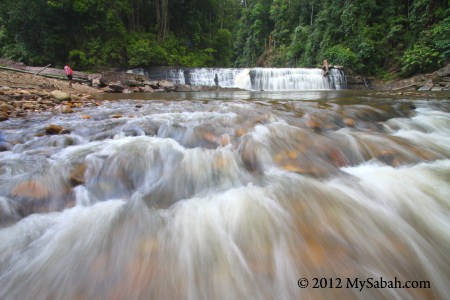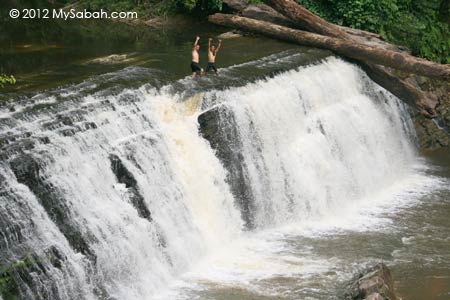 Even though Imbak Falls is only 6 Meters (20 feet) high, it is the widest waterfall of Sabah. I just love sitting in the river, as the strong current turns its waterfall pond into a Jacuzzi bath area.
» Read more about Imbak Falls…
No. 2. Langanan Waterfall
Location: Poring, Kinabalu Park
Height: 120 Meters (394 Feet)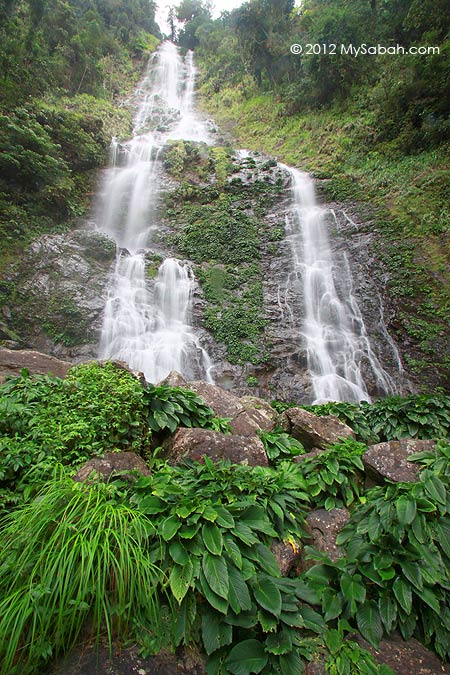 Located in Poring Hot Springs, the most popular destination of Sabah and 1st UNESCO World Heritage Site of Malaysia, the majestic view of 120-Meter-tall Langanan Waterfall is only saved for those visitors who are keen to hike nearly 4 Kilometers (2.3 Miles). It is more enjoyable to soak yourself in the hot spring after a long walk in the jungle.
» Read more about Langanan Waterfall…
No. 1. Maliau Falls
Location: Maliau Basin, Tawau
Height (of the highest tier): 28-Meter (92 Feet)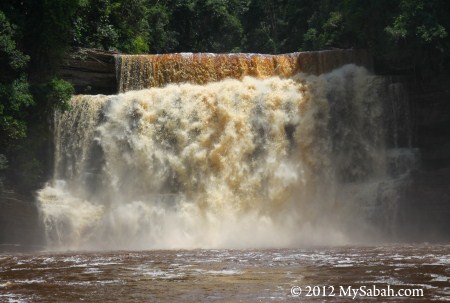 Here you go. The No.1 Waterfall of Sabah is the 7-tier Maliau Falls in Maliau Basin, Sabah's Lost World. To see Maliau Falls, you need to trek 2 days on the treacherous relief and pass through miles and miles of dense pristine rainforest.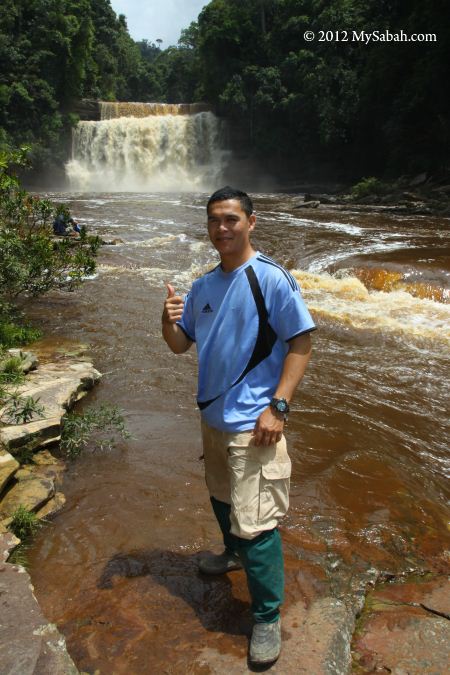 With over 30 waterfalls (and counting), Maliau Basin is also known as the Capital of Waterfalls, and Maliau Falls is the most breath-taking among them. Another feature of this waterfall is its tea-color water, which is caused by plant tannin released from heath forest upstream. The magnificent Maliau Falls will leave a beautiful memory in you, a scene that you like to replay in mind from time to time.
» Read more about Maliau Falls…
Which Waterfall is your Favorite?
Do you agree with the Top 10 Waterfalls list? Please vote for your favorite waterfall below. I would love to see if everyone shares the same view. You can even add new waterfall if your favorite is not in the list.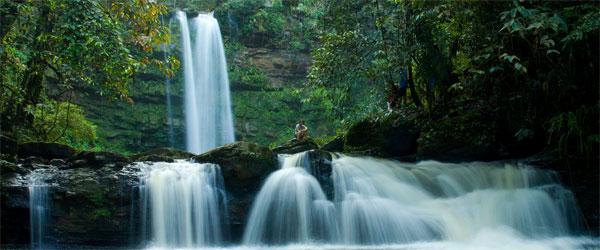 Top 10 Waterfalls of Sabah
Ten best Sabah waterfalls with different features
Below is a montage of Top 10 Sabah Waterfalls (Click it for bigger picture). You may share it in your Facebook.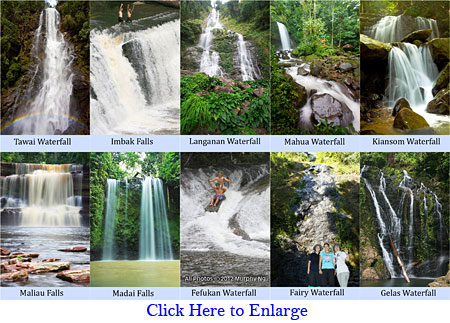 Thanks to readers who link to me.
Waterfall Safety
Accident is like winning lottery, we get it when we are least expecting it. Waterfall is an inviting dead trap that takes countless lives (especially over-excited kids). Please pay attention to the following precaution if you want to "play" with waterfall:
Don't swim near to the waterfall. The waterfall pond can be deep, with unseen swift currents underneath.
Don't climb to the top of waterfall, as the rocks there are usually slippery.
Don't stand under the waterfall. Even a small stone fallen high from top can cause severe injury.
During wet season, watch out for flash flood. Flash flood can occur even if there is no rain downstream.
Teachers, if you plan to bring a group of pupils to swim at waterfall, equip yourself with lifebuoy, rope and CPR knowledge.
If you know any nice waterfall around your hometown, please share with us by posting the photo in comment box below.
"Life is like a waterfall, it is always moving and there is always an uneven flow to it." – SooHoo
Photos taken in Sabah, Malaysia Borneo