I'm certified as a scuba diver since year 2008, but it's a shame that I don't dive quite often. I even stopped once for 2 years. When my friend Dodo invited me to join a diving group last month, I agreed without second thought. One of the best things living in Kota Kinabalu City (KK) is – we have dozens of dive sites located in Tunku Abdul Rahman Park (I prefer to call it KK Islands Park), which is only 15 minutes away by boat ride from KK.
It rained heavily in the morning on our diving day. Luckily it stopped before 7am so we just proceeded with our plan. The diving team gathered at STAR Marina and we departed at 9:30am with Borneo Divers, which has a Dive Centre on Mamutik Island. My Dive Instructor, May, was onboard with us too. I confessed to her that I had given her back everything she taught me (which means I forget everything) LOL.
However, there was no time to bother with the butterflies in my stomach, after suited up and got our dive equipment loaded on-board, we headed to the first dive site at 11am. On the way, I was busy to recall all the steps in my mind.
I was the last one entering the water with my compact camera in underwater case (can stay waterproof up to a depth of 40 Meters). Due to the rain earlier, the water was a bit murky but the visibility is quite ok, about 6 Meters in average. Two Divemasters, Christine and Jonathan were covering our front and back during the dive. The following are summaries of my experience in 3 dive sites.
1. North Sulug Reef
Depth: 18-22M (Dive Time: 11:14am-12:00pm)
My first dive was quite terrible. It took me 2 minutes to equalize (relieve pressure to eardrums caused by increasing depth). Then sea water leaked into my mask, I couldn't see things clearly half of time. I also couldn't control my buoyancy effectively while busy setting my camera. All these are caused by lack of practices.
Anyway, we spotted two green turtles and a school of barracuda! There were school after school of yellowback fusiliers swimming close to reef to catch plankton.
Many table corals, sea whips and feather stars (marine animals that look like plants) were present. Though the variety and density of corals wasn't impressive and I saw 5 to 7 Crown of Thorns (a cunning and thorny marine creature which preys on corals), this dive site has the most reef fishes compared to my next two dives.
Slowly I got used to the water and able to navigate freely around the reef. The dive ended after 45 minutes and we went back to Mamutik Island for lunch.
2. East Sulug Reef
Depth: 9-16M (Dive Time: 1:20pm-2:04pm)
After lunch buffet and a short nap on the island, we started our second dive near Sulug Island again. To focus on polishing my rusted diving skill, I left my camera behind. This dive site is far more interesting than the first one.
The corals here is much more denser and it has become a good hiding place for numerous ocean critters. We saw a pair of mating nudibranch (also known as Orchids of the Ocean) on the coral rubble. In fact, you can find more wildlife underwater than on the land, and some of them are very bright in colors.
That day must be our lucky day. We saw a Hawksbill turtle swimming toward us. It seemed so relax and only a few Meters away from us, probably it thought we were just big fishes. The population of Hawksbill turtle is 10 times less than Green Turtle, so this sighting is really a treat.
I spotted at least two very big and old giant clams. If this park is not protected, there wouldn't be any of them left due to overfishing. However, if a giant clam grows really huge, like over a Meter wide, many local fishermen would not dare to touch it because they believe there is a spirit dwells inside.
We dived along a long stretch of underwater coral garden. I noticed a coral was "flashing". A closer look showed that it's a big cuttlefish camouflaged as a coral. We would have missed it if it didn't change colors. Divers have to be very observant or they would miss many cool stuffs. I believe we only spotted a few percent of the wildlife lurking in this reef.
East Sulug Reef has a lot of lettuce corals, mushroom corals and barrel sponges. Among them, I saw two Christmas tree worms retreated into their burrows, and orange-spotted grouper, angelfish, etc. Without a camera, I could dive more freely. Most of the time, I hovered between between a depth of 10 to 14 Meters, where visibility is better and beautiful corals concentrated.
3. The Rock
Depth: 12-13M (Dive Time: 3:25pm-4pm)
For the last dive, we explored The Rock just behind Mamutik Island. The corals at The Rock is as fabulous as East Sulug Reef but with more variety of soft corals. Too bad I don't know most of their names. I will buy a guide book and learn to identify the marine lives so I will enjoy diving more.
The seascape here is a gradual sloping ridge. Ten of us dived gently along its side full with fringing reef.
Hard corals grow an average of 1 to 2 cm per year. Many corals in the marine parks of Sabah are estimated 3,000 to 6,000 years old. But they can be totally destroyed in a matter of minutes by destructive fishing method such as blast fishing (or fish bombing).
We saw two Magnificent Anemones with Anemonefishes (Nemo) living in them. Magnificent Anemone is very hard to survive in aquarium, so you have to see them in the wild.
Even though KK Islands Park isn't a world-class diving spot, it's still a great playground, even experienced divers find pleasant surprises in every dive.
Everyone was really happy. The sighting of sea turtles and barracuda is already worth the trip. My interest on diving is reignited. I'll do more dives regularly to perfect my skill and take more underwater photos in future.
Recommended Dive Operators
Sabah has so many high-quality diving spots all over the state. The nearest dive site could be less than 20 KM away from our home. If you don't know how to dive, it's like living next to a snowy mountain but don't know how to ski.
You can find more about how to get certified as a scuba diver in my blog. To get certified or arrange a diving trip, I highly recommend the dive operators below:
1. Borneo Divers
Borneo Divers is the most established PADI 5-star dive operator in Sabah and has dive centres on Mamutik and Mabul Islands.
Tel: +60 88-222226, +60 88-221340
E-mail: information@borneodivers.info
Website: www.borneodivers.net
Facebook: BorneoDiversMabulResort
Office Address: 9th Floor, Menara Jubili, 53, Jalan Gaya, 88000 Kota Kinabalu, Sabah, Malaysia
2. Downbelow Marine & Wildlife Adventures
Downbelow is run by a nice couple, Richard and Joanne from UK. They are very passionate about the nature of Sabah, and their service is highly rated in TripAdvisor. Downbelow has a PADI 5-star dive centre on Gaya Island Base Camp and a Dive Shop in KK Times Square.
E-mail: info@divedownbelow.com
Website: www.divedownbelow.com
Tel: +60 88-488997, +60 12-8661935
Office Address: KK Times Square, Lot 33-G, Block F, Kota Kinabalu, 88100 Sabah, Malaysia
Facebook: DiveDownBelow
Google+: +Divedownbelow
Twitter: @divedownbelow
Youtube: divedownbelow
Instagram: adventures_borneo
3. Asia Diving Vacation
Asia Diving Vacation was started by my old buddy, Jacob, who is an avid diver who loves to introduce divers to the best dive sites in Asia, for example, Layang Layang, Lankayan, Sipadan and even Maratua (Indonesia). You can join him stalking whale shark around the islands of KK.
E-mail: customercare@asiadivingvacation.com
Website: www.asiadivingvacation.com
Office Address: Duis Dive, 23, 3rd Floor, Block C, Damai Plaza IV, 88300 Kota Kinabalu, Sabah, Malaysia
Facebook: AsiaDivingVacation
Twitter: @advonline
The fee of leisure diving (fun diving) day trip ranges from RM320 to RM360 (?US$90-103), which normally includes boat transfer, 3 guided boat dives, rental of scuba equipment, diving permit and lunch. Please visit their websites for detail on dive packages.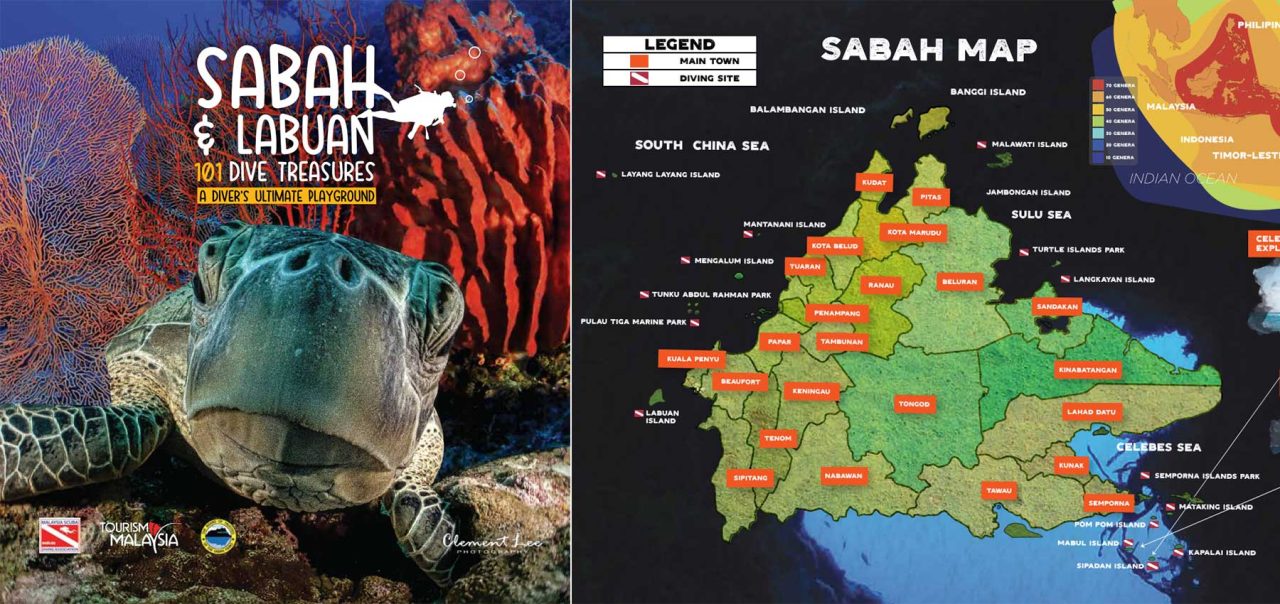 Photos taken in Kota Kinabalu, Sabah, Malaysia Borneo