Tag Archives:
coral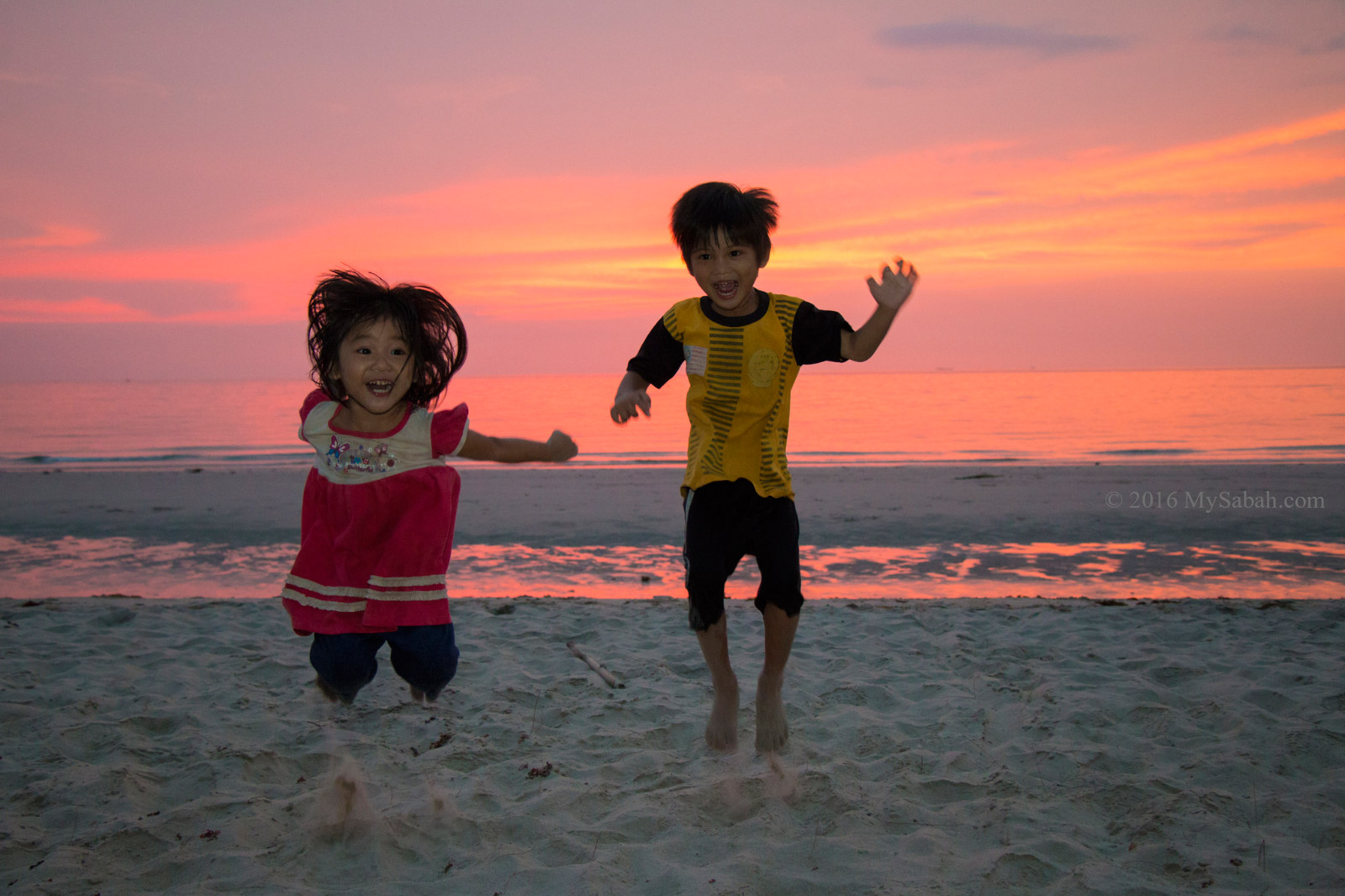 Need a break? Hearing someone says, "let's go to the beach!" will definitely cheer you up. Everyone loves going to the beach. However, it stinks for beachgoers to get only a few meters of space at a popular but crowded beach. Personally I dislike sharing a beach with hundred of people.
Luckily, with about 1,300 Kilometers of coastline, Sabah has so many nice beaches that are enough for everyone to get over 10,000 Sq. Meters of space.
I'm not exaggerating. Bawang Jamal Beach (Pantai Bawang Jamal in local language), in north of Sabah, is one of them, and most of the time you would see less than 10 people on this 1-Kilometer long beach.
Promoting the beaches of Sabah to foreigners can be challenging sometimes, because my marketing managers would comment, "The photos are nice but hey.. the beach is so empty. Tourists would think that our beach ain't fun or got shark!"
Located in Kudat, Bawang Jamal Beach is really hidden well behind a village and dense casuarina trees (GPS: 6.993149, 116.727974, see Location Map).
During my visit, I saw an Australian couple spending their vacation at this beach, and they say Bawang Jamal Beach is probably the best beach in Borneo. I had seen the seething mass of meat (people) in Bondi Beach of Sydney, so I understand why they love this secluded beach so much.
This beach is unspoiled and turtles also come to nest occasionally, and a turtle hatchery was built around here. Street and house light can drive turtles away, so no development could mean a good thing to wildlife.
The blue sea and snowy beach here are something that tourists willing to pay high dollar for staying in such an untouched beach. It's a small bay flanked by rocky shores. The intertidal zone and sandy beach are wide, which is very suitable for kids who can't stop running around.
Sometimes group of village kids would walk along the shore to collect edible stuffs such as shellfish and seaweed. In tourist beach we can't do this because usually there is nothing left.
The rocky shore at the edge of the beach is fun to explore. You would see many small marine animals trapped in the tide pools. I can sit there whole day watching them crawling or swimming.
The most interesting feature of Bawang Jamal Beach is big area of rocky shore covered by yellow seaweed. It looks like a golden carpet when lighted by warm colors of sunset.
Actually I want to photograph the luminous sea ("glowing sea" caused by bioluminescent phytoplankton) of Bawang Jamal Beach, but it wasn't in peak condition during my visit. Anyway, I saw many fishes swam near to the shore to lay eggs, and a fisherman showed me his caught after night fishing, it's kind of fun.
No matter what, this beach is quite unique that I'm sure many photographers would thank me for introducing them another nice spot for landscape shots.
As this beach is free from light and dust pollution, you can see thousands of stars clearly in crystal clear sky. I shot a few photos of Milk Way. Later I found that some of my friends have no idea what is Milky Way because they never see one in the city.
Super Sunset
Not only that, the sunset view at Bawang Jamal Beach is spectacular. No kidding. The nice sunset and beach can be the excellent backdrop for romantic movie scenes.
Our beaches are really underrated. I'm kind of upset when some travel portals rank some mediocre (but popular) beaches as the best in the world.
After seeing so many nice beaches in Sabah, I'm not easily impressed by beaches in other countries. In fact, many Sabahan friends return from overseas trip and say, "heck, you know what? Our beaches are better."
Secret Place Cafe
By the way, if you stroll around this beach, you would find Secret Place Cafe near the midsection of the beach. Well, it's not that secret. I saw a number of westerners relaxing there.
You can buy hot and cold drink such as tea, coffee, soft drink and beer there. They also sell food like fried rice, noodles, toast and omelette. The prices range from RM6.50 to RM8 (≈US$1.60-2.00) and the serving size is quite big. Though the cafe is not certified Halal, they serve no pork.
FYI, you also can rent snorkelling gears and camping tents at this cafe. I think they offer sunset BBQ too.
Lupa Masa Longhouse
For those who want to spend more wonderful time at Bawang Jamal Beach, Lupa Masa Longhouse is only 3 minute walk away from the beach. The design of this accommodation is based on traditional bamboo longhouse of Rungus people in Kudat. "Lupa Masa" means "Forget Time" in Malay language, which conveys that it is an enjoyable place where you would forget about time.
Like how villagers live, the bedroom and amenities of the longhouse are very basic. The room is quite warm during daytime, but quite cooling at night. Electricity for lighting is available. Common toilet and bathroom are just 10 Meters outside the longhouse. The place can accommodate about 12 guests.
The accommodation fee per night is RM50 – 75 (≈US$12.50-19), depend on if you want to participate in Homestay (with full meals) or just Bed & Breakfast. They can help you to arrange various activities around Kudat, for example, snorkeling, fishing, sunset tour and river cruise.
Lupa Masa Longhouse is only 7 Km before the Tip of Borneo. Below is their contact:
E-mail: lupamasaborneo@gmail.com
Tel: +60 19-8020549
Website: lupamasa.com
Facebook: Lupa.Masa
Would you prefer a crowded beach or a tranquil beach? Please tell me in comment section below.
Photos taken in Kudat, Sabah, Malaysia Borneo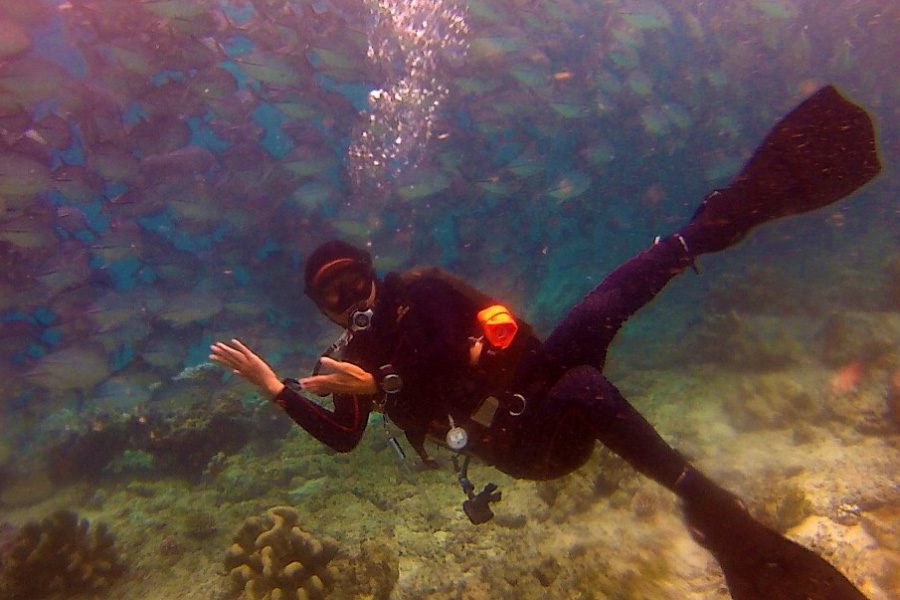 Our world is beautiful and more than half of it is in the sea, where divers can enjoy zero gravity and swim freely among the fishes. Last year I was bogged down by a project and got it over after half a year. Life was stressful, and I really deserved a break. When my friend Dodo was calling divers for a 5-day diving trip in Semporna. Without hesitation, I joined.
After months of waiting, finally, 10 divers met at Tawau Airport. Even though we are from different background and places, and I met most of them the first time, we had so much fun together in the next few days, and it was so hard to say goodbye at the end. I always recall the wonderful moment. Miss them all. ♥♥♥
The resort picked us up at Tawau airport, after one hour of land transfer and one hour of boat ride, we reached Mabul Island.
Seaventures Dive Rig Resort
There are dozens of accommodations available on Mabul Island. We stayed in Seaventures Dive Rig Resort, which is an oil rig being converted to a PADI 5-Star dive resort and ranked as one of the most unique hotels in the world by TripAdvisor.
The dive resort is about 700 Meters in the sea off Mabul Island. This fortress-like structure is so cool that I had been wondering how it's like staying there. The setup is basic. The room is small. The food is great. Their staffs are friendly and helpful. If you don't expect 5-star service & facilities and particular about small things, you will be quite happy.
One of the awesome features of Seaventures is its elevator for entry and exit (I got this recorded on a video). Some crazy guests can't resist to jump into the sea from the deck for fun. However, the resort discourages this because you can hurt yourselves.
I was staying in dormitory room (air conditioning available). They also have twin-sharing and VIP rooms. A 4-day dive + accommodation package starts from RM2,730 (about US$700). You may visit the website of Seaventures for more details.
Someone calls the islands of Semporna the Maldives of the East. Though Semporna has over 1,000 dive sites in Celebes Sea, the best dive sites are concentrated in the "Top Three Triangle", namely, Sipadan, Mabul and Kapalai, which are only 30 minute from one another by boat.
Mabul Island (Pulau Mabul)
If divers talk about diving in Sabah, Sipadan is always No.1 choice, and Mabul is nothing close. The most likely reason divers stay on Mabul Island is due to its proximity to Sipadan Island, but they would find that Mabul is the most memorable part of their trip with friends.
Mabul Island is famous for its world-class muck diving. Many dive sites have artificial reefs made up of rubble, ship wrecks, planks and various junk that you can imagine. This might be an eyesore to divers, but for most marine creatures, it's a perfect shelter.
Therefore, with observant eyes and guiding by good divemaster, you will spot many little gems, some are rare or colorful, hidden among the rubbish and corals.
I saw nudibranch, flatworm, frogfish, pygmy seahorse, flamboyant cuttlefish, whip coral shrimp, eel, barracuda, lobster, stingray, lion fish, sweet lip, skeleton shrimp, robust ghost pipe fish, stone fish, and many other critters.
In fact, Mabul has become a paradise for underwater photographers who search for bizarre and exotic macro sea lives. Just check out the videos of Borneo From Below, most of their footages were shot in Mabul.
The visibility of most dive sites in Mabul is only 5 to 6 Meters, and it's quite dim after 17 Meters deep. Inexperienced divers can have panic attack sometimes, so you better stick with your buddy and group all the time.
If you dive with large group which has divers with poor buoyancy skill, it would be quite irritating if someone keeps stirring up the sediment of sandy bottom and make the water more murky. Hehe I did that too by accident because being pushed by the strong current.
Not every life in Mabul is tiny. Turtles and giant groupers are quite common here. Sometimes divers are delighted by surprises such as leopard shark, dolphin, and devil ray in the water of Mabul.
Some dive sites such as Lobster Wall has astounding density and variety of corals. The current is quite strong, and we had some fun with drift diving.
One of the benefits of staying at Seaventures is – you can enjoy unlimited dive in their House Reef under the rig, which is an excellent muck diving site too. We spotted long snout pipefish, snake eel, cleaner shrimp, cockatoo (wasp fish), lion fish, small barracuda, flatworm, big eye fish, etc.
Sipadan Island (Pulau Sipadan)
Sipadan Island is one of the top 10 dive sites in the world, so it needs no introduction. Everyone wants to go to Sipadan, but the maximum number of visitors is limited to 120 people (snorkellers and divers) per day, to minimize the impact to the environment.
Therefore, if you plan to dive in Sipadan, you better book with your dive operator a few months before the trip. Do at least 3 dives per day if you get the permit.
In contrast to Mabul, the visibility in Sipadan is superb and can reach more than 20 Meters.
This is my third visit to Sipadan, and it is still another amazing journey. Turtles are everywhere, and they only mind their own business and oblivious about our presence. Early morning is the best time to dive when the marine creatures are most active.
For first timer to Sipadan, dive sites like Coral Garden (wall diving), South Point (large pelagics), and Barracuda Point (sharks and barracuda tornado) are highly recommended. But I didn't see school of barracuda this time.
Nevermind that there is no barracuda tornado. We had fun entering Jackfish Storm anyway.
Bumphead Parrot Fish? I didn't even need to dive deep to see them. Other seafood, no, I mean sea lives I saw included white tip reef shark, bat fish, leopard shark, ghost pipe fish, octopus, grey reef shark, and moray eel.
Being so excited, some divers would be tempted to "interact" with charismatic sea creatures, for example, chasing or touching the turtle. Do keep in mind that divers are not allowed to harass any aquatic animals. You, or your group, could be banned from diving, if divemaster finds that you got itchy hand. They are very serious about this, so it's not a joking matter.
Kapalai Island (Pulau Kapalai)
At Kapalai Island, we only did only one dive at Mandarin Valley, where we saw octopus, school of baby barracuda, nudibranch, cuttlefish, ornate ghost pipefish, gobby, etc.
They build some "fish chalets" (House Reef) with artificial reef (racks) to house the fishes and to promote the growth of corals. This site is popular for its colorful Mandarinfish (like fish wearing a Cheongsam), but too bad it's not our day.
Walking around Mabul Island
Seaventures Dive Rig Resort is on the sea, but they have boat transfer to Mabul Island at 5pm (return time: 6:30pm) every day, for you to shop for some supplies or just to explore around.
Mabul Island has become an Accommodation Center for divers who want to dive at Sipadan (which has no resort). You can find resorts and lodges range from budget to luxury type on the island.
Most of the villagers on Mabul Island are living in poverty. I felt sad seeing those shabby houses and ragamuffin children who asked tourists for money. The islanders are very friendly, and it's definitely ok to explore around. Most residents are conservative Muslims. To be courteous, please don't walk around with "overly exposed" swimsuit in their village (though they are used to it). Wearing at least a T-shirt and short.
You will find dozen of small shops that sell souvenirs, seashells, cigarettes, diving stuffs and many other items. Personally I won't buy any seashell, coral or shark products because I don't want to encourage them to harvest these, sorry..
Besides, you can buy fresh seafood from the locals. On the island, there is a turtle hatchery maintained by Scuba Junkies and Sabah Wildlife Department. The tour operators have been educating the villagers on sustainable fishing, turtle and corals conservation, and garbage management. The progress is slow, but we see positive changes gradually.
Dive ❤ Party ❤ Friends
Diving and Drinking with Friends were what we did on Mabul most of the time. We had 3 to 4 dives per day, and at night we partied hard, it's a dream vacation to get wasted for 4 night. We had so much fun and already talked about the next trip.
I'm not a good drinker. After some shots, I would doze off with glass held in my hand. When I was awake hour later, they refilled my glass then I got K.O. again. This went on until late night lol.
As alcohol is one of the highlight, you can buy beer and hard liquor in Semporna town. One of such shops is located between Restoran AR Rahman and Crystal Coffee Shop, and opposite to Agro Bank. You can call Mr Lim (+60 14-6743069) or Ms Lim (+60 16-8121169) for info. I tell you this because many foreigners think it's difficult to find alcohol in Sabah. You are welcome.
Though my dive buddies rocked, this diving trip would be less fun without the company of Suki, one of the best Divemasters I've ever met. She is very professional, serious but playful.
While diving with her, I was so impressed by her perfect buoyancy skill. OMG, is she a mermaid? Her enthusiasm was contagious and all of us got excited diving next to her. Thanks to Suki, she taught me a lot to improve my diving skill.
Is Semporna Safe?
I've been asked this question by readers many times. Tourists concern about their safety in islands of Semporna because of the abduction in the past. I would say Semporna is relatively safer than most places on earth, so don't worry too much about it. Nowadays, no place is 100% safe due to threat by IS. Some countries make hoo-ha about kidnapping cases in Sabah and forget that more of their citizens were dead in terrorist attack. As a local, I can tell you that Sabah is safer than London, Paris, and Sydney.
I have visited Semporna many times and won't hesitate to travel there again. Most tourist destinations in Semporna have garrison. I've seen how the armed force works. They are serious and vigilant day and night, to keep the tourists safe. They are not sitting there drinking and gambling. With curfew and more proactive defense mechanism in place, hopefully Semporna will be totally safe.
How to get there?
To go to Mabul and Sipadan Island, you can take a 40-minute flight, operated by Malaysia Airlines and Air Asia, to fly from Kota Kinabalu City (Code: BKI) to Tawau City (Code: TWU). You can use Google Flights to check the schedules and prices.
At the Airport of Tawau, you can hire a taxi to go to Semporna Town, which takes an hour. You also can request your dive operator or resort to fetch you at the airport. I advise you to book the tour or accommodation before you come to Sabah. You can walk-in to enquire, but the resort or tour could be fully booked during peak season.
It's also possible to travel from Kota Kinabalu City to Semporna Town by long distance bus.
Special Thanks to Dodo and Dora for contributing most of the photos and videos to this article.
Photos taken in Semporna, Sabah, Malaysia Borneo