A postcard from your friend who travels aboard is a pleasant surprise. But if it's a postcard from underwater, you should feel really special because this takes your diver friend a lot of efforts to deliver this mail from the deep blue. Sabah has two underwater post boxes, one at Layang-Layang Island in West Coast, and another at Mataking Island in East Coast. Mail from each postbox carries a special postmark that depicts their underwater postal service.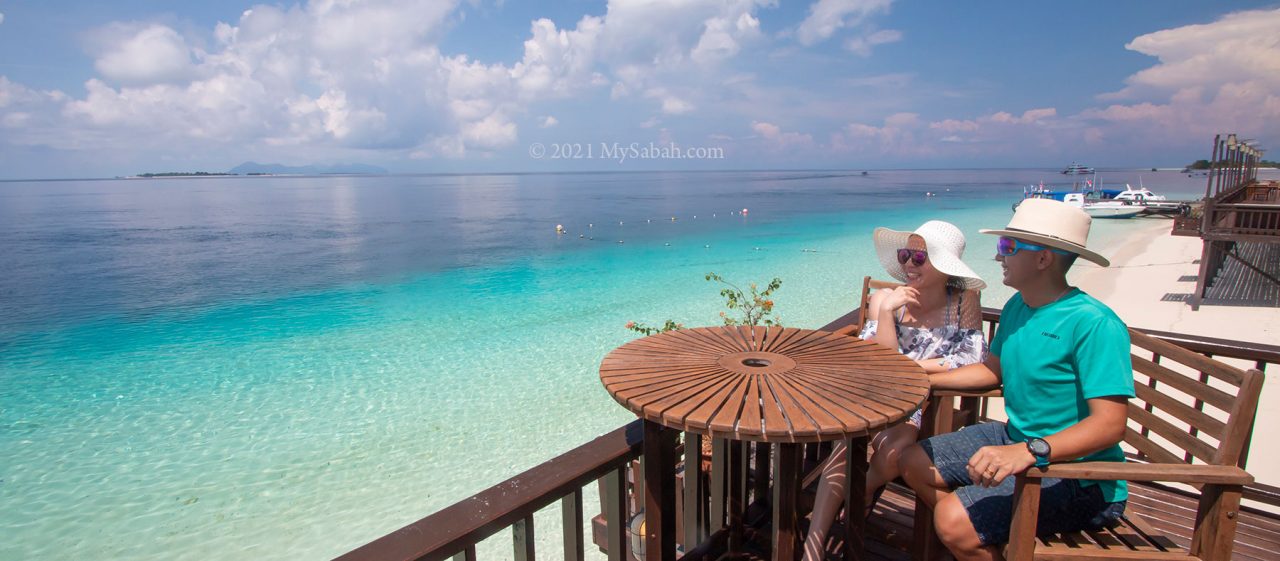 1. Mataking Island, the First Underwater Post Box
The first underwater post box of Malaysia is at Mataking Island (Pulau Mataking). Located 39 KM off the Semporna town, Reef Dive Resort on Mataking is a luxurious island resort that attracts a lot of European honeymooners, who seek for a romantic island vacation with lovely beach and sea view. There are over 30 dive sites around Mataking Island for divers who want to explore the amazing sea lives and corals in the ocean.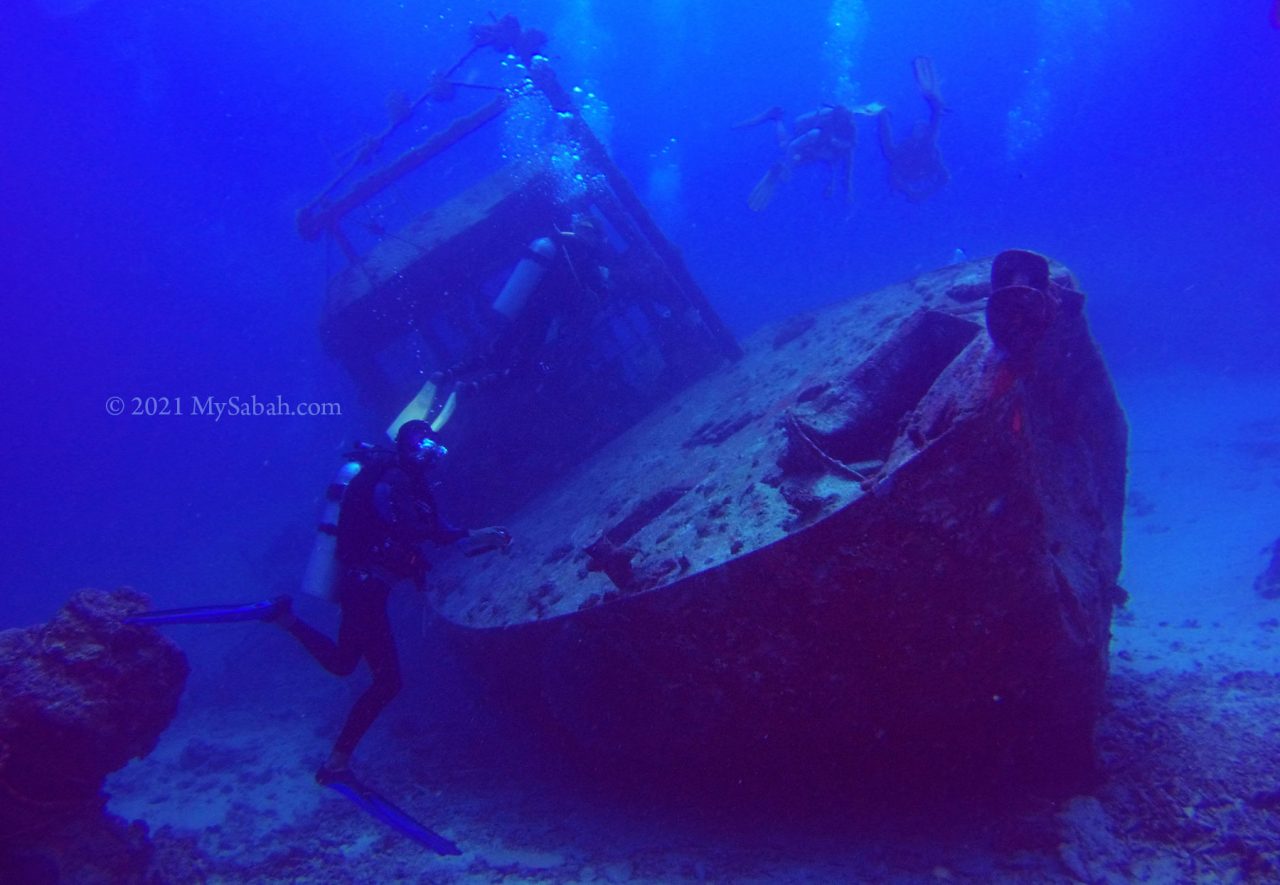 The underwater post box is mounted at the front of the shipwreck wheel of a 40-foot cargo sheep named Mataking 1. In 2006, this old ship was sunken at house reef in front of the resort as an artificial reef. After laying under 20 Metres for many years, this shipwreck becomes a home for marine lives and an interesting diving spot for scuba divers.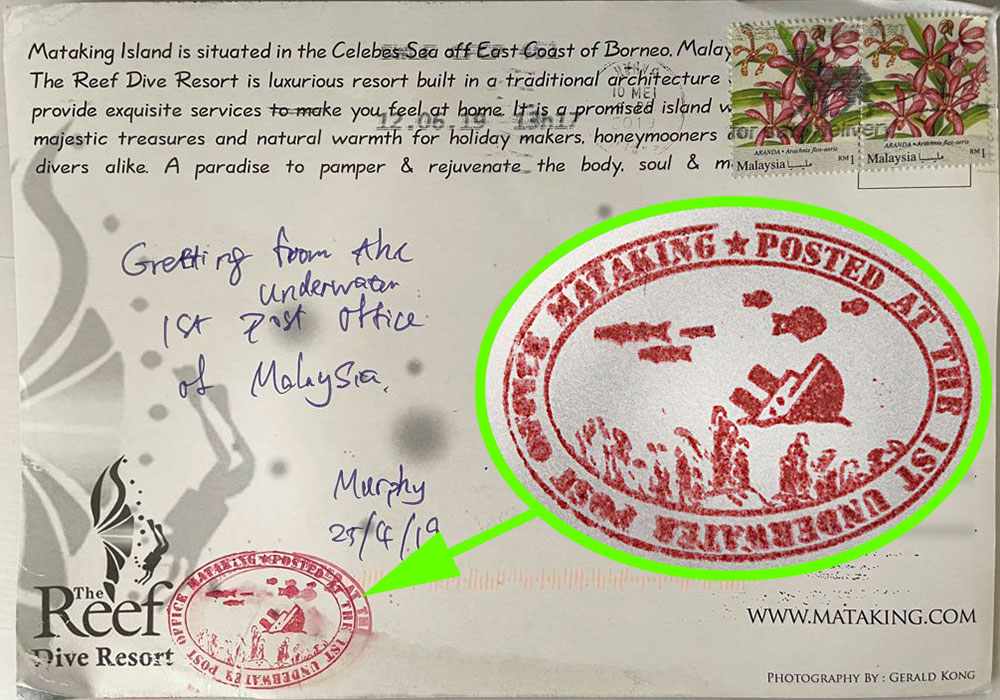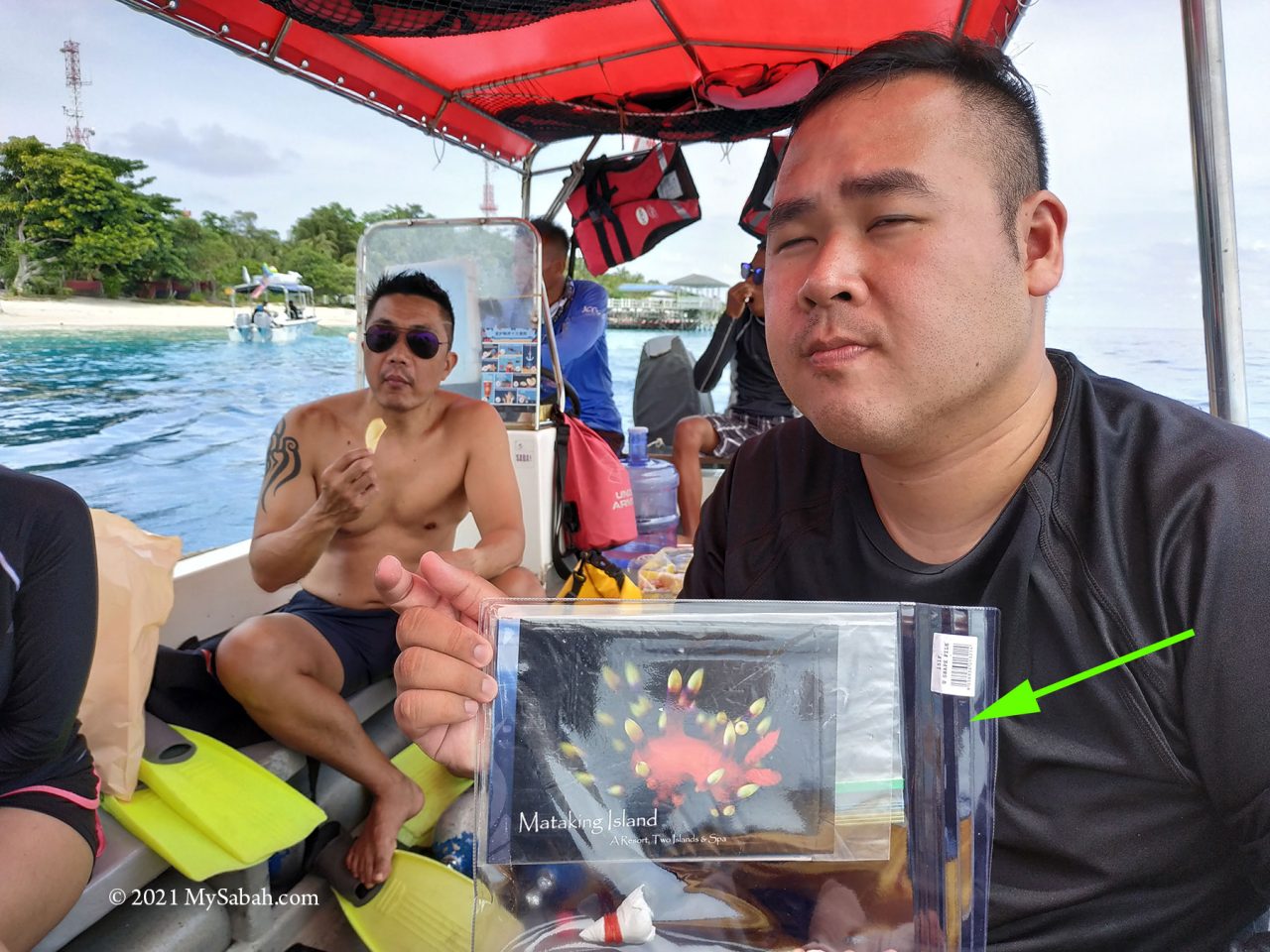 If you want to send an underwater postcard there, you can buy the postcards and waterproof envelope from the gift shop on Mataking Island. The following is a list of the expenses:
Postcard: RM4 per piece
Waterproof Envelope: RM15 each (can store up to 5 postcards)
Stamp (Mailing): RM3
The total cost to send one underwater postcard is RM22. But if you send five cards in one waterproof envelope, the average cost is lower to RM10 per card. The postman diver will collect the mails twice a week.
However, Mataking is a private island, so only their guests can enter the gift shop to buy postcards and plastic waterproof postal bag. If you go diving around Mataking Island with other dive operators, you may be allowed to hang around in the designated beach area but not the resort. Please check with your dive operators in advance, if you plan to send underwater postcard (different application is required for the permission to enter premise of resort). The following are the contact of Mataking Island for any enquiry:
Website: mataking.com
Phone: +60 89-770022
Email: sales@mataking.com
Facebook: @MatakingIsland
Instagram: @matakingisland

2. Layang-Layang Island, the Deepest Underwater Post Box
The deepest underwater postbox of Malaysia is located in Layang-Layang Island (Pulau Layang-Layang) and this record is backed by the Malaysia Book of Records. Layang-Layang is one of the best dive destinations in Malaysia and an oceanic atoll in the Spratly Islands nearly 300 Kilometres off Sabah mainland. Layang-Layang Dive Resort is the only accommodation on Layang-Layang, and equipped with a dive centre. Layang-Layang is famous for sighting of large school of hammerhead sharks.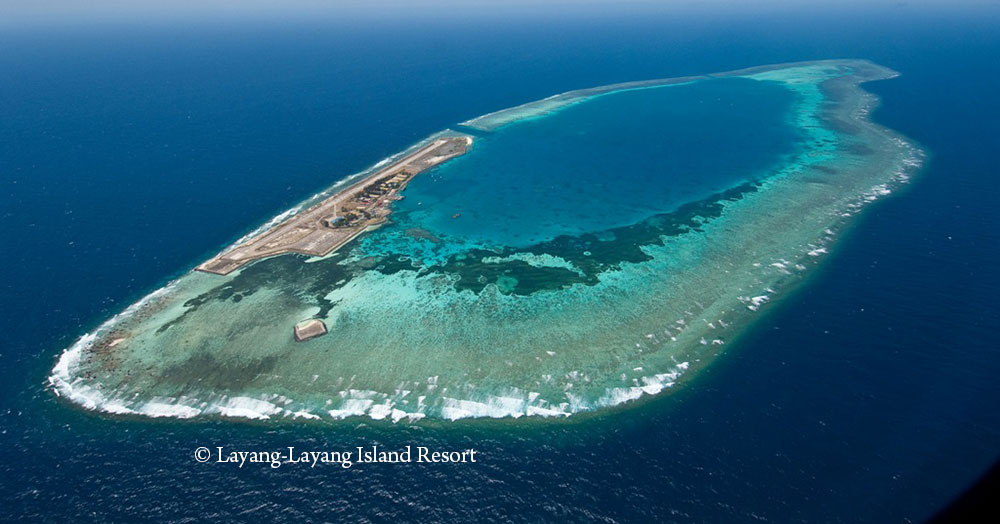 In 2015, POS Malaysia installed an underwater postbox 40 Metres below sea level at Layang-Layang. Scuba divers can bring their waterproof postcard, which is made from synthetic paper and available for RM10 (postal fee included) at the resort, and drop it in the underwater post box. The mails will be collected by the diver and dispatched by a MAS-Wings' airplane to Kota Kinabalu City for delivery to the receivers' addresses.

The postcards sent from Layang-Layang underwater post box will be stamped by a special hammerhead shark postmark, depicting the signature fish there, and with a Malaysia Book of Records sigil on the card. The post box also comes with a postcode 88005, a special number for this isolated Malaysian territory in South China Sea. Besides waterproof postcard, waterproof underwater case covers are available for keeping letters and other mail items dry.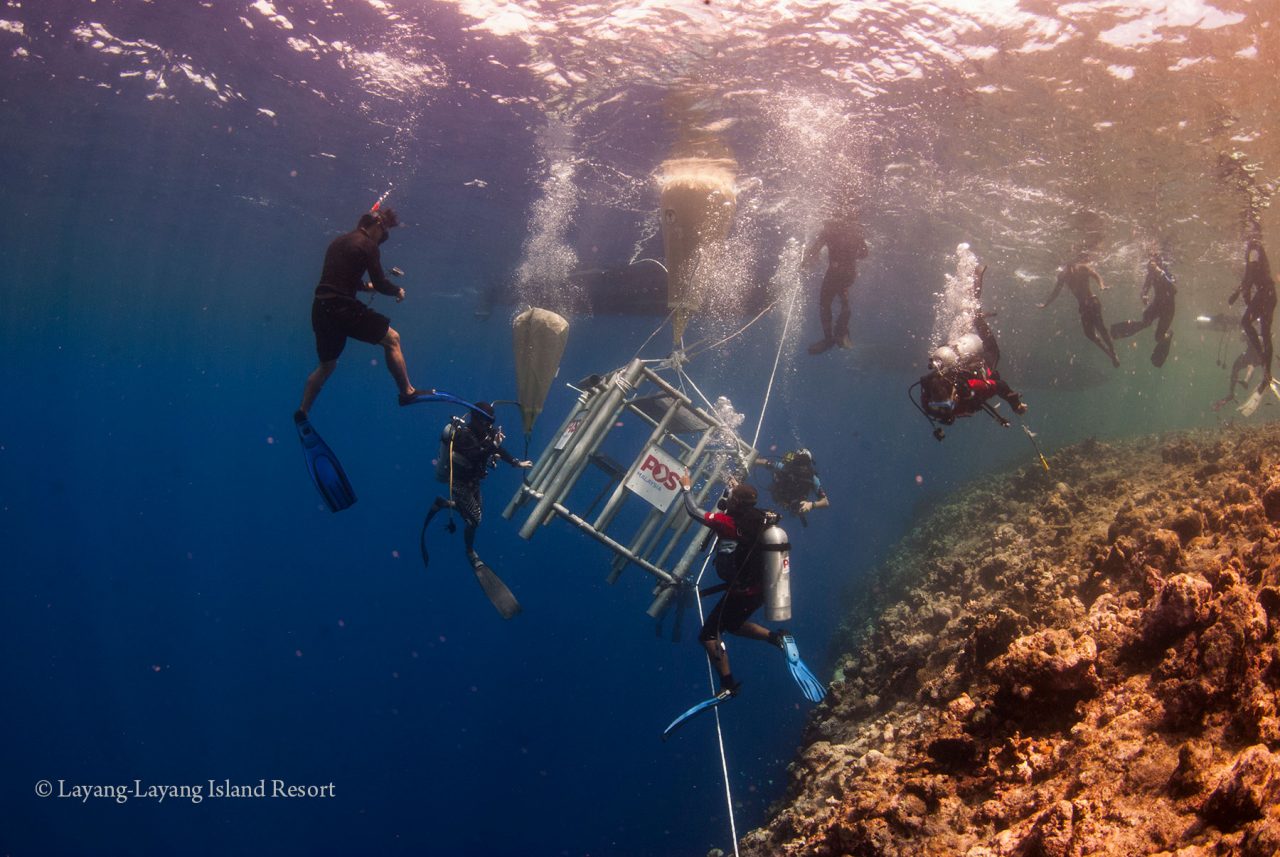 However, an Internet search would show that Susami Bay of Japan has the the deepest postbox in the world, which is only 10 Metres deep. That record is definitely outdated as the underwater post box of Layang-Layang is 4 times deeper. Time for Guinness World Records to update their record.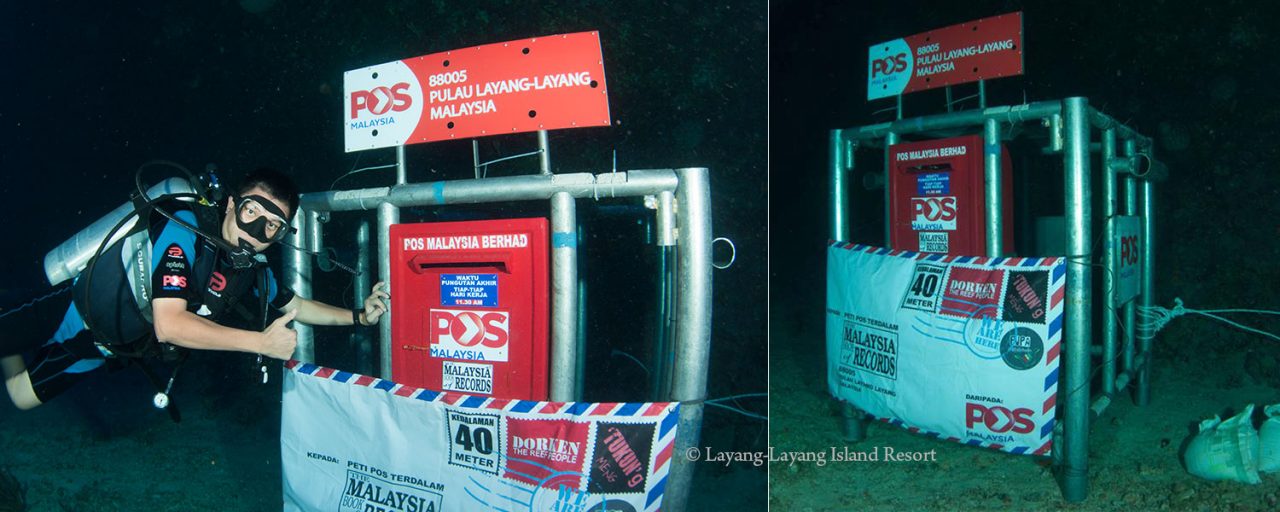 Layang-Layang Island Resort has opened for booking in year 2022. You may contact them if you are interested in diving with them:
Website: layanglayang.com
Facebook: @LLIRMalaysia
Instagram: @layanglayangislandresort
E-mail: res@layanglayang.com
Phone (Whatsapp): +60 18-220 2838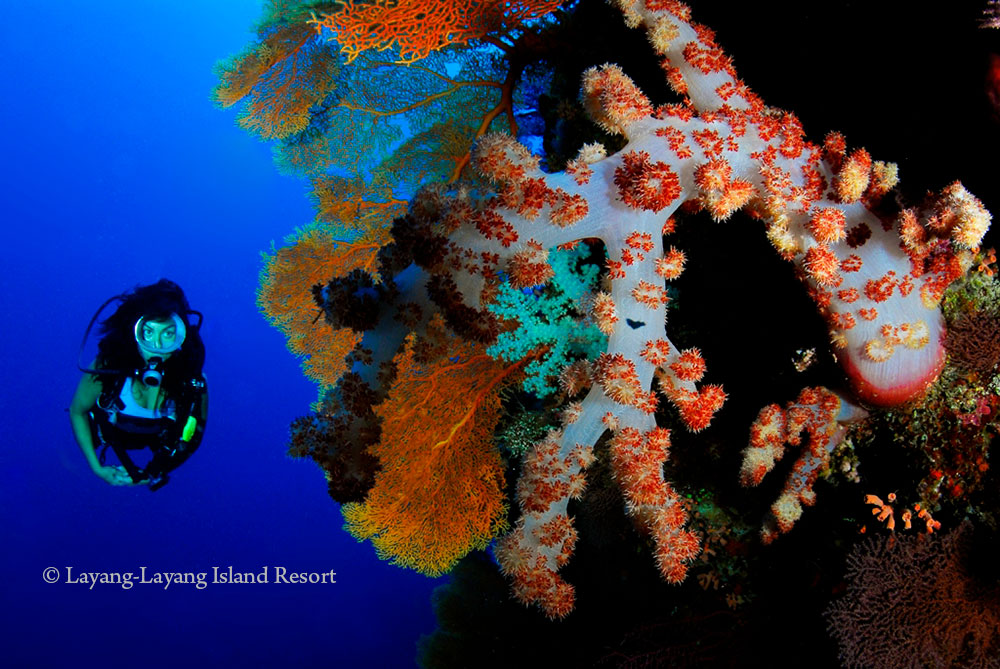 To send underwater postcard or letter in these dive sites, you need to be a certified Advanced Scuba Diver (e.g. PADI Advanced Open Water Diver) who is allowed to dive beyond 18 Metres (60 feet), the depth limit for basic divers. Why not sending two postcards in Sabah, one in underwater post box and another one from the highest postbox of Malaysia on Mount Kinabalu? You may check out my article on sending postcards from the highest postbox of Malaysia.
Photos taken in Sabah, Malaysia Borneo