The recent hot days make me think of a tasty ice-cream that is made in Sabah, the "Super Ice-Cream Potong" (translated as Cut Super Ice-Cream). Many Taiwan and Hong Kong tourists love it. They call it "Fruit Ice-Cream" ("????" or "????" in Chinese) and they always bring a few boxes of it back home, so their friends can get a taste of Sabah too.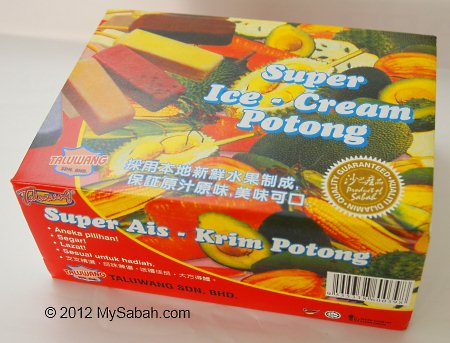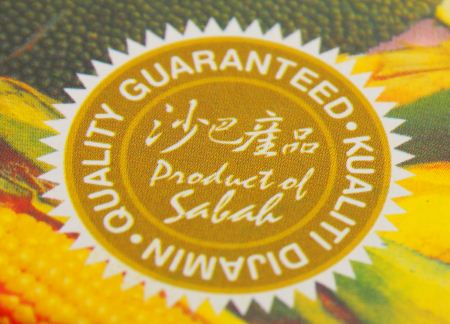 As printed on their box, no doubt this fruits-flavored homemade ice cream is the product of Sabah manufactured by Taluwang (Facebook: Taluwang).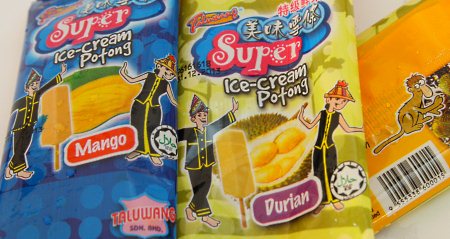 There are cartoons of Kadazan people and long-nosed monkey on the ice-cream wrappers, cute and truly Sabah!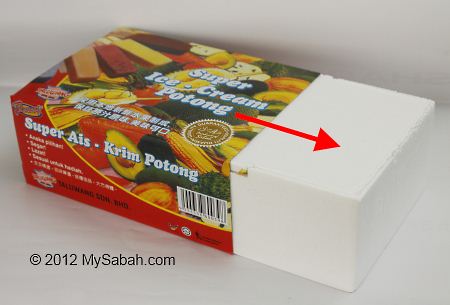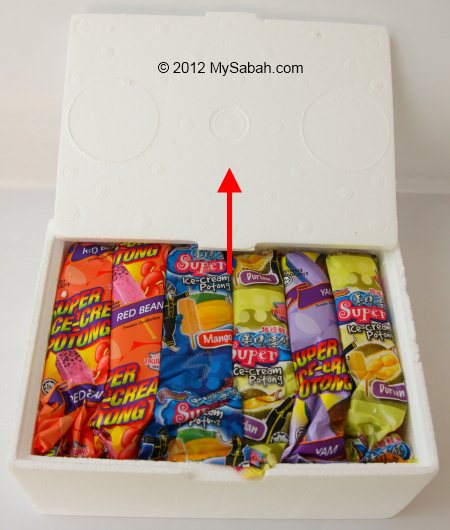 The packing with Styrofoam box is also designed with tourists in mind. The styrofoam box can keep the ice-cream frozen for 3 hours, long enough for the tourists to carry it on flight until they reach hometown.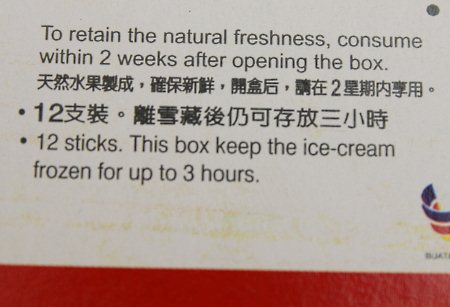 FYI, Malaysia Airlines (MAS) allows you to carry this box aboard. However, Air Asia does not, unless you buy this ice-cream from airport.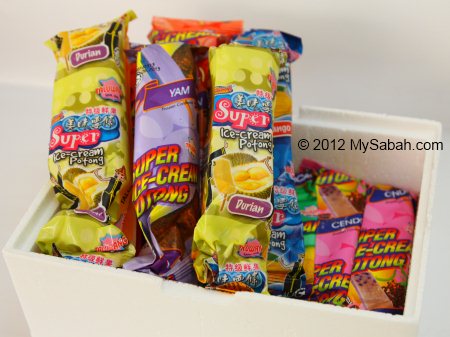 There are 12 ice-cream with different flavors in a box. The wrappers are so colorful. I can't wait to try them all.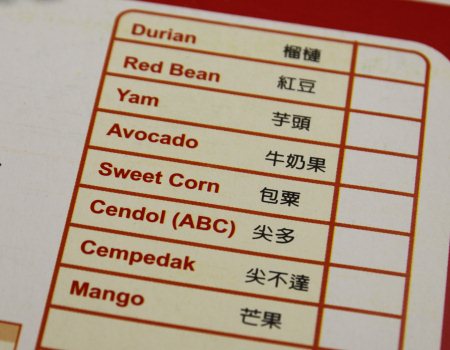 The box says there are 8 types of flavor, but mine only got 7. The sweet corn flavor is missing. Anyway, I'll show you the 7 flavors one by one.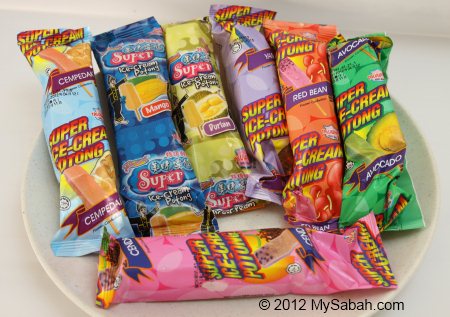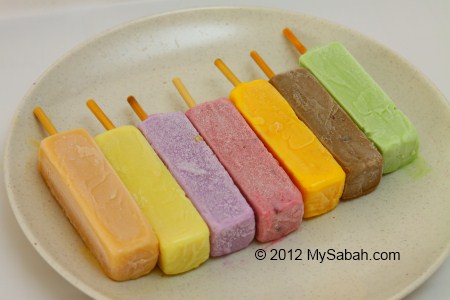 Ice-cream to be served shortly! Each one is about 4-inch long and in cube shape as if it is cut, that's why they call it ice-cream "potong" (cut). Though this ice-cream can survive 3 hours in box, it tastes best when it is very cold and hard. For maximum satisfaction, you should ice it in the coldest compartment of refrigerator before you enjoy it.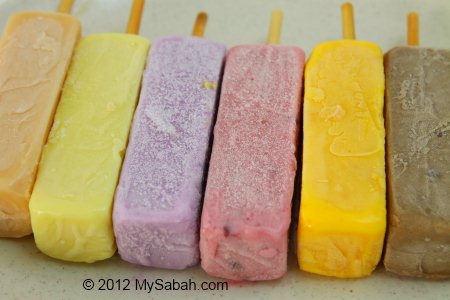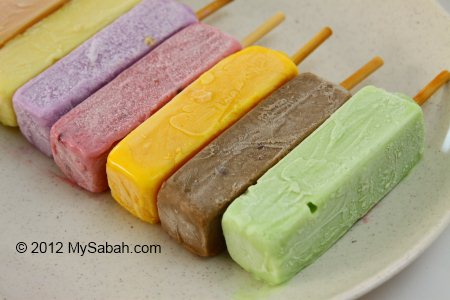 Technically, they are popsicles as the main ingredients are fresh fruit juices and coconut milk (Santan), unlike the real ice-cream, which is mainly dairy-based.
Are you ready to get a taste of Sabah? Let's start with tropical fruits…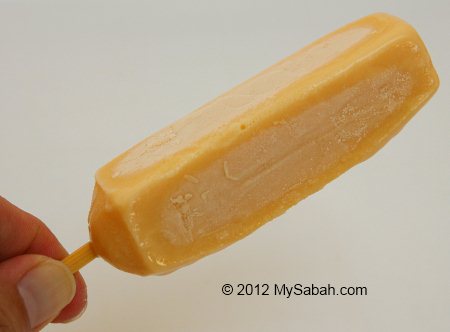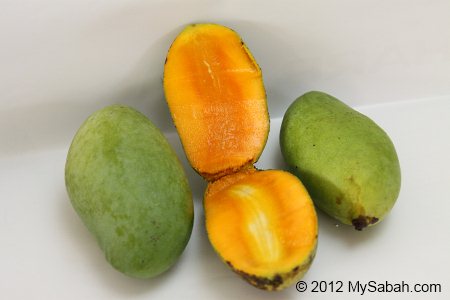 Above: the mango flavor..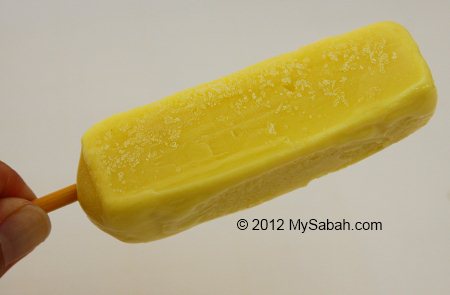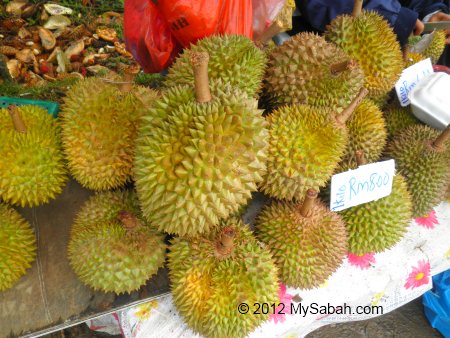 Above: the smooth taste of Durian, the king of fruit.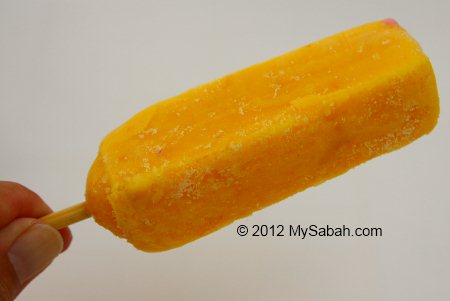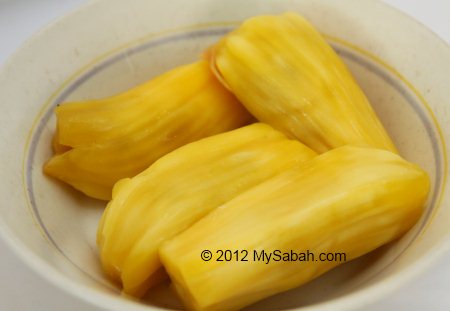 Above: Cempedak (jackfruit) flavor that smells like the fragrant fruit.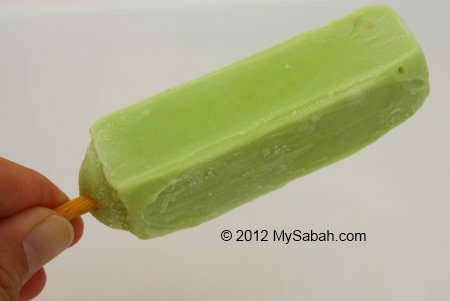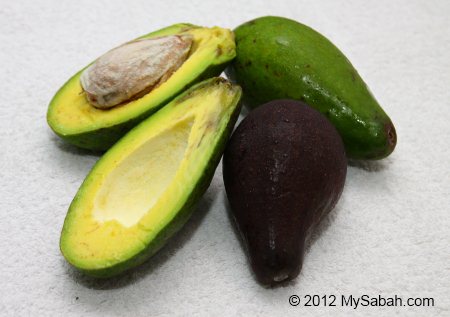 Above: the creamy Avocado flavor…
Besides fruit flavors, they also have dessert flavors…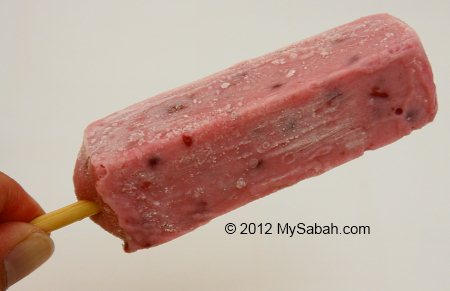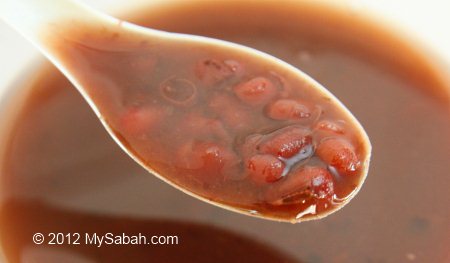 Above: red bean popsicle is my personal favorite and I bet most think the same. Eating it is like having a nice bowl of red bean soup, a famous dessert.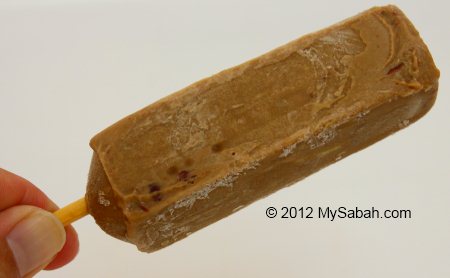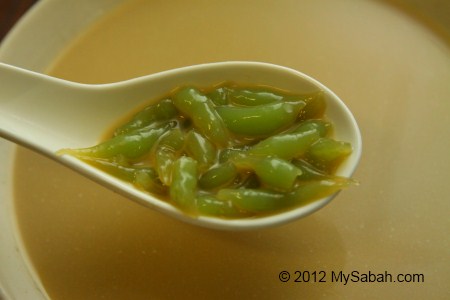 Above: Cendol flavor for a taste of the traditional "green jelly" sweet dessert, popular in South-East Asia.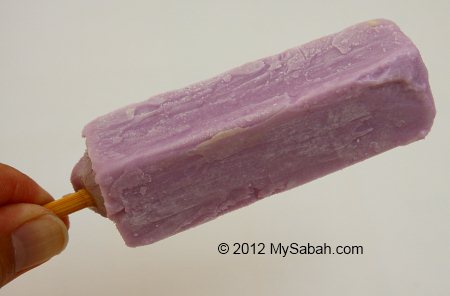 Above: I don't like Yam flavor but my dad loves it.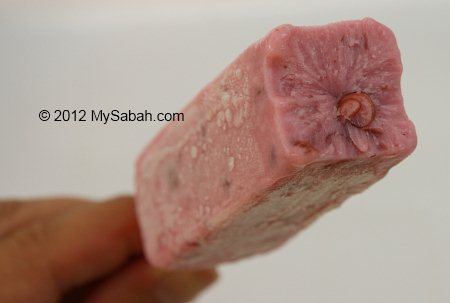 You can see the red bean in the Red Bean and Cendol flavored ice-cream.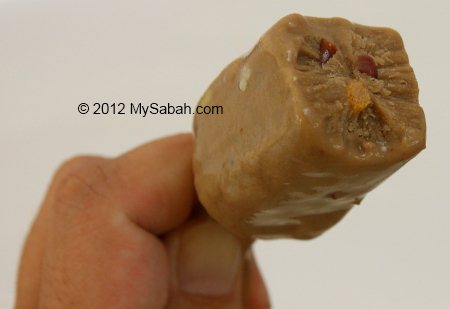 You see. Probably I'm a man, so I'm impatient. I just bite and chew the ice-cream LOL. I really don't understand why girls like to lick and suck ice-cream. Such action creates wild imagination in my head, which I consider it as a sexual harassment. Haha, ok, I'm just kidding. Actually I enjoy seeing that.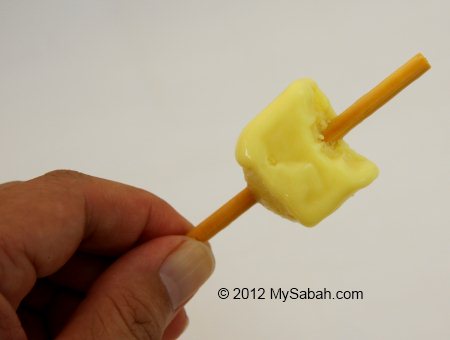 One is never enough.. I ate three.. :-p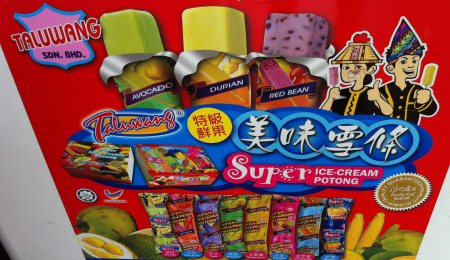 Super Ice-Cream Potong is common but surprisingly not every supermarket selling it. It's not hard to find, but you need to look around. Most likely you can find it in our airports and shops that sell Sabah souvenir and products, like the "Souvenir Shopping Centre" (?????) in Warisan Square of Kota Kinabalu city center (see photo below):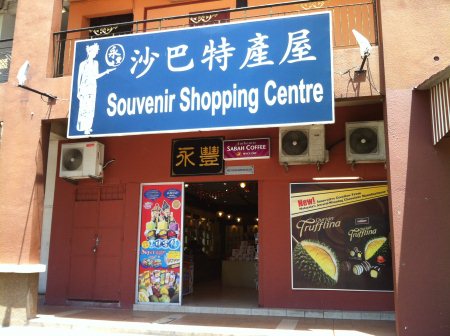 The shop is facing the road and Le Meridien Hotel so it is easy to find. The contact is as below:
Great Fortune Marketing (????????)
Address: Lot B-G-16 & B-01-16, Ground & 1st Floor, Block B Warisan Square, Jln Tun Fuad Stephens, 88000 Kota Kinabalu, Sabah, Malaysia.
Tel: +60 88-447699
Opening Hours: 10:30am – 9:30pm daily

View My Sabah Map in a larger map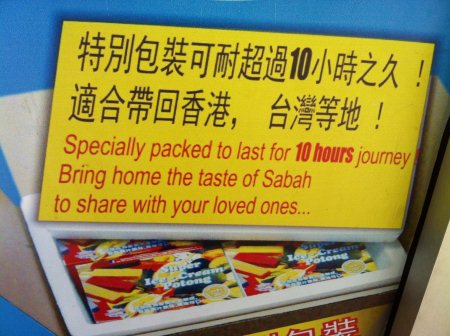 If you buy 7 boxes, they can make special big pack that can keep your ice-cream cold for 10 hours, but you need to order 2 days in advance and the cost (7 boxes of ice-cream + special packing) is RM150 (≈USD45.50). The normal price of this ice-cream is about RM15 (≈USD4.55) per box, but they sell it for RM20 (≈USD6), probably the price is higher in city.
Related Post
Photos taken in Sabah, Malaysia Borneo