Opened by a Hainanese named Wong Whue Fong in 1961, Kedai Cheng Wah Restaurant (精華冰室) has been selling delicious Ngiu Chap (Mixed Beef, 牛什 or 牛杂 in Chinese) for over half a century. Your grandparents or parents may have tried it. If they keep up the current standard, I have no doubt Cheng Wah can open for another 100 years.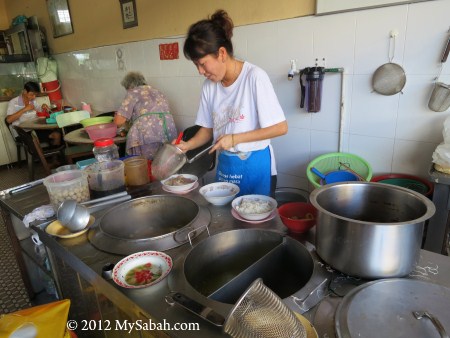 Kedai Cheng Wah Restaurant is run by Wong family. For those who look for the most traditional Sabah Ngiu Chap, they will be sent here by words of mouth.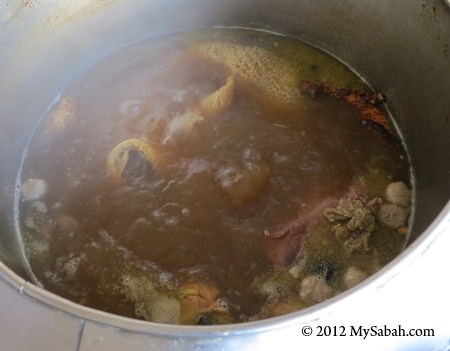 Pic: the aromatic Ngiu Chap soup evidences that it's good stuff.
In general, Ngiu Chap (or Ngau Chap) is beef broth consists of stew meat, tendon, omasum, tripe, intestine, tongue, heart, spleen, liver and other parts of cow / buffalo. Different restaurants have different formula and spices in making Ngiu Chap.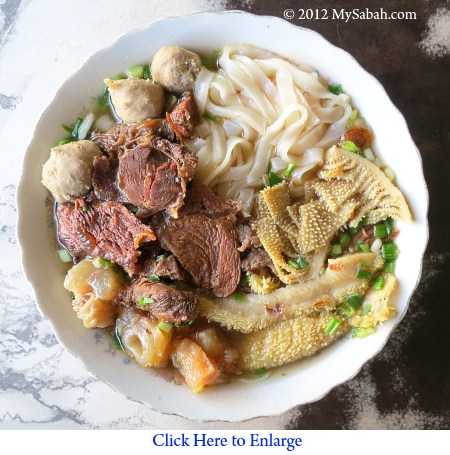 Once you try Ngiu Chap, you will never forget the taste and will constantly crave for it. If you don't believe me, just ask your Sabah friends overseas which food they miss the most, and they will prove me right. Unfortunately, Sabah Ngiu Chap is unique, and you can't find the same flavor outside Sabah, even in West Malaysia.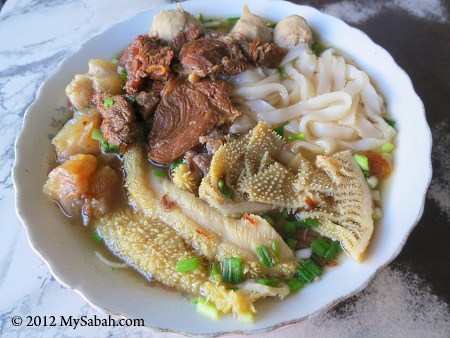 Normally, we enjoy Ngiu Chap as noodle soup. You can choose noodles such as rice vermicelli (米粉), yellow noodle (面) and Pho (河粉). I chose Pho this time, as shown in photo above.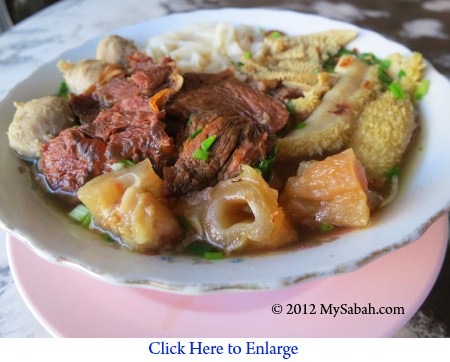 You can't overcook beef, or you will end up chewing Ngiu Chap that is as hard as shoe skin. The Ngiu Chap of Cheng Wah is tender but not too soft.

I also like their broth, which is neither bland nor salty. The soup tastes like a mix of beef and chicken soup (though no chicken meat is added), with mild smell of pepper.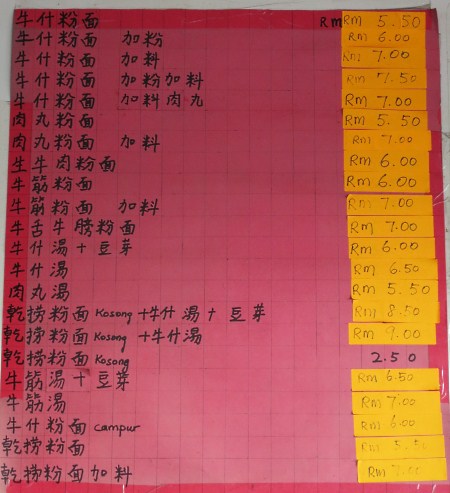 Pic: the food menu of Kedai Cheng Wah Restaurant (prices as of Nov 2012)
Standard Ngiu Chap noodle costs only MYR5.50 (≈USD1.83). You can try other variety of Ngiu Chap such as soup-only, dry noodle style and meat-ball only. If you are big-eater, you can order extra noodle or meat (for additional price).
How to Get There
Kedai Cheng Wah Restaurant (精華冰室) is located in Lido Penampang, about 6 KM away from Kota Kinabalu city.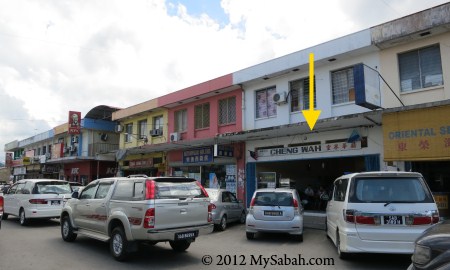 The full address of Cheng Wah is:
Ground Floor, Lot 8, Block A, Taman Che Mei (Lido Township), Jalan Penampang, Kota Kinabalu, Sabah, Malaysia.
Below is the location map of Kedai Cheng Wah:

View My Sabah Map in a larger map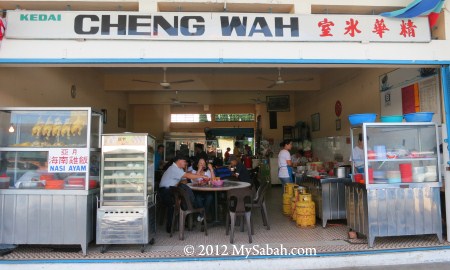 Opening Hours: 6:30am – 10pm daily
They rest two days a month (no fixed date). Before going, you may call them at +60 88-222831 to confirm if they are open.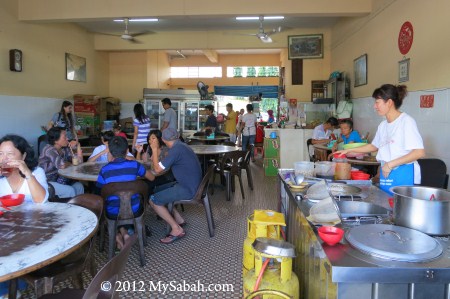 I hope you will be sitting at one of the tables there for a great Ngiu Chap soon.
Photos taken in Kota Kinabalu, Sabah, Malaysia Borneo