Kuala Penyu is a small town in south-west of Sabah, and majority of the population there are Dusun Tatana, Orang Brunei, and Bisaya people. Personally I call Kuala Penyu a "quiet corner" of Sabah because it looks like an ordinary countryside of Sabah, but they do have some special food.
Ambuyat
Ambuyat is a traditional dish of the Bisaya and Orang Brunei in Kuala Penyu district, as well as a popular traditional Sabah cuisine. It is a type of starch extracted from sago palm tree.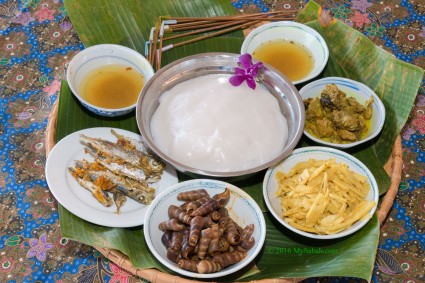 This translucent and sticky sago paste is almost tasteless, so the locals usually eat it together with side dishes such as fishes and curry, or dip it in sour sauce or fish soup.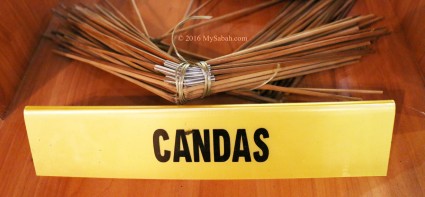 The people of Kuala Penyu use Candas, which looks like Chinese chopsticks but is thinner and made from sago leaf stalk or bamboo stick, to scoop the slimy ambuyat.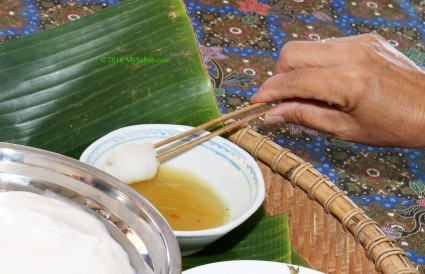 They twirl the soft ambuyat around the prongs of candas to bite-sized, and then dip it into a sour or hot sauce. That could be a fun experience if you try this food the first time.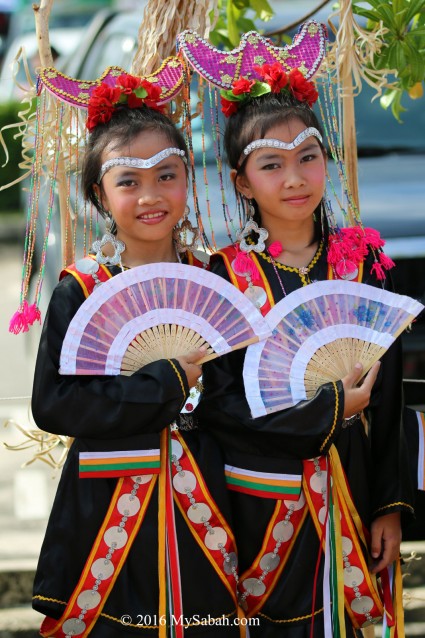 Ambuyat is one of the staple food in Kuala Penyu. Due to its popularity, some hotels also have ambuyat on their menu, so tourists can try it out. There is a joke that says, "If you are poor, you eat ambuyat at home. If you are rich, you eat it in a hotel." LOL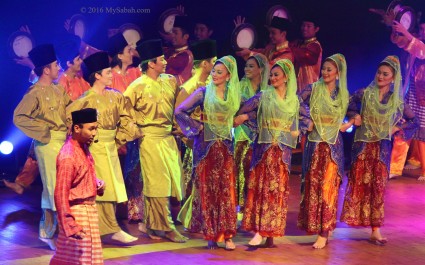 Tinimbu Dumpling
With a population of 6,000, Dusun Tatana is a unique indigenous group which is influenced by Chinese culture, because there were groups of China merchants who traded and married the locals in Kuala Penyu more than 250 years ago. For example, they also celebrate Chinese New Year.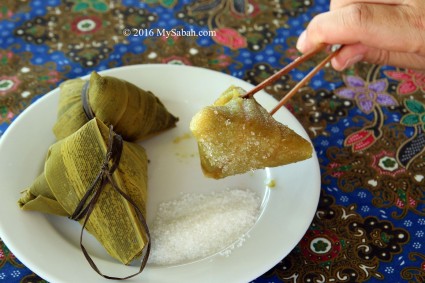 My first impression of Tinimbu (or Tinimbuh) of Dusun Tatana is – it looks like a miniature version of Chinese dumpling, and I also wonder if they learn this from Chinese in the past. Tinimbu is made from glutinous rice and wrapped in triangular shape by pandan (or bamboo) leaves and tied with lamba vine. Unlike Chinese dumpling, Tinimbu has no filling.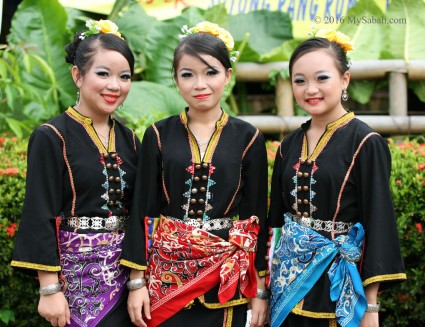 Tinimbu is served during occasions such as Chinese New Year. To eat, dip it in coarse sugar and enjoy the aroma of sticky rice and pandan in each bite. I'm sure children like it.
Sago Grubs (Butod)
The last and the least appetizing food is Sago Grub (locally known as Butod), which can be eaten raw or cooked. I have tried both. The live worm tastes like coconut milk and the fried butod is like dry fish skin.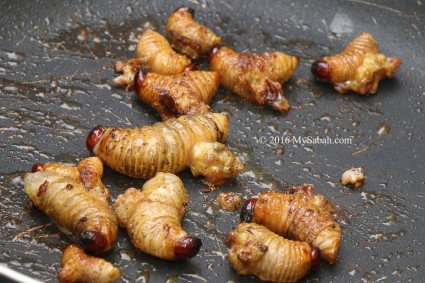 Though many Sabahans struggle with eating Butod, some people really love it because it improves hair growth, increases sex drive, and reduces obesity. These health benefits are quite powerful motivations to eat sago grub (even if it tastes bad which it doesn't).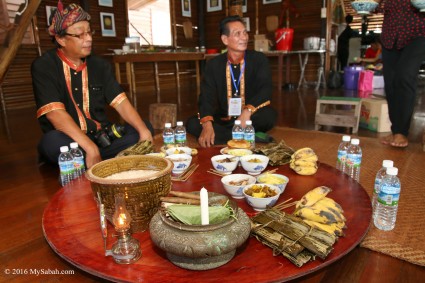 There are still many Kuala Penyu food that are not introduced here. To learn and sample traditional food of Dusun Tatana, you may visit the Kuala Penyu house in KDCA Penampang during Kaamatan Grand Finale (Harvest Festival) on 30 and 31 May every year.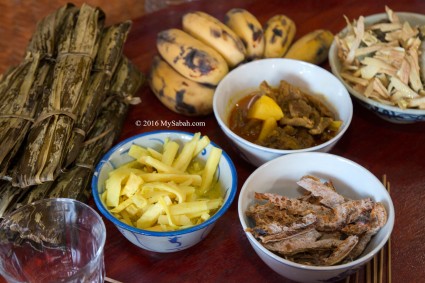 Or you can try these food in Kuala Penyu homestay. For more information, please contact Dr. Monih Epin (Tel: +60 19-8106786) or Ms Monica Gualin (Tel: +60 13-8517633), the operator of Borneo Kuala Penyu Homestay.
Photos taken in Kuala Penyu, Sabah, Malaysia Borneo