I think I am among the very few Sabahans who really appreciate the traditional costumes of indigenous people. Whenever I tried to share the photos of these colourful costumes with my friends, most would answer coldly, "Hmmm, Hmmm… good…" (try to entertain Smoke Head)
Well, I don't really care if anyone is interested in my hobby. I just enjoy doing it, and that is what motivates me to visit all the local festivals throughout Sabah since last year. After nearly 1 year of photo hunting, I have posted hundreds photos of so many Sabah indigenous people such as Bajau, Suluk, Dusun Tatana, Rungus, Bisaya, Murut, Kadazan Penampang, Kadazan Papar, Lotud, Dusun Segama Subpan, Kimaragang, Dusun Lobou Sook, Dusun Tindal, Kimaragang, Tombonuo, Iranun, Orang Brunei, Lundayeh, Kedayah, Orang Ulu… Hope there are foreigner visitors, who like this stuff, attracted by my photos and come to Sabah. I am looking forward to the Harvest Festival in May. That whole month will be really a harvest time for me.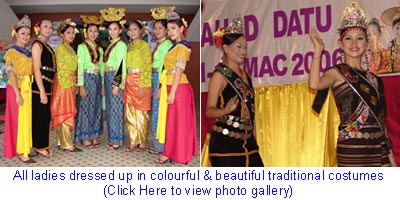 Click Here to see the photo gallery of Cultural Carnival >>
I read the news about Cultural Carnival 2006 in Lahad Datu (Mar 11 – 12). Without hesitation, I went to Lahad Datu excitedly to see it. It is fun to look for pretty models wearing beautiful traditional costumes. They are always happily pose for photo shooting. Not bad lah this trip, coz I got the photos of people in Idahan, Lidu, and Bugis costumes.
The 2-day Cultural Carnival was organised by Sabah Cultural Board. I must say it is very well done. They got cultural performance in the morning and evening. The stage setting, dance performance, costumes… all was excellent. High quality show, a big thumb up. Because of that, my index finger lost control already and kept on pressing the camera shutter, until my 1 GB memory cards all full. You don't need to travel long distance to see this. Just click the picture below to view the photo gallery.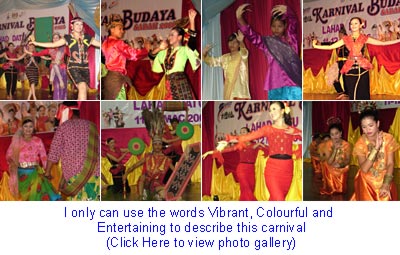 Click Here to see the photo gallery of Cultural Carnival >>