On the second day (Mar 12) of the Cultural Carnival is an Idahan Traditional Wedding Feast. The event was in the house of Datuk Sibi at Jalan Asam, so I took a taxi to get there by 7:30 in the morning.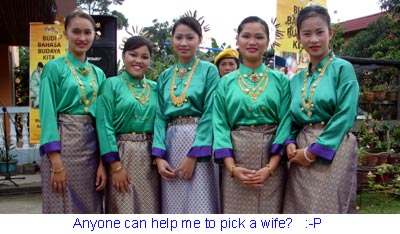 Click Here to see the photo gallery of Idahan Wedding >>
Before that, I didn't know much about Idahan people. I only read from the book that many of them are bird nest harvesters at Gomantong Cave. I have seen so many Chinese wedding and really bored about it, so I was curious to know how they run their wedding.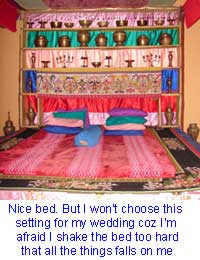 No matter what race, wedding is always a big thing. They introduced and demonstrated in great details how the engagement and Idahan wedding ceremony are carried out. The procedures are long and complex, so I won't talk more about it. Just check out the photo gallery to get the idea.
There were many photographers and videomen around too, and we could not wait to see the face of the bride (coz all the girls form a human wall to surround her). I could hardly move inside the small room. It was so warm and crowded, very hard to take picture. Haha… they also got human fence, formed by bride's friends and relatives, to stop the groom from entering the room. To get rid of them, give them Ang Pao. The bride was shy shy one and didn't look at the face of the bride, until putting on the ring as final step for the ceremony. Everyone was so excited and got very involved, as if this is a real wedding. It was an interesting experience.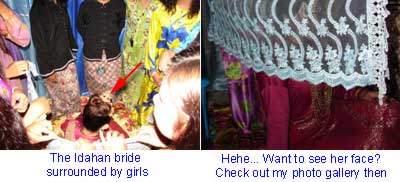 Click Here to see the photo gallery of Idahan Wedding >>
It was a rainy day. Those Idahan young girls were at the gate to welcome the guests. When the rain got heavier, I saw that they were getting very uneasy standing in the rain. So I asked one of the guy, who was holding a big umbrella and looked like a committee, if he could lend the girls an umbrella. He moved the umbrella closer to him and said, "Cannot! This umbrella is for covering the datuk." Well, there were so many "VIP" umbrella around but all the guys stood under them and didn't care about the poor girls. So inconsiderate. I lend them my umbrella but it is too small, so I got them another one from a kind guest. VIP… Chew!!!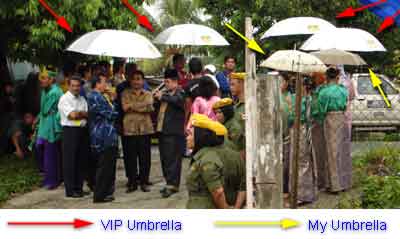 Click Here to see the photo gallery of Idahan Wedding >>