If you live in a developed country, open-air native market may have gone "extinct" and replaced by air-conditioned supermarkets. If you on the way to the Tip of Borneo of Sabah in Sunday morning, you may drop by the tamu (weekly open-air market) in Sikuati, a small town about 21 KM before Kudat town. The tamu market of Sikuati is open from 7am to 12pm on every Sunday.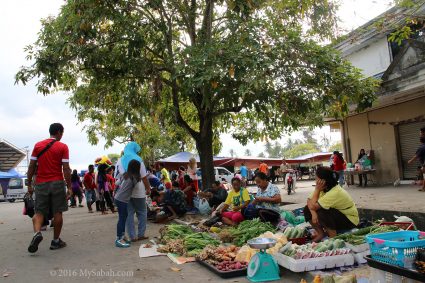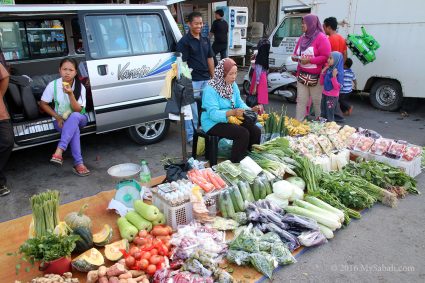 Sikuati (GPS: 6.891364, 116.712713, see Location Map or Street View) is a very small town in northern district with only a few shoplots. In normal days you won't see many people around here, but it turns into a busy alfresco market on Sunday.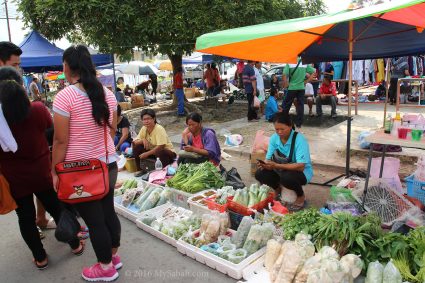 The tamu of Sikuati is similar to other tamu in Sabah, which sells almost EVERYTHING. Anyway, most of the items sold here are local produces from villagers, who are mainly farmers and fishermen, so you will see a myriad of freshly harvested fruits, vegetables and seafood in tamu.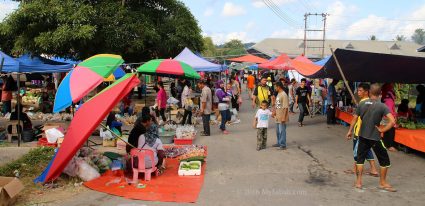 To locals like me, tamu is just an ordinary thing. For foreigners, they might enjoy exploring a local market which is so different from their hometown. "Hey, why common things like apple and broccoli aren't being sold here?" they might think. Well, enjoy your Wander and Wonder tour in tamu, Tourist. This is Sabah.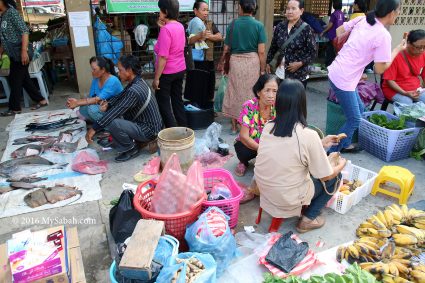 I was probably the only "tourist" in this tamu during my visit (everyone was looking at me and smile). As this tamu is purely for local shoppers, it's unlikely that you find souvenir and the tacky "I Love Sabah" T-shirt there lol. I like that it's not so commercialized and touristy though.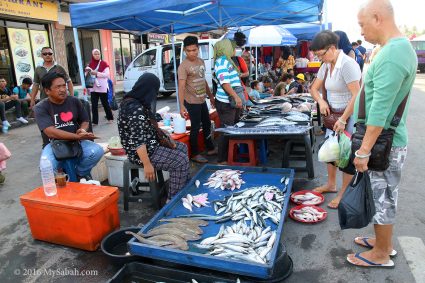 Nevertheless, many Rungus people live in Sikuati. They are expert in weaving beaded work and handicraft. You can get some beautiful bead necklace and handicraft at very good price in Sikuati tamu. In fact, many vendors buy from them, then double or triple the prices in souvenir shops in city.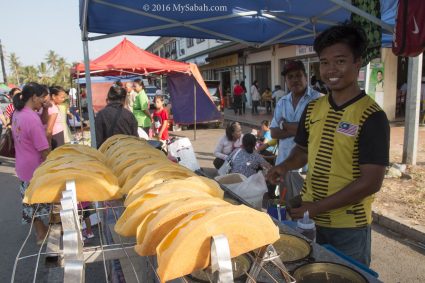 You also can shop for other items such as meats, seafood, salted & dried fishes, snacks, clothing, toys, flowers, household items and even machetes in tamu. However, Sikuati Tamu is relatively smaller so the variety of goods is limited. For example, I was looking for montokou (a local wine) but the seller wasn't around that day.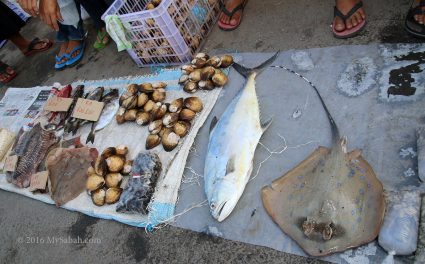 By the way, tamu is also a good place to sample local food. Many local snacks are packed or wrapped nicely in plastic, so you can buy some home to try. Keep an open mind and be a bit more adventurous. Go try eating some fruits unknown to you, like tampoi and liposu. You can find wild durian if you visit in fruiting season.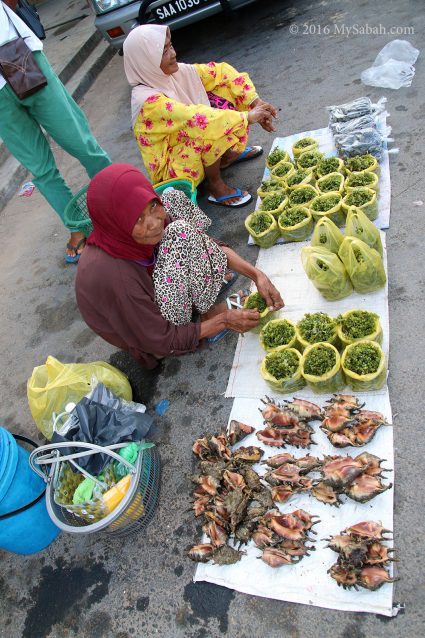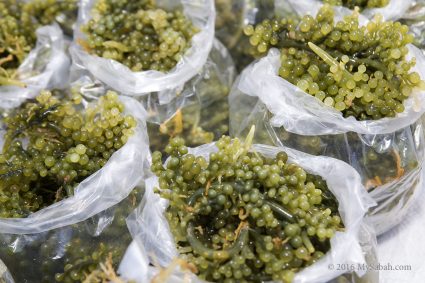 Sometimes I can learn something new in tamu, for example, what stuffs are edible. I first discover one of my favourite food, a type of seaweed named sea grapes in tamu. Squeeze a bit of lime juice on it and eat it raw, so yummy. It's only RM1 or RM2 (≈USD0.25-0.50) per bag.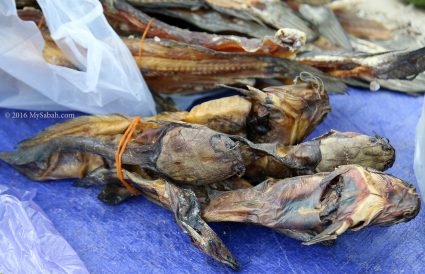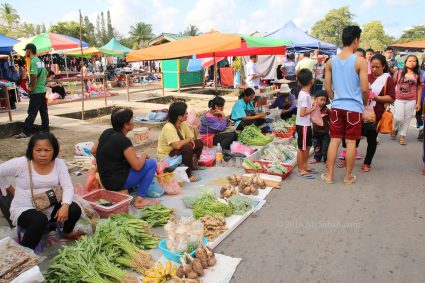 In the past, I could find "exotic" meats and pets in tamu. Yeah, tamu was used to be the best place to buy wild boar and deer meats. Sometimes they would sell slow loris, pangolin and rare birds (Hell if I know people bought them as food or pet). Now Sabah Wildlife Department is very serious in banning game meats, so the only "wild food" allowed in tamu now is wild bee honey I guess.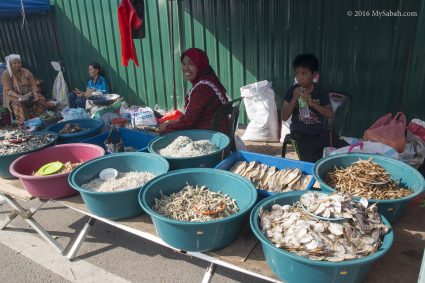 The products sold in tamu is cheaper than supermarket, because there is no middleman, and the villagers also don't bear any overhead to run a store or customer service department. They just take their stuffs to tamu, and lay everything on the floor to sell. A booth is not even required. Such market won't be permitted in modern cities, where everything has to be "proper and licensed" or the city council will fine them.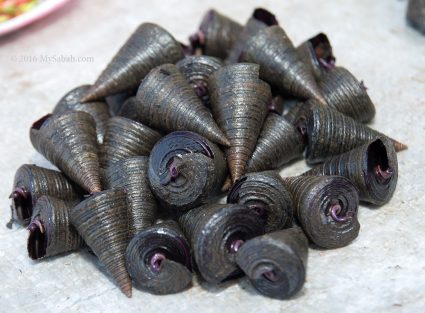 Not only that, we can buy "duty free" cigarette and wine in tamu. Just kidding. Actually these are homemade tobacco rolls (known as Sigup locally) and rice wine such as Lihing.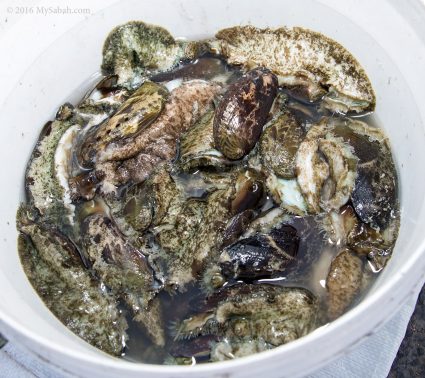 OMG the live abalone is only sold for RM20 (≈USD5) per kilo here! Cheap isn't it? It's a win-win, the buyers save some money and the sellers earn some side income.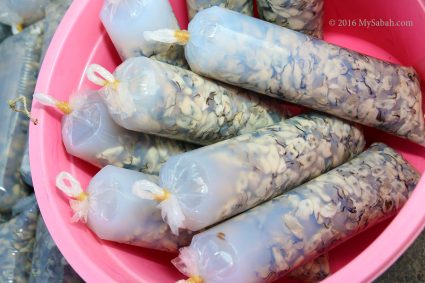 However, you must always bargain in tamu. The shopkeeper would give you an eye-roll if you ask for a discount in shopping mall, but you are expected to haggle in tamu. You know the trick. Stick to a reasonable counter offer, pretend to leave then the seller would say, "Ok ok I'll take that!" to close the deal.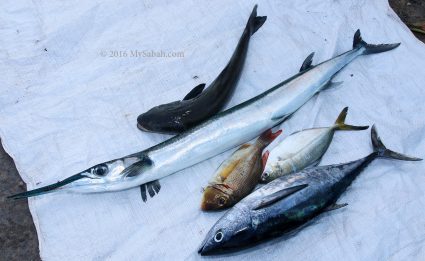 "Everyone lives by selling something." – Robert Louis Stevenson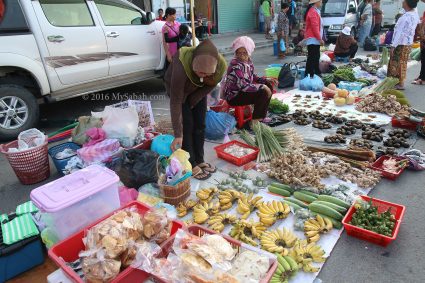 During the old days when there was no Internet and newspapers, tamu is also a meeting point for socializing and information exchange among people from different villages. My late grandmother was used to be a hawker in tamu. I don't think she made a good profit by selling used clothing, but she insisted to go to tamu every week. To old folks, tamu is already part of their lives.
Photos taken in Sikuati, Sabah, Malaysia Borneo