Girls sometimes ask, "Great Look and Nice Personality, which one is more important huh?" I would answer, "it's the best to have both. (LOL)" When comes to food in Sabah, it's funny that many restaurants share the same view, "Hey, taste is more important lah. The food will turn into **** after all. Why bother about its look?"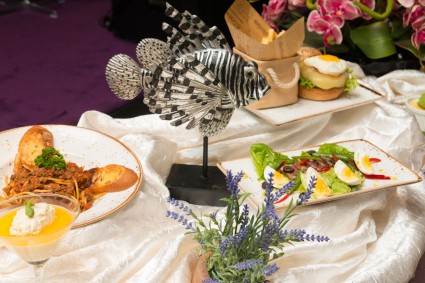 How many times we have the opportunity to appreciate the food and say, "Wow, the dish is so beautiful! I want to enjoy admiring at it for a moment instead of swallowing it right away." That's why we have been seeing so many delicious local food that looks terrible (or even disgusting) on Instagram. To foodies, it's an imperfect dining experience when only the taste of food leaves a lasting impression but not its presentation.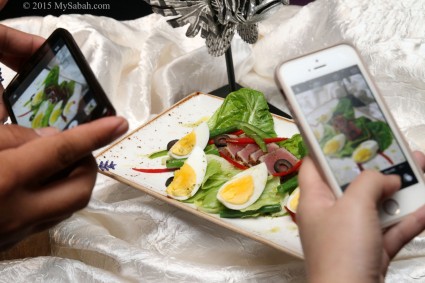 Therefore, my eyes and tastebuds were delighted by the brand new a la carte menu consisting of French influenced dishes at Avangio Hotel, which is managed by Accor from France. French are amazing people, they turn everything they wear, eat and live into art and fashion. Mercato's new menu is created under the collabration with French Culinary Director of Pullman Surabaya's Thierry Schuller, who is well-known for his passion for artistic and creative expressions through exquisite food presentation and cuisine.
Cautious! Food photos attack below:
Appetizers
The chef makes use of some local elements and fresh materials for their cuisine in Mercato's new menu.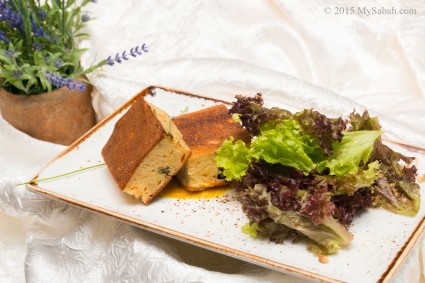 I like the milky taste of basil cake. The quantity is for you to destroy it in seconds, just right to tease your tastebuds.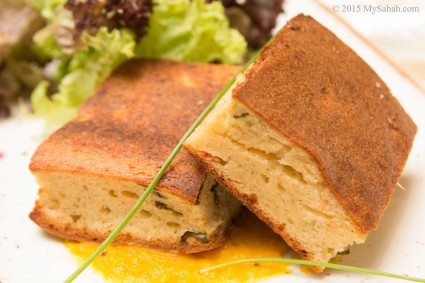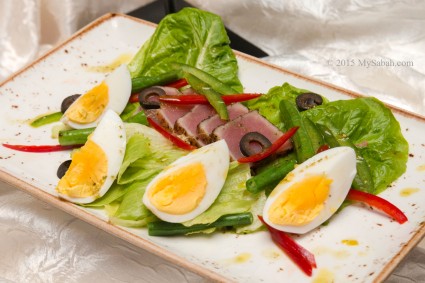 Nicoise Salad with charred slices of tuna, hard-boiled eggs, and olives, dressed with vinaigrette. I don't mind eating more of it as a main course, really.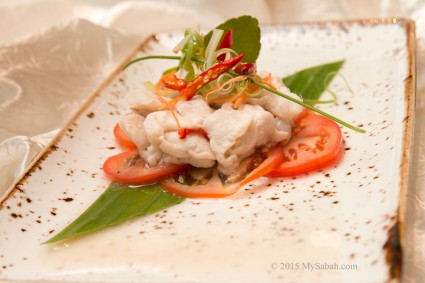 Hinava is made of minced fish marinated with lime, a famous traditional "seafood salad" of Sabah. The sour taste with mild spiciness sure will stimulate your appetize.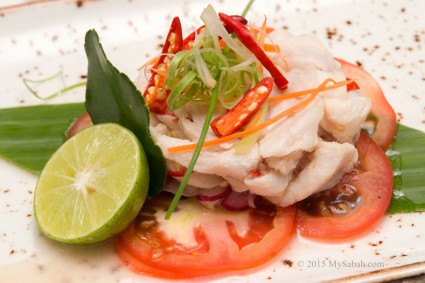 The locals normally don't decorate Hinava like this. Never expect Hinava can look so classy, well done chef.
Main Course
After some mouth-watering and refreshing appetizers, here are the main courses for a happy stomach.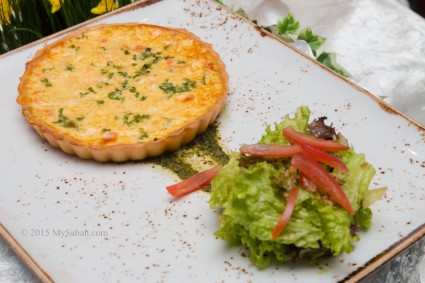 The colors and pie shape of Salmon Quiche are so tempting, the cheese mixture and salmon are rich in flavor. Instead of Cheddar Cheese, they use local cheese (more salty) from Desa Dairy Farm and it works well.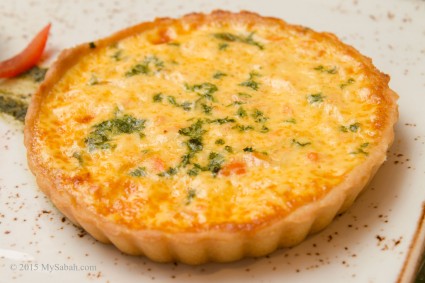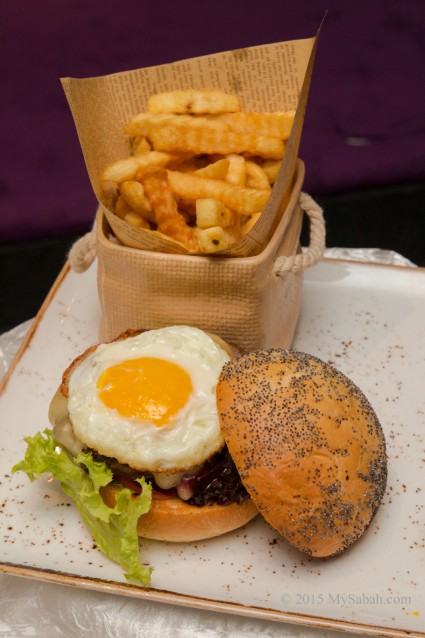 Our fast food market is dominated by mediocre burgers, probably that's why they introduce Ultimate Burger to remind us what is the taste of the finest beef burger.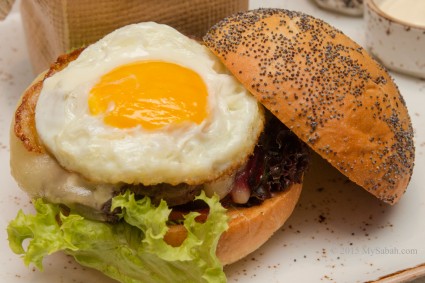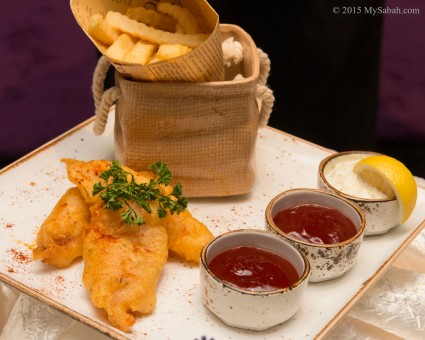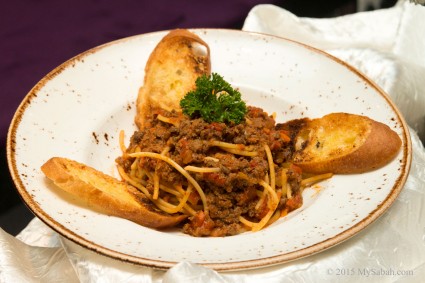 The chef says their Spaghetti Bolognese is one of the best in our city. It's very good but personally I'm not a spaghetti person. I'll let others to judge this. Tell me what you think ok.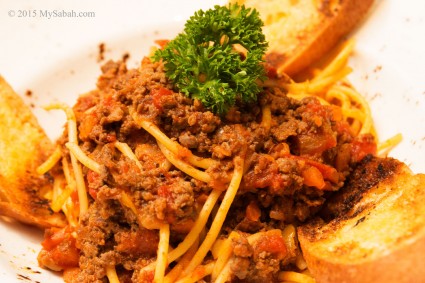 Dessert
Sweet food makes us think more of happy things. To some, it's almost as important as the main course.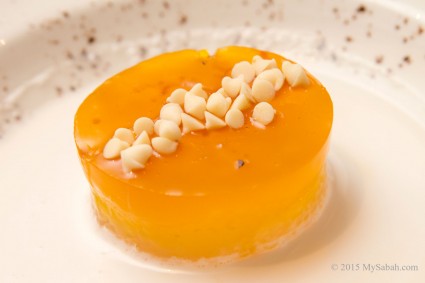 The translucent Sago Gula Melaka (Palm Sugar Sago) is so beautiful! The mango pellets topping and sweet sauce at the bottom add different variety of sweetness. You will enjoy the granular and smooth pearl sago rolling on your tongue.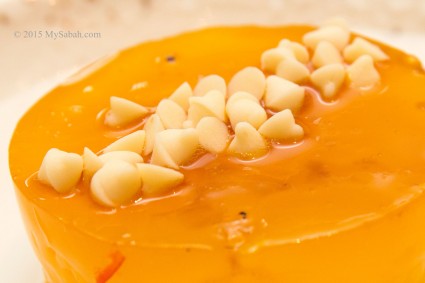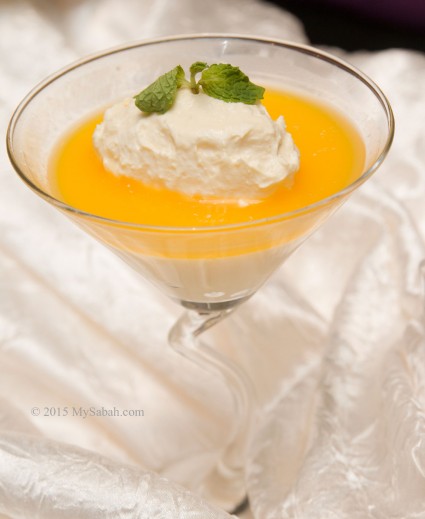 Mango Panna Cotta, sweetened cream with hint of mango, a refreshing dessert for tropical place.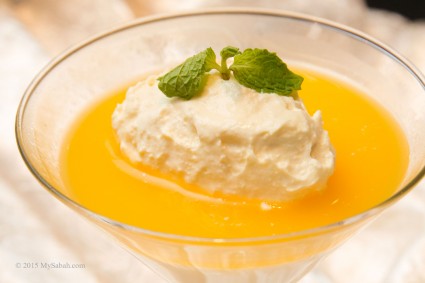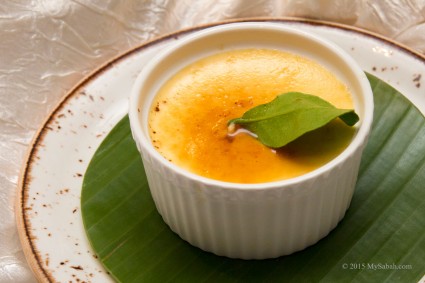 Crème Brulee, the caramel top and creamy custard blend well. It's a bit too sweet to my liking though.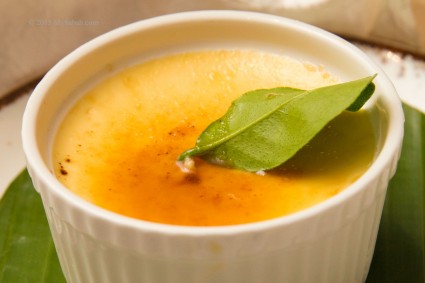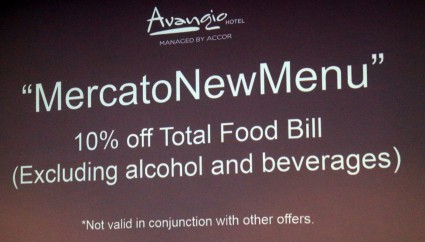 The cuisine looks pretty cla$$y but it won't cost as much as fine dining. The good news is – you can get 10% off if you say the magic word "Mercato New Menu" (in Nov 2015 Only). This new menu is available at lunch and dinner times every day, in Mercato all-day dining restaurant, which is open daily from 6:30am to 11pm. The menu also includes many Asian favourites such as Nasi Goreng Kampung (Village-style Fried Rice), Penang Char Kway Teow (Penang Fried Noodle) and Nasi Kunung Sabah (Sabah Yellow Rice).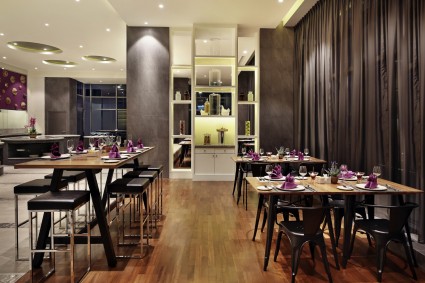 What? You want to have it Free? Luckily Free Lunch does exist. I have a set lunch voucher for 2 persons. If you have been taking your spouse / date to Mamak stalls and think s/he deserves something special, you can subscribe to my newsletter and I'll pick one winner. Good luck! 🙂
About Avangio
Great things must be shared. Avangio Hotel Kota Kinabalu is a 103-room 4-star hotel in Kolombong started about 6 months ago. Even if you stay in Kota Kinabalu City, I strongly advise you to check out its stylish and vibrant interior design, I would say it's one of the most splendid hotels in Sabah and will recommend to my friends and relatives who visit Sabah.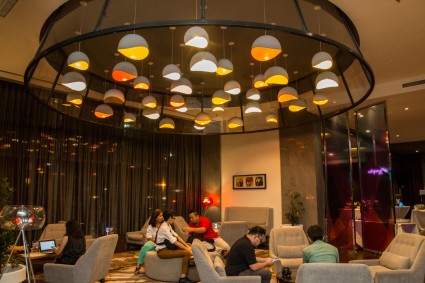 Featuring an all-day-dining restaurant, lounge & bar, pub and pool bar, equipped with 3 meeting rooms, business centre and a ballroom, the hotel is a prime destination for both business and leisure.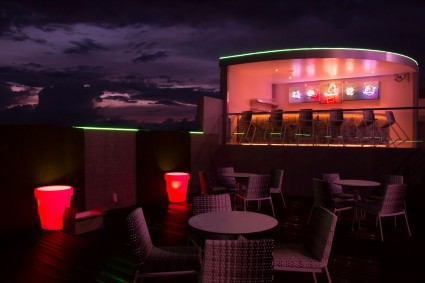 Avangio Hotel is managed by Accor from France, which is the world's leading hotel operator running chains of 3,700 hotels in 92 countries.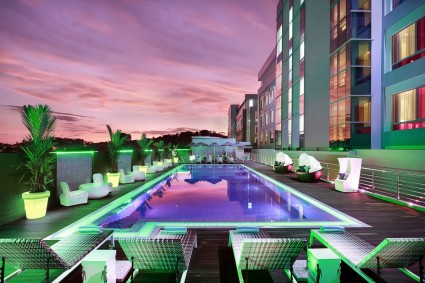 Its recreational facilities include a fitness centre, outdoor swimming and wading pool atop a spa and wellness cetnre. Free high speed WiFi is available in all rooms and public areas.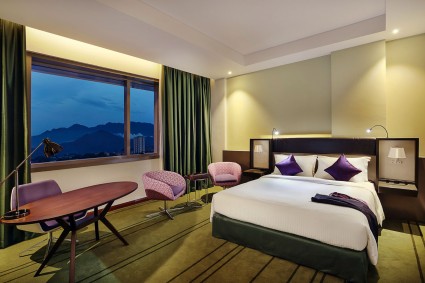 Address: Avangio Hotel Kota Kinabalu Managed by Accor, Jalan Metro 2, Metro Town, Off Jalan Lintas, 88300 Kota Kinabalu, Sabah, Malaysia.
GPS: N 5° 58′ 30.80" E 116° 6′ 47.70"
Website: www.accorhotels.com
Facebook: AvangioKotaKinabalu
E-mail: H9027-RE2@accor.com
Tel: +60 88-536 888
Online Booking: via Beelik
Photos taken in Kota Kinabalu, Sabah, Malaysia Borneo