Let me tell you what are the must-do things when you go to Sandakan City. First thing is Eat, second thing is also Eat, third thing is… well, you know. I may sound like joking but there are really a lot of delicious Sabah food you must not miss in Sandakan.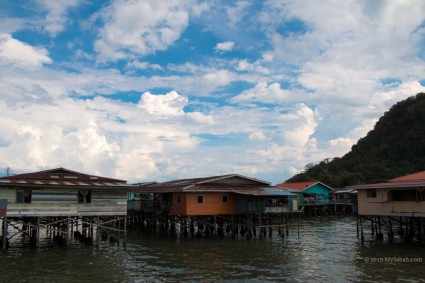 One of the best places for eat out is Sim-Sim Water Village, which is about 3 KM away from city center of Sandakan and along the main road Jalan Buli Sim Sim. Sim-Sim Water Village is built by hundreds of wooden stilt houses on the sea and has over one century of history. Travel agents always bring tourists here for sightseeing.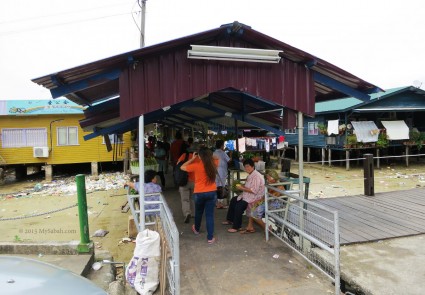 The water village is really a big maze. It is divided into over 20 zones and each zone is accessible by a "bridge", which is a long concrete or plank walkway extending a few hundred meters to the sea and flanked by houses and shops. The famous dining area is on 7th and 8th bridge.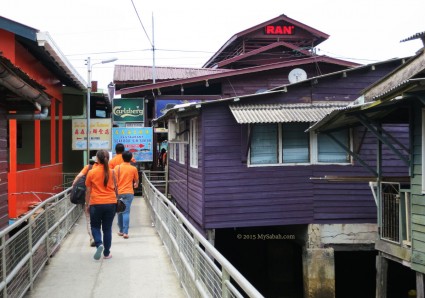 7th Bridge (or Lorong G)
If you want to taste iconic food of Sandakan, go for Spring Noodle and Century Egg Dumpling (弹弓面 and 皮蛋饺 in Chinese) at 7th Bridge of Sim-Sim Water Village. Actually these two food are also available in other places of Sabah (even in Kota Kinabalu City) due to their increasing popularity, but 7th Bridge serves the most original and authentic version.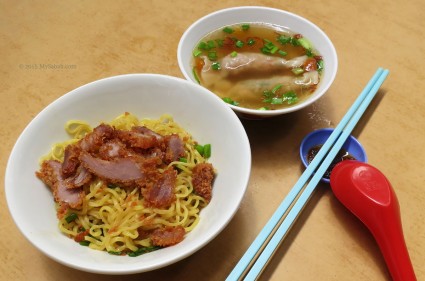 The highly recommended restaurant for both dishes are Kau Kee (九记) at G68 of 7th Bridge. This coffee shop opens from 6am to 11am daily, but the food can be sold out before 10am, so you better be there early.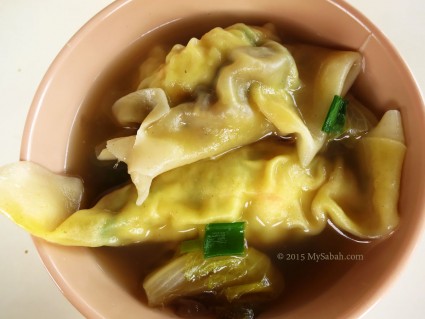 The texture of Spring Noodle is dense, thereby nearly doubling the flavor and aroma of yellow noodle, and a small bowl can make you full. As its name implies, the noodle is springy and a bit chewy. Eat it with savory deep fried pork and enjoy their lusciousness bounced in your mouth.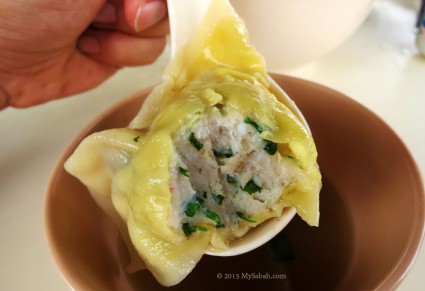 Oh boy, next one is my favorite, the Century Egg Dumpling. The cook mixes the pork with century egg (jelly-like preserved egg), giving this dumpling a meaty taste blended with rich and creamy yolk flavor. However, some westerners might think the smell of century egg is repulsive. If you are first-time trying, you can order small quanity to sample, and order more if you really like it.
8th Bridge
For seafood lovers, head to 8th Bridge, which is just next to 7th Bridge.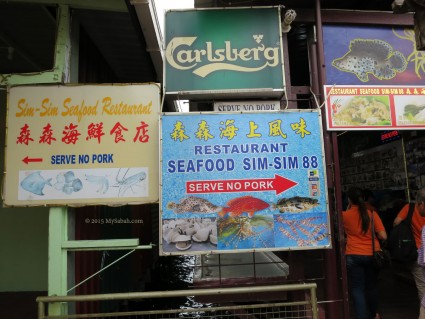 When you reach the end of 8th Bridge, turn right to Sim-Sim 88 Seafood Restaurant (Chinese Name: 森森海上风味餐厅). This Chinese restaurant doesn't serve pork but it's not truly halal, though some Muslims think it's acceptable.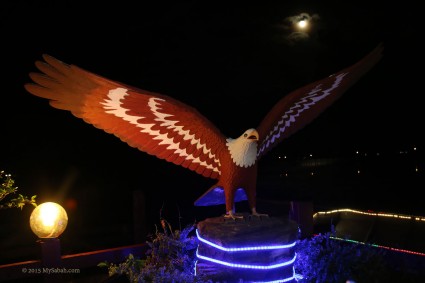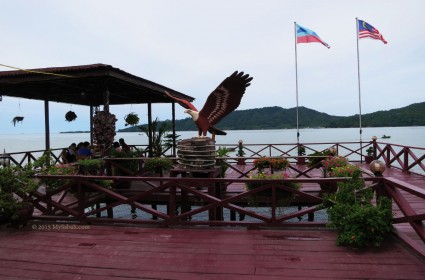 You can enjoy sea view and breeze while having your meal.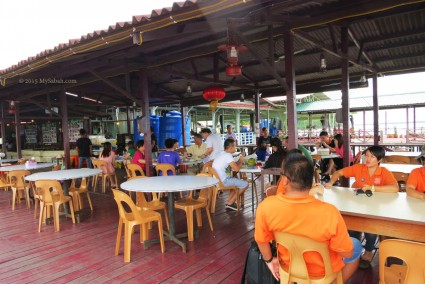 The opening hours of Sim-Sim 88 Seafood Restaurant are 6:30am-3:30pm and 5:30pm-9:30pm.
Address (see Location Map): Kampung Sim-Sim, Off Jalan Buli Sim-Sim, 90000 Sandakan, Sabah, Malaysia
Tel: +60 89-226558
They accept payment by credit card.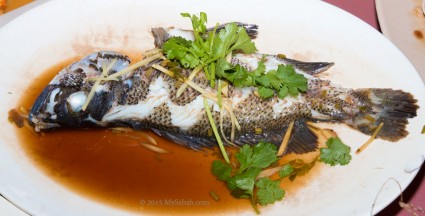 Sandakan City is one of the most important landing ports of seafood, so the restaurant is never short of fresh seafood such as fishes, crabs, prawns, squids, lobsters and seashells.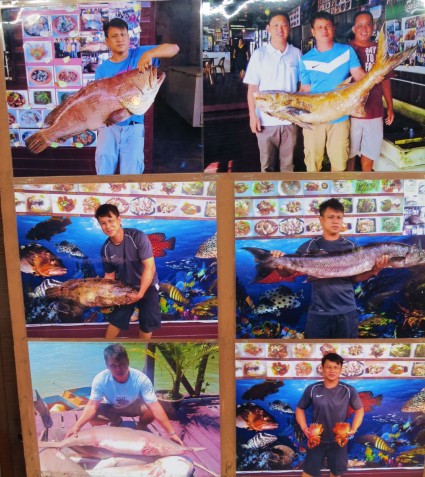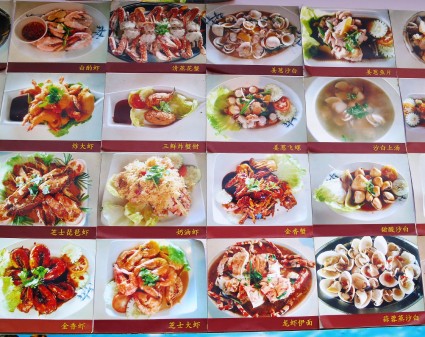 There are many ways to cook a seafood, e.g. steamed, fried, broil. You can always ask the waitress to recommend the best way to enjoy it.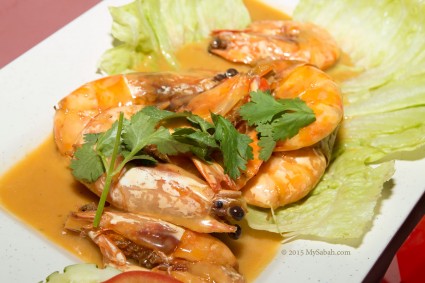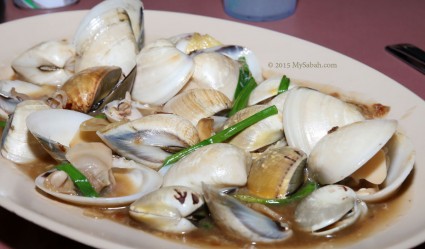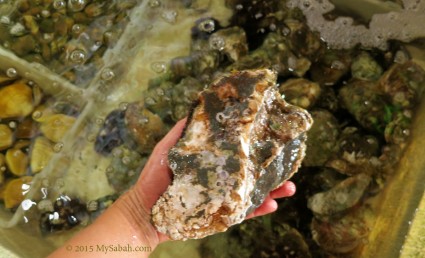 You can find many positive reviews on the Internet that Sim-Sim 88 Seafood Restaurant offers yummy seafood at affordable price. I won't say it's very cheap but it's great value for money. The best seafood is fresh seafood. They don't even need to use MSG.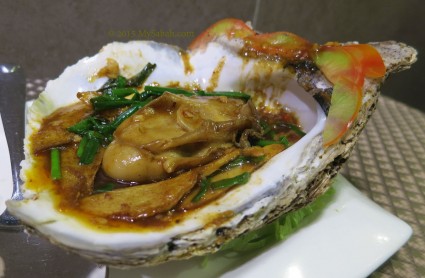 If you want only quick and simple meal for one person, you can order the following items too.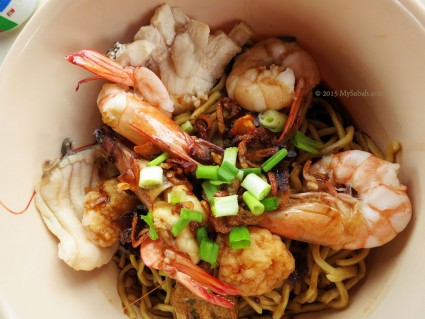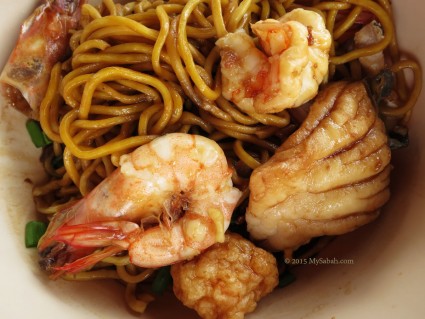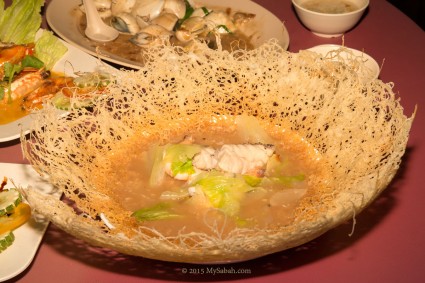 Want to have some "snack"? You will love their fried baby squids. It's crispy and chewy but you will enjoy its fragrant smell.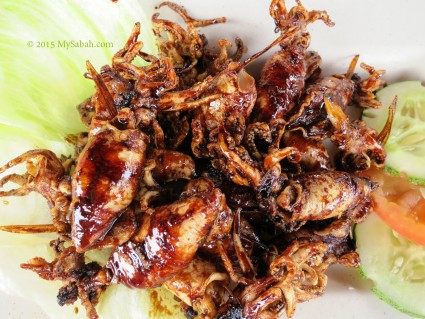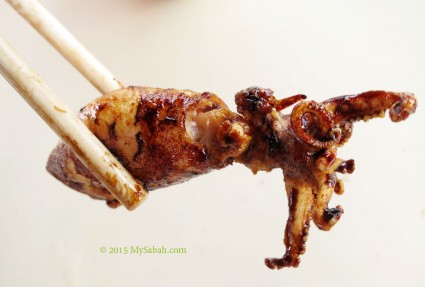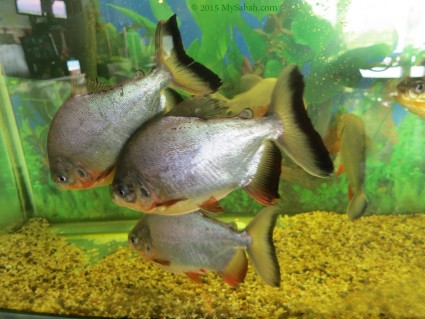 Other Sandakan Food
As I mentioned, Sandakan City is great for a gastronomic tour. The following are more Sandakan food to make you happy:
Photos taken in Sandakan, Sabah, Malaysia Borneo