Tag Archives:
seafood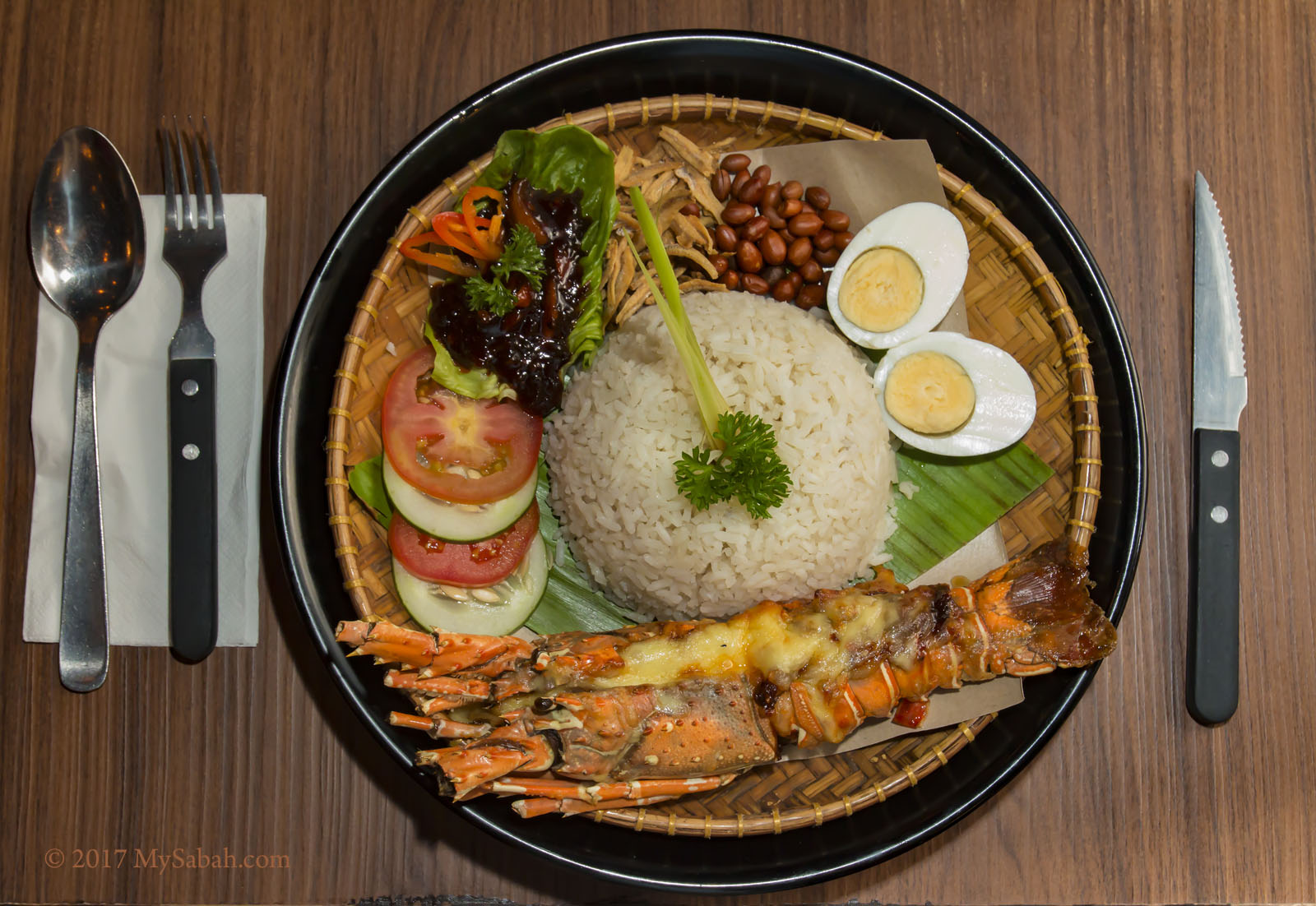 (Update (Jan 2019): This dish is no longer available in Tavern restaurant).
Malaysians love Nasi Lemak (Coconut Milk Rice), which is our unofficial national dish, and I wonder why 1Malaysia campaign doesn't use Nasi Lemak in their logo design, as this is the food that can unite every races. Well, probably it isn't a good idea to have a patriotic logo that makes people drool lol.
The rice of Nasi Lemak is normally cooked with coconut milk and pandan leaves that give it a pleasing aroma and creamy flavour. Standard nasi lemak is served with sambal (chili-based sauce) and various garnishes such as crispy ikan bilis (fried anchovy fishes), roasted peanuts, fresh cucumber slices and boiled egg.
Nasi lemak can be served in a variety of ways. For example, you can add fried chicken, cuttlefish, or rendang daging (beef) to the rice for a more fulfilling meal. You may have eaten hundreds of nasi lemak, but have you ever tried it once with lobster?
For those who have curious tastebuds, Tavern Kitchen & Bar, one of the best restaurants in Kota Kinabalu City, is creative to make this exclusive menu for you.
Similar to traditional nasi lemak, Lobster Nasi Lemak consists of coconut infused steamed rice, pandan leaf and traditional ingredient to enhance the rice flavour, accompanied with tomato & cucumber slices, crispy anchovy, toasted peanuts, acar (mixed pickled), boiled egg & sambal (hot & spicy, pre-cooked). On top of these, it is also served with a 400gm lobster oven baked with chef marination ingredient, preferred sauce (3 topping choices: buttermilk, satay sauce and spicy sambal) top with cheese.
The cuisine is placed on banana leaf and mini bamboo sieve, giving it a nice touch. Nasi Lemak is always sold as an economic food in roadside stalls and hawker food centres, so I applaud the bold idea of Tavern Kitchen & Bar to push it to higher level.
Lobster Nasi Lemak tastes wonderful. The lobster meat is tender and well-marinated, and blend well with the taste of nasi lemak. Rice is the soul of Nasi Lemak and is well taken care of by Tavern. The savoury coconut milk-infused rice has fluffy texture and not oily.
Limited Time Offer: Tavern Kitchen & Bar offers promotional price of RM49++ for Lobster Nasi Lemak from October to December 2017 (Normal Price is RM79), and it's limited to only 30 plates daily. FYI, even a normal nasi lemak is sold for over RM45 in Vancouver (Canada). For Lobster Nasi Lemak like this, it could cost 10 times more overseas.
The recommended drink to go with Lobster Nasi Lemak is Virgin Mojito (lime juice with brown sugar and fresh mint, topped with club soda, RM15.90 per glass), a sour drink to remove the oily feel in your mouth.
To enjoy three kinds of seafood flavours, you can order two other side dishes:
Tiger Prawn (RM49++): grilled tiger prawn 500gm, marinated with garlic, tuhau (local wild ginger) and top with cheese
Giant Squid (RM38++): grilled large squid weight 450 gm with chef special marination, served with sambal and acar

For more information about Lobster Nasi Lemak, please visit: https://www.tavern.com.my/lobster-nasi-lemak/
Tavern Kitchen & Bar is located in Imago Shopping Mall, just next to Nike shop, on the same row as Starbucks in ground floor.
Address: Lot G-93, Aramaiti Street Walk, Imago Shopping Mall, KK Times Square Phase 2, Jalan Coastal, 88100 Kota Kinabalu, Sabah, Malaysia.
GPS Location: 5.971437, 116.066320 (see Location Map)
Opening hours: Sun – Thu: 10am to 12 Midnight; Fri, Sat & Public Holiday eve: 10am to 2am
E-mail: contactus@tavern.com.my
Tel: +60 12-5860093
Website: www.tavern.com.my
Facebook: tavernkk
Instagram: @tavernkitchen
Twitter: @tavernkk
Photos taken in Kota Kinabalu, Sabah, Malaysia Borneo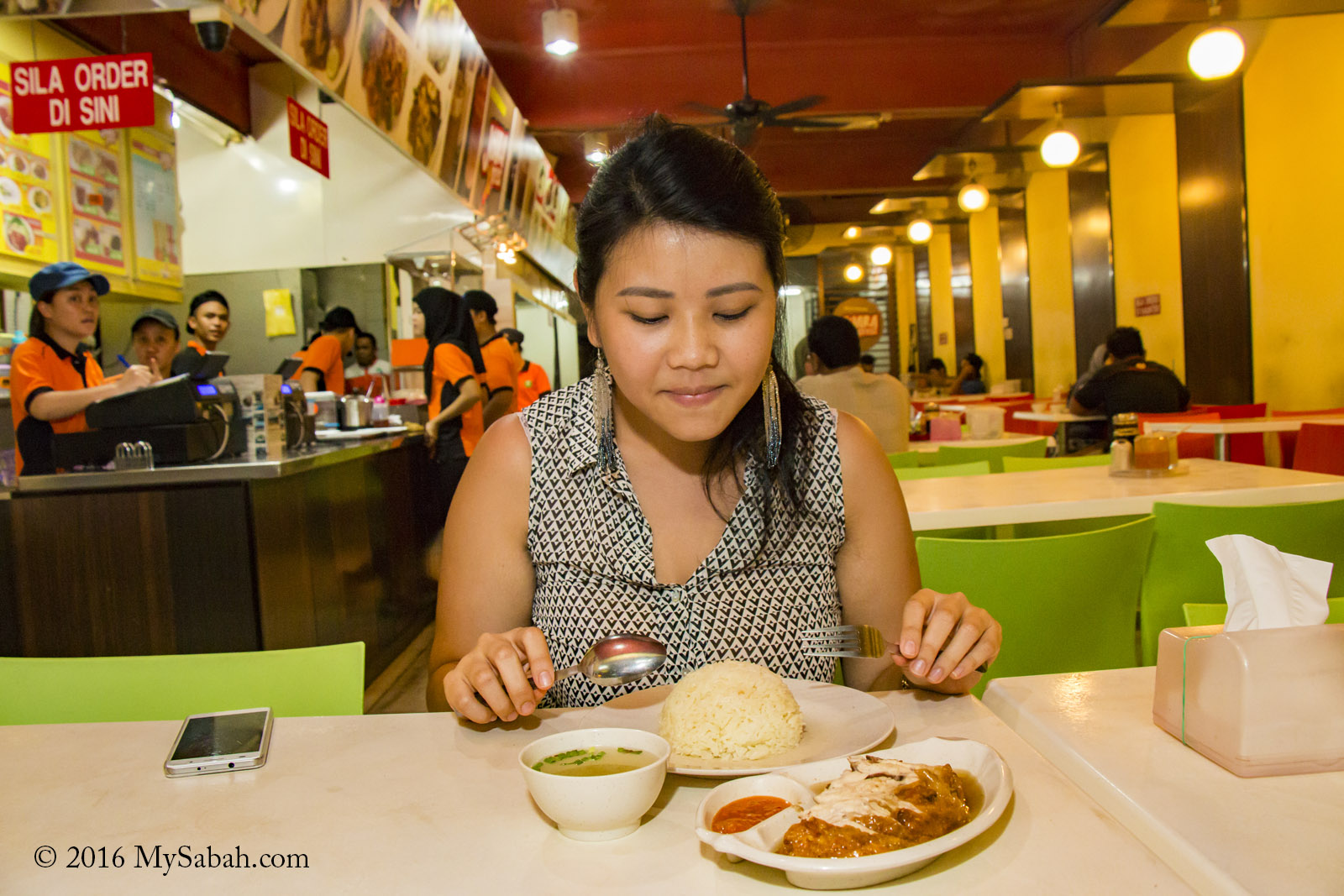 A traveller said, "I won't have the memory of a city, if I don't remember how its food tastes like." Smell is the sense most closely linked with memory, and it can trigger a memory. We tend to recall more happy things while we enjoy great food. Agree? That's why our food quest is a lifelong journey. Thanks to EatBah.com, I found some great stuffs at Menggatal Plaza (see Location Map or Street View), about 20 minutes away from Kota Kinabalu City (KK).
Relax Cafe
My first impression of Relax Cafe is a home-like cozy place filled with nice aroma of coffee.
The most ideal picture of my life is reading a book and relaxing in a cafe. Besides coffee, I love the smell of books. Coffee and books are prominent elements in the trendy interior design of this little cafe, so yea, I like its identity.
This cafe makes smart use of spacing and soft lighting to create many "small worlds". You can find a little personal corner that belongs to you and your friends. In city, most cafes want to stuff as many desks as possible in a small area, making us feel like sitting in an open public area.
Most other cafes sell mainly cakes and dessert. Relax Cafe has some stomach fillers. The following are some of the items (*Serve No Pork):
– Oreo Lover (MYR12)
– Hot Commando Latte (MYR10)
– Cappuccino (MYR8.50)
– Hot Relax Chocolate (MYR7.50)
– Relax Signature Cheesy Snacks (MYR12.90)
– Cheesy Chicken on Papan (MYR28)
(Prices as of Nov 2016)
When I was looking around, I saw a pretty girl smiling at me. I took a deep breath, walked to her, and said, "Sorry Miss, would you please move away? I need the power points behind you." Ok, I'm just kidding. She is Kimberly Vung, the Miss Sabah Tourism 2016, in our food hunting group. I'm just trying to say that it's very thoughtful this cafe has many power points, something that I always search high and low in other restaurants.
To find out more about Relax Cafe, check this out:
Facebook: RelaxCoffeeCafe
Tel: +60 19-8231127
E-mail: relaxcoffeecafe@gmail.com
Opening Hours: 11am – 11pm daily
Juara Express
What's for lunch / dinner? For food, I'm very lazy to think what to eat, so Nasi Ayam (Chicken Rice) is my default choice.
Therefore, if the price of chicken rice rises, that'll affect my income. In KK, most chicken rice costs MYR7 and more. In Menggatal Plaza, you still can find cheap chicken rice at Juara Express:
– Nasi Ayam Goreng (Fried Chicken Rice) (MYR5.30)
– Ayam Kon Lou Mee (Noodle with Chicken) (MYR5.80)
The quantity of the chicken is not bad, at least the meat is more than cucumber. You can have noodle there too.
There are 9 other Juara branches in Sabah:
Tel: +60 88-433653
Opening Hours: 10am – 9:30pm daily
Phoenix Restaurant (名凰阁)
Our next stop is a Chinese restaurant called Phoenix Restaurant (名凰阁) next to Upperstar.
We tried the following dishes:
– Pork Belly with Salted Fish 咸鱼花腩煲 MYR12 (S) MYR20 (M)
– Nam Lu Chicken Wing 南乳鸡翼 MYR10 (S) MYR20 (L)
– Fried Tom Yam Meehoon 炒冬炎米粉 MYR10
– Ikan Bakar (Grilled Fish) from Paul Ikan Panggang (separate stall in this restaurant) MYR4/100gram
I like their Pork Belly with Salted Fish and Nam Lu Chicken Wing, very appetizing.
More info of Phoenix Restaurant:
Facebook: PhoenixRestaurantkk
Tel: +60 13-9720333 (Eddie Law, 阿聰)
Opening Hours: 5pm to 11pm daily
Ikan Bakar Nicholas (Grilled Fish)
We tried Grilled Fish of Ikan Bakar Nicholas in Kedai Kopi Memang (美满).
The grilled fish we had was a flounder, which costs MYR14 (MYR3.50 per 100gram)
Ladleful BBQ Steamboat Buffet
MYR30 for a steamboat buffet sounds too good to be true, but I find it at Menggatal Plaza. Ladleful BBQ Steamboat Buffet serves no pork and the following is the rate:
– Adult MYR30
– Child MYR15
– Under 5 is Free Of Charge
Though the buffet isn't expensive, the food is not cheapo. They have good variety of meat, seafood and vegetables, and soft drink and ice cream are included.
Facebook: Ladleful
Opening Hours: 6pm – 11pm daily
E-mail: yunhong111@hotmail.com
Tel: +60 16-5122111
About Manggatal (Menggatal) Town
The correct name of this town should be Manggatal (means itchy). During British colonial era, the river there was used like a highway. There were many types of Mango trees grew along the river bank. One of them is the Bulunuh tree. Unfortunately, this bulunuh tree gives off latex which can cause body allergic reaction if contacted. To counter the itch, you have to get an old shirt of the person and tie strips of the shirt around the tree. This shall stop the allergies ASAP.
Photos taken in Menggatal (Kota Kinabalu), Sabah, Malaysia Borneo