Bak Kut Teh is a delicious Chinese soup of Malaysia. Normally pork is used as the main ingredient to be simmered in a broth of spices and herbs, like the one introduced in my earlier blog. When someone told me about the Seafood Bak Kut Teh in Sandakan, I thought it was a crazy idea, "Seafood is fishy. Isn't it 'incompatible' with the smell of herb?" For me, it sounds like someone trying to fry cucumber with chocolate.
I was wrong. Seafood Bak Kut Teh rocks!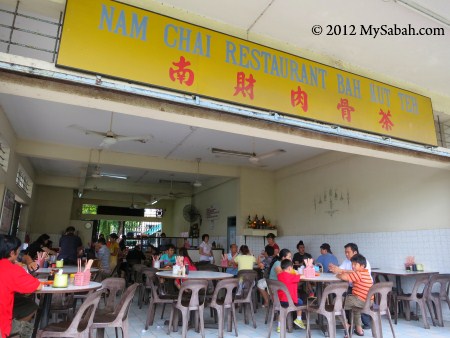 I'm talking about Nam Chai Bak Kut Teh (Chinese Name: 南財肉骨茶), a Chinese restaurant over 2 decades old in Sandakan city. Its Bak Kut Teh is so good that it's full during meal time.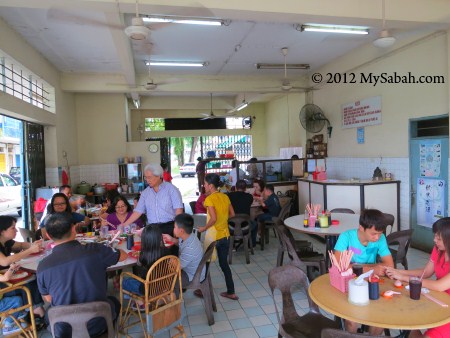 I came early so I got a seat. Later more diners come and they have to stand around to wait for their turn. In fact, their loyal customers don't mind to wait at all.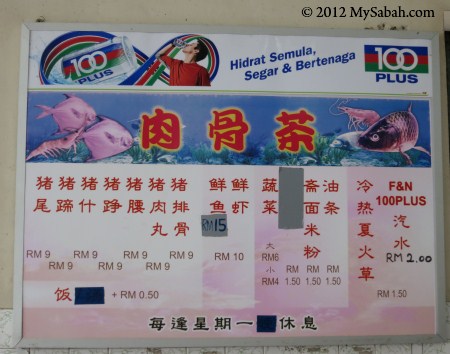 Pic: the food menu and price list
Though their specialty is Seafood Bak Kut Teh, they also sell very good traditional (pork) Bak Kut Teh. Each bowl of Seafood Bak Kut Teh costs RM10* (≈USD3.33). You can order rice, noodle and vegetables (cabbage, spinach and mustard greens) to go with your Bak Kut Teh too.
*as of Sep 2012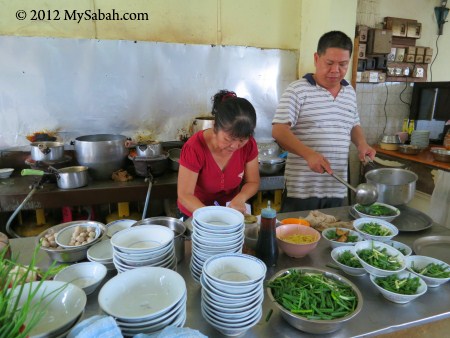 Every morning the owner buy the fresh pork and seafood at market, to ensure the best quality of his food. When you order, they will ask you if you want the soup more spicy. If you say yes, your soup will have stronger pepper flavor.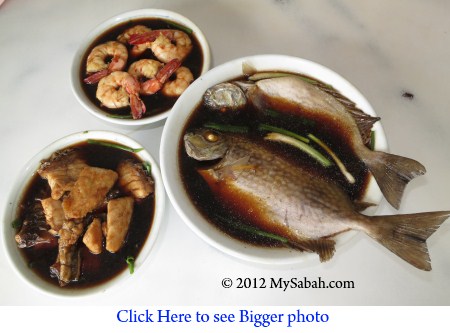 We order two rabbitfish (Chinese Name: ??), one bowl of sliced fish (grouper fish) and one prawn. Each serving costs RM10. The soup is darker than the traditional Bak Kut Teh and with aroma of pepper.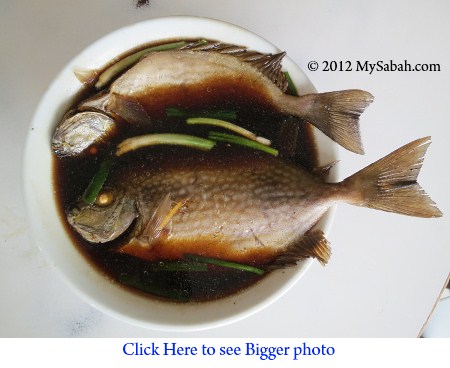 The rabbitfish of Sandakan is the best in Sabah. Its white meat is sweet and tender. The rabbitfish of other places doesn't taste as good and I don't know why. They use pepper, scallions and ginger to remove the fishy smell, and this also enhances the sweetness and freshness of the fish.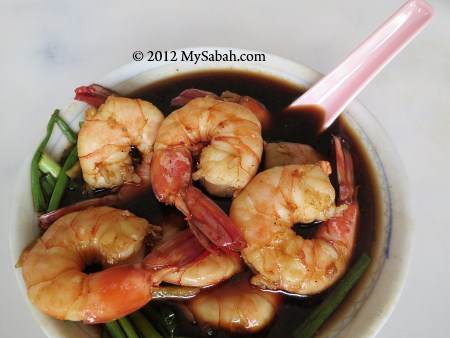 Look how big are the prawns. I use a spoon as a scale.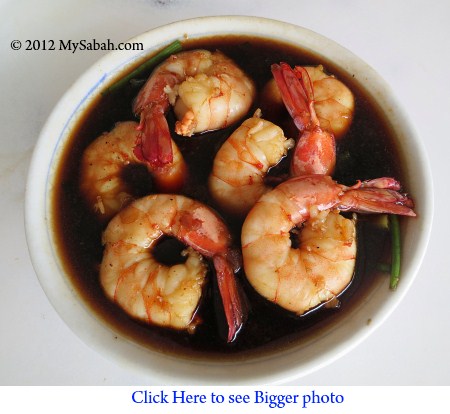 I really can't describe how satisfied I am with a mouthful of big fresh prawns.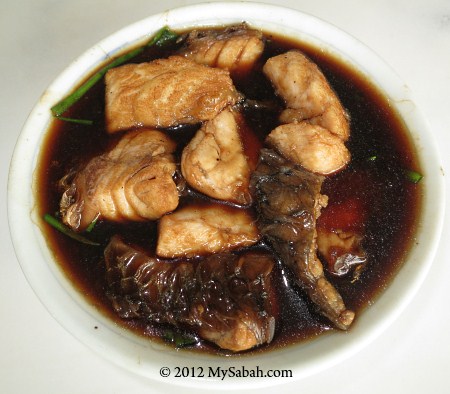 The sliced fish of grouper. Taste yummy too.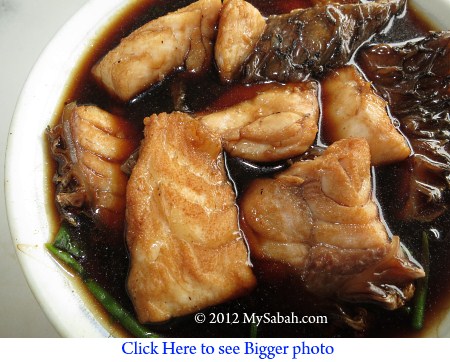 Pic: Close-up of the sliced fish
Location map of Nam Chai Bak Kut Teh:

View My Sabah Map in a larger map
The address of this restaurant is No.1 Block D, Bandar Nam Tong, Sandakan. They open from 9:15am to 1:45pm and 5pm to 8pm, Tuesday to Sunday (close on every Monday). Their phone number is +60 11-65612603.
Probably you had tried grilled and steamed seafood. But Seafood Bak Kut Teh will be a pleasant surprise to you, when your tongue learns another way to appreciate seafood. And you will come back for more again for this taste.
Photos taken in Sandakan, Sabah, Malaysia Borneo