Yu Kee Bak Kut Teh (佑记肉骨茶) is the most crowded restaurant in Gaya Street of Kota Kinabalu city after office hours, and throngs of local and tourists come to try their famous Bak Kut Teh (肉骨茶 in Chinese), which is pork and organs simmered for hours in soup of herbs and spices (such as star anise, cinnamon, cloves, dang gui and garlic).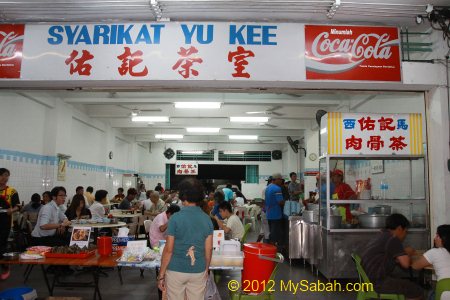 The broth has nice aroma of traditional herb and the soup is thick and rich in meat sweetness. Once it enters your mouth, your body will send you a rewarding signal to tell you that it's nutritious stuff.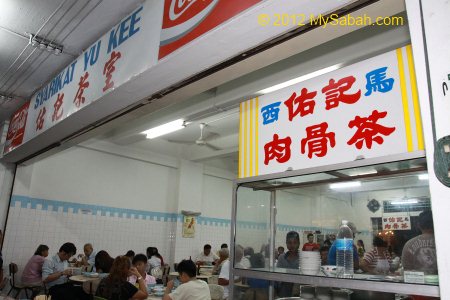 Bak Kut Teh (肉骨茶) literally means "meat bone tea" in Hokkien. It is introduced to Malaysia by Chinese labors and coolies of Hokkien origin in 19th century. As they are too poor to afford expensive herb such as ginseng, they cook the pork with herb and eat it as a supplement to boost their vitality.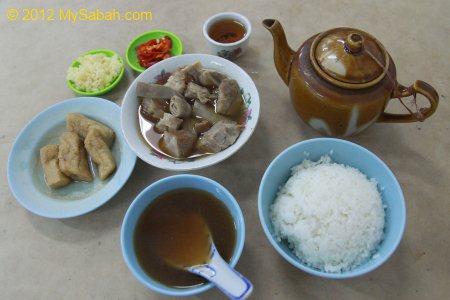 If you eat alone, you can order the standard set meal, which costs about MYR15.00 (about USD4.50) and includes a bowl of Bak Kut Teh, white rice, soup, a teapot of Chinese tea and a few pieces of beancurd puffs (see photo above).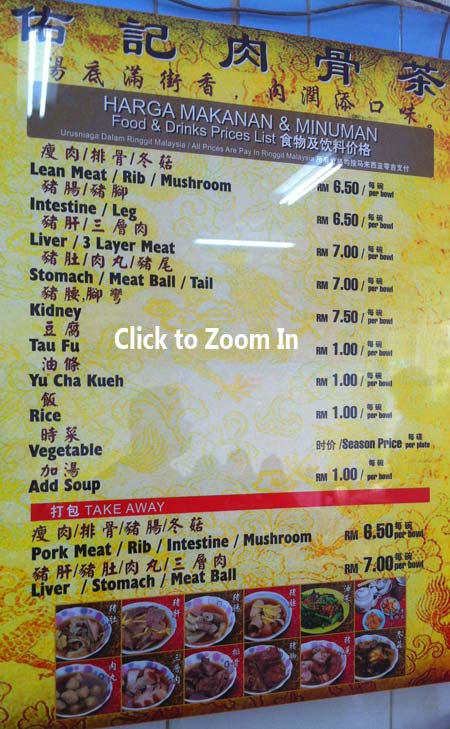 Pic: price list of Bak Kut Teh items (as of April 2015, 6% GST tax included).
Or if you eat with a few friends, you can order a few bowls of different items (see photo above) such as meat balls, kidney and liver and share the food together. The items and their prices per bowl are shown in the photo above (Note: RM is Ringgit, Malaysian currency). To balance your diet, you can order blanched lettuce with oyster sauce too, which is not listed. The prices are subjected change in future (prices listed here are updated on 8 Apr 2015).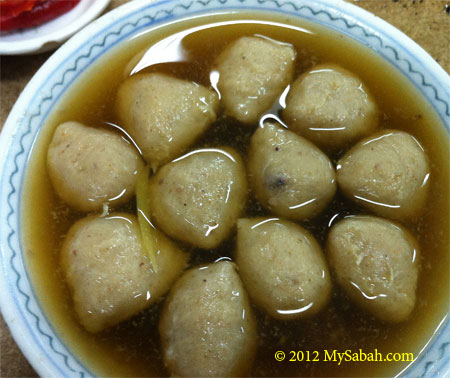 Pic: meat balls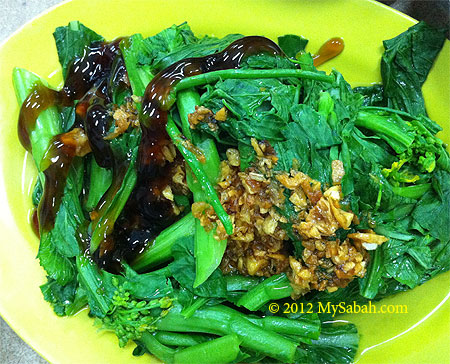 Pic: blanched lettuce with oyster sauce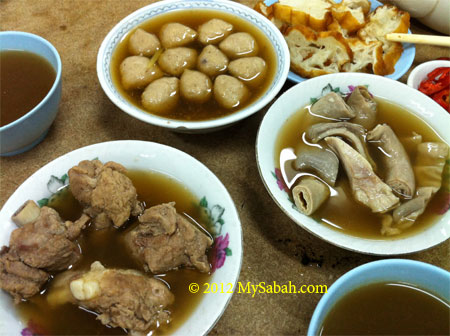 Pic: different dishes of Bah Kut Teh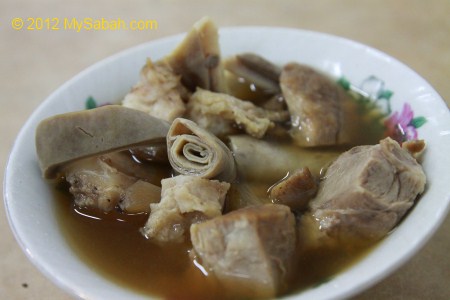 Besides the meaty pork ribs & belly, there are intestines, liver and pig ear slices in the soup too. If you don't like organs, you can tell the waitress that you want meat only (you can even ask for slim or fat meat only, or both), but I have to tell you that you will miss the best parts..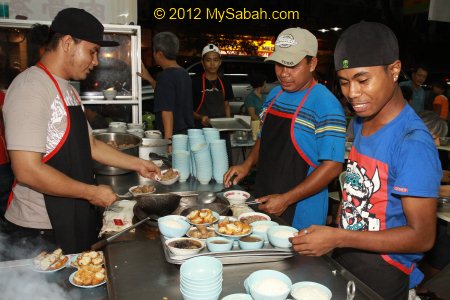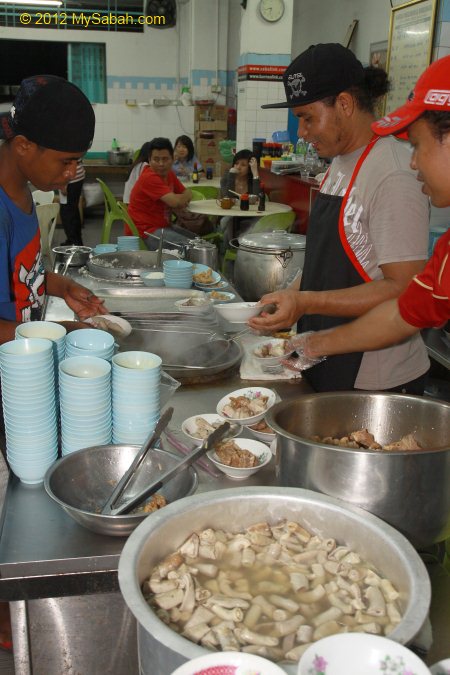 Above: workers preparing Bak Kut Teh. The restaurant is always packed with hungry customers, so they are very busy.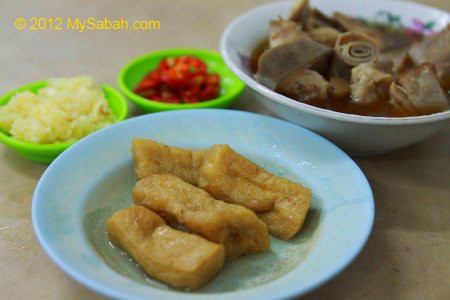 The beancurd puffs (known as U Cha Kui or "油条" in Chinese) go well with Bak Kut Teh.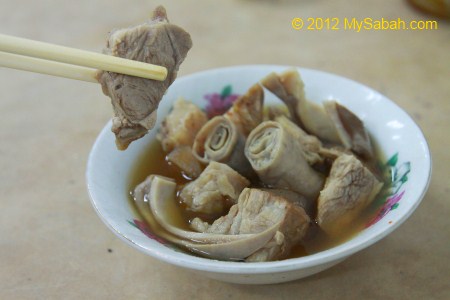 Enjoying the fatty meal but it doesn't really taste oily though. Bak Kut Teh tastes best when served hot, so I hope they will use heated claypot to store the soup. After 5 minutes of photo-taking, my soup was cooling down and affected the taste.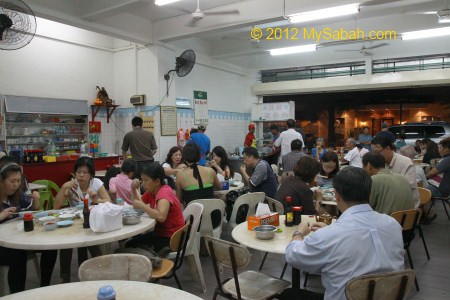 It's full of people even on weekdays. The shop address is No. 74, Jalan Gaya, 88000 Kota Kinabalu, Sabah, Malaysia (opposite Jesselton Hotel in Gaya Street). Yu Kee Bak Kut Teh opens from 4:00pm to 10:30pm daily and closed on alternate Mondays. To be sure, you can phone +60 88-221192 to check in advance. The owner is Mr. Yap Leong Tuck.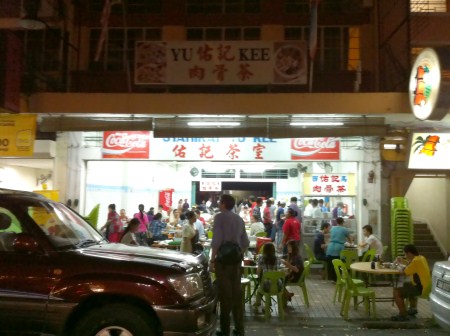 Yu Kee Bak Kut Teh is so well-known that even foreign tourists, especially those from Hong Kong know it, so I think blogging to introduce it is not even necessary.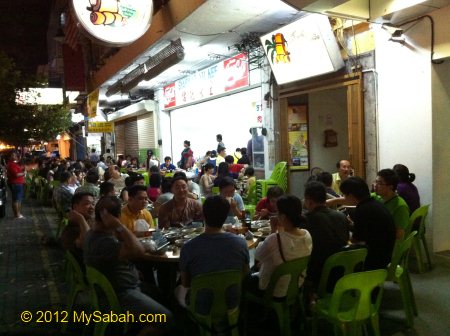 You see. The restaurant is so crowded that some have to sit outside but everyone still looks happy. If you come after 6pm, you will have to stand and wait for your turn to get a seat.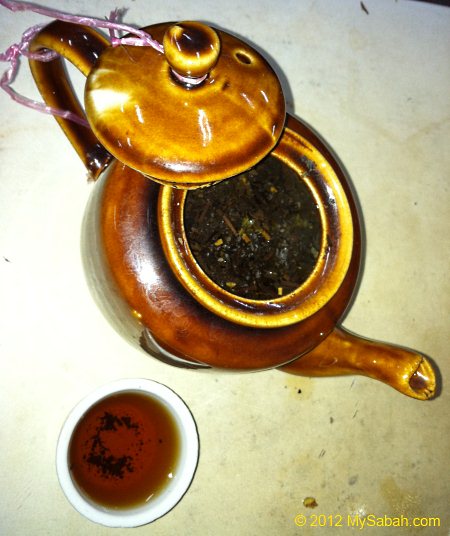 After a pork-laden meal, drinking Chinese tea can help to dissolve the excessive fat. They are serving Tie Guanyin (铁观音).
A little note for foreigners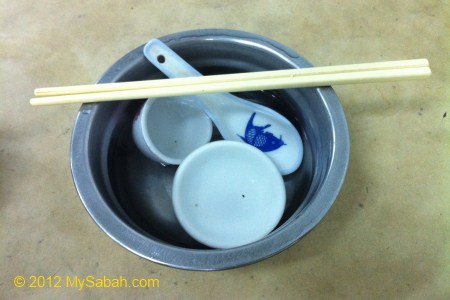 The pot of boil water is for your to "sterilize" the dinner set. It's not soup so don't drink it.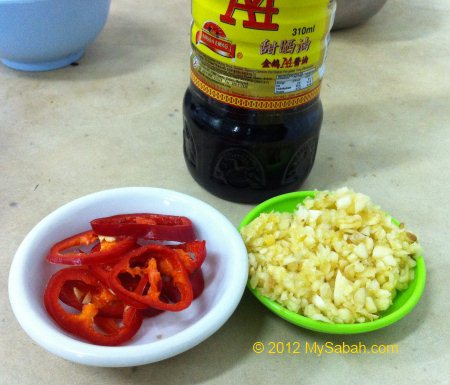 Above: the optional condiment for Bak Kut Teh. Dark soy sauce if you want it more salty. You may eat the meat with chopped chilli or minced garlic for extra flavor. Up to you. I like to eat it with a lot of garlic. Don't do this if you will go for a date later LOL.
Bak Kut Teh is herb soup with "heat" property. Don't take too much if you feel feverish.
Photos taken in Kota Kinabalu, Sabah, Malaysia Borneo