This is probably the hottest new stuff people talking about in town, and first time ever people feel happy that their world turning upside-down. After seeing so many friends introduced this place in Facebook and blog, I decided to visit the Upside Down House in Tamparuli.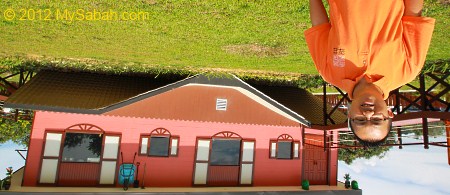 Which one is upside-down? The house or the man? LOL.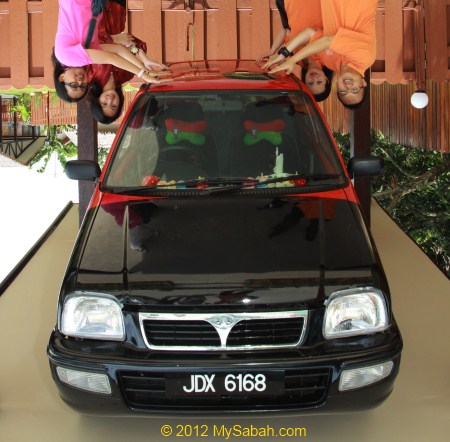 Something that you can't do in real life are all possible now at upside down house.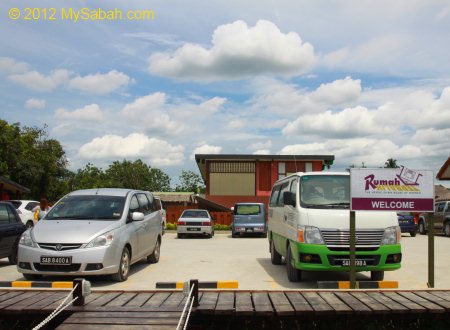 To get there is easy, if you go from Kota Kinabalu, just a few Kilometer before Tamparuli town and before a Shell gas station, you will see the house at your left, as shown in photo above. Its address is Kampung Telibong, Batu 21, Jalan Telibong, Tamparuli. You may Click Here for the location map. Their website is www.upsidedownhouse.com.my.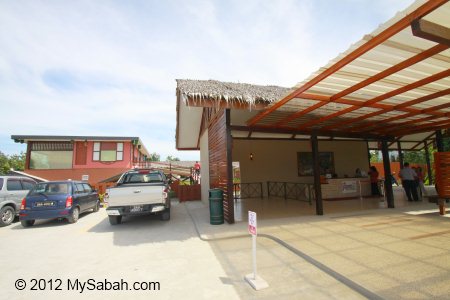 Below is the ticket fees. You can save a few bucks if you visit both Upside Down House and newly-opened 3D Wonders Museum (2-in-1 package):
Ticket Fee*
Malaysian Adult
Foreign Adult
Child (4-12 years)**
Upside Down House
(Rumah Terbalik)
RM10.60
RM19.10 (≈USD$5.50)
RM5.30 (≈USD$1.50)
3D Wonders Museum
RM24.40
RM35 (≈USD$7)
RM15.90 (≈USD$4.60)
2-in-1 Package
(Upside Down House + 3D Wonders)
RM31.80
RM47.70 (≈USD$14)
RM19.10 (≈USD$5.50)
* Fee inclusive of 6% GST tax (price as of June 2015)
** Free entrance for infant 3 years and below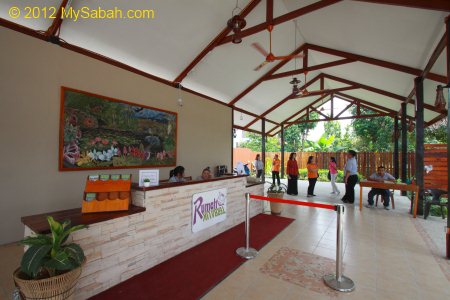 Above: the ticketing counter. The visit will take 30 to 45 minutes.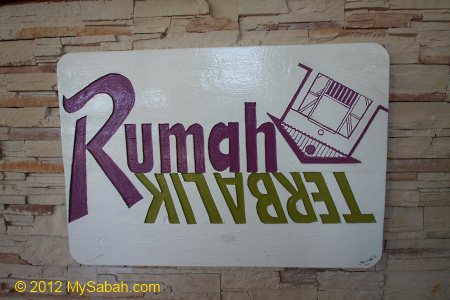 The logo of Upside Down House (Rumah Terbalik).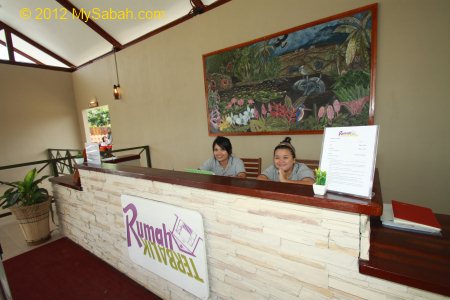 The friendly staffs. There are quite a number of visitors even during weekday. We were waiting for our turn.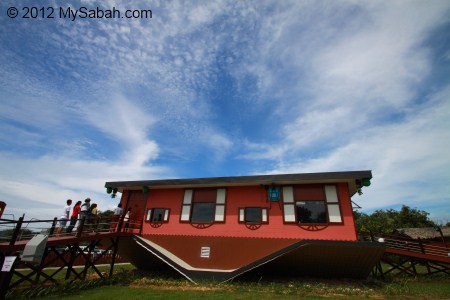 Here you go, the upside down house! It looks like a traditional Sabah village house from outside. Not only that, the inside is fully furnished. The interior area is about 1,500 square feet, with master bedroom, child room, living room + kitchen and a bathroom.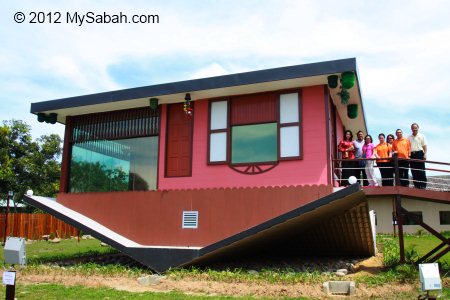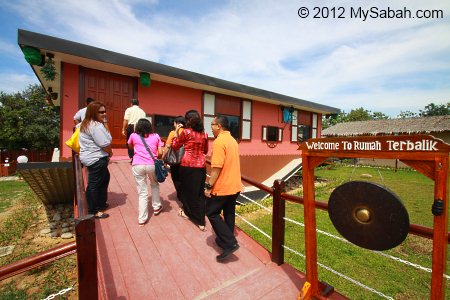 Finally it's our turn to enter the house. We were asked to knock the door as if we visited a real house. A staff will guide you in the tour.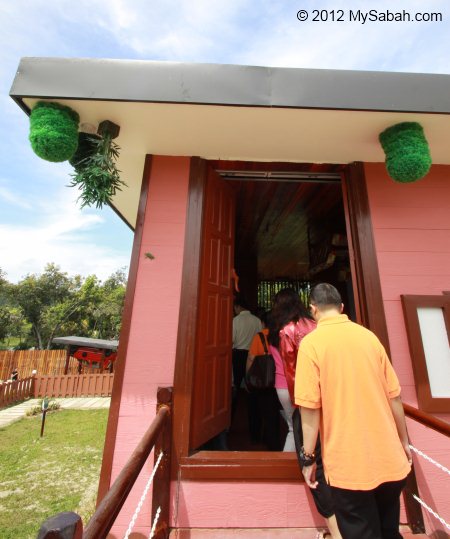 Sorry, no photo-taking is allowed after this point. It's air-conditioned inside.
As expected, it's an "insane" house, as everything, from small to big, are upside down. We were walking on the "ceiling", with fans, lamp and even lizard (toy) next to our feet. And all the furnitures are above our head. I started to imagine that I was a ghost hovering near the ceiling LOL.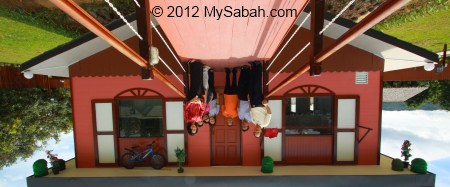 Group photo at the back door. Do you see the bicycle?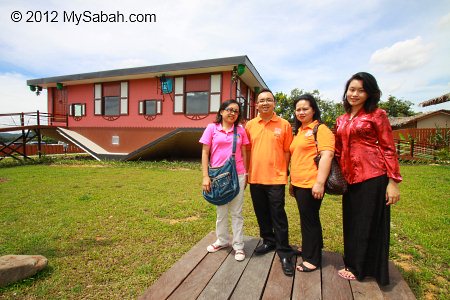 Another group photo. It's fun to show this picture to others.
Let's see what they have inside… 40-inch TV, VCR player, microwave, vacuum cleaner, computer & desk, chairs, sofa, beds, cabinet, washing machine, cabinet, closet, painting, etc. just like a normal house. They say the main challenge is to hang the 35-Kg sewing machine on top. They even have poker cards, toys and comic book scattered on the floor, like there are people living inside. The radio is on and luckily not the fan, haha.. I was told that a few visitors are not used to the upside down world and got a bit of motion sickness inside the house.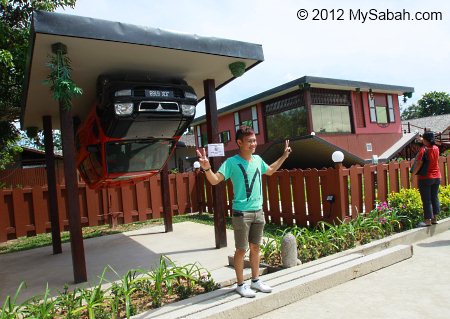 Hmm… can I sit in that car?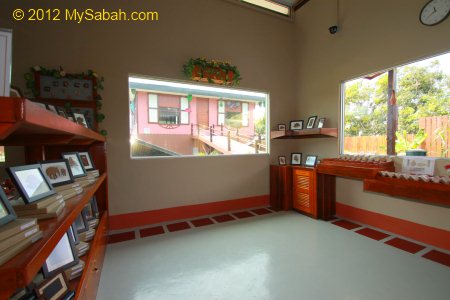 They have a gift shop next to the house.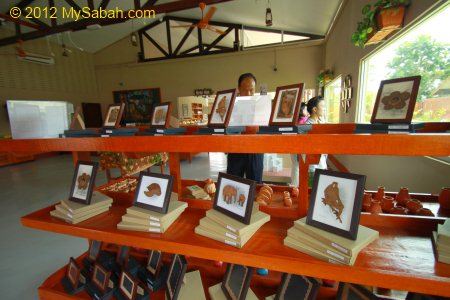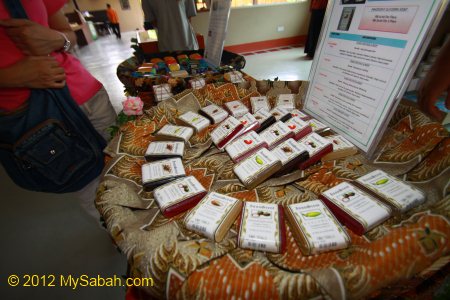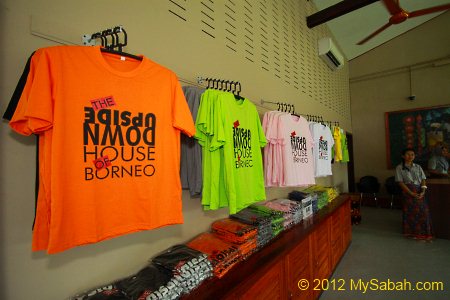 They sell mainly environmental-friendly local products such as the organic soap and handicraft made of recycled wood.
You may watch the 1-min video of Upside Down House below:
Shuttle Services
You can take their shuttle depart from shopping malls (see below) to this place for RM50 (≈US$12.50) per person. Please call +60 18-8614688 / +60 88-230534 in advance to book a seat (before 4:00pm).
| | | |
| --- | --- | --- |
| From Center Point | From Wisma Merdeka | Return |
| 8:30am | 8:45am | 11:30am |
| 10:30am | 10:45am | 1:30pm |
| 2:00pm | 2:15pm | 5:00pm |
| 3:00pm | 3:15pm | 6:00pm |
Mango Garden Restaurant
If you visit Upside Down House, I highly recommend you to have lunch or dinner at Mango Garden Restaurant, which is right next to Upside Down House. This air-conditioned restaurant serves authentic traditional cuisines of Sabah and they even take our local food to fine dining level. It's really a surprise for me to find such a decent restaurant in countryside.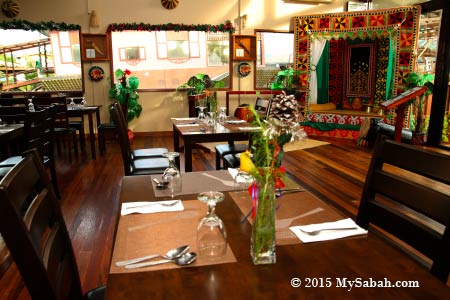 Pic: the beautiful interior of Mango Garden Restaurant, decorated with cultural stuffs and photographs such as handicraft and musical instruments. You can see the Upside Down House from inside.
They have rich variety of exotic food. I tried the dishes below.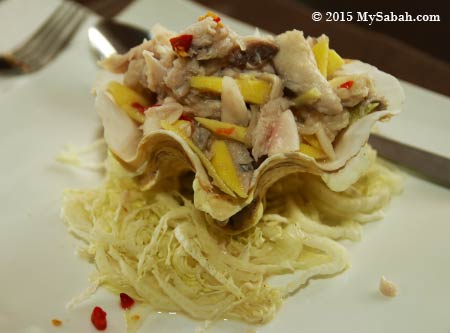 Pic: My appetizer, Hinava Sada, which is freshly selected fish fillet marinated in lime juice, shallots, ginger, sliced chili and grated Badu (wild mango seeds). This is a must try dish, very popular in Sabah and originated from the Kadazandusun tribes. You will love it if you like sour and spicy food. Price: RM11.50 (≈US$3.25)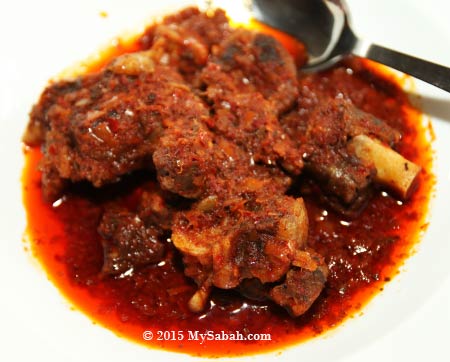 Pic: Asam Pedas Ekor Lembu, sliced oxtail slowly cooked in delicious sour and spicy gravy. Commonly known as oxtail asam pedas by the locals, very tendon. Price: RM29.50 (≈US$8.35)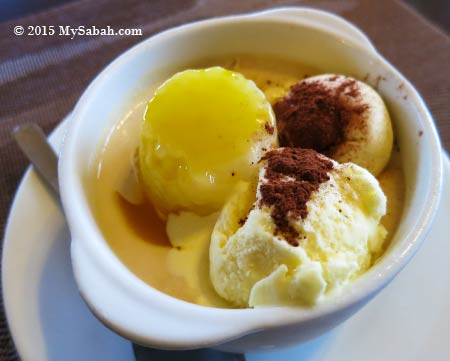 Pic: Dessert: Sweet Mango Sago & Ice Cream, soft jellied sago with palm sugar and coconut milk topped with fresh and sweet local mango. Price: RM8.50 (≈US$2.40)
After 10% service charge, the meal costs me RM54.45 (≈US$15.40). This is because I ordered the expensive items. Anyway, it's worth every penny. They also sells common food such as fried rice and noodle, starts from RM8.90 (≈US$2.50) if you don't want to spend too much.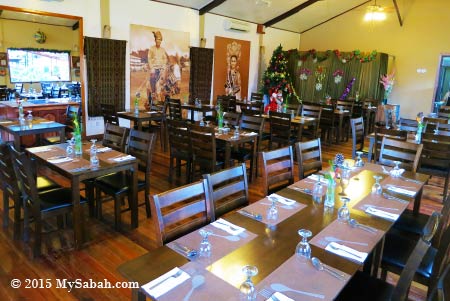 Pic: Mango Garden Restaurant can accommodate about 40 people.
The following is more info of Mango Garden Restaurant:
Opening Hours: 10am – 10pm daily
Tel: +60 88-783911
E-mail: sales@trekkerslodge.com
Facebook: MangoGardenRestaurant
Photos taken in Tamparuli, Sabah, Malaysia Borneo