Try to tell the youngsters about your past, and you will see the "WTF, here he comes again…" impatient expression on their faces. However, everyone did want to hear about your stories in Gaya Street last weekends (11-12 Feb).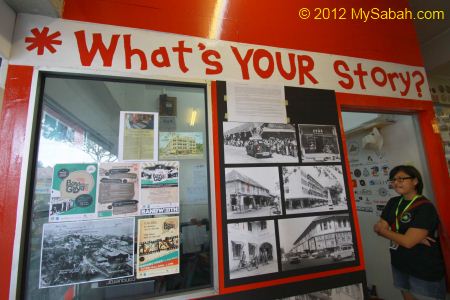 Not only that, the TV media also interviewed the people about their stories.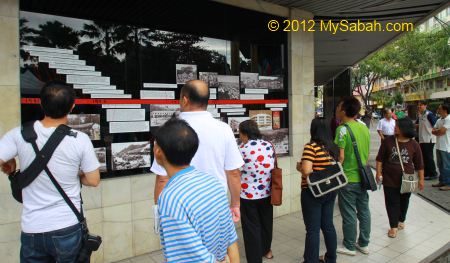 All these excitement are the outcome of the "Bonding with Gaya Street" event, which is a community heritage exhibition that features old buildings, old-time stories, cultures and social history about Gaya Street, which is known as Bond Street during British colony era. Gaya Street is chosen for the event because it is where Jesselton (now Kota Kinabalu (KK), capital of Sabah) started.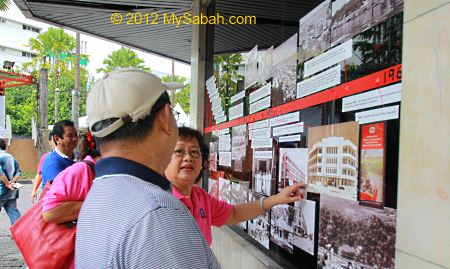 "Sudah lama lor…" (means it's a long time ago) is the commonest phrase heard during the event. The old photographs of Kota Kinabalu with timeline from 1657 to 1960 attracts locals from all walks of live. Most KK folks have a piece of memory in Gaya Street, so these nostalgic photos bring back their memory. Strangers pointed at the photos and shared with others that what was used to be there and what they had done.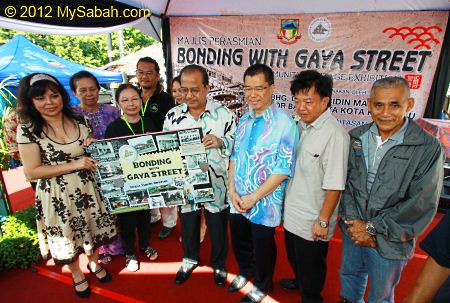 Bonding with Gaya Street is organized by North Borneo History Enthusiasts (NBHE) and Kota Kinabalu City Hall, and supported by Sabah Tourism Board, Information Department, Sabah State Museum, Sabah Archives and Daily Express.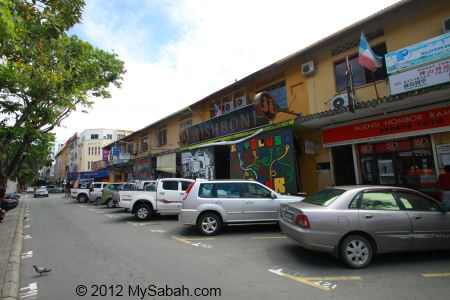 Today Gaya Street is well-known for its Sunday market that is frequented by many tourists, but few knows about its history. After the event, I know that it's more than a tourist attraction, it is a heritage street rich of history!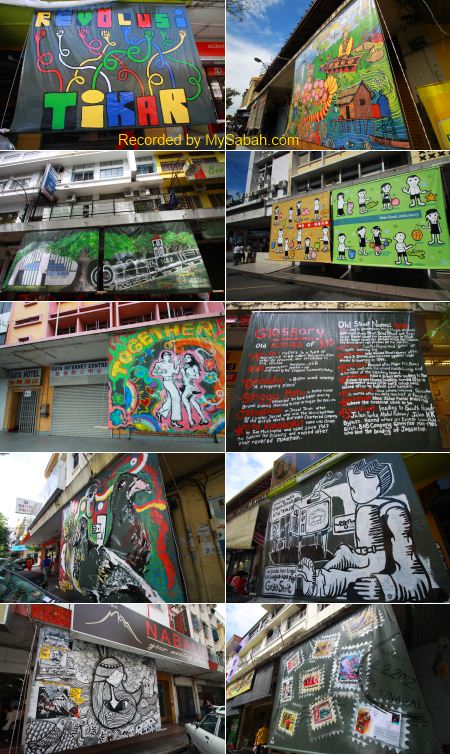 My favorite of this event is the display of colorful street art painted on the sun shade canvas, a very welcome enrichment. These are the creative works of professional artists, teachers and students as young as 6-year! You may look at my photo album for bigger photos. Which painting you like by the way?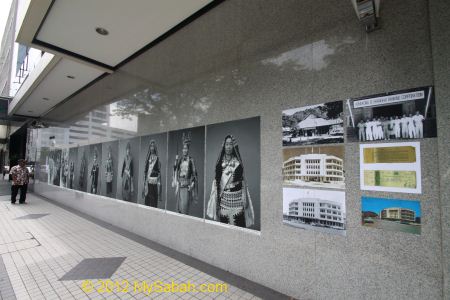 Above: Nunuk Ragang photo exhibition by Flanegan Bainon.

Above: the volunteers of the event. They have a Collection Booth for old photographs and personal stories in Sen Chong Wah restaurant (新中华) in Gaya Street, if you would like to share yours.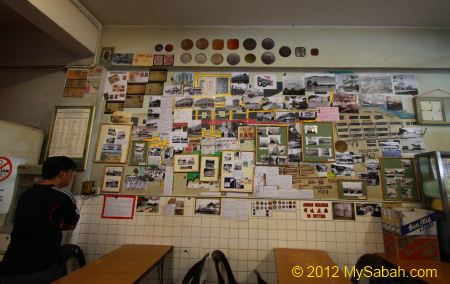 If you go inside this restaurant, you will a beautiful display of Kota Kinabalu's old-day information on the wall.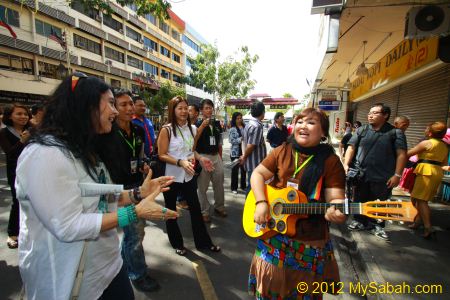 Above: a street performance by Julie Sawmundax during the launching. It's fun to have her around.
You may watch the 3-min video below about the event: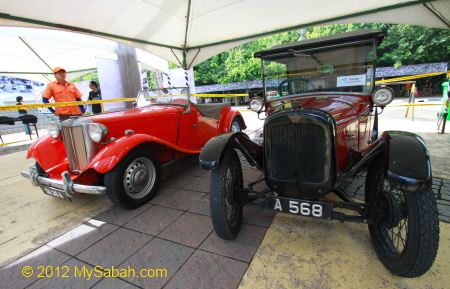 Above: vintage cars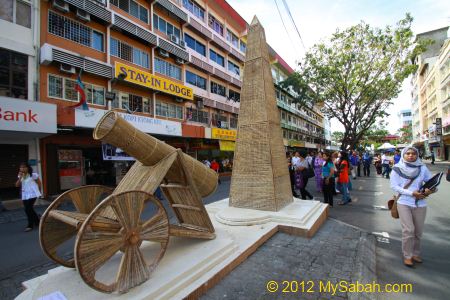 Above: a replica of North Borneo war memorial made of bamboo. The "real" memorial is moved to City Park many years ago.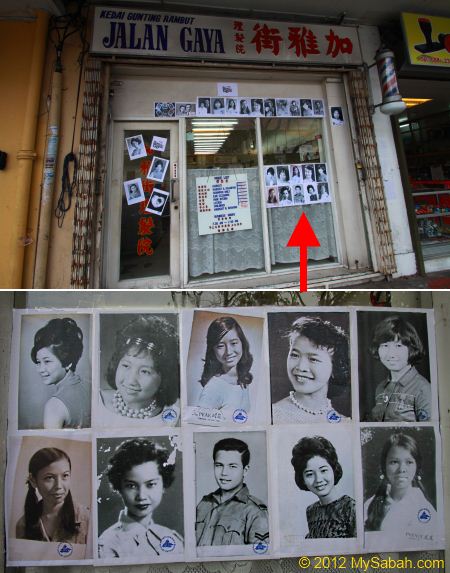 Many shops in Gaya Street also decorate their doors and windows with nostalgic items such as old photos. Do you see your pretty mom or handsome dad in the photo? LOL.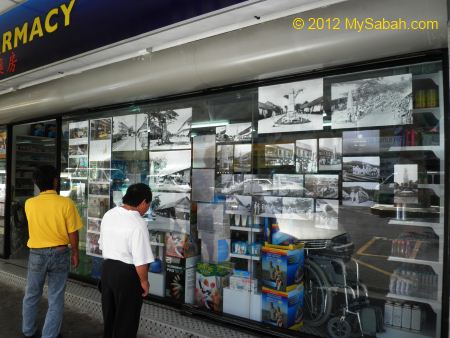 At first those locals felt suspicious, when the organizer asked them for the old stories and photographs. Once they understood the purposes, they become very supportive to this project.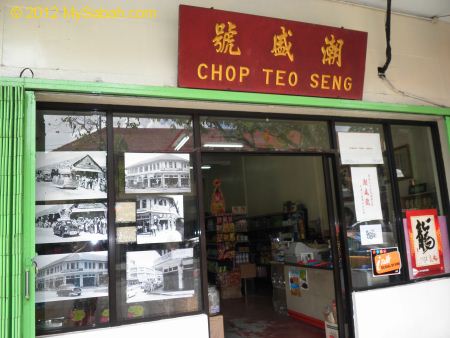 It's so cool that some shops were showing the historical photos of their shops 50 or 60 years ago. Gaya Street has become a live museum. Our schools have turned history class into something dry and boring. This might be the first time people, both old and young, think that history is interesting. And these things are not found on our textbook, so we need to document them ASAP before they are gone forever.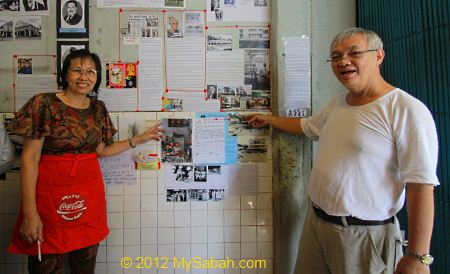 Above: proud of the history. Sen Chong Wah restaurant (新中华) was established since 1945!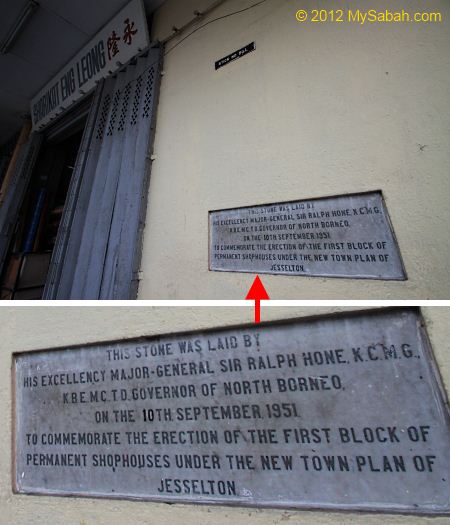 Above: this stone on the wall of Syarikat Eng Leong is the most important relic easily overlooked by most. It is laid in 1951 and marks the first row of 17 permanent shophouses of Kota Kinabalu. These traditional shophouses are under threat when big and air-conditioned shopping malls sprout in city nowadays.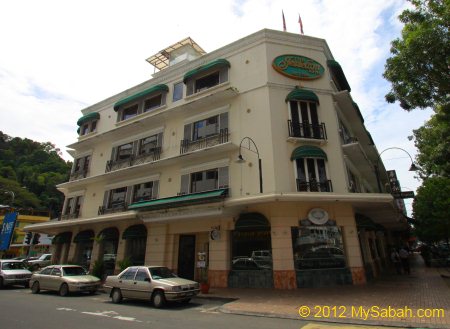 Above: built in 1954, Jesselton Hotel is the oldest post-war hotel in Sabah. The famous boxer, Muhammad Ali stayed there before.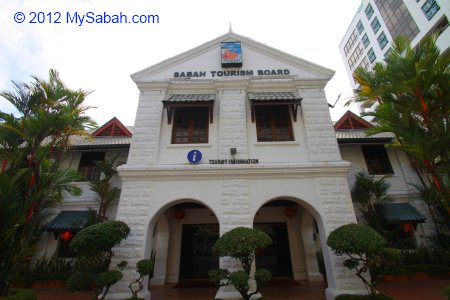 Above: the Sabah Tourism building is nearly 100 years old. Locals still call it "old post office".
In the past, I thought that the historical value of an old building is only from its age, the longer it is, the more precious. Now I think the stories and collective memories are more significant. Without any story, an old building is just an aged structure that has no life and meaning. I hope the social histories of our Gaya Street will be passed on to our new generations.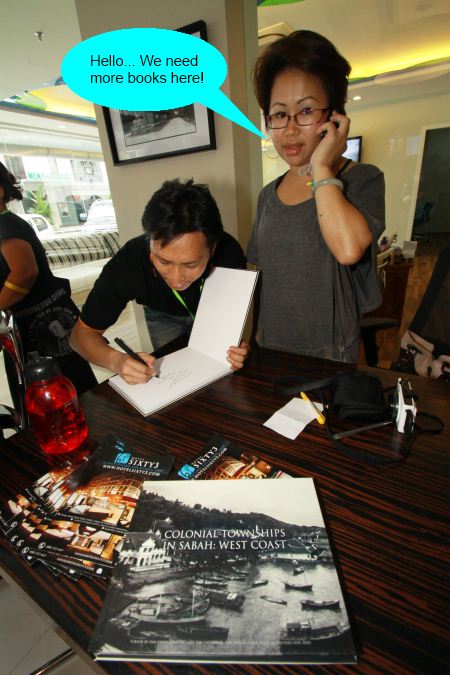 In conjunction with Bonding with Gaya Street, Hotel 63 held an exhibition about the 107-year-old Atkinson Clock Tower in 1st floor. A coffee-table book titled "Colonial Townships in Sabah: West Coast" is on sale for RM135. Since Richard, the author was there, I bought the book and requested for his autograph. Haha, then the rest also became kiasu and did the same thing. Richard was busy writing but I guess he was also glad that the books were sold like hot cake.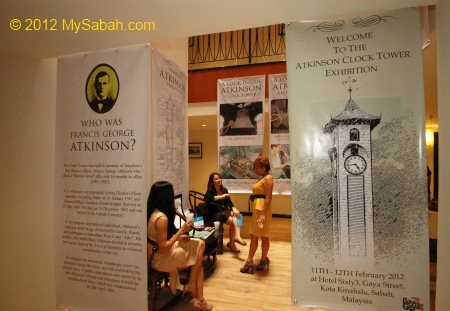 Atkinson Clock Tower is built in 1903 in memory of Francis George Atkinson, the first District Officer of Jesselton. There are many information and old photographs of Atkinson Clock Tower in this exhibition. I'm glad that Malaysians today really care about their history and heritage, like what the Jalan Sultan incident shows.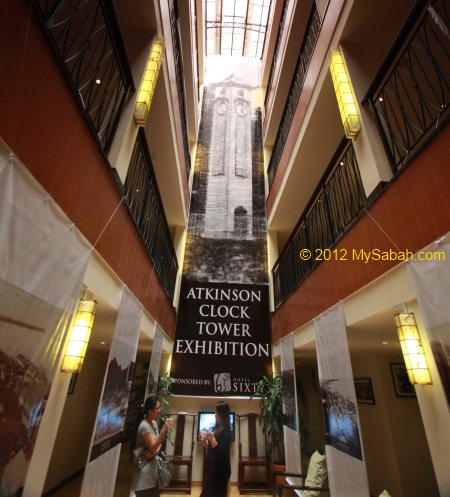 The highlight is the 8×48 foot graphic mural of the Atkinson Clock Tower. If you look closely, this mural is formed by a large collection of photos.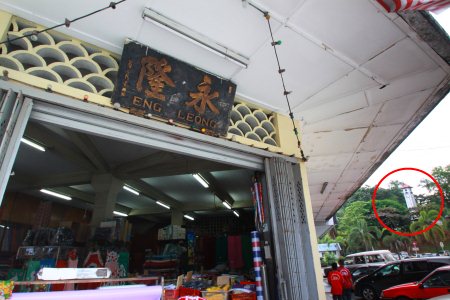 Above: Atkinson Clock Tower is only a stone throw away from Gaya Street. This oldest structure of Sabah has become an iconic landmark of Kota Kinabalu.
However, Atkinson Clock Tower is under serious threat when a developer proposes to build a 16-storey Commercial Shopping Mall next to it! WTF, there are many damn developers cut all the forest and mangrove to build their housing, then market their property as a nature-rich location. Same to this greedy developer who wants to build a mall next to Atkinson Clock Tower, they are not f*cking care about our heritage. Please do object this project!
More Info:
Official website of Bonding with Gaya Street
North Borneo History Enthusiasts (NBHE), the main organizer
More Photos
You may check out my photo album if you want to see more nice pictures:

Photos taken in Kota Kinabalu, Sabah, Malaysia Borneo