Travelers always look for good attractions to visit and nice food to eat. After the tour, we all need a great place to stay. It is cool to be served by 5-star hotel but I prefer accommodation with nice surrounding. For me, Little Hut of Mesilau is special, not just because of its cooling temperature of 13-30°C (55-86°F) and spectacular view of Mt. Kinabalu, its homely atmosphere is something unique in homestay of Sabah.

Located at 1,460 Metres above sea level, Little Hut is only 12 KM away from Kinabalu Park and 3 KM from Mesilau Park, a convenient spot for me to stay a night and to enjoy the refreshing air far away from bustling Kota Kinabalu City (KK).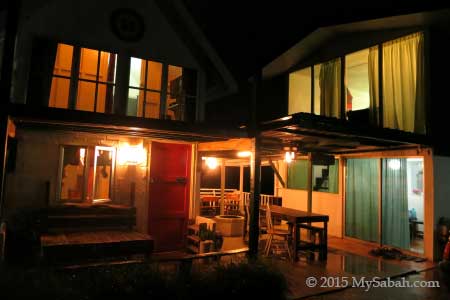 Pic: at the left is my hut (named Incredible Hut)
I checked into my chalet at 8pm and spent a night in Incredible Hut, a small house that have 3 beds and the only hut without kitchen. The tungsten light of the house looked warm and comfy from outside in the cold and windy evening, I really couldn't wait to get in.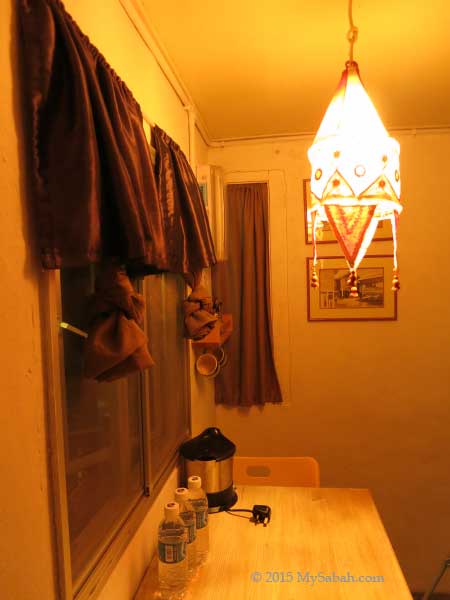 Pic: ground floor of Incredible Hut
After I collected the key from their staff, the 2-storey chalet was all mine. It's like living in your own house, no room service that reminds you are an outsider. You would appreciate the sense of belonging and freedom here.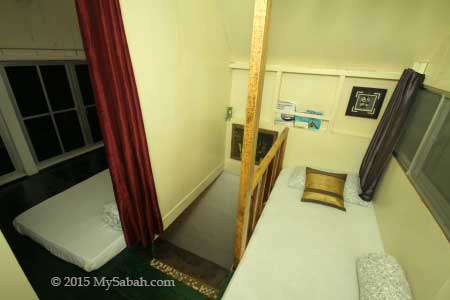 Pic: Incredible Hut has one bed in ground floor and two on top floor.
The space in Incredible Hut isn't spacious, just nice for medium size Asian like me. If you are almost as big as Incredible Hulk, you may not be able to move so freely. Please note they have bigger chalets and I only show the photos of the smaller hut.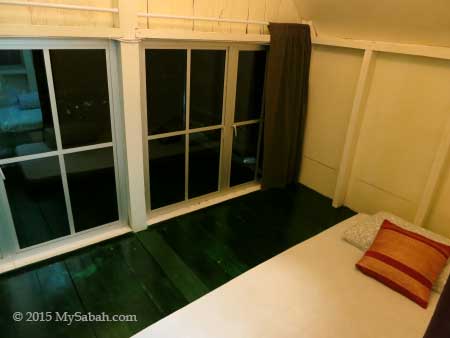 Mesilau is cool at night but not down to freezing point. The feeling is like being inside an office with strong air-conditioning. Putting on a jacket or fleece is enough to keep you warm. There is no heater (and not necessary) in house. Don't worry, hot water shower is available.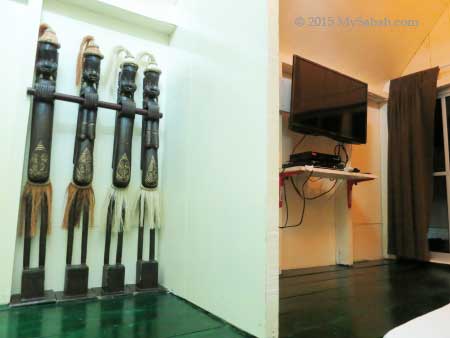 The interior is simple and decorated with interesting ornaments. Each chalet has TV (with Astro satellite TV) and DVDs to kill your time. But the best activity to do here is to eat some hot stuffs in cold evening together with your friends and family, e.g. BBQ or steamboat. Little Hut can rent you the equipment but you need to bring your own food, which is readily available in Kundasang town only 6 KM away.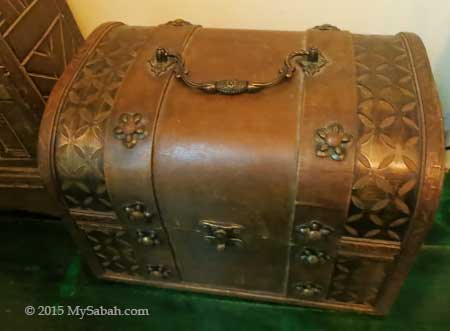 Pic: guess what is inside the treasure chest?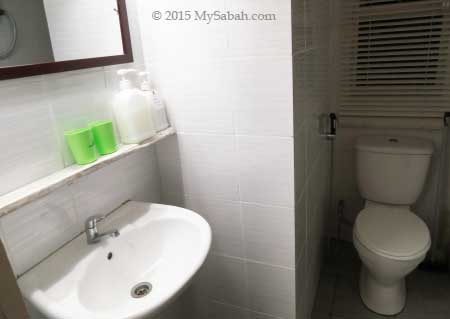 Pic: Toilet paper, shower gel and shampoo are provided. You need to bring your own towel and toothpaste.
Poetic Dream Houses
I had a very good night sleep in Little Hut. When everything lit up by the sunrise, I started to see the beauty of Little Hut. Seem like they "gardenize and villagize" every corner to give an idyllic and nostalgia touch to their place. They also insert some humorous elements for you to discover here and there.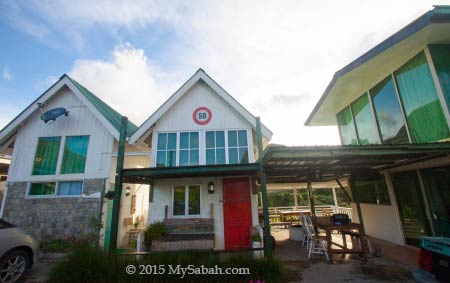 Pic: Little Hut in the morning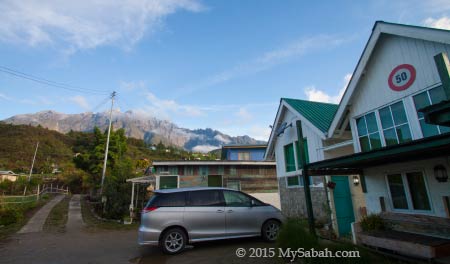 The morning view of Mt. Kinabalu is a pleasant surprise. I didn't know I could see it from Little Hut.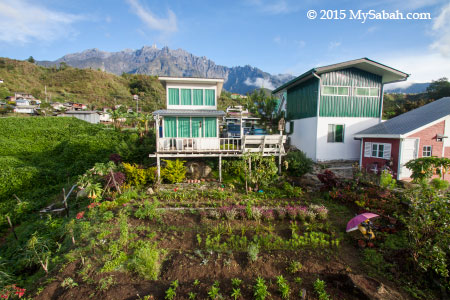 Pic: the view of Mt. Kinabalu and Little Hut. Note the small farm in foreground.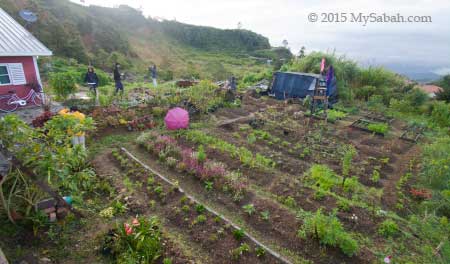 Pic: The little farm + garden in Little Hut is planted with variety of vegetables and flowers such as roses and spring onions. Housewives find this farm intriguing and are excited to tell their children what are those plant.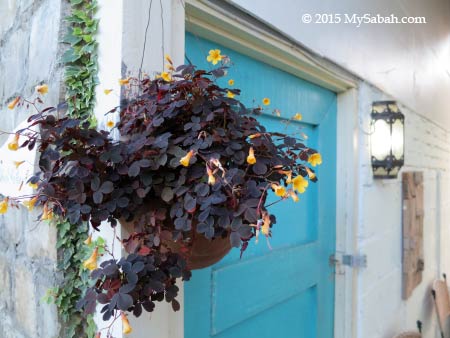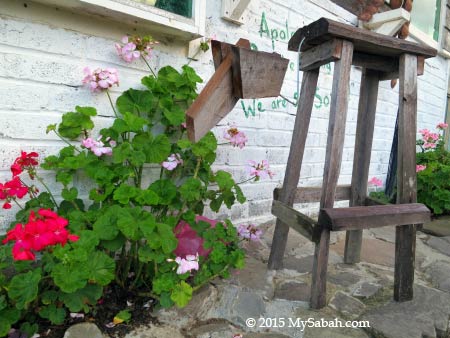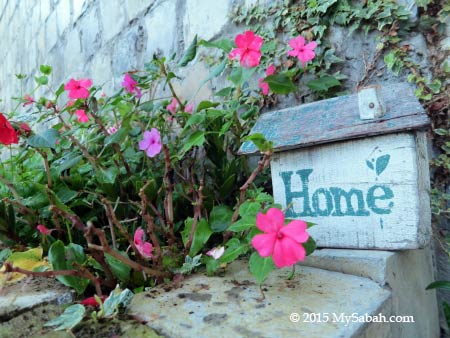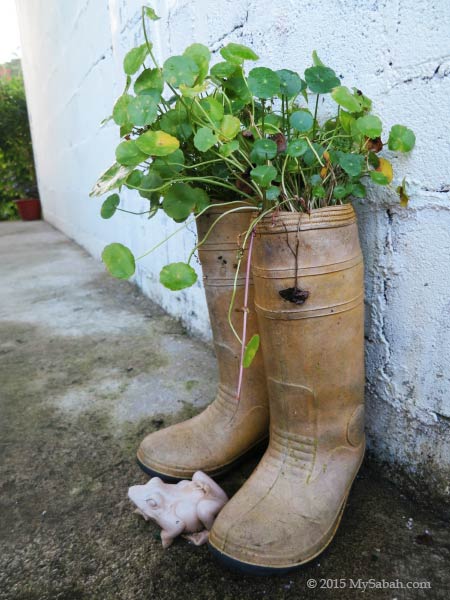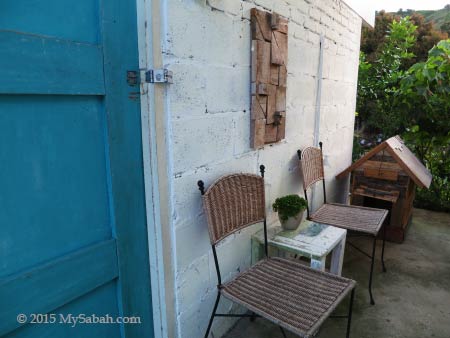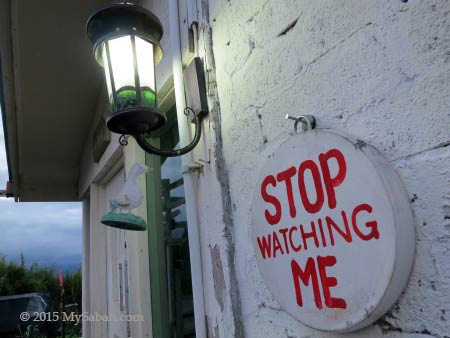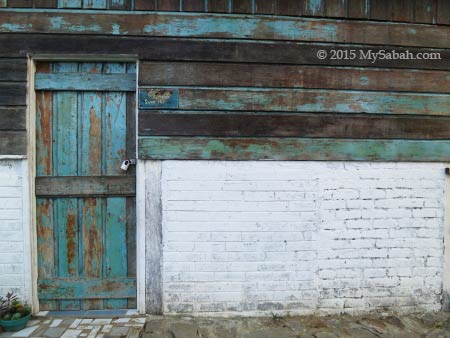 If I show the photos above to others without saying the location, most would think these are taken in countryside of European countries.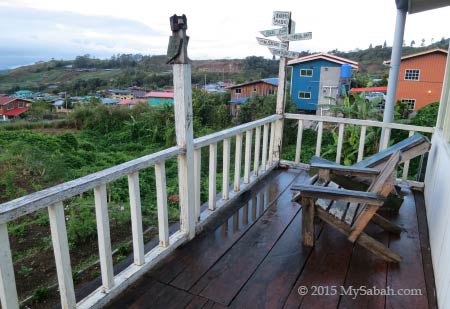 Pic: balcony of Hut Attack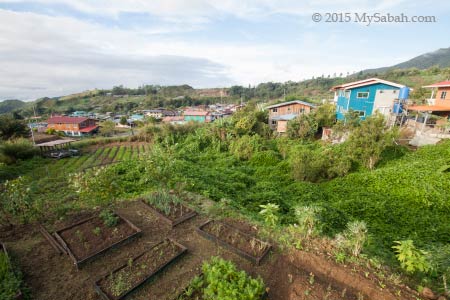 Pic: village and farm view from the balcony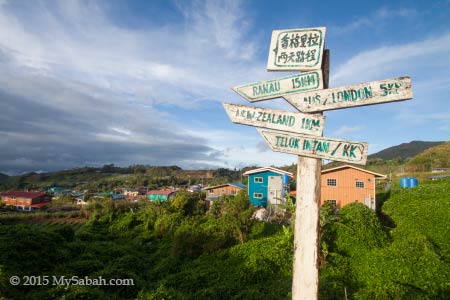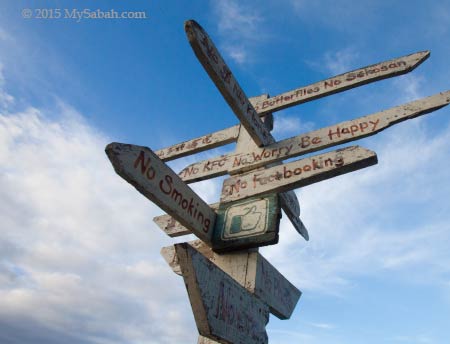 Pic: funny direction signages just to make you smile.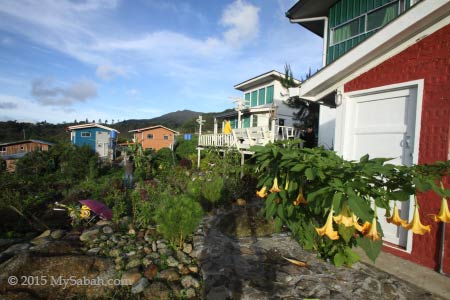 Pic: backyard of Little Hut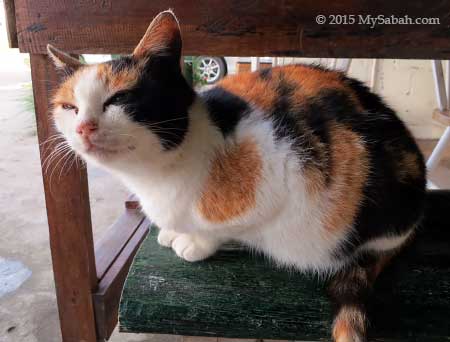 Hey, come and meet Miyao, the chubby and friendly 3-color cat of Little Hut. She acts like the owner of Little Hut and loves to hang out with people.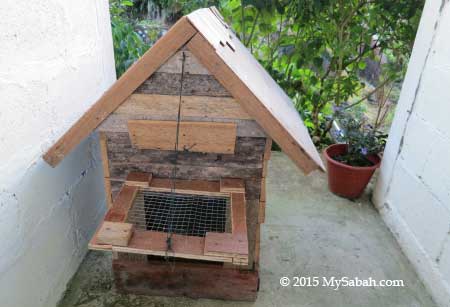 Pic: The Cat Residence. Miyao also has her own Little Hut, but she always looks for a chance to sneak into your hut, probably she enjoys the warm cuddling offered by the guests.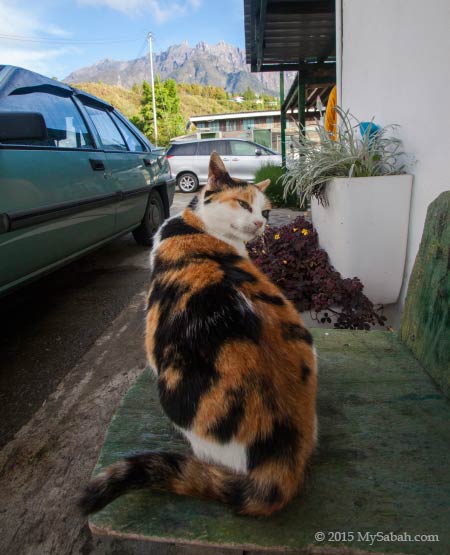 Pic: Miyao lazes around and as relax as the guests.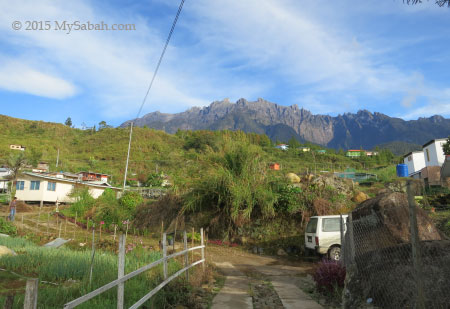 Little Hut is in Kampung Mesilou Village and surrounded by village houses.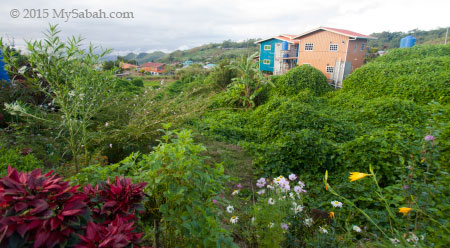 You can take a stroll around the village, a friendly neighbourhood where you can explore around and say Hi to the locals.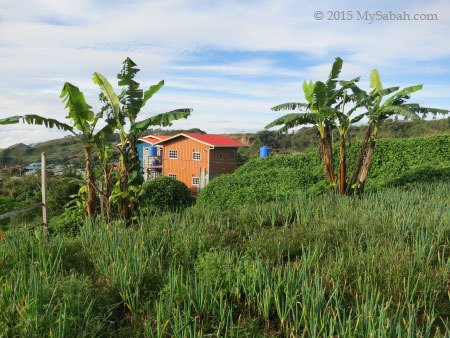 Pic: the plantation in village. The property of Sabah city is super expensive nowadays, so I'm kind of envious of the big land they have here. I believe that's the concept of Little Hut, which allows city people to experience the peaceful rural life once in a while.
The Chalets
Little Hut has a total of 5 chalets, each with different size, theme and amenities, so it's important that you select the right hut prior to booking. You can visit their website for more photos and details.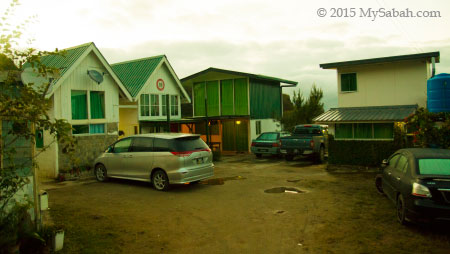 Pic: from left: Unbreak My Hut, Incredible Hut, Bizza Hut, Hut Attack. Not seen in this photo is Hut Leluyaa, which is behind Bizza Hut.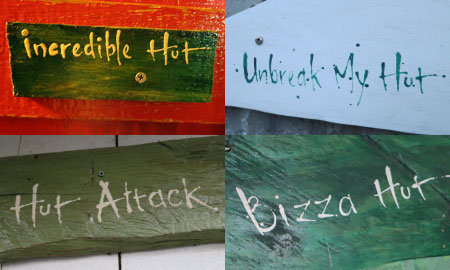 Pic: Little Hut uses pun for naming their huts. The names are just for fun and don't mean anything, so don't be serious about them.
The following table is a summary of the chalets for your quick reference:
Hut
Rate (per day per hut)
Remarks
Incredible Hut
Mon-Fri: RM150 (≈US$42)

Weekends, Holiday*: RM180 (≈US$50)

Accommodate up to 3 people, suitable for small group of friends and family. No kitchen
Bizza Hut
Mon-Fri: RM250 (≈US$70)

Weekends, Holiday*: RM300 (≈US$83)

Accommodate up to 5 people, suitable for family and group of friends. Kitchen available. Good viewpoint for Mt. Kinabalu
Unbreak My Hut
Mon-Fri: RM150 (≈US$42)

Weekends, Holiday*: RM180 (≈US$50)

Accommodate up to 2 to 3 people, suitable for couple. Blue & white Greece theme. Kitchen available.
Hut Attack
Mon-Fri: RM280 (≈US$78)

Weekends, Holiday*: RM330 (≈US$92)

Accommodate up to 5 people. Kitchen available. View of Kg. Mesilou village and mountain range
Hut Leluyaa
Mon-Fri: RM210 (≈US$58)

Weekends, Holiday*: RM250 (≈US$70)

Accommodate up to 2 to 3 people, suitable for couple. Kitchen available. Farm and village view
Rate as of Feb 2015. Please visit their website for latest rate and updated details.
*Public Holiday & School Holiday
Though Little Hut has no restaurant, most chalets have a kitchen with cooking utensils for you to cook, or you can rent BBQ rack and steamboat from them (food not provided).
Contact & Booking
You can book the accommodation with Little Hut up to 6 months in advance by e-mail or phone. You need to pay 50% deposit to secure your booking. The chalets could be full during peak season so it's better to book earlier.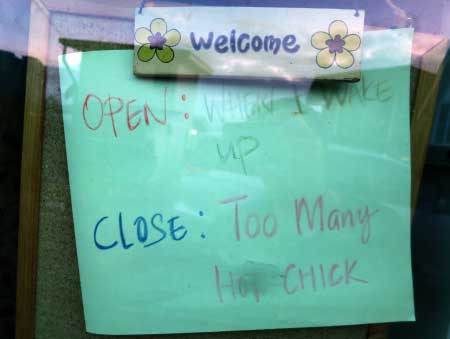 Tel: +60 16-8601416 (9am-8pm)
E-mail: littlehutmesilou@gmail.com / shiaohan@hotmail.com
Website: littlehutmesilou.blogspot.com
Facebook: mesilou
GPS Coordinates: N 6.014536° E 116.599023° (see Location Map)
Getting there
Little Hut is in Kampung Mesilou Village, about 100 KM away from KK (see Location Map). There is no bus going directly to Little Hut, so you need to get there using your own car or hire a taxi at Kundasang town. Most of the time you will drive on paved asphalt road until you reach Kampung Mesilou. After the village, turn to the 3rd junction at the left (which has two tyres as marker), then you have to drive carefully on the narrow concrete road, which you will reach Little Hut near the end (estimated 600 Meters).
I strongly advise you to go there during daytime so you can see the small road or signages clearly. If your car has low body and you can't see the road clearly in the dark, the bottom of your car would hit the big rocks. You can find detail picture guide and map in their website and Facebook.
Photos taken in Mesilau, Sabah, Malaysia Borneo