DESA is a household name in Sabah because most Sabahans grow up drinking milk from Desa Dairy Farm, which produces nearly one million liters of fresh milk annually. But Sabah people feel affection for Desa milk because of more reasons. You will know why if you visit Desa Dairy Farm in Mesilau, which is about 100 KM away from Kota Kinabalu City (KK). In fact, this farm has become a well-known tourist attraction. Throngs of tourists go there every day to enjoy the delicious dairy and beautiful scenery.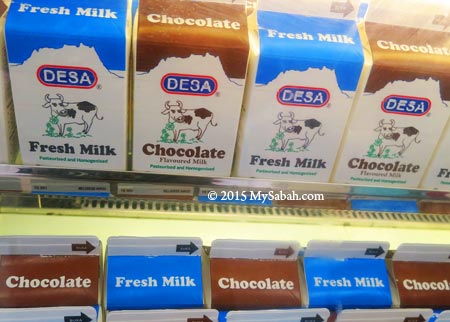 Pic: The fresh milk made in Sabah. They also produce goat milk.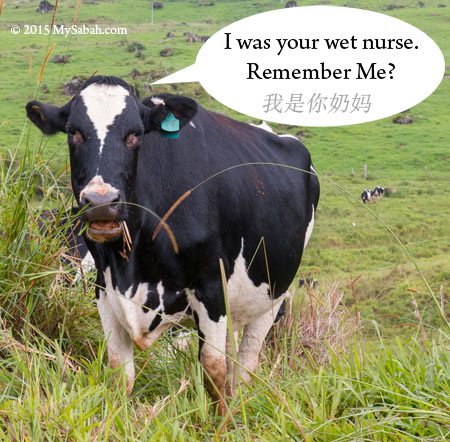 Pic: meeting my "milk mother" in Desa Cattle Farm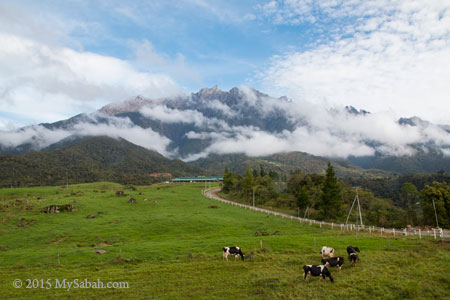 It took me about 2 hours to reach Desa Dairy Farm in Mesilau by car. The green pasture with grazing cows at foothill of Mt. Kinabalu is a sight to behold. Doesn't the place look like grassland of New Zealand? No wonder locals call it the New Zealand in Sabah. To see Mt. Kinabalu, you need to be there before 8:30am because the mountain will be covered by dense fog.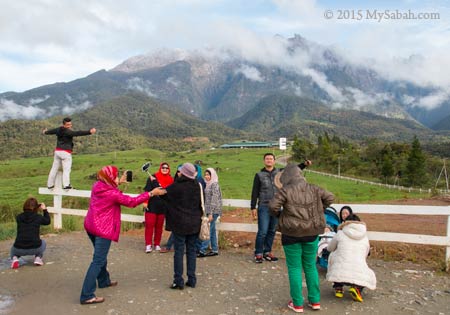 The scene is so breathtaking that many tourists taking selfie and photos. FYI, many photographers also come here to use Mt. Kinabalu as the background for wedding shots of their customers. Photo taking is free outside the fence. The photography permit fee is RM100 (≈US$27) for you to enter the farm for better camera angles. In case you worry that the cows will charge at people who wear red dress. No, they won't. lol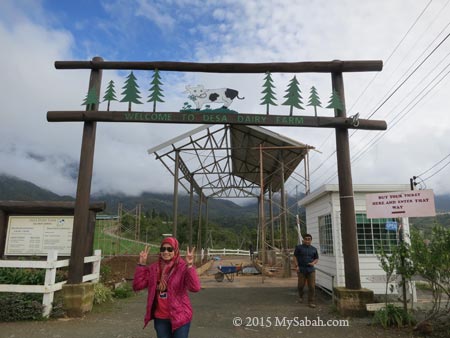 Pic: the entrance of Desa Dairy Farm (ticket booth at the right). It is open to visitor who purchases a ticket.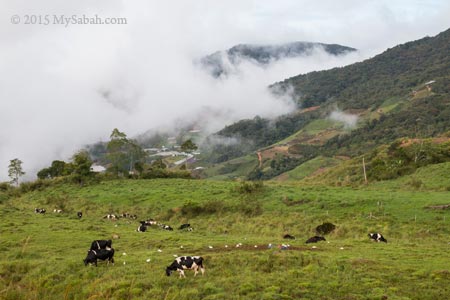 Good Mooorning milk cows and welcome to the Moo-Moo Land of Sabah. The farm is 199 hectares in size and most cows are Holstein Friesian cows imported from New Zealand, the highest milk producers of all cattle breeds. It's quite cool and windy here (about 20°C / 68°F) so you better put on a jacket or fleece to keep warm.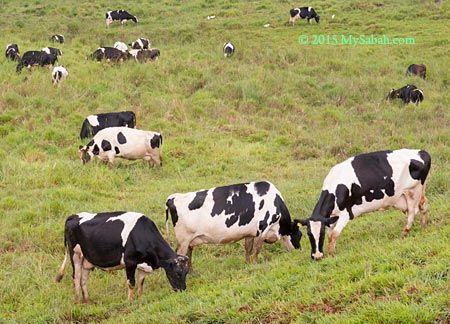 Cows are amazing. They are probably the best workers in the world. They turn grass into milk (and cut the grass). They don't complain a lot. Instead, they ask for Mooooore.. But that's why cow has no Mooney because people milk them dry. Ok, it's a cow pun joke, such life sounds familiar though.


The cows were busy grazing and occasionally staring at tourists with "what you want?" expression. They were all pretty relaxing. I didn't see any cowboy to look after them. Do these cows know when to clock-in at milking station?
Desa Building
For more things to do, the milk processing plant, milking station, office and shop of Desa is about half a KM from the entrance by gravel road.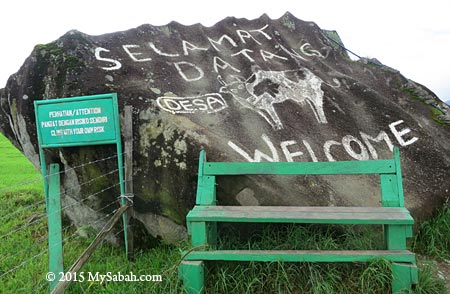 Pic: welcome sign near Desa activity centre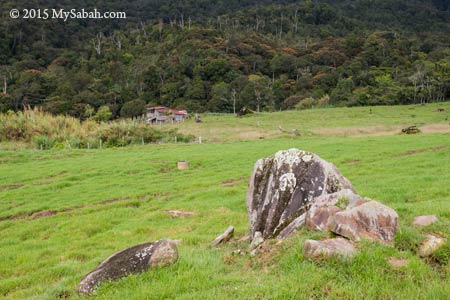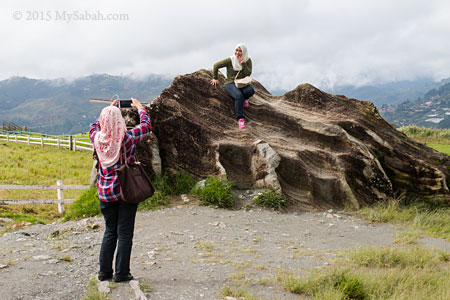 Pic: There are many big and beautiful granite boulders in the farm. A lot of tourists like to climb up to take photos, so Desa has to put a warning sign "Climb at your Own Risk" next to almost every boulder.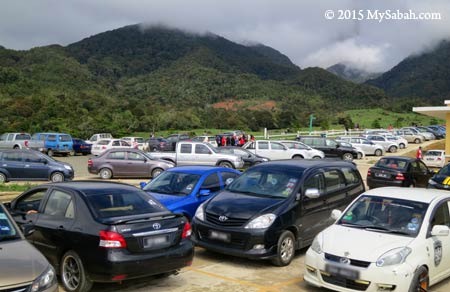 Desa Dairy Farm is more famous than I think. The Desa activity centre was packed with visitors and most parking lots were occupied that day. I chit-chat with some tourists and found that many of them are from Peninsular Malaysia, and some of them are from Hong Kong.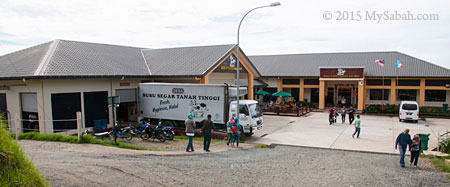 Pic: milk processing plant (left) and shop (right) of Desa
The following are the activities you can do at Desa. Family and student groups would find the tour educational, and it's important for younger generation to see and learn how food is made and processed.
Milking Process: 2:30pm – 4:30pm (Daily)
Raw Milk Processing: 10am – 3pm (Tue, Thu, Sun)
Calf Feeding: 9am – 4pm (daily)
Toilet is at left-hand side of the building (RM0.30 per entry).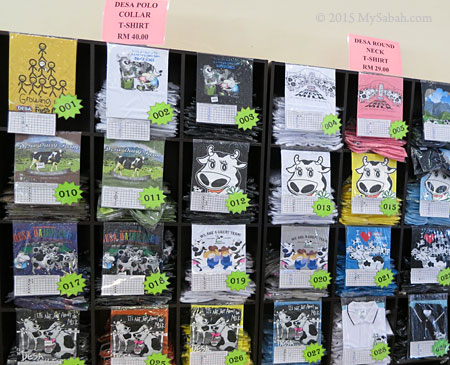 Pic: Desa T-shirts
There is a souvenir kiosk in Desa building where you can buy T-shirt, postcards, fridge magnet, stickers, etc. with Desa branding.

Pic: funny postcards of Desa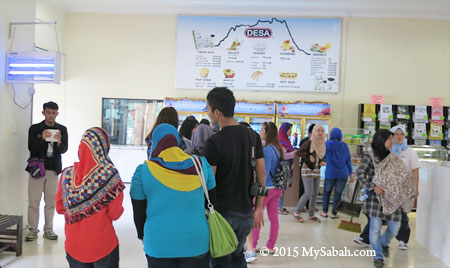 Then a long queue caught my attention. It must be something good, I thought.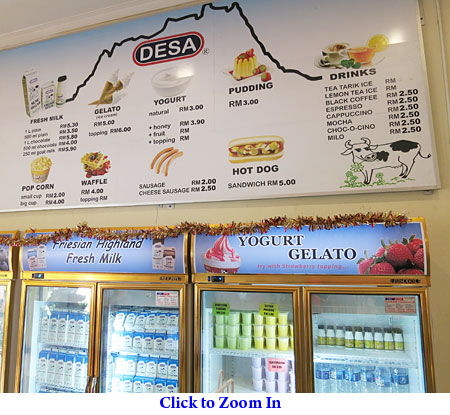 Seem like milk is not the only product being sold there, they have different snacks made of the freshest milk such as ice-cream, yogurt and pudding. I drove 100 KM to this place so it would be a shame if I didn't try one of these dairy food.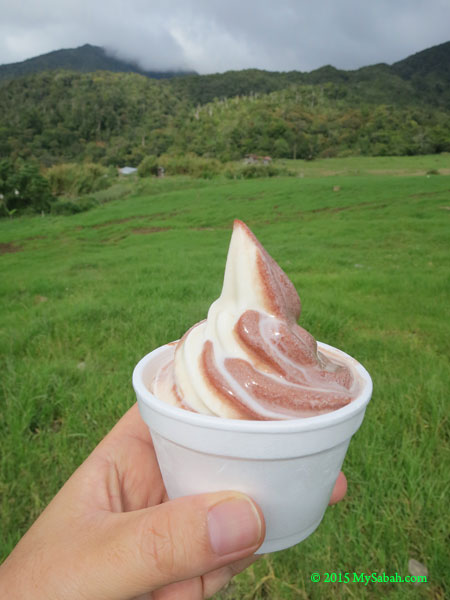 Pic: enjoying Desa's vanilla & chocolate ice-cream in cooling weather of Mesilau. Couldn't be better!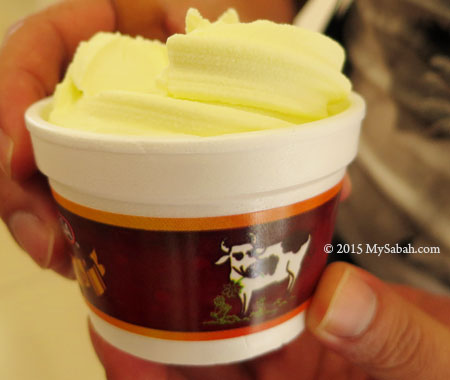 Pic: Durian ice-cream
Their ice-cream and yogurt were sold out very fast. I wanted to go for second round and there was no more. 🙁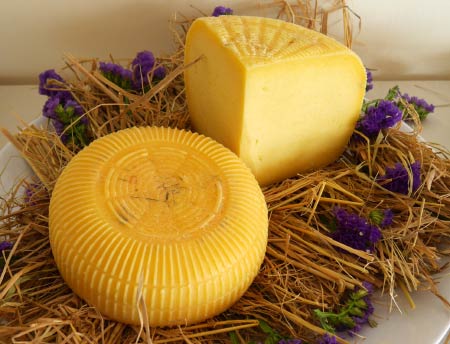 New! (Jul 2015): They have started selling fresh mozarella and ricotta cheese at food kiosk. You also can drop by viewing bay and cheese cellar room to see making of yogurt and cheese.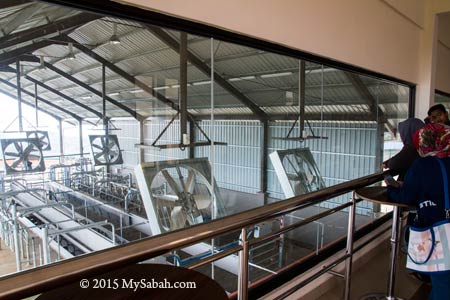 There is a view room for visitors to see milking process through a big window. Too bad I couldn't wait a few more hours so I moved on.
Calf Pen / Barn
After seeing and eating something at Desa, probably you want to touch something as well. You can head to calf pen next to the main building.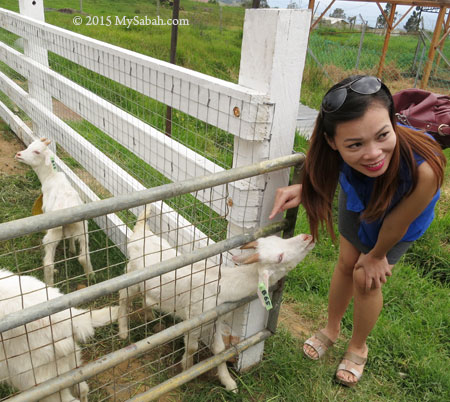 This year is the year of goat, so it would be auspicious to touch goats. Note what the little lamb is doing (see photo above). The farm also rears saanen goats for their milk.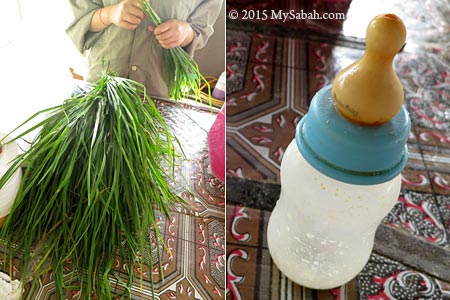 You can buy grass (RM1 per bunch) or milk (RM1.50 per bottle) to feed the calves. They really know how to milk the money of tourists lol.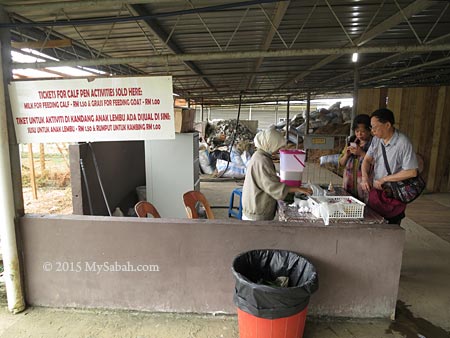 Pic: tourists buying grass and milk. Please note the calf may not take your food when they are full, and there is no refund for that. Anyway, they all looked hungry during my visit.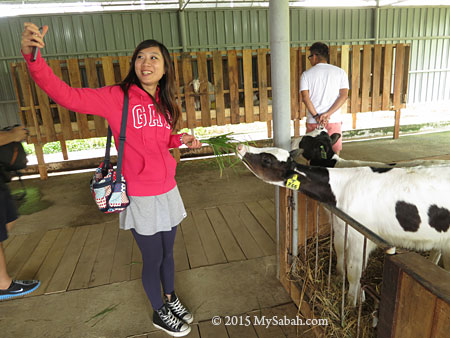 Hold the grass tight while feeding. The calf is quite strong and would pull the grass out of your hand.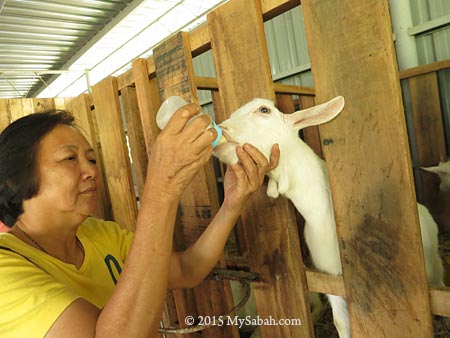 Pic: bottle-feeding the young dairy goat. Oh My Goat, it's so cute.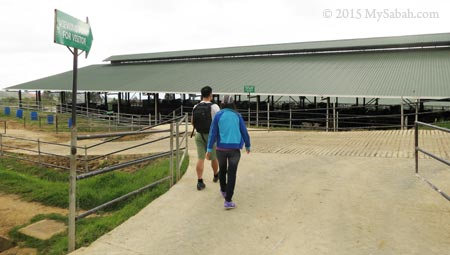 Next I went to cow barn where I could see hundred of milk cows laying or standing under the roof. Tourists can only see them from a distance (I believe some curious tourists would squeeze their udders if they are allowed to touch the cows, haha). Milking a cow is not as easy as it looks. If you upset the cow, it would kick the milk bucket, and you.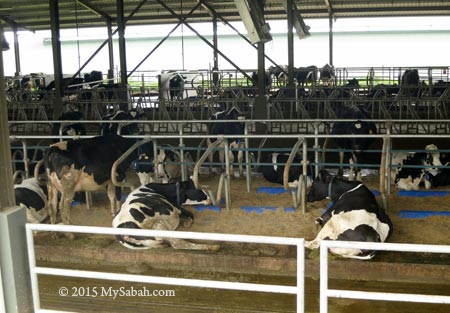 A cow emits nearly 300 Litres (about 80 gallons) of methane a day, which is enough to power up an average size refrigerator for a day. No kidding, cows can turn grass into milk and also bio-fuel. The cows in photo above look dirty because it rained heavily the previous night.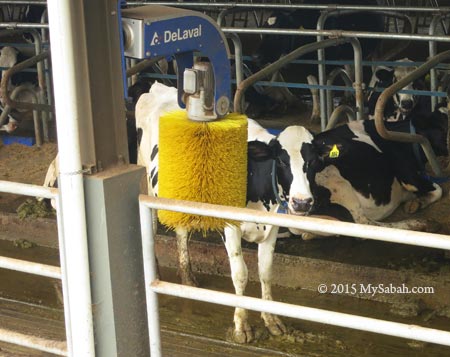 Pic: a cow enjoys rubbing its body against rotating cow brush, which said to make cow healthier and happier thus better milk production.
Ticket & Contact Info
The following is more information of Desa Dairy Farm.
Visiting Hours: 8am – 5pm (Daily)
​Ticket Fee: RM5 (≈US$1.30) per Adult, RM4 (≈US$1.10) per Child / Student (Free if under 6 years old). Prices as of Jul 2015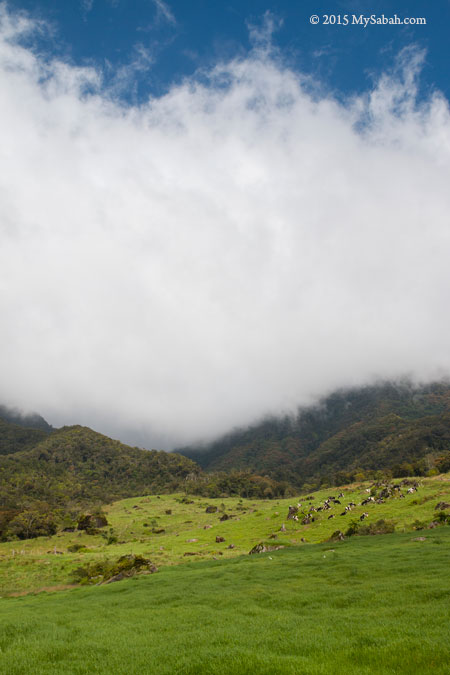 Company: Desa Plus Sdn. Bhd.
Address (office): Level 3, West Wing, Wisma 2020, 18, Lorong Belia Karamunsing, 88991 Kota Kinabalu, Sabah, Malaysia.
Website: www.desaplus.com
Facebook: Desa-Cattle-Dairy-Farm-Kundasang-Sabah
Tel: +60 88-889562
How to get there
Desa Dairy Farm is in Mesilau and about 100 KM away from KK. Though far, it's quite accessible if you own / rent a car. There is no bus goes directly to Desa Dairy Farm. However, you can get a bus to Kundasang town, then hire a taxi to go to the farm (you may need to arrange with taxi driver for return trip), which is about 10 KM away from Kundasang.
GPS Coordinates: 6°00'59.0″N 116°35'28.9″E (see Location Map)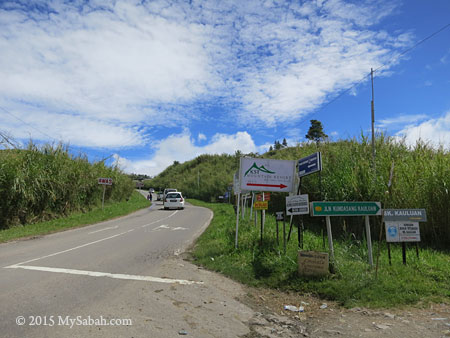 Pic: the road to Desa Dairy Farm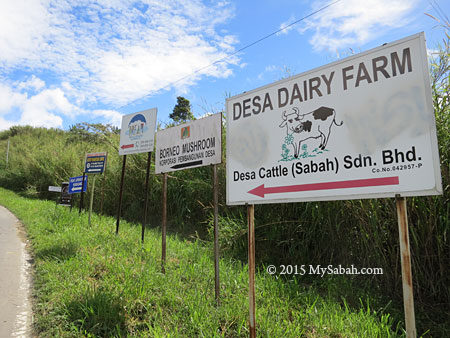 Pic: you will see a few direction signs of Desa next to the road in Mesilau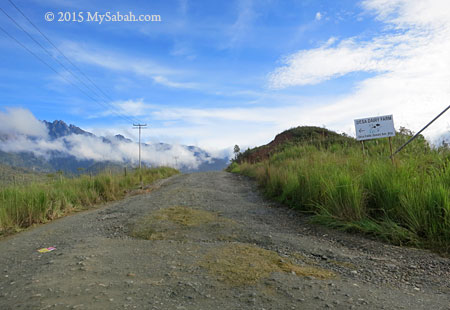 The road to Desa Dairy Farm is mostly on paved road, until you reach the last junction, which is the start of 2 KM gravel road to the farm. The road is not well-maintained but you still can get in easily using standard saloon car. Just drive slowly and carefully.


You may check out my photo album if you want to see more photos.
Photos taken in Mesilau, Sabah, Malaysia Borneo