Tuaran Mee (Tuaran Fried Noodle, 斗亚兰面 in Chinese) is the most famous handmade noodle of Sabah and even introduced by celebrity on TV food programme a few times. Personally, I think its strongest "rival", Tamparuli Mee (Tamparuli Fried Noodle, 担波罗利炒面 in Chinese) tastes better.
1. Keng Swee Hing coffee shop (瓊瑞興茶餐室)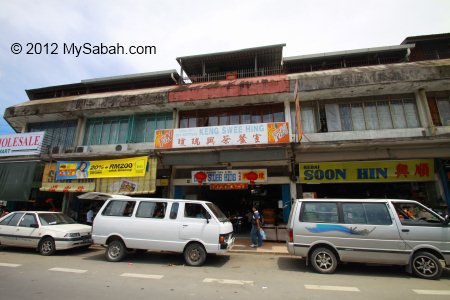 One of the places you can try Tamparuli Mee is "Kedai Makan Dan Kopi Keng Swee Hing" (or Keng Swee Hing in short) in Tamparuli town.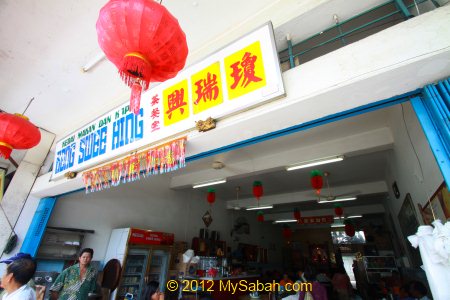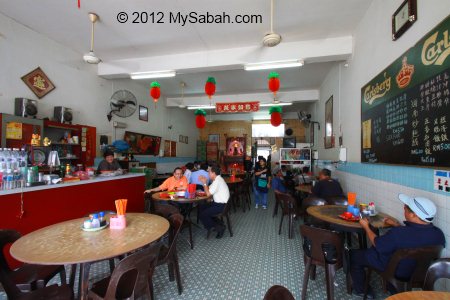 Above: Keng Swee Hing coffee shop (瓊瑞興茶餐室)
The shop address is No. 3, Jalan Bontoi, 89257 Tamparuli, Sabah, Malaysia. The shop opens from 6am to 5pm daily. It has off day every month, so you better phone the owner Mr. Foo (符先生) at +60 88-782417 to confirm before going.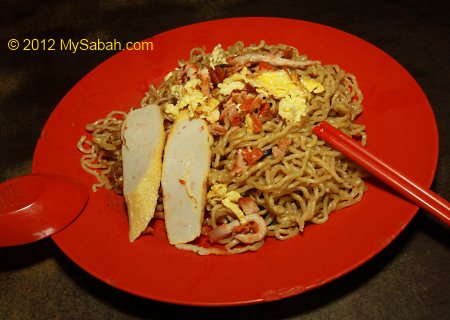 Above: Tamparuli Mee. You can Click Here for larger close-up photo
Tamparuli Fried Noodle is freshly handmade so the texture is more "springy" and it has stronger egg aroma than Tuaran Mee. Usually it is served with egg roll slices (春卷), minced roasted pork (叉烧) and scrambled eggs. It costs RM5 (≈USD1.50) per plate, RM6 (≈USD1.80) if you prefer seafood flavor.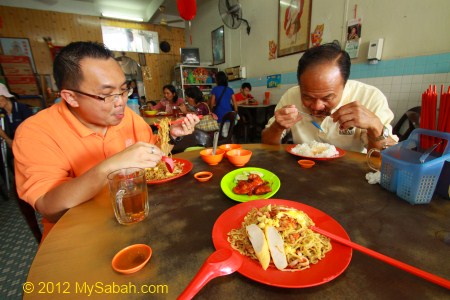 Judging from the expression of the hungry ghosts in front of me, you can bet the noodle tastes good.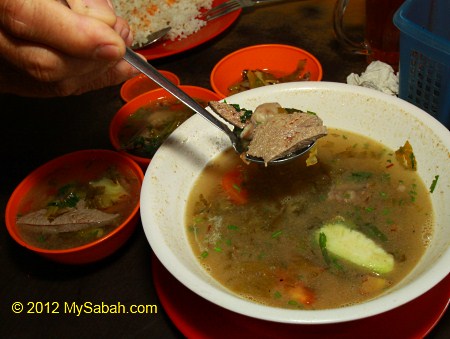 Another item we ordered at Keng Swee Hing was pig liver soup with salty vege (猪肝咸菜汤). I like pork liver and I have no problem to finish one big bowl myself. This soup is a must-try to me.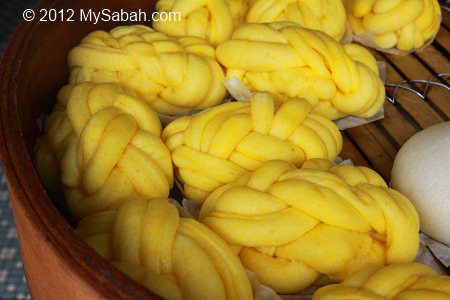 Their steaming hot pumpkin steam bun (金瓜包 in Chinese) is also nice as breakfast or high tea, due to its sweet pumpkin smell. It has no filling so you can eat it with curry sauce or even apply jam to it like normal bread. Even kids who don't like bread love it. Each bun costs RM1.20 (≈USD0.40).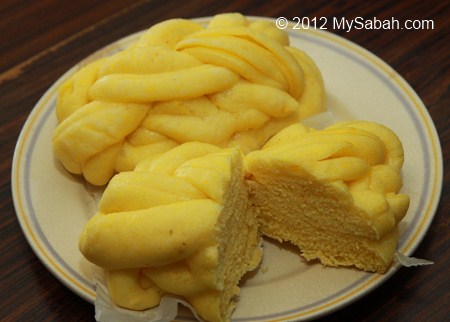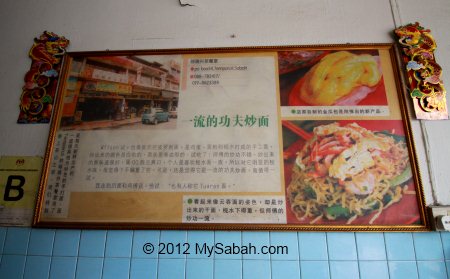 The shop also proudly displays a news clip with a review of its food. You may Click Here to read the content if you understand Chinese.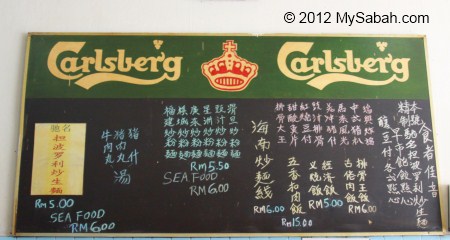 Above: the menu of Keng Swee Hing. Click Here for bigger photo
You can order other food items. Other recommended dishes are fried pork ribs (排骨) and fried vegetables.
2. Restoran Wun Chiap (云集酒家)
Just one block away there is another restaurant named Restoran Wun Chiap (云集酒家), which is also very famous for its Tamparuli Mee. It is located next to the a Chinese school, SJK (C) Chung Hwa Tamparuli (担波罗里中华国民型华文学校) and open from 9:30am to 5pm daily.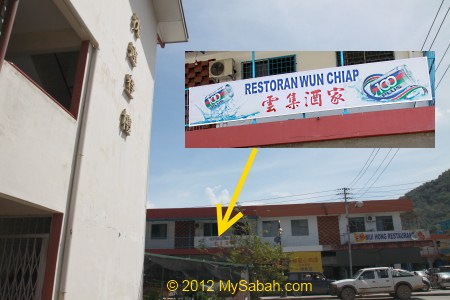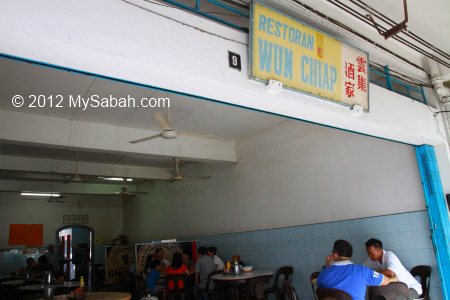 Sometimes they may close for food catering so you better call them before you visit. Their phone number is +60 88-782845 and the address is Restoran Wun Chiap, Lot No.9, Tamparuli, Sabah, Malaysia. Each plate of Tamparuli Fried Noodle is RM4 (≈USD1.20).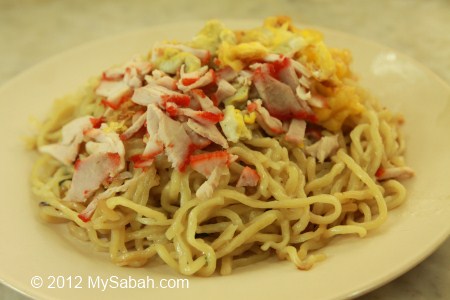 Above: Tamparuli Mee by Wun Chiap (Click photo above to enlarge it)
Some says the noodle tastes better if you put tomato sauce on it, because the sauce blends well with the egg aroma of the noodle and its scrambled egg.
Below is the location map of Keng Swee Hing and Wun Chiap Restaurants:

View My Sabah Map in a larger map
Other Popular Sabah noodles:
Tuaran Mee (Tuaran Noodle)
Beaufort Mee (Beuafort Fried Noodle)
Photos taken in Tamparuli, Sabah, Malaysia Borneo