Malaysians are not only Horny, we are also always Hungry. From huge number of crowd, you might think the photos below is about year-end sale rush. Actually these are a bunch of hungry ghosts coming to the opening bazaar of Kota Kinabalu Food Festival last Saturday in Suria Sabah shopping mall, just kidding.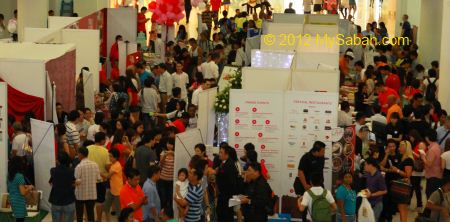 But really, Malaysians are always hungry. For this reason, many Malaysians exercise regularly too, well, not to live a healthy lifestyle, but to eat more unhealthy, fat and sweet food without getting fat, LOL.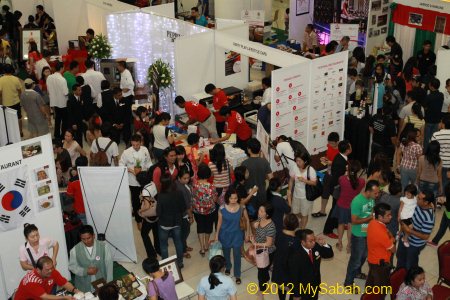 I took a short tour in food fest and almost everyone chewing something in their mouth. Malaysians are not only multi-lingual, we also have "international" taste buds, so we appreciate any kind of food. We can't understand why some foreign tourists bring their own hometown food while traveling in other countries.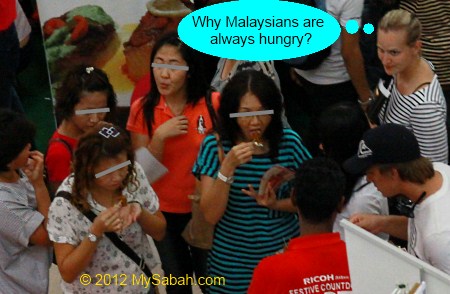 However, I'm one of the few Malaysians who are not so particular about food. I always choose the nearest restaurant and order the similar meals such as chicken rice every day. Since I'm ignorant on variety of nice food, this food festival really opens my eyes. I'll share some interesting food I found there, guess some food lovers already know these for years.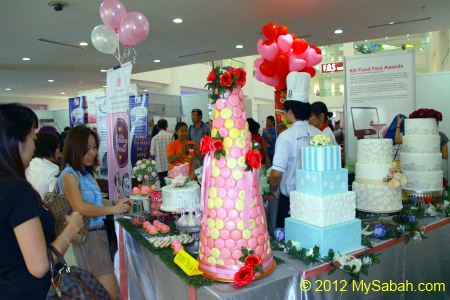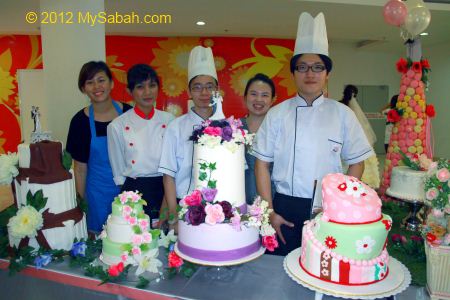 The first things that caught my attention are the colorful wedding cakes and biscuits of Boutique Cupcakes (Tel: +60 88 484173).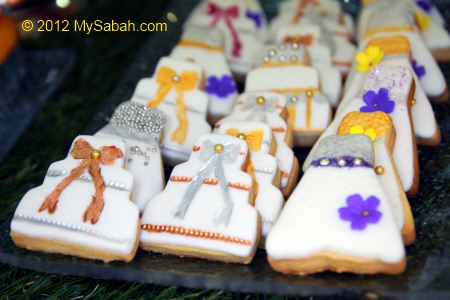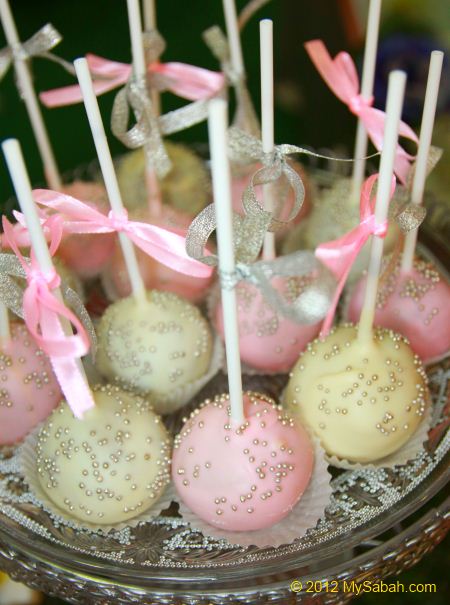 No doubt their booth is the most photographed corner.
I also like the skewered of QQ Cafe (???) (Address: Lot 8, Ground Floor, Damas 118 Plaza, Inter Corner, Penampang, Kota Kinabalu, Sabah, Malaysia. Tel: +60 17 8988393 / +60 16 8173617).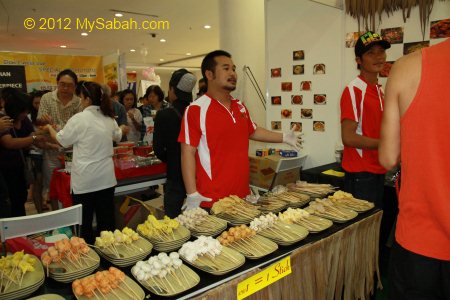 They have different type of seafood and meat skewered such as meat balls, dumpling and squid. Each skewered costs RM1.00, but it is only RM25 for all-you-can-eat in their cafe in Penampang.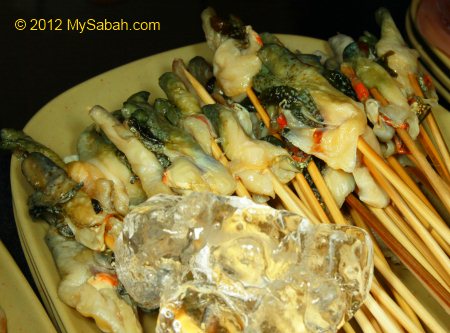 Personally, I like their "octopus snail" (above). It doesn't look presentable but it tastes similar, but better than octopus. You can dip the skewered into sweet or spicy sauce for extra flavor.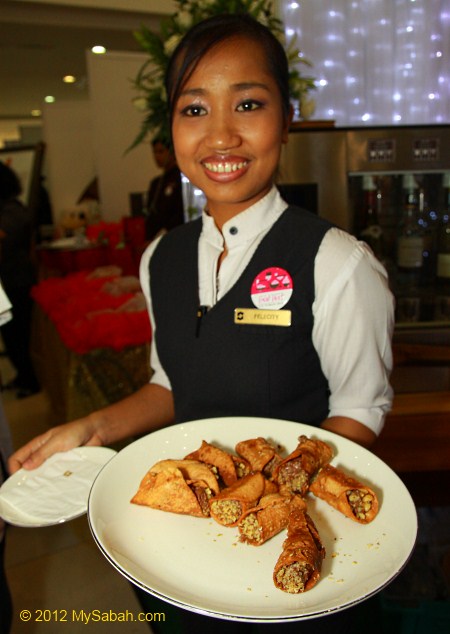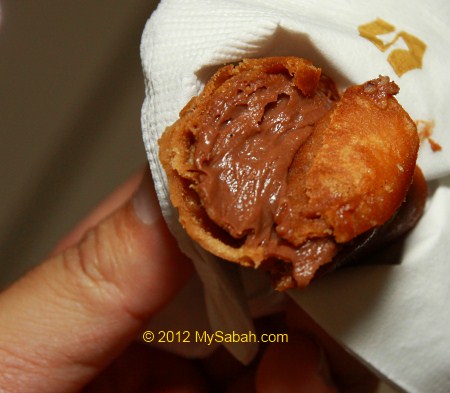 I also tried the carnolli, an Italian tidbit by Peppino, with smooth and rich chocolate inside.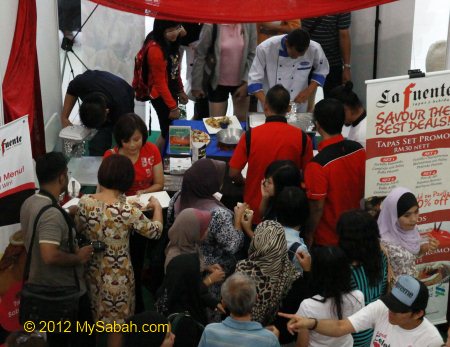 At first there were not many people coz I came really early. Then more and more visitors flow in for the free food sampling. Some were just circling around and around for the same free food, as if they wanted to have their lunch there.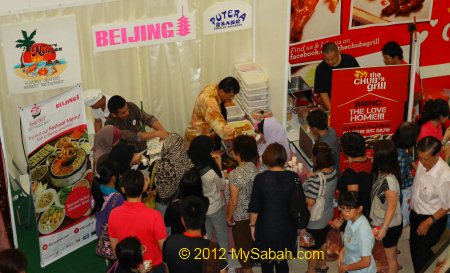 It's getting harder for me to move and everyone was "fighting" for free food.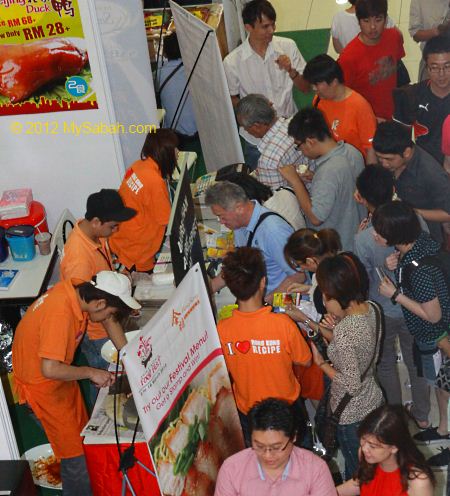 For those hotels who didn't offer free food sampling, their booths almost had 0 visitor, haha..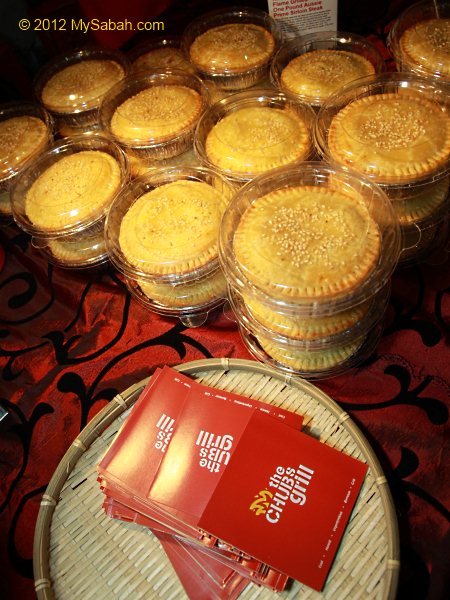 Above: lamb pies by the Chubs Grill (Address: B-0-7, Block B, Ground Floor, Karamunsing Capital, Kota Kinabalu. Tel: +60 88 448728).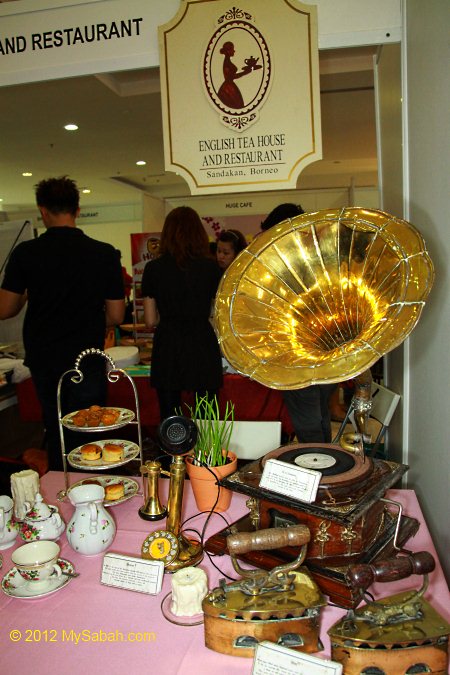 Vintage items, iron and record player of English Tea House and Restaurant (Address: Lot 99, Blk K-8, Lrg Permai 2, Alamesra, Kota Kinabalu, Sabah, Malaysia. Tel: +60 88 448631)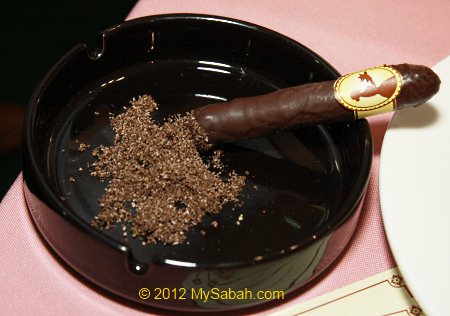 Want to smoke a chocolate cigar? Clinton will love this I guess.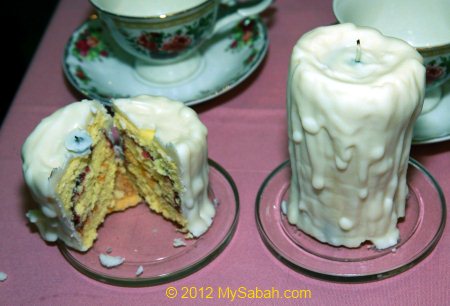 At first I thought these were real candles until the chef cut one into half.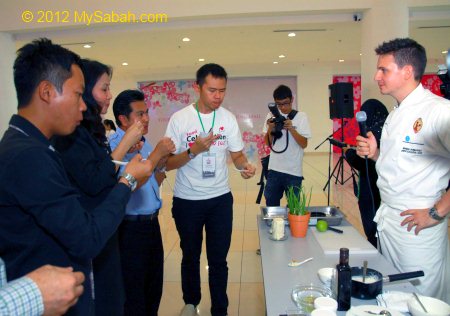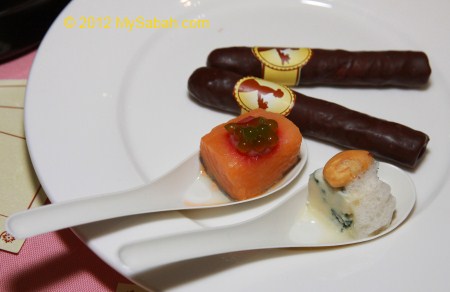 Above: demo of molecular gastronomy by Chef Maurizio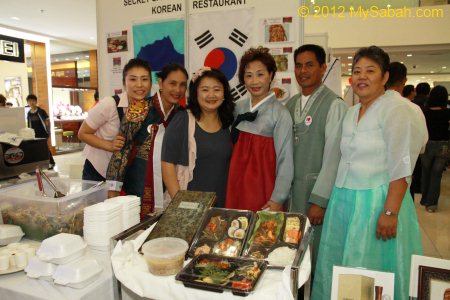 Next booth! The friendly staffs of Secret Garden BBQ (Korean Restaurant) (Address: Tanah Emas, Mile 3, Jalan Burung Penampang, Kota Kinabalu, Sabah, Malaysia. Tel: +60 88 260606)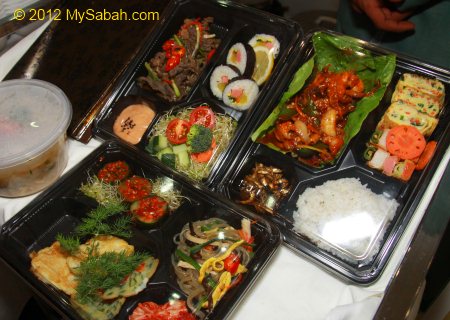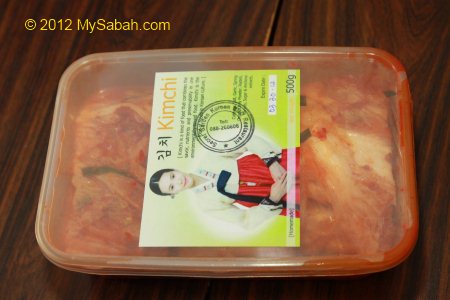 I love sour and spicy food so I got this kimchi for RM6. The white vegetable is crunchy and have nice seasoning. I should have bought more..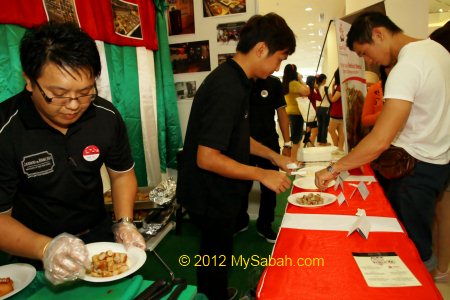 Above: sausage sampling by Jarrod & Rawlins (Address: E-29-G & E-30-G, Ground Floor, KK Times Square, Coastal Highway, Kota Kinabalu, Sabah, Malaysia. Tel: +60 88 486227). I really want to visit their restaurant. You can order sausage and enjoy it with wines there. Make me drool just by visualizing the feast.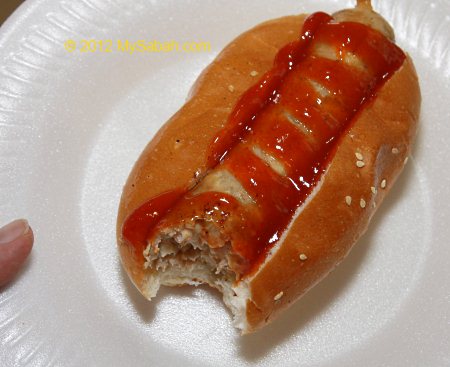 At the moment, I just tried out their pork & cheese sausage with bun. That's my lunch btw.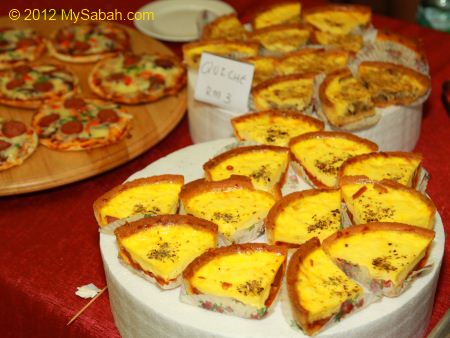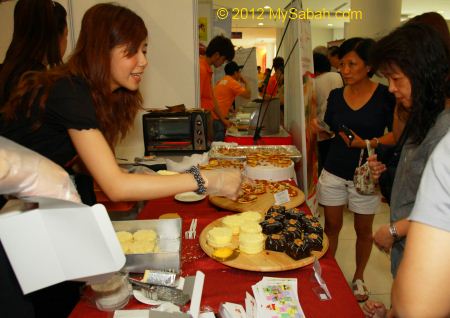 Above: Home-made baked cakes, bread, quiche, baguette, etc. at the booth of la fetta (Address: Lot 23-0 & 25-0, Lorong Lintas Plaza 3, Lintas Plaza, Jalan Lintas, 88300 Kota Kinabalu, Sabah, Malaysia. Tel: +60 16 8260327 / +60 16 8060025). I spot a perfect house wife too. 😉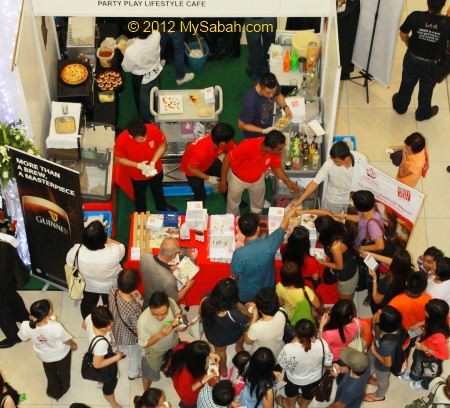 Look at Party Play Lifestyle Cafe! (Address: Lot 19 & 21-0, Lorong Lintas Plaza 3, Lintas Plaza, Kota Kinabalu, Sabah, Malaysia. Tel: +60 88 218210). They were really starting a party!!! No surprise coz Party Play is very popular among food lovers.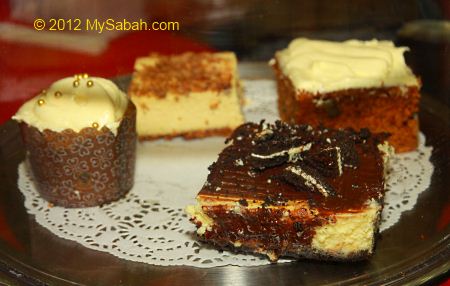 By their look, you already can tell they are delicious..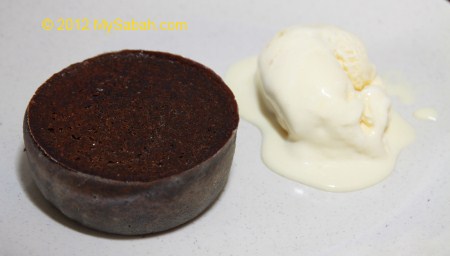 Party Play has so many types of cakes. I was not so sure what to order, so I asked them to pick the most popular choice for me. They recommended chocolate fondant and I ordered two to take away. Then I realized that it came with ice-cream. I had to rush home before it melted, though I was not done with my food shopping yet.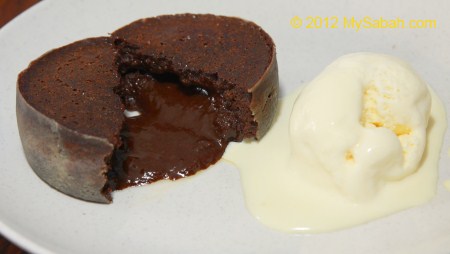 They also nickname their chocolate fondant as "heart too soft" (???). This cake is best served hot, when it's crust is still hard with thick and warm chocolate fillings. It's an interesting sensation to have both hot and cold sweetness to bomb your tongue.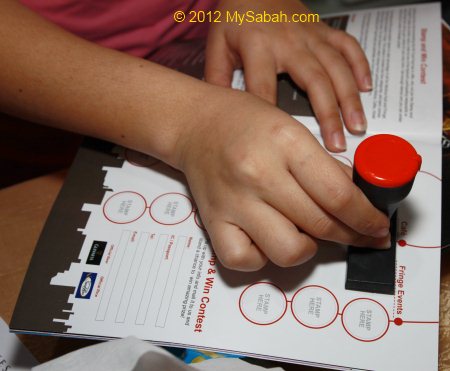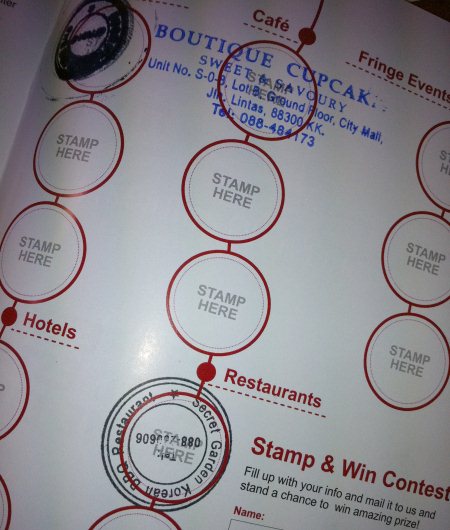 Don't feel bad if you miss the opening. The KK Food Fest is from 3rd to 18th of Mar so you still have ample time to try all the delicacies of 30 participating restaurants. FYI, during your gastronomic adventure, you also can collect stamps to join the Stamp and Win Contest. More info at: www.kkfoodfest.com and their facebook.
Photos taken in Kota Kinabalu, Sabah, Malaysia Borneo