Day 3 in Maliau Basin
I open my eyes and say good morning to a cockroach on my bed. Today we will go to the famous 7-tier Maliau Waterfall, which is one of the highlights of our Maliau Basin trip. Due to its hilly terrain and network of rivers, Maliau Basin has the densest number of waterfalls in Malaysia. To date, about 20 waterfalls were discovered in Maliau, and there should be more waterfalls that are not found and named.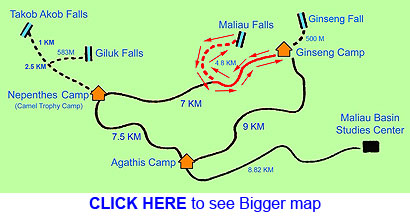 Above: route in red is our trail to Maliau Falls today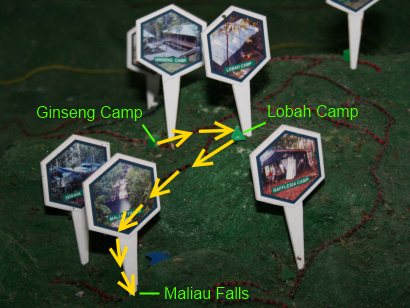 Above: trail in 3D
The book "Maliau Basin" describes, "The Basin represents a single catchment, and is drained by a set of radiating tributaries of the Maliau River, one of which descends a magnificent series of waterfalls, known as Maliau Falls. The Maliau River then drains through a gorge out of the southeast of the Basin into the Kuamut River, which in turn feeds into the Kinabatangan, the longest river in Sabah."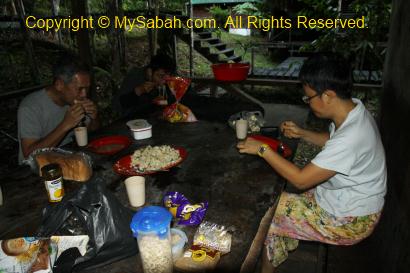 Going to Maliau Waterfall
We will come back to Ginseng Camp after the visit, so we can pack light and don't need any porter. Unfortunately, Ms S hasn't recovered from her muscle pain so she cannot join us. To stock more energy, I eat as much as I can for breakfast, and we depart for Maliau Falls, which is about 4.8KM one way, at 7:50am. Folklore has it that the Maliau Falls keeps a secret of a sleeping dragon under the water falls, and the movement of its big tail can cause flood.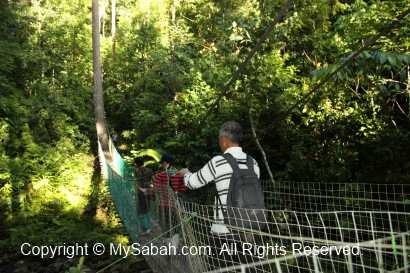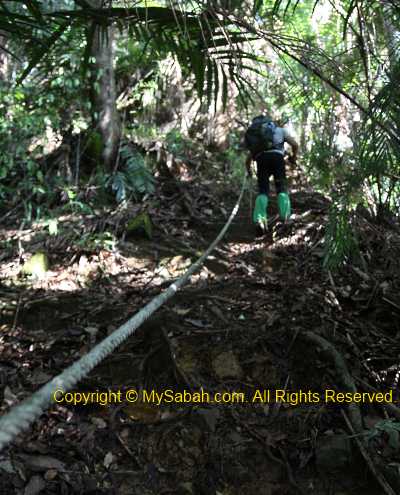 Very soon we reached the most torturing part of the trail. It was a 300 Meters of very steep trail, which is our fierce battlefield with the gravity. We have to get a hold of the ropes and small trees next to the trail to move up slowly. It is only a small section of the trail but the climb already drains nearly half of my energy. This day is my worst day in Maliau trip. The straps of my heavy camera and tripod causing pain to my shoulder too. The good news is, after this challenging part, there are about 3 easier hilly trails to overcome ahead. The bad news is, tomorrow we will need to cross this part again to go to Nepenthes Camp.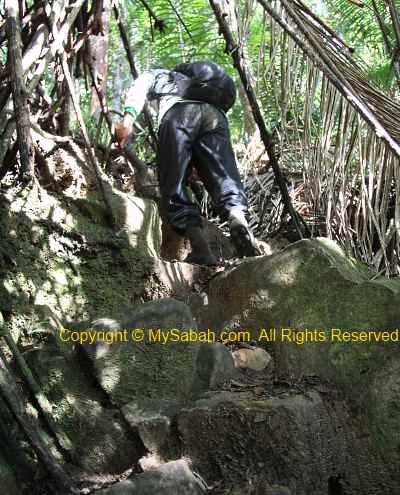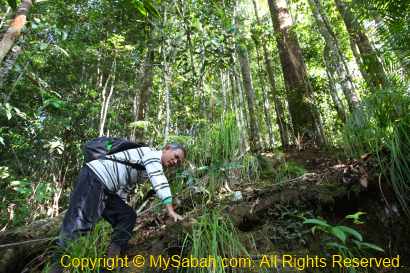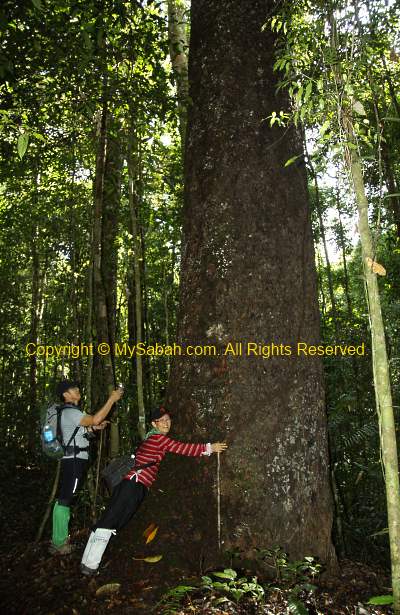 Above: a huge Agathis tree
We stopped by Lobah Camp for a refreshing break. Lobah Camp (formerly Helipad Camp), which is 2 KM away from Maliau Falls, is a helipad on a clear hill. From here you will get a 230 degree panoramic view of Maliau Basin, a nice midway stop between Ginseng Camp and Maliau Waterfall. FYI, there is a water tank nearby for you to refill water (unboiled rain water).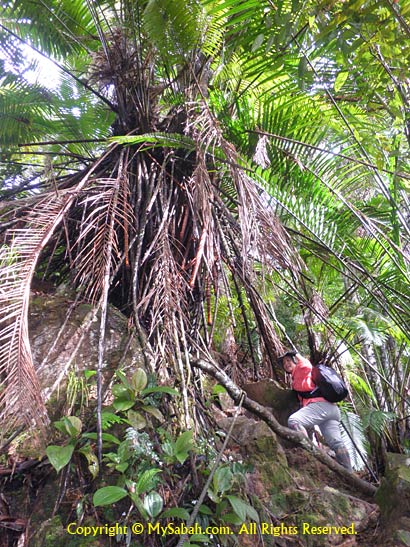 Above: Lobah Camp got its name from the Lobah palm tree, which is abundant around the camp.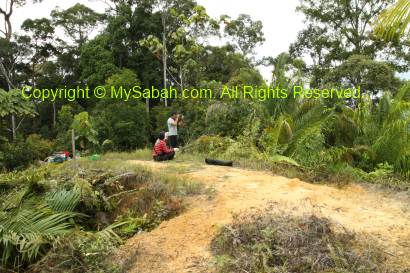 Above: Lobah Camp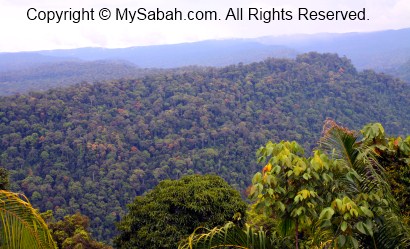 Above: view from Lobah Camp
Below is a 1-minute video of Lobah Camp and its water tanks.
Part of the trail is quite flat and comfortable to walk on. I really enjoy the "ridge walk" on Bambangan ridge, the constant cool breeze there is like a natural air-cond. We are greeted by the calls of numerous Bornean gibbons (Hylobates muelleri) and even see a few of them swing very fast from tree to tree (but they look really clumsy walking on the branch, haha..). We saw a group of red-leaf monkey too. Do you know that every square KM in Maliau Basin has 35 individuals of gibbons / leaf monkey? This is the highest density in Sabah.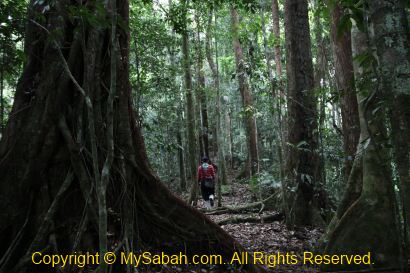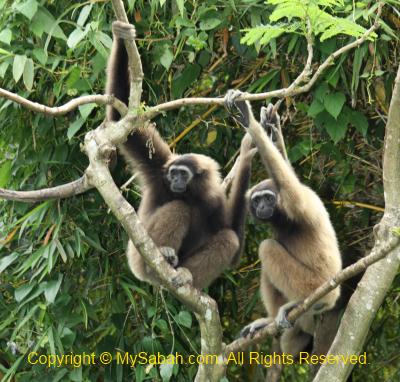 The guide in front also spotted a sun bear. Very often we hear the loud wing flapping noise of hornbills passes by the canopy, and the funny call of Helmeted hornbill that sounds like laughing. In Maliau Basin, you can find all 8 species of Hornbills of Sabah, with Rhinoceros Hornbill as the dominant species here. We see some interesting mushroom and fungus along the trail.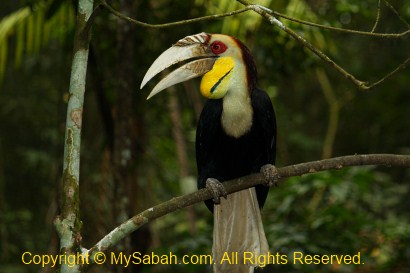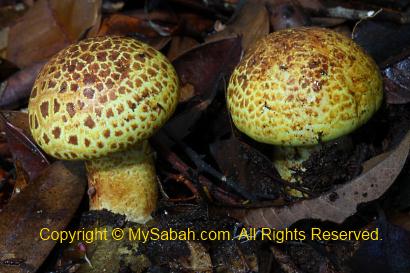 We start to descend to lower altitude (about 300 Meters asl) and feel the sweltering heat of lowland forest. Then we hear the waterfall about 1KM away. It should be a gigantic waterfall as it is so loud. We are motivated to walk faster. The last 100 Meter to the Maliau Waterfall is another steep descending trail. It was such a joyful moment to reach the waterfall at 11:35am! We were at the 6th tier of the 28-Meter-high Maliau Waterfall. The cascading waterfalls are caused by alternating hard sandstone and softer mudstone beds, wear out in different speed of water erosion.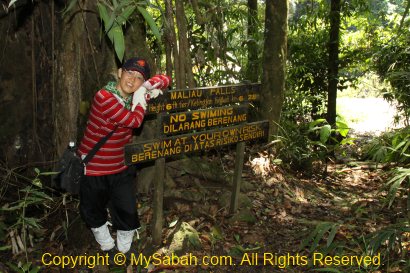 Above: The signage of Maliau Falls. Don't you think the warnings "No Swimming" and "Swim at Your Own Risk" are contradict to each other?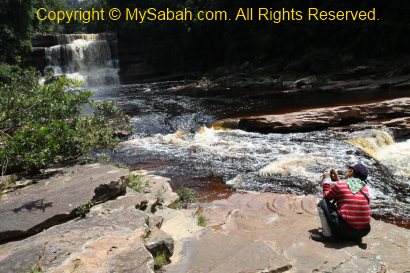 Below is a 1-minute video of Maliau Falls:
The Majestic 7-tiers Maliau Falls
OMG OMG WOW it is so cool! Due to last 2 days of raining, the roaring Maliau Waterfall is in its most beautiful form. In no time, I setup my tripod and shoot photos like crazy. Ms D swam in the tea-color water (rich with caustic tannins & soapy saponins leached from the fallen leaves). Actually we are between the 6th and 7th tier of Maliau Falls. With a height of 28 Meters (about 9 floor high), the 6th tier is the highest. The lowest tier is about 15 Meters. To me, the Maliau Falls look more like a few separate waterfalls on the same river. Is the "7-tier" a marketing gimmick or it is really a multi-tier waterfall "technically"? No matter what, Maliau Falls is one of the most photogenic waterfalls in Malaysia.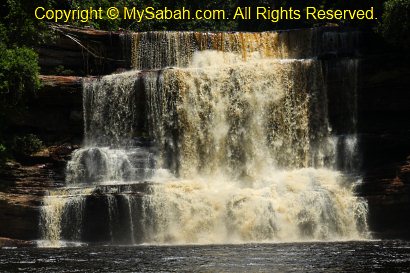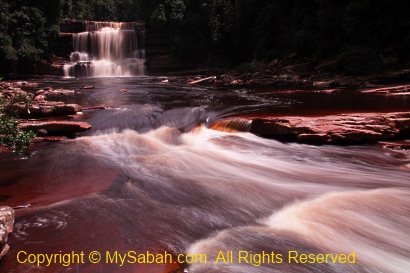 Maliau Falls is the most popular attraction of Maliau Basin and most visitors target for it. FYI, any visitor who reaches Maliau Falls will earn a certificate. We deserve it as the trail is so far and more challenging than climbing Mt. Kinabalu. We enjoy our packed lunch at the river side, and then continue with more photography (and swimming). After living under the dark and humid forest for days, I am really pleased with the view of flowing water under bright sun.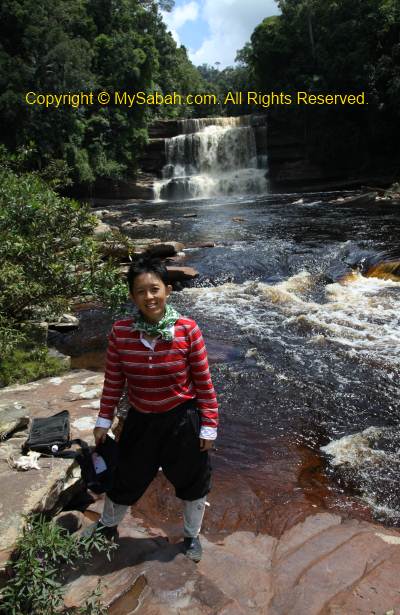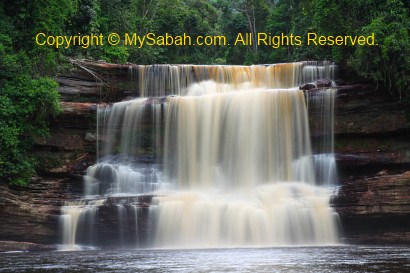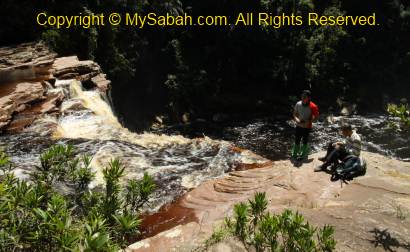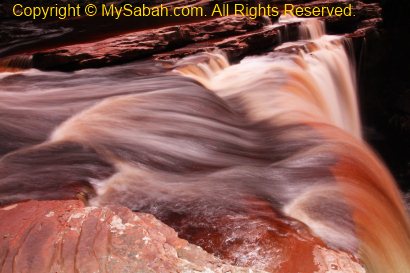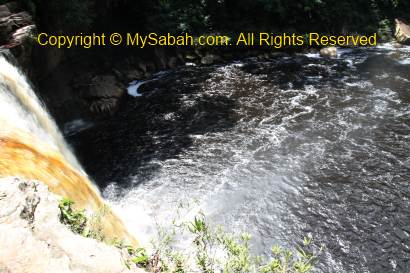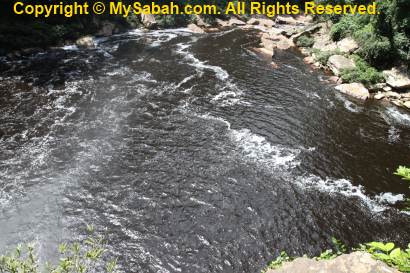 There are so many sweat bees, stingless bees and honey bees fly around and harvest the sweat on our skin. Probably they are lack of salt in the forest. To avoid agitating them, I just ignore them, but one of the big wild honey bees bites me. It's so painful! I guess it is just too excited and want to bite off a piece of the salt (my skin!). Below are a few photos (taken in Agathis Camp) to show you how crazy these bees are when they smell salt on the shirt.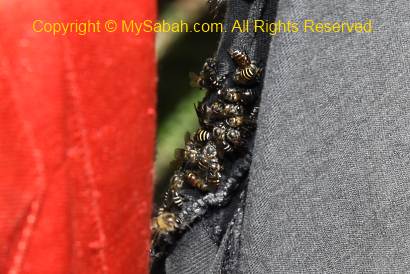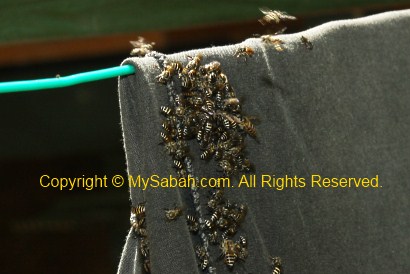 Return to Ginseng Camp
The sky turns cloudy and it might rain anytime, so we leave the waterfall at 1:20pm. I finish 1.2 Litre of my drinking water, so I refill my bottle with the tea-color water from the river. Yes, I know drinking uncooked water is not safe, but the risk of getting dehydration is a lot higher than diarrhoea now. From what I read from blog of others, many visitors don't have enough water for the returning trip and they were badly dehydrated, so be warned. No, the tea-colored river water does not taste or smell funny. It tastes like normal fresh water. If you are very thirsty in the forest, water is the sweetest thing in the world. I advise you to bring some Iodine tablets to purify uncooked water before consumption. Mr. T is also short of water, but he refuses to take uncooked water. Then he suffers dehydration followed by fatigue and almost passed out twice. Luckily we all return safely to Ginseng Camp at 5:15pm.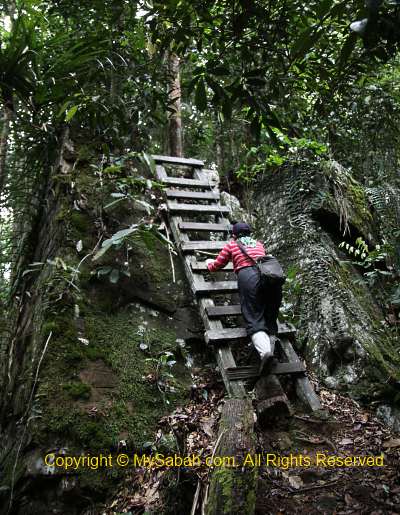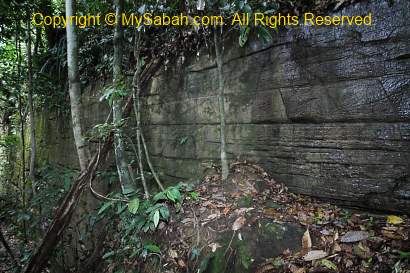 Above: a natural wall that looks like man-made structure. This area was sea million years ago and the fossils of corals and seashell were found around this place.
A Sad Night
Sitting still for day to rest didn't help, Ms. S doesn't get any better. Her muscle is still in pain and she walks like an injured cat. Then a group of Canadian tourists enter the camp, one of them is doctor and one is an athlete who is familiar with sport injury. After listening to the problem of Ms. S, they seem to fully understand what she goes through, so they teach Ms. S the stretching exercise that could ease her muscle to recover faster. Ms. S really wants to get well soon, so she even wakes up at night to do the stretching every hour, and taking anti-inflammatory every 8 hours.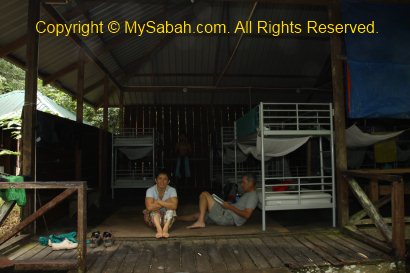 We have cabbage, mixed vegetables, egg plant, scrambled eggs and Miso soup as our dinner. Since we are so hungry, we really enjoy the dinner time and keep talking about the exciting things of the day. After the dinner, our guide, Mr. J has a discussion with us when Ms. S is not around. In view of her situation, we all think that she won't make it next day, and we shouldn't leave her behind and have fun on our own. We all agree to cancel the trip and turn back to Maliau Basin Studies Centre tomorrow morning. The porters will prepare a stretcher to carry Ms. S out.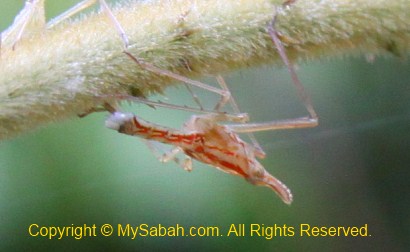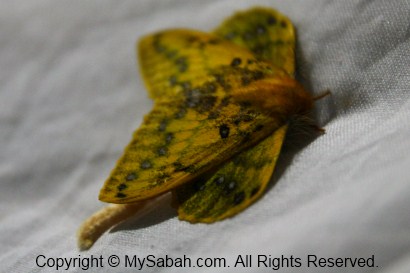 When the trip is so fantastic until now and my spirit is so high (and I pay so much $$$), and I have to quit at this moment?!! This decision is such a big blow, my heart sinks to my knees, but I know that's the best decision and we have no choice. I can't describe my feeling; it's a mix of disappointment, sadness, dismay, frustration, etc. But accident happens. I don't blame her. I start to pack my stuffs for the trip back to starting point next day.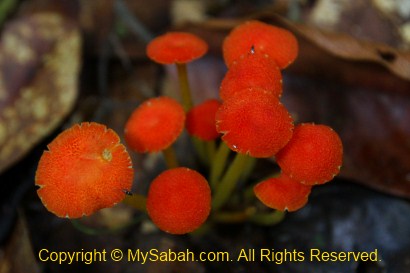 Tonight is not too cold but I can't fall in sleep. Since there is no street light, it is pitch dark, 100% dark. Even though I open my eyes widely for a long time, I still can't see a thing, as if I am blind! Then I hear something as big as a cat running around our beds. Without light, I wonder how those nocturnal animals see at night.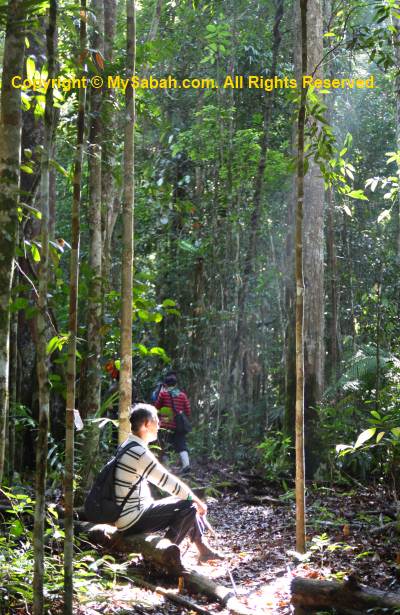 Later I have a dream that the God takes us home. Just kidding..
Photos taken in Maliau Basin, Sabah, Malaysia Borneo
All Articles of Maliau Basin Trip:
Part 1. Introduction to Maliau Basin
Part 2. Day 1 in Maliau Basin
Part 3. Day 2 in Maliau. Trekking to the 1st camp
Part 4. Day 3 in Maliau. Maliau Waterfall
Part 5. Day 4 in Maliau. Entering the garden of pitcher plant
Part 6. Day 5 in Maliau. Skybridge & Night Safari
Part 7. Day 6 in Maliau. Leaving Maliau
Part 8. Conclusion & Notes
More Photos
You may check out my Maliau Basin photo album for more pictures: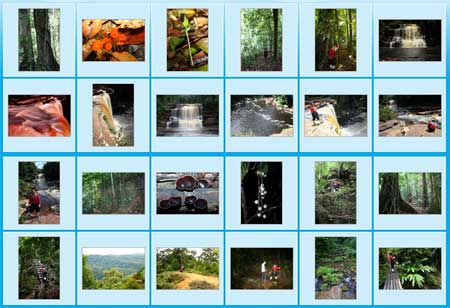 BONUS! More new photos of Maliau Basin…