Tag Archives:
Tawau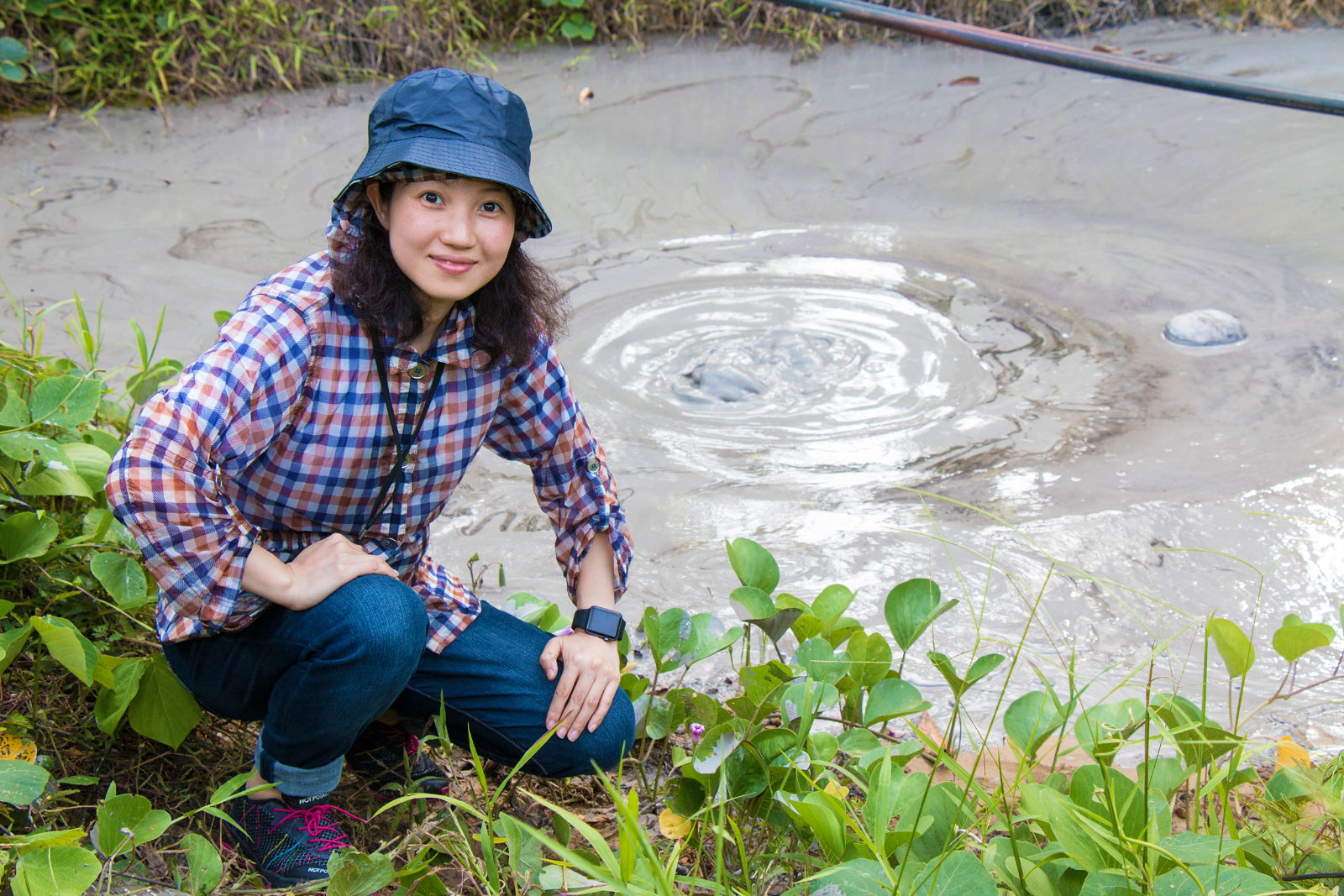 Just a few months ago, Sabah newspapers reported an emergence of a mud volcano near the road in Menumbok. People were a bit concern and thought it's an omen for earthquake. Luckily nothing happened. However, the mud volcano that I'll show you here is even bigger and more active.
This mud volcano is about 15.5 KM after the gate of Maliau Basin to the direction of Tawau City (GPS: 4.5478012, 117.0619419, see Location Map or Street View).
Since we couldn't see this mud volcano from our car, it took us some times to spot it.
This mud volcano is about 6 Meters in diameter, with a mild surface upwelling of mud, water and natural gas bubbles.
Even though it is at the roadside, where hundreds of cars passing by every day, very few know about it because it is at the bottom of a drain.
Actually mud volcano is common in Sabah, for example, Pulau Tiga Island is created by mud volcano in 1897. Lapid, the largest mud volcano of Sabah is in Tabin Wildlife Reserve.
There are even some mud volcano hills formed up to 2 miles in diameter and a few hundred feet high, and commonly reported in the Dent Peninsula area. Normally, mud volcano erupts quietly, but it can be violet sometimes. Like the eruption of a mud volcano on Pulau Tiga Island in 1941, the sound could be heard as far as 160 KM.
We only stopped by this mud volcano for a few minutes, to collect its fresh mud, which is rich in minerals and great for skin care. We can apply this grey mud on our face as a facial mask.
In other countries, someone makes soap with such mud and able to sell for a good profit. And this mud volcano seems to have endless free supply of mud.
This super active mud volcano looks like erupting, but I think it's only releasing gas like a "farting pool". Mud volcano is formed when over-pressured natural gas escapes along cracks in the earth's surface, carrying mud, water and rocks with it.
We didn't know about this mud volcano. It's someone from Junction 41 told us about this place.
Junction 41
Junction 41 is a small station next to Kalabakan-Tawau road. There are many logging truck drivers stop here for a break.
After long hours of driving in remote and interior area, any sign of civilization is welcome by motorists, though Junction 41 is nothing more than a few building.
On 14th and 15th day of every month, the locals hold small open-air market that sells various items such as electronic goods, food, fruit & veges, cloth and snacks.
Junction 41 has a Chinese restaurant built by Uncle Chew, a Malaysian from Johor Bahru. He was working as a contractor here many years ago, then he fell in love with this place and settle down here.
Uncle Chew is very interesting man who even tries to talk to wild elephants, and he believes they can understand him too. That's him who told us there is a mud volcano about 250 Meters away from Junction 41.
I only stopped by his restaurant shortly to have fried noodle as lunch. Next time if you visit his shop, do talk to him, and he definitely has a lot of stories to share.
Photos taken in Kalabakan, Sabah, Malaysia Borneo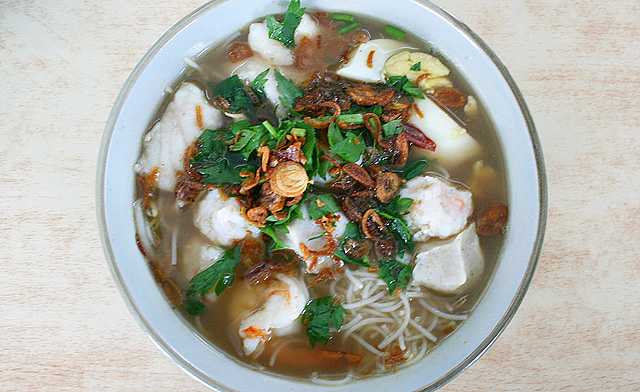 The recent rainy days turn Sabah into a cool place, so having a bowl of delicious Soto noodle soup is a delightful way to warm my stomach. Soto is a beef soup served with Mihun (rice vermicelli). It is so common that you can find it in almost every Malay or Muslim restaurant in Malaysia. Though Soto is everywhere, few restaurants offer very good Soto. To save cost, the cook would use beef bouillon cubes for the soup.
Kedai Kopi Yuan Yuan (源源茶餐室)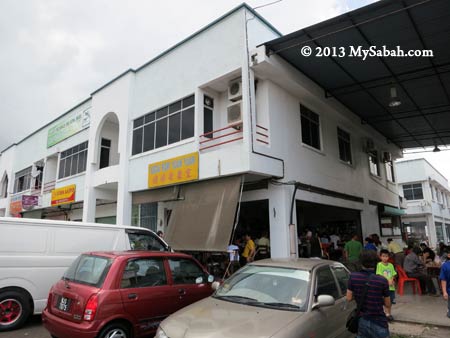 The best Soto I have so far is at Kedai Kopi Yuan Yuan (源源茶餐室 in Chinese) in Tawau, east coast of Sabah. You might be surprised that it's a Chinese restaurant. Same as traditional Soto, their beef broth is flavorful, but cooked with spices (e.g. pepper, cinnamon, star anise, lemongrass) in Chinese style. Though Yuan Yuan is not a Halal (for Muslim) restaurant, they serve no pork (to some Sabahan Muslims it's ok).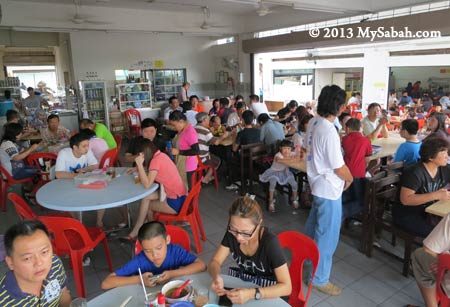 What does the full house photo above tell you? It's a social proof of excellent food. I had to wait nearly 10 minutes for an empty seat, but I was more than happy to stand behind a long line for the best Soto. The workers there were as busy as bees, to serve the noisy customers who sounded like hungry chicken waiting to be fed.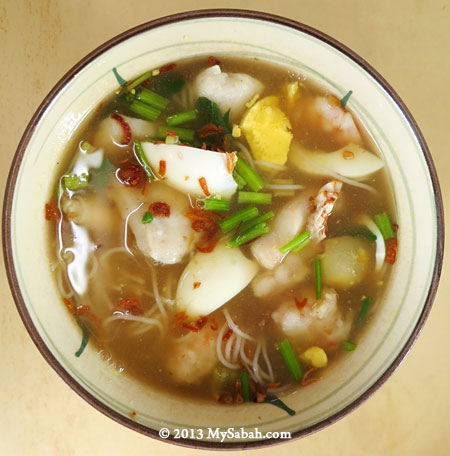 The Soto of Yuan Yuan comes with a few flavors such as Daging (Beef), Ayam (Chicken) and Seafood. As there were many customers, I had to wait another 10 minutes for my Soto Seafood. My mouth was dripping just by smelling and looking at it.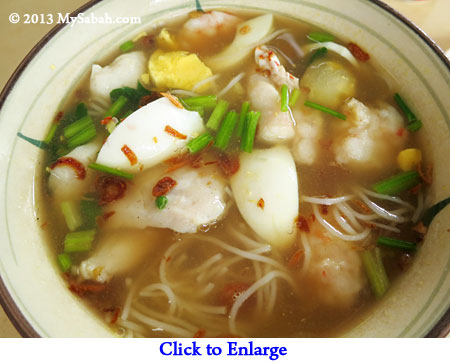 My Soto Seafood noodle soup has fish balls, prawns and egg, with fried garlic and sliced green onion as condiment. Tawau is abundant with seafood, and from the taste, I can tell they use fresh seafood (instead of frozen one). Their beef soup is richer and darker than other Soto. The soup also has strong pepper flavor, with mild spicy taste and very appetizing.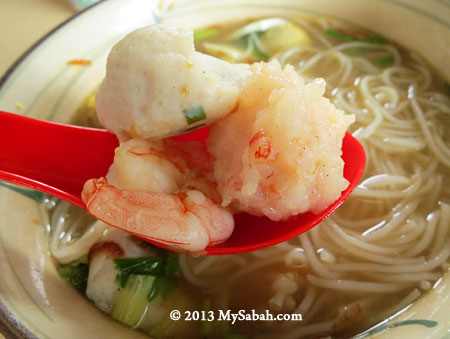 The soup is not oily, and I give A+ to their fish and prawn balls as they are springy, and without heavy use of flour. I notice they don't use cucumber slices, which are used a lot in other Soto (because it's cheap).
If I live in Tawau, I will have Soto here as breakfast every day. Too bad I have only one mouth, or I'll try all flavors at a time. Anyway, I took a few photos of other Soto, as shown below: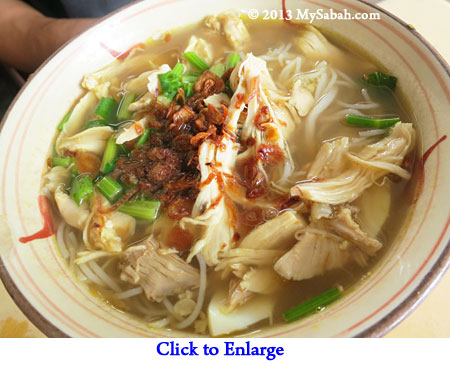 Pic: Soto Ayam (Chicken)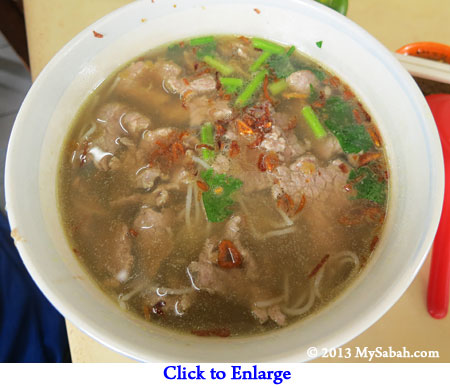 Pic: Soto Daging (Beef)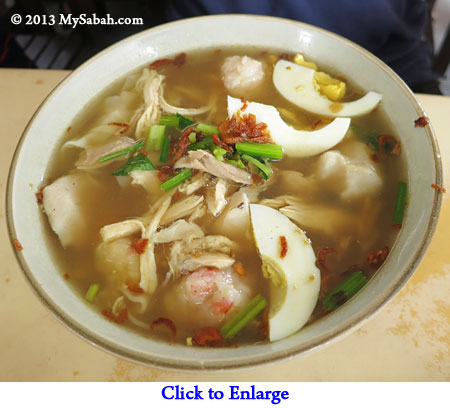 Pic: Soto Campur (Mixed), if you like to have beef, chicken and seafood in one serving.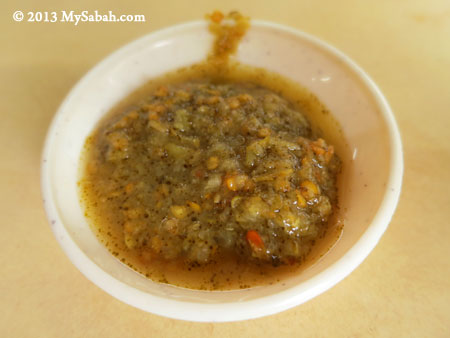 Pic: minced chili
Personally I think you must add a bit of minced chili made by Yuan Yuan. Unlike the sharp hotness of red chili that attacks only tongue, you can feel heat spreads in your whole mouth as if it's fire inside, quite potent in a pleasant way. It tastes more like pepper though.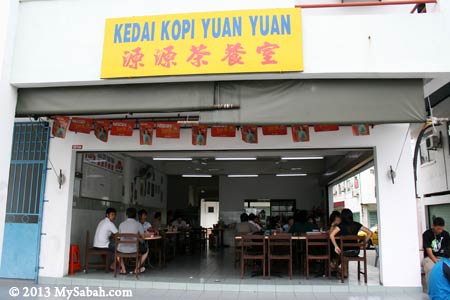 Pic: the best time to drop by Yuan Yuan is after meal hours in weekday, when there are less people.
Kedai Kopi Yuan Yuan is open from 8am to 1:30pm/2pm every day (rest 1 day every fortnight). The shop is located at:
TB10749 Taman Megah Jaya, 3.5 Miles Jalan Apas, 91000 Tawau, Sabah, Malaysia (near to SJK(C) Kung Ming Chinese school) (See location map in Google)
Tel: +60 89-761986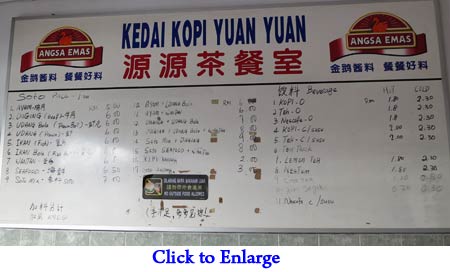 Pic: the food menu and prices of Yuan Yuan. The price of Soto ranges from RM5.00 – RM7.00 (≈USD1.50 – 2.10) *as of Apr 2013
Restoran Happy Muslim (Happy Muslim Restaurant)
Another nice place for Soto noodle soup is Restoran Happy Muslim (non-Muslim is also welcomed) in Kota Kinabalu city center. It is a Halal restaurant that serves true Malay style Soto. The soup is clear and it tastes slightly bland, but highly recommended by many. Sometimes I saw tourists tried the Soto there too.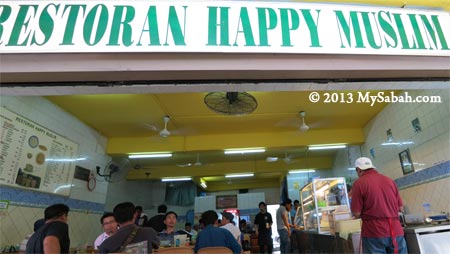 Address: Lot No.9, Block H, Ground Floor, Sinsuran Complex, Kota Kinabalu, Sabah, Malaysia (See location map)
Tel (Mobile): +60 14 6555516 (Mr. Wau)
Opening Hours: 7am – 5pm daily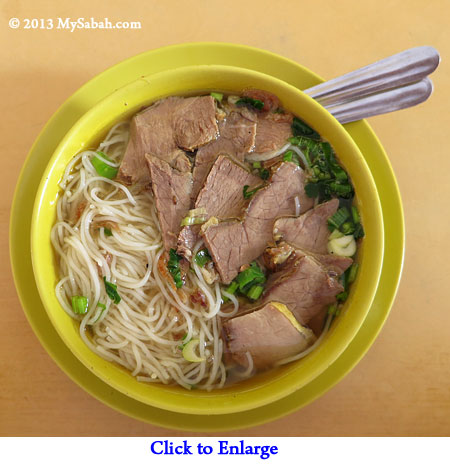 Pic: Soto Daging of Restoran Happy Muslim, RM4 per bowl (≈USD1.20) *as of May 2013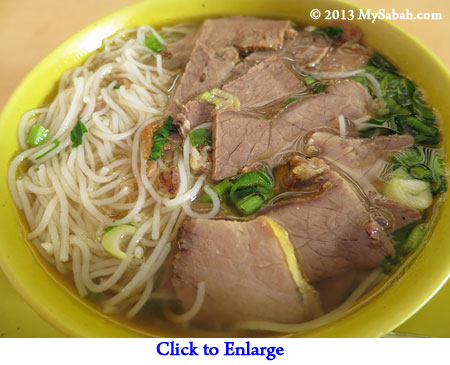 Besides Soto Daging (Beef) and Ayam (Chicken), they have other varieties such as Soto Tulang (bone), Soto Perut (Beef Tripes and Omasum) and Soto Urat (Beef Tendon), each costs about RM5.50 per bowl (≈USD1.70) *as of May 2013
Other Types of Soto
There are many types of Soto that bears different names and getting popular. You can find the following Indonesian-style Soto in Sabah too.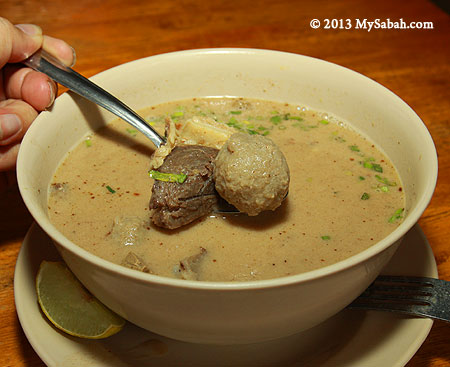 Pic: Coto Makassar
Coto Makassar originates from South Sulawesi. I tried this Coto in Restoran Sri Mandahan next to the road near to Bongawan town. Coto has grinded peanut in the beef soup so the taste is sweet. Instead of noodle (rice vermicelli), you eats it with rice cubes (Ketupat).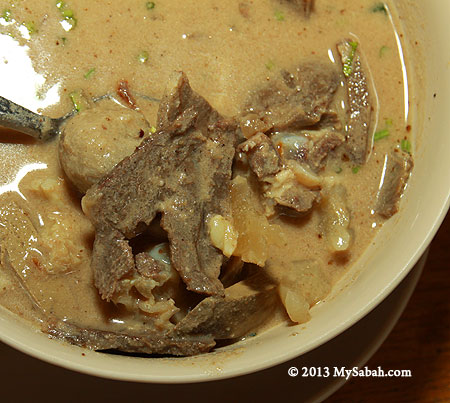 Pic: beef meat, tendon, liver, intestine and tripes in Coto Makassar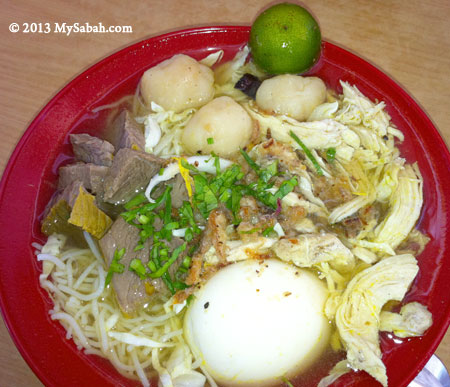 Pic: Bakso (means meatball)
Bakso is Soto in Bugis style actually. The highlight is the meatball, which is commonly made from beef or chicken.
By the way, I was told more than once that Soto can relieve hangover. Now is the month of Kaamatan (Harvest Festival) and everyone will be drinking a lot. Hope this tip will help you, haha.
Do you know any other Sabah restaurants that serve excellent Soto? Please share with me in comment section below. 🙂
Photos taken in Tawau and Kota Kinabalu, Sabah, Malaysia Borneo