What food is cool 4,000 years ago and is still cool today? Today it is found in cakes, candy, drinks, desserts, ice-cream and cookies, you name it. In the past, Mayans praised chocolate as the drink of the gods, and the Aztecs (Mexica) believed that cocoa seeds were the gift of Quetzalcoatl, the god of wisdom. Now chocolate is also a food of love that you give to your crushes on Valentines' Day.

Cocoa in Sabah
Cocoa is the main ingredient of chocolate. Malaysia is one of the major cocoa-producing countries in Asia, and over 60% of Malaysian cocoa beans are from Tawau of Sabah State. Teck Guan Cocoa Village is one of the earliest plantations to cultivate cocoa in Tawau. This village is also a family-friendly destination opens to public.

For teachers and parents, a visit to the cocoa village offers an excellent outdoor education to make learning fun to their children. Because of Internet, the new generations spend far more time in virtual world than real world that some of them are even afraid of chicken. Gosh, where's our hope in future if we have kids who are spooked by "food"? Anyway, adults would find the tour at cocoa village interesting too. Who doesn't like chocolate?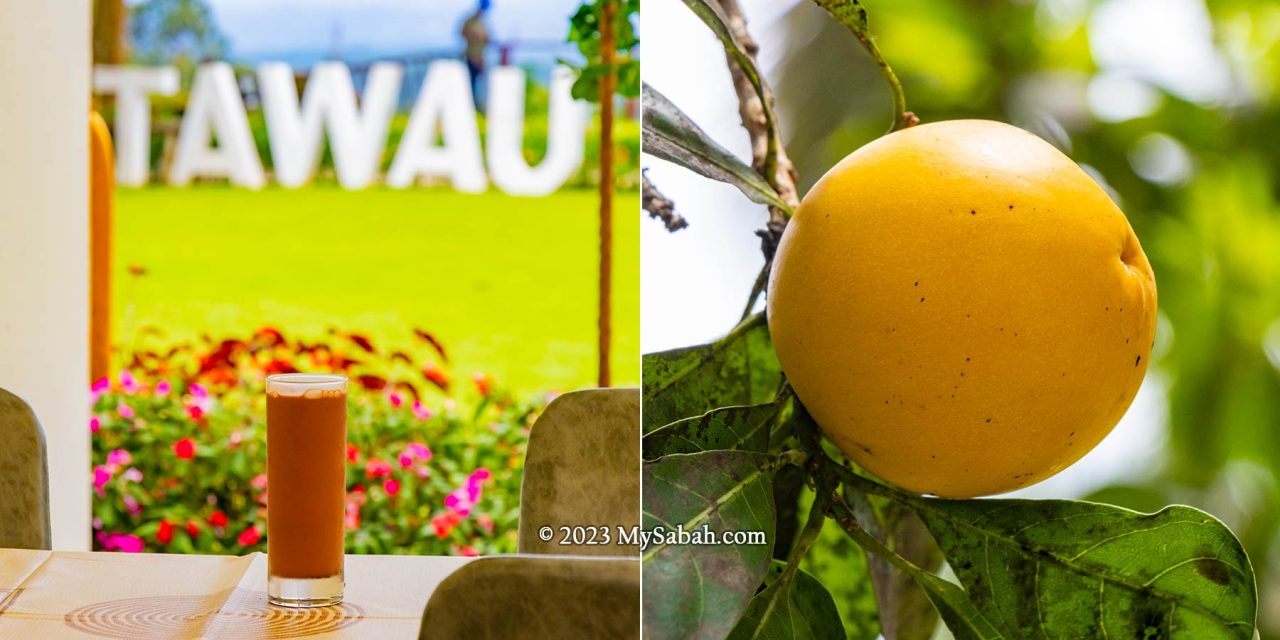 Five Fun Things to Do at Cocoa Village
The tour to Teck Guan Cocoa Village takes about half-day (from 10am to 3pm) and requires booking in advance. The staff there will give you a guided tour to experience the wonders of nature and cocoa fruits. The following is a walk-through of the tour. My guide is Ms. Chida, a friendly sino who can speak English, Chinese and Malay.
1) Nature Walk in Cocoa Culture Spring
My cocoa journey starts with an one-hour nature walk in the rainforest of Cocoa Culture Spring. Though it's a hot day, the air in this forested area is so cooling and refreshing. The plantation of Cocoa Village is near to Quoin Hill, an extinct volcano that produced the fertile soil that nurtures the cocoa trees as well as the jungle here.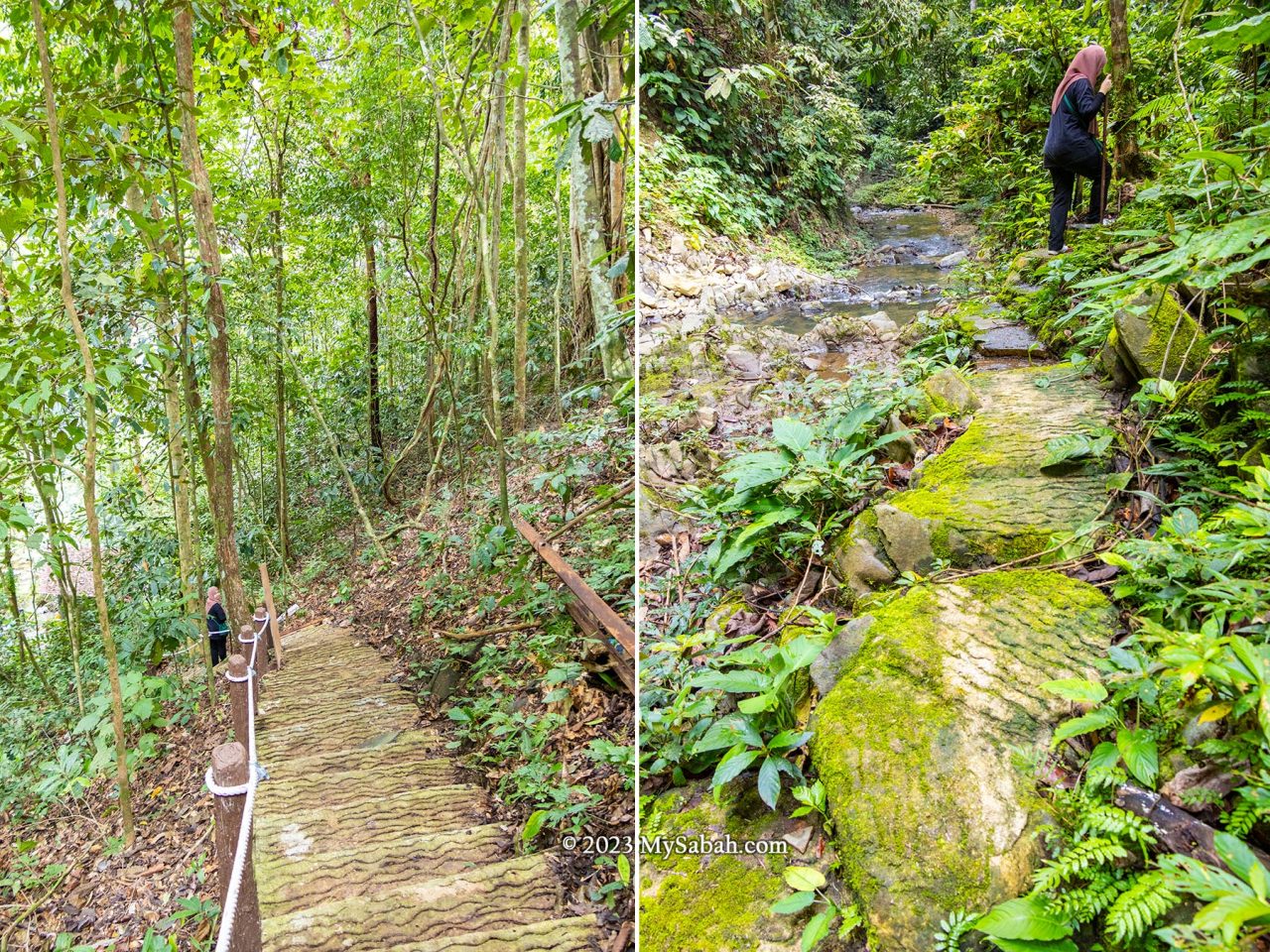 There are six waterfalls in Cocoa Culture Spring that work like giant air ionizers and conditioners that cleanse the air. Most of the trail is paved and easy to walk on. This reminds me of Japan, a well-developed country that coexists well with beautiful nature. Japanese is educated to appreciate nature since young, something we should learn from them.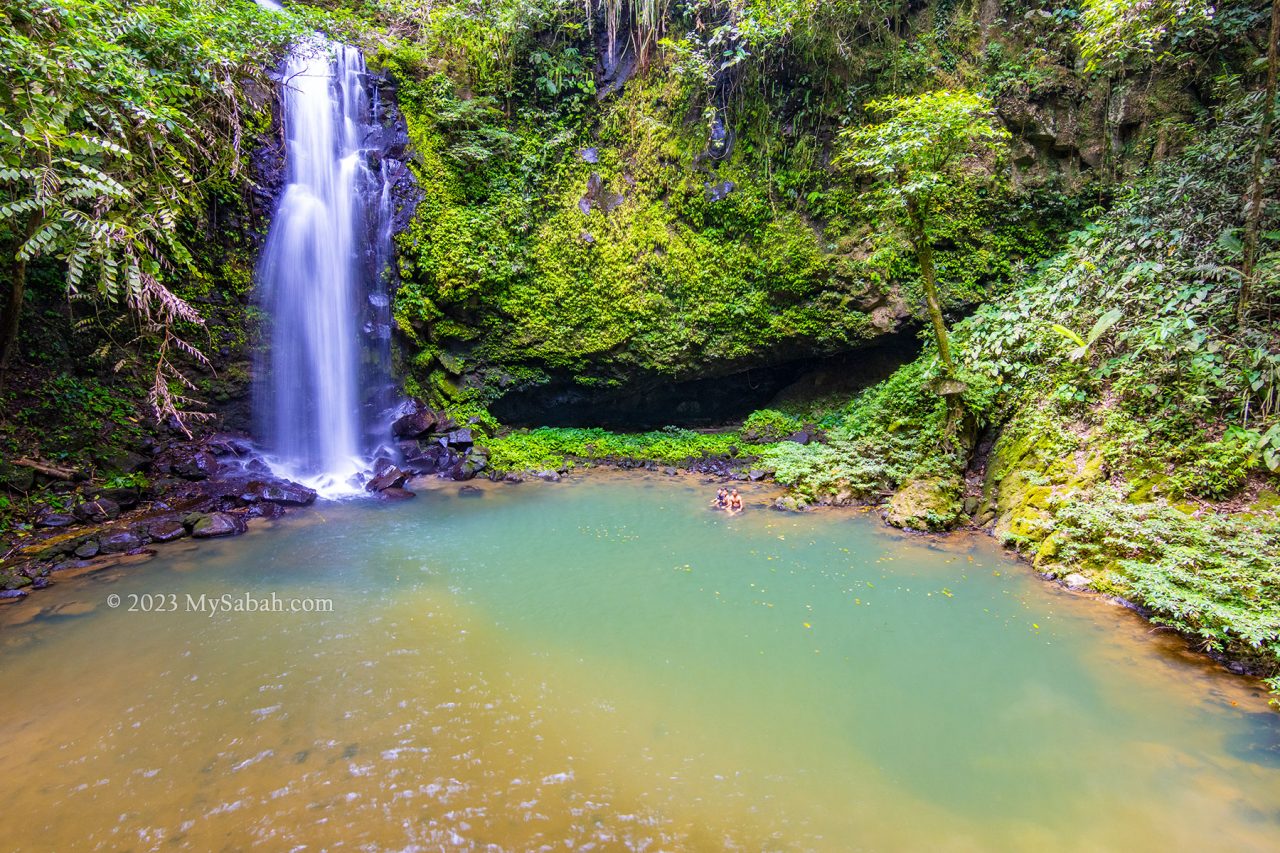 The highlight is the columnar basalt on the river. These neatly arranged rocks are formed 27,000 years ago from lava flow that is cooled down rapidly by water. It's a great spot for photo-taking but we didn't stay long because there were many sandflies. Finally we ended the nature walk at the 75-foot-tall Majesty Waterfall.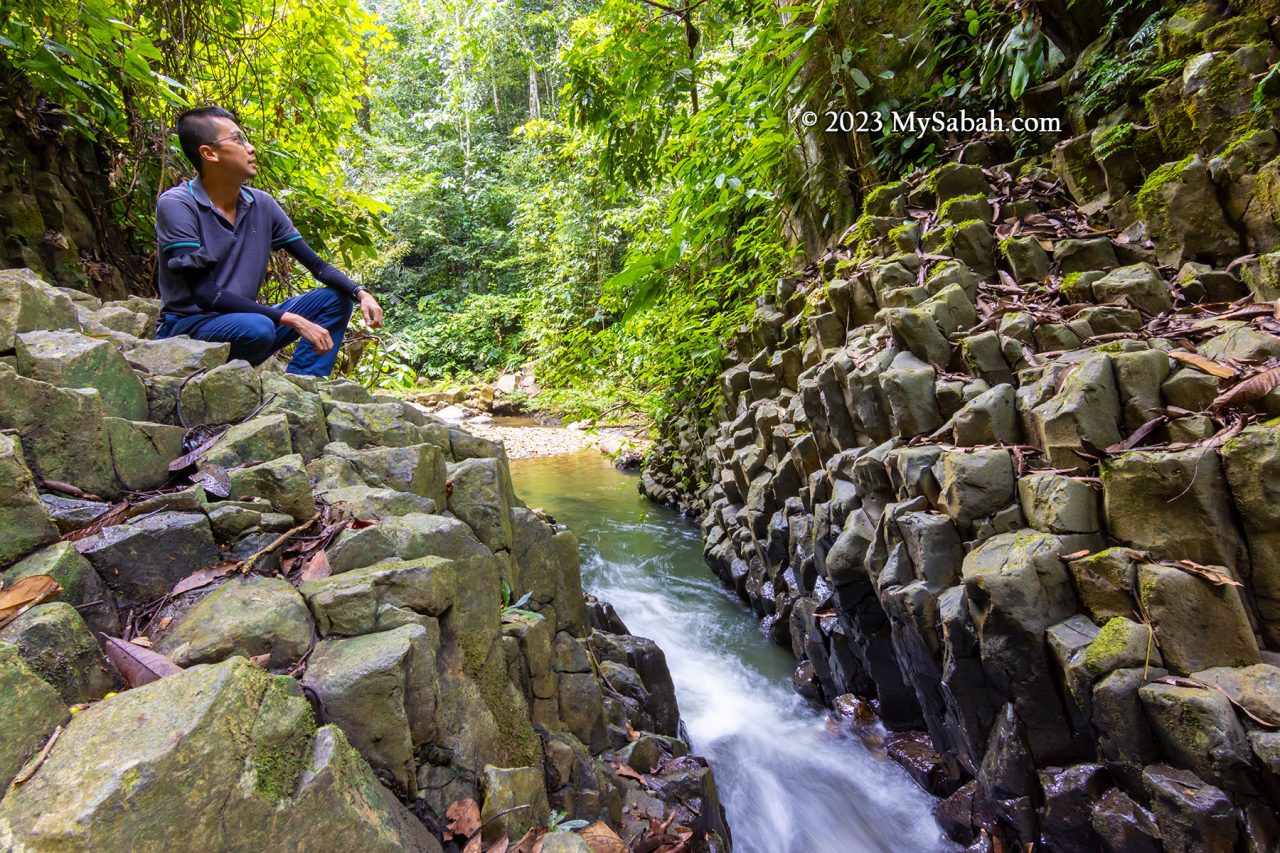 2) Learning about Cocoa
After the nature walk, I'm transferred to the cocoa nursery to learn more about the cocoa cultivation and processing. Our cocoa materials are used by famous brands such as Godiva and M&M to make chocolate.

Uncle Mando shows me the variety of cocoa fruits being planted. Most plantations grow at least 6 distinct varietals, each with different grades, yield and resistance to pests. This approach minimizes the risk of cocoa plants being completely decimated by single enemy such as cocoa pod borer and vascular streak dieback. Cocoa is a profitable crop that requires great care, and it's one of the best fruits to plant in an integrated farmland.

I also savour the taste of freshly harvested cocoa pod. The pulp is thin, with sweet and sour taste like mango. After removing the pulp, the cocoa beans are fermented and dried to make cocoa butter and cocoa powder. A pound of chocolate is made from 400 cocoa beans. Each cocoa tree produces an average of 2,500 cacao beans per year.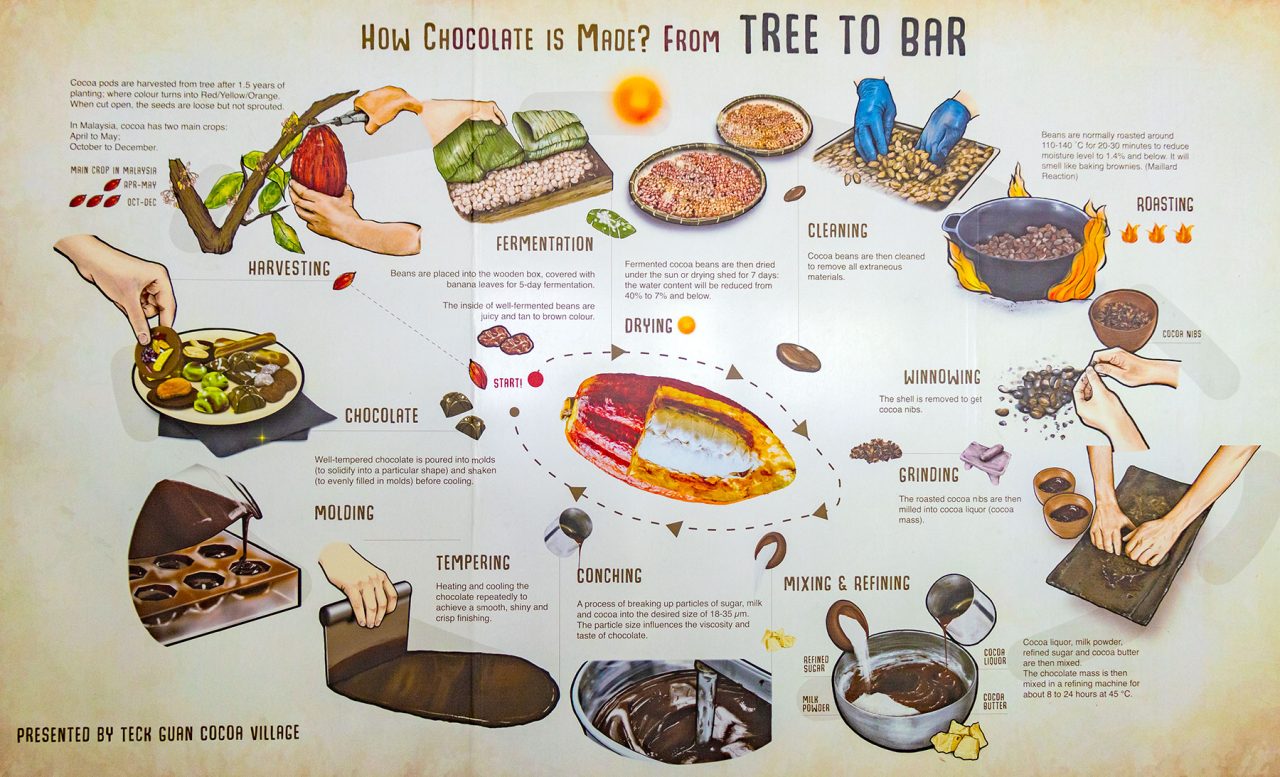 Nine women can't produce a baby in a month. Then Uncle Mando demonstrates the grafting technique that can make a 3-month-old cocoa seedling starts fruiting in only 2.5 years, which is normally takes 4 to 5 years if grows normally. Besides, these bud-grafted clonal trees are more productive and resistant to disease. That's the power of science.
3) Enjoy Cocoa Meal and Chocolate Drink
Time flies when I'm having fun. It's about noon time and the cocoa aroma makes me hungry, so I move to Tawau Cocoa Cafe to enjoy a tasty cocoa lunch that is included in the tour package. This cafe serves many cocoa-inspired dishes, desserts and drinks, as well as nasi kuning (yellow rice) and some western finger food.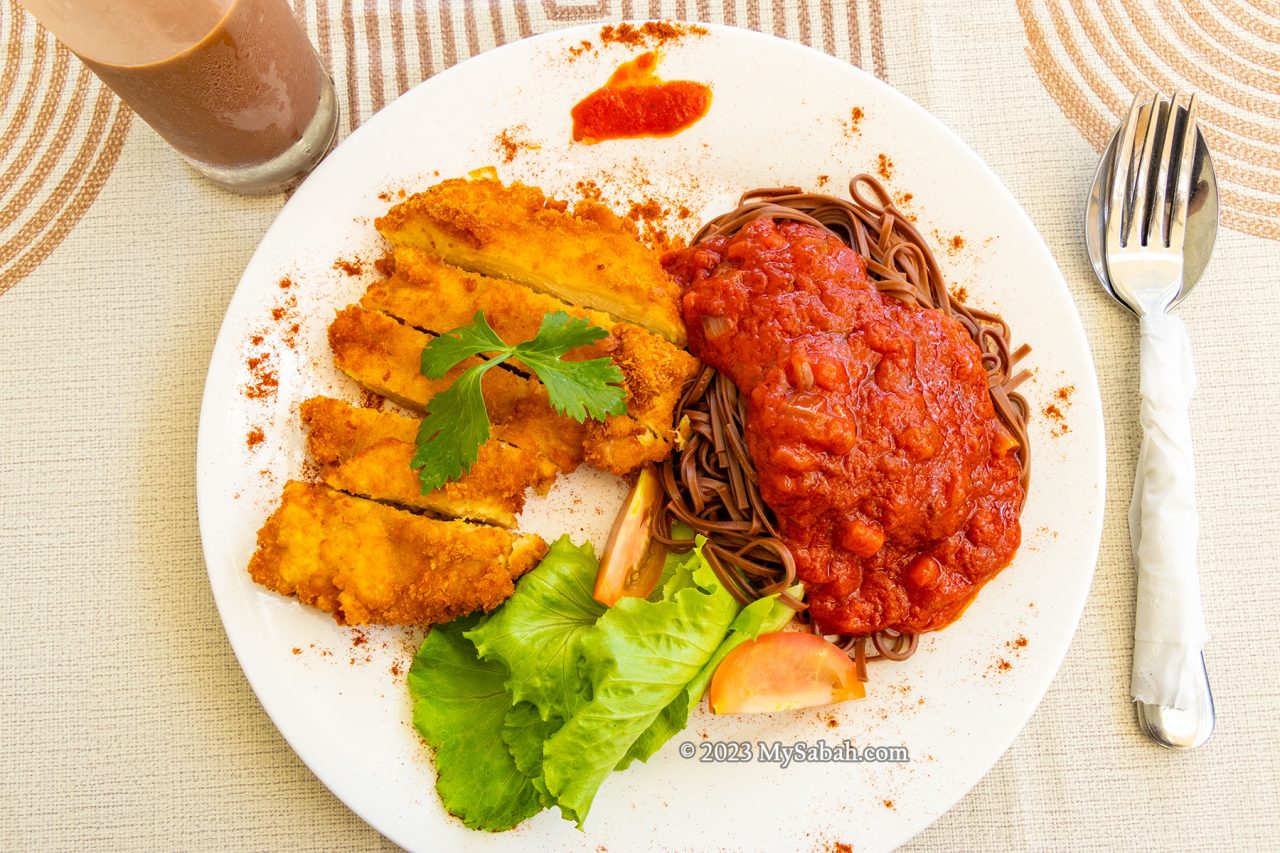 I have cocoa noodle with chicken katsu (Japanese-style fried chicken cutlet coated with crispy panko) as main dish, cocoa waffle and chocolate ice-cream as desserts, and ice old cocoa drink. I'm quite full after lunch. Otherwise, I would try their cocoa pudding jelly and ice-blended chocolate coffee.

Their cocoa drink is a richer and heathier version of Milo (favourite cocoa drink of Malaysians). Tawau Cocoa Cafe has special cocoa dishes occasionally, you can follow their Facebook at tawaucocoa for the latest cocoa cuisines.
4) Family Time with Children
Next to Tawau Cocoa Cafe is a beautiful lawn and nice garden for your family to explore. Parents can sit at the benches watching their kids running on the lawn, taking family photos at the playground, explore the tree house, and even try the zipline (fee applies) between Durian and Menggaris tree.

5) Shopping for Local Cocoa Products
The last stop of the tour is to see a myriad of Sabah cocoa and chocolate products in their shop, for example, cocoa powder, spread, coffee, noodle, cookies and chocolates. Sabahans should be proud of their cocoa products besides Sabah Tea and Tenom Coffee.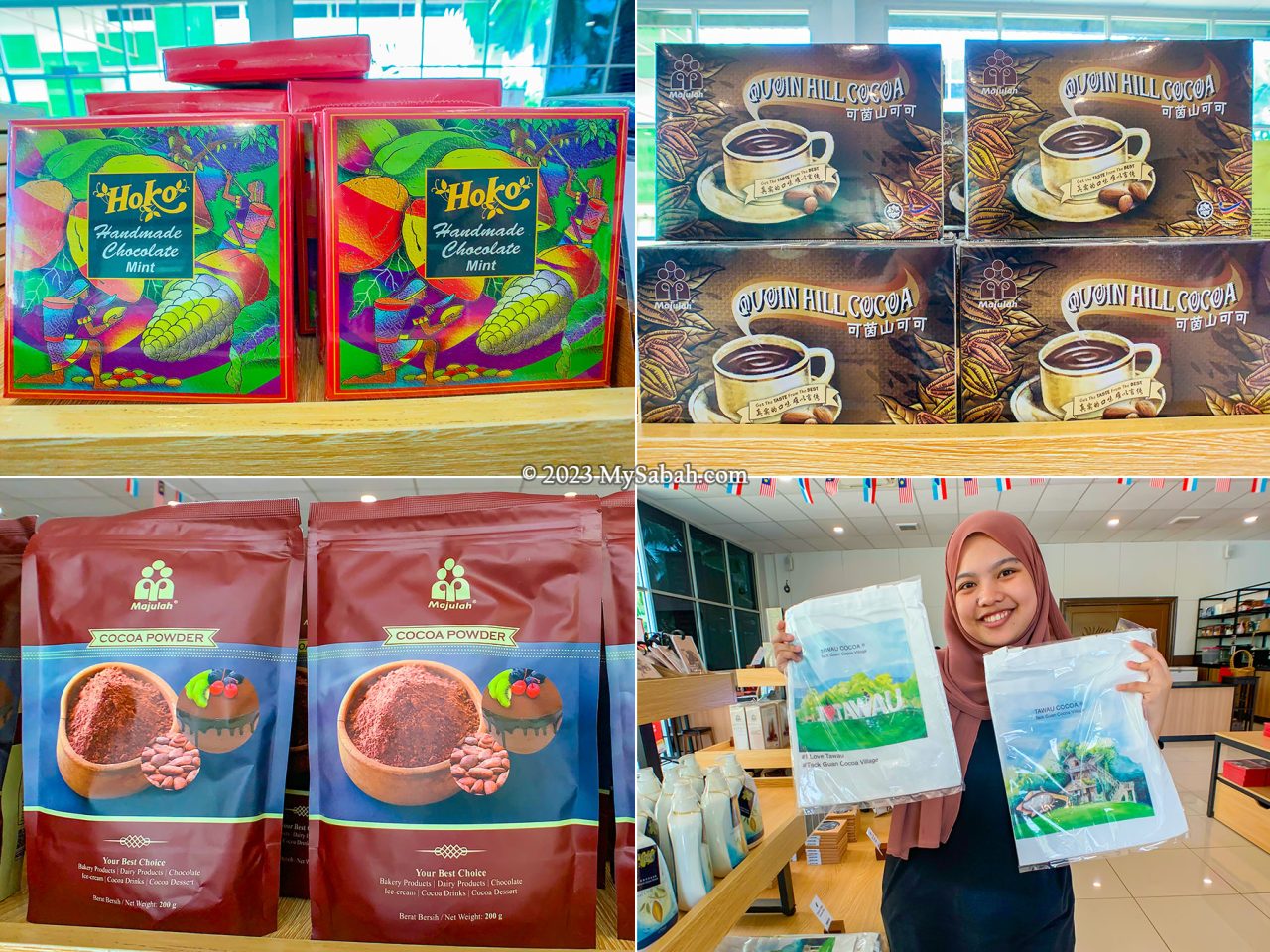 Some of the items are nicely packaged and hard to find in Kota Kinabalu City so don't leave empty-handed. I bought some Tawau white coffee to give to my friends. Their handmade chocolate is also one of the best buy.
Booking a Tour to Cocoa Village
The following is the price of the cocoa village tour package (year 2023):
Adult @ RM80, Child (Age 6-12) @ RM60, Child (Age 3-5) @ RM40
Infant (Age 0-2) @ Free of charge (no meals provided)
Note: A minimum of four (4) adults is required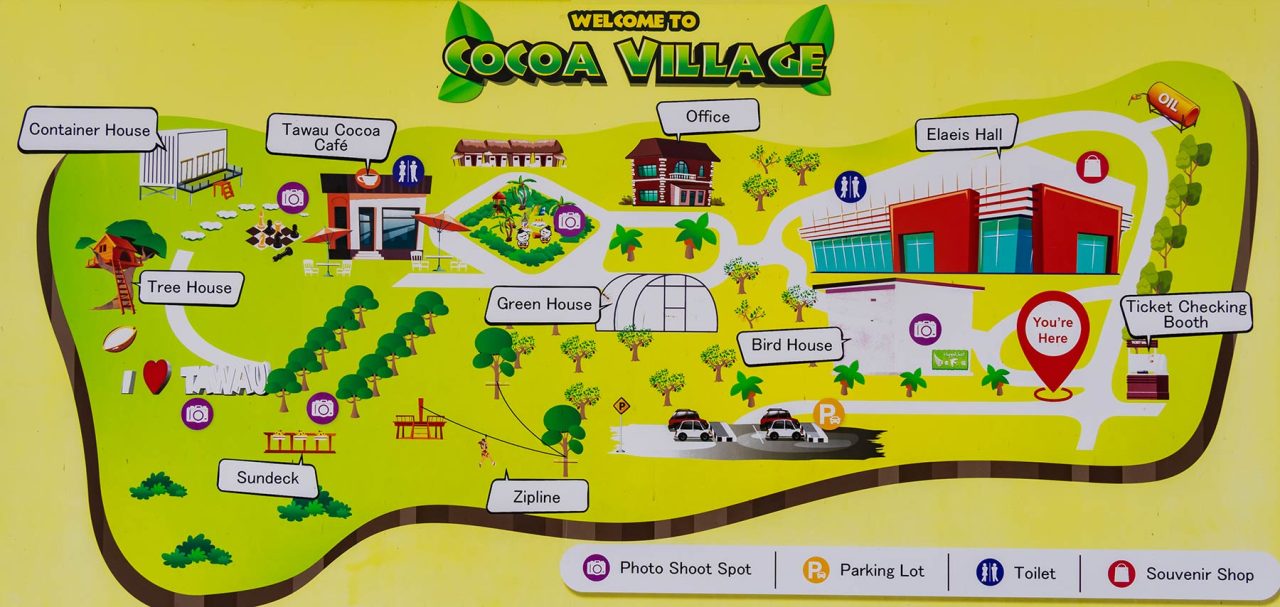 Itinerary
10:00 Meet at gathering point (Elaeis Hall)
10:05 Depart to Cocoa Culture Spring
10:20 Briefing at Cocoa Cultural Spring
10:35 Jungle Trekking start
11:35 Return to Cocoa Nursery
11:40 Cocoa Grafting Demonstration & Real Cocoa Fruits Tasting
12:30 Lunch at Tawau Cocoa Café
14:00 Shopping time
14:30 Get a takeaway gift from Cocoa Village
15:00 Tour end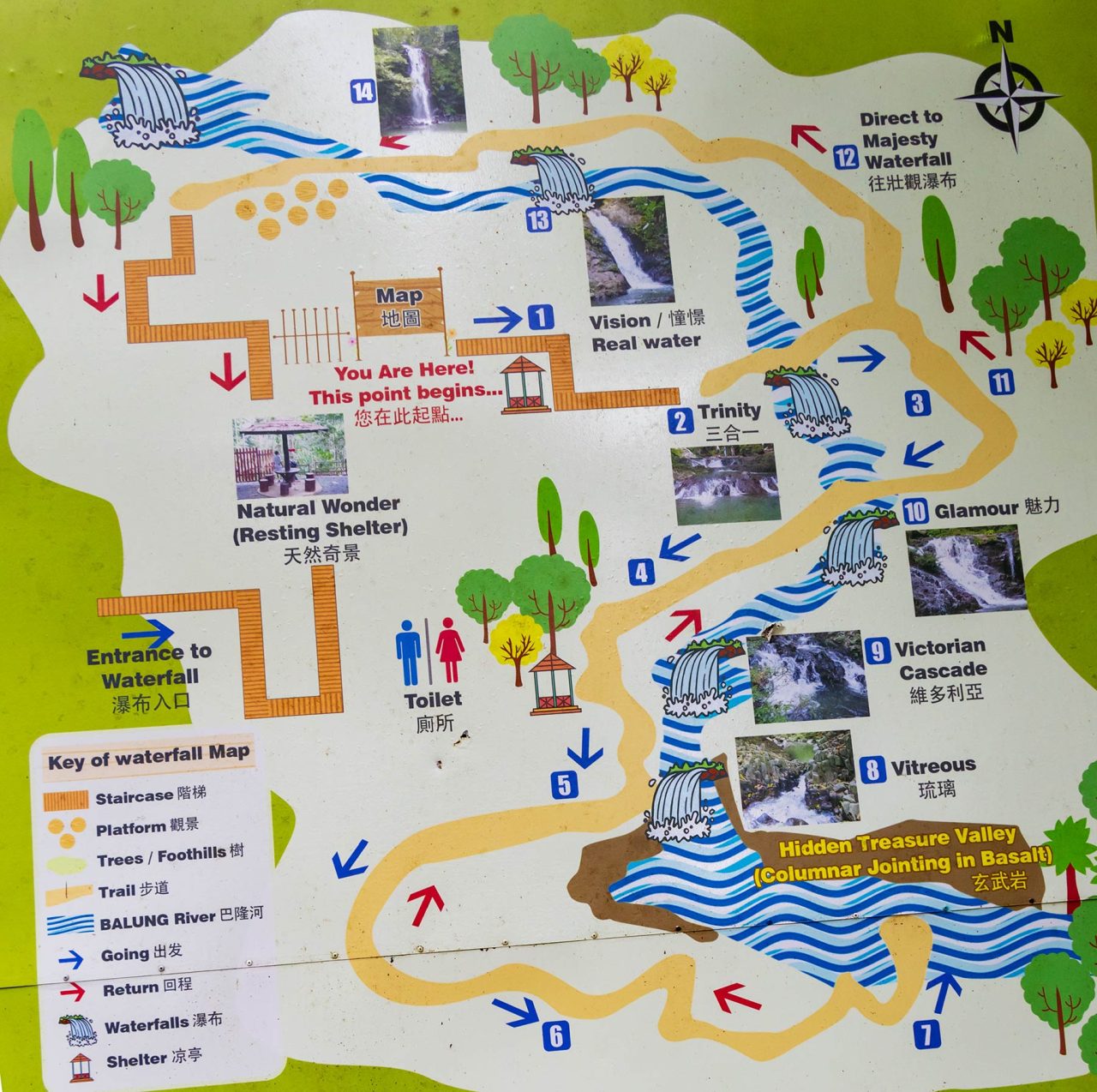 Package Inclusions
Learn about cocoa cultivation chain through practical demonstration
Opportunity to taste the real Cocoa fruits
Waterfall trekking at Teck Guan Cocoa Culture Spring
Witness the historic columnar-jointing basalt
Entrance ticket to Teck Guan Cocoa Village
One (1) takeaway gift from Cocoa Village
One (1) lunch at Tawau Cocoa Café
Zipline + Abseil Adventure @ RM30/pax (subject to availability)

For booking and enquiry, you can contact Teck Guan Cocoa Village at:
Phone: +60 16-8269579 (Whatsapp), +60 89 772277 (office)
E-mail: cocoavillage@teckguan.com
Facebook: cocoavillagetawau
Address (Cocoa Village): Quoin Hill, Miles 15, Jalan Bukit Quoin, 91000 Tawau, Sabah, Malaysia.

Teck Guan Cocoa Village is about 45 minutes (38 Kilometre) away from Tawau town by driving and highly accessible by asphalt road in good condition (see Location Map). You may visit Cocoa Museum in Tawau town if you are interested in the manufacturing of cocoa powder and cocoa butter at their factory.
Photos taken in Tawau, Sabah, Malaysia Borneo