Walk into any coffee shop in Sabah, and you would quickly learn that Chinese Teh Ping (Iced Chinese Tea), Teh-C Ping (Iced Milk Tea), Lemon Teh (Lemon Tea), Teh Tarik (Pulled Tea) are commonly ordered beverages among locals.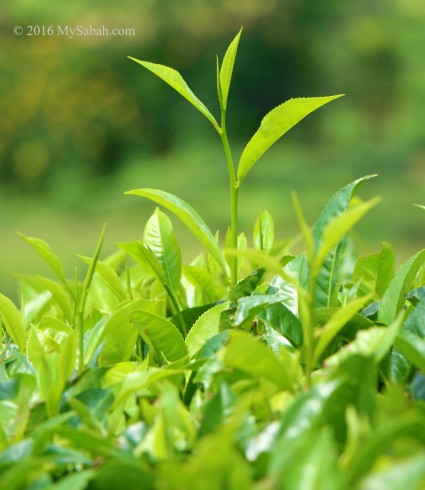 Our friends from Peninsular Malaysia are always surprised to find that Sabahans are fond of tea break and high tea too. Besides asking our friends to go Yamcha (drink tea), Sabahans would say "Let's go High-Tea" too. Tea drinking is definitely part of our culture, and it fits well into our laid-back lifestyle.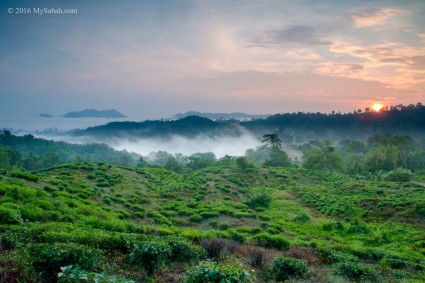 "Tea drinkers take a break; coffee drinkers need a break."
Not only that, Sabah also has its own local tea brand named Sabah Tea, which has established since 1978. Sabah Tea Garden is the only organic tea farm in Borneo. The tea leaves from its 2,480 hectare plantation are 100% pesticide free.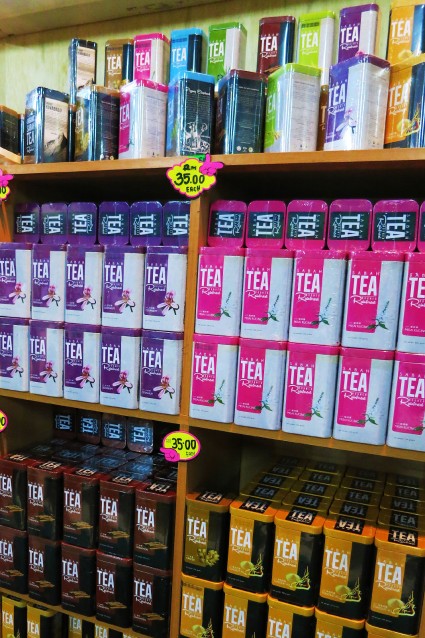 Anyway, you don't need to be a tea lover to enjoy a trip to Sabah Tea Garden. Located 692 Metres above sea level, the cooling highland of Sabah Tea is an ideal place to escape the hot weather of cities.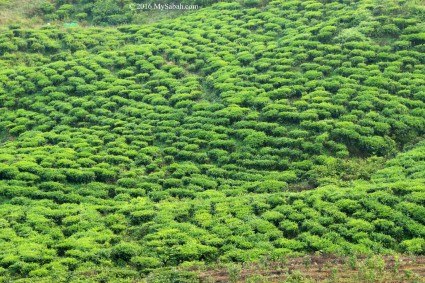 Sabah Tea Garden is the largest commercial tea plantation in Borneo, and now they produce eight flavors of tea, namely, cinnamon, ginger, geranium, pandan, tongkat ali, lemongrass, and misai kucing (cat's whiskers). I tried their Pandan-flavor Pulled Tea (Teh Tarik Pandan) and I really love its rich flavor, a must-try!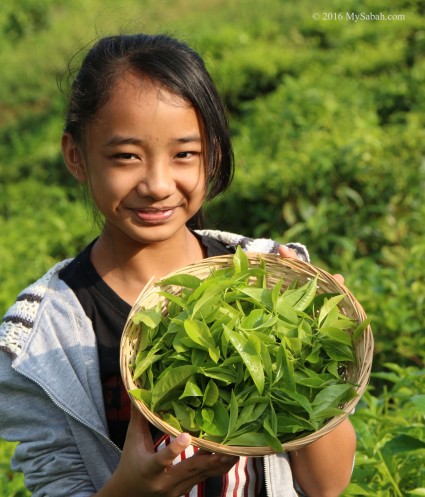 Sabah Tea Garden has one of the most beautiful plantations in Sabah. Just take a morning walk during sunrise time around Sabah Tea, you will see the breath-taking view of misty rainforest around the lush tea plantation with majestic Mt. Kinabalu as the backdrop.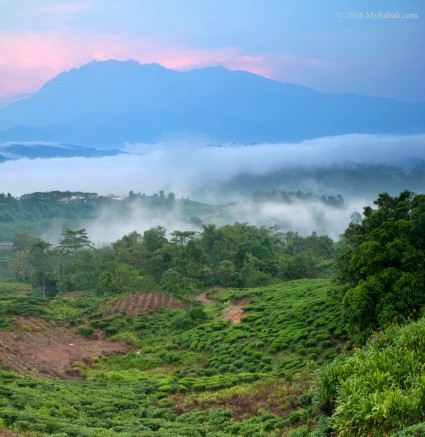 However, Sabah Tea Garden is more than a tea plantation with scenic view. They have successfully turned Sabah Tea into a recreational and educational site, which is friendly for family and student groups. Whether they have a day trip or overnight stay at Sabah Tea, there are so many things visitors can do there.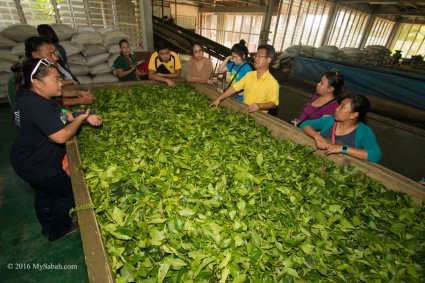 If you only plan for a short educational visit, you can pay a small fee to join one of the following day tour at Tea Factory. Note the best time to visit is between 8am-12pm (Mon-Sat) and Tea factory tour is not available on major Public Holidays:
RM7 (?US$1.75): 30-min Factory Tour for Primary School students
RM14 (?US$3.50): 45-min Guided Tour of the Tea Factory
RM17.50 – RM42 (?US$4.38 – 10.50): 1.5-hour factory tour with tea tasting (with Sandwiches, Tea Bites, or Set Lunch)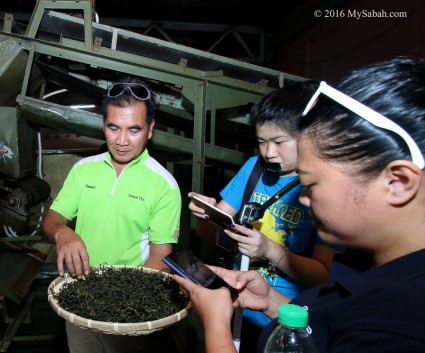 Accommodations
For an "anti-oxidizing" trip by fresh air and tea, I would recommend you to spend a night or two at Sabah Tea. They have two types of accommodations:
Longhouse: 25 rooms (triple sharing), can fit 75 people at a time. 14 shower rooms, 6 toilets.
English Cottages (4 units): total of 16 rooms (1 queen bed + 1 twin bed), can host 48 people. Air-conditioning, Hot Shower and TV available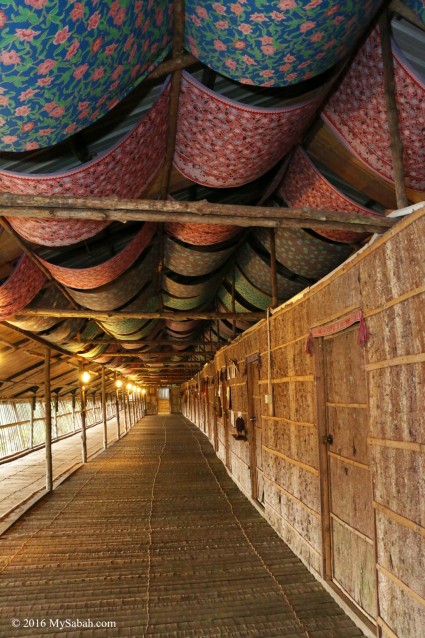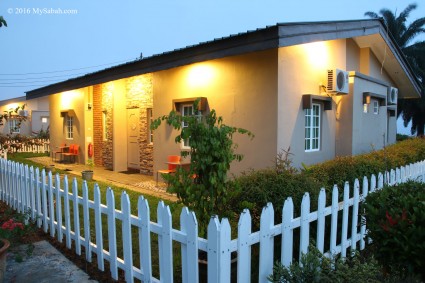 The cottages at Sabah Tea Garden are named after colorful personalities in Sabah's colonial past. The cottage where I stayed was named after Lofty Hodges, an Australian hero who rescued the survivors of Death March during World War II.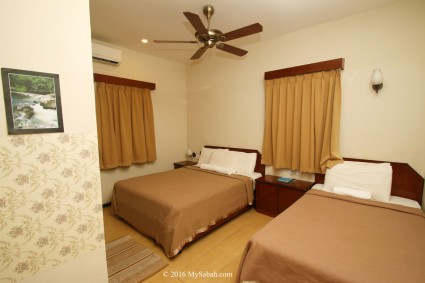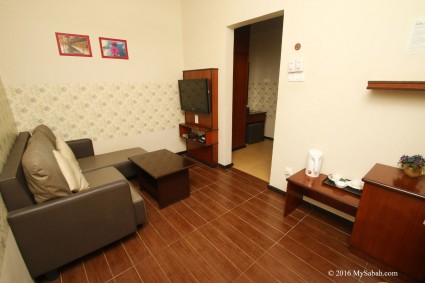 Sabah Tea put some good efforts to create a farmstay experience. They have flowers and herbs, colorful ornaments, fish pond and Bunny Villa (rabbits) in the plantation, all these small and big things make this place fun to explore.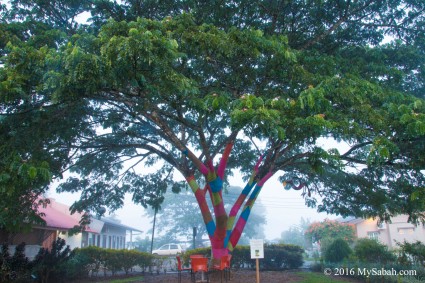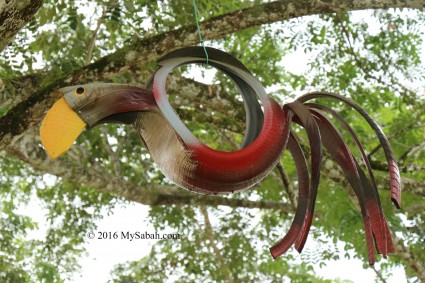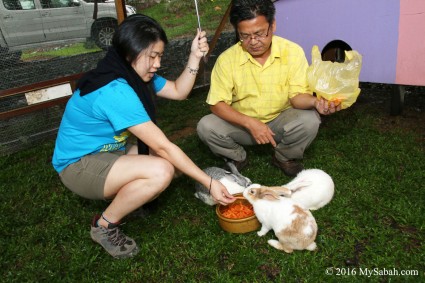 Tea Adventure
Tea drinking has over 3,000 years of history, so it's good to know more about this most consumed beverage next to water. Sabah Tea Garden offers "The Journey of the Tea" tour for visitors who want to learn how tea is processed.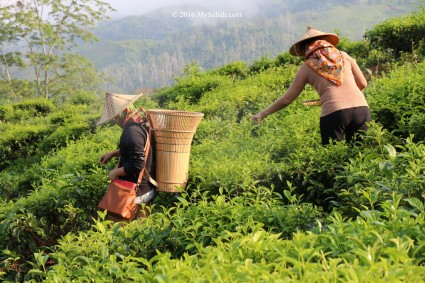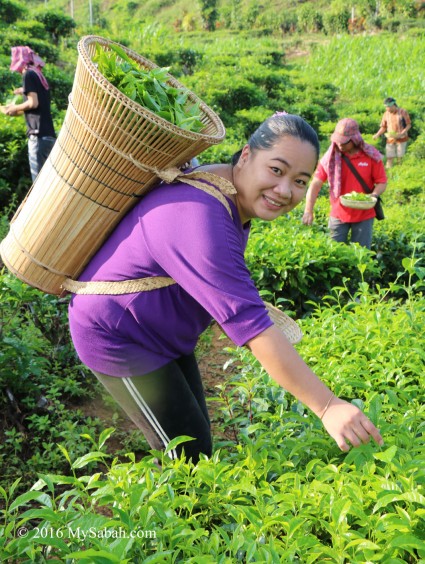 Participants of Tea Adventure will have a chance to harvest, process and sample the tea from their 1,000 acres tea plantation. They will provide you native hat and wakid (basket), then brief you the right way to pluck the tea leaves and buds. Did you know an experienced tea picker can collect about 32 Kg of tea in a day, which is enough to make 14,000 cups of tea!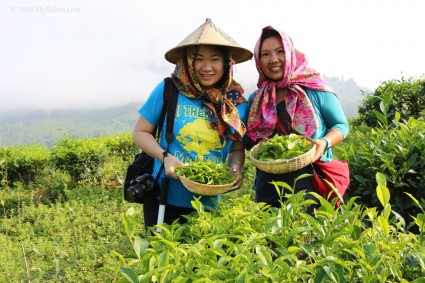 After harvesting the tea leaves for an hour of fun, you can leave your freshly collected leaves dry and wither. Then you will use them to make Oolong and Green Tea the old-fashioned way later.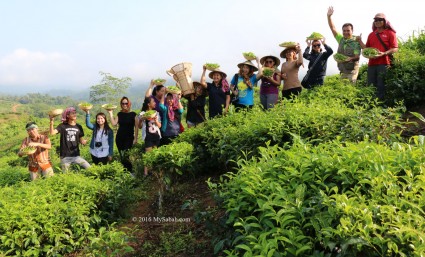 Oolong Tea is semi-fermented and Green Tea is unfermented, and their processing steps are different.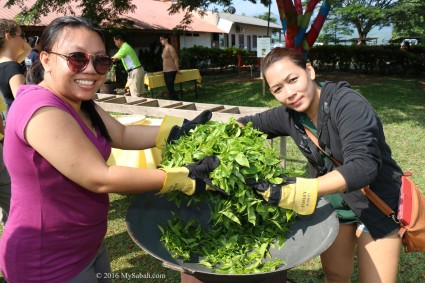 For Oolong, the tea leaves are left oxidized before they are roasted in wok, while Green Tea is cooked in steamer.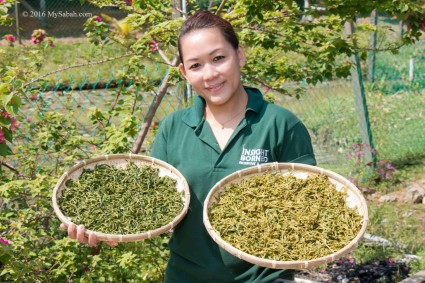 The end result is Green Tea will have milder taste and more astringent than Oolong Tea, which is in light brown color, with richer and stronger flavor. The participants will sample both tea and learn the difference.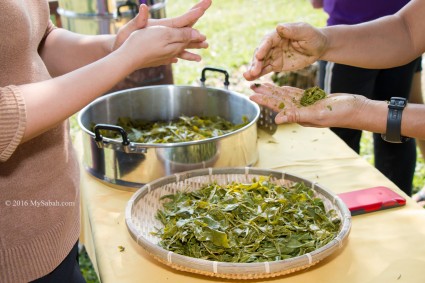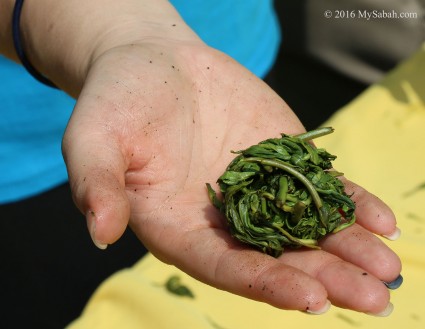 Their staffs are very keen to share their tea knowledge. They also conduct tea talk for you to gain a better understanding of tea culture. Who knows your appreciation and enjoyment on drinking tea will go up next level.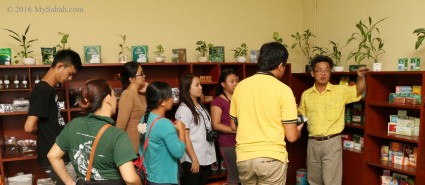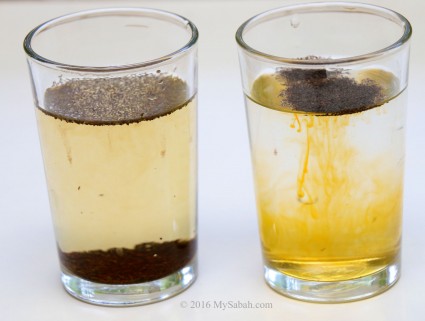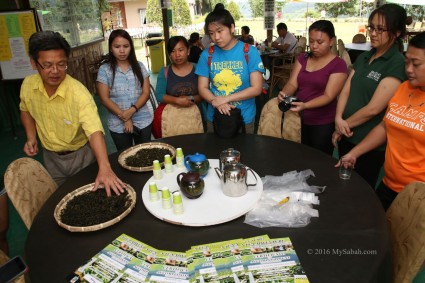 Other Activities
I was also impressed by a full array of activities at Sabah Tea Garden available from day to night.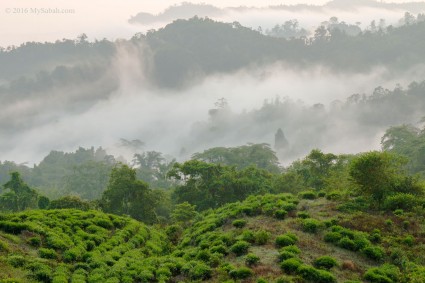 The forest, hill and river adjacent to Sabah Tea are in clean and pristine condition, and we can enjoy many types of nature based activities. For example, you can hike to the hill, trek in rainforest, swim in the river (if you can stand the cold!), mountain biking and even camp around.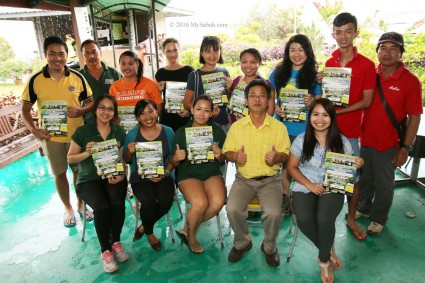 If you love wildlife, Sabah Tea Garden is a good site for bird-watching and night walk for spotting insects too.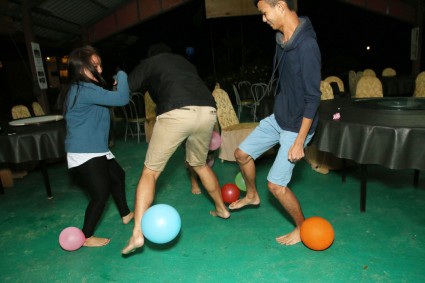 Sabah Tea Garden is also able to organize team building, game challenges, obstacle course and various group activities for corporate retreats (for a minimum of 15 people).
"Tea" Cuisines
Tea can be used in food too. You can try such dishes at Sabah Tea, like their chicken soup cooked with vegetables and young tea leaves, and one-of-a-kind dessert, Tea pancake with honey.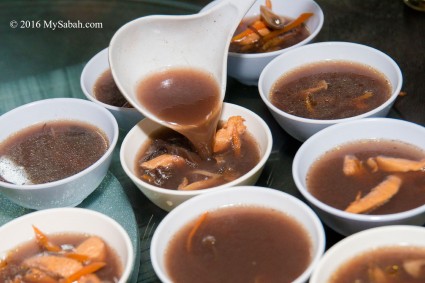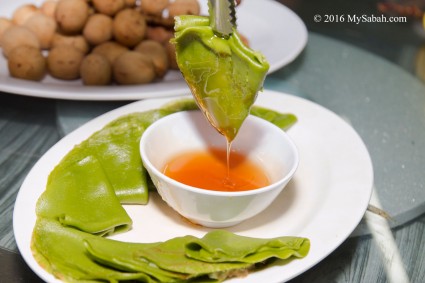 Others local dishes are also available at Sabah Tea, just to list some, Fish with Bambangan (this Fruit only found in Sabah), Tuhau Beef (Sabah's Wild Ginger Beef), Sabah Tea Black Pepper Lamb, Butter Prawns and Soy Sauce Free Range Chicken.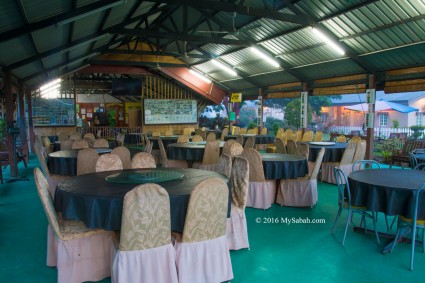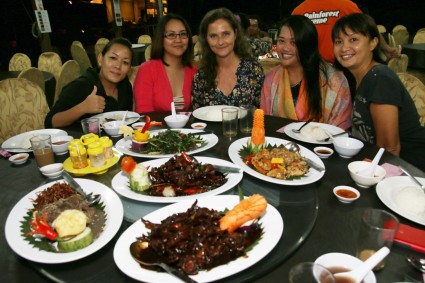 Yes, the food are delicious.
Sabah Legend Tour
Kadazandusun is the largest indigenous group of Sabah. Their legend says Nunuk Ragang is where Kadazandusun people originated, and everything begins with a father and his 3 sons, who later split and migrated to different parts of Sabah and formed three main tribes (namely, Rungus, Kadazan, Dusun).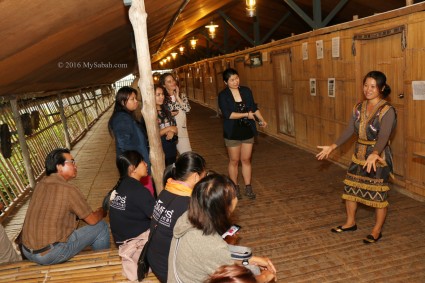 At Sabah Tea, the story-telling starts in their Rungus longhouse. Ruby, their staff showed us the traditional clothes, baskets, handicrafts, farming tools, hat, mats, beads and musical instrument displayed in the hallway, to introduce the interesting culture of each tribe.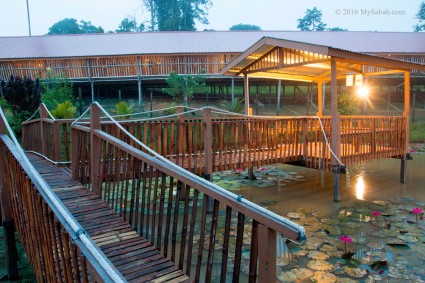 Below is the contact of Sabah Tea Garden:
Address (see Location Map): KM 18, Jalan Ranau / Sandakan, Kampung Nalapak, Ranau (2.5-hours Drive from Kota Kinabalu City)
E-mail: info@sabahtea.net
Tel: +60 88-440882 (KK Office), +60 88-879220 (Sabah Tea Site)
Opening Hours: 8am to 4:30pm (best to visit before noon)
Website: www.sabahtea.com.my
Facebook: SabahTea
Fax: +60 88-440886
You may check out my photo album for more photos of Sabah Tea.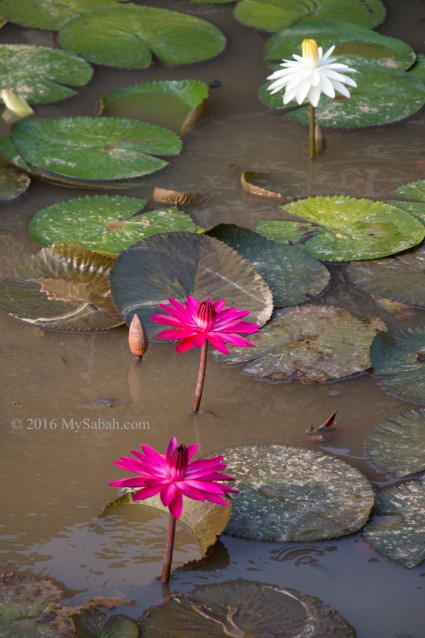 Photos taken in Ranau, Sabah, Malaysia Borneo