Tag Archives:
flower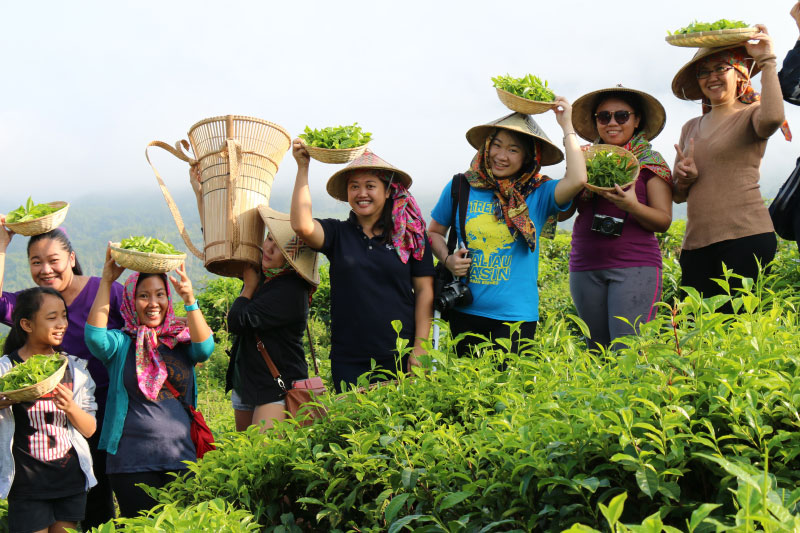 Walk into any coffee shop in Sabah, and you would quickly learn that Chinese Teh Ping (Iced Chinese Tea), Teh-C Ping (Iced Milk Tea), Lemon Teh (Lemon Tea), Teh Tarik (Pulled Tea) are commonly ordered beverages among locals.
Our friends from Peninsular Malaysia are always surprised to find that Sabahans are fond of tea break and high tea too. Besides asking our friends to go Yamcha (drink tea), Sabahans would say "Let's go High-Tea" too. Tea drinking is definitely part of our culture, and it fits well into our laid-back lifestyle.
"Tea drinkers take a break; coffee drinkers need a break."
Not only that, Sabah also has its own local tea brand named Sabah Tea, which has established since 1978. Sabah Tea Garden is the only organic tea farm in Borneo. The tea leaves from its 2,480 hectare plantation are 100% pesticide free.
Anyway, you don't need to be a tea lover to enjoy a trip to Sabah Tea Garden. Located 692 Metres above sea level, the cooling highland of Sabah Tea is an ideal place to escape the hot weather of cities.
Sabah Tea Garden is the largest commercial tea plantation in Borneo, and now they produce eight flavors of tea, namely, cinnamon, ginger, geranium, pandan, tongkat ali, lemongrass, and misai kucing (cat's whiskers). I tried their Pandan-flavor Pulled Tea (Teh Tarik Pandan) and I really love its rich flavor, a must-try!
Sabah Tea Garden has one of the most beautiful plantations in Sabah. Just take a morning walk during sunrise time around Sabah Tea, you will see the breath-taking view of misty rainforest around the lush tea plantation with majestic Mt. Kinabalu as the backdrop.
However, Sabah Tea Garden is more than a tea plantation with scenic view. They have successfully turned Sabah Tea into a recreational and educational site, which is friendly for family and student groups. Whether they have a day trip or overnight stay at Sabah Tea, there are so many things visitors can do there.
If you only plan for a short educational visit, you can pay a small fee to join one of the following day tour at Tea Factory. Note the best time to visit is between 8am-12pm (Mon-Sat) and Tea factory tour is not available on major Public Holidays:
RM7 (≈US$1.75): 30-min Factory Tour for Primary School students
RM14 (≈US$3.50): 45-min Guided Tour of the Tea Factory
RM17.50 – RM42 (≈US$4.38 – 10.50): 1.5-hour factory tour with tea tasting (with Sandwiches, Tea Bites, or Set Lunch)
Accommodations
For an "anti-oxidizing" trip by fresh air and tea, I would recommend you to spend a night or two at Sabah Tea. They have two types of accommodations:
Longhouse: 25 rooms (triple sharing), can fit 75 people at a time. 14 shower rooms, 6 toilets.
English Cottages (4 units): total of 16 rooms (1 queen bed + 1 twin bed), can host 48 people. Air-conditioning, Hot Shower and TV available
The cottages at Sabah Tea Garden are named after colorful personalities in Sabah's colonial past. The cottage where I stayed was named after Lofty Hodges, an Australian hero who rescued the survivors of Death March during World War II.
Sabah Tea put some good efforts to create a farmstay experience. They have flowers and herbs, colorful ornaments, fish pond and Bunny Villa (rabbits) in the plantation, all these small and big things make this place fun to explore.
Tea Adventure
Tea drinking has over 3,000 years of history, so it's good to know more about this most consumed beverage next to water. Sabah Tea Garden offers "The Journey of the Tea" tour for visitors who want to learn how tea is processed.
Participants of Tea Adventure will have a chance to harvest, process and sample the tea from their 1,000 acres tea plantation. They will provide you native hat and wakid (basket), then brief you the right way to pluck the tea leaves and buds. Did you know an experienced tea picker can collect about 32 Kg of tea in a day, which is enough to make 14,000 cups of tea!
After harvesting the tea leaves for an hour of fun, you can leave your freshly collected leaves dry and wither. Then you will use them to make Oolong and Green Tea the old-fashioned way later.
Oolong Tea is semi-fermented and Green Tea is unfermented, and their processing steps are different.
For Oolong, the tea leaves are left oxidized before they are roasted in wok, while Green Tea is cooked in steamer.
The end result is Green Tea will have milder taste and more astringent than Oolong Tea, which is in light brown color, with richer and stronger flavor. The participants will sample both tea and learn the difference.
Their staffs are very keen to share their tea knowledge. They also conduct tea talk for you to gain a better understanding of tea culture. Who knows your appreciation and enjoyment on drinking tea will go up next level.
Other Activities
I was also impressed by a full array of activities at Sabah Tea Garden available from day to night.
The forest, hill and river adjacent to Sabah Tea are in clean and pristine condition, and we can enjoy many types of nature based activities. For example, you can hike to the hill, trek in rainforest, swim in the river (if you can stand the cold!), mountain biking and even camp around.
If you love wildlife, Sabah Tea Garden is a good site for bird-watching and night walk for spotting insects too.
Sabah Tea Garden is also able to organize team building, game challenges, obstacle course and various group activities for corporate retreats (for a minimum of 15 people).
"Tea" Cuisines
Tea can be used in food too. You can try such dishes at Sabah Tea, like their chicken soup cooked with vegetables and young tea leaves, and one-of-a-kind dessert, Tea pancake with honey.
Others local dishes are also available at Sabah Tea, just to list some, Fish with Bambangan (this Fruit only found in Sabah), Tuhau Beef (Sabah's Wild Ginger Beef), Sabah Tea Black Pepper Lamb, Butter Prawns and Soy Sauce Free Range Chicken.
Yes, the food are delicious.
Sabah Legend Tour
Kadazandusun is the largest indigenous group of Sabah. Their legend says Nunuk Ragang is where Kadazandusun people originated, and everything begins with a father and his 3 sons, who later split and migrated to different parts of Sabah and formed three main tribes (namely, Rungus, Kadazan, Dusun).
At Sabah Tea, the story-telling starts in their Rungus longhouse. Ruby, their staff showed us the traditional clothes, baskets, handicrafts, farming tools, hat, mats, beads and musical instrument displayed in the hallway, to introduce the interesting culture of each tribe.
Below is the contact of Sabah Tea Garden:
Address (see Location Map): KM 18, Jalan Ranau / Sandakan, Kampung Nalapak, Ranau (2.5-hours Drive from Kota Kinabalu City)
E-mail: info@sabahtea.net
Tel: +60 88-440882 (KK Office), +60 88-879220 (Sabah Tea Site)
Opening Hours: 8am to 4:30pm (best to visit before noon)
Website: www.sabahtea.com.my
Facebook: SabahTea
Fax: +60 88-440886
You may check out my photo album for more photos of Sabah Tea.
Photos taken in Ranau, Sabah, Malaysia Borneo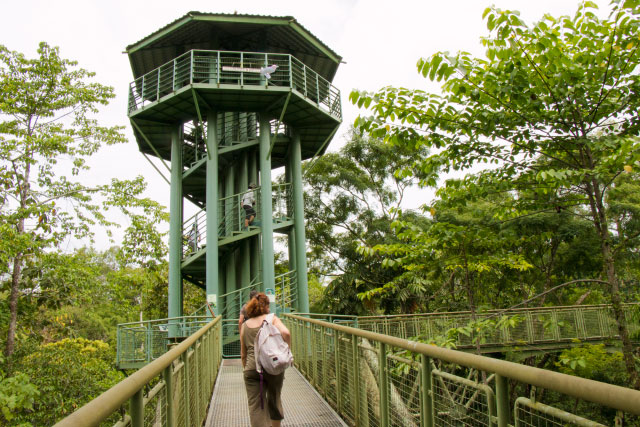 The Rainforest Discovery Center (RDC) is one of the most accessible natural rainforest in Sabah. It sits by a lake at the edge of the Kabili-Sepilok Forest Reserve in Sandakan. RDC has been in operation since 1996 for environmental education purposes. Today, it is a 3-in-1 park (i.e. wildlife, bird and plant) for nature lovers and bird watchers where they can see the unique flora and fauna of Borneo. To students, it's the best outdoor classroom to learn the rich biodiversity of rainforest ecosystem.
Rainforest Discovery Center (RDC) is managed by the Sabah Forestry Department and one of the most popular Environmental Education (EE) centers in Sabah. A pristine lowland dipterocarp and Mangrove forest with astounding 300 species of birds are recorded in the area.
The 4,300-hectare Sepilok-Kabili Forest Reserve has gained birders recognition worldwide for its iconic Bornean Bristlehead, Black & Crimson Pitta, Blue-headed Pitta, Giant Pitta, Black Hornbill, Rhinoceros Hornbill and more.
Jungle Trails
Visitors can walk along the trails and become acquainted with green giants such as the mengaris tree, one of the tallest tree in Borneo. Besides soaking up the sight and getting a good workout, visitors can refer to the interpretive panels along the trail, which has descriptions about unique residents of the forest.
Alert the little ones to keep an eye out for darting civets and flying squirrels (which can glide up to 100 Meters)! And lucky visitors have also spotted animals such as the elusive red leaf monkey, gibbon (the fastest moving primate in tree canopy), mouse deer, civet cat and many odd looking insects such as stick insect.
The tree that you must check out is Sepilok Giant, a Yellow Seraya tree (Shorea acatissima), which is about 65 Meters in height, with an estimated age of 800-1,000 years old.
Another tree worths a good look is Belian Borneo Ironwood (Eusideroxylon zwageri), the 7th hardest wood in the world.
Plant Discovery Garden
RDC also has a Plant Discovery Garden, which covers about 3 acres of land. This garden will make any botanist smile with its collection of hybrid orchids, arid land plants, aquatic plants, pitcher-plants, economic crops and tropical American plants.
There are colourful outdoor interpretive panels with descriptions of all the plants, which makes learning not only easy but also fun.
For serious learners, there are just too many local and exotic plants (flowers, herbs, spices, crops) to look at, just to name a few, peach palm, vanilla, tongkat ali, rubber, cassava, cinnamon, fig, and cycad (a living fossil and food of dinosaur).
Canopy Walkway
The main attraction of RDC however, is of course the Canopy Walkway. Visitors can climb to the top of the observation towers and take in the breathtaking view from the 347-meter long and 25-meter high steel walkway.
The walkway is two meters wide, is very sturdy and can hold the weight of a large crowd. RDC has two towers that are named after the Bristlehead and Trogon and a single-column shelter called the Sunbird.
The designers of the canopy walkway made sure that it was not only safe for adults, but also for young children who are at kindergarten-level.
To the team at RDC, the younger children exposed to the wonders of Mother Nature, the better appreciation they will have for our rainforest.
The top platform of towers is about 17 Meters (56.5 feet) above the ground. Many birds, wildlife, fruits and insects live high on the tree, so these towers provide a great viewing point for bird watching and wildlife sighting. I've seen mother orangutan with her baby there before (see video).
Bornean Bristlehead normally feeds up in the mid and upper layer of tree canopy, and best seen from Canopy Walkway. You have higher chance of seeing them near Bristlehead and Hornbill Towers in RDC.
I'm very confident to say RDC has one of the best setup for bird watching in the world.
Many trees here are very old and over 50 Meters tall, most of these emergent trees are from the family Dipterocarpaceae, the main timber family of Sabah.
During fruiting season, you will see many birds and wildlife coming here for feeding.
Bird Watching
Due to the tourist-friendly canopy walkway and nearby virgin rainforest where over 300 lowland bird species reside, RDC is really a haven for nature photographers and birdwatchers. RDC is also the most promising spot to see Bornean Bristlehead, the trophy bird species of birders, but you still need some luck. I saw it only once after three visits.
Many endemic, rare and colorful birds are active around RDC, for example, Bornean Bristlehead, Hornbills, Pittas, Kingfisher (8 species), Trogons, Malkohas, Leafbirds, Minivets, Spiderhunters (6 species), Crested Jay, Red-bearded Bee-eater, Broadbills, Woodpeckers, and Bulbuls. For full list, you may see this Checklist of Birds in Sepilok.
Therefore, for visitors who don't want to travel far, RDC is the best alternative birding sites to Danum Valley and Tabin Wildlife Reserve, the world-class birding sites in Lahad Datu.
Some forest birds spend most of their time on canopy and best to be observed from RDC Canopy Walkway, while some prefers habitat in understorey and forest ground, so you need to explore the jungle trails for such birds. (Note: leeches might present during wet season)
According to birding community, the 1.9-KM Kingfisher Trail is very productive (many birds). There are many direction signages in the RDC trail network, so you should have no problem to get around. What I really like is – RDC also places many information panels in different spots to inform you what birds, trees and wildlife are (probable) nearby.
Inside the forest there are small ponds used by many birds as natural bird bath for bathing and drinking. Most birds only dip their wings to splash water on their backs. Parts of the bath is just about 2 inches deep, just enough for small birds. Keep an eye for Red-eyed Bulbul, Emerald Dove and Hairy-backed Bulbul there.
Garden birds such as sunbirds, spiderhunters and flowerpeckers are common too.
RDC is the most preferred venue for Borneo Bird Festival, which is usually held in Sep or Oct annually, the best visiting time for bird watchers who are looking forward for exciting activities such as bird race, talks, bird photography contest and exhibition.
Exhibition Hall
The main visitor building has an exhibition hall that features the unique flora found in Sabah, plus the various icons in our animal kingdom including the Bornean pygmy elephant, orang utan, proboscis monkey and many more.
Visitors can also find information on reptiles and the main groups of birds. The building also has a multi purpose hall, which is often used for talks, screenings and other activities.
Besides animals, visitors can browse good collections of plant, fruit, tree and insect specimens in the hall. The information is presented in gallery style, with a lot of beautiful photographs with minimal text, available in English and Malay languages.
This Exhibition Hall is air-conditioned, so I love to come here after a long walk under hot sun outside LOL (and for the toilet too).
I must say the Exhibition Hall does a very good job in giving visitors an interesting overview of Borneo's nature.
Other Facilities
The infrastructure of RDC is quite well-thought, this makes RDC an excellent attraction, as well as a great location to organize mid-scale events.
Entrance Fee
Rainforest Discovery Center (RDC) is open from 8am to 5pm every day, but the trails and canopy walkway close at 8pm, so some visitors can do night walk and evening birding. RDC is a park opens to public, any walk-in visitor can buy a ticket to enter (see ticket prices below).
| | Malaysian | Foreigner |
| --- | --- | --- |
| Adult (18 & above) | RM7 | RM15 (≈USD$4) |
| 5-17 years old | RM3 | RM7 (≈USD$2) |
| Below 5 years old | FREE | FREE |
For more information, call +60 89-533780 / 533781, e-mail rdcsepilok@yahoo.com or visit RDC's official website and Facebook.
All proceeds from ticket sales are used to organize environmental education programmes for students, teacher training courses and other environment-related activities.
Night Walk
Most wildlife are nocturnal. You may not see a lot of wildlife during daytime in RDC, but a night walk there would probably give you some pleasant surprises. Depend on your luck, you would see civet, moonrat, Malay badger, sleeping birds, glow worm, owls, stick insect, firefly, frog, bearded pig, flying lemur, etc. You hit jackpot if you spot Bornean Tarsier or Slow Loris, the most mysterious primates of Sabah. Known as Ghost Monkey locally, Bornean Tarsier is the smallest primate of Borneo and has huge eyes bigger than its brain.
Night Walk is available from Mon to Fri only (conducted between 6pm-8pm), you can register for the walk at ticketing counter (before they close at 5pm). The fee is RM30 (≈USD$8.50) per adult and RM15 (≈USD$4) per child (5-17 years old) for a minimum of 2 hours, RM15/person for each additional hour. A minumum of 4 visitors (but no more than 10) is required to form the night walking group, or you have to pay for the full amount RM120 (≈USD$34). Do bring torch-light (flashlight) and raincoat with you. You can take photos but no camera flash is allowed for small animals.
How to get there
The Rainforest Discovery Center is located at Sepilok, Sandakan, Sabah, about 25 KM to the west of Sandakan City (see Location Map). Public transport to Sepilok is available readily and the journey takes about 45 to 50 minutes one way. You can hire a taxi for a return trip for about RM100 per car (≈USD$28)(negotiable).
RDC Shuttle Service (within Sepilok Only)
I strongly recommend you to visit Sepilok Orangutan Rehabilitation Center and Bornean Sun Bear Conservation Center, which are only 2 KM away from RDC.
RDC Shuttle Service (within Sepilok only) is available only when licensed taxi not around and depend on staff availability. It's no guarantee but good to know this option anyway. The standard rate is RM10 (≈USD$2.50) per car. You can request for transport in following time:
9am-5pm: enquire for taxi or shuttle service at ticketing counter
5pm-8pm: enquire shuttle service at security hut
Photos taken in Sandakan, Sabah, Malaysia Borneo