Hey Sabahans, do you know any Australian hero? What? Chris Hemsworth? I'm talking about real hero, not movie star. This Aussie hero doesn't use any hammer, he fought for us to free Sabah in World War II. After knowing the story of Tom Starcevich here, do say thank you to your Australian friends when you visit the land of kangaroo next time.
Background
During World War II, Sabah was invaded and occupied by Japanese. In June of 1945, Australian forces launched the campaign to liberate Borneo. The Australian 2/32nd and 2/43rd Battalion began their attack on 27 June against the 386th Japanese Independent Infantry Battalion under Major Kimura Jiro. Beaufort was a strategic town because its railway situated between Kota Kinabalu (then Jesselton) in the north and Tenom in interior. Losing Beaufort would be a big blow to the enemy because that will cut off the supply and aid from outside. The Japanese knew this too, so they defended Beaufort stubbornly. After days of heavy fighting, the Japanese retreated to the forested slope behind the town and setup a few machine gun posts in highground.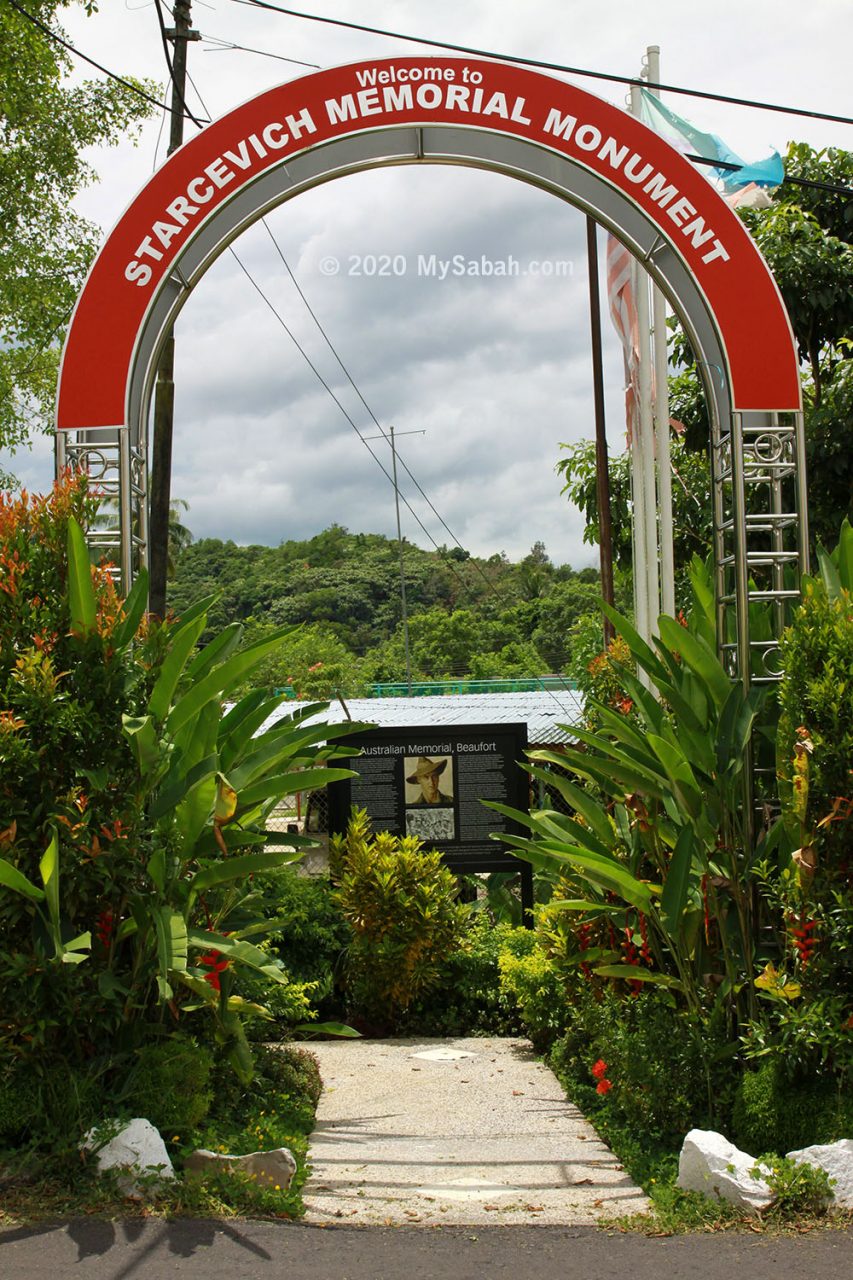 In a hail of bullets, Tom Starcevich risked his life and fought uphill to wipe out four machine gun posts and 12 enemies almost single-handed. Because of his bravery, he was awarded Victoria Cross, the highest decoration for gallantry "in the face of the enemy" that can be awarded to members of British and Commonwealth armed forces, equivalent to Medal of Honor for United States I think. The battle between Australian and Japanese forces in Beaufort, from 26 to 29 June 1945, is one of the most intense but important fight in Sabah. 2/43rd Battalion, where Starcevich belongs, lost 13 men killed and 30 wounded. The numbers could be more if Starcevich wasn't there.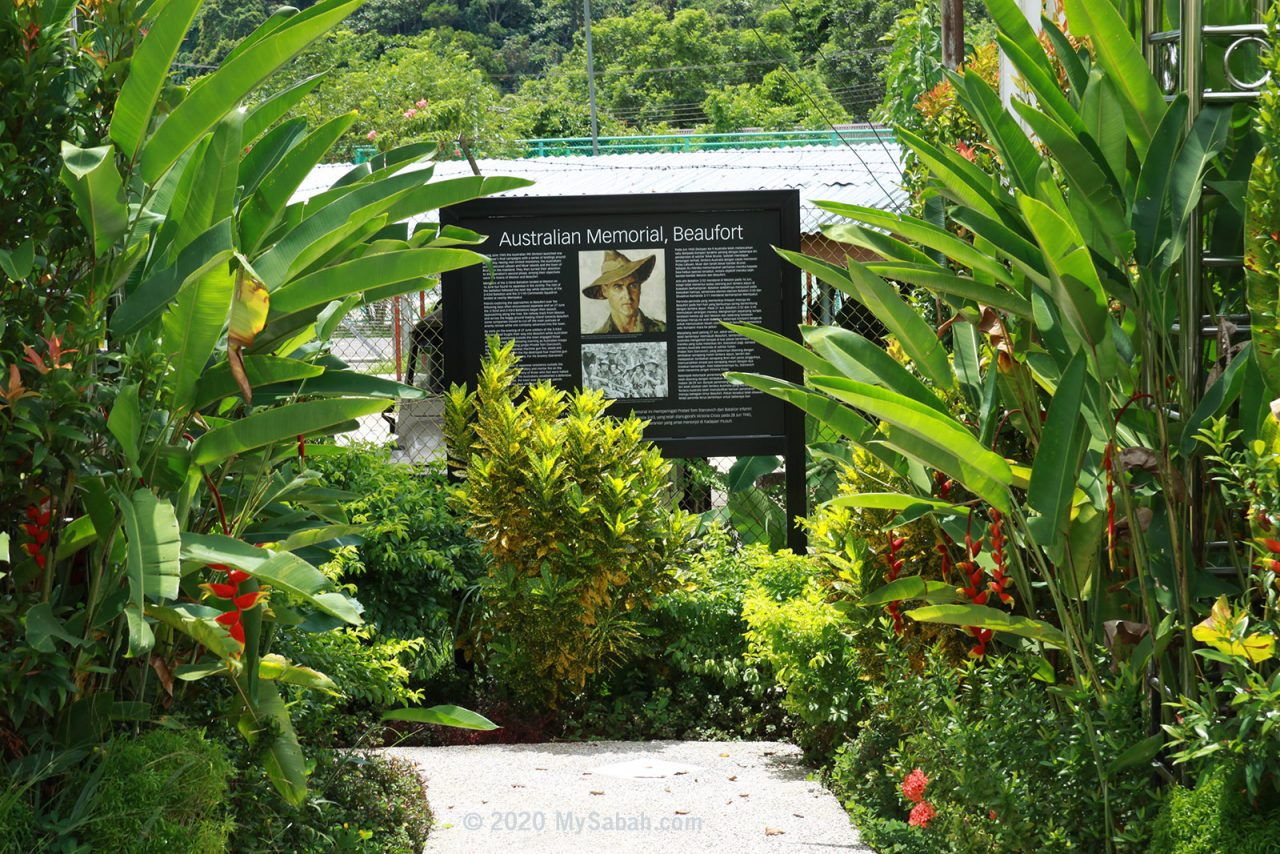 Starcevich Memorial Monument
To commemorate Starcevich and this event, Starcevich Memorial Monument is erected at the battle site and open to public (free entry). The memorial site has turned into a small garden and visitors can see the information panel at the entrance, which says, "During June 1945 the Australian 9th Division launched one of the war's final campaigns with a series of landings around Brunei Bay. Having met limited resistance, the Australians quickly secured Labuan and Muar islands and the town of Brunei on the mainland. They then turned their attention to the operation's second phase. Among their objectives were the towns of Weston and Beaufort.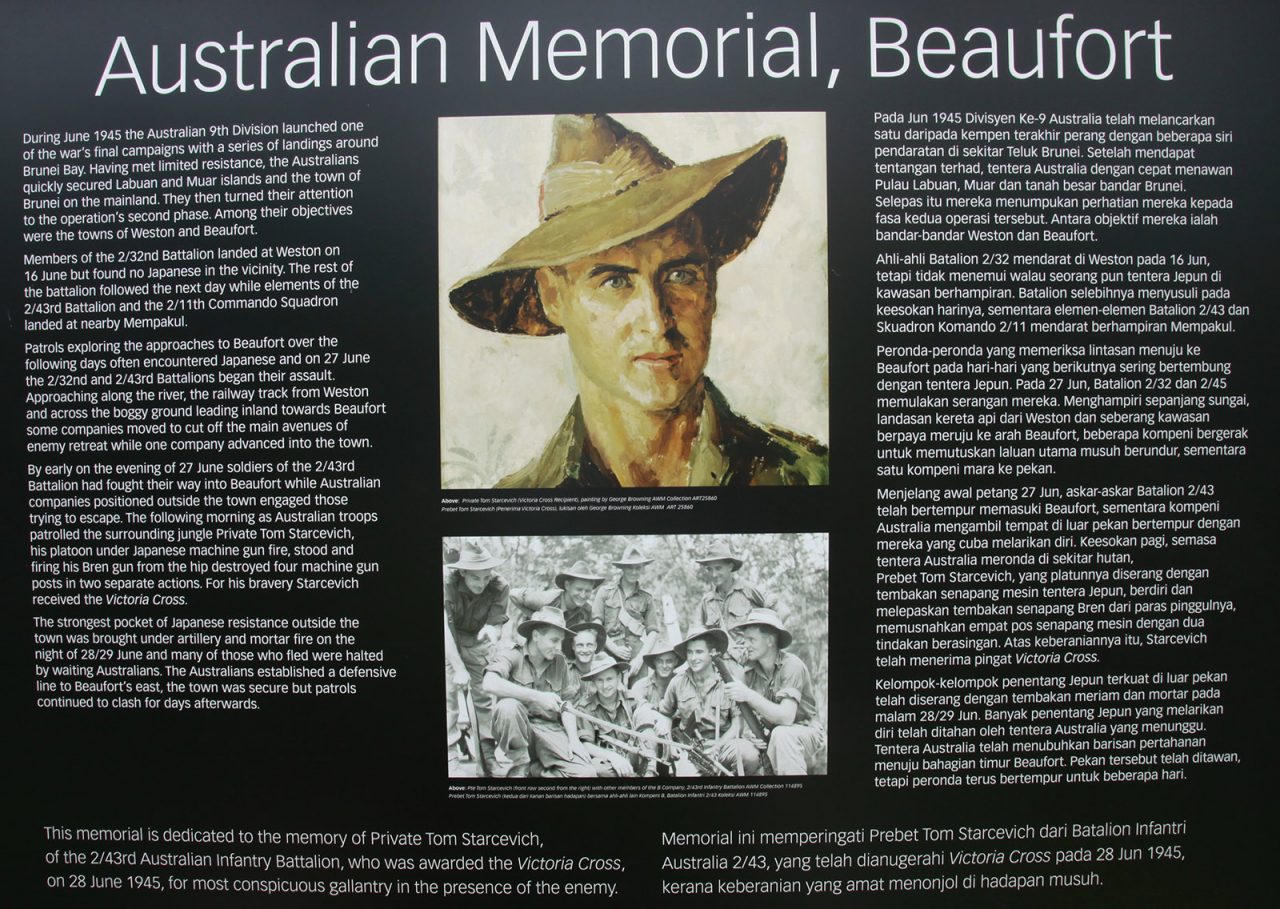 Members of the 2/32nd Battalion landed at Weston on 16 June but found no Japanese in the vicinity. The rest of the battalion followed the next day while elements of the 2/43rd Battalion and the 2/11th Commando Squadron landed at nearby Mempakul.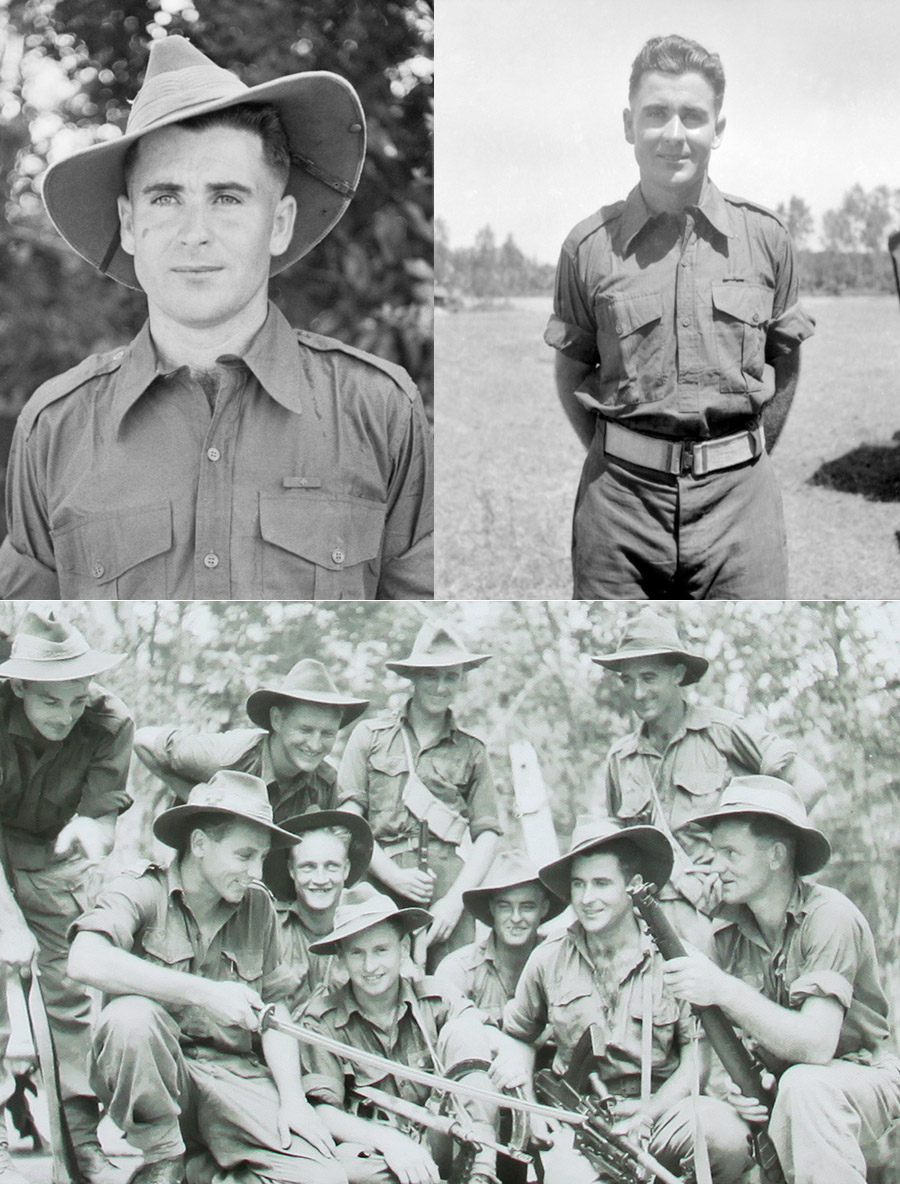 Patrols exploring the approaches to Beaufort over the following days often encountered Japanese and on 27 June the 2/32nd and 2/43rd Battalions began their assault. Approaching along the river, the railway track from Weston and across the boggy ground leading inland towards Beaufort some companies moved to cut off the main avenues of enemy retreat while one company advanced into the town.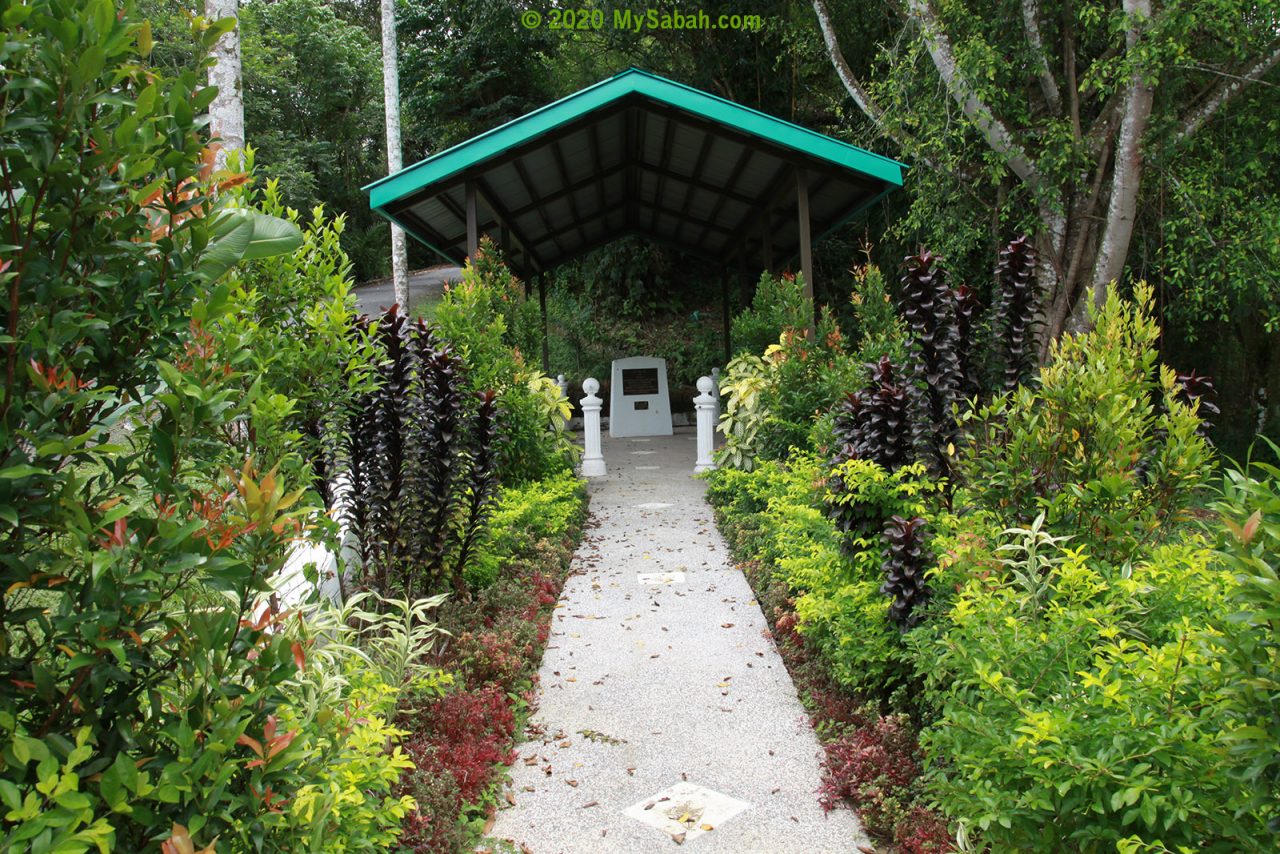 By early on the evening of 27 June soldiers of the 2/43rd Battalion had fought their way into Beaufort while Australian companies positioned outside the town engaged those trying to escape. The following morning as Australian troops patrolled the surrounding jungle Private Tom Starcevich, his platoon under Japanese machine gun fire, stood and firing his Bren gun from the hip destroyed four machine gun posts in two separate actions. For his bravery Starcevich received the Victoria Cross.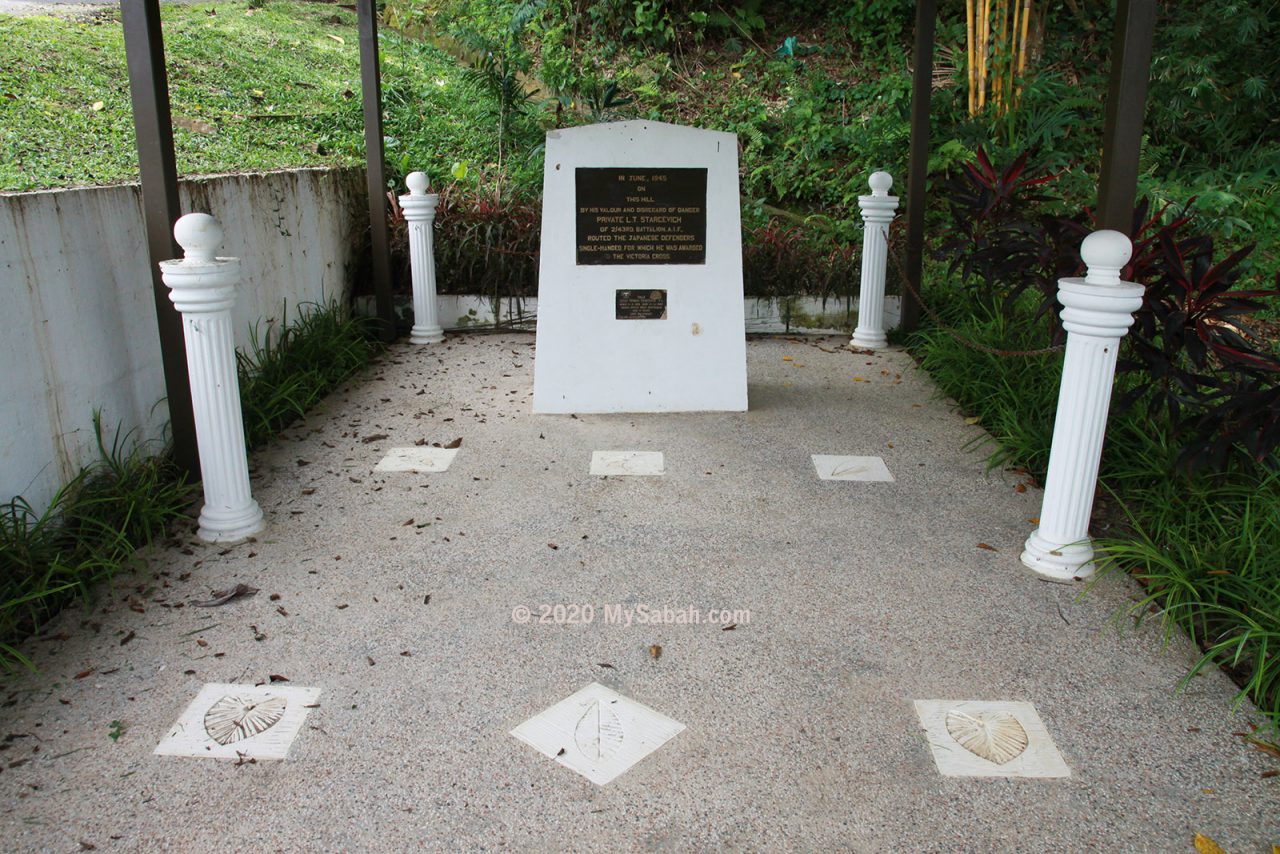 The strongest pocket of Japanese resistance outside the town was brought under artillery and mortar fire on the night of 28/29 June and many of those who fled were halted by waiting Australians. The Australians established a defensive line to Beaufort's east, the town was secure but patrols continued to clash for days afterwards.
This memorial is dedicated to the memory of Private Tom Starcevich, of the 2/43rd Australian Infantry Battalion, who was awarded the Victoria Cross, on 28 June 1945, for most conspicuous gallantry in the presence of the enemy."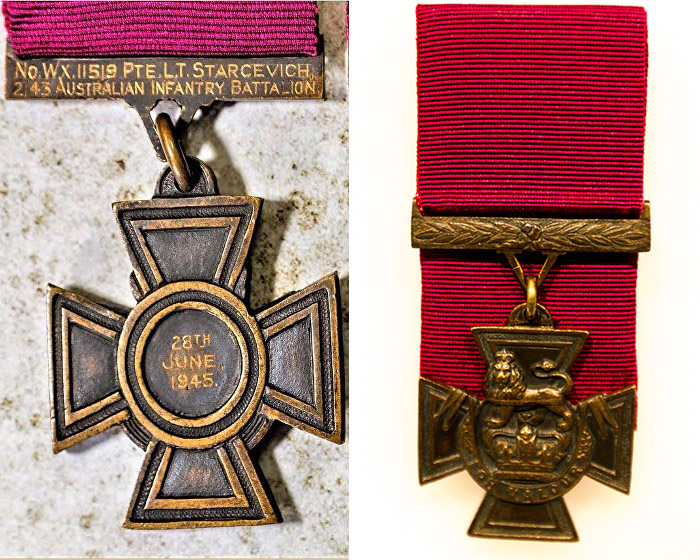 The following are more details of the conflict from Australian Dictionary of Biography:
"On 27-28 June it (2/43rd Battalion) attacked the town of Beaufort. Approaching a thickly wooded spur, Starcevich's company encountered the enemy at a position where movement off the single track was difficult and hazardous. The leading platoon found the enemy well dug in and, as the Japanese in the first post opened fire, Starcevich moved through the forward scouts firing his Bren-gun from the hip and silencing the post. Fired upon immediately by a second light machine-gun emplacement, he coolly changed his magazine, advanced upon this post and, standing in full view of the gunners, destroyed it. Encountering a third post, he and a fellow soldier moved forward and kept the post quiet with a hail of fire. For this outstanding display of gallantry he was awarded the Victoria Cross in November. After the war the people of Beaufort erected a memorial to Starcevich and named the jungle track 'VC Road'."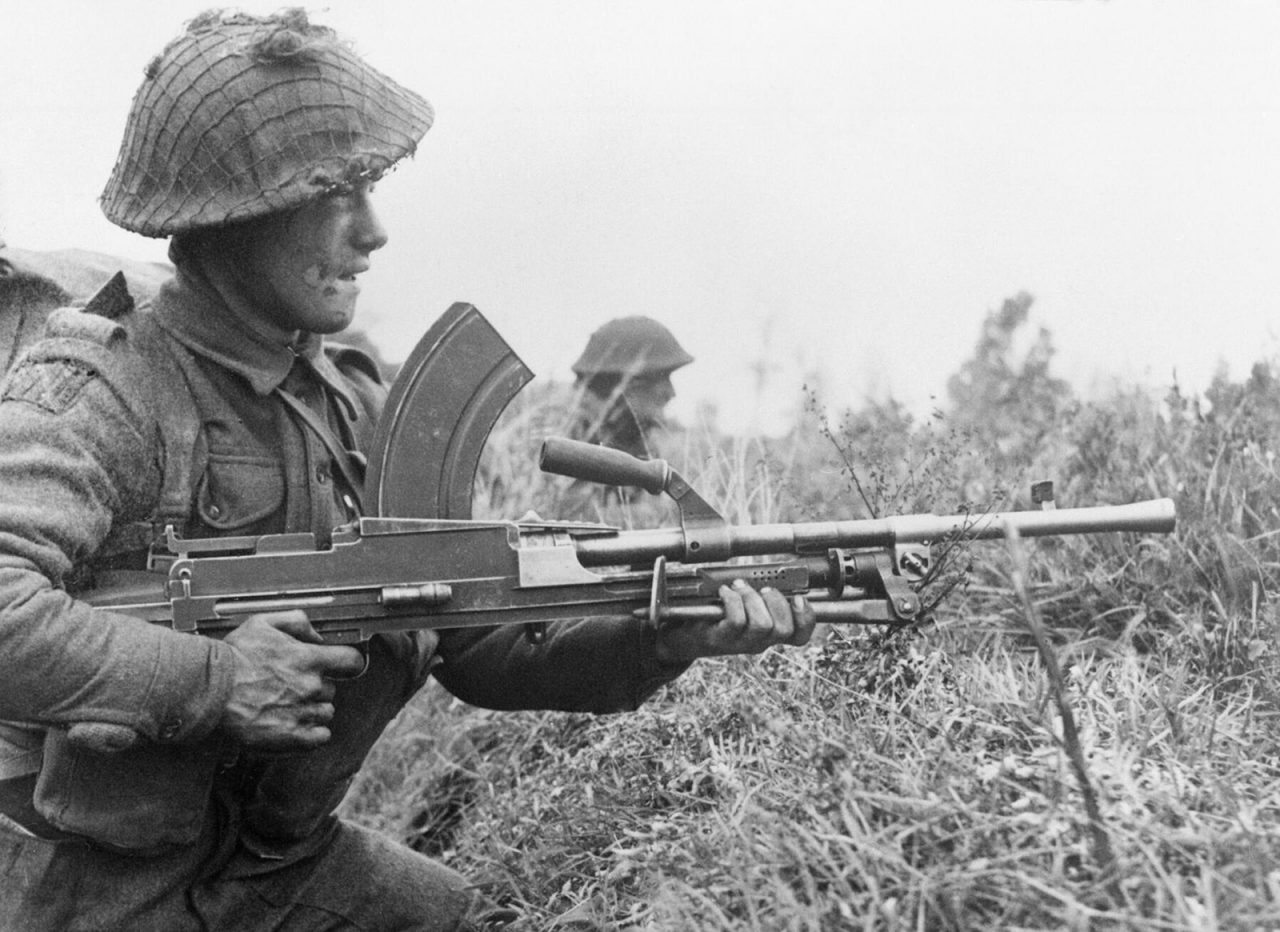 Starcevich is a Bren-gunner in his team. The Bren gun is a light machine guns made by Britain in the 1930s and used in various roles until 1992. It has an effective range of around 550 Metres. You can mount Bren gun on a tripod or vehicle, or fire it from a prone position with a bipod. From what I read, shooting it from the hip like Rambo is Australian style of firing Bren Gun, badass huh. I would not want to be in front even if I play video war game, where I can respawn and retry until succeed. He is really an action hero.
The Monument
The memorial stone is in the form of a stele of about one metre in height. The cross section is rectangular; the stele tapers upward slightly and is topped by a flat top. On the front with two bronze plates inserted and the inscription on top plate reads "In June 1945, on this hill, by his valour and disregard of danger, Private L.T Starcevich of 2/43rd Battalion A.I.F (Australian Imperial Forces), routed the Japanese defenders single-handed, for which he was awarded the Victoria Cross."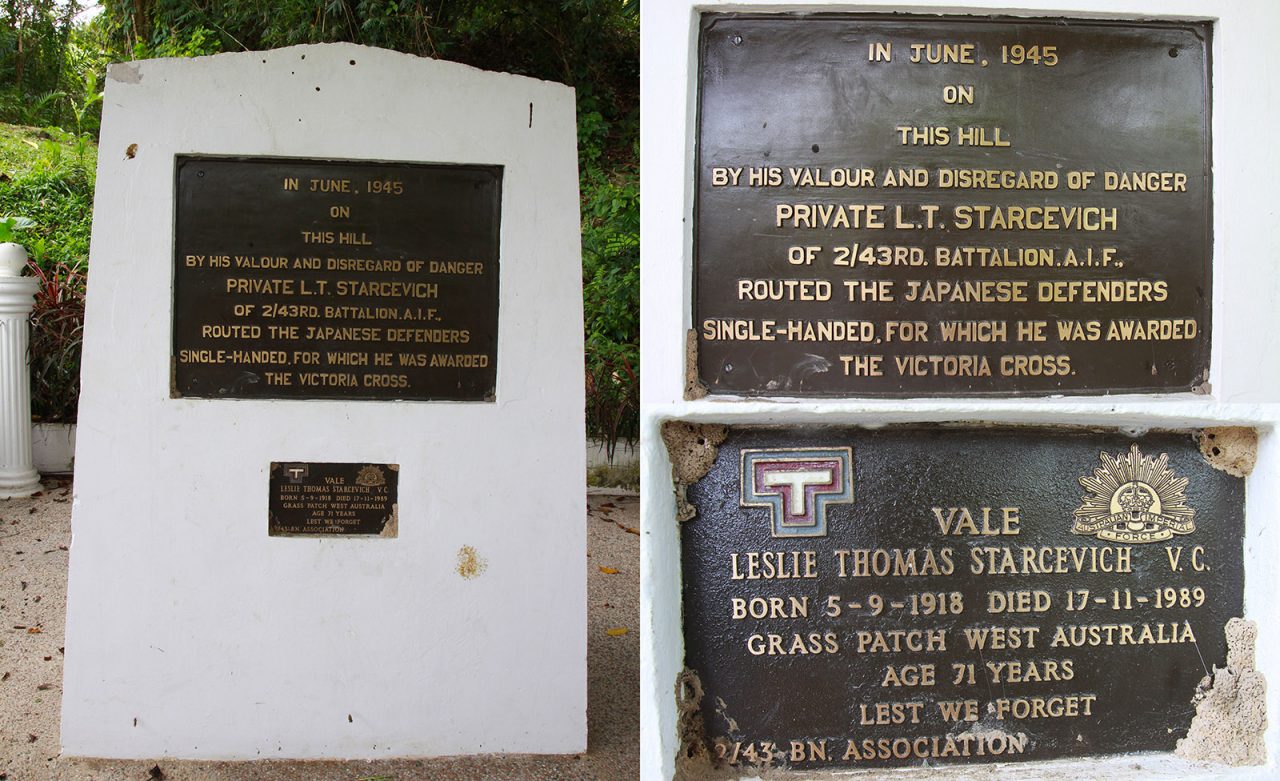 The lower sheet is an obituary that says, "Vale Leslie Thomas Starcevich V.C. Born 5-9-1918 Died 17-11-1989. Grass Patch West Australia. Age 71 Years. Lest we Forget. 2/43 BN. Association."
How to get there
The memorial site is at the edge of Beaufort town and next to a government building named "Urusetia Daerah Beaufort". Beaufort town is about 97 Kilometre south of Kota Kinabalu City and highly accessible by highway and paved roads.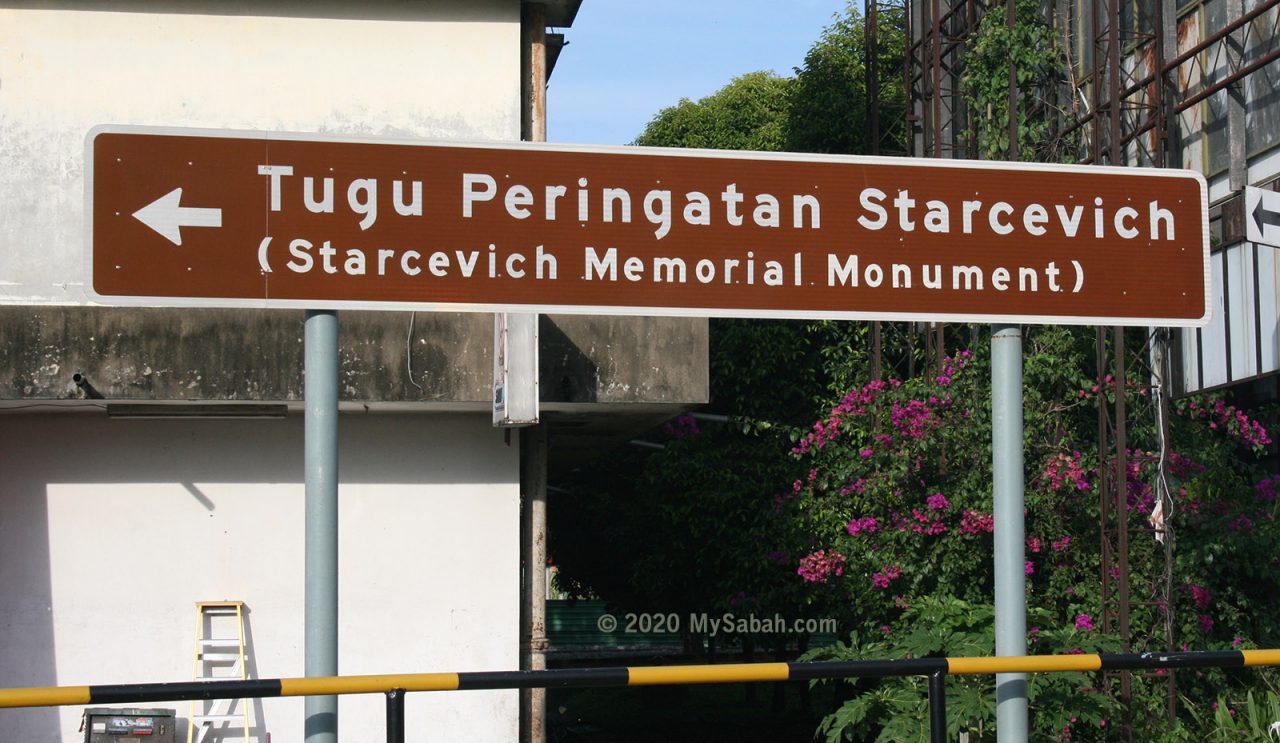 Starcevich Monument wasn't listed in Google map many years ago, so it took me quite a long time to locate it. Now it's super easy with navigation apps such as Google Map.
GPS: 5.343301, 115.746622 (see Location Map or Street View)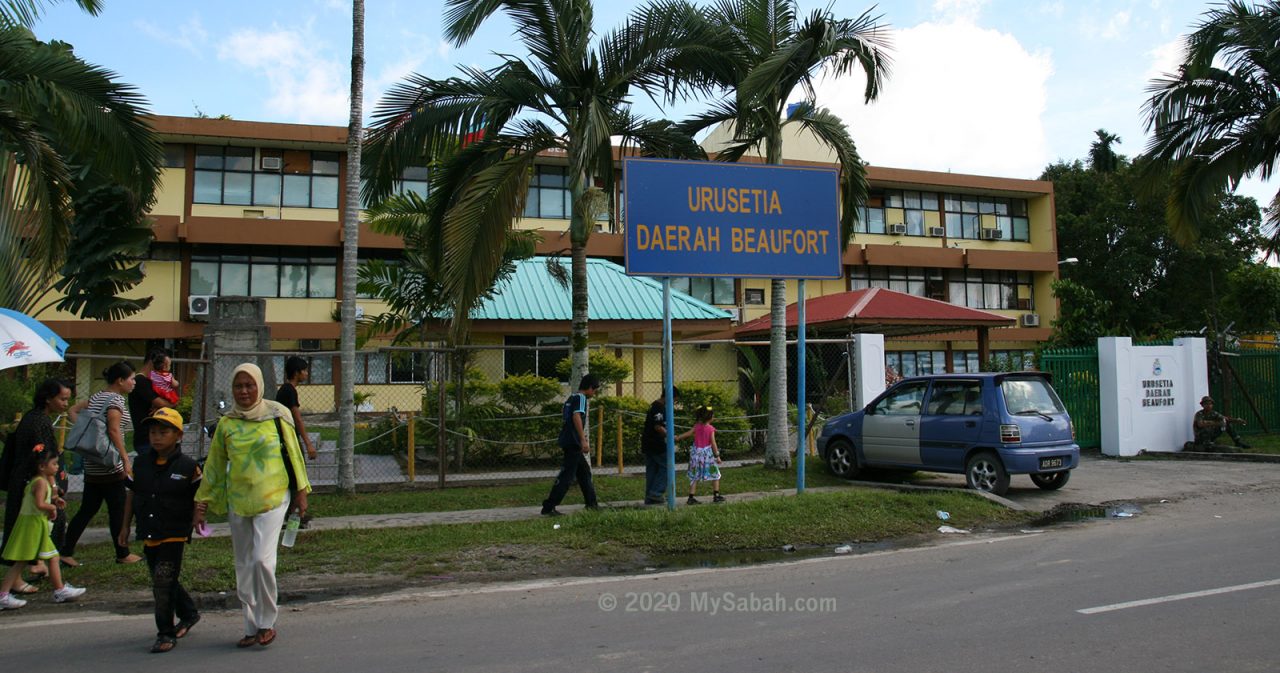 Once you reach Urusetia Daerah Beaufort, turn into the small road named Jalan Tugu at the right, you will spot the monument at your right after 50 Metres.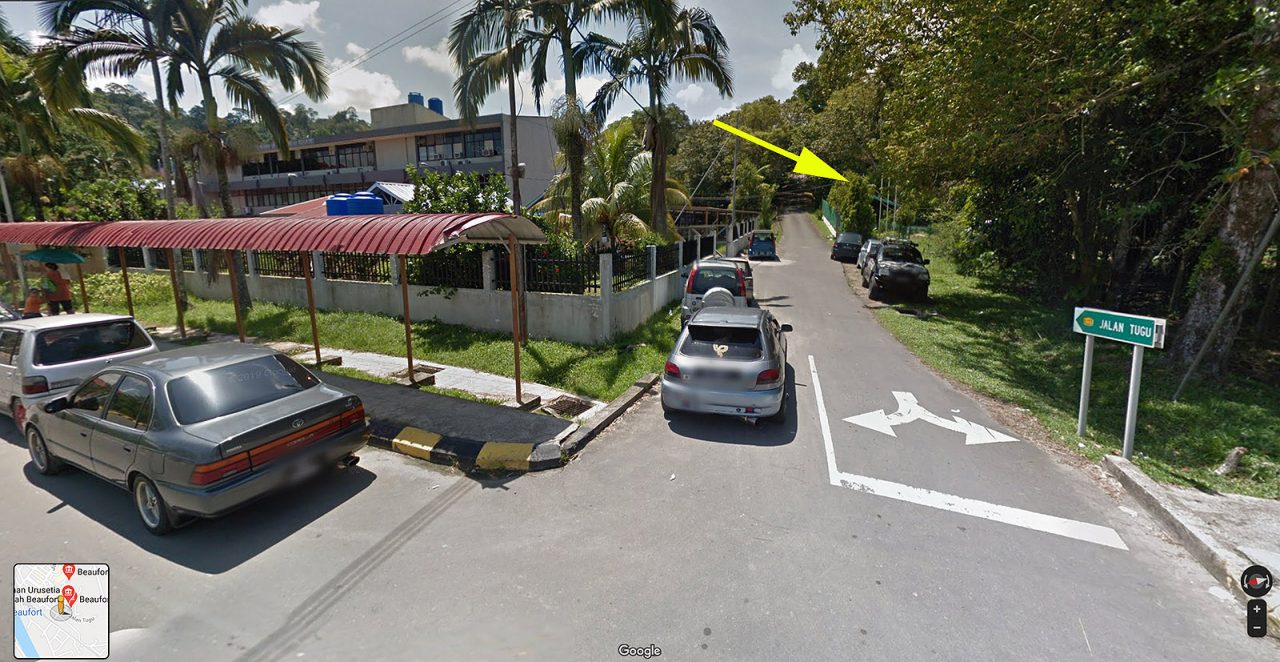 For a deeper feel of the conflict, you can walk up the slope. The hill and forest are still mostly intact. The narrow jungle track is a paved road today.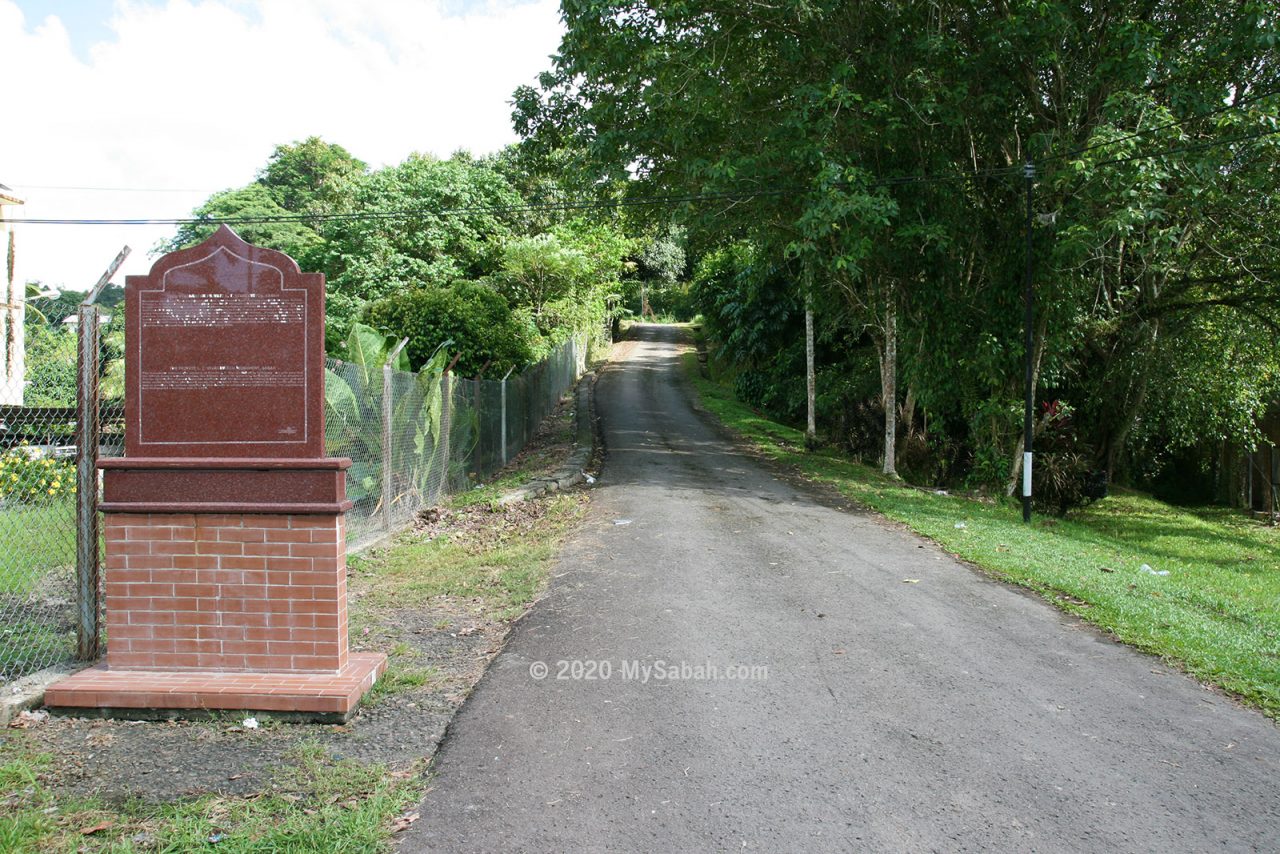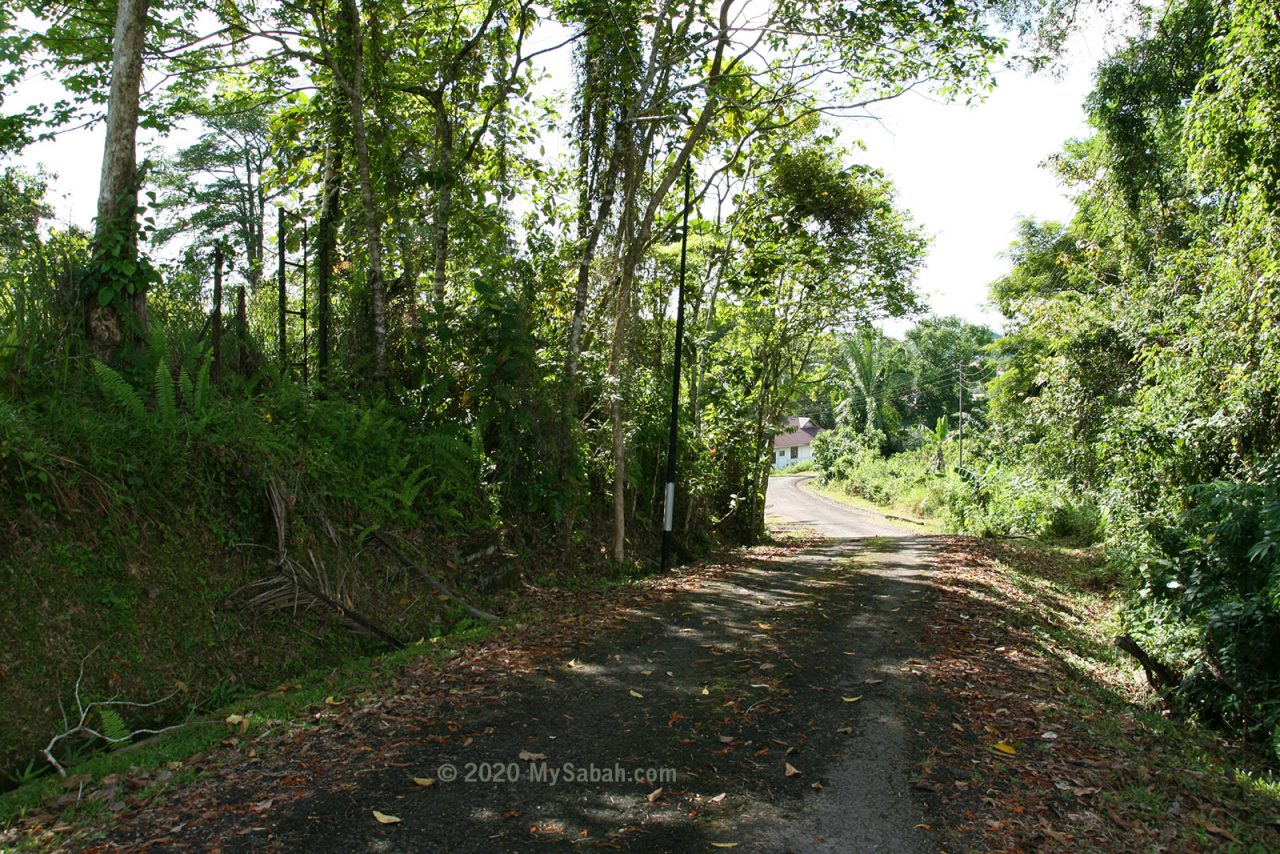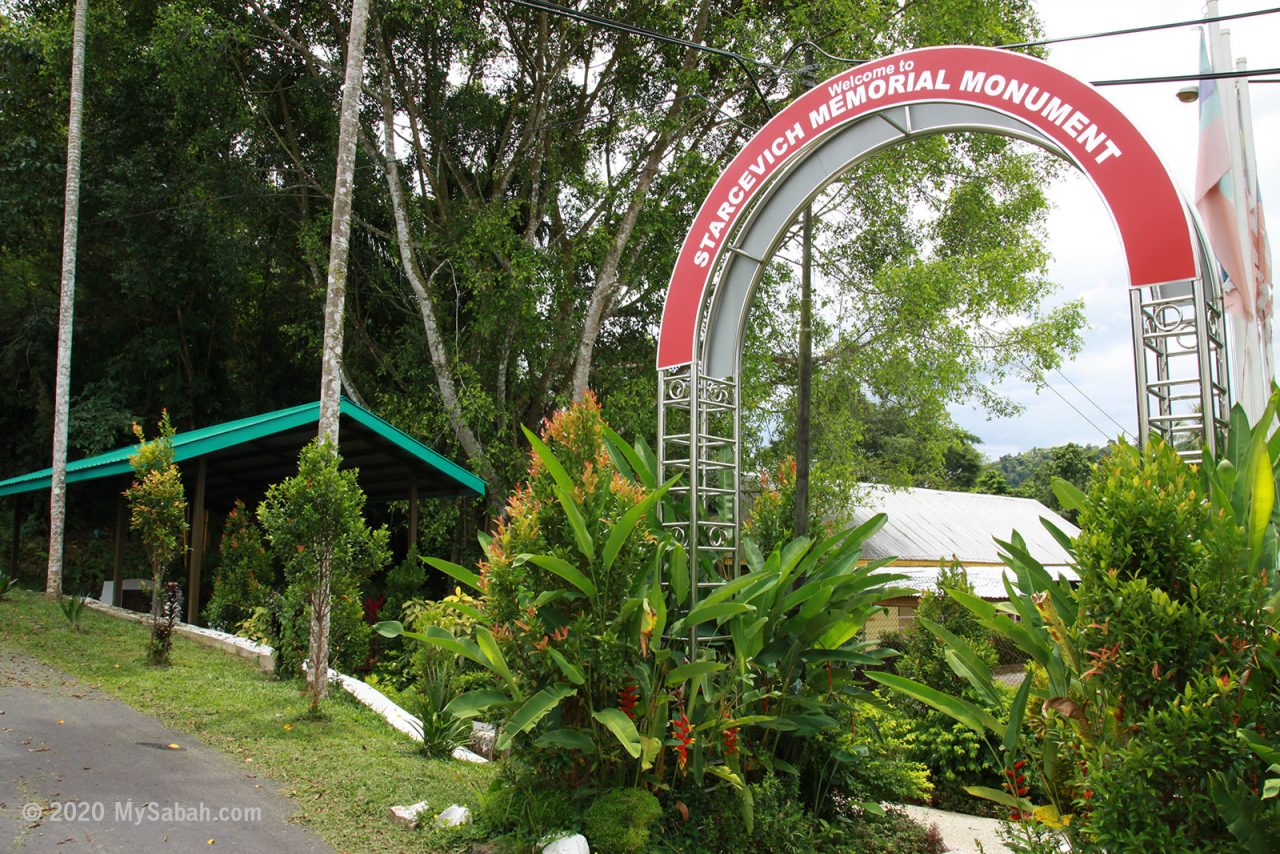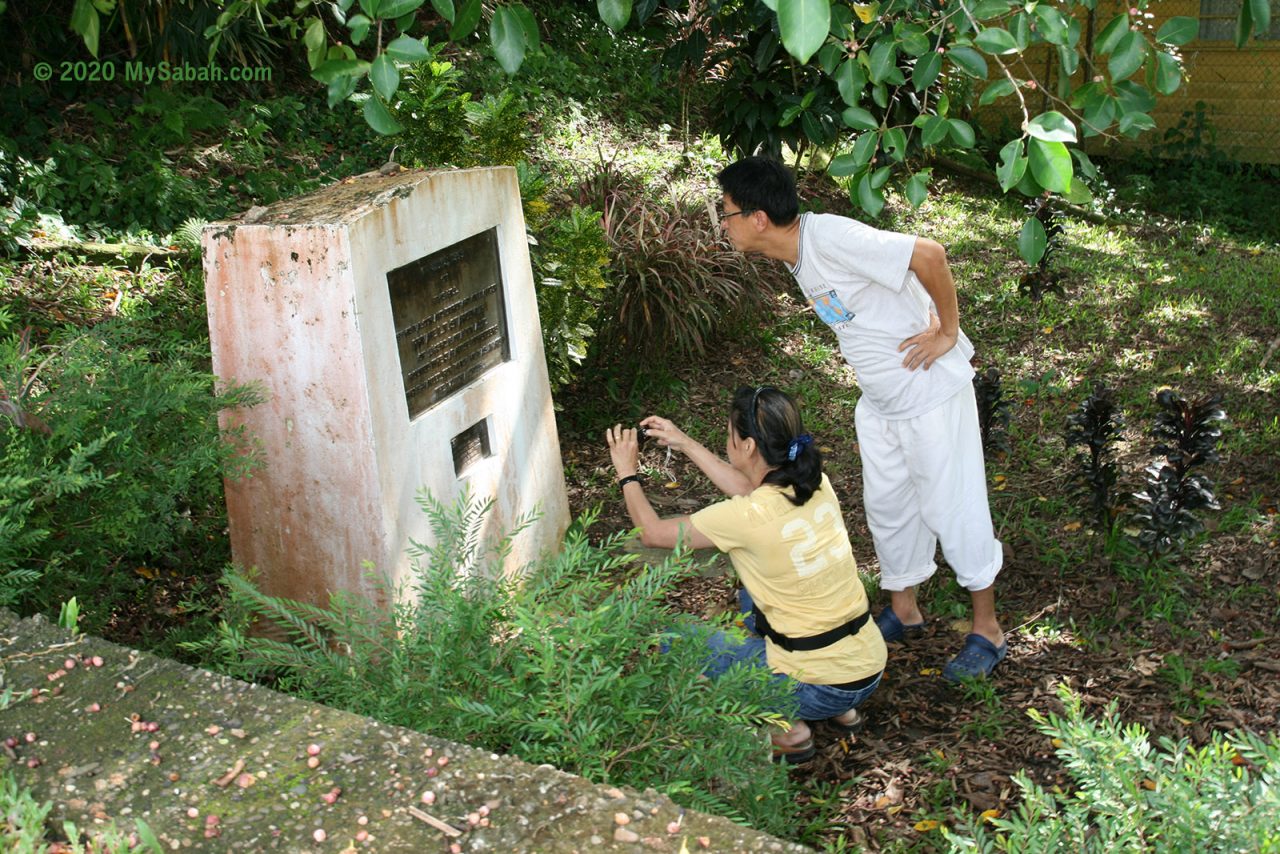 Trivia
Tom Starcevich (Full Name: Leslie Thomas Starcevich) was born on 5 September 1918 in Western Australia.
He never came back to Sabah after the war.
Tom Starcevich is a modest and serious man with a liking for music, he was described as 'a good mate, with a quiet smile and dry sense of humour', who enjoyed sharing a few beers with old comrades.
Tom Starcevich VC was a quietly capable man, not given to volatility or vulgarity and not easily provoked. His daughter Lynette Starcevich said, "Dad wasn't very comfortable with the attention. The VC was for everyone in his battalion who didn't come back or wasn't recognised for their courage."
His brother, Stan Starcevich said, "as far as Tom was concerned, he didn't think it was a big deal, he just thought he was doing the job he was supposed to be doing."
"Tom didn't do it for himself, he didn't do it for glory — he did it for his mates." – Michael Madden, author of The Victoria Cross — Australia Remembers
After taking over Beaufort, Australian troop organised a Beaufort Children's Carnival on 8 August for the locals.
Besides Starcevich Memorial Monument in Sabah, there are two Starcevich memorial sites in Australia, one is Grass Patch (Mallee) Starcevich VC Memorial in Grass Patch, and another one is Tom Starcevich Memorial Park in Canberra.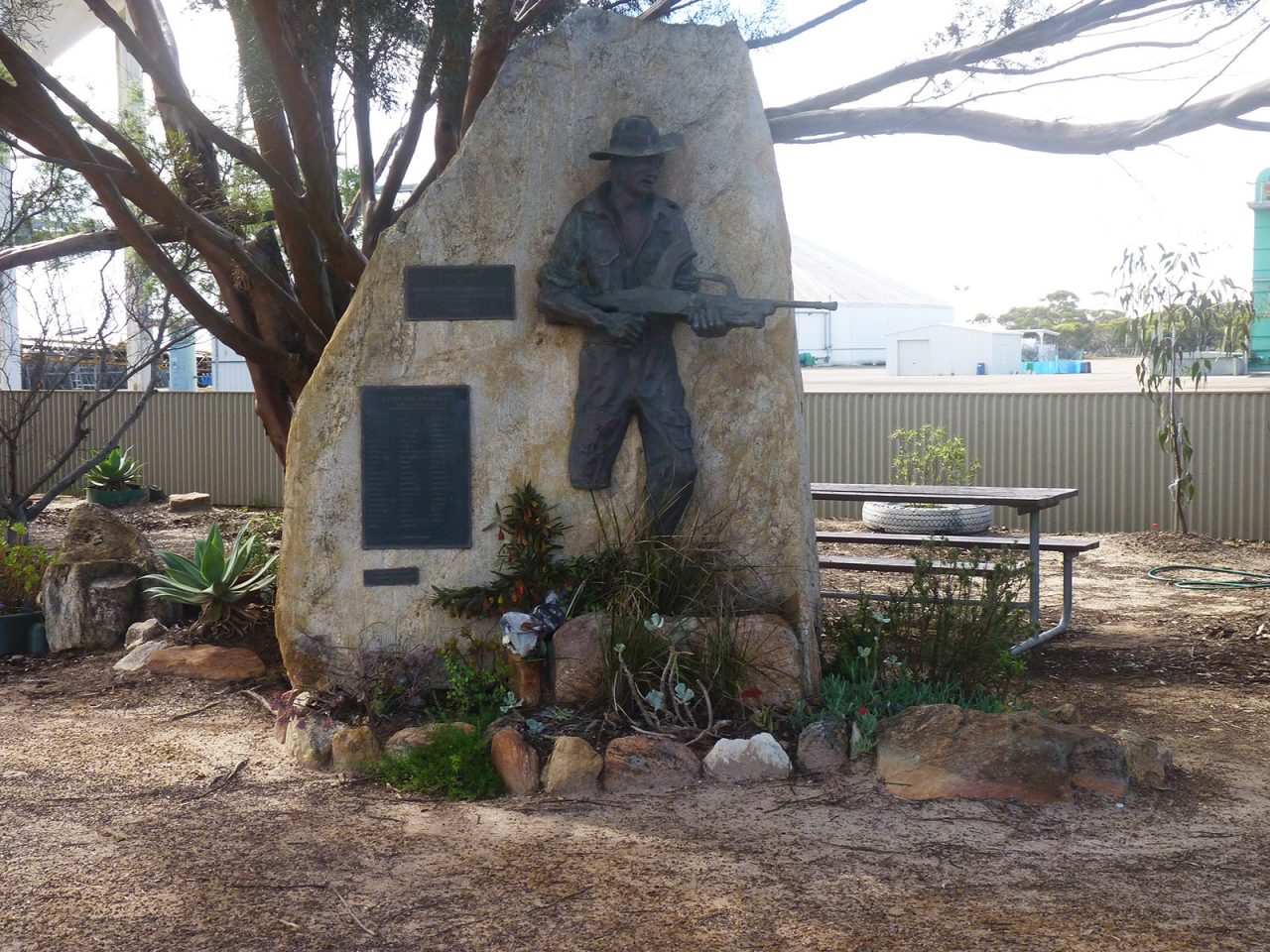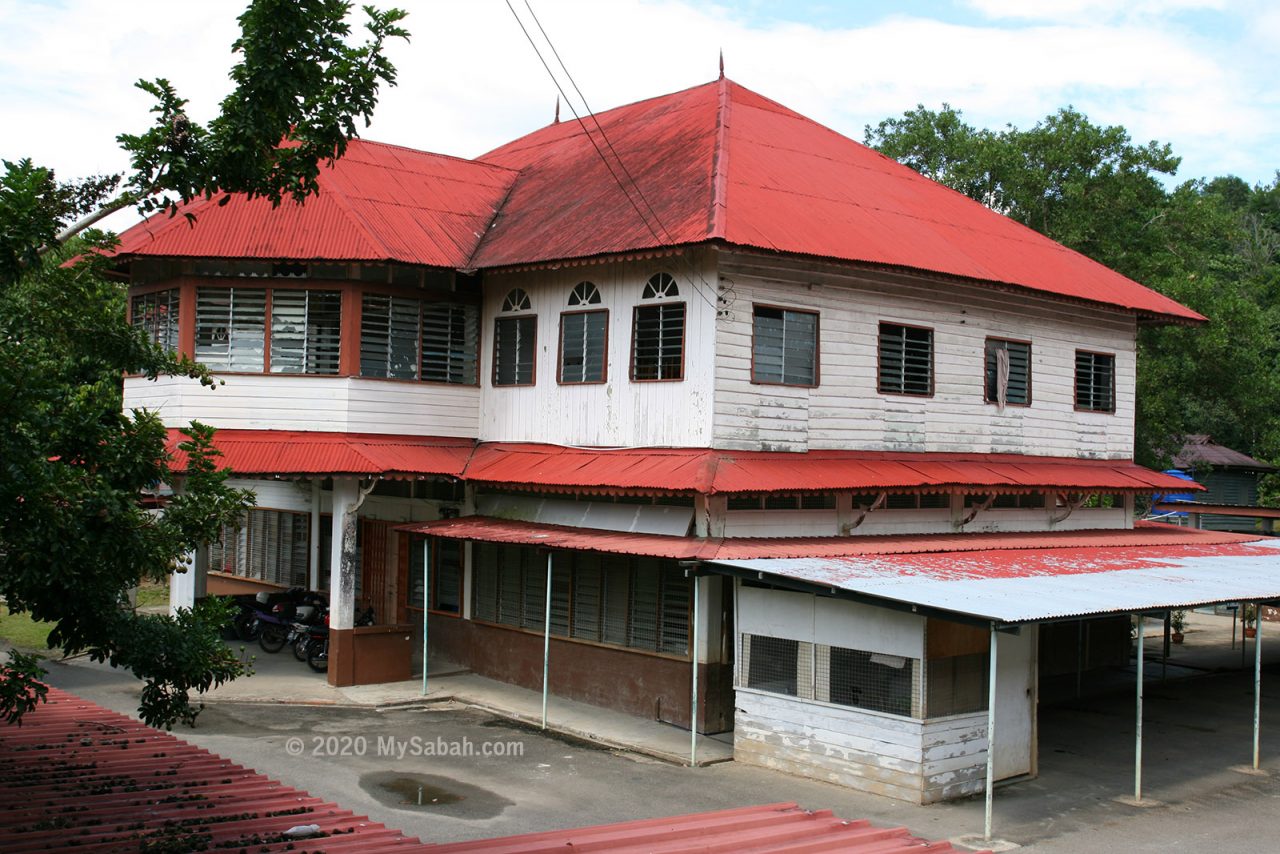 FYI, if you visit Starcevich Memorial Monument in Beaufort, you may check out a pre-war building inside the campus of SJK (C) Kung Ming Beaufort (a local Chinese primary school), which is a short walk away from the memorial. According to the locals, Japanese used this building as a hospital during WW2, and now it's gazetted as a heritage building by Sabah Museum. They also told me that some people, who have the ability to see "other" world, could see "spiritual things" follow the Japanese tourists.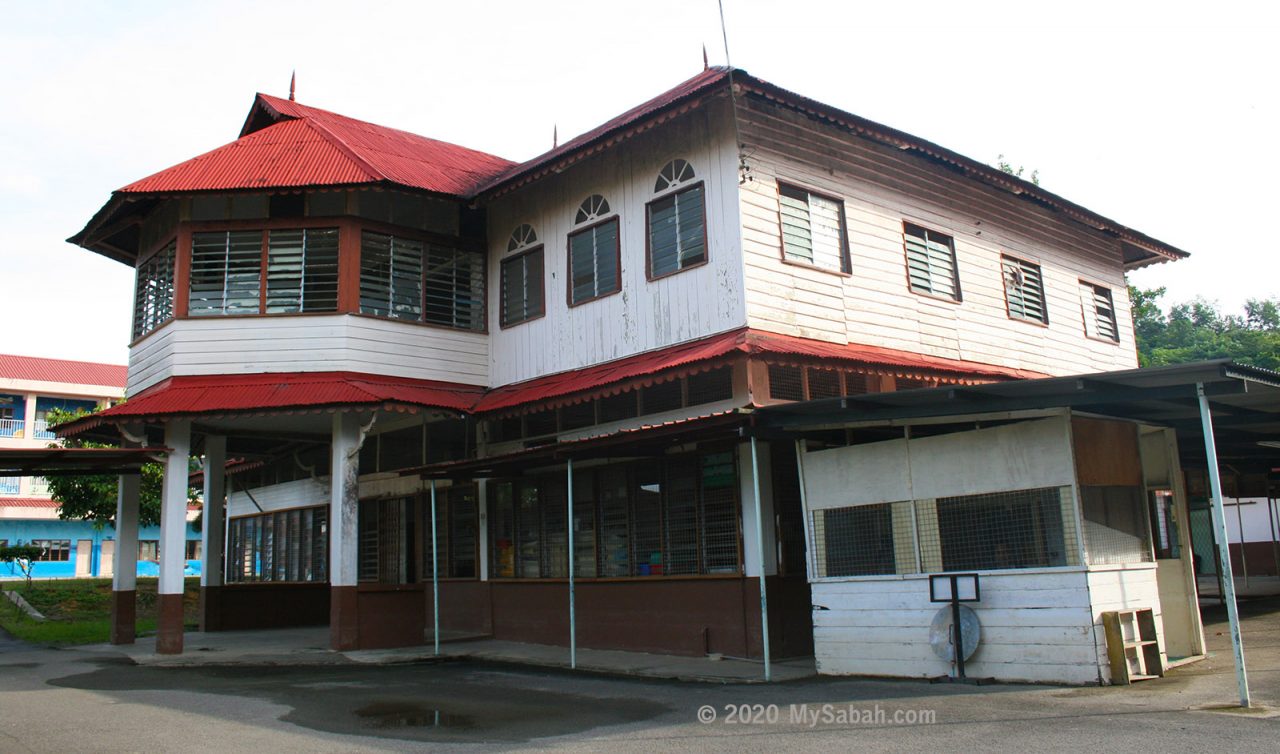 Photos taken in Beaufort, Sabah, Malaysia Borneo