This year I celebrated my birthday differently. No Internet, no birthday cake, and no cozy bed. For me, to feel great being alive is to do something I love. Touching some boobs would be awesome, so this birthday wish brings me to Batu Nenen (Boobs Rock) in Maranggoi of Kota Belud.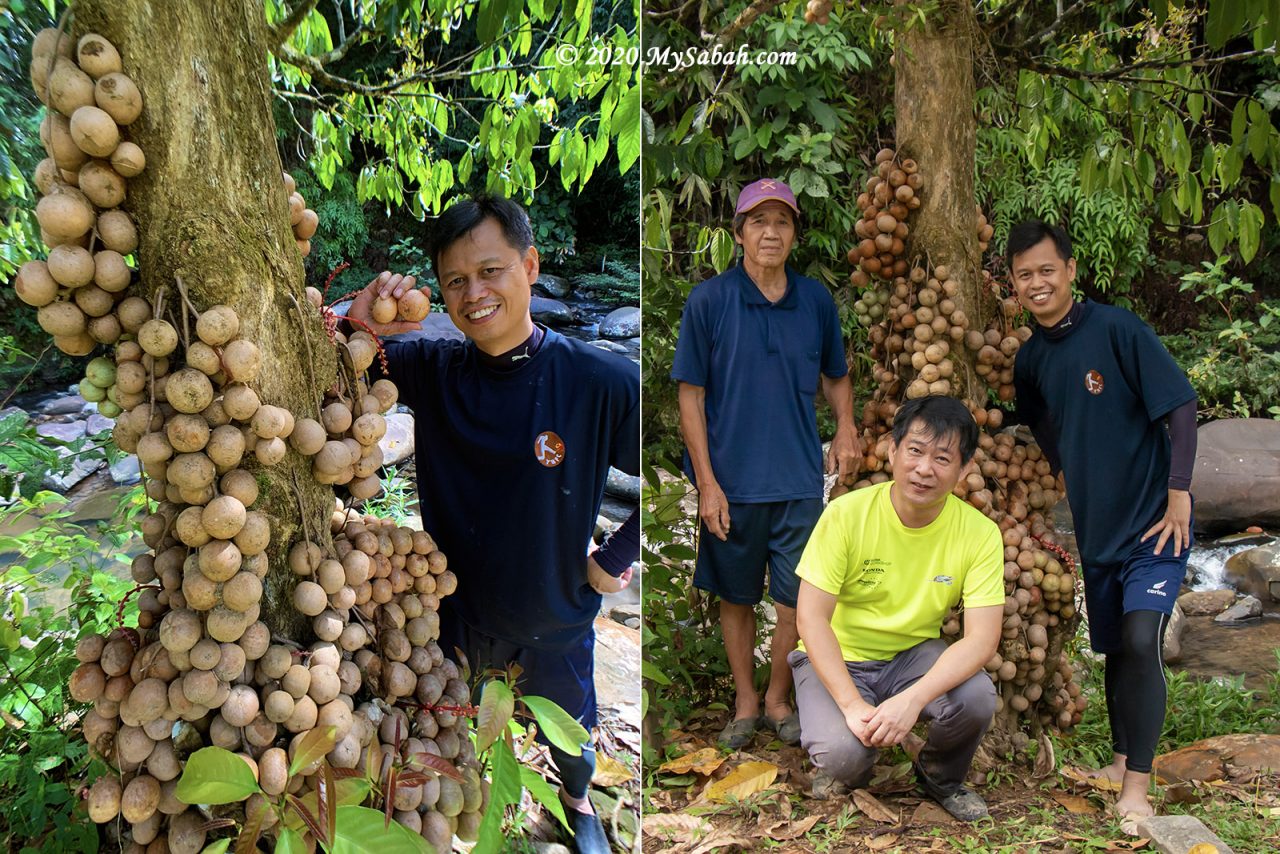 About Maranggoi and Pinolobu
Located in Pinolobu Village (Kampung Pinolobu), Maranggoi Eco Tourism is a new destination of rural tourism, which promotes travelling in countryside of Sabah. This village is blessed with forest, waterfalls, spring water and clean river. Maranggoi is the name of the river, which is named after a missing young man Maranggoi, who used to collect resin in forest around that river. But one time he didn't return home after 3 days, which he normally did. The villagers went out looking for him and shouted his name, but they only found the cigarette butt Maranggoi left.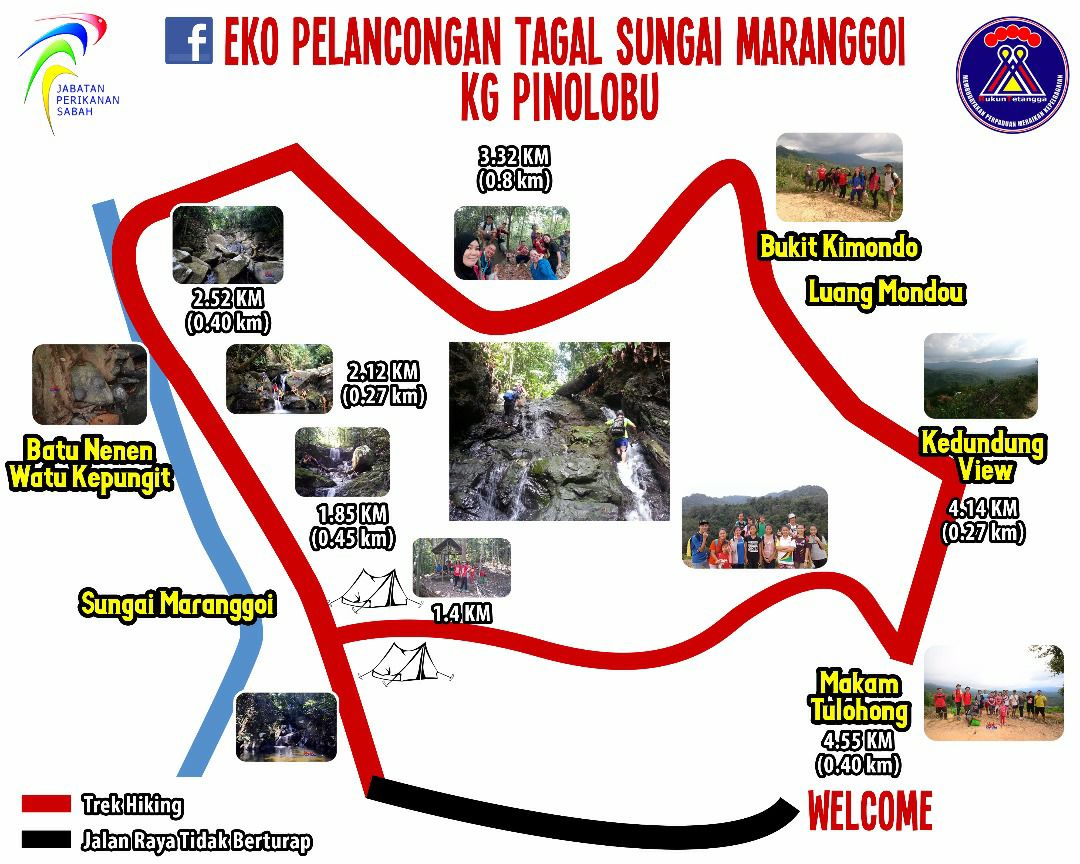 Kampung Pinolobu is a village about 17 Kilometres away from Kota Belud town. Pinolobu means breaking into a new frontier. Most of the population in Pinolobu Village is Dusun Tindal people and majority of them are farmers. Fruits and crops are everywhere in Pinolobu, to list a few, tapioca, pineapple, mango, rambutan, durian, sweet potato, and rubber. The entire village is built on hill area. To move around neighbourhood, you would need to walk up and down some slopes.
Visit the Boobs Rock (Batu Nenen)
Last month I booked a 2-day-1-night tour with the operator of Maranggoi. I drove 2 hours from Kota Kinabalu to Kampung Pinolobu. I was a bit worried about the bad weather lately, and wished the sky would be kind to me on my birthday. Luckily, the day was clear in the morning and by 7:30am I met Risin, who was my guide. Risin is married with 4 kids and own a farm in Kampung Pinolobu.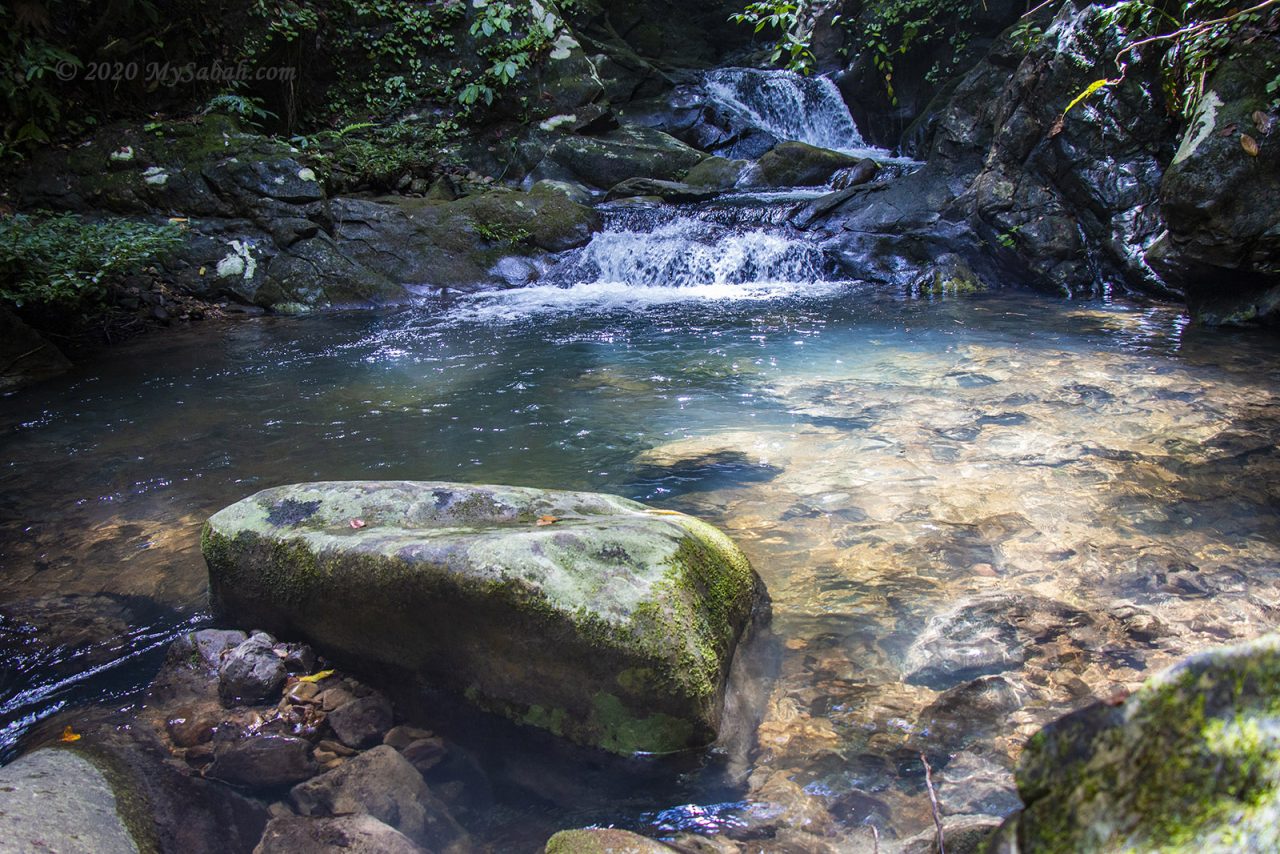 After a light breakfast in a local shop, we headed to the starting point of jungle trekking, to visit four waterfalls and Boobs Rock in Maranggoi. The hike started in the base camp, which is nearby the first waterfall, Wasai Telupid. Telupid is the name of a rare exotic tree that bears sour fruit, its leaf also has strong flavor of sour, and both can make mouth watering pickle and food.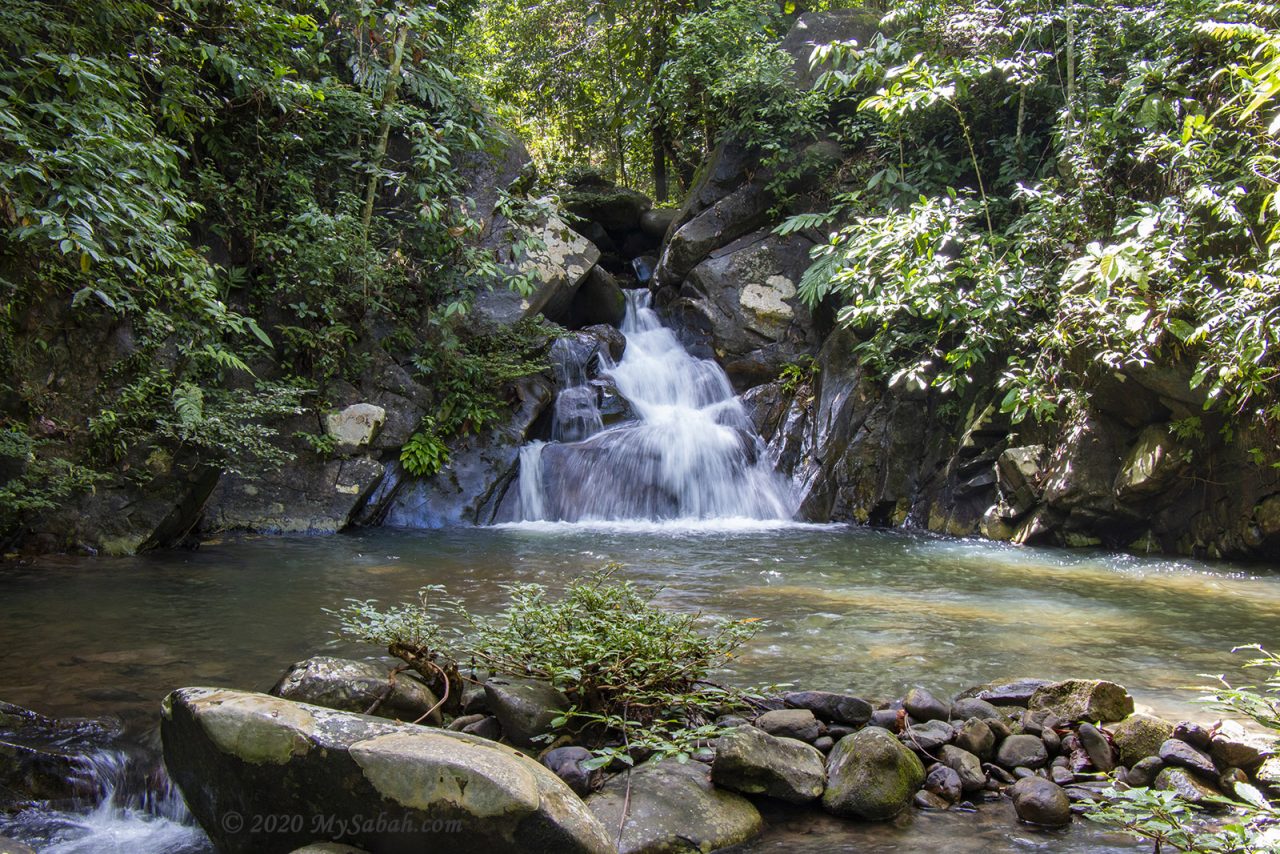 To reach Batu Nenen, We needed to walk over 2 KM along Maranggoi River and passed by a few waterfalls. As this is upstream, the boulders are huge and the stream is crystal clear. Risin says there is no more village upriver so the water is unpolluted. Maranggoi River also seldom floods, even in rainy season. Do bring swimwear if you want to enjoy the clean and cooling water. All waterfall ponds are shallow and safe for a soak.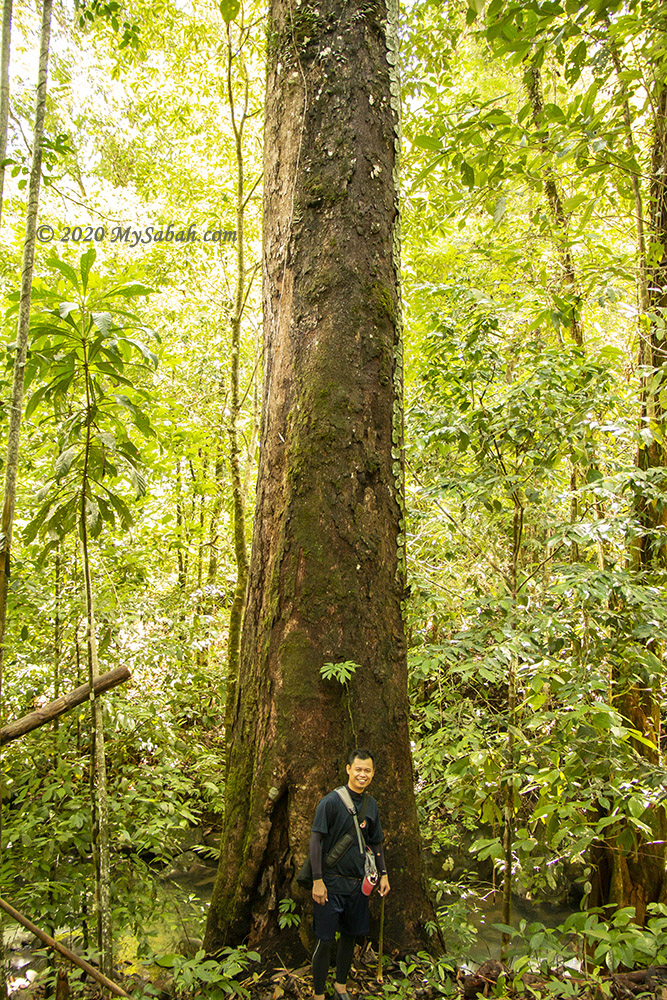 The nature trail to Boobs Rock is pretty challenging for tourists who are not used to jungle trekking. We have to cross a few streams and climbed over many slippery boulders (Do expect to get wet until knee level). Besides, half of the time I walked on narrow soil trail along the side of the slope, a misstep could cause a bad fall down the slope. Most of the steep sections don't have rope or rail support. Landslides blocked our way a few times, and we had to clear another path to get around them. Just to warn you that this is a rugged trail. Most visitors can do it but casual tourists would feel uncomfortable.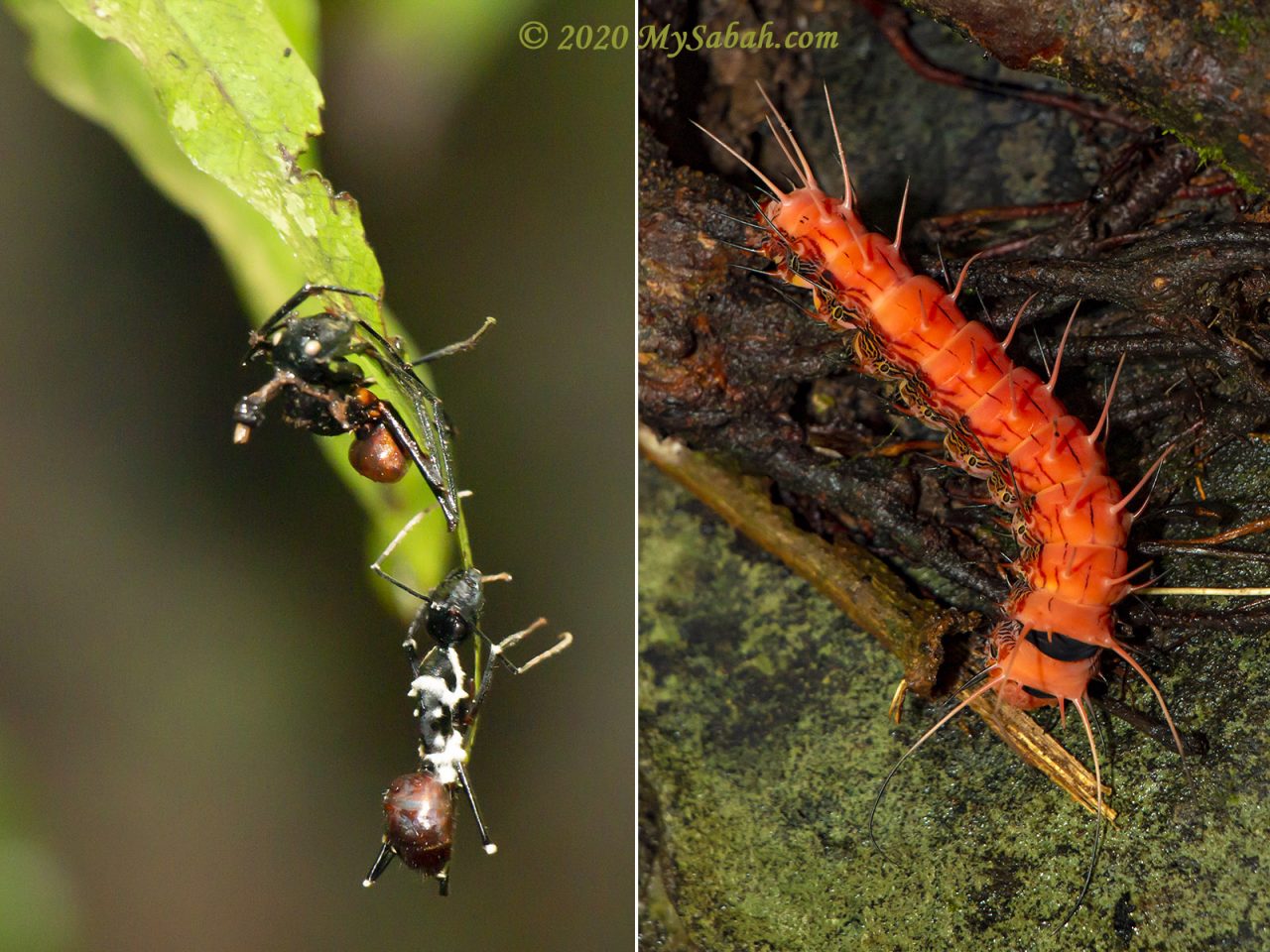 Due to hunting activity, no big wildlife is spotted, so forest leech is absent too. We did see some fresh holes dug by wild boars foraging for food. According to Risin, Konexer captured the video of a Tufted Ground Squirrel (species: Rheithrosciurus macrotis) in camera trap there. Tufted Ground Squirrel is also known as Vampire Squirrel, it's very rare and endemic to Borneo. It has the world's fluffiest tail.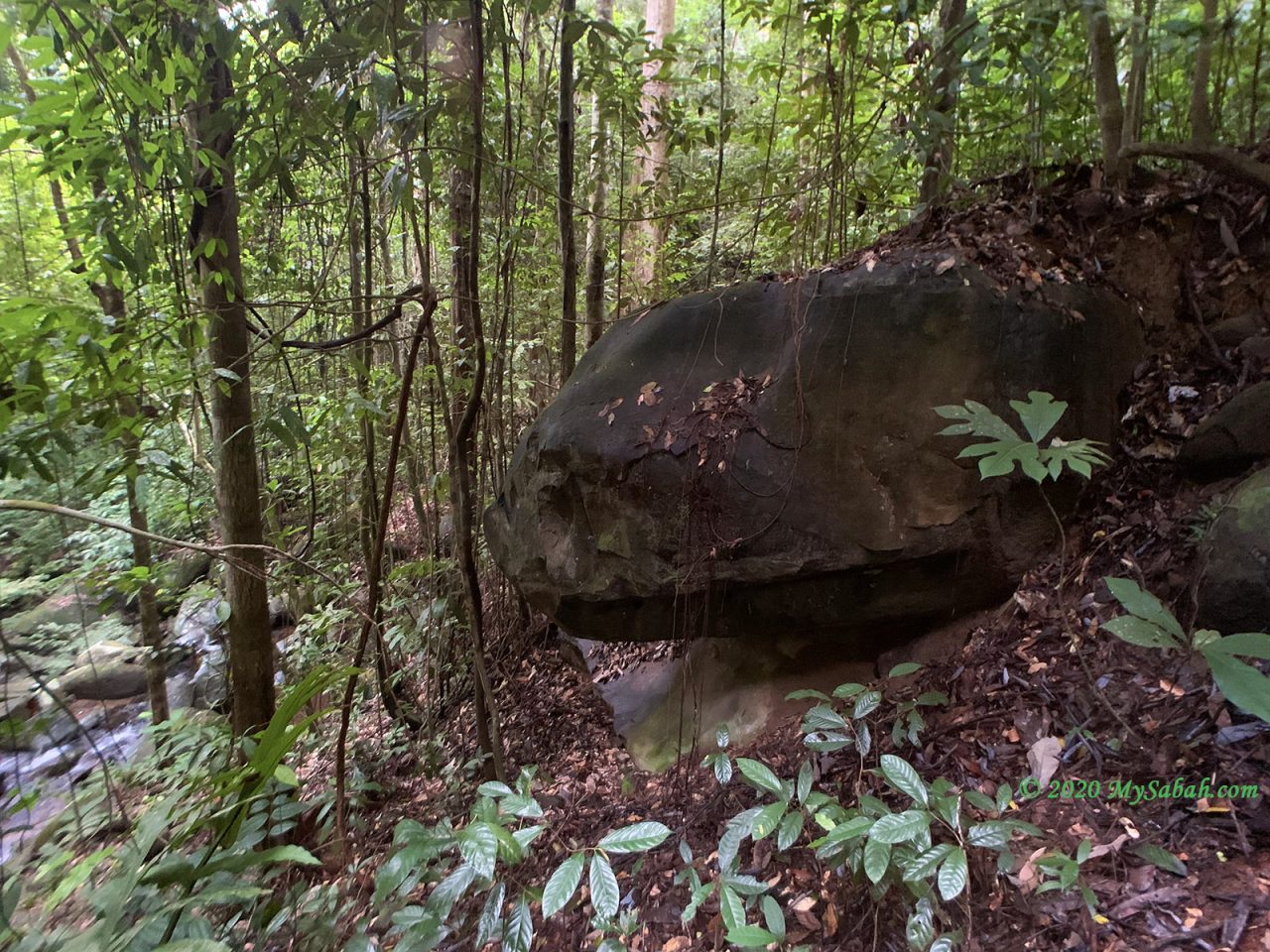 The riverine zone is a regenerated secondary forest with dense undergrowth. Risin shows me some interesting trees and herb that we spotted along the trail. Some fruit trees have spread into this forest, like rambutan, tarap, and cempedak. We passed through quite a number of farmland and rubber plantation in forest edge but didn't see anyone else though.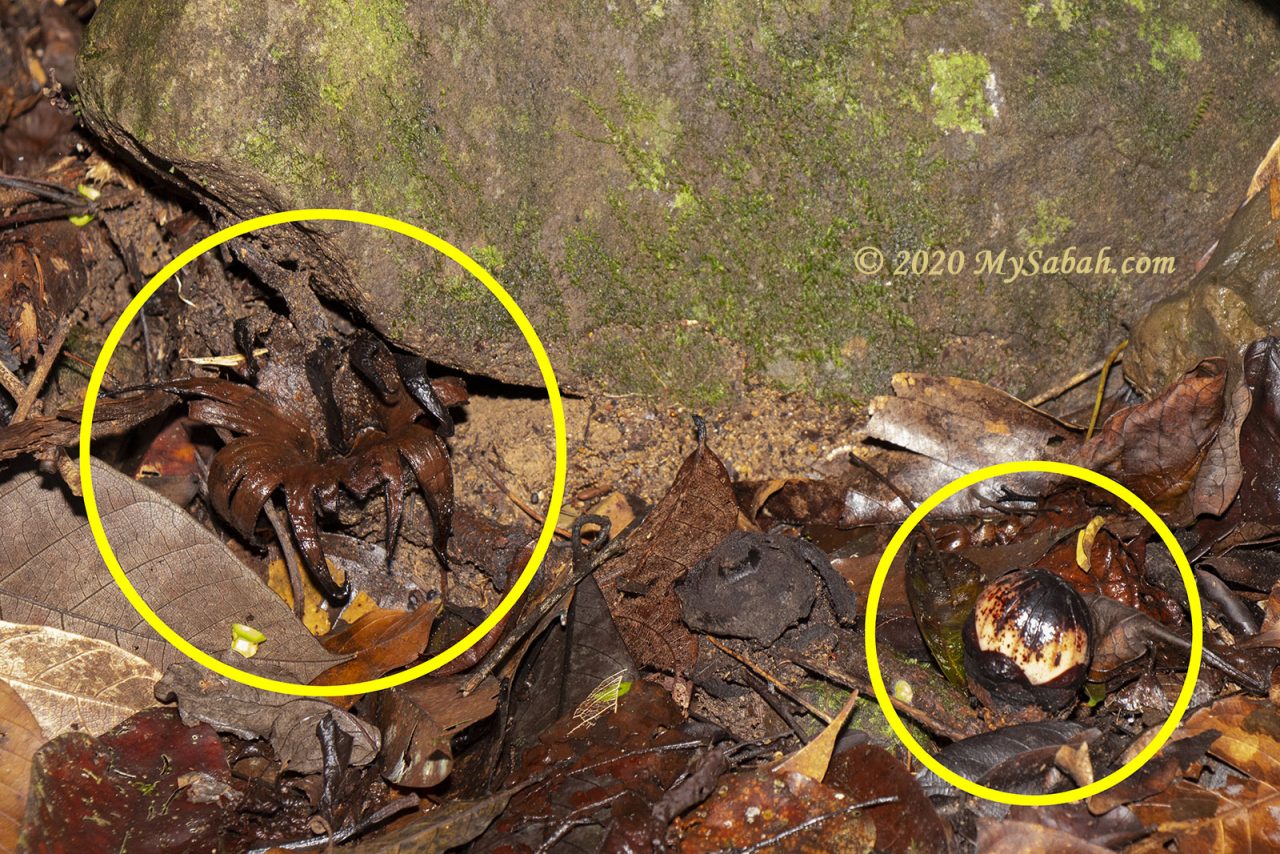 The most exciting plant I saw is Rhizanthes lowii, which is endemic to Borneo and a parasitic flowering plant without leaves, stems, and roots. Rhizanthes is a corpse flower same family as rafflesia flower. Its flower lasts only a few days. Though I saw only the withered flower and bud, this is already worth my trip.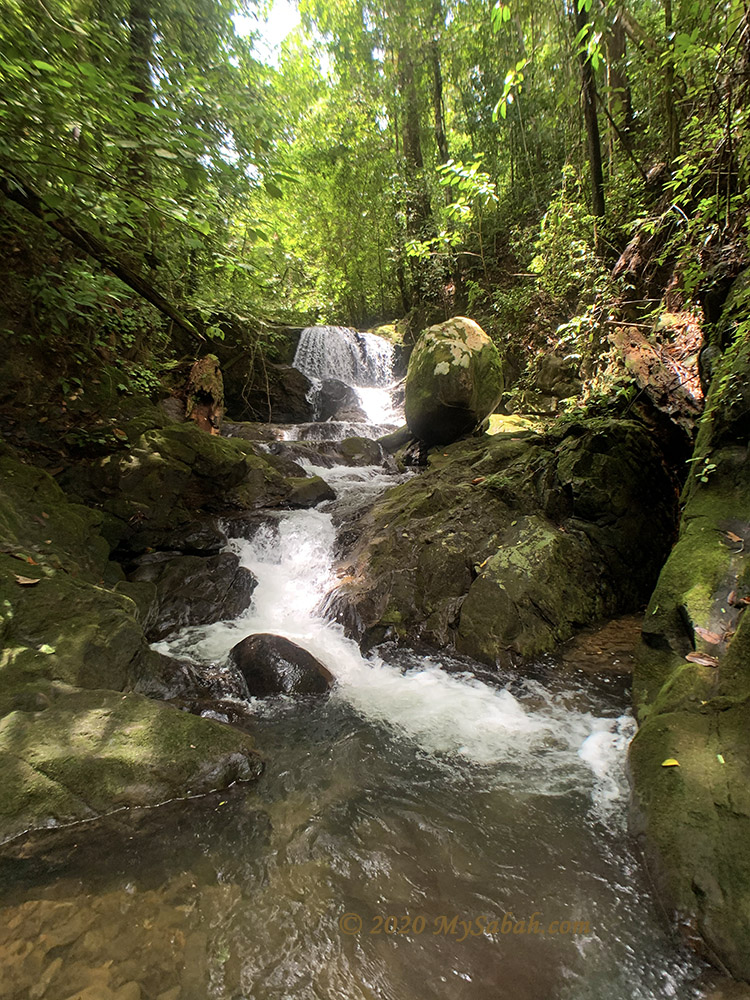 After 1.84 Kilometre, we arrived the second waterfall, Gotokon Waterfall, which is a cascading waterfalls with the highest tier around 4 Metres in height. Personally I think it's the most beautiful waterfall in Maranggoi river. Gotokon is derived from the term that describes the action (Togop) of scratching tree bark to collect sap. The sap is sticky and can be used as strong glue for bird trap.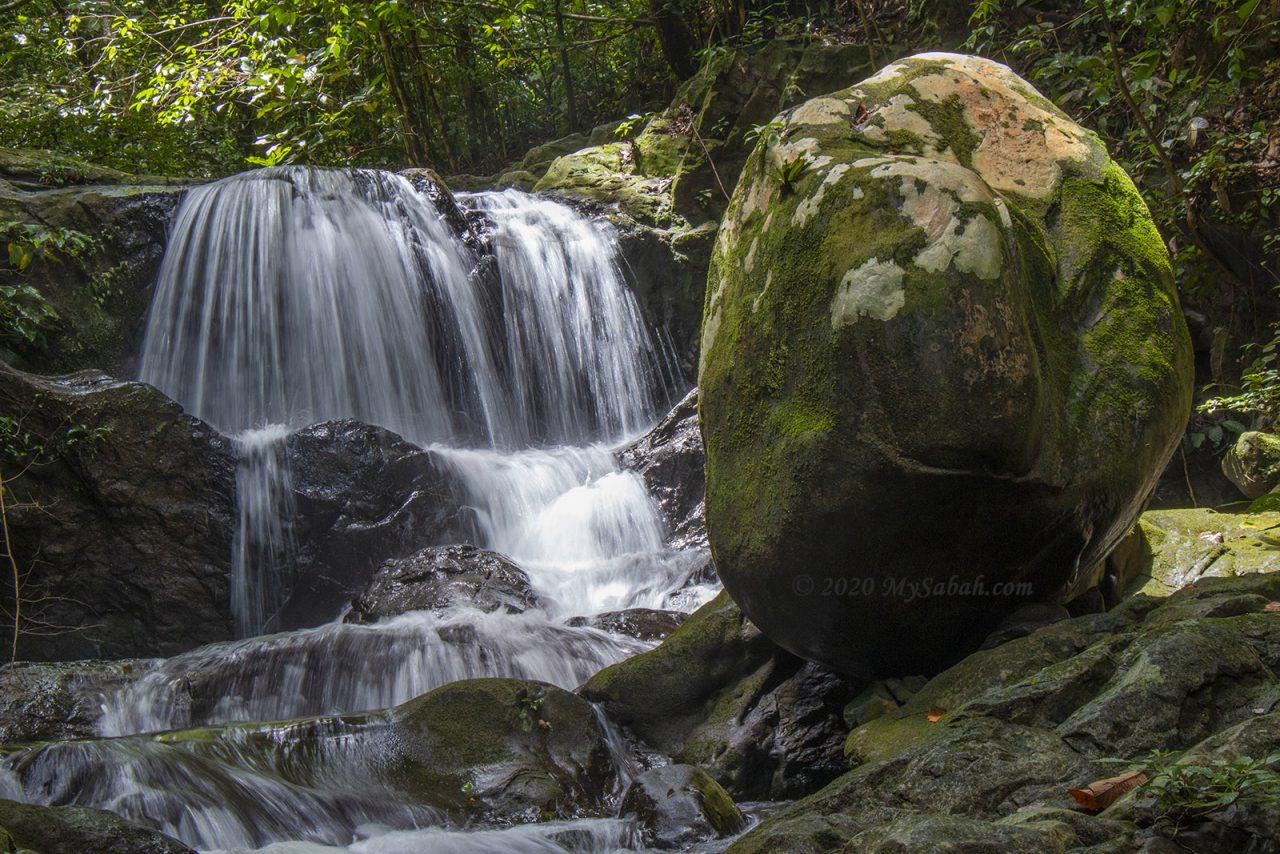 The next waterfall, Ronggu Waterfall, is less than 400 Metres ahead. Because I kept stopping for pictures so we were slow and it's already 12:33pm, so we decided to have our lunch next to this waterfall. Risin brought some rice and traditional side dishes. We sat on the rocks and enjoyed our food.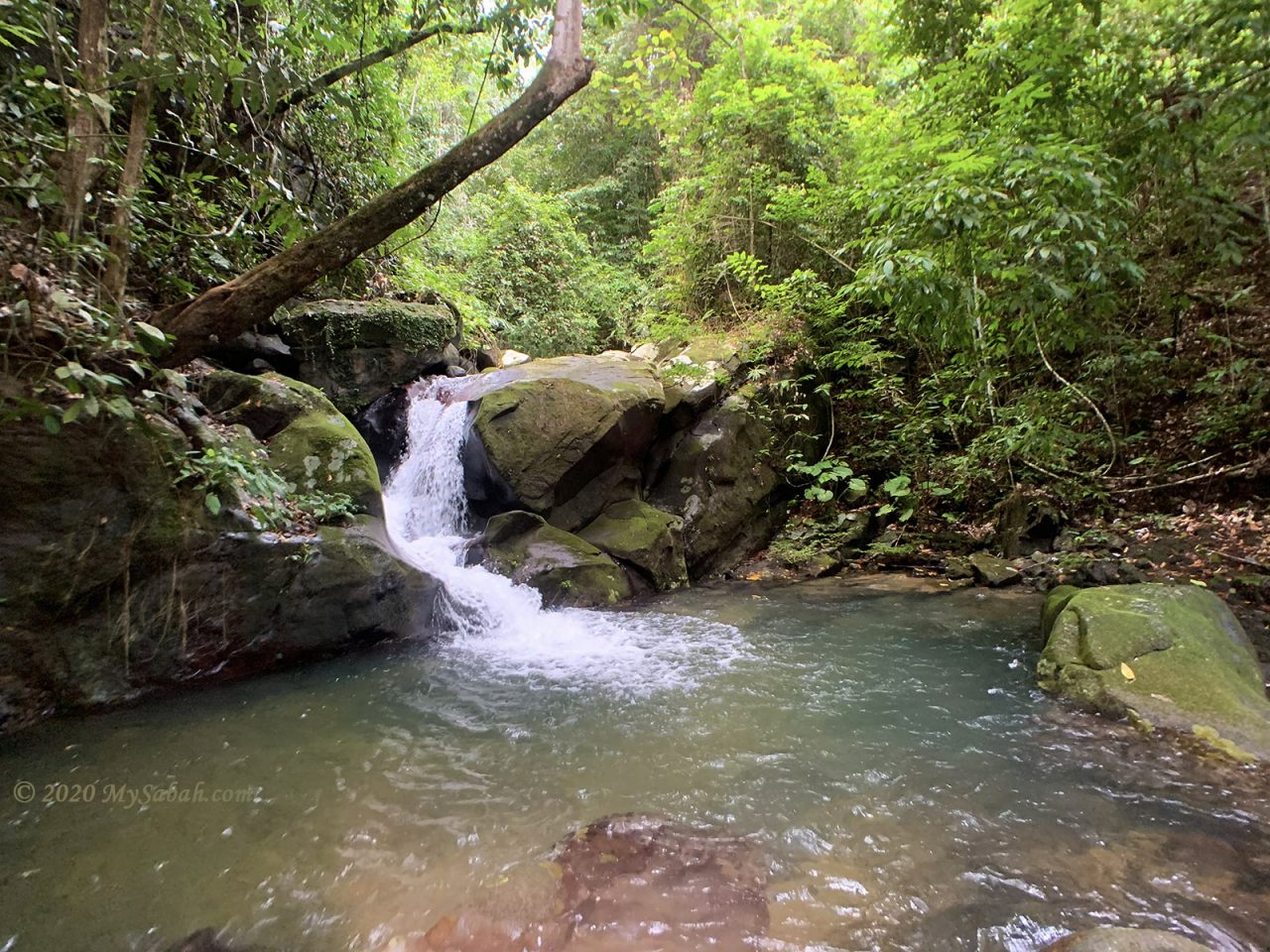 We continued our hike after lunch. Within 15 minutes, we approached a rockface with flowing water. Probably due to the natural minerals, the water leaves a black trail on the surface it flows through. Risin says, "this is spring water (mata air) that percolates through rocks! We have a few spring water sources around Maranggoi. They never dry up even during drought. Instead, they even overflow in dry season occasionally. Sometimes I bring buckets of natural water from Maranggoi to my twin daughters who study in Tamparuli because they are not used to drinking the chlorinated water in town."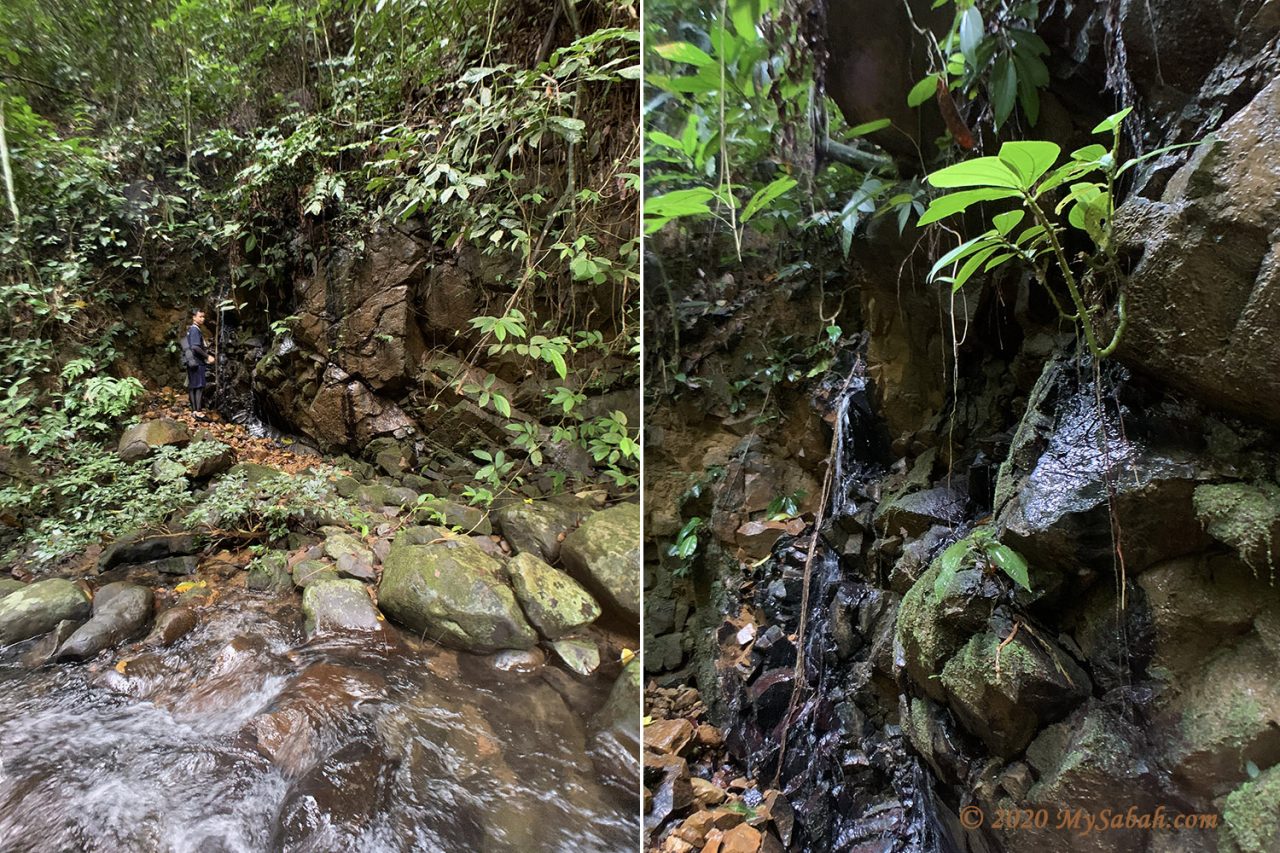 Finally, we made it to Batu Nenen (Boobs Rock) at 1:33pm. The local myth mentions about Batu Hujan (Rock Rain), which is a display of the wrath of God. Everything hit by this rain will turn into rock. The Boobs Rock was probably an unlucky woman hit by the rock rain, but no confirmation about its origin. When I wanted to have some quality time with the boobs rock, heavy downpour suddenly came. We left in a hurry. Bummer!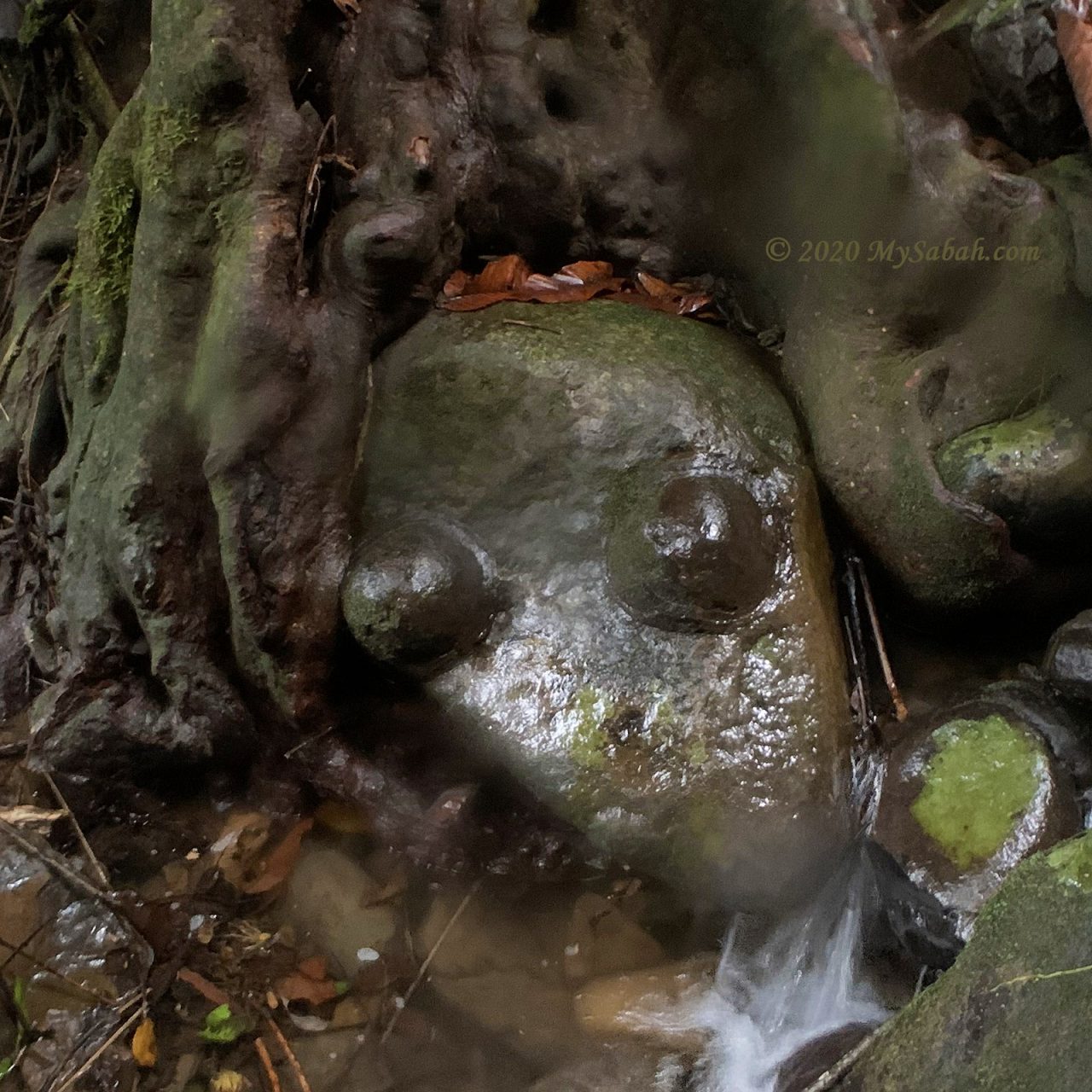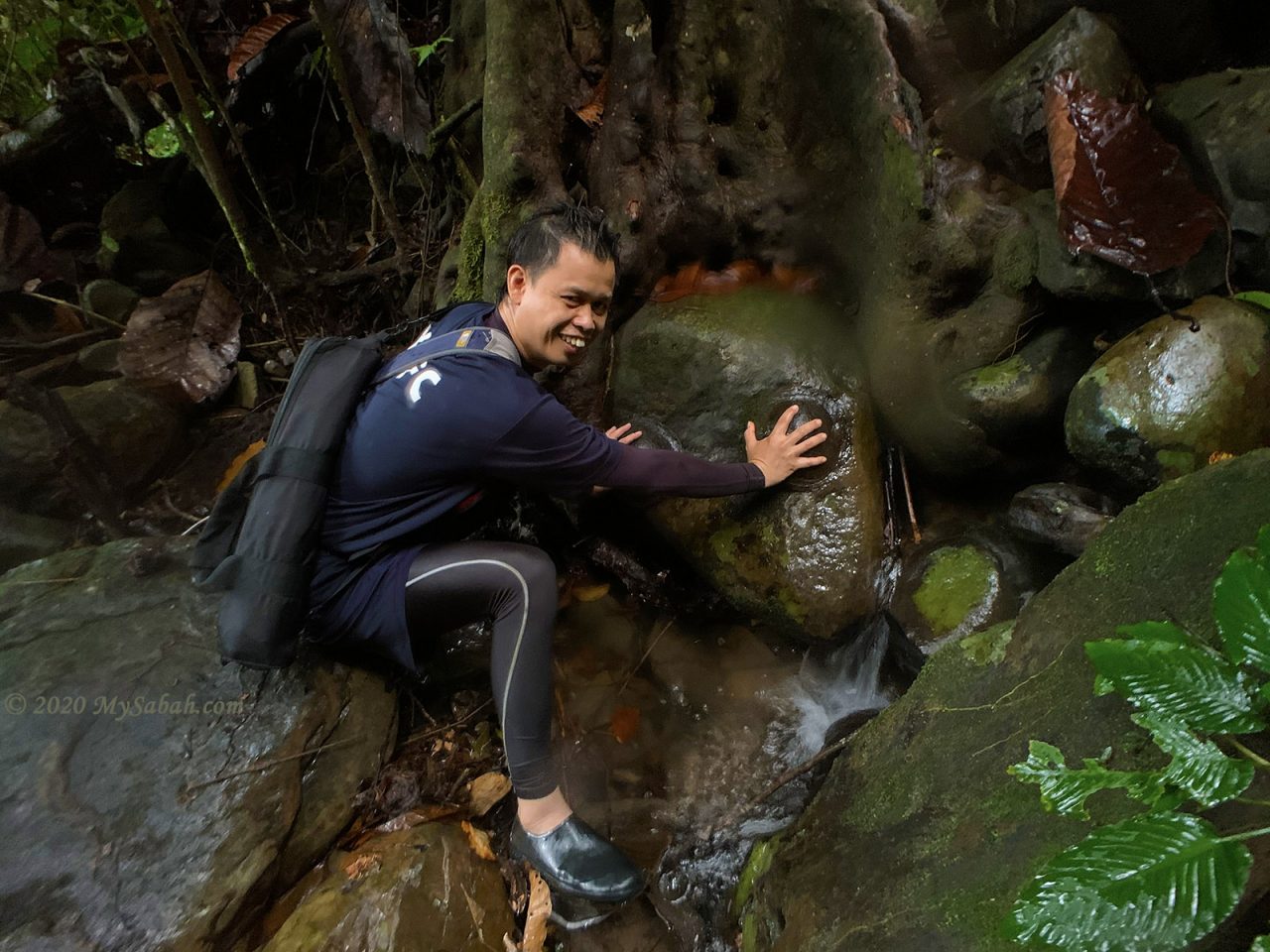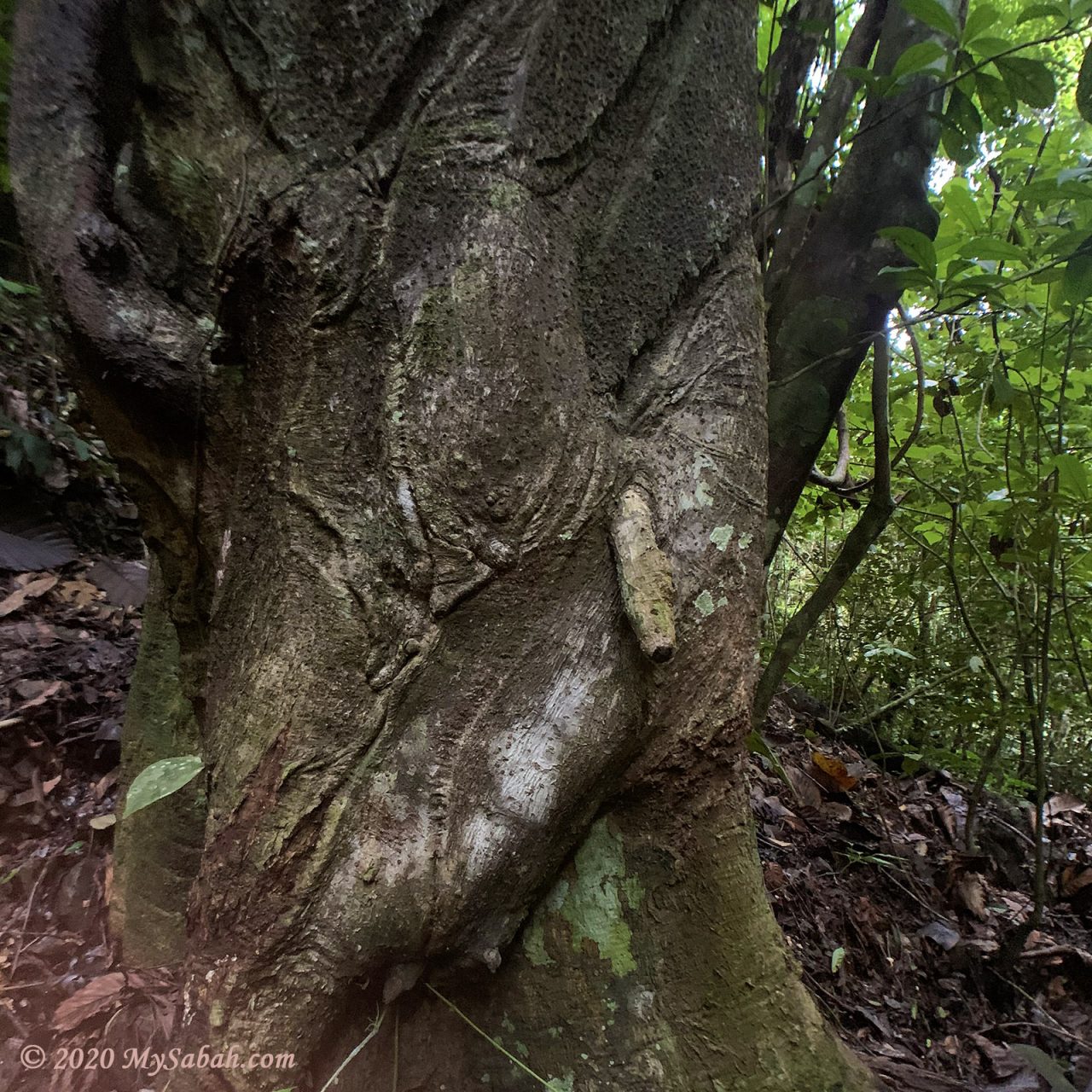 We walked back to the village. After nearly 2 hours I saw rows of whitish trunks of rubber trees, I knew we were home.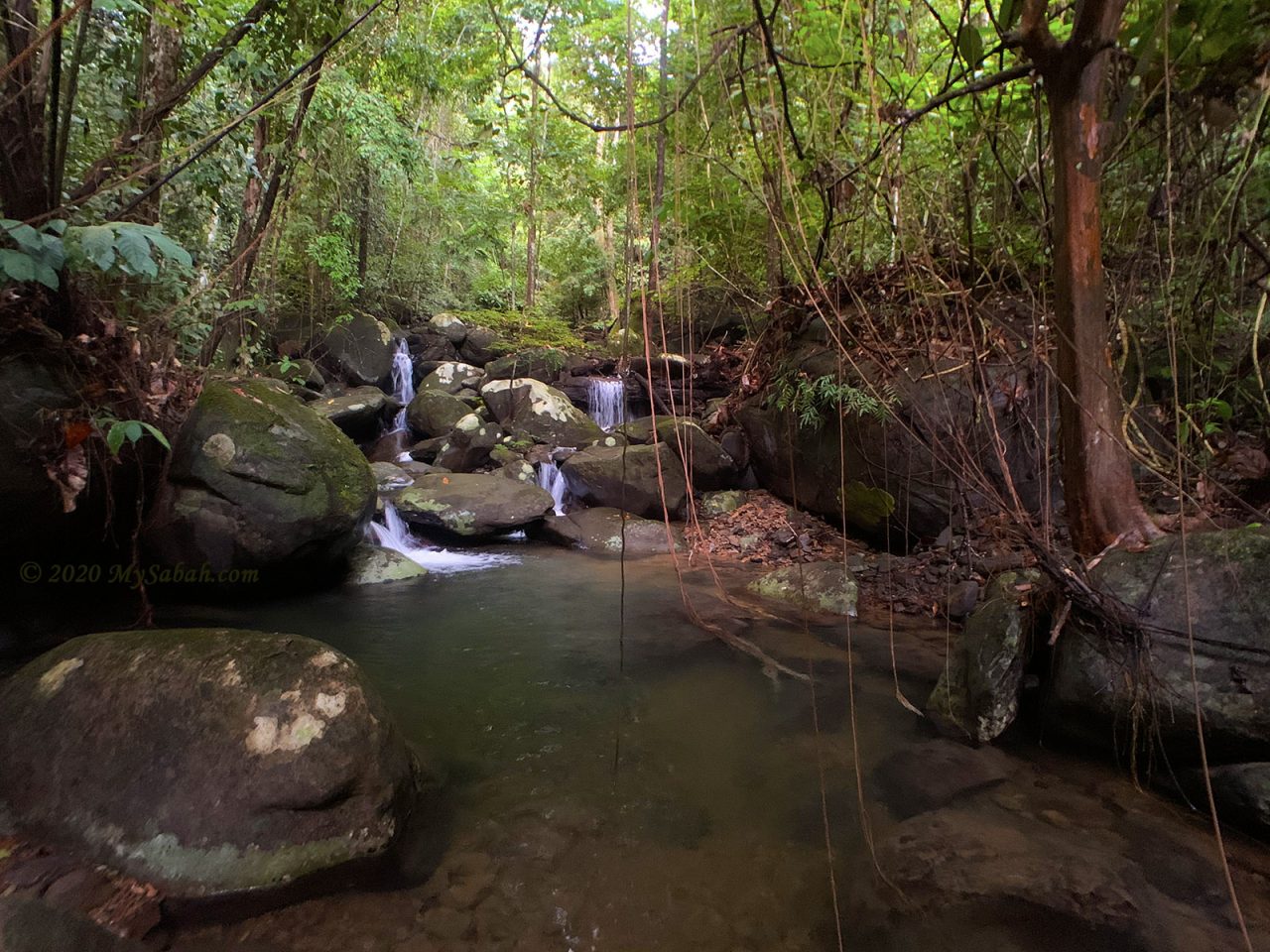 What I Ate
I like to acquire new tastes so I requested them to provide local meals. Their traditional village food is not bad, as it is freshly caught or harvested locally and not high in fat and sugar. White rice is always the "main course". The rice is compacted and wrapped in big Doringin (Dillenia beccariana) leaf and they call this rice pack linopot. Farmers always carry linopot to the field because such packing prevents the rice from spoiling fast.
Breakfast
I had some Linuput rempis (fishes wrapped and cooked in multiple layers of doringin leaves). The small fishes are from the river next to our camp. "Palm heart" soup is new to me, the soft core of palm trees such as banana and coconut are edible.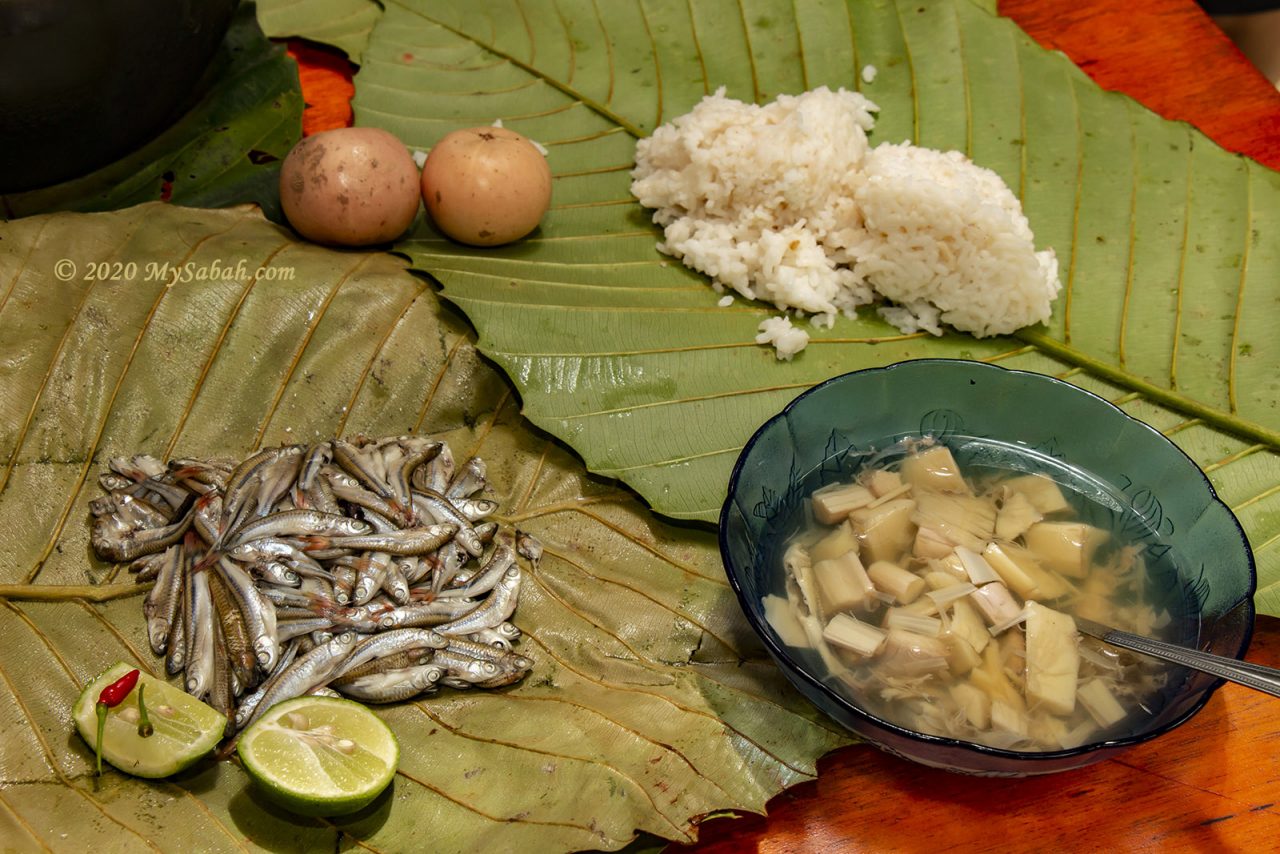 Lunch
These are what I ate at the waterfall. I love sour food so the liposu fruit has become my new favorite. The fruits are cut into slices, red color is the raw pulp and whitish color ones are smoked liposu.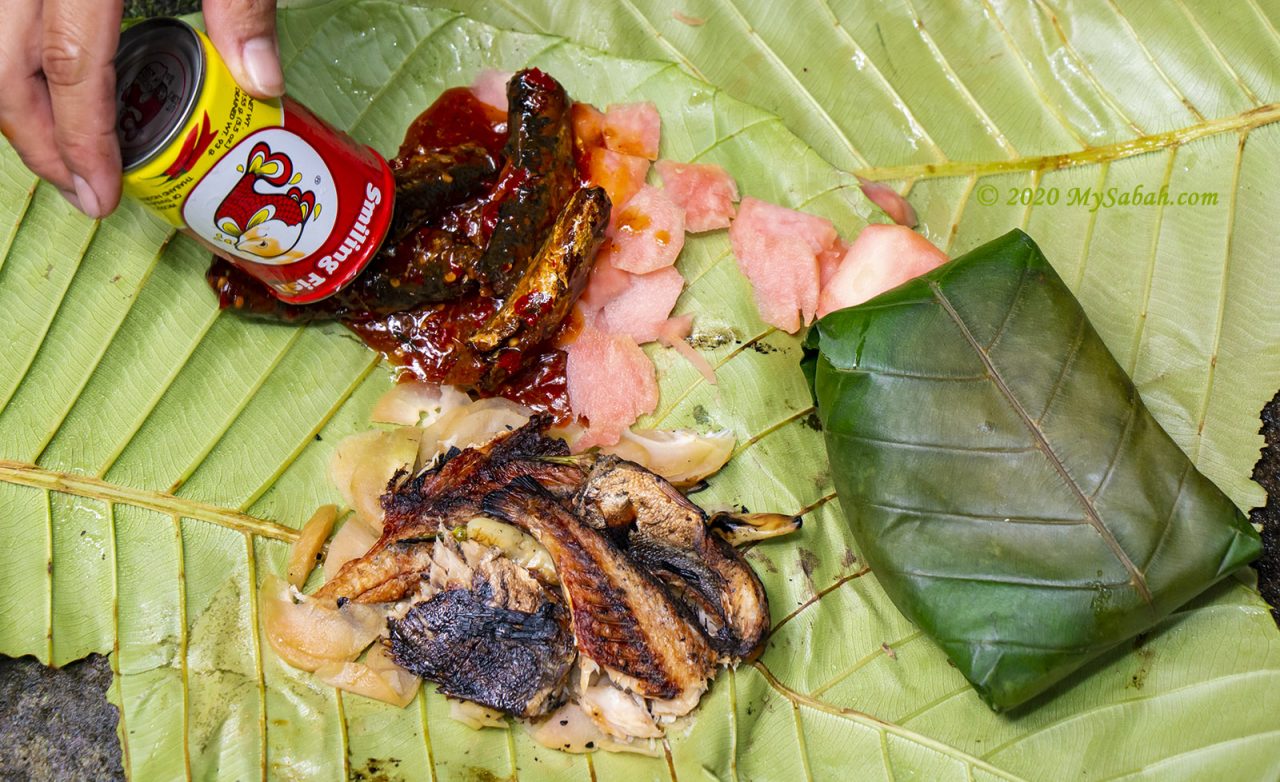 Dinner
Rice with Bahu (Mango pickle with red chili) and raw tarap soup. The older the Bahu mango, the more sour it is. The seeds of tarap fruits are edible and taste like peanut.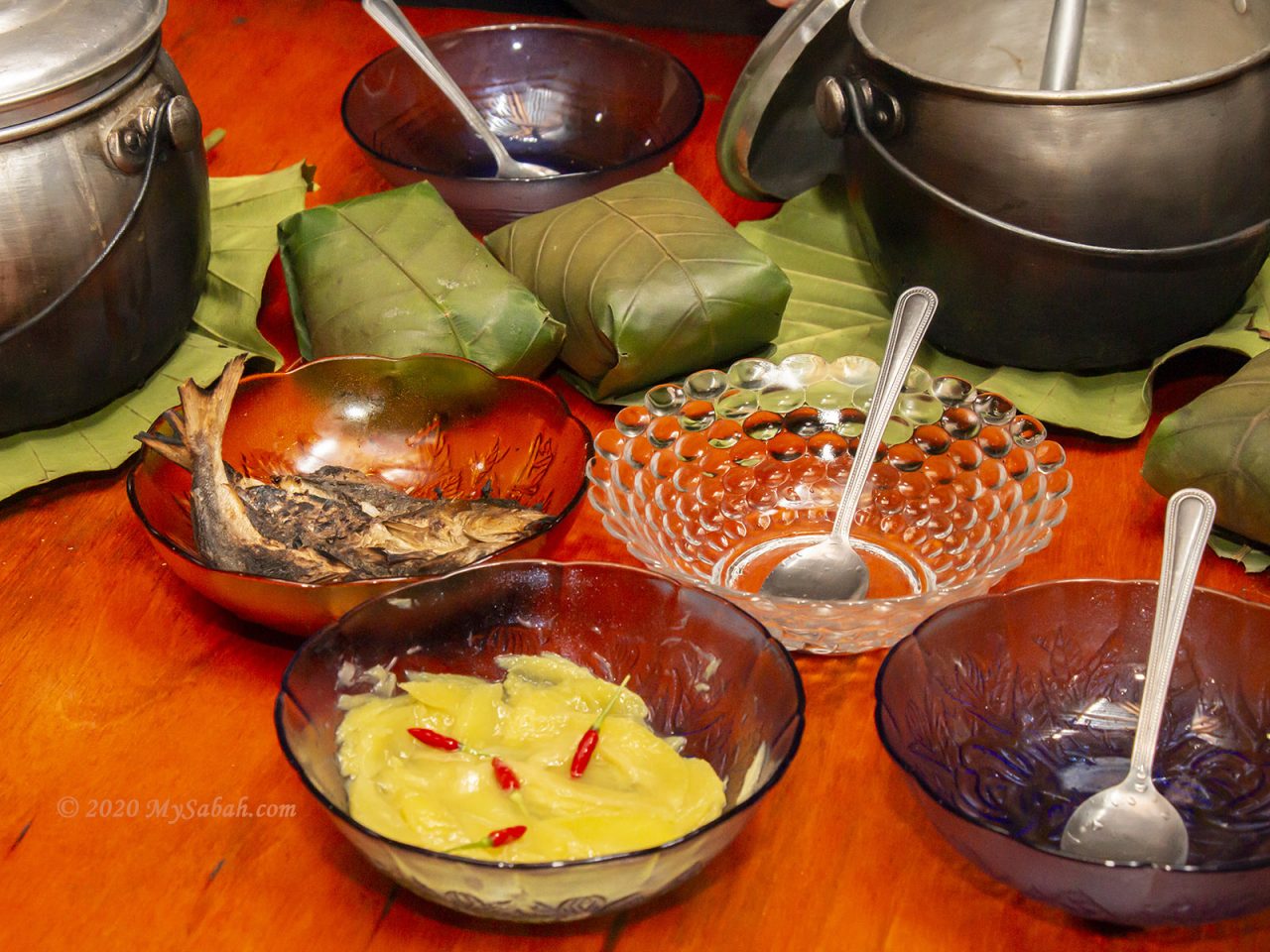 Fruits
The highlight is Sukang durian, a mini durian grows in the wild but now also widely cultivated in Sabah orchard. The fruit is smaller but creamy and meaty. The durian aroma isn't too overpower. Besides, I also bought 7 Kilograms of rambutan fruit (RM3/Kg) from a villager. I'm lucky because it is fruiting season.

Second day of the my trip is to tour around Kampung Pinolobu, a relaxing day.
Stingless Bee (Kelulut) Farm
Stingless bees are also honey producer. It's called Kelulut in Malay language but sounds similar to something negative in local language, so the local people prefer to call it Tantadan. Stingless bees don't sting and Kelulut honey can fetch higher price than normal honey, so more and more villagers rear stingless bees at home.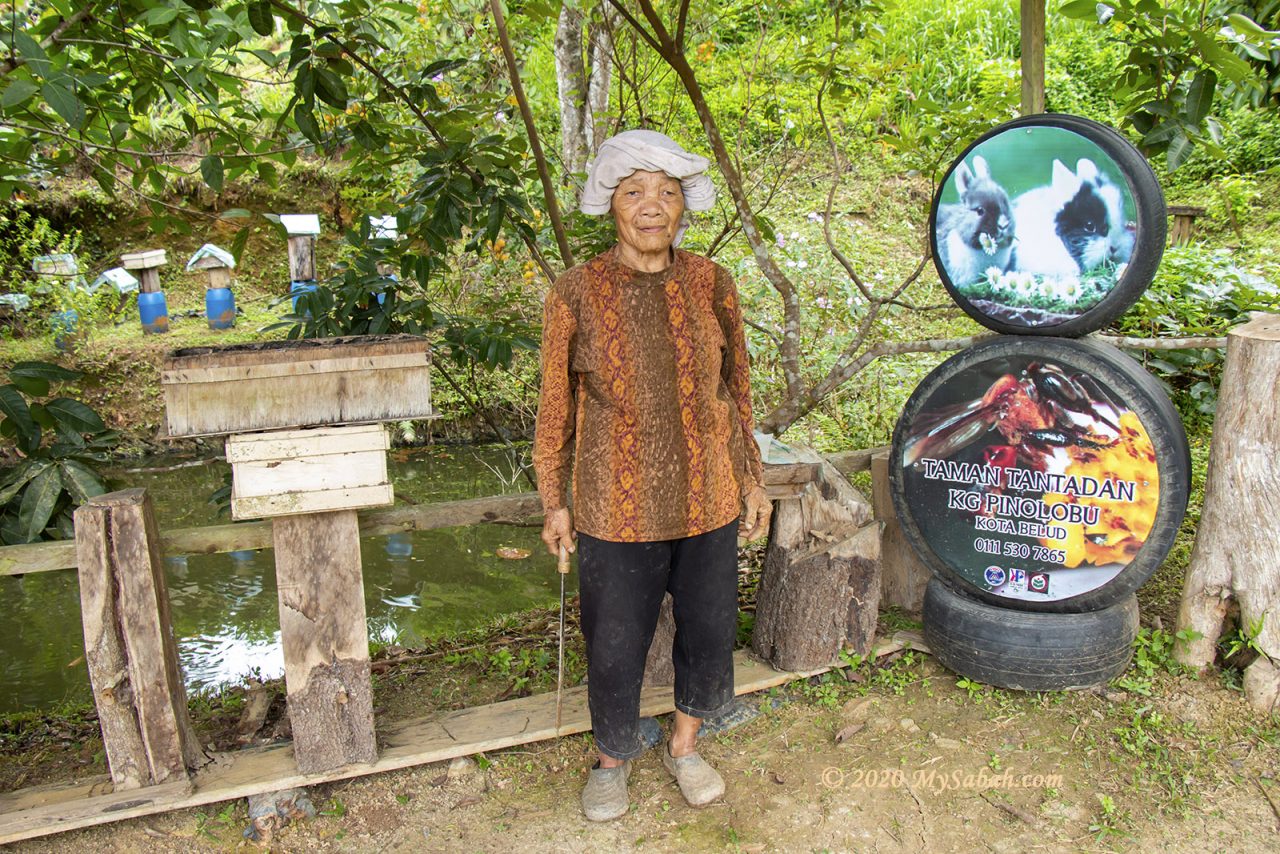 I visited an organic stingless bee farm that is built by local community in Pinolobu Village. There are 75 bee houses in the farm. If they include bee houses of whole village, there will be a total of over 300. Each hive produces about 2 Kg of honey per month, and it is sold for RM20 per 100 grams, a good side income.
This kelulut farm is placed under the rambutan fruit trees and next to clusters of Honolulu creeper flowers (air mata puteri), the preferred host plant for the stingless bees. Sometimes beekeepers feed the bees with rambutan and banana fruit if the bees can't go out harvesting nectar during rainy season.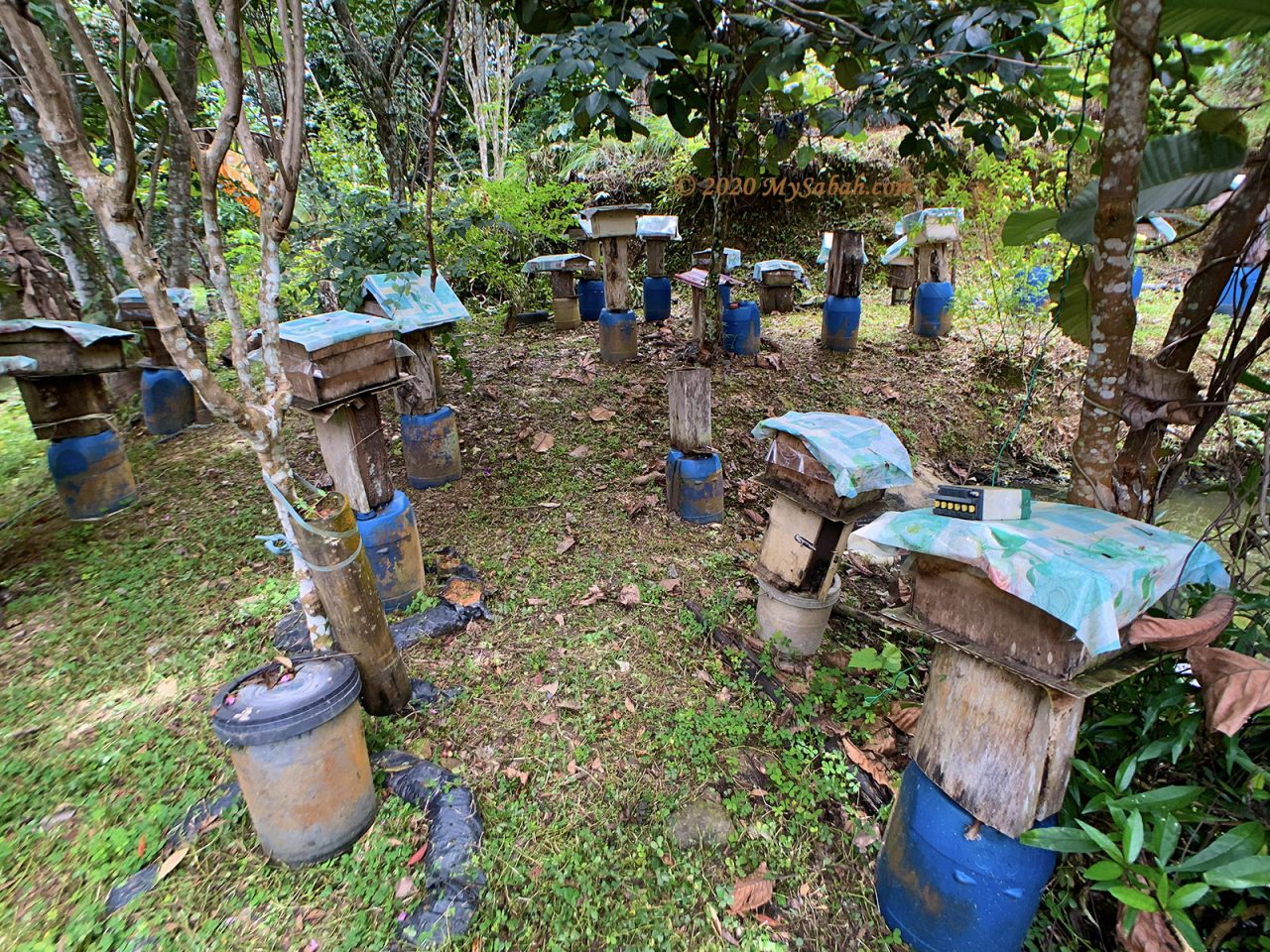 Stingless bees are a lot smaller than honeybees, so they can access tiny flowers and extract more nutrients. They build their nests in tree hollows and crevices. When the villagers find their hives in the wild, they would cut the log section that contains the nest and transfer them to the bee house. This has to be done at night, after all the worker bees return to their nest.
The taste of kelulut honey varies in flavour depend on fruit and flowers they visit. In general, kelulut honey is sourish sweet, usually sweetness is the base taste, with a bit of sourness or bitter, or a mix of all, sometimes with a hint of fruit aroma. The colour of the stingless bee honey can be yellow, brown and even pink (rare and more expensive but no difference in nutrients).
Stingless bees store their honey in the containers called honey pots. The fun part of the visit is to sip the honey from these pots with a straw. The stingless bee honey is sticky so I need to suck harder. It's sourish sweet, with a bit of durian aroma.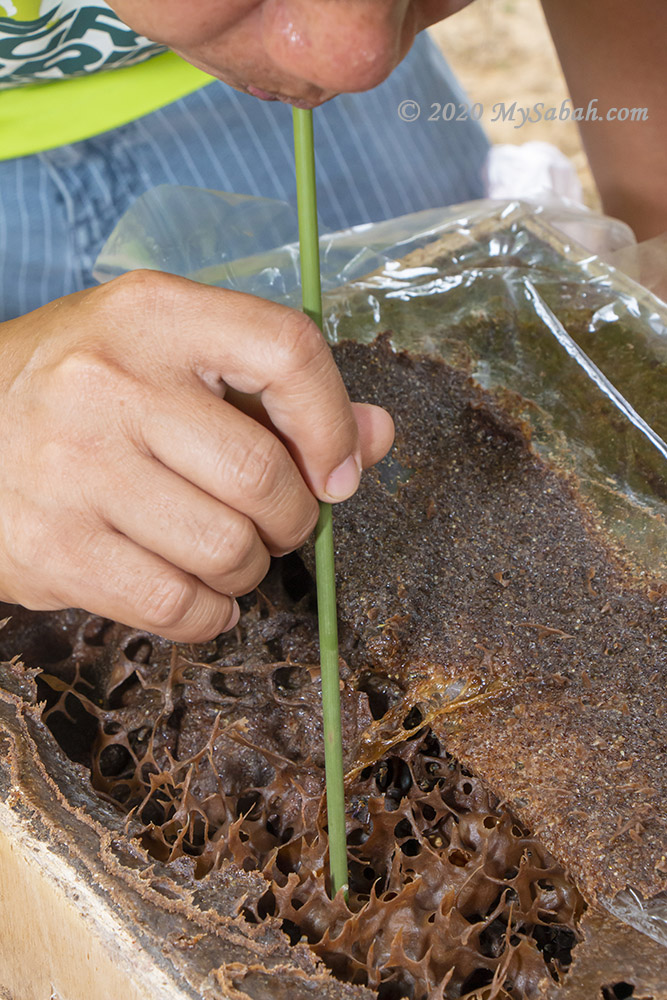 This stingless bee farm has more than 6 species of stingless bees. Heterotrigona itama and Geniotrigona thoracica are the preferred species for beekeeping, as they are more productive. I was attacked by a swarm of Lophotrigona canifrons when I got too close to their nest for filming. Their bite is like ant bite, not really hurt but definitely unpleasant to have the bees all over your face lol.
Risin says a teaspoon of kelulut honey twice a day can improve the immunity system. If you want to learn more about kelulut honey and beekeeping, you may check out my last post.
Burung Jinak (Tamed Birds)
The last stop is to check out the tamed birds. There are 5 or more wild Magpie robin that can be hand-fed. The villager just brings some mealworms and whistle to call them. The birds gathered and chirped on a tree nearby. Then the birds fly to him and pick up the worms from his hand. It took them some years to gain trust from these wild birds.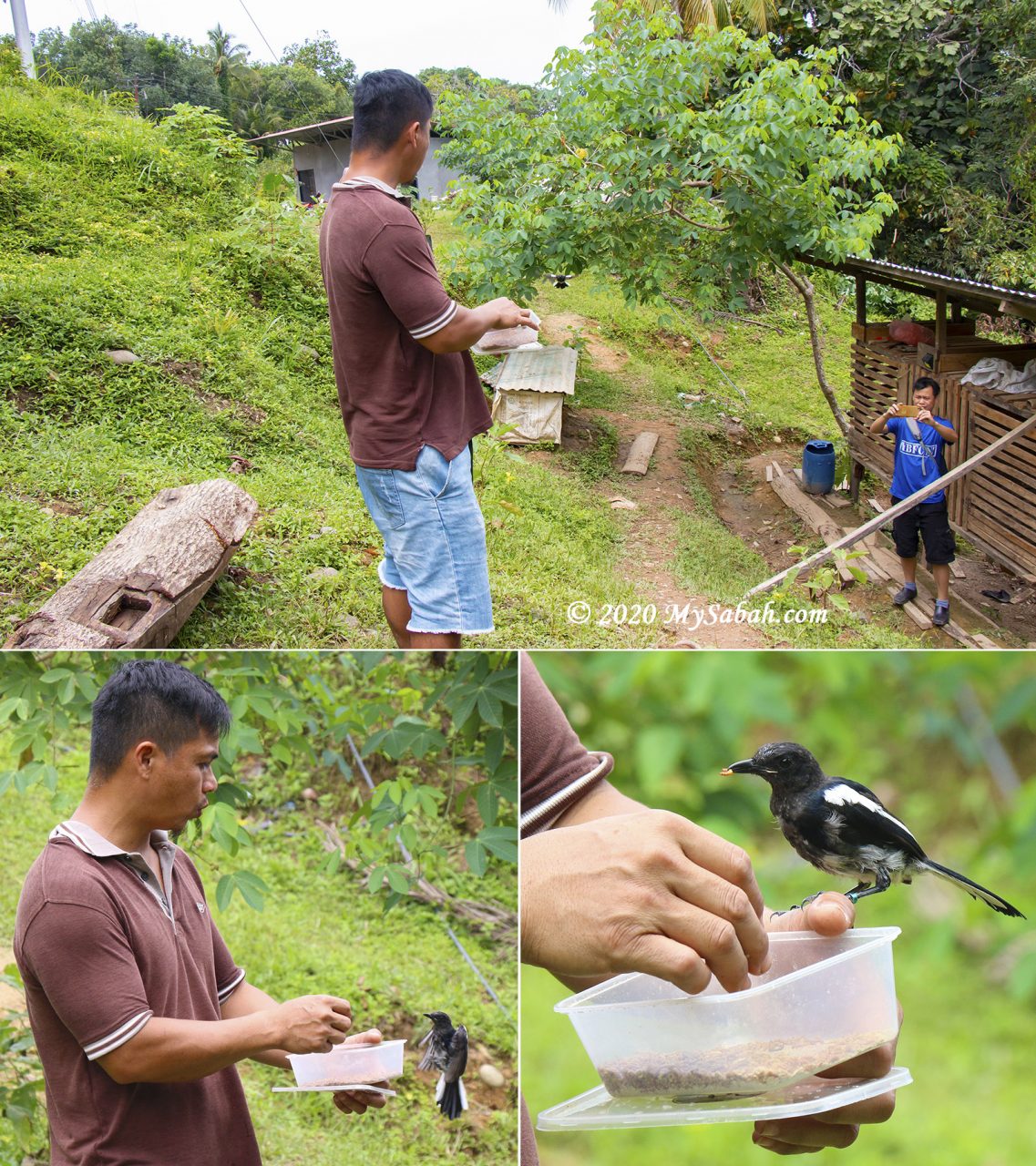 I've been feeding some feral pigeons for a long time. Even today they still don't want to befriend me. So the lesson is – only nicely treat those who appreciate your friendship. Some freeloaders are just takers and don't deserve to be your friend.
Camping Grounds
There are two camping grounds in Maranggoi. Bunti Campsite has better environment and facilities. Wasai Telupid Campsite is quite basic (shelter and toilet only) but it offers more camping experience, and it's a short walk to a beautiful waterfall. Mosquitoes may present during dusk. Insect repellent and mosquito coil would be useful. The night is quite cooling like air-conditioning. Do bring a good sleeping bag, mat and some warm clothing. Both campsites have no phone service (only weak signal of Digi in higher ground).

I was staying in Bunti Campsite, which is well maintained by Uncle Sinuar. He also cooked for my meals with produces / caught from his farm and river. This 70-year-old and friendly villager is still active in farming. He worked as a carpenter before, so he builds all the hut and gazebo there himself. Visitors can choose to sleep in camping tent or the hut.

Booking and Contact
You can find more information and photos in their Facebook page @ Maranggoi. It's more fun to camp with a group of friends. Below is the price list for your perusal (rates as of August 2020).
Entrance Fee
Adult: RM3.00
Senior (65 and above): Free
Child (7-12 years old): RM2.00
Child (Below 7): Free
Activity Fee
Hiking: RM5.00
Visit Stingless Bee Farm: RM5.00
Camping: RM7.00/Night (bring your own camping tent)
Camping Tent Rental: RM15.00/unit
For full-day or overnight trip, you may consider the following packages. I was going for package no.2. For further information or booking, please call or Whatsapp 0111-514-7226 (Risin Ituk), 0111-530-7865 (Jalni), 019-880-3344 (Lazrus)
Package 1 (Preface)
Price: RM56.00 per person / 1 Day
Hiking & jungle trekking (4 Waterfalls)
Stingless honey bee farm visit
Fish feeding
Lunch
Guide(s)
Certificate
Package 2 (Night with Maranggoi)
Price: RM100 per person / 2 Days 1 Night
Hiking & jungle trekking (4 Waterfalls)
Breakfast, lunch, dinner
Stingless honey bee farm visit
Cultural night
Fish feeding
Guide(s)
Certificate
Package 3 (Maranggoi Outdoor / Survival package)
Price: RM150 per person / 2 Days 1 Night
Hiking & jungle trekking (4 Waterfalls)
Camping
Bonfire
Night hiking (optional)
Cultural night (optional)
Guide(s)
Rice (provided)
Certificate
Gathering foods from the river and forest
How to get there
Maranggoi is situated in Kampung Pinolobu (GPS: 6.254638, 116.490666, see Location Map) of Kota Belud district and about 84 Kilometres away from Kota Kinabalu city (2 hours by driving). There is paved road in good condition from Kota Kinabalu to this village, except the last 7KM of gravel road (still accessible by sedan). Or you can request them to pick you up in Kota Belud town or Kota Kinabalu city.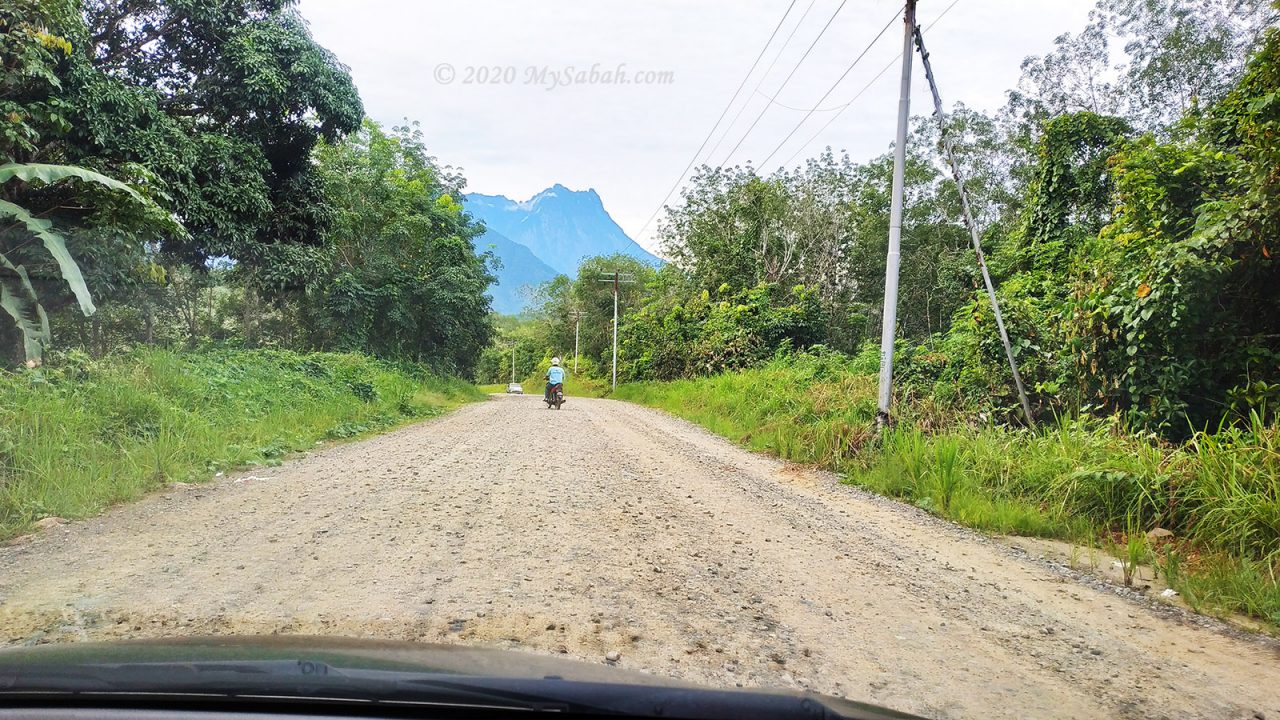 Photos taken in Kota Belud, Sabah, Malaysia Borneo