Bongawan is about 70 KM away from Kota Kinabalu (KK), located between Kimanis and Beaufort. On the way to Beaufort, when you see a gambus musical instrument in the roundabout, just take a right turn. Most of the population here are Orang Brunei. I went to Bongawan on Saturday when they have tamu (open market), coz that's where you can tell a lot about the locals by looking at what they sell and what they eat.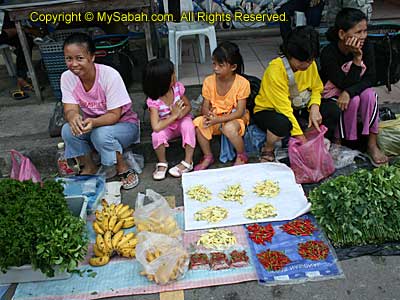 Click Here to see more photos of Bongawan town >>
Actually I didn't know what to expect in Bongawan, as very little is known about this place. My presence soon attracted a lot of attention, probably due to the camera that I was carrying. I walked in tamu, pretending I was a tourist and thought they would lose interest in couple of minutes. I was wrong. They greeted me warmly and learnt about my purpose. One of the hawker even gave me a free "cap-kuih", a fried bread with very crispy skin, soft and creamy inside. I also tried the "Bachal", a rojak-like (mixed vegetables) food wrapped in banana leaf.
The people are friendly but a bit camera-shy. When I took their photos, their friends will tease them. When it was their turn, others would laugh back. A young Orang Brunei girl even can speak Chinese.


Click Here to see more photos of Bongawan town >>
When I was walking around, a few locals kept on pointing at a old wooden building, trying to show me the feature of the town. It is (see below) a pre-war shophouse built in British colony time. A senior local says this 10-shop building is a mix of 1922 and 1939 shop joined together, though there is a year stamp "1939" on it.

Kimanis and Membakut also have this kind of building but look newer. Fire has destroyed some post-war building in Tamparuli and Beaufort. Once this historical heritage is gone, it will be replaced by cement structure (which would last less than 20 years by the standard of Sabah developers).
Below is a photo of 1950 post-war building, just in front of the 1939 shophouse. The shops in ground floor are usually sell food or grocery stores. The first floor is family house.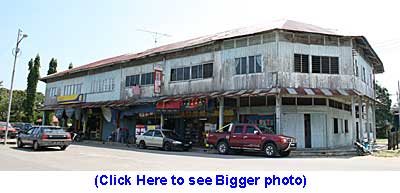 Bongawan was once a heavily guided town of Japanese during World War 2 coz Beaufort railway was the key transport centre. I was trying to know more about the Japanese occupation from a 80-year old local. He said everyone was hiding in the wood, and there was a massacre happened in Kota Belud but the bodies could not be found.
A local let me visited the kitchen inside the 1939 building. Besides tap water, there was a well behind the shop. The toilet has no toilet bowl, and you only see a small hole at the bottom. It makes me feeling uneasy to pee to the ground. Frankly, it was quite fun coz I didn't need to aim, haha…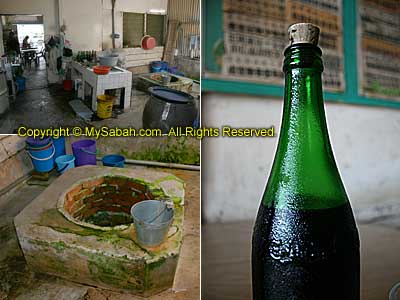 Click Here to see more photos of Bongawan town >>
Kopi-O Ping (ice coffee) costs how much in KK? RM1.80 per glass right? A bottle of ice coffee is only RM1.40 in Bongawan! They fill the coffee in used Tiger / Carlsberg beer bottle then cold it in refrigerator. The glass bottle allows the thorough cooling of coffee, and the ice coffee has been served like this for at least 20 years. So far I only find such"featured drink" in Bongawan.


Click Here to see more photos of Bongawan town >>
Besides the town itself, I also checked out the Kopi-O+Teh-C (coffee + milk tea) rivers in Ulu Bongawan, a village and plantation region 1.5 KM away from town. When the brackish river flows into the brown river, it looks like milk tea special. Too bad it is not big enough, otherwise it can be one of the 7 wonders in Sabah. Bongawan beach, about 2.5 KM away, is also a nice and white sandy beach to hang around.
I wonder what will happen to the old shophouses in the future. Hopefully the government will preserve them. I will come back again many years later to see if they will vanish under development…
Photos taken in Bongawan, Sabah, Malaysia Borneo