Despite the economic downturn, life goes on and we were still grantly celebrating the Kaamatan Grand Finale at KDCA (Kadazandusun Cultural Association) Penampang on May 30 and 31. In fact, I saw more tourists coming this year. From the news, some of them knew this event via Facebook. I don't have a foreigner look, so no yellow-shirt volunteers came to offer a guided tour. In fact, they couldn't, as there were thousands of visitors.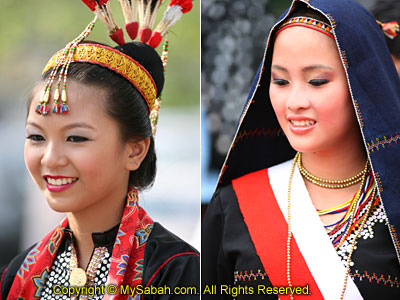 Click Here to see more photos of Kaamatan 2009 >>
Each year different indigenous groups from all over Sabah, some live deep inside countryside, to KDCA to show their colorful traditional customs and dances to the visitors. If beautiful girls dress in beautiful customes, you will hear never-ending of camera clicking around them. They will be more than happy to smile at our lens. Who knows their photo will appear in the tourism poster and leaflet all over Malaysia. I just snapshot whatever caught my heart.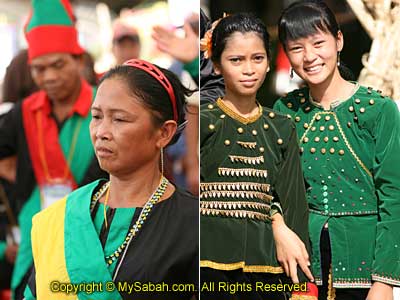 Click Here to see more photos of Kaamatan 2009 >>
Basically, this year was same as last year. The new tribes that were invited this time were Dusun Puawang (Kota Marudu), Dusun Begak (Lahad Datu), and Murut Paluan. All Dusun sub-ethnics can look very different from one another, but they speak very similar Dusun language. Sometimes, you can hear few of them speak Chinese, coz nowadays many indigenous people send their kids to Chinese primary schools.


Click Here to see more photos of Kaamatan 2009 >>
Besides being offered Sabah local wine "tapai", you can check out the handicraft making. The turtle shell "drums" of Murut Paluan (from Keningau) attracted most interest. It is made of the shell of land turtle that live in forest.
Some VVIPs also came to visit around, shaking hands with people, pretending that they are the people's leaders. But~ bunch of police chased away any audiences that stayed near the stage, making all cultural shows like the performance for VVIPs.


Click Here to see more photos of Kaamatan 2009 >>
Later in the afternoon of May 31, there was Unduk Ngadau (Harvest Beauty Queen) beauty pageant, with over 40 contestants which represented different districts of Sabah. Many photographers, whom I believe are bloggers without media pass, also went crazy about the beauties, blocking in front of official photographers. Well, I hope they will be well-behaved next year.
Related photo albums
Kaamatan 2005
Kaamatan 2006
Kaamatan 2007
Kaamatan 2008
Photos taken in Kota Kinabalu, Sabah, Malaysia Borneo