Welcome Sea Food Restaurant (Chinese name: 大茄来海鲜餐厅) is currently the hottest seafood restaurant in Kota Kinabalu city (KK). The secret of their success is simple: delicious seafood at reasonable price. I had my dinner with 5 adults and 2 children in this restaurant a few days ago. We ate so much until we almost puked, but each of us pay less than RM38 (≈USD11.30), which is normally over RM45 in other restaurants.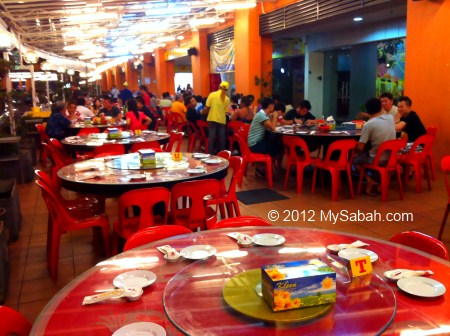 The restaurant started with about 20 10-seat tables. Now their business is so good that they expand their place, almost from start to end of a block, with over 50 tables. FYI, their restaurant in KK is the branch of their "headquarter" (first restaurant) in Beverly Industrial Park, Bundusan, Penampang.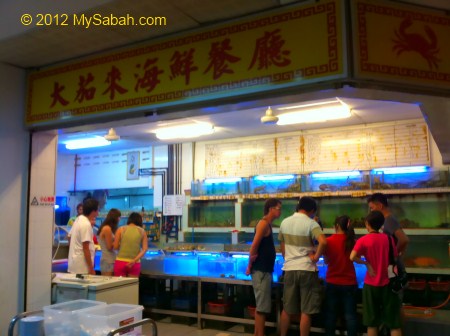 The BEST seafood is FRESH seafood. They have many fish tanks for swimming and live fishes, lobsters, babylonia, prawns, comb shell, etc. You can just point here and there to pick your favorite seafood, and they will be served in 10 minutes.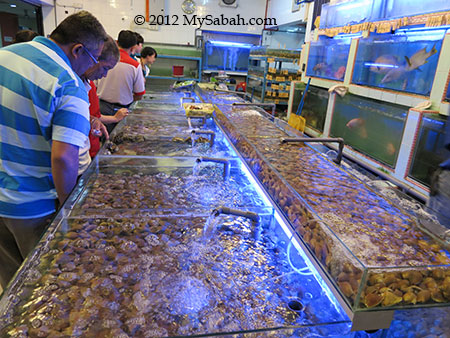 Their address is: Lot G13-18, Ground Floor, Asia City Complex, Phase 2A, Jalan Asia City, 88300 Kota Kinabalu, Sabah, Malaysia. Below is the location map of the restaurant:

View My Sabah Map in a larger map
Below are the dishes we tried (quantity for 6 adults & 2 children). All of them taste really good.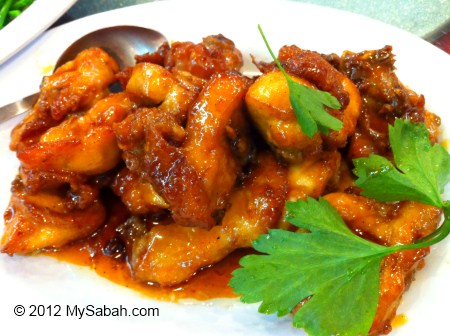 Sour plum chicken: RM24 (≈USD7.30)
The chicken meat is mainly sweet with a bit of sour. Not bad.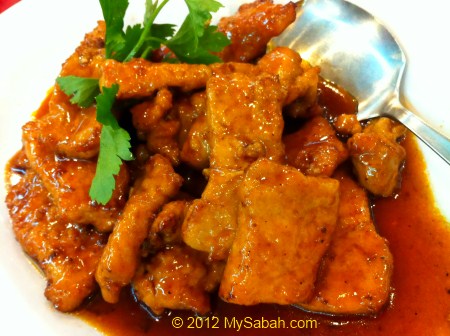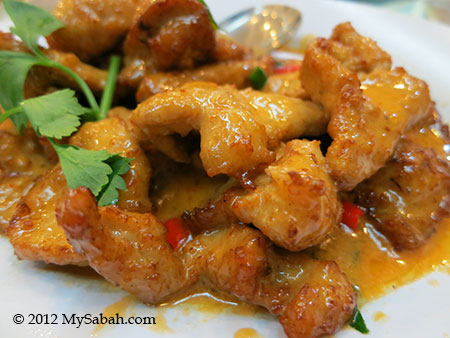 Sparerib: RM30 (≈USD9)
Tasty pork in sweet sauce.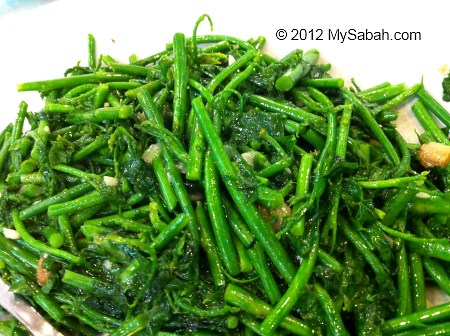 Sabah Vegetable: RM20 (≈USD6)
Your Sabah friends will recommend you to try this unique vegetables of Sabah (though it is introduced to Sarawak already). The vegetable looks like a shrub and we eat its young shots and stems, which are sweet and crunchy. A must try.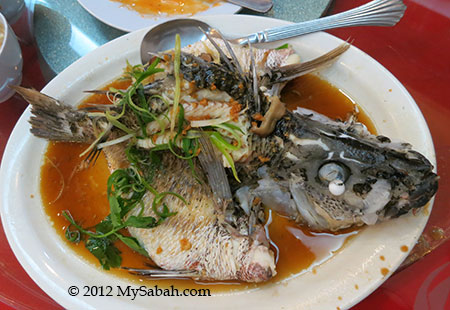 Steamed red snapper: RM60 (≈USD18)
To enjoy the best taste of fresh seafood, steaming it is the wisest way. Only fools fry the fresh fish.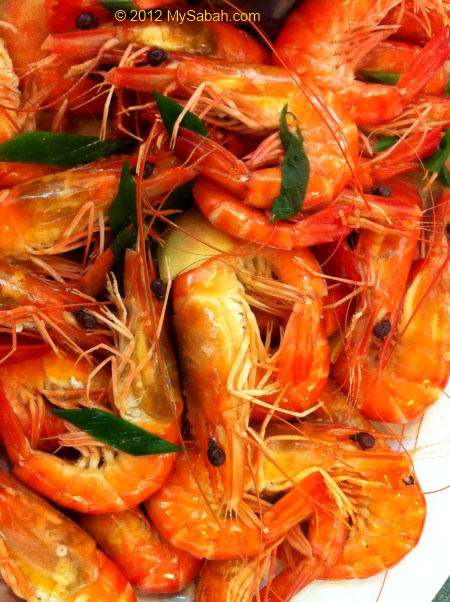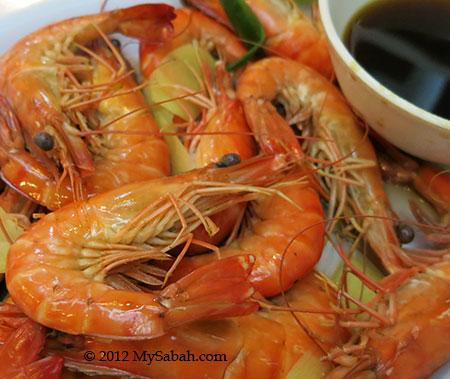 Boiled shrimp: 1 Kilogram (KG) for RM60 (≈USD18)
You don't want to care about high cholesterol once you start eating it, LOL.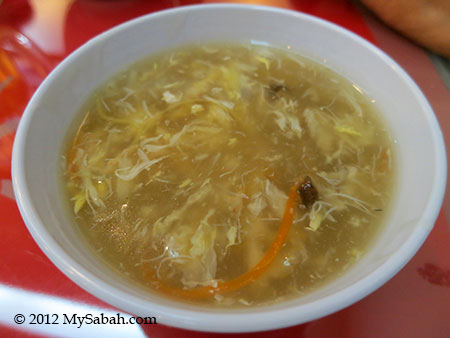 Fish maw soup (costs RM16 ≈ USD5).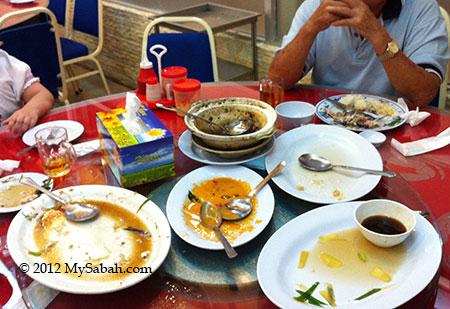 We finished all the dishes and the plates were so clean, haha. We also ordered white rice and a pot of Chinese tea. Everything (plus 6% government tax) costs RM223.20 (≈USD68). We are happy about the food and price. This restaurant is always full during dinner time. You must come before 6:30pm to get a seat in their air-conditioned room. If you are late, you have to sit outside, which is quite warm, but most people don't mind.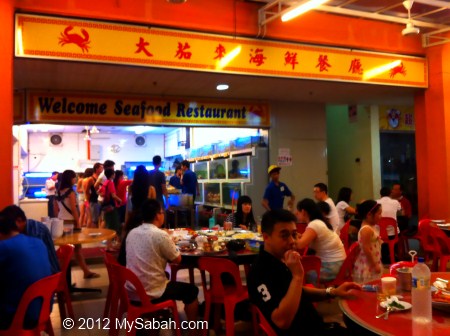 The restaurant opens every day from 2:30pm to 12am. Below is their contact info if you want to know more:
Tel: +60 88-447866
Reservation (Mobile Phone): 016-8478181 (Ms. Ching or ???)
Website: www.wsr.com.my
Facebook: WelcomeSeafoodRestaurant
E-mail: info@wsr.com.my
Below are another two dishes we ordered in other day.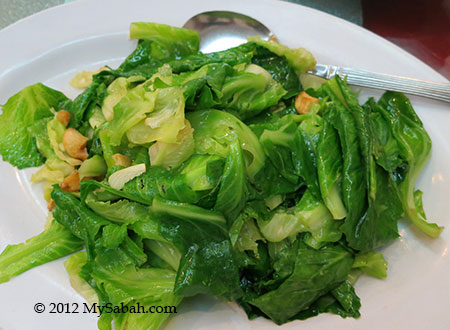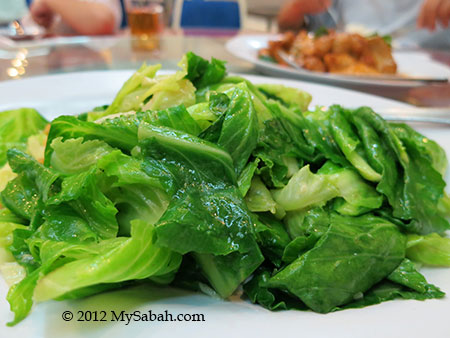 Kale (??), RM16 (≈ USD5) per dish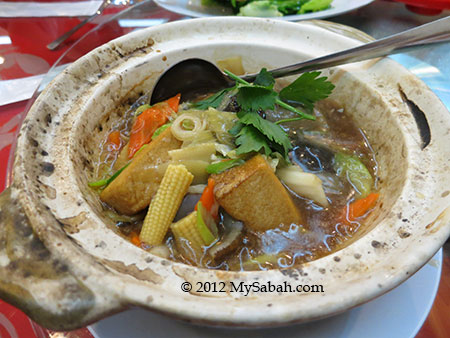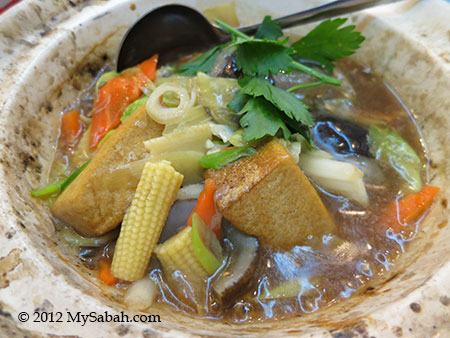 Claypot Seafood. Though delicious while served hot, it costs RM40 (≈ USD12), quite expensive consider the quantity is small.
The abalone looks so fresh. Next time I want to try it, yummy..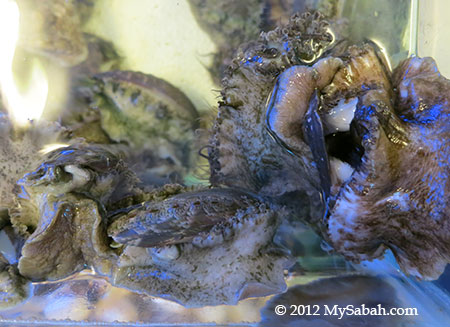 Photos taken in Kota Kinabalu, Sabah, Malaysia Borneo