Sabah is a state of hundred mountains, and the top five highest mountains of Malaysia are located in Sabah, i.e. (1st) Mount Kinabalu, (2nd) Mount Trus Madi, (3rd) Mount Sinsing, (4th) Mount Tambuyukon, (5th) Mount Kaingaran. Climbers and hikers will be spoiled with choices, as every hills and mountains here have different characteristics in terms of geology, landscape and biodiversity. For example, today you can climb a mountain with dense rainforest cover, then tomorrow challenge a limestone pinnacle with bald rockface. The following is a list of 10 most unique hills and mountains in Sabah for a diverse climbing experience. Please note gunung and bukit mean mountain and hill in Malay language respectively.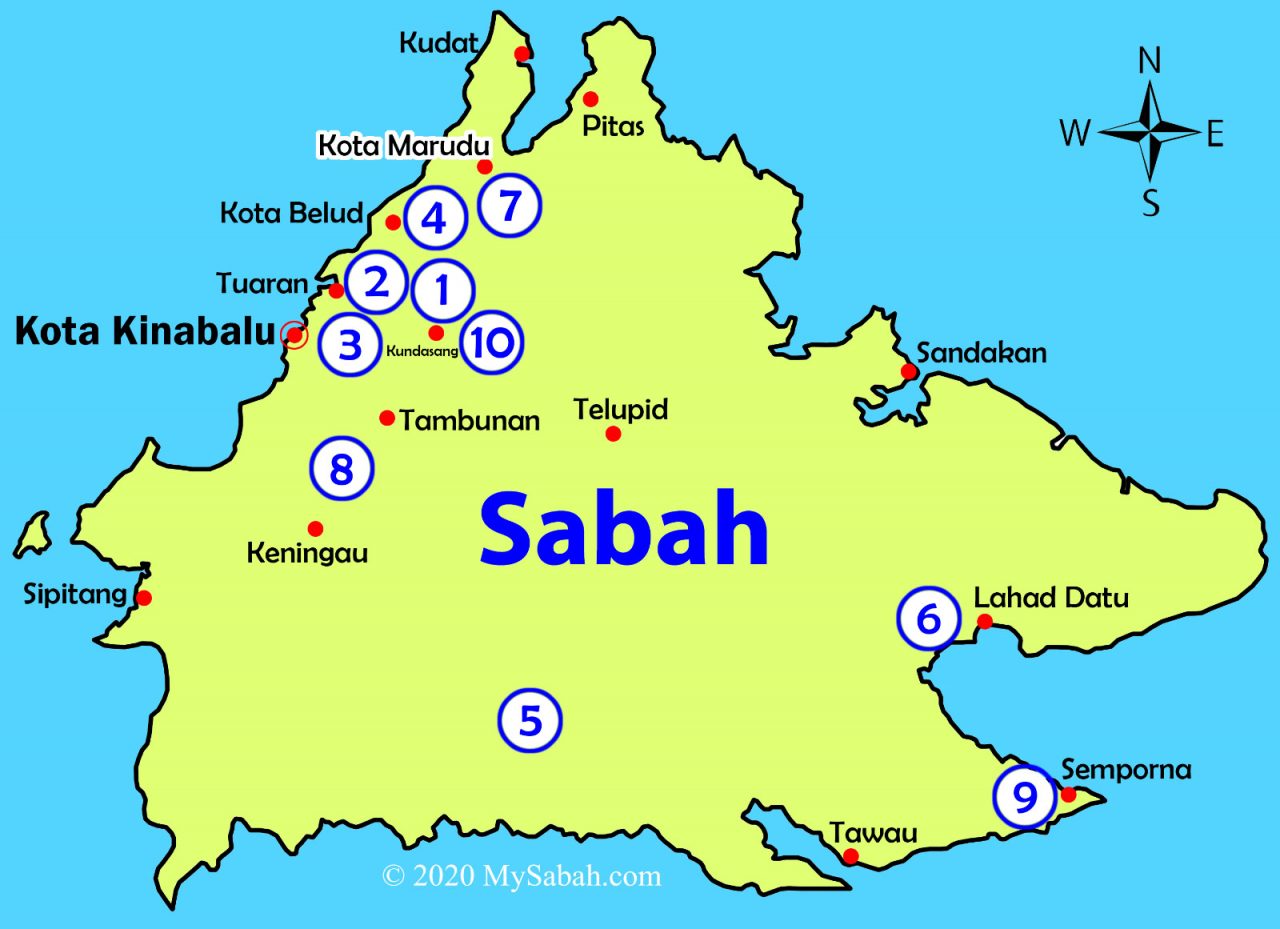 Height: 4,095 Metres (13,435 ft) Location: Kinabalu Park (GPS: 6.075260, 116.558813)
As the first UNESCO World Heritage Site and the highest mountain of Malaysia, Mount Kinabalu is the No.1 tourist destination of Sabah. Mount Kinabalu is 700 million years old, and a snow-capped mountain during ice age back in 30,000 years ago. Today climbers still can see the ancient traces and jagged peaks carved by glacier near the summit.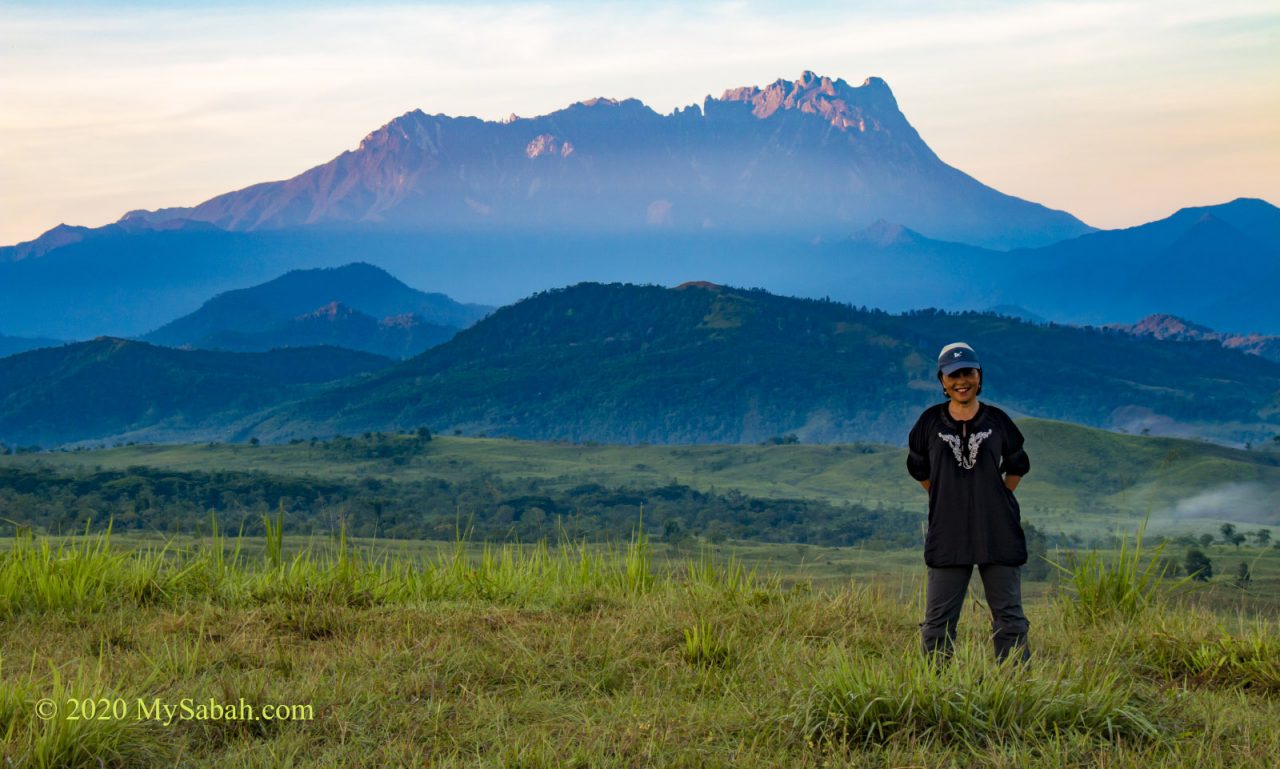 But what truly makes Mount Kinabalu special is its cloud forest which is high in plant endemism. On the way up, you would see bright-colored pitcher plant and rare orchid next to the trail. The majestic Mount Kinabalu is undoubtedly one of the most beautiful places in Malaysia. The climb is about 8.7 Kilometres in distance and usually take 2 days 1 night. More Info…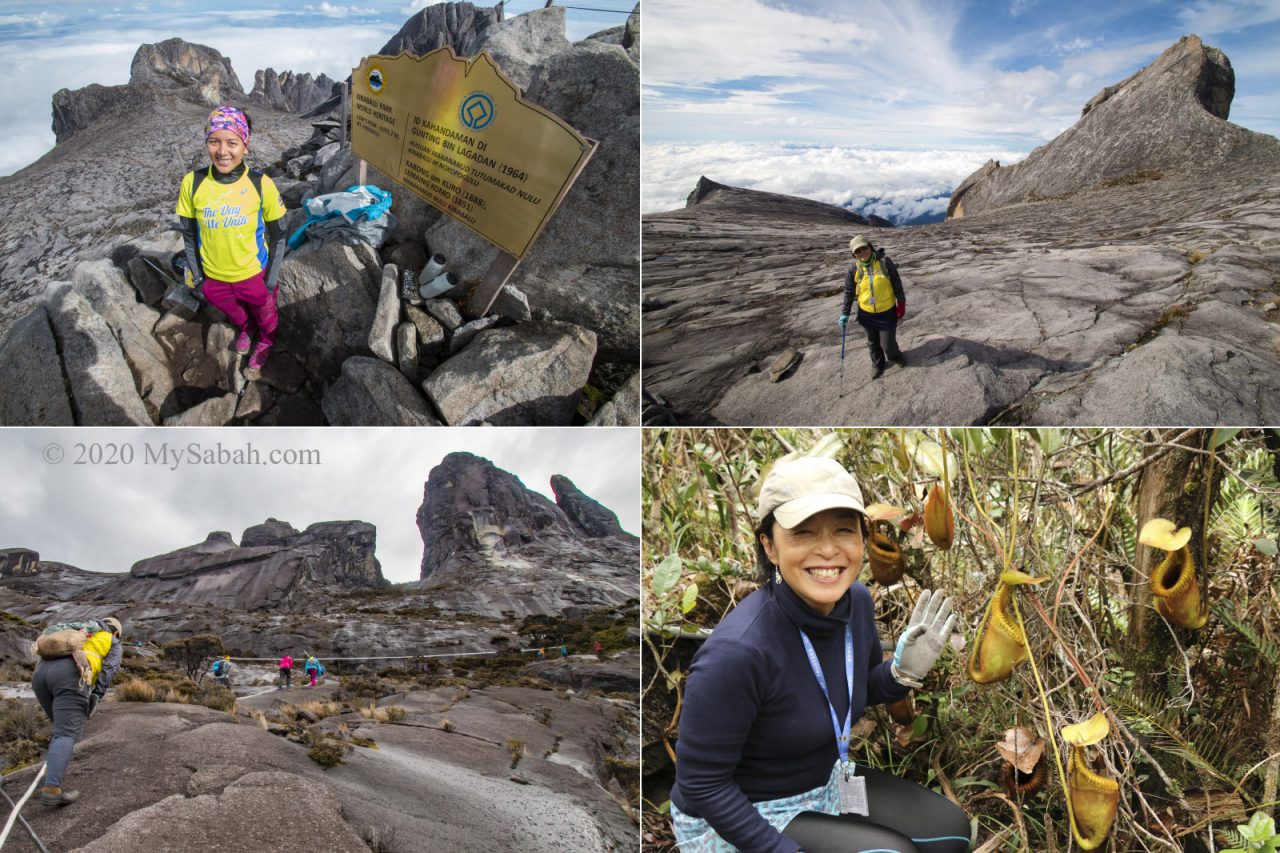 Height: 300 Metres (984 ft) Location: Tamparuli (GPS: 6.135493, 116.278955)
The locals say there are two ships stranded on the cone-shaped Ruhiang Hill. Actually they are two huge boulders that look like ships. The climb takes less than an hour.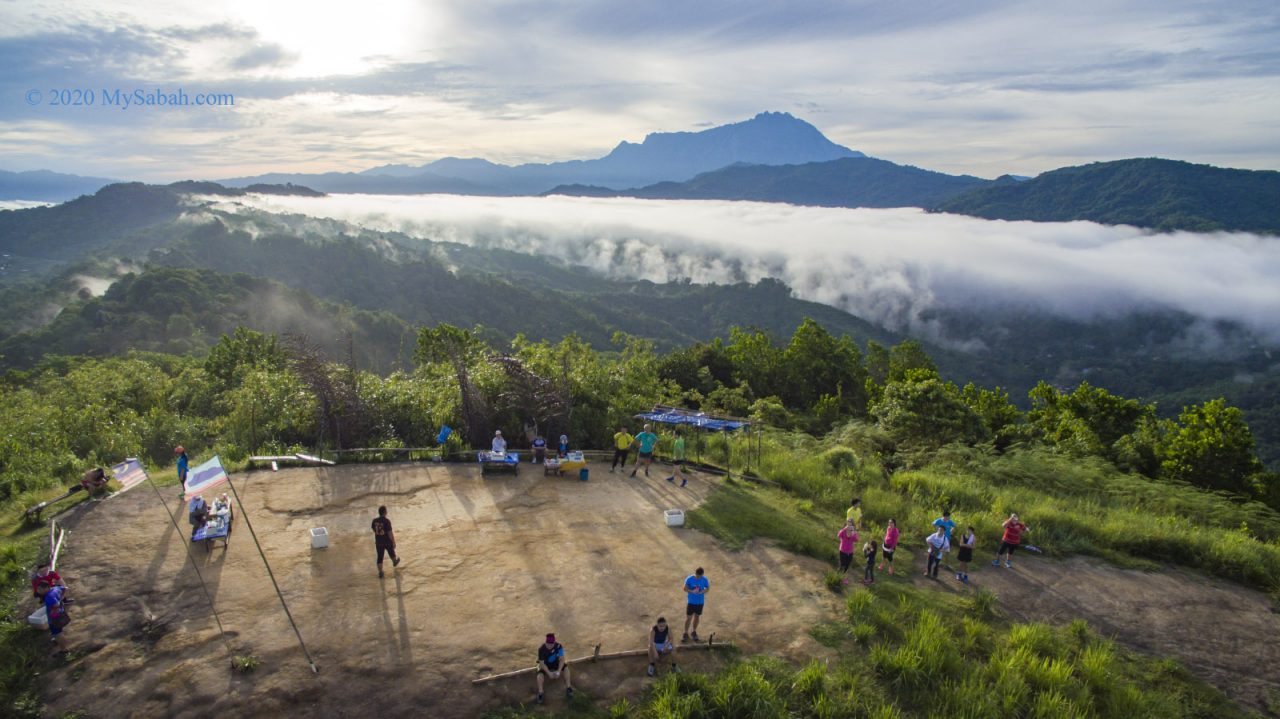 Early birds who reach the peak in early morning would be rewarded by the breathtaking view of Mount Kinabalu on a sea of cloud. I can't help to imagine that I can get on a big ship to sail to Mount Kinabalu on the cloud. After the climb, the bonus is to eat Tamparuli Fried Noodle in Tamparuli town. More Info…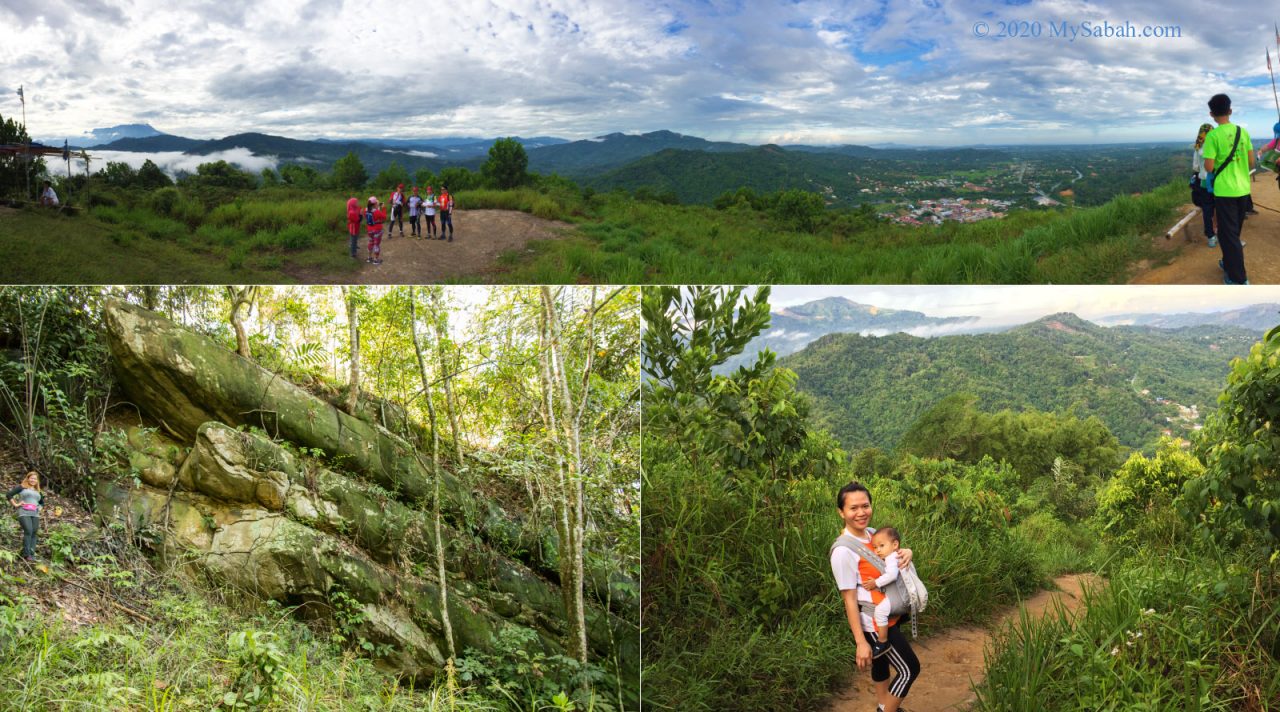 Height: 800 Metres (2,625 ft) Location: Menggatal (GPS: 6.007611, 116.207367)
Two cool things draw many visitors to unwind on Kokol Hill. It is the nearest spot to escape the heat of Kota Kinabalu city, and its magnificent sunset view. You can just drive up there without climbing at all. If life is tough, have a cup of hot coffee in cooling breeze of Kokol Hill and enjoy the scenic view of Kota Kinabalu city and islands far away. To really free your mind, try paragliding on Kokol Hill. More Info…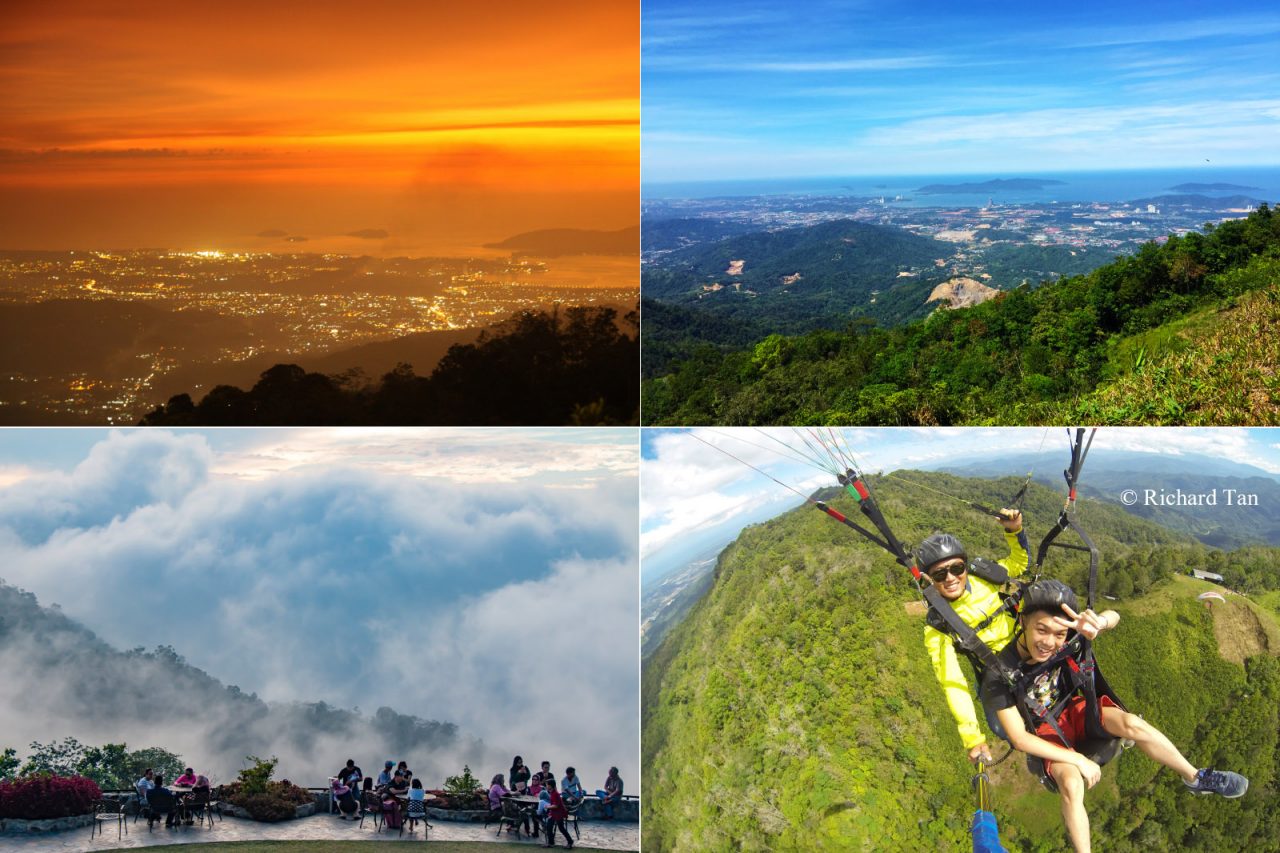 Height: 500 Metres (1,730 ft) Location: Kota Belud (GPS: 6.310287, 116.408424)
Want a fun hike with a group of friends? I heard a lot of praises about Bukit Bongol. The slopes are mostly gentle and the trail is less challenging. The whole hill is carpeted by grass, which is green in wet months and yellowish during drought, a spectacular scenery you all won't forget. Climb to the high point before 9am and you would be lucky to see Mount Kinabalu, a perfect backdrop for your Instagram shots. More Info…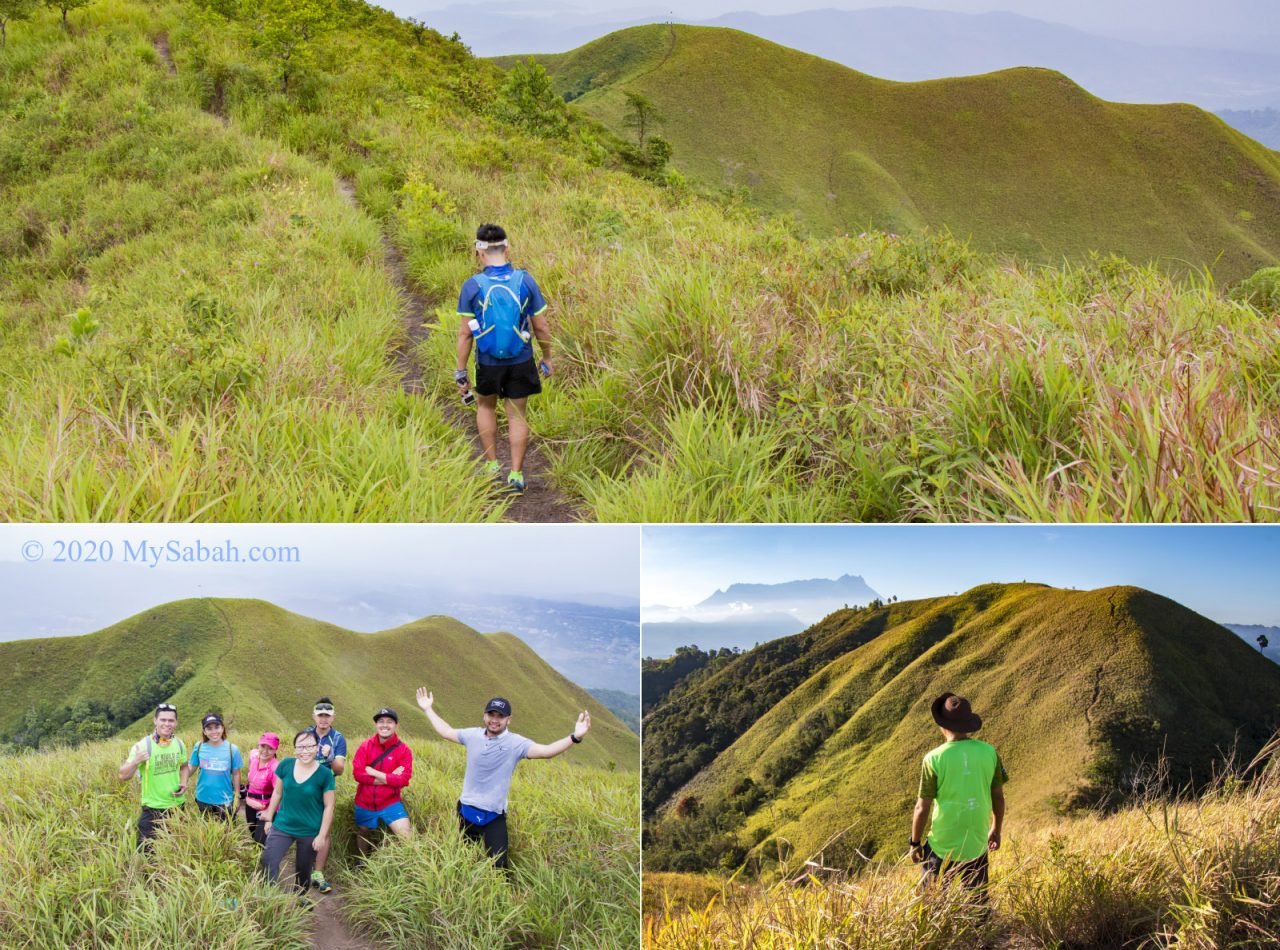 Height: 244 Metres (800 ft) Location: Nabawan (GPS: 4.607299, 116.587644)
Located in interior, where Murut headhunters roamed in the past, Batu Punggul is the most mysterious hill of Sabah. Legend says this limestone pinnacle is a longhouse being turned into rock by angry God because the villagers made fun of the animals. At the foothill there is a cave where you can find the "fossilized furniture" such as jar and table. Climbing this vertical 800-feet limestone pinnacle will peak your adrenaline rush, and nobody will question your bravery if you can conquer Batu Punggul. More Info…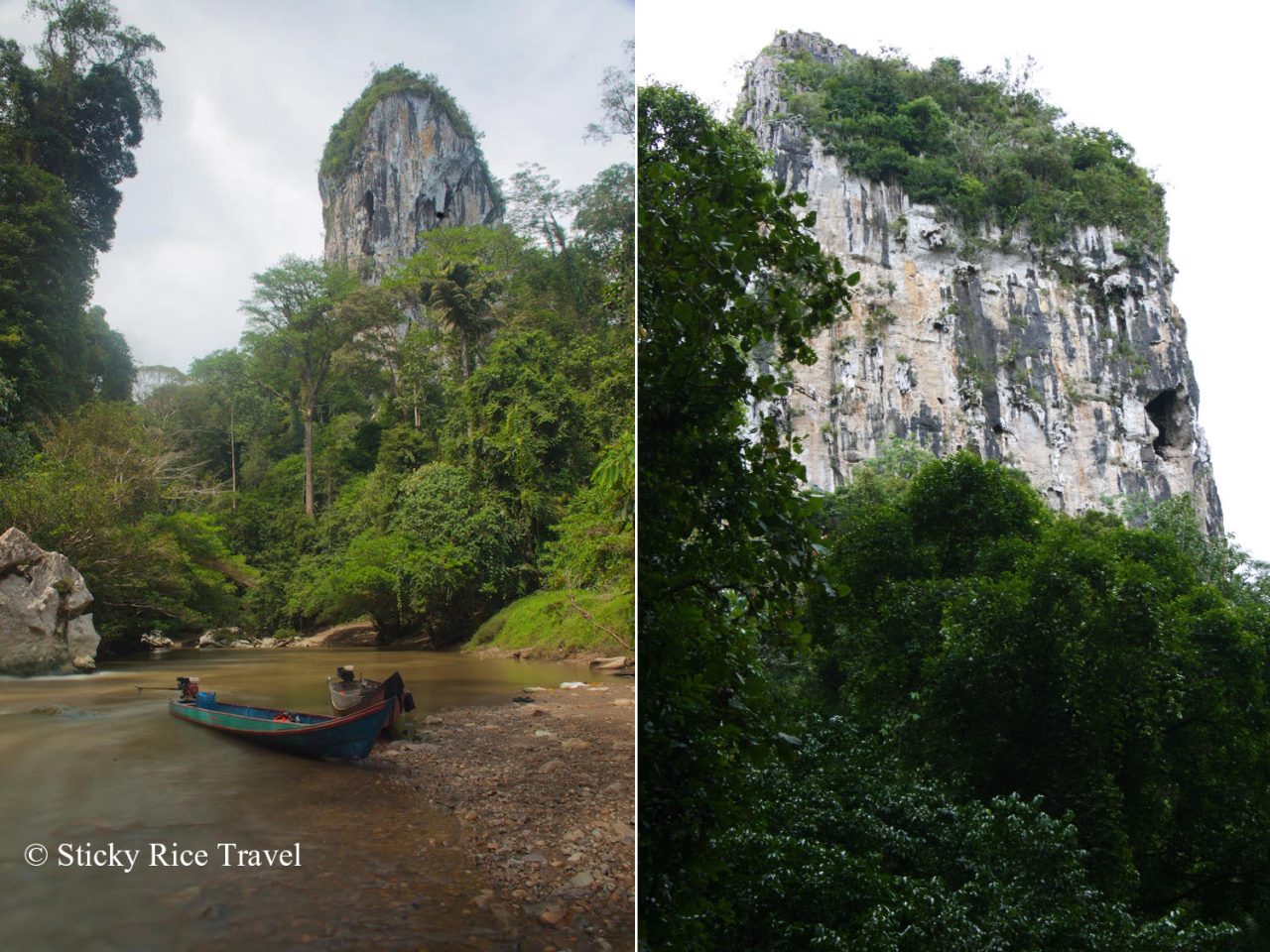 Height: 884 Metres (2,900 ft) Location: Lahad Datu (GPS: 4.956901, 118.165534)
You don't need to get on a plane to have a bird-eye view of this beautiful land. Just visit the tower of heaven on Mount Silam, where you can see the picturesque scenery of Darvel Bay. The air up there is refreshing and the peak is covered in fog sometimes. Beside the tower is a nature trail that leads you to an alien world filled with mossy forest, forest crabs, rare orchid, pitcher plant, etc. More Info…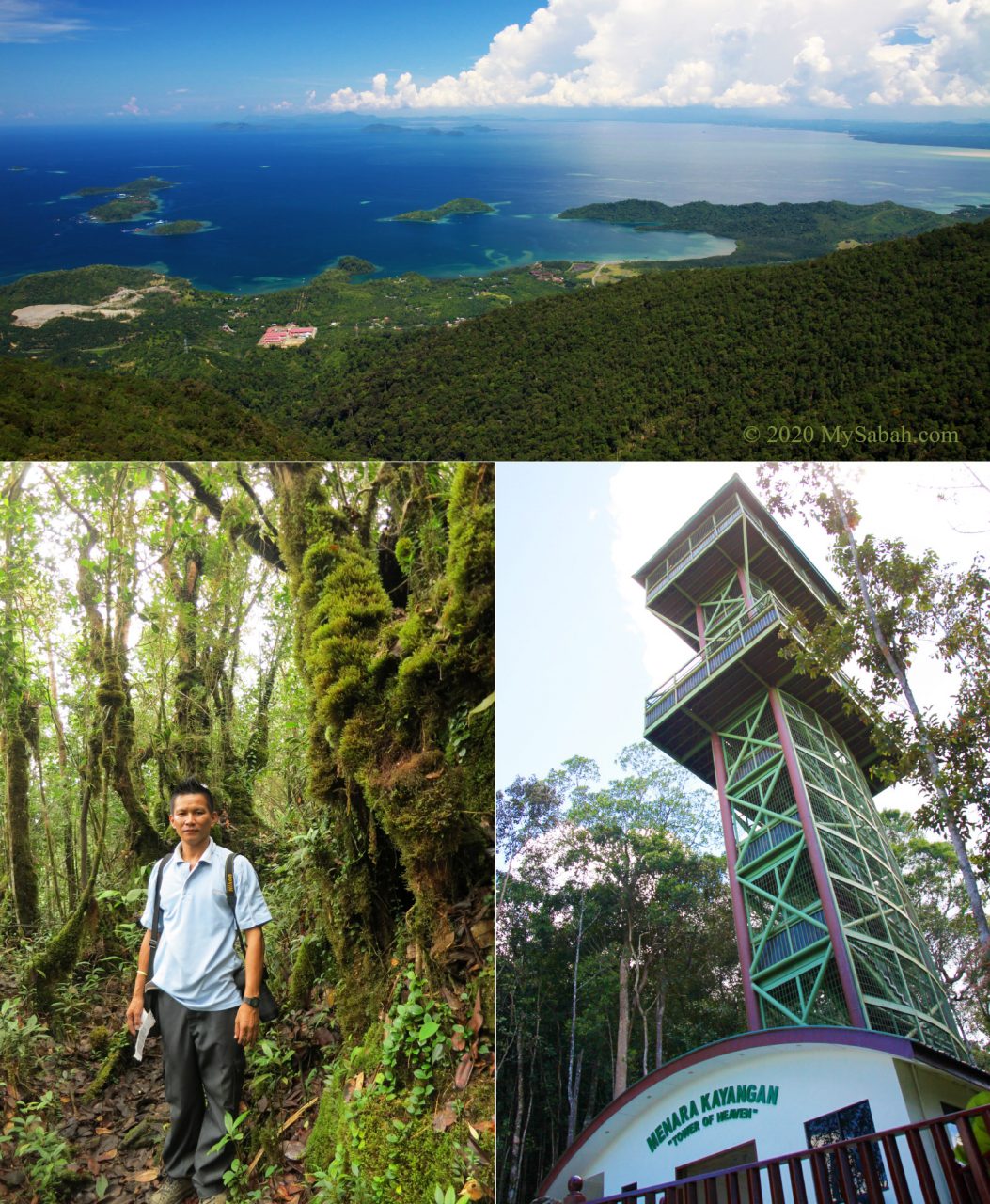 Height: 1,603.57 Metres (5,261 ft) Location: Kota Marudu (GPS: 6.275650, 116.687114)
Mount Nombuyukong is another mountain in north of Kinabalu Park. Its pointy peak kind of triggering my insect-like instinct that motivates me to crawl to its tip. The climb is quite challenging but takes only half a day. This is a forested mountain for nature lovers who appreciate the fauna and flora in tropical rainforest of Borneo. You won't be disappointed when you see so many interesting fungus, flowers, trees, and birds along the way. More Info…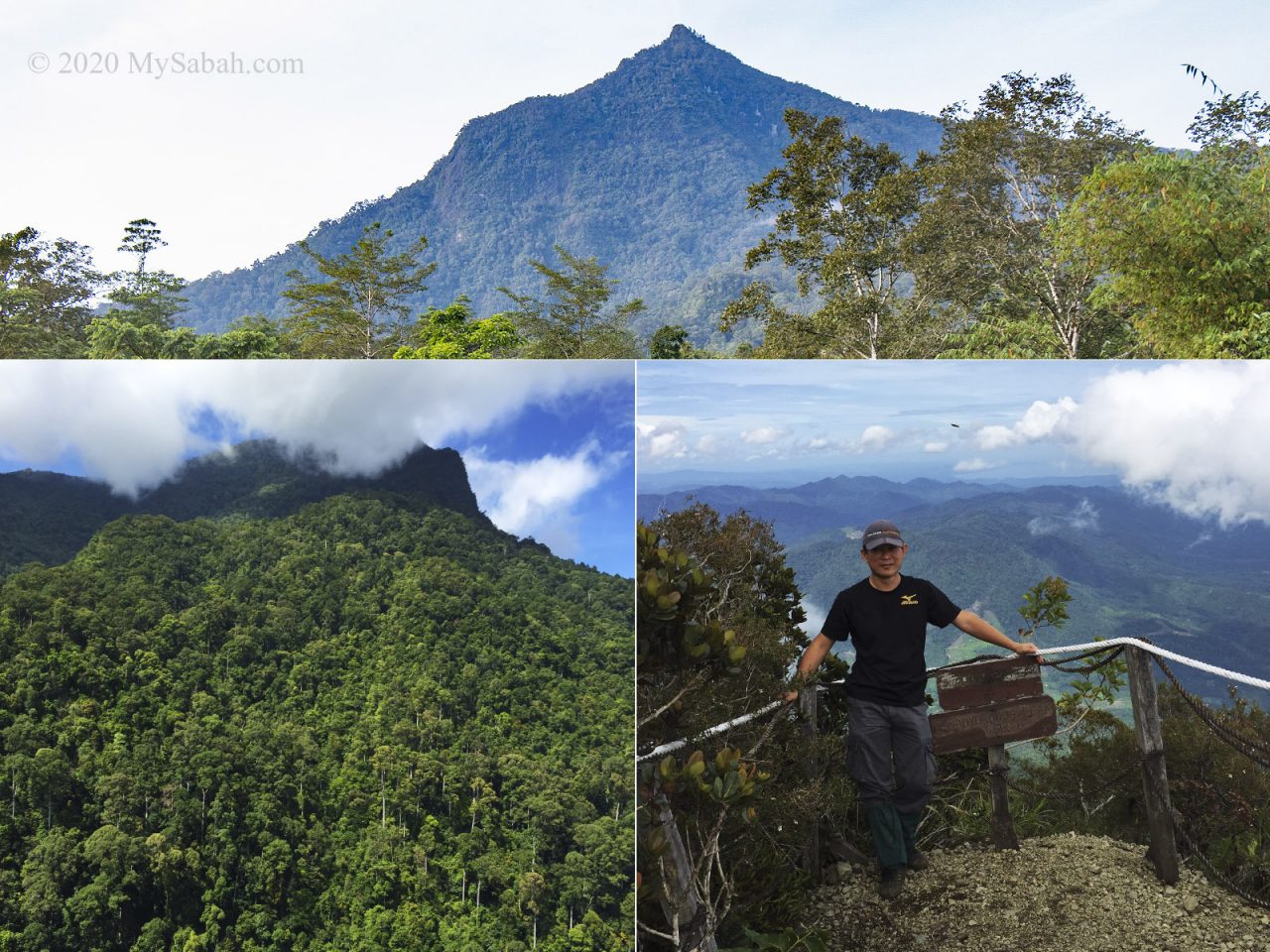 Height: 600 Metres (1,965 feet) above sea level Location: Tambunan (GPS: 5.506507, 116.277218)
This is a great example to inspire a person that he doesn't need to be tall to be attractive, if he has awesome characteristics. Bukit Lugas is just a small hill, but it has an impressive ridge that looks like dragon spine. Though the narrow path is a nightmare for people with acrophobia, they still want to try it. Anyway, it is safer than it seems. This hidden dragon is exposed when its pictures went viral a few years ago. More Info…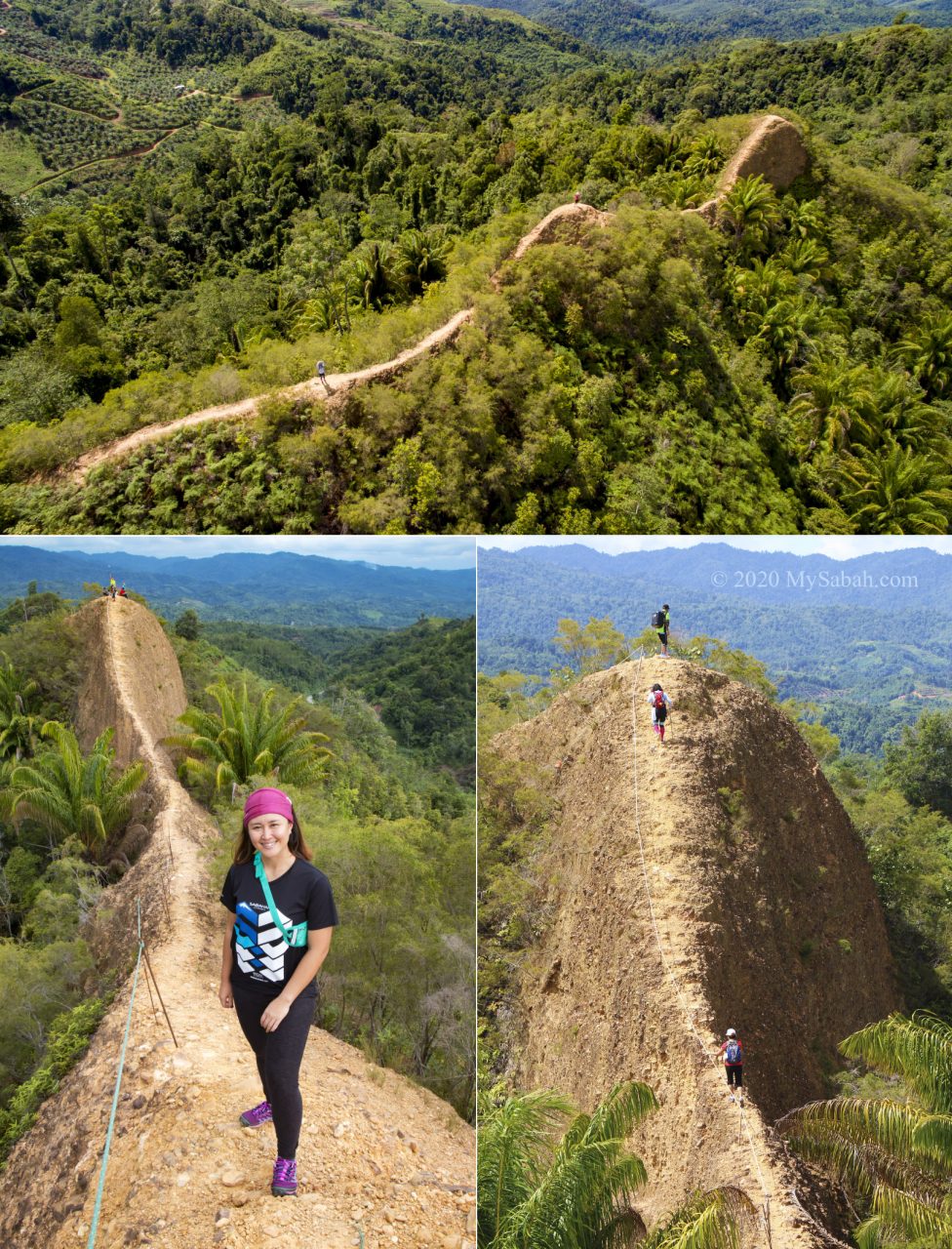 Height: 183 Metres (597 ft) Location: Semporna (GPS: 4.438507, 118.619756)
Bukit Tengkorak is part of an ancient volcanic rim (about 2 KM in diameter) and the largest pottery making site in Southeast Asia during the Neolithic period (about 3,000 years ago). It is estimated that more than 6 million prehistoric potsherds found on this hill, and you would see hundred of pottery potsherds on the way up.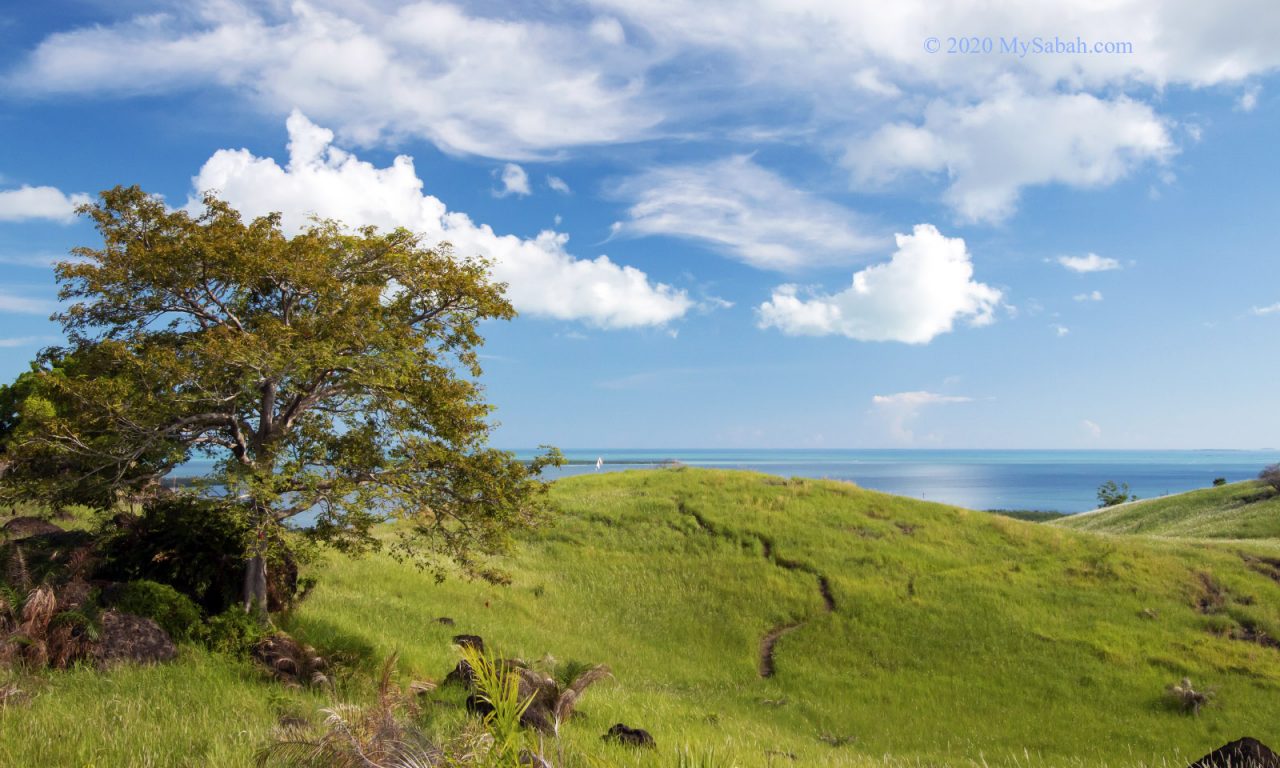 On top of this hill, you can have a panoramic view of Semporna town and islands. You can go further behind to explore the grassy knolls dotted with black volcanic rocks, to bag some amazing profile photos. More Info…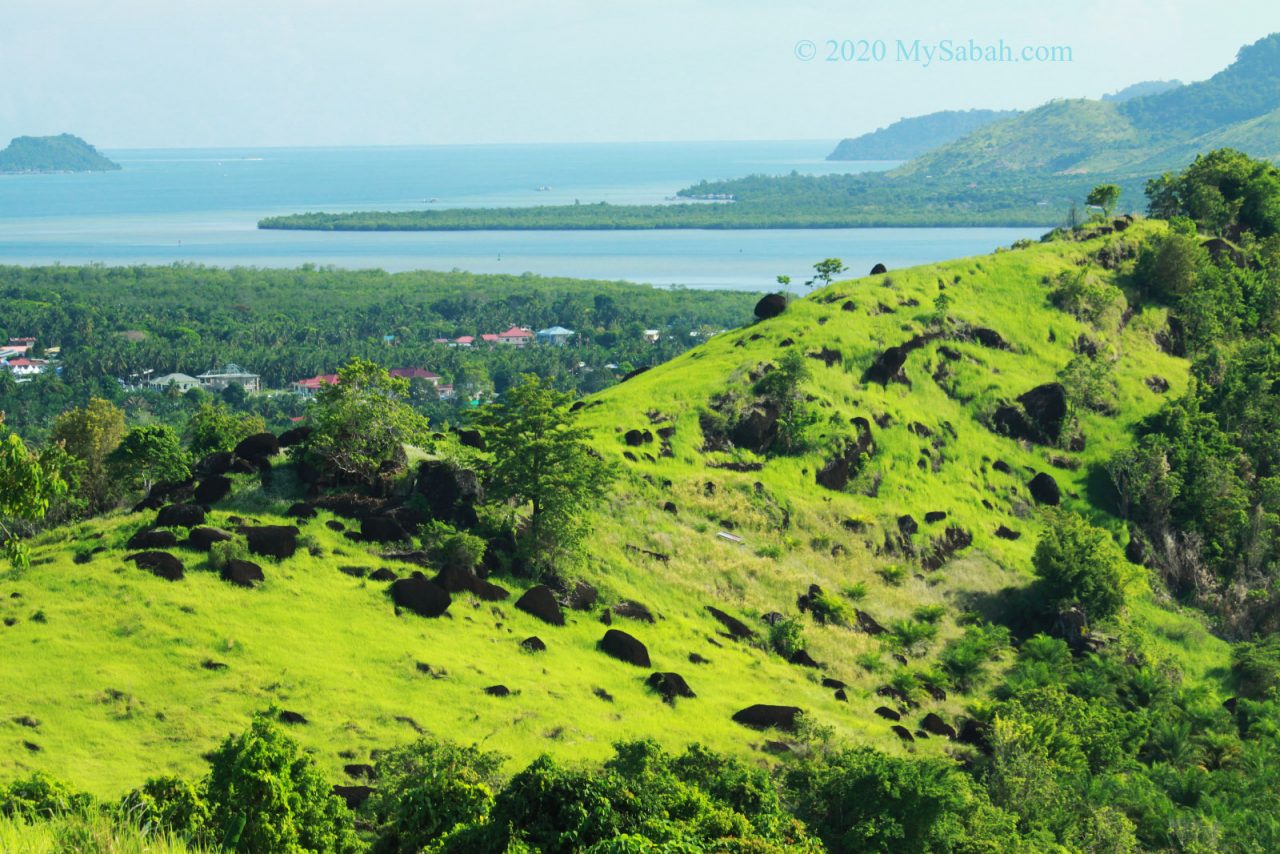 Height: 2,232 Metres (7,323 ft) Location: Mesilau (GPS: 6.039138, 116.585750)
The distance between the peaks of Mount Kinabalu and Maragang Hill is only 5 Kilometres! This makes Maragang Hill the best viewpoint for the highest mountain of Malaysia. The viewing platform on the peak allows you to capture Mount Kinabalu, lush montane forest and blue sky in one frame.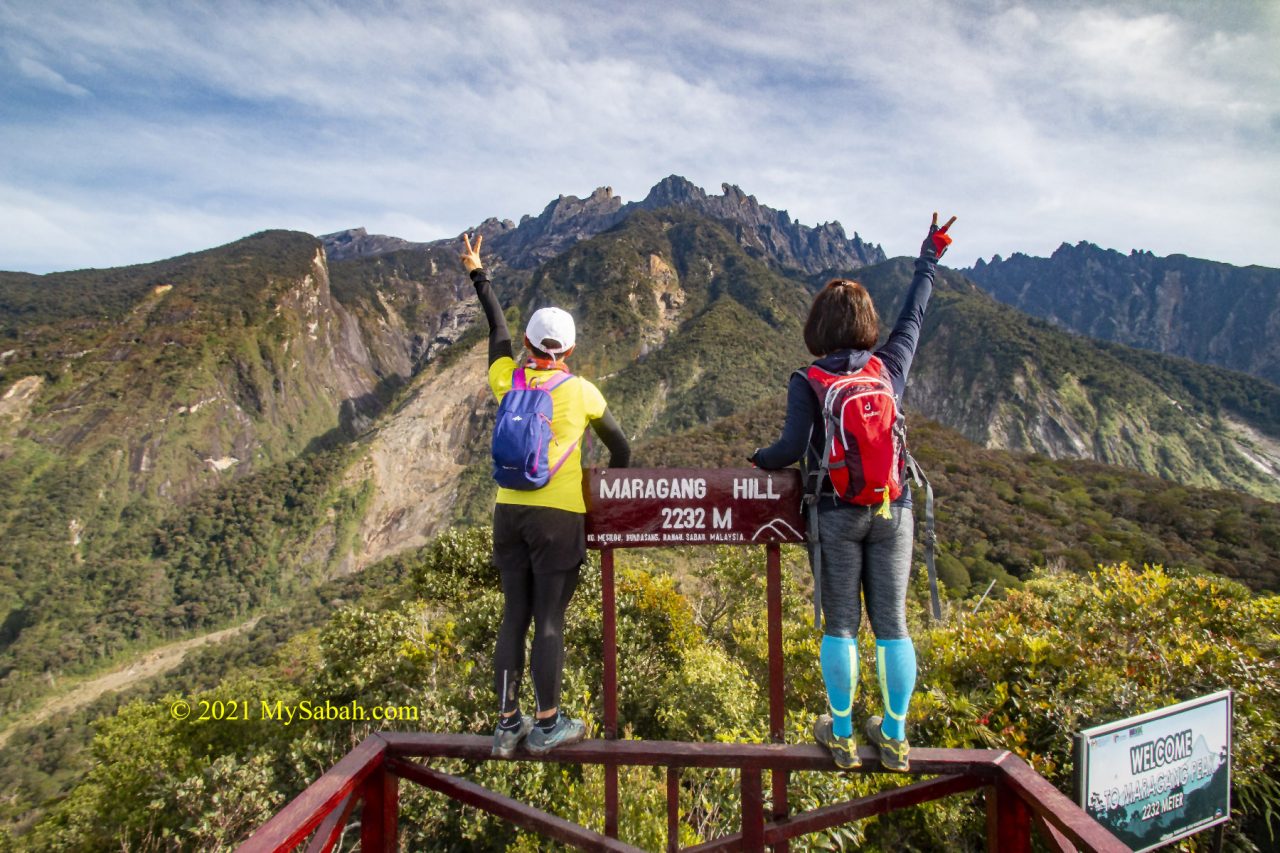 The 4-Kilometre climb is fairly easy and takes only an hour. A camping site is available nearby for those who want to stay back for stargazing. More Info…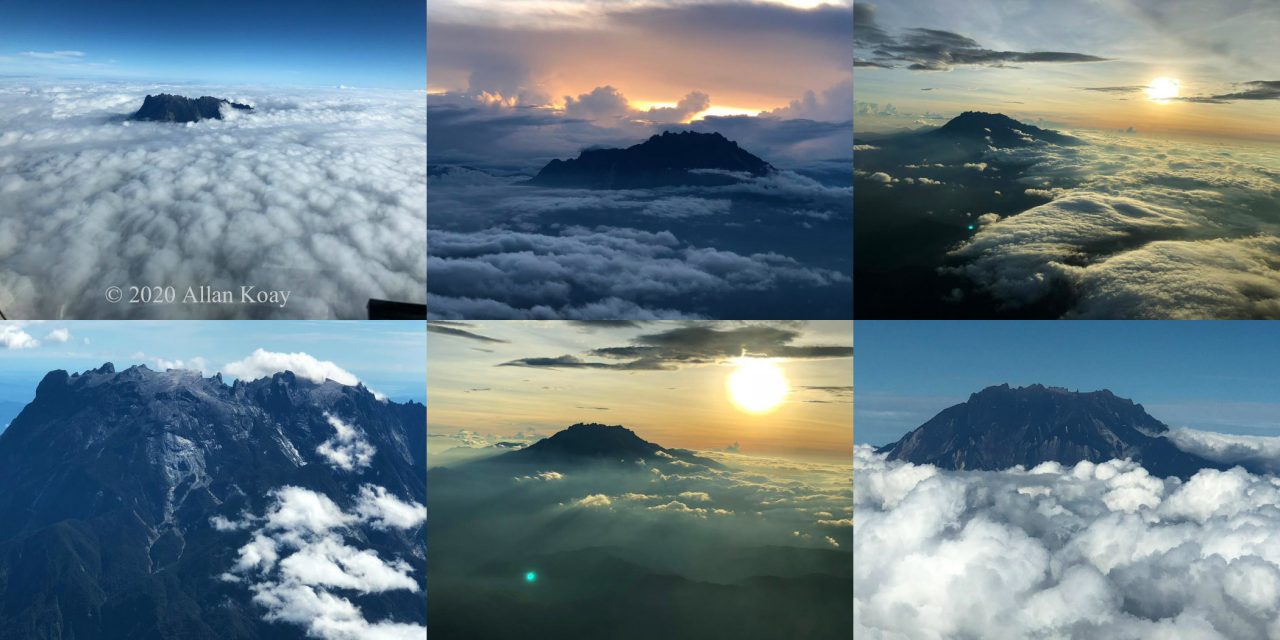 List of Hills and Mountains in Sabah
The list doesn't end here. The following is a list of over 140 hills / mountains grouped by city and towns. Please note that not all of them are tourist-ready. Some destinations would require you to hire a guide or apply an entry permit. I try to link them to some useful websites (informative articles are so hard to come by nowadays). Please note the height is measured from sea level (above sea level or asl).
Beaufort
Keningau and Sook
Gunung Alab (2,050 Metres / 6,726 ft)
Bukit Naundarangan: video
Bukit Matanoi: Facebook
Bukit Trig Apin-Apin (574 Metres / 1,883 ft)
Bukit Durian: Facebook
Nulu Gundi: Facebook
Bukit Bandukan
Bukit Baverly Kikiran
Bukit Gonipis
Bukit Kara
Bukit Kawah
Bukit Masin
Bukit Silui Mandanan
Bukit Sumbiling Kikiran
Puncak Dimie (Mile 16 Jalan Kimanis – Keningau)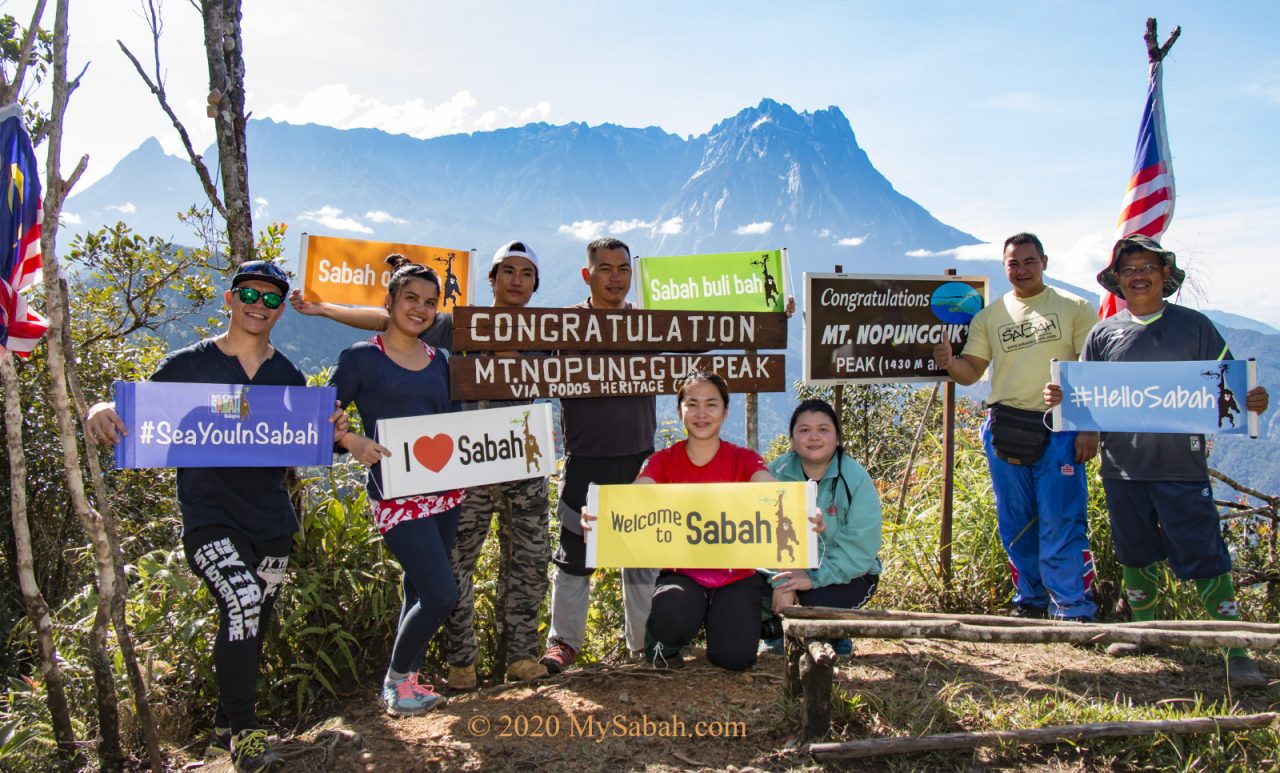 Kota Belud
Mount Nopungguk (1,430 Metres / 4,692 ft)
Bukit Bongol (527 Metres / 1,730 ft)
Puncak Donggiranuk (736 Metres / 2414 ft): Facebook
Bukit Budu Sundu (599 Metres / 1,965 ft)
Bukit Garas (690 Metres / 2,264 ft)
Bukit Pakis (184 Metres / 604 ft): video
Gunung Minodtuhan (2,360 Metres / 7,743 ft): video
Bukit Pinontungan (1,119.6 Metres / 3,673 ft)
Bukit Bogung via purak ogis (866 Metres / 2841 ft)
Bukit Karak: video
Bukit Kowatuan (986 Metres / 3,235 ft): Facebook
Bukit Kolumpisau (1,033 Metres / 3,389 ft)
Nulu Koimayaan: Facebook
Gunung Sadok
Bukit Bagong via narinang
Bukit Kujau
Bukit Mogilin
Bukit Trinity Kg Pandat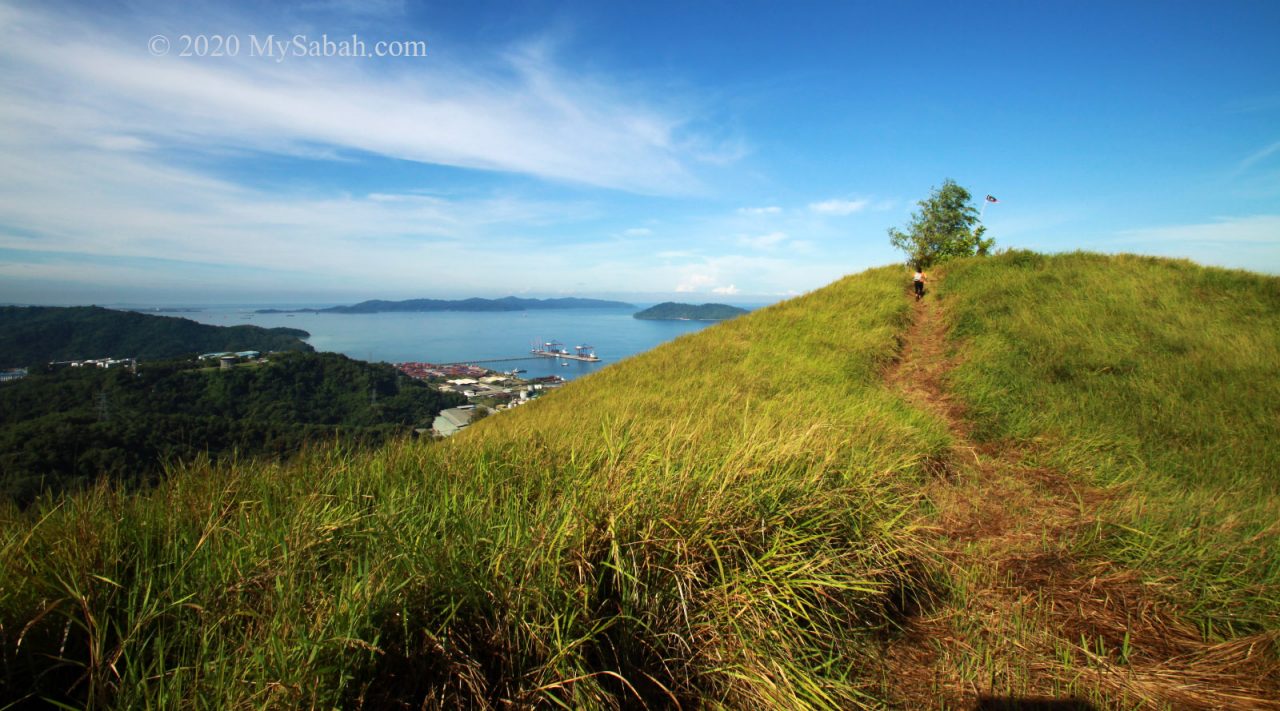 Kota Kinabalu (KK)
Bukit Padang, famous jogging park of KK people
Bukit Helang (at Kg. Kebagu, Sepanggar): Facebook, video
Bukit Janggut (300 Metres / 984 ft): video 1, video 2
Bukit Tuah (660 Metres / 2,165 ft)
Kolonutan Hill (575 Metres / 1,886 ft): Facebook
UMS Peak (190 Metres / 623 ft): video
Bukit Bubuk
Bukit Lumpugou
Kota Marudu
Gunung Nombuyukong (1,603.57 Metres / 5,261 ft)
Gunung Minitinduk (1,059 Metres / 3,474 ft): video
Bukit Pancaran /TV
Bukit Doa
Bukit Lotong
Bukit Tagaroh
Mt. Cochrane (580 Metres / 1,903 ft): video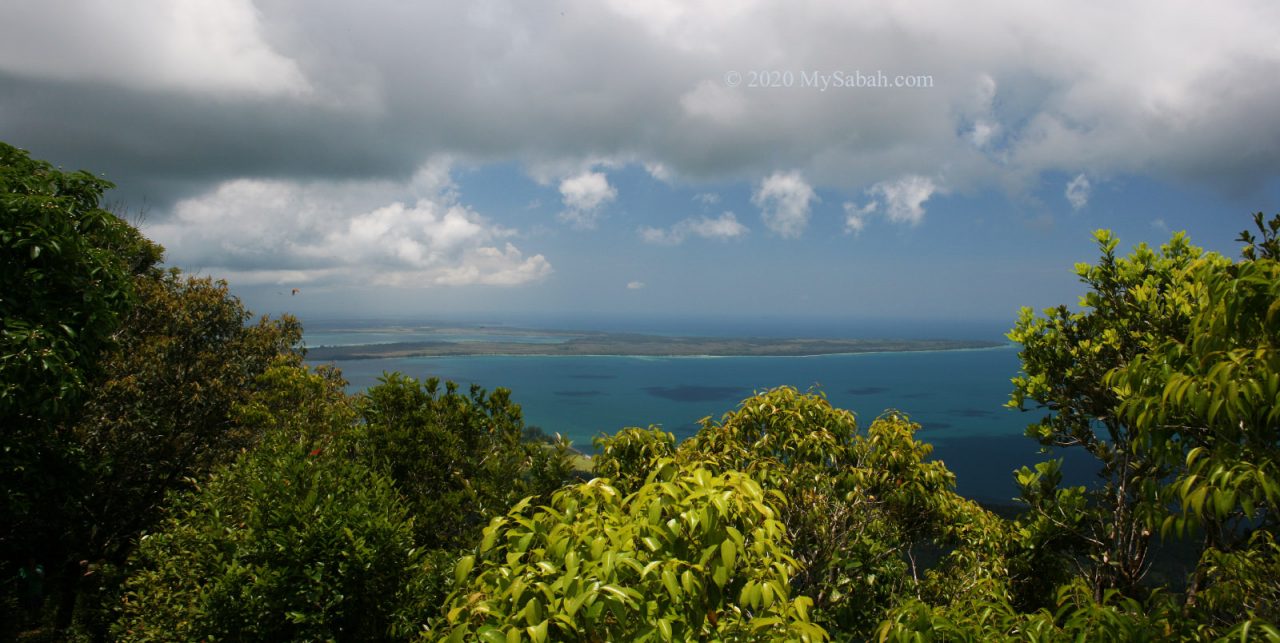 Kudat
Senambung Hill (529 Metres / 1,736 ft), Banggi Island
Kunak
Bukit Madai, edible bird nest mountain
Bukit Pidung
Bukit Tisop (Madai Cave): video

Kundasang and Ranau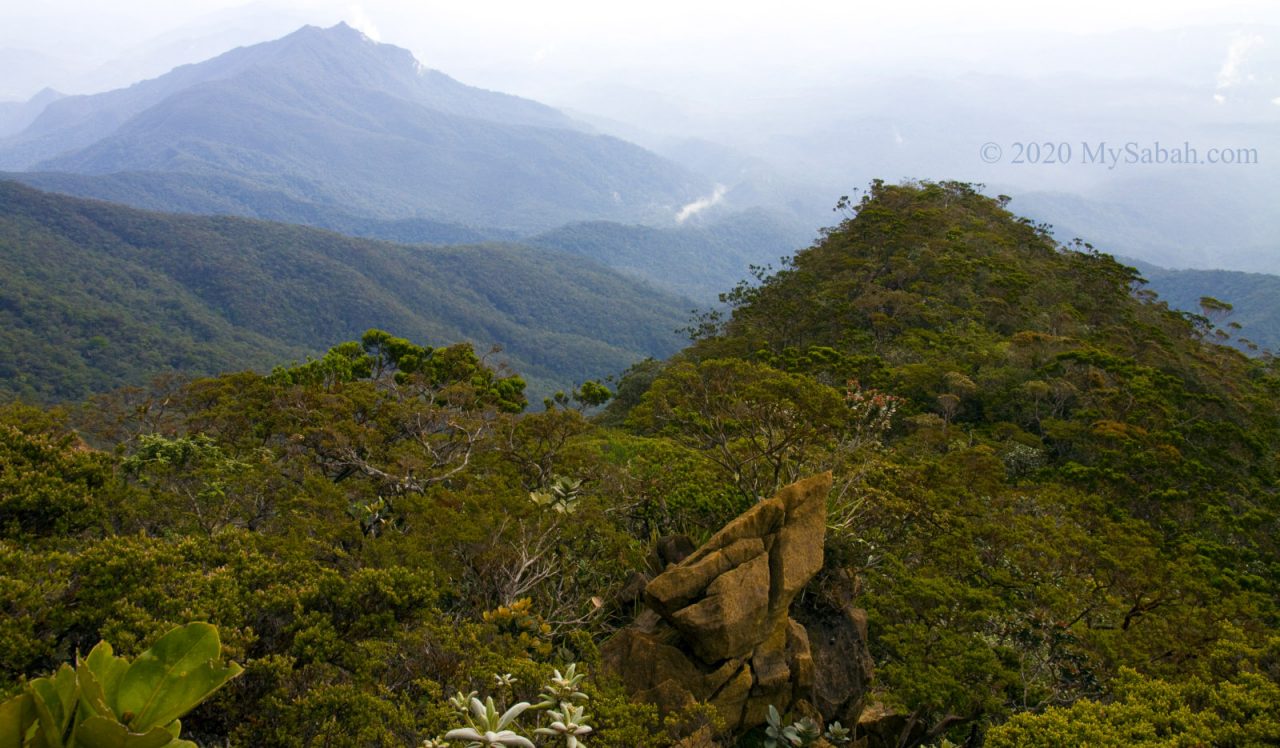 Lahad Datu
Taruakan Hill, Pulau Sakar: Facebook, video
Mount Danum (1,093 Metres / 3,586 ft)
Long Pasia
Bukit Botoii: video
Membakut

Papar / Kinarut
Bukit Boya, Outward Bound School
Bukit Kuburan
Bukit Lumagas
Pitas
Morovidu Hill: video
Piniapat Hill (141 Metres / 463 ft): Facebook, Video
Mondou Hill (Bukit Mondou) (<80 Metres)
Bukit Tudturan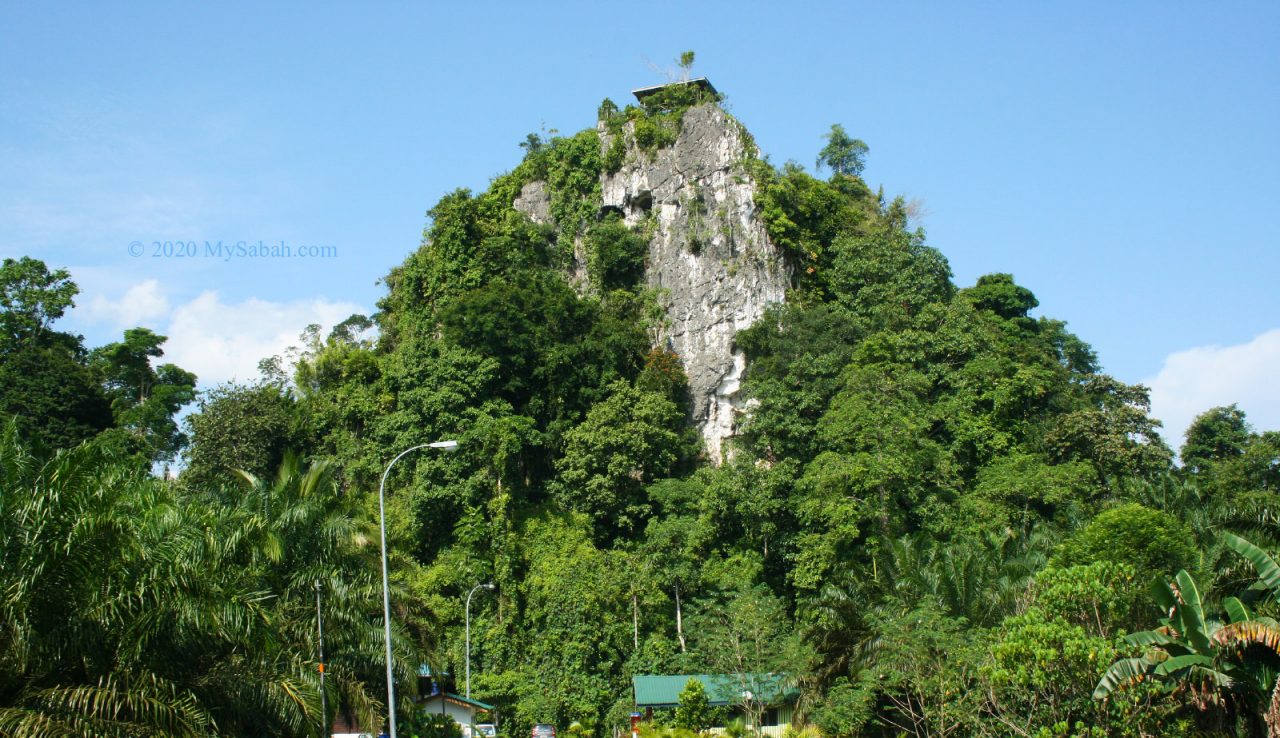 Sandakan / Kinabatangan
Batu Tulug, the coffin hill (ancient burial site)
Bukit Leila
Bukit Melanta
Bukit Sapa Taring
Sapulut
Batu Punggul (244 Metres / 800 ft)
Semporna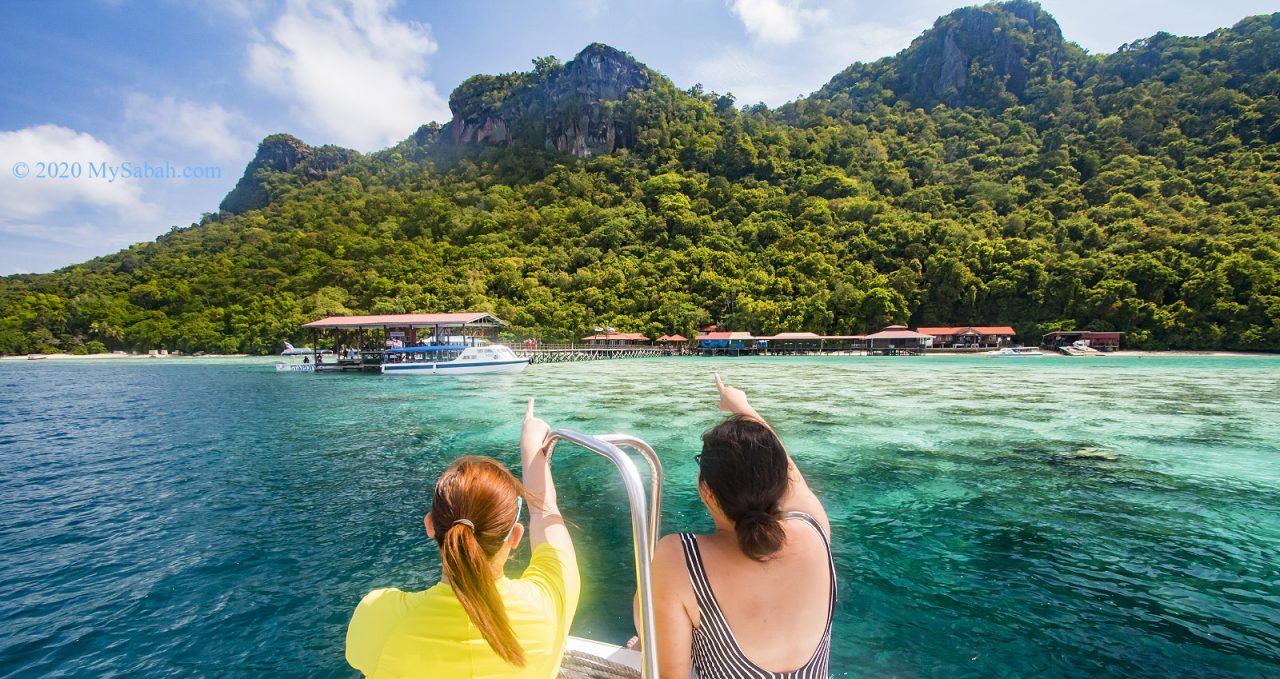 Sipitang
Mount Lumaku (1,900 Metres / 6,234 ft)
Mount Rimau / Senipung Hill (2,025 Metres / 6,644 ft), Long Pasia
Gunung Muruk Miau
Bukit Tampalagas: video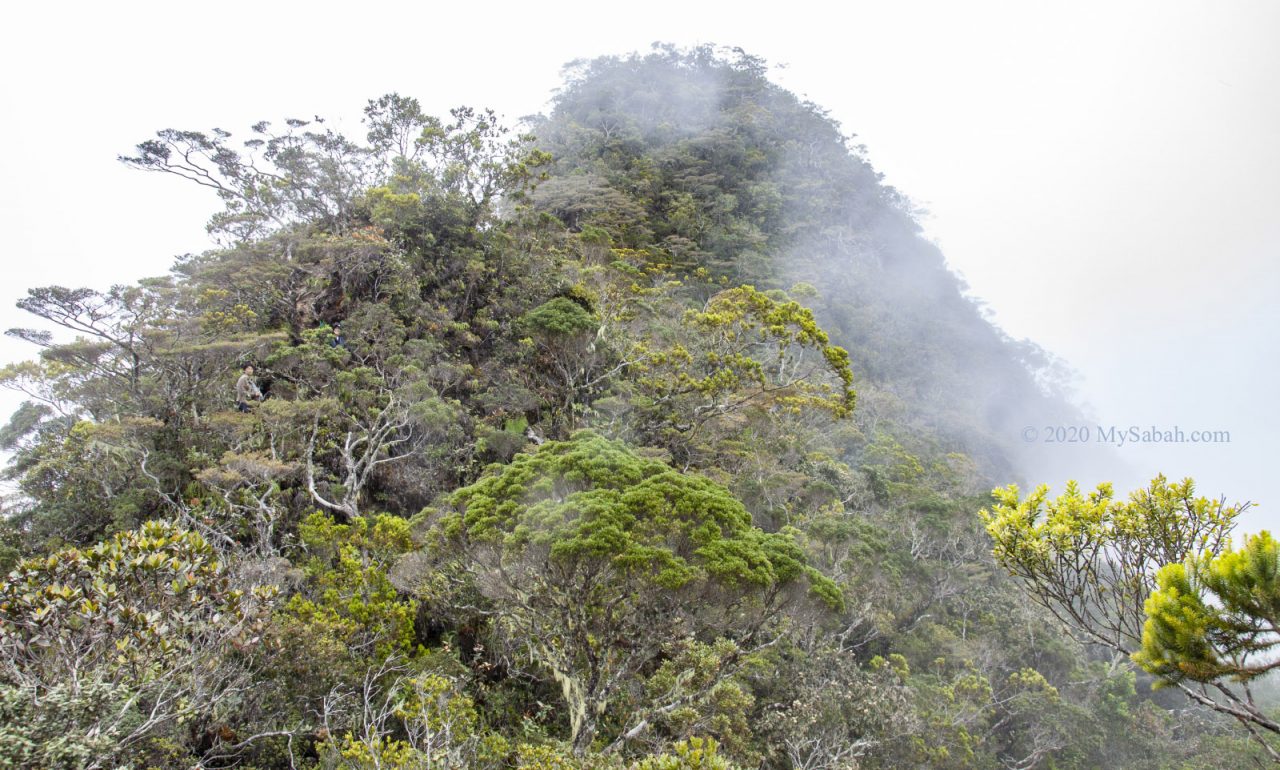 Tambunan
Mount Trus Madi (2,642 Metres / 8,668 ft), the second highest mountain of Malaysia
Gunung Wakid (1,372 Metres / 4,501 ft)
Gunung Sinsing (2,586 Metres / 8,484 ft) and Gunung Kaingaran (2,468 Metres / 8,097 ft): article 1, article 2, video
Bukit Dandab / Dandab Hill (Tambunan Viewing Point or Sinurambi)
Bukit Dampasak (950 Metres / 3,117 ft)
Bukit Kolindasan (1,130 Metres / 3,707 ft)
Bukit Kimbolung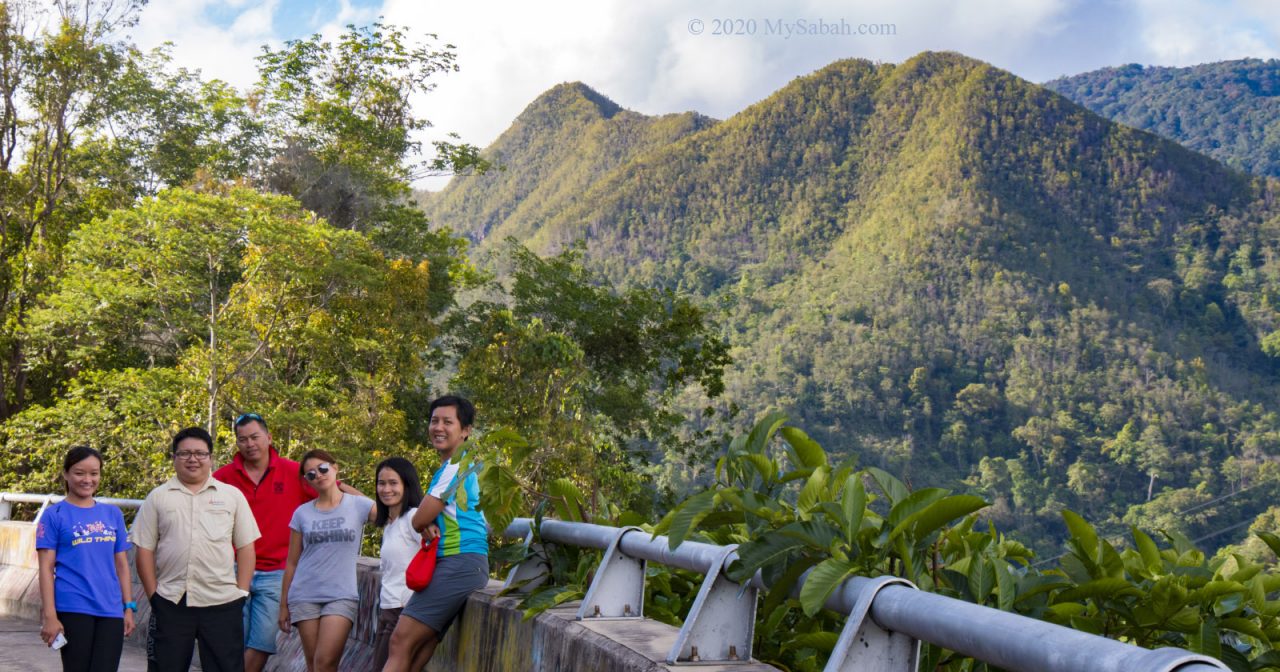 Tamparuli
Ruhiang Hill / Bukit Perahu (300 Metres / 984 ft)
Mara Kara Hill (641 Metres / 2,103 ft): Facebook, Videos (part 1, part 2)
Malba Trig Hill
Bukit Talantang (332 Metres / 1,089 ft)
Bukit Sinagang
Bukit Kulintangan
Tawau
Bombalai Hill (530 Metres / 1,089 ft), ancient volcano rim
Mount Lucia (1,240 Metres / 4,068 ft) & Mount Magdalena (1,312 Metres / 4,304 ft): video (part 1, 2, 3, 4)
Mount Lutong (1,675 Metres / 5,436 ft): highest point of Maliau Basin
Bukit Gemok (428 Metres / 1,404 ft)
Bukit Cinta (276 Metres / 906 ft): video
Bukit Hero: video
Bukit Kayawan: video
Bukit Pancang (Bukit Tinagat) (393 Metres / 1,289 ft): video 1 , video 2 (evening climb)
Bukit Tiger (407.9 Metres / 1,338 ft)
Bukit Tukok, Kalabakan
Gunung Maria
Mount Mostyn (495 Metres / 1,624 ft)
Bukit Batu Hitam
Bukit Lika / Bukit Botak
Bukit Sumundu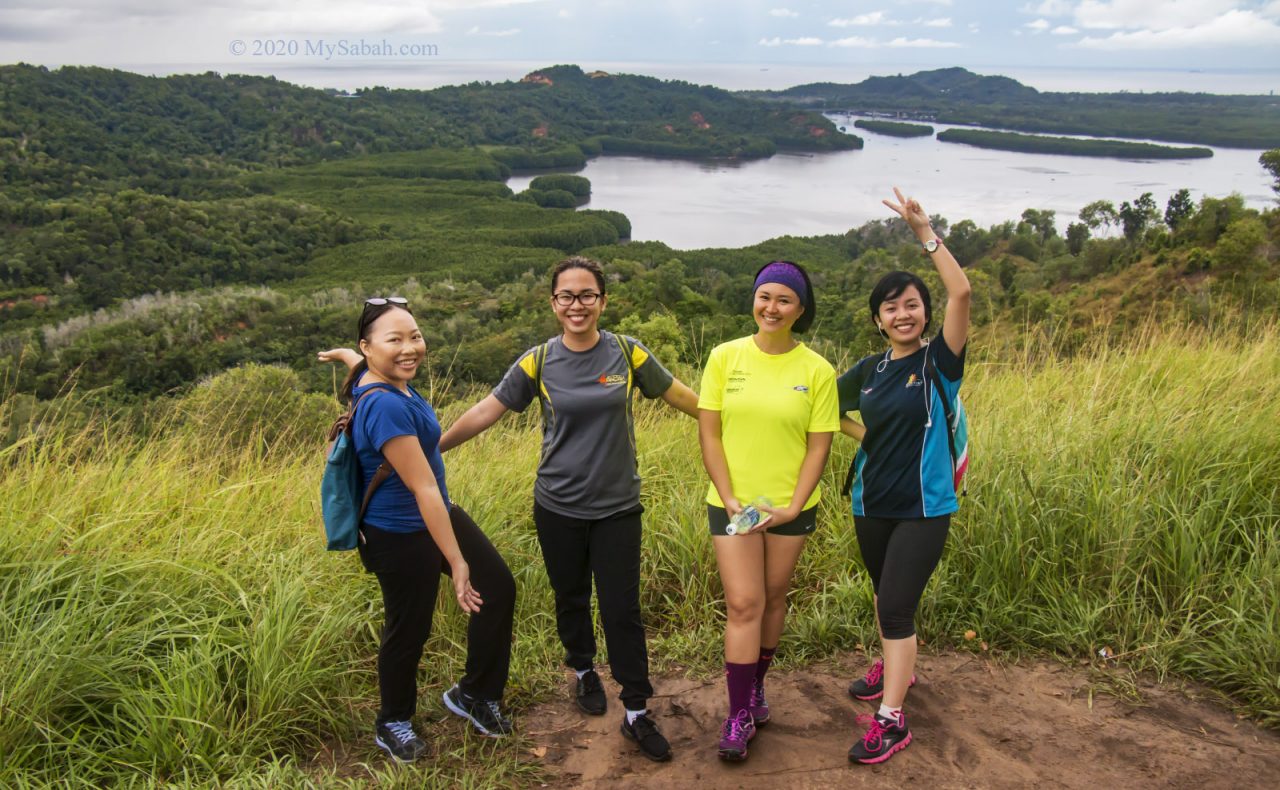 Telipok
Bukit Tirig, Kg. Lapasan
Bukit Binaong
Bukit Kayu Madang
Bukit Malawa
Bukit Payung
Tenom
Telupid
Mount Meliau (1,336 Metres / 4,383 ft): video
Tongod
Bukit RISM (Gunung Tinkar) (584.2 Metres / 1,917 ft), Centre of Sabah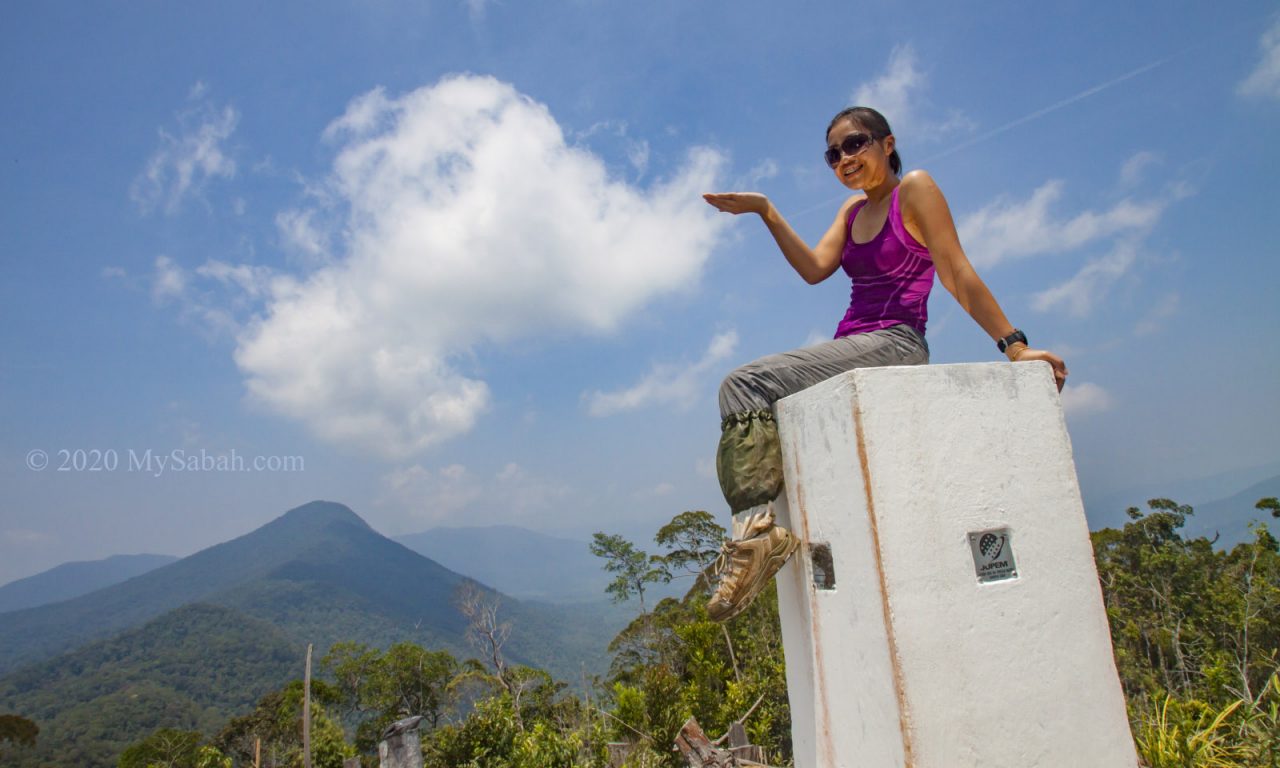 Tuaran & Kiulu
It would take you almost 3 years to conquer all of them, even if you climb a new one every week, and there are probably hundred more new mountains to be added to this list in future. For every mountain that we conquer, it's like making a new friend and you will always want to go back again. Stay safe and happy climbing!
Photos taken in Sabah, Malaysia Borneo