About 110 million years ago, when dinosaurs were ruling the Earth, a marine creature has existed in the ocean. They survived the predation of Megalodon (a 20-metre-long, the biggest extinct shark) and live until today. It's the sea turtle, some species can live more than 100 years old.

However, without any protection, human can wipe out this ancient animal in 20 years. Luckily, sea turtles are fully protected in Sabah, as well as their main nesting grounds in Sulu Sea, the Turtle Islands Park, which is about 40 kilometers to the north of Sandakan of Sabah (Malaysia).

Turtle Islands Park comprises the islands of Selingan (8.1ha), Gulisaan (1.6ha) and Bakkungaan Kecil (8.5ha), covering a protected area of some 1,740 hectares, of which 18.2 hectares are on land while 1,721.8 hectares at sea.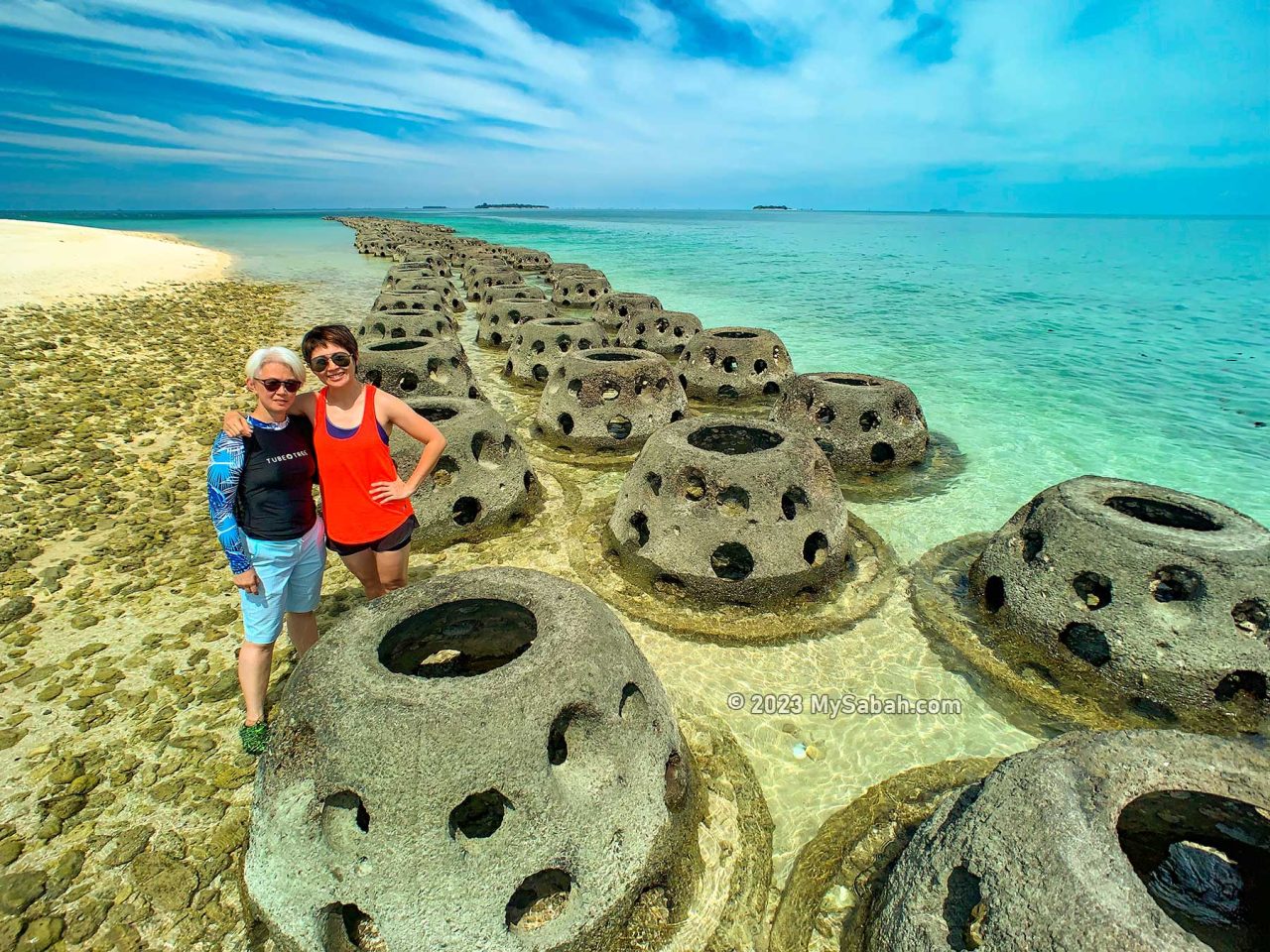 Only Selingan Island, which provides accommodation and basic facilities, is open to tourists, who will witness three stages of a turtle life by looking at the hatchery for the eggs, releasing of hatchlings and nesting of mother turtles in close distance.
Why Protect Sea Turtles?
Turtles don't beat up villains like what Ninja Turtles do, but they are unsung heroes of maintaining a healthy coral reef ecosystem and food chain balance in the ocean. For example, a Leatherback Sea Turtle can consume 200 kg of jellyfish a day. Green turtles graze on seagrass to stop the overgrown sea meadows that obstruct the sunlight to seabed.

Sea Turtles are also the important assets of tourism in Sabah. Diving with gentle sea turtles is one of the most exciting experience, and scuba divers can see more than 10 turtles whenever they dive at Sipadan Island, the top dive sites of Malaysia.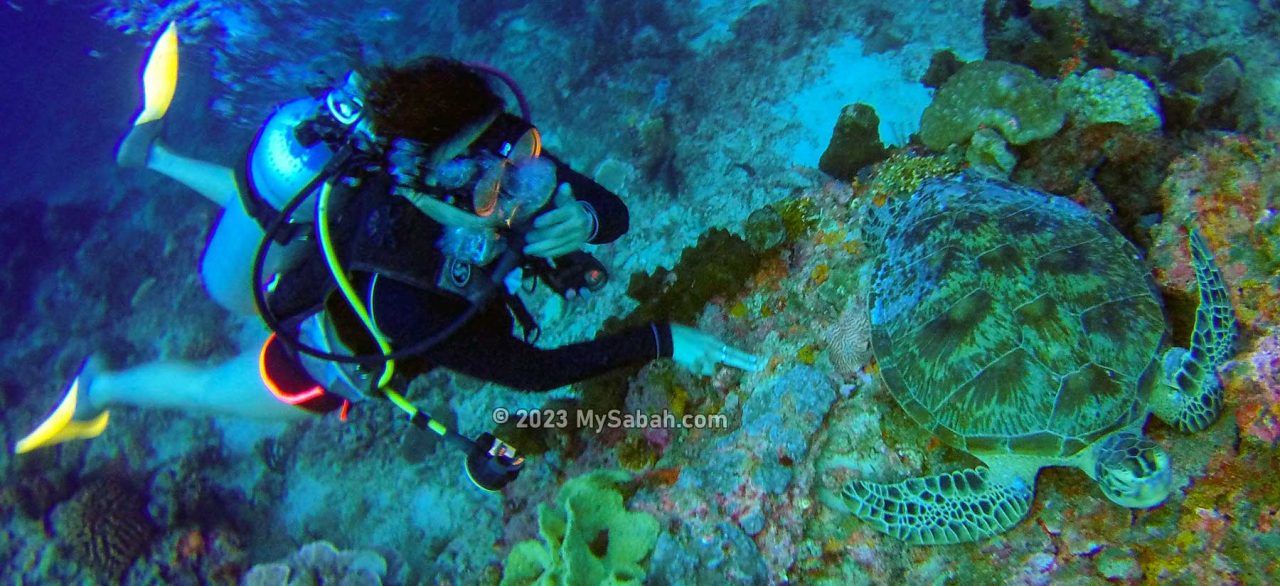 Unfortunately, all seven species of sea turtles are on the endangered list (IUCN Red List). Four of the seven extant species of marine turtles occur in Malaysia (leatherback, green turtle, hawksbill and olive ridley). Selingan Island is a safe haven for the endangered green turtle (Chelonia mydas) and hawksbill turtle (Eretmochelys imbricata).
A Painful Lesson
In the 1950s, about 10,000 leatherback turtle nesting were recorded annually in Terengganu state. Nevertheless, in 1980s, I had been hearing bad things such as people turned the turtles over, sat on them to take pictures and even took their eggs. The mother turtles couldn't lay their eggs in peace, the consequence is no more landing of leatherbacks there after 2006.

Terengganu government tried to curb the collection of turtle eggs in 2005 but it's too late too little. Though leatherback is sighted occasionally after 2015, there is no hope to recover the past glory as one of the world's largest nesting grounds of leatherback turtles. WWF Malaysia states that the leatherback turtle population in Malaysia has plummeted by more than 99 percent since the 1960s.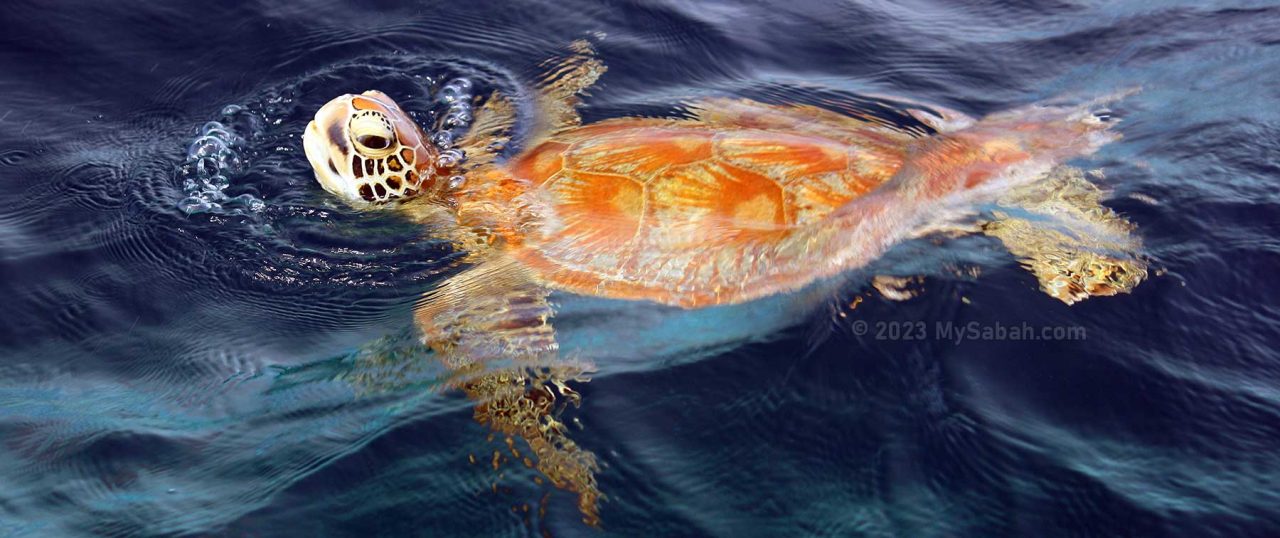 Therefore, it's significant that Sabah gazetted Turtle Island Parks as a turtle sanctuary on 1 Oct 1977, which stops the declining trend of green and hawksbill turtles population in Sabah.
Visit Selingan Island
Selingan, the turtle island of Sabah, is the place where turtles and tourists meet. To visit Selingan Island, visitors need to contact Crystal Quest (Website: turtleisland.com.my, Facebook: Turtleislandresortsandakan, Phone (Whatsapp): +60 11-51665923) to book a 2-day-1-night tour, which is a full board package that covers land / sea transportation, permit, accommodation and meals.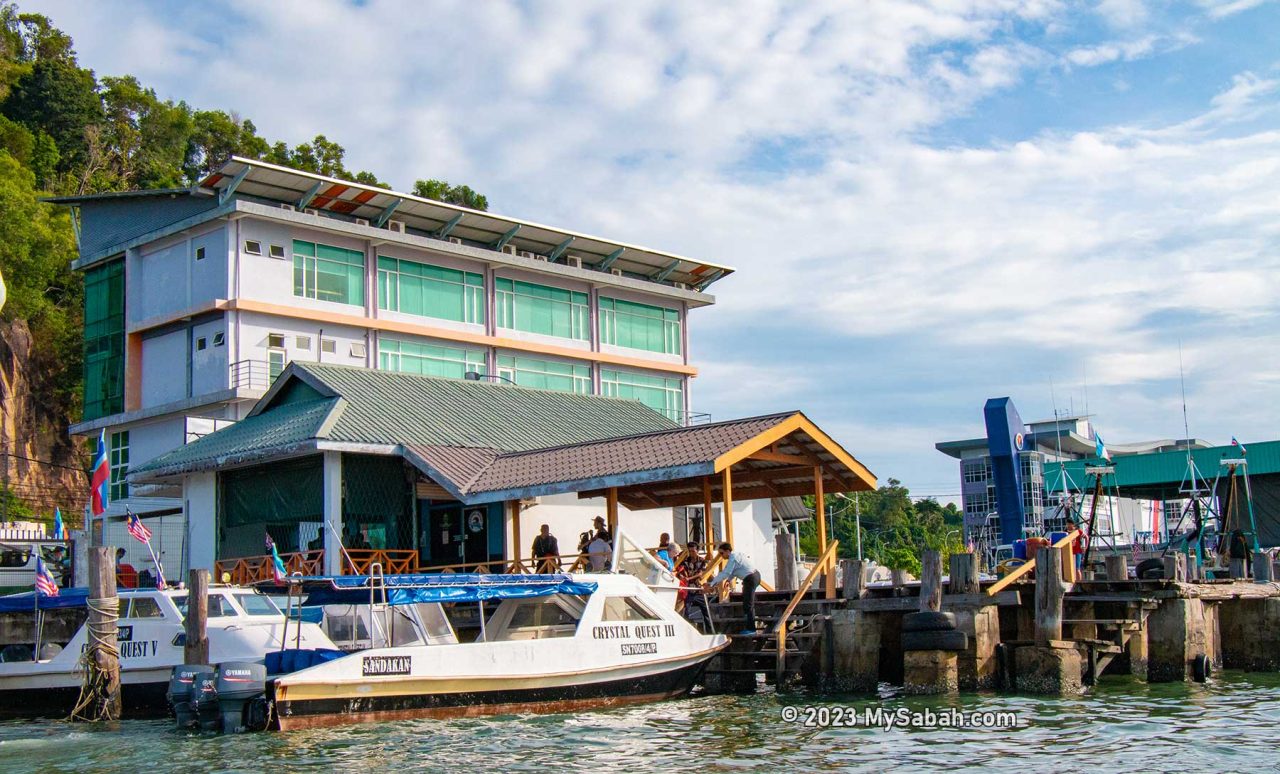 Turtle Islands Park is managed by Sabah Parks, but they are focus on conservation and offload the tour booking and activities to Crystal Quest. The island sets a limit of maximum 50 tourists per day, so the tour to Selingan is always full. You better book this popular trip a few months in advance.

The Itinerary in Brief:
9:15am Register at Sabah Parks jetty
10:00am Depart to Selingan by boat
11:15am Arrive Selingan, check-in and have lunch
6:30pm Visit Exhibition Hall
7:30pm Dinner. After that wait for turtle landing and releasing of hatchlings
Day 2
7:00am Check-out, breakfast and leave Selingan

The peak nesting months for Green turtle are from April to August, and for the Hawksbill turtle is between January to June. Overall, for Selingan the peak time is during April – August. Turtle landing on Selingan is almost guaranteed every day, so you don't really need to pick a best time to visit.
Note: It's a family and muslim friendly tour. English is spoken for non-Malaysian tourists.
The Turtle Hatchery
The first thing that you would notice on Selingan Island is the turtle hatchery zones with thousand of turtle nests fenced by green mesh net, which keeps away the predators such as monitor lizards, rodents and crabs. A well-protected nest has a hatch rate of above 80%.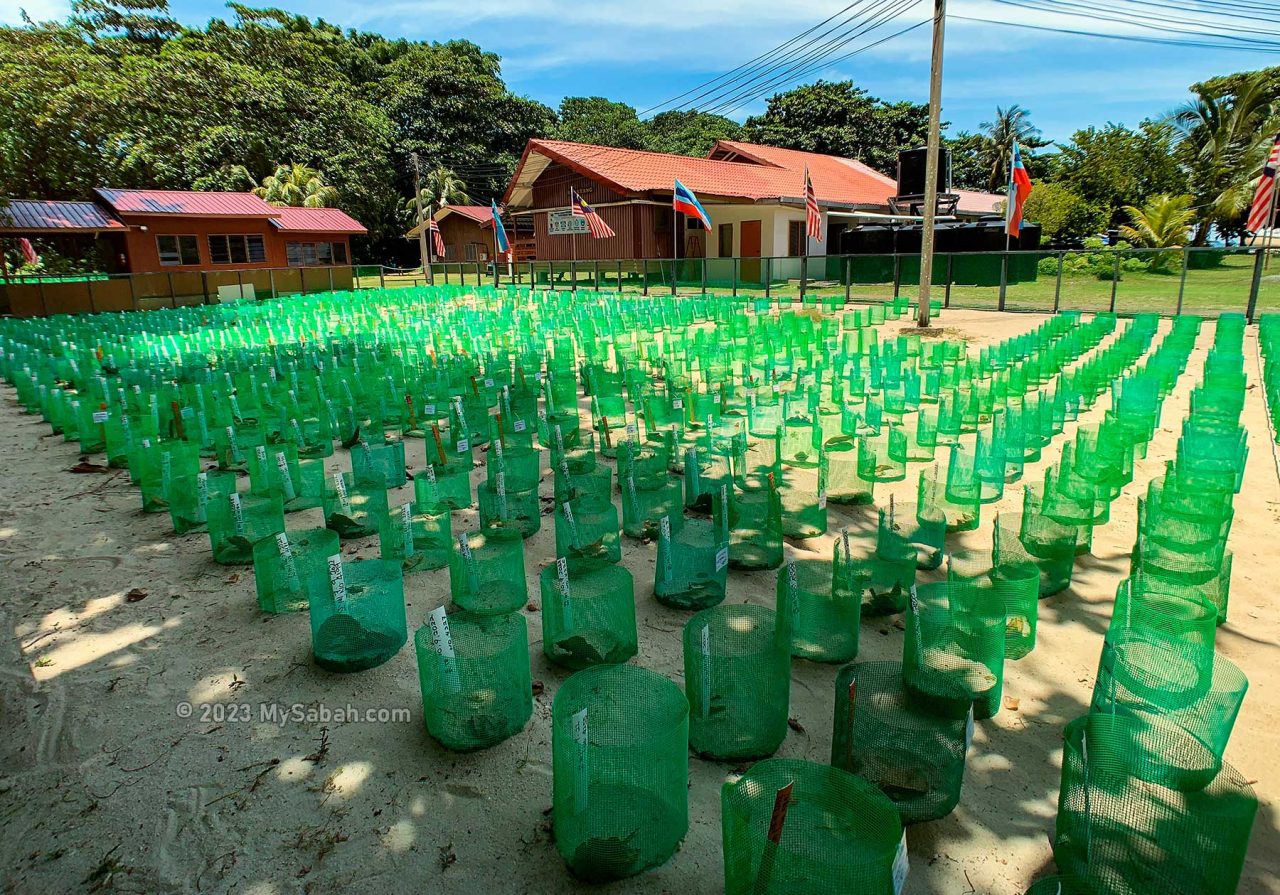 The first turtle hatchery was built on Pulau Selingaan in 1966, followed by Pulau Bakkungan Kecil and Pulau Gulisaan in 1968. But the hatchery on the smallest island, Gulisaan, closed in 2015 due to beach erosion.
The total number of turtle eggs collected in the Turtle Islands Park from 1979 to 2016 is 22,449,572 eggs, namely 10,428,711 (46%) on Selingan Island, 6,381,682 (28%) on Bakkungan Kecil Island, and 5,629,179 (25%) on Gulisaan Island.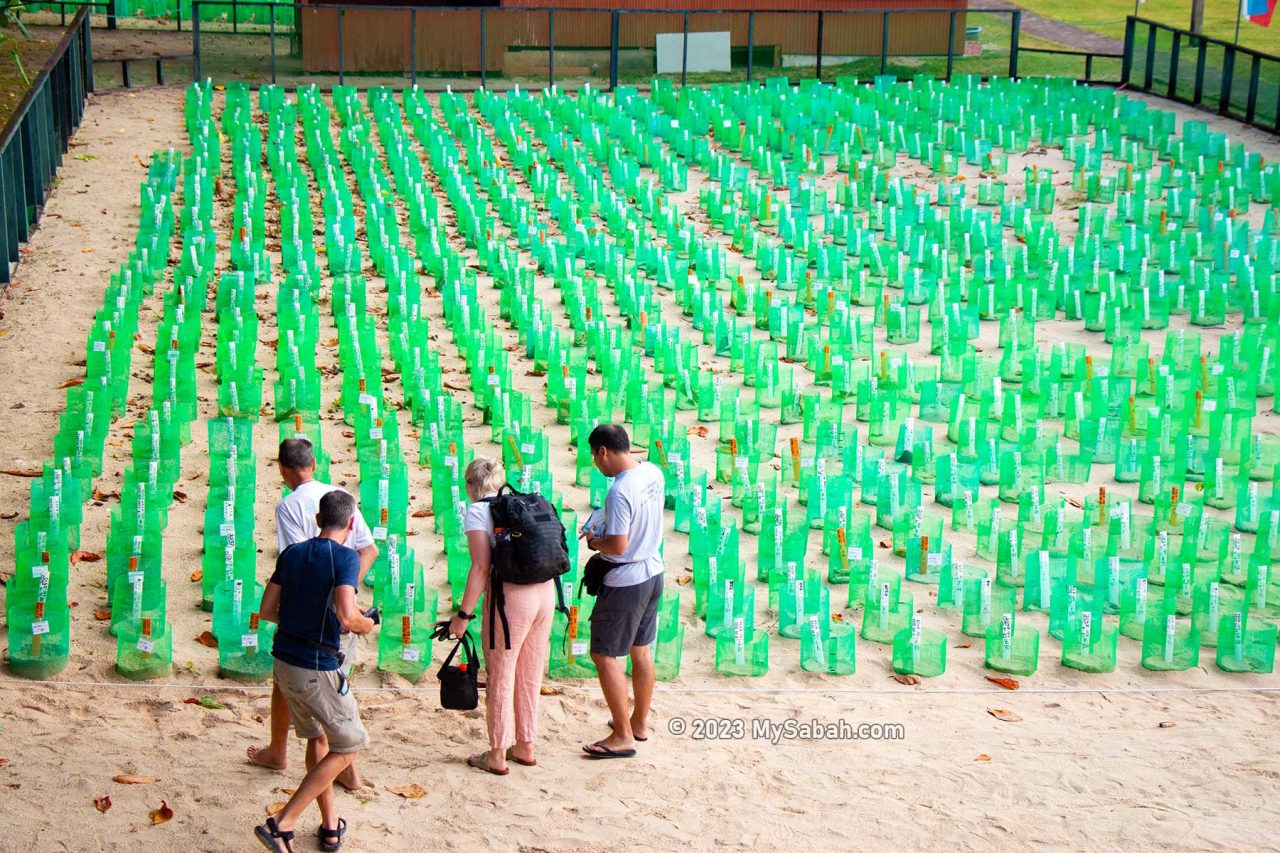 The sex of baby turtles depends on the nest temperature. Warmer nests can lead to hatching of more female babies, while cooler nests lead to more males, so you would see some hatcheries are placed under the cooler shade. Without such measure, overwhelming majority of the hatchlings would be female due to global warming.

Turtle Nest Adoption Program
You can adopt a turtle nest at RM100 (about USD27). Each sponsor will receive the following as an appreciation:
Have your name displayed on the nest's label
A certificate of adoption
A Turtle Nest Adoption T-Shirt
You will be informed via e-mail when the eggs in your adopted nest hatch.
Other Turtle Hatcheries in Sabah
The combined island size of Turtle Islands Park is only 18.2 hectares, which is smaller than Manukan Island (20.6 hectares). We can save more turtles if we build more hatcheries because Sabah has 394 islands and nearly 1,000 miles of coastline.

In fact, some Sabah islands such as Libaran, Lankayan, Mabul, Mataking, Sipadan and Dinawan have small turtle hatcheries built under the support of resorts, government and local communities. For example, Libaran Island has released more than 42,000 baby turtles since 2010.
Accommodation on Selingan
A few chalets are available for tourists. Most of the rooms are twin standard bed room, which is clean and comfortable, so is the attached bathroom cum toilet. Electricity is available 24 by 7 to power the air conditioning and ceiling fan. Towel and shower gel are provided.

Beach of Selingan
The beautiful white sandy beach of Selingan is a bonus of the tour. The beach is kept in clean and pristine state, the way mother turtles love it. What turtles need is just a simple and natural beach for nesting. Sadly, nowadays most beaches are either having too many rubbish or people.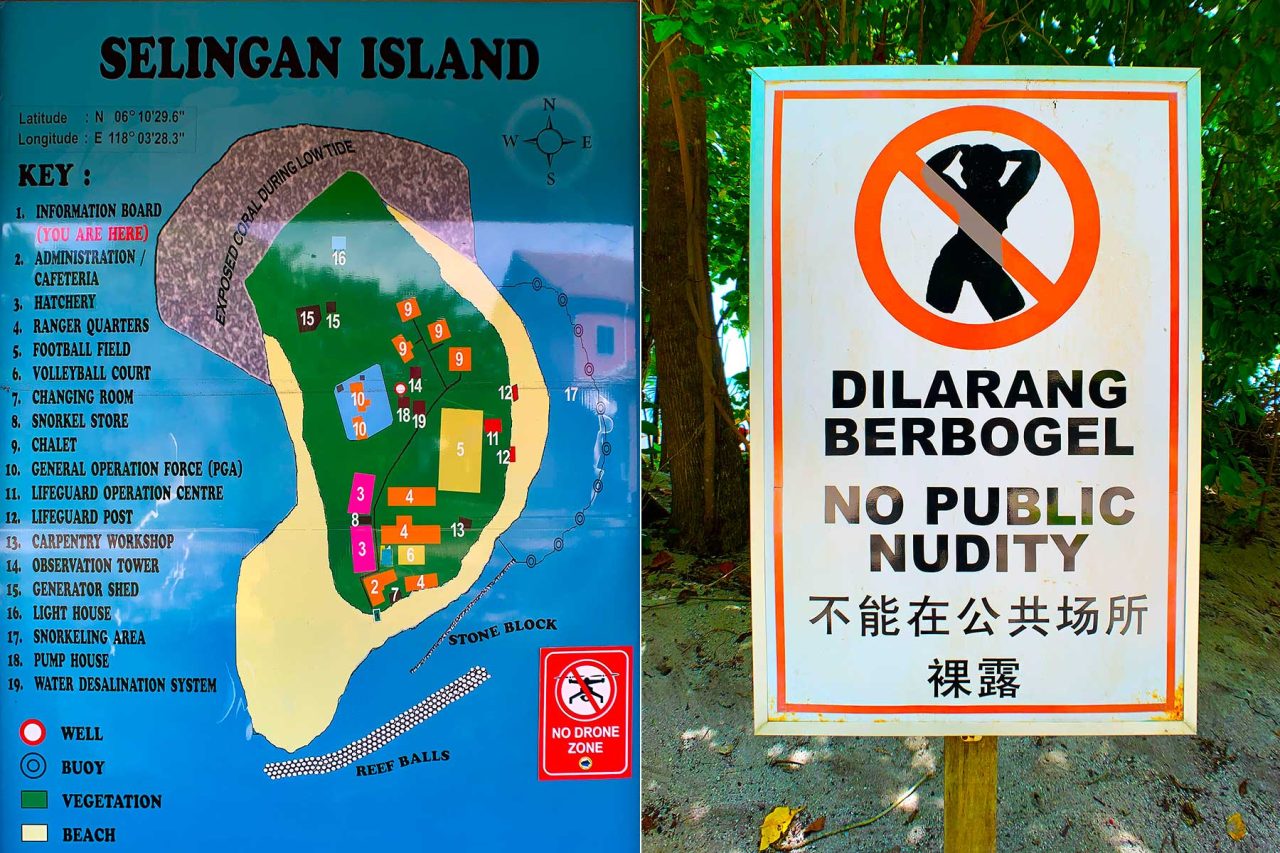 After lunch you will have plenty of free and easy time until dinner time. It takes less than an hour to walk one around of the island. North side of the island is rocky shore, so I only explored the sandy beach. I saw hundred of holes dug by the turtles for laying eggs, and the tyre-like tracks they left on the beach.

Do apply mosquito repellent before you walk in the wood. The three most common animals on Selingan are the roaming monitor lizards (harmless unless provoked), Philippines megapodes (or Tabon scrubfowl) busy scratching soil for food, and hermit crabs (most active at night).

The favourite afternoon activity of tourists is snorkeling (gears available for rent on Selingan). Only the beach on the east side of Selingan is open for tourists to swim and snorkel because of the calm and shallow sea. There are life guards on duty at the beach from 8:30am to 5:30pm. You can sunbathe in sexy bikini, but no topless and nude please.

From the beach, you can see Lihiman and Great Bakkungaan Islands of the Philippines only 6 Kilometres away. They are the "Philippines side" of the turtle island park. Turtle island parks from Malaysia and Philippines establishes the Turtle Islands Heritage Protected Area (TIHPA), the world's first transborder programme between two countries to conserve sea turtles and their habitats in the Sulu Sea since May 1996.

The sea water is crystal clear and inviting to beachgoers who want to swim between Malaysia and Philippines water. The sea floor is rocky so a pair of water shoes would help. I saw hundred of sea cucumbers near the shore. The corals and macro lives in deeper water are spectacular. During low tide, avoid snorkel too close to the sharp corals or you would risk getting cut.

Exhibition Hall
No walking on the beach is allowed after 6pm, as the turtles would land anytime. You may visit the small exhibition hall, which is open from 6:30pm to 9pm. Some photographs, specimens and skeleton of marine animals such as turtle, dolphin and giant seashells are displayed.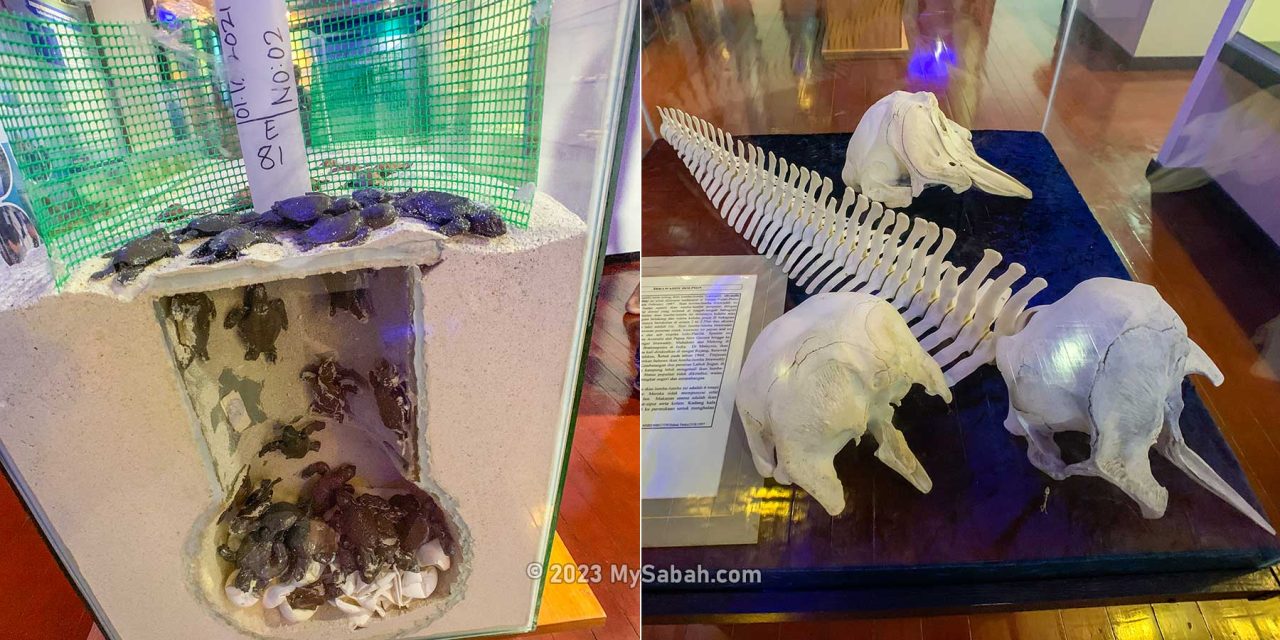 The labels and information are written in Malaysian and English, for you to learn about the sea turtles and the conservation projects of Turtle Islands Park. This short visit is a good time filler before dinner. Halal / Muslim-friendly food is served. If you are a vegetarian, you can inform the operator of your food preference in advance.
Turtle Nesting
After dinner at 7:30pm, everyone was asked to sit and wait in the dining hall for the highlight activity. Based on the landing records from 1981 to 2016 of the Park, a total of 85,870 unique turtles have been marked involving 81,149 (94.5%) green turtles and 4,721 (5.5%) hawksbill turtles. The Olive Ridley turtle (Lepidochelys olivacea) rarely comes here (only 6 landing).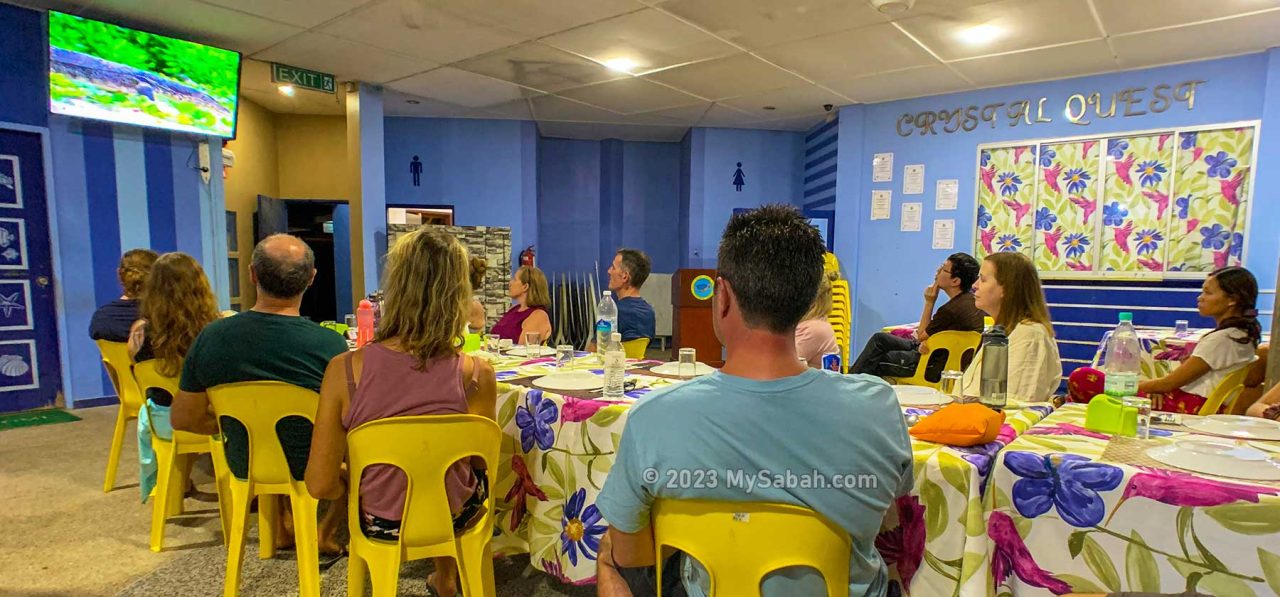 The number of turtle landings at the Turtle Island Park has increased to between 6,000 to 15,000 annually since 1991. The highest number of turtle landing was 15,219 nests in 2011. It's safe to say that Turtle Islands Park is one of the most important nesting sites for green turtles in the world.

The wait took less than an hour. Around 8pm, the ranger brought us to the beach where mother turtle nested. It's only a 10-minute walk, but we were so enthusiastic and brisk walking behind the dim flash light of the rangers. We were requested to keep quiet and turn off our torch, or the excessive noise and light would stress the sensitive mother turtle and turn it away.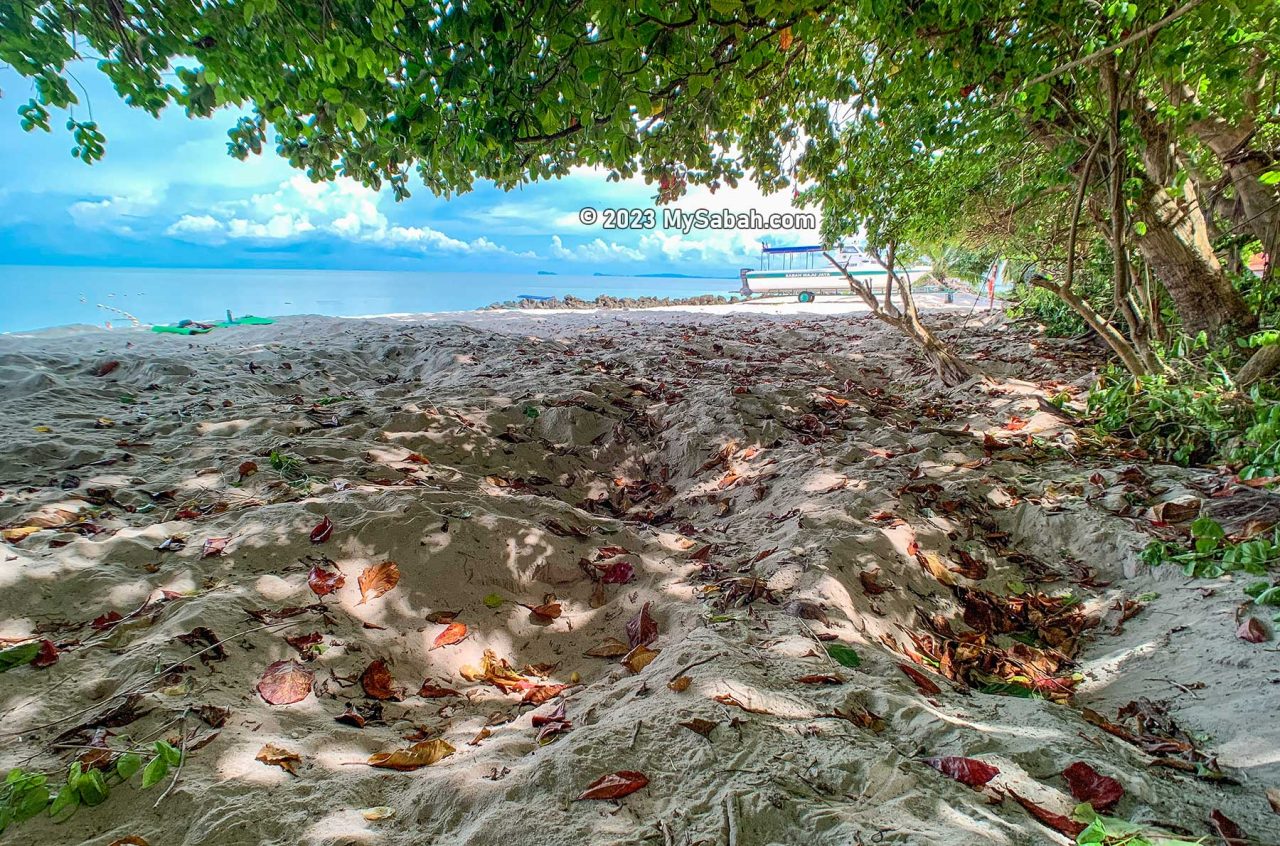 By the time we got there, a green turtle had already dug a 16-inch-deep hole in the sand near vegetation line (above high water mark) and started laying eggs. We gathered around the turtle and looking at clutch of ivory-color and perfectly round eggs being laid into the pit.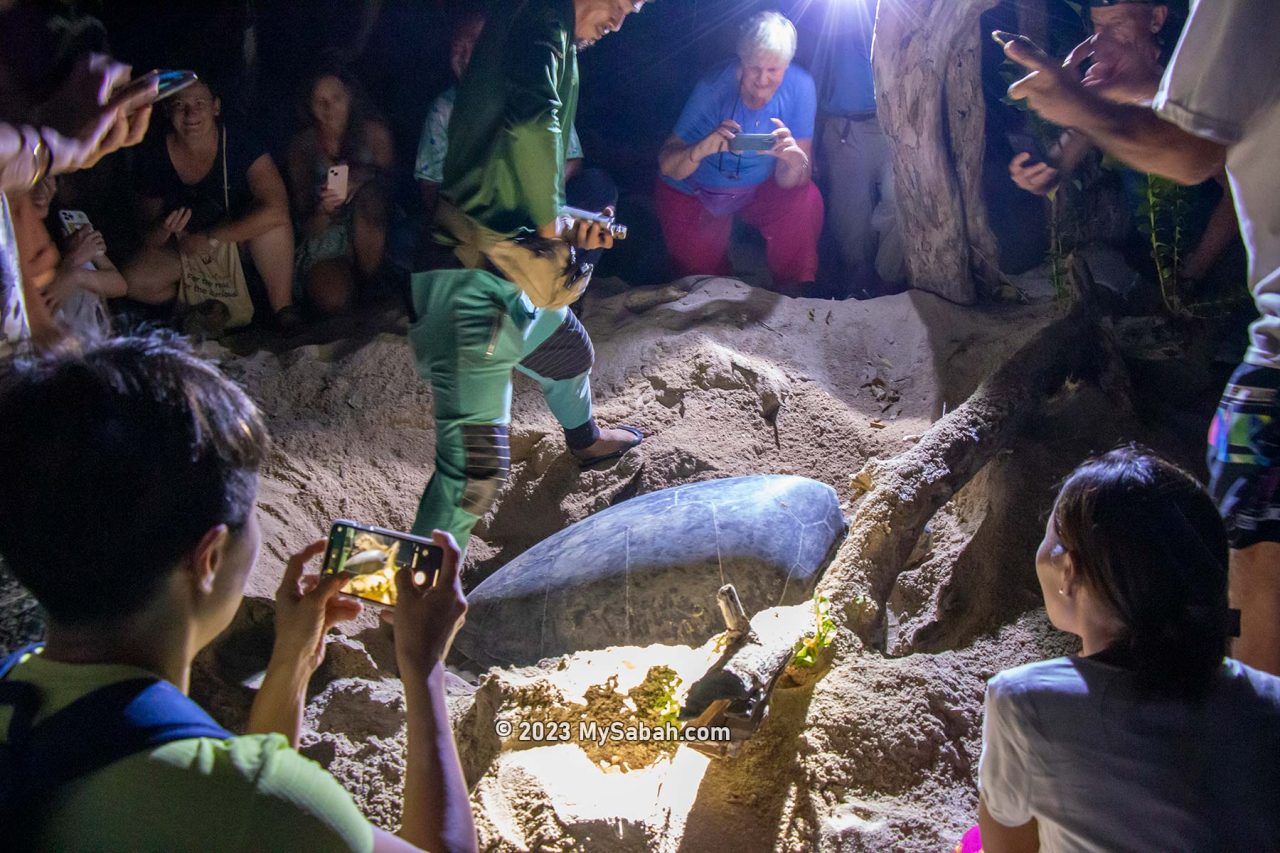 Everyone was given turn to shoot photos (extra torch, flash light and video taking are prohibited) so we didn't need to elbow others to move to the front for the best angle. But we still need to keep a distance from the turtle.
The nesting usually takes 30 to 60 minutes. The clutch size varies between 40 – 200 eggs but batches of 50 – 80 are the most common. After the mother turtle was done with nesting, the ranger collected her fresh eggs into a bucket.

We followed the ranger to the turtle hatchery, where he buried the new turtle eggs for incubation. The nest is labelled with date, clutch size and serial number. These are what rangers do until dawn when they find new nests during night patrol.
Releasing Baby Turtles
The next program is the releasing of baby turtles to the wild. Turtle eggs take about two months to hatch. Once they emerge from the sand, the ranger will put them in a basket ready for releasing at night later.

Everyone walked to the beach. The baby turtles were so cute and we were in a photo frenzy. Before the release, we were instructed to stand still because the small turtles would run all over the beach and around our feet.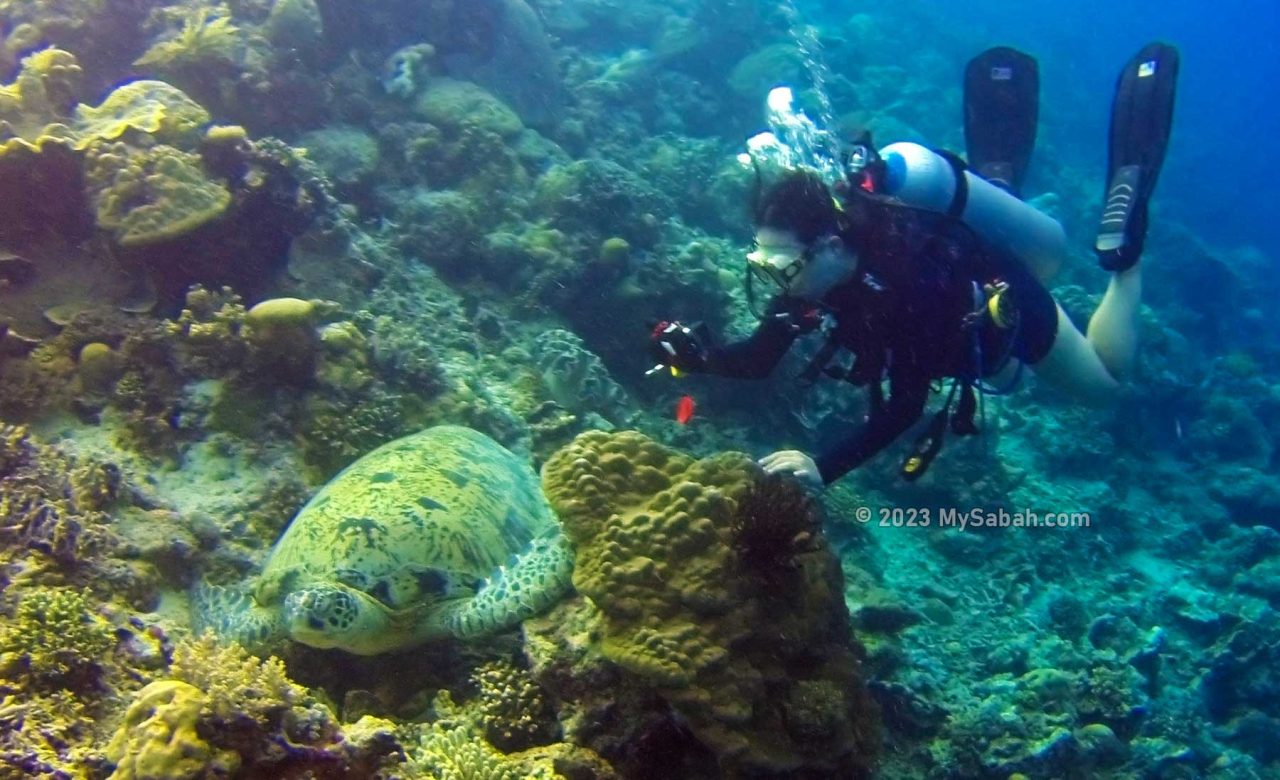 The ranger pointed the torch to the sea, to guide the hatchlings to enter the water. Baby turtles normally use the brightest horizon as clues to find the ocean. Artificial lights would distract them from finding their way, so coastal reclamation is a threat to their habitat.
You might ask, isn't it easier to pour them all into the water? Sea turtles can sense the Earth's magnetic field and use it as an internal compass. Release them on the beach would help them to register the magnetic signature of their birthplace, so they will come back to lay eggs in future.

During their lifetime, sea turtles will travel thousands of miles across the oceans. It's remarkable that adult turtles can use the Earth's magnetic field as a global GPS to navigate back home for laying eggs.
About 22 million hatchlings from over 315,000 turtle nests have been released into the sea from 1979 up to 2023 (1st quarter) in Turtle Islands Park (94% are green turtles, 6% are Hawksbills). The number is impressive but only one in 1,000 hatchlings would survive to adulthood. Every egg counts.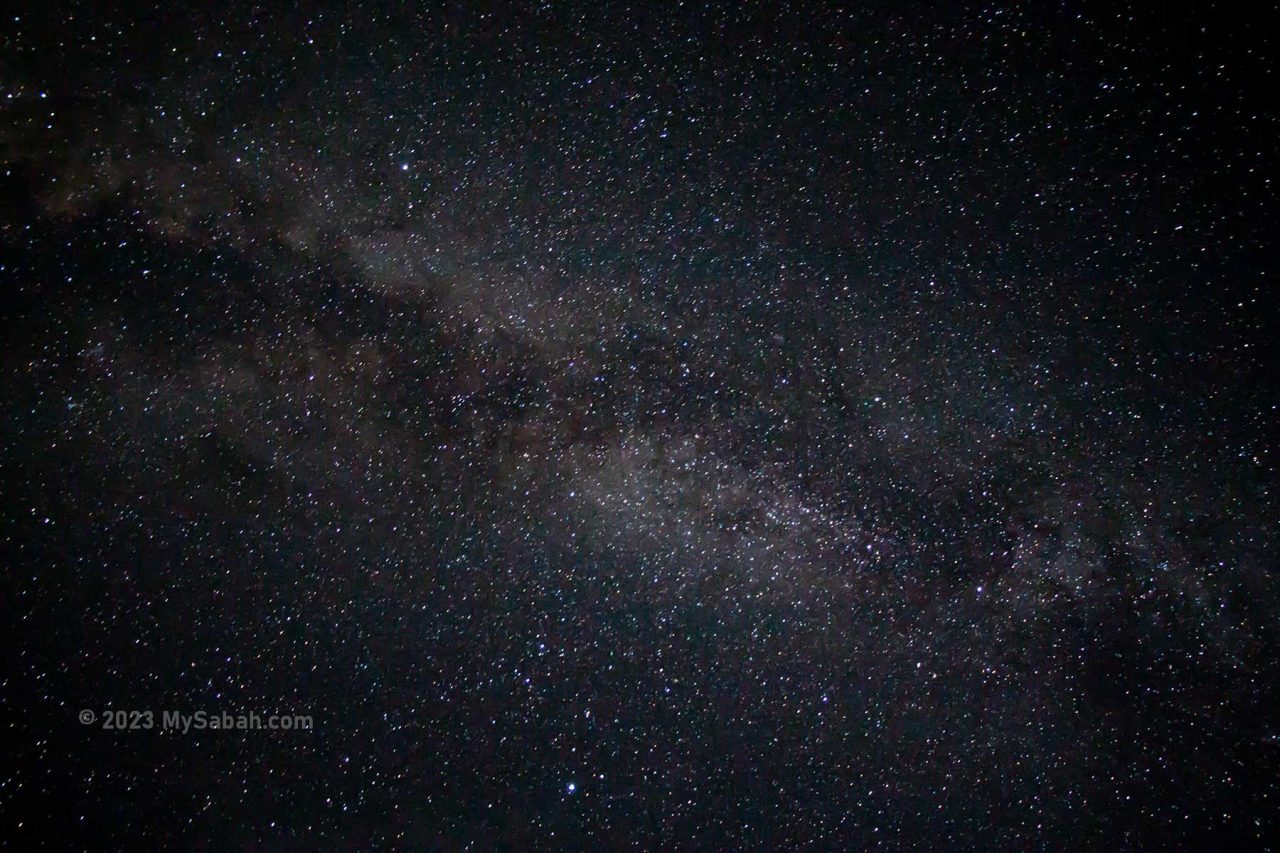 The releasing is the last activity of our tour. Most of the light was off and we were not permitted to wander near the beach until 6am next day, to avoid disturbing the landing of turtles. Without light pollution, the starry sky on Selingan was stunning. Many hermit crabs crawled out in the night. It's funny but worrying to see that many hermit crabs used plastic waste as their shelter instead of normal seashells.

People told me that Selingan Island is haunted. The rangers also shared some paranormal activities that they experienced during night patrol. Sometimes they heard people whispering but there was nobody around. One of the most terrifying story is – they saw huge shadow of turtle stood up in the sea. I'm not sure if these are fake stories to discourage tourists from going to the beach at night. I'll leave it to you to find out. I had a good sleep there anyway.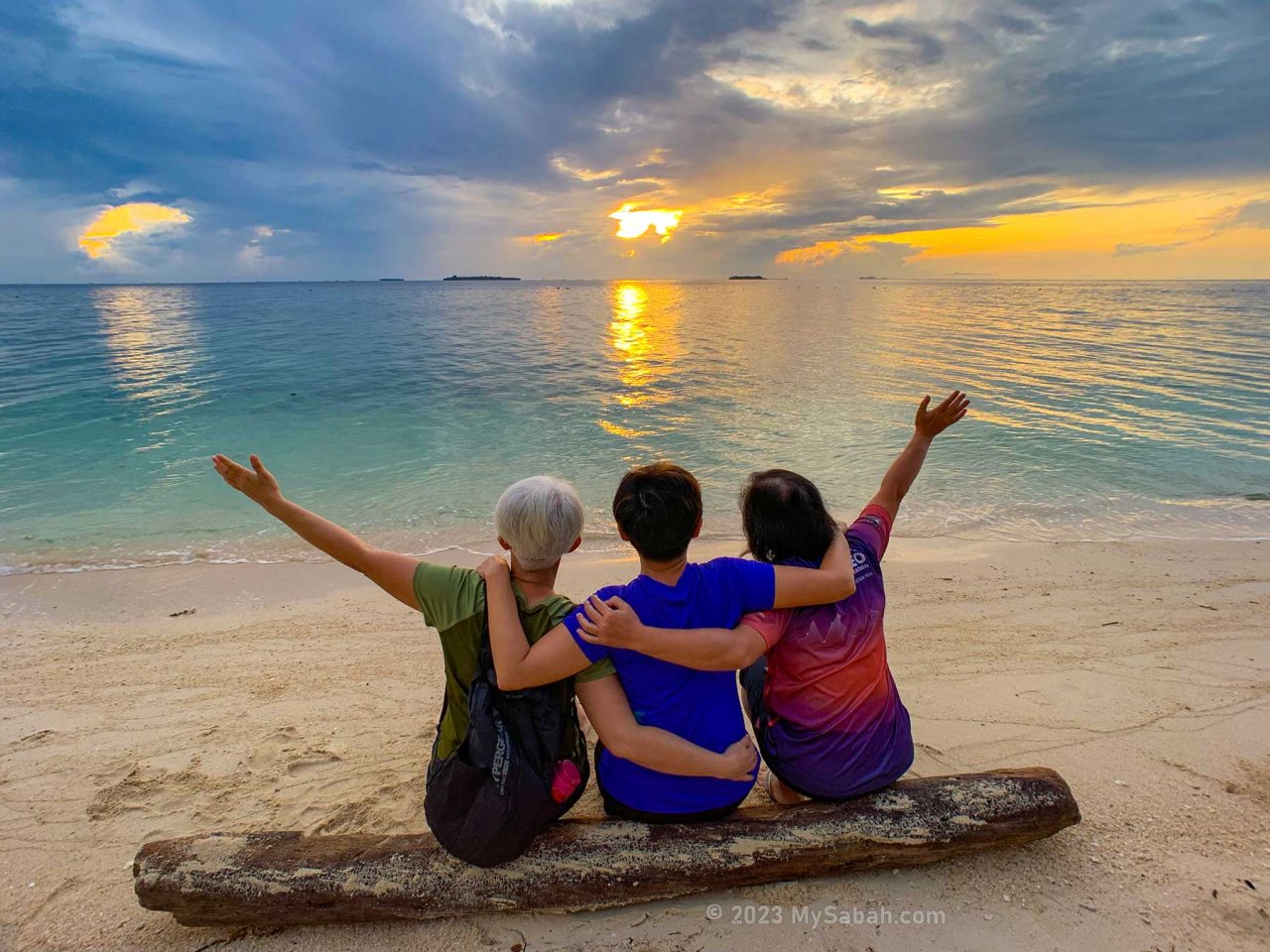 Before we left Selingan next morning, we caught the nice sunrise view over the Philippines islands. Overall, this is a leisure and educational tour that I would highly recommend to someone who love turtles and tropical islands.
What to Bring
The following are some necessary or useful items for the trip:
Sunblock lotion / spray
Sunglasses & hat
Swimwear or beachwear (e.g. swimsuit, bikini, rough guard)
Beach mat
Cash
Passport / MyKad
Water in refillable bottle
Insect repellent
Light clothing (e.g. T-Shirt, short)
Slipper / Sandal
Toiletries (toothbrush, toothpaste, face wash, soap, shampoo, toilet paper)
Camera & spare batteries / memory cards
Mobile / Cell phone and charger
Portable power bank and charging cable
Torch / Flashlight
Optional: dry bag (water-proof), goggles, waterproof casing for phone / camera, snorkelling gears (mask, snorkel, fins, life vest), water shoes, personal medicines
Note: you can rent the snorkelling gears on Selingan.
Challenges
Having turtle hatcheries and conservation acts are not enough to stop sea turtles from extinction, unless the threats below are mitigated effectively.
Not all Malaysian states ban the consumption of turtle eggs
Poaching of turtle and its eggs
Between 2,000-3,000 turtles are trapped as bycatch of commercial fishing in Malaysia every year
At least half of all sea turtles have already consumed plastic, which is hazardous to their health
Coastal development destroys the nesting beach of turtles

References