Good food doesn't need any advertising because by words of mouth, eventually everyone will come for it. Mee Sup Kota Belud (or Mee Sup KB in short) is one of them. I had first taste of this delicious noodle soup in Kota Belud town more than 10 years ago, in a food stall behind the Bangunan Usia building. Only the local folks know this "hidden" corner. Now Mee Sup KB is well-known and even available in some cities of Peninsular Malaysia.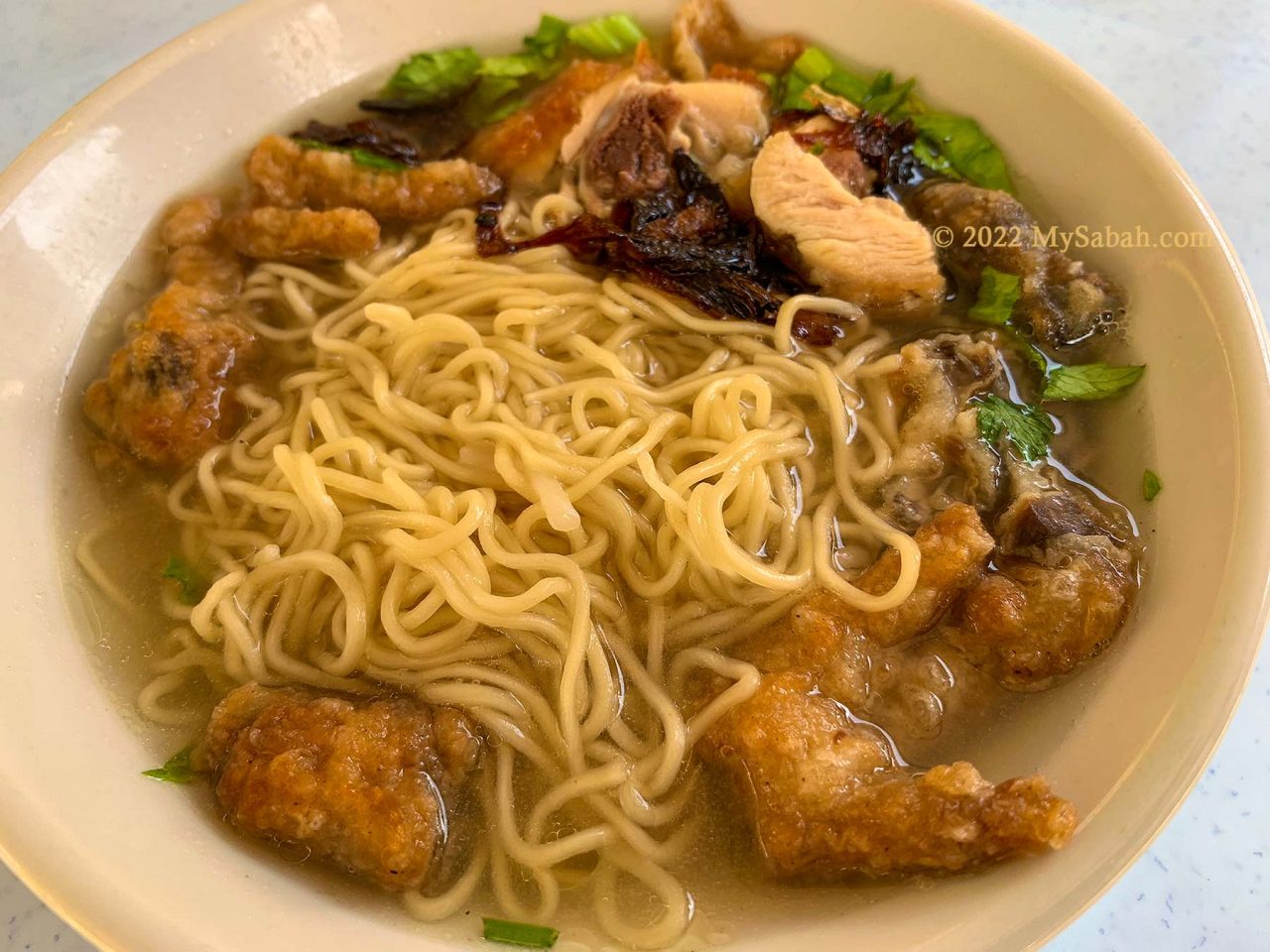 Mee Sup Kota Belud literally means Kota Belud Noodle Soup, which is named after Kota Belud, a small town about 60 Kilometres away from Kota Kinabalu City (KK). Mee Sup Kota Belud is like the noodle soup version of the famous Hainanese Chicken Rice, which allows you to taste the flavour of chicken fully.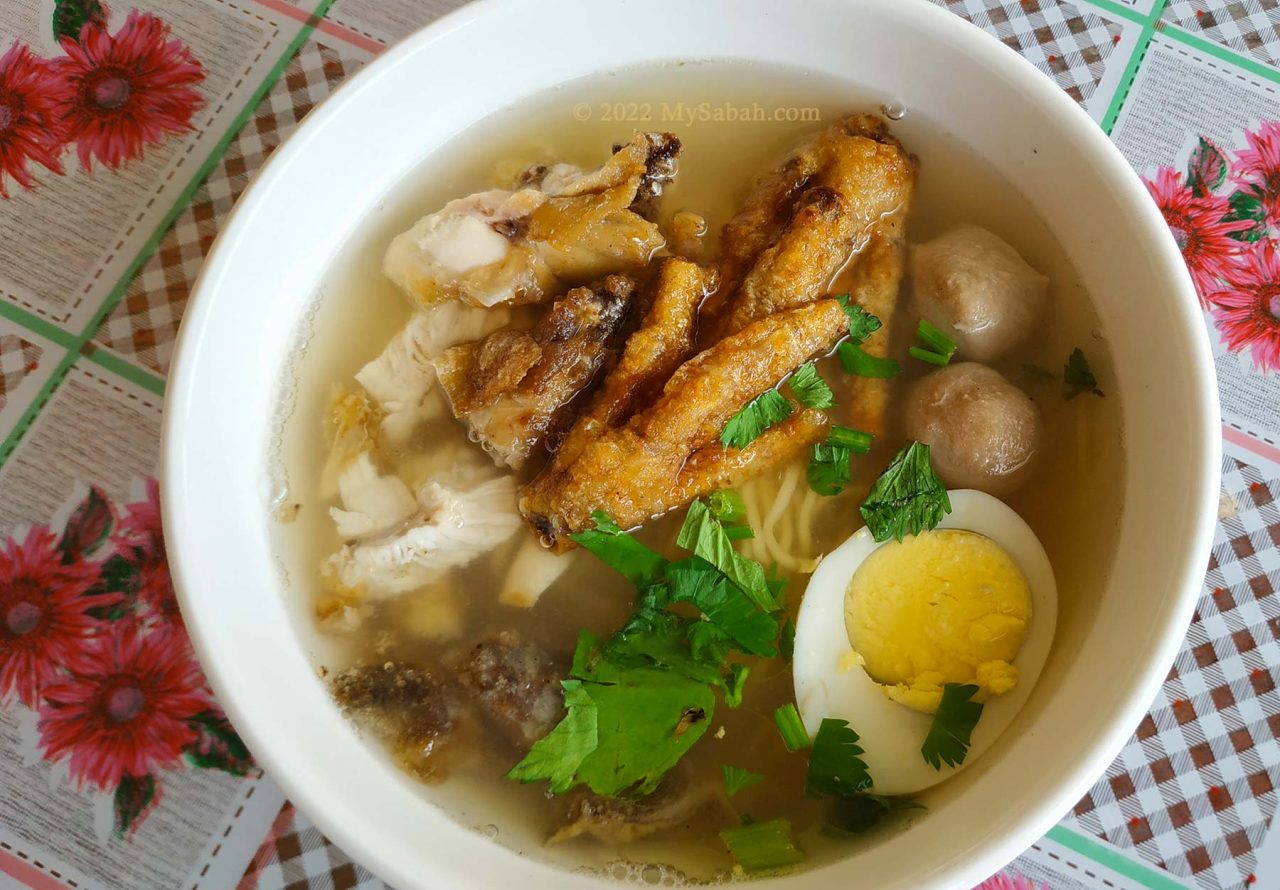 There are four things that make Mee Sup Kota Belud so mouth-watering: 1) savoury chicken soup, 2) aromatic fried shallot, 3) tender chicken meat, and 4) noodle that absorbs all the goodness in soup. It tastes the best when fresh drumstick and vegetables are used.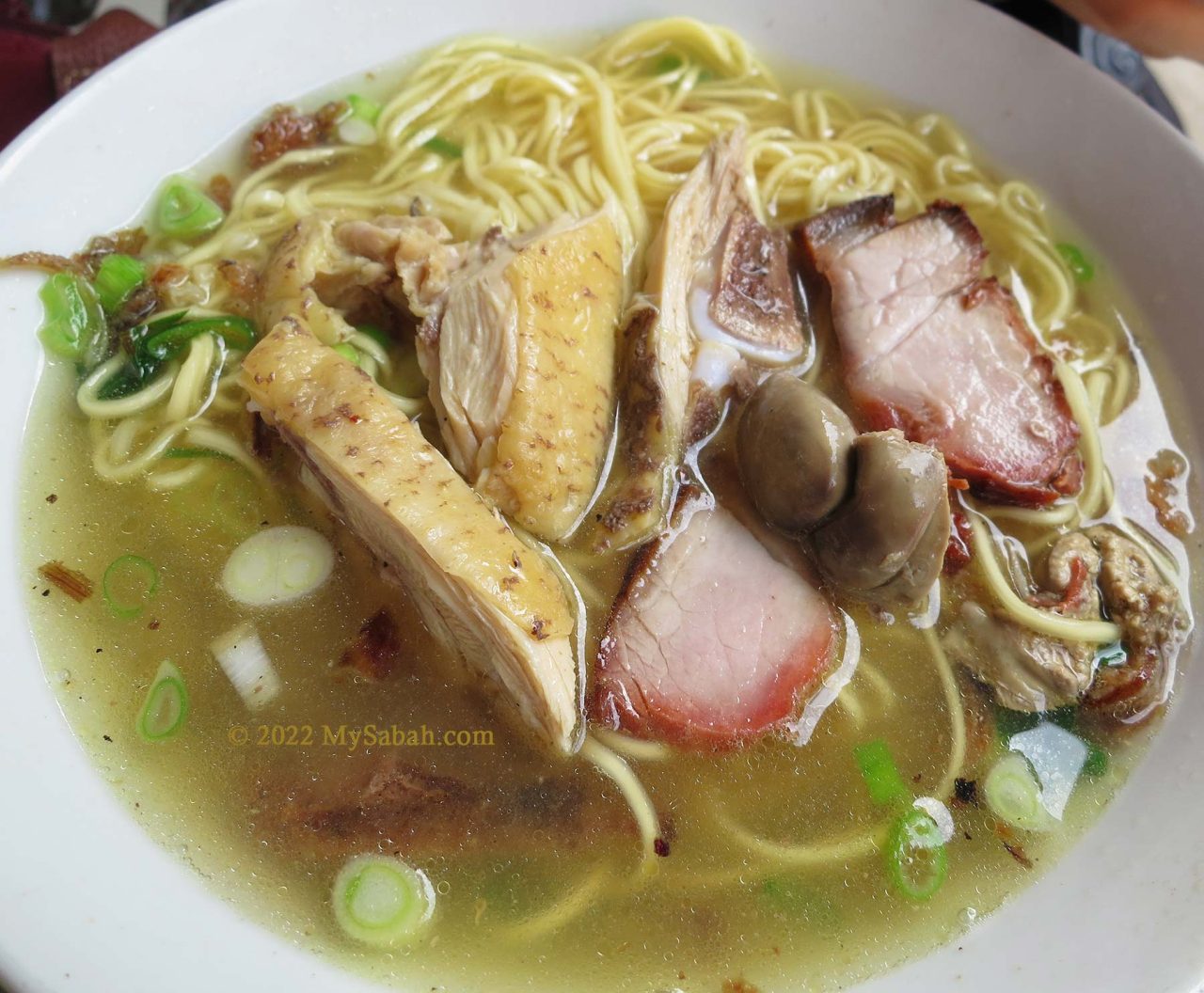 Mee Sup Kota Belud is quite simple to prepare. The most important part is the chicken soup. Chicken meat is boiled in hot water first. Then ginger, pepper, lemongrass, garlic, chicken stock / bouillon cubes and a bit of MSG would be added to the soup to enrich the flavours. Lastly, hot soup is poured on the noodle and chicken meat, with some fried shallot on top as a finishing touch.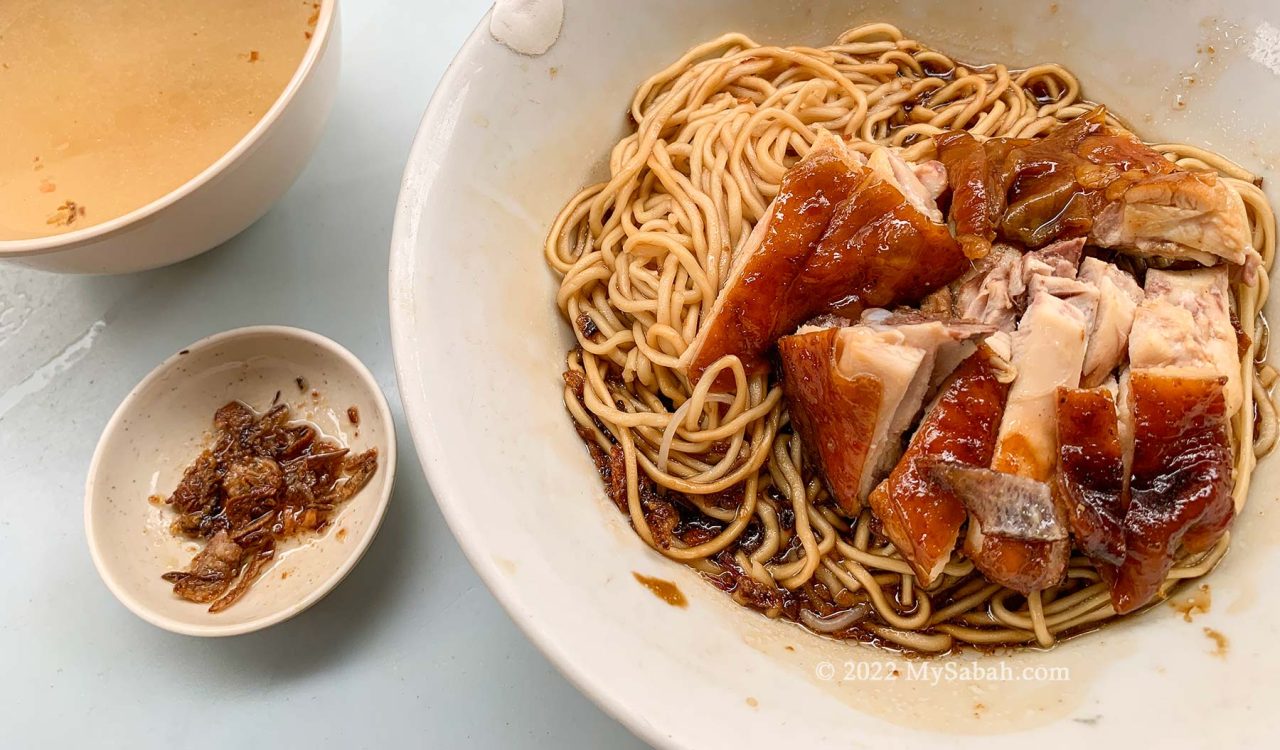 The classic Mee Sup Kota Belud, which is served with yellow noodle and chicken pieces in soup is the style I love. Some shops add cha-shao, meatballs, boiled egg, chicken feet, chicken heart, or green vegetable leaf to create a more fancy dish. You also can order Kota Belud Noodle Soup in konlou (dry) or mee hon (rice noodle) style.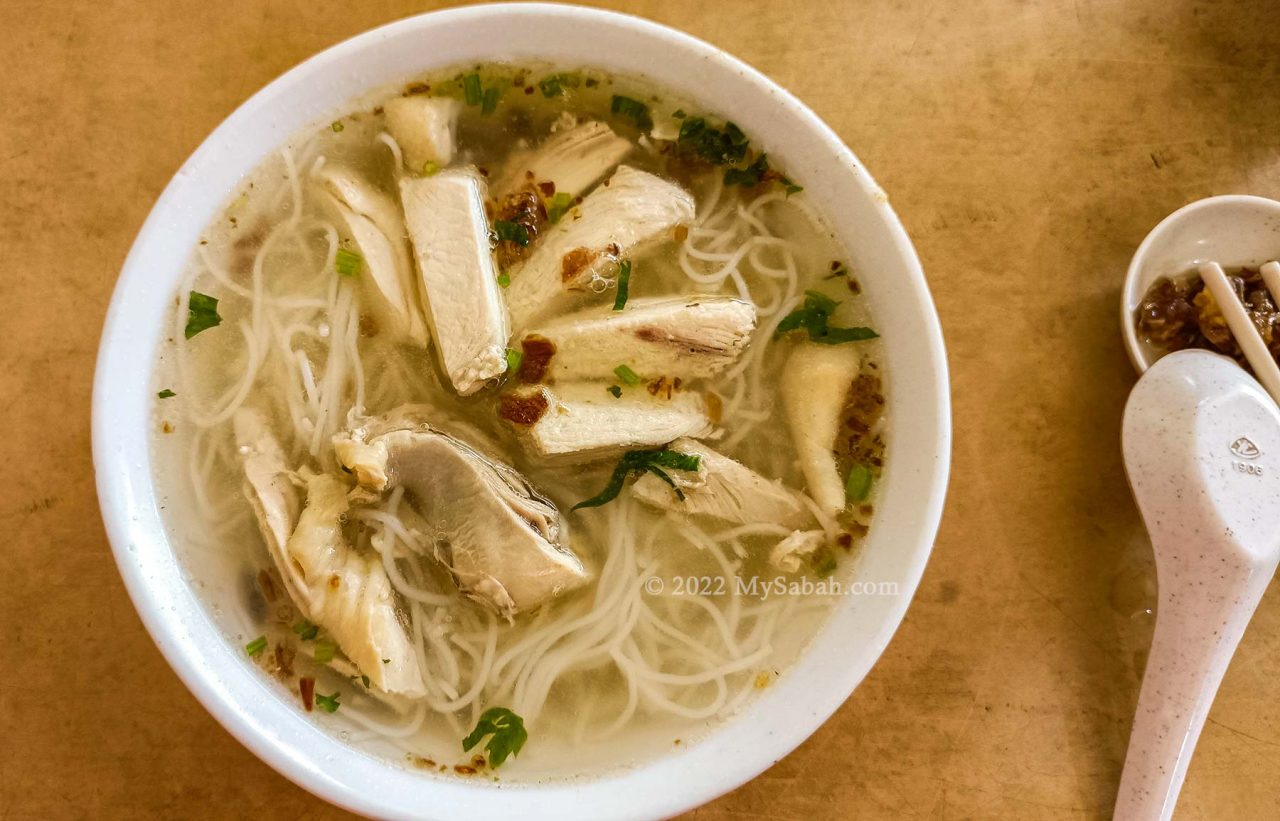 Adding a bit of calamansi lime juice (limau kasturi), coriander, or chili sauce can spice up your noodle soup too.
Best Mee Sup Kota Belud
The following are the recommended shops for Mee Sup KB, based on public reviews and rating.
1. Kota Belud Town
You can have the authentic Mee Sup KB in a few places of Kota Belud, for examples, the food stalls at Bazar Rakyat Kota Belud (Location Map) and Sunday Tamu Market (Location Map).

2. Mee Sup KB Ah Thong
Facebook: Mee Sup KB Ah Thong
Phone: +60 12-8239063
Location: 5.909942850793467, 116.1018139753375 (Donggongon, Penampang)
3. MG Corner Restaurant
Facebook: MG-Corner-Restaurant
Phone: +60 16-8366020
Location: 6.137608979075816, 116.27024009807108 (Tamparuli)
4. Real Mee Sup KB
Facebook: @realmeesupkb
Phone: +60 17-816 7428
Location: 5.986795024067851, 116.13059859807107 (Inanam Capital, Inanam)
Some of them may serve pork, so Muslim please check if it's halal before ordering.
Photos taken in Sabah, Malaysia Borneo