You know this graffiti corner if you live in Kota Kinabalu city (KK). It's the ruin of a nearly 100 years old British Colonial building (a.k.a. Old Welfare Building or Old Land & Survey Building) constructed between 1918 and late 1920. Unfortunately, though it survived the bombing during WWII, it was blazed by fire in 1992, otherwise it would be another great heritage building in KK.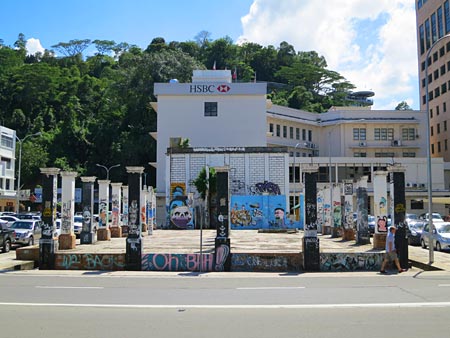 Pic: the remnant of abandoned former Welfare Building behind HSBC Bank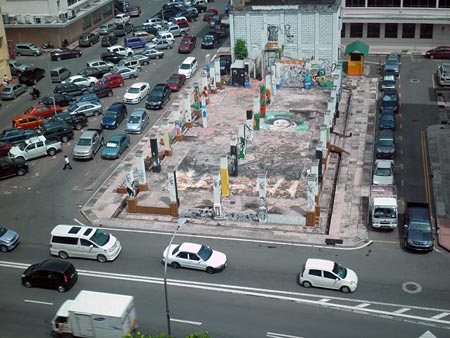 Pic: It's next to a busy road where thousands of cars pass by every day.
Now what's left now is a concrete step platform with many pillars on it. This site is located between HSBC Bank and Suria Sabah Shopping Mall (see Location Map), next to a busy road in KK city centre.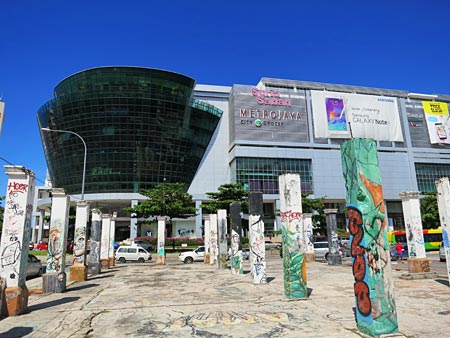 However, for over 20 years, no development is carried out on this golden real estate, so KK people was wondering. Then graffiti appeared and that area also became a hideout for drug addicts.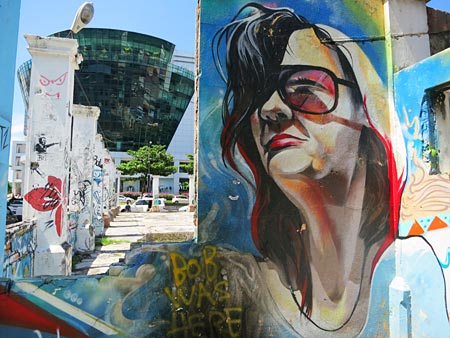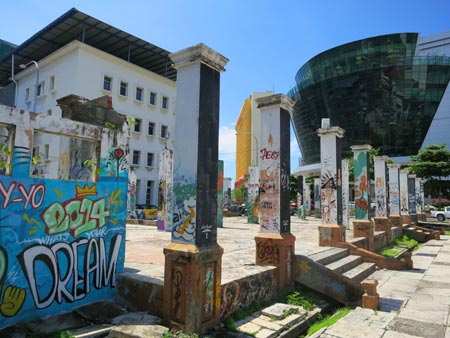 To most, this is an eyesore, because such graffiti looks like a mark of slums or high-crime area, which is nothing better than the scribble in toilet. I shared the same feeling too.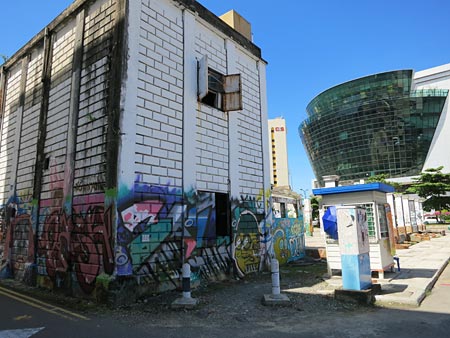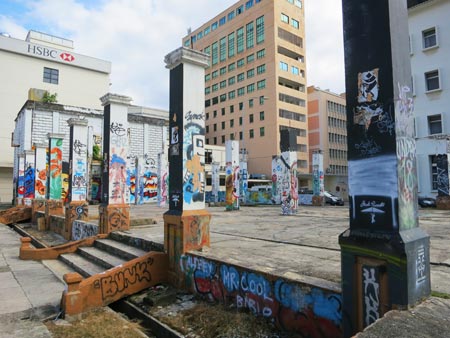 Later I noticed more decent murals showed up shouting for attention since 2010. Even though many still have mixed feeling about it, we start to appreciate it and call it street art.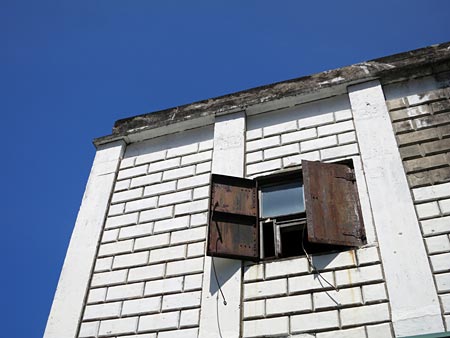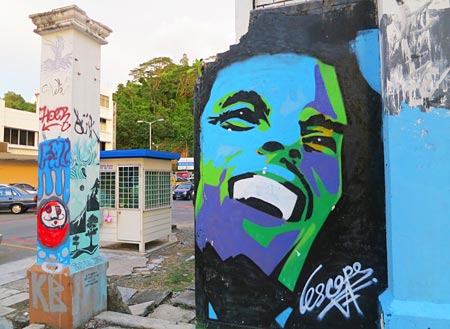 Though these street art is not something of mainstream art, its colourful and free form of expression has attracted many tourists come for a closer look or a few snapshots.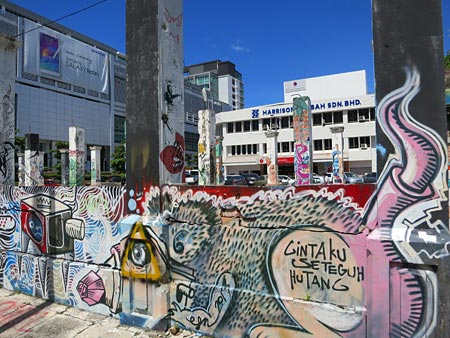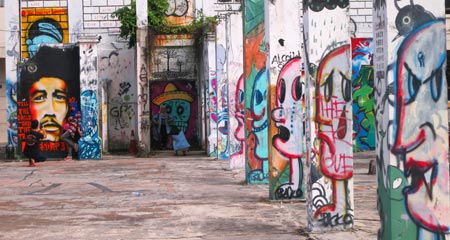 Occasionally you would see model shooting there, because the vibrant mural makes a great backdrop. And it's free. No artists would sue you for copyright infringement because you use their artwork in photograph. Many of them didn't even sign their works.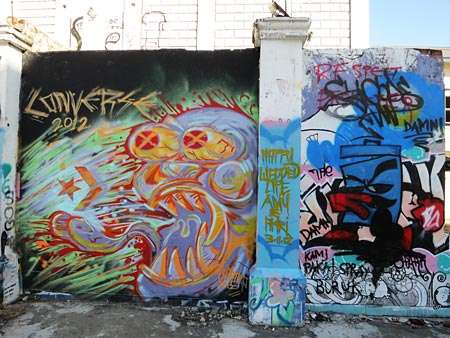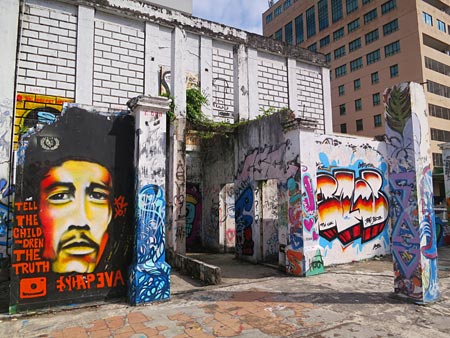 In fact, some local and foreign talents have used the walls and columns as their canvas here in different time. Based on the info from the Internet, among them are Cracko Art Group (Facebook), Lidia Iliyas @ Lybby, Harold EGN, Lybby and more.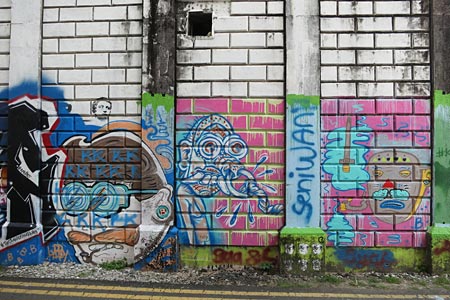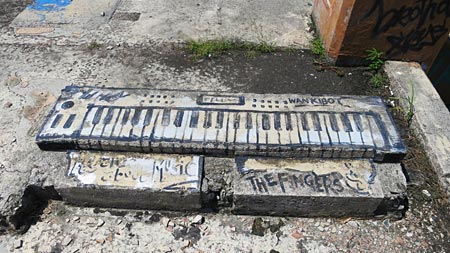 It's interesting to see the murals in different styles and subjects. Most of them are cartoony and cute stuffs in bright, cheerful and bold colours. I came across some excellent pieces that are so professionally done that I'll be happy to hang them on wall or paying their artists to paint my house.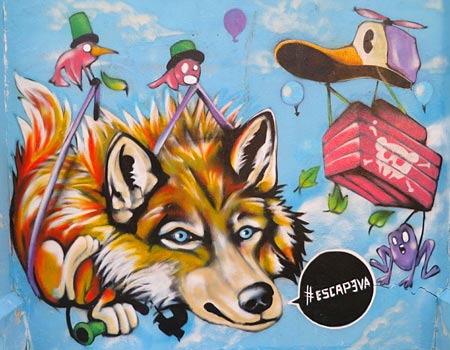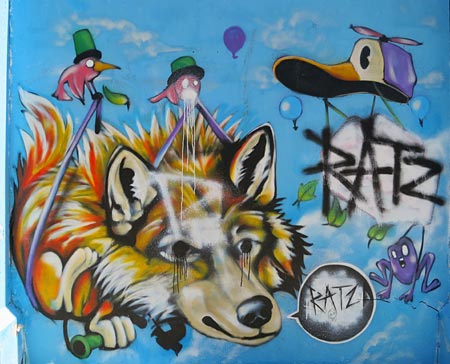 Pic: losers who have no talent destroy the works of others.
However, none of these graffiti will stay long, as they would be vandalised or overlaid by another new one in days or weeks. Anyway, that's the life cycle of street art, another fascinating aspect of this culture.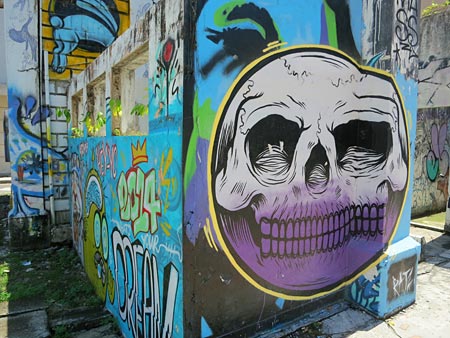 Pic: the skull face is the work of Mark Goss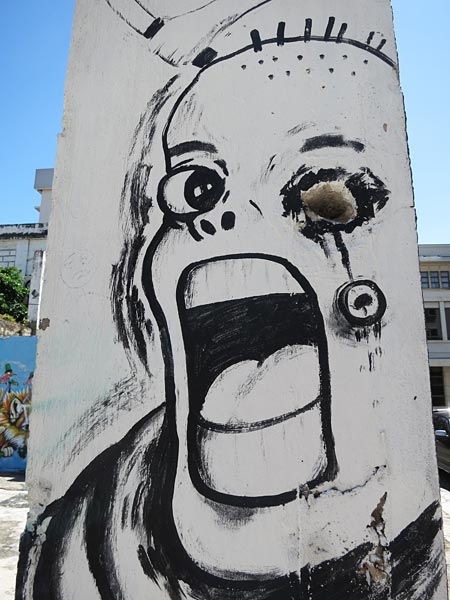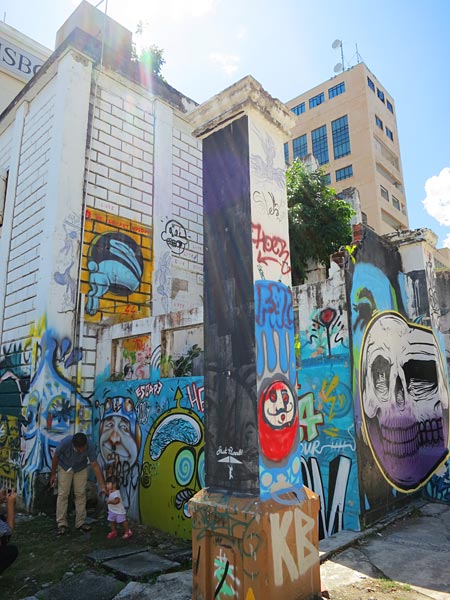 Now I think this site is adding some local flavors to KK, consider most building in KK is lack of creative and cultural element (you would agree with me if you have visited Thailand or Bali). There is not many places in KK where you can get a glimpse of Sabah folk art that represents the voice of our community.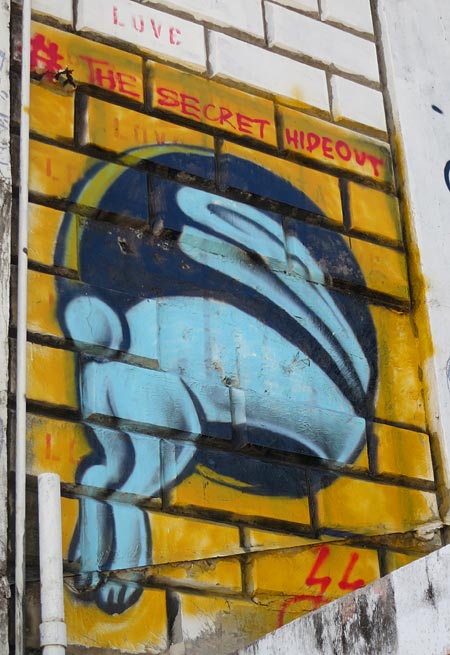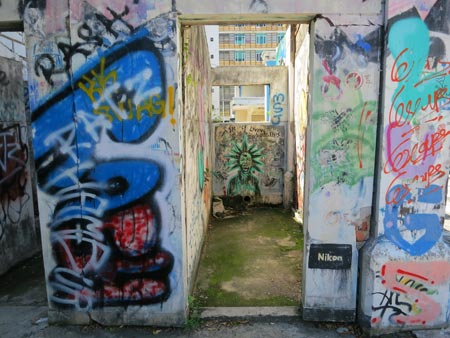 Pic: The area behind is where drug addicts party. I can smell urine and shit here. It's perfectly safe to visit in daytime because there are many cars and pedestrians passing by, but don't go there at night.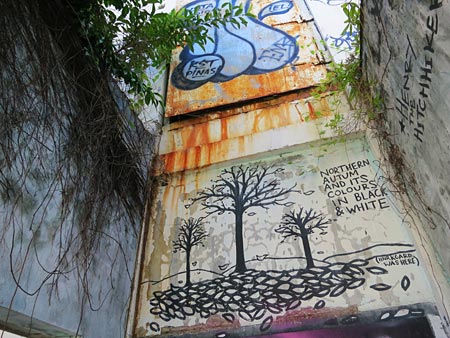 I don't know how long this graffiti building will stay. I doubt it would go next level like the popular street art in Penang. Whatever its fate, I'm sure I'll miss this spot a lot when it's gone.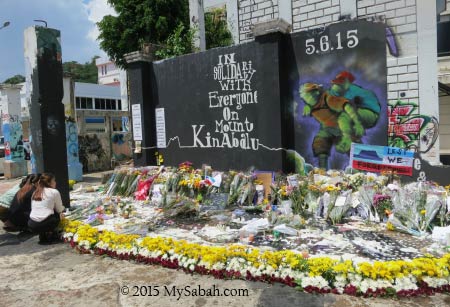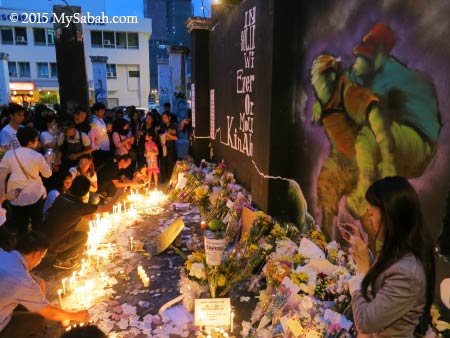 This place turned into a makeshift memorial site after Cracko Art Group drew a mural for remembrance of victims in Sabah Earthquake 2015 (titled In Solidarity with Everyone on Mount Kinabalu). Hundreds of people came here to pay tribute. You can see more photos here. Art is Powerful.
Photos taken in Kota Kinabalu, Sabah, Malaysia Borneo