Many wish to be Mulan, who kicks the butt of enemies and bring honour to her family. However, the reality is, most people went to war didn't end well. That's why Chinese says, "the making of a hero is built on thousands of skulls". Even Sun Tzu, a military tactician who wrote The Art of War, thinks the best strategy is to defeat the enemy without a battle. In short, war is miserable, the Second World War is the worst and we must not forget that.

Lest We Forget (Meaning: It should not be forgotten)
Sabah is devastated by WWII too. About 16 percent (estimated) of the population of Sabah was killed during three years of Japanese occupation. Therefore, to prevent the repeat of history, a memorial is a visual reminder of the painful lesson and to commemorate those who fought for peace. Every monument is a storyteller, whispering the event happened at its place.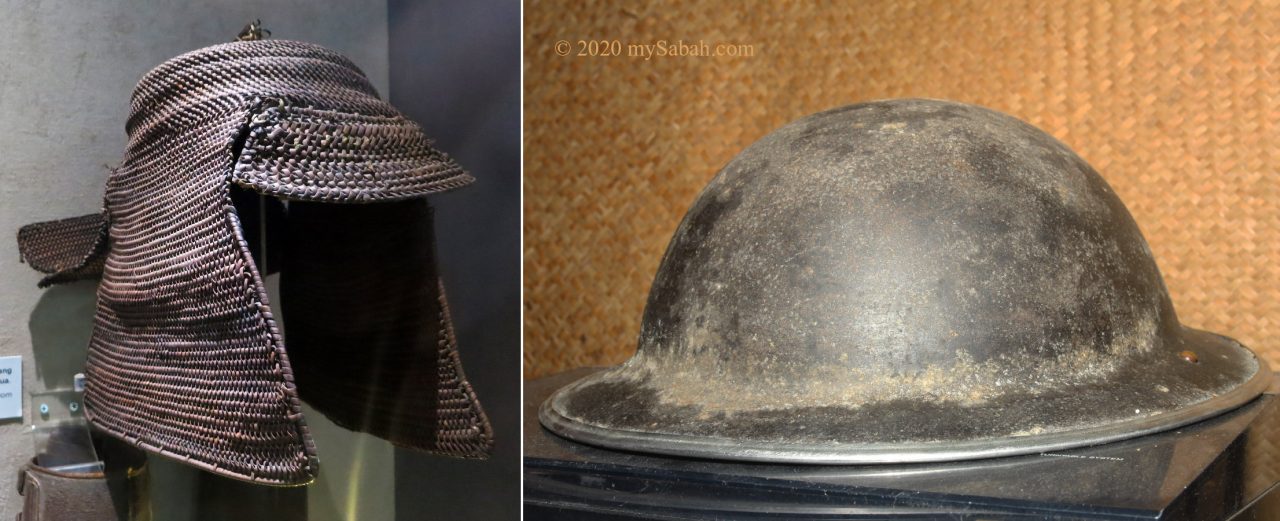 Sandakan Death Marches
Most WWII memorials in Sabah are centred around Death Marches, the most infamous wartime tragedy in Sabah. After North Borneo (now Sabah) fell to the Japanese Imperial Army in early 1942, over 2,400 Australian and British soldiers were imprisoned in Prison of War (POW) camp in Sandakan. They were forced to do labor work but treated violently and not given enough food. By September 1944, each man received only 5 to 7 ounces of rice per day!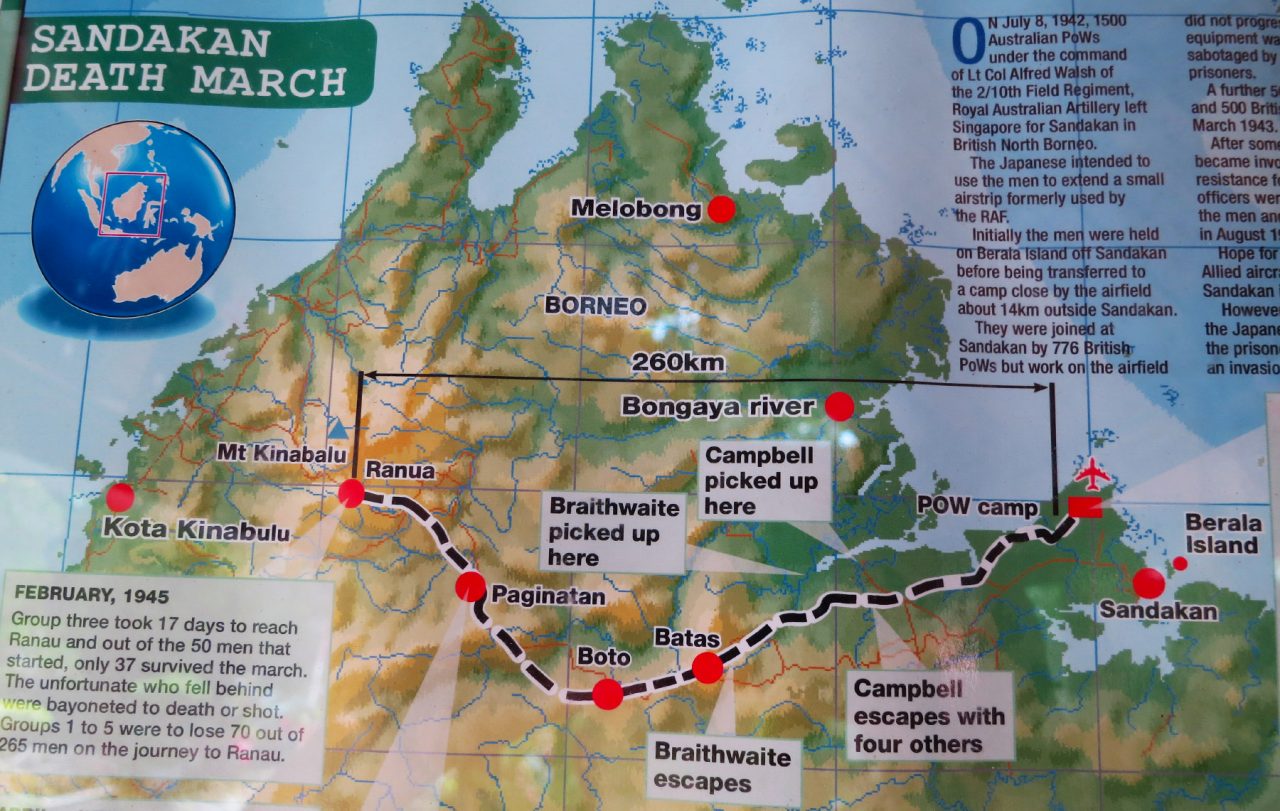 Between January and June 1945, fearing the approaching of Allies invasion, the Japanese army made 750 British and 1,650 Australians POW to walk 250 Kilometres from Sandakan to Ranau on foot, in three groups. Majority were in bad shape but had to carry the supplies and ammunition to trek through the hills and jungles. The enemy beat or kill those who fell behind or tried to escape. Only six Australian POW survived Death Marches by the end of war because they escaped and rescued by the locals. You can check out the website of Lynette Ramsay Silver, an Australian historian, for more reading.
List of World War II Memorials in Sabah
The following is a list of the Second World War memorials in Sabah. Most of them are built at the actual site where the events took place. Some memorials have become the popular landmarks in local.
1. Sandakan Memorial Park
Location: Sandakan (GPS: 5.886966, 118.046781, View Map)
Open in 1999, Sandakan Memorial Park is built on the former ground of the Sandakan WW2 POW camp, which imprisoned about 2,500 British and Australians by 1943 (some were from Singapore and Java). In 1945, Death Marches started in this camp. By the time the POW reached Ranau, most of them already died on the way. This memorial park is well-managed and has a gallery on the Death Marches, wartime relics and a scale model of the original Camp.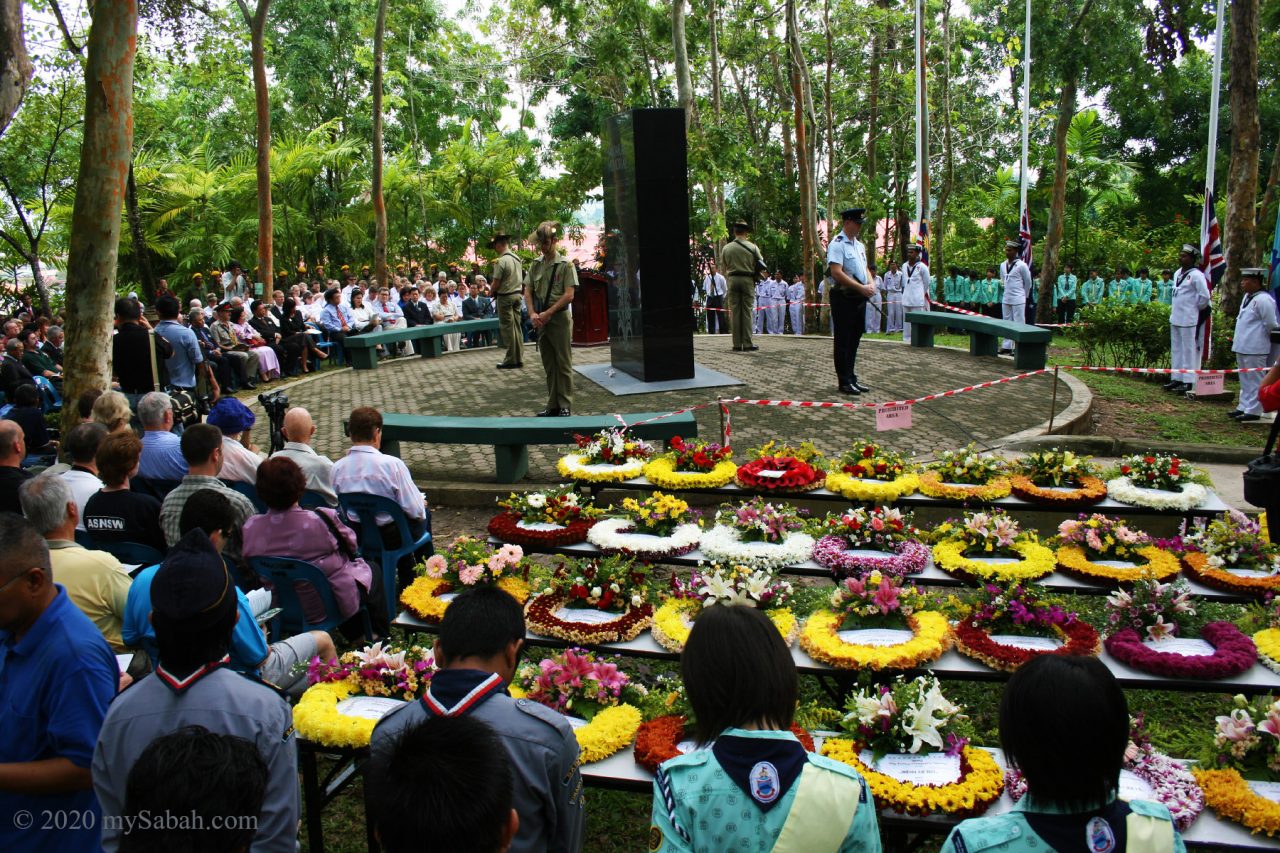 Sandakan Memorial Park is the No.1 war memorial of Sabah to visit. Memorial services are held annually in this park on 25 April and 15 August for Anzac Day (an acronym for the Australian and New Zealand Army Corps) and Sandakan Day (same day as Victory over Japan Day) respectively.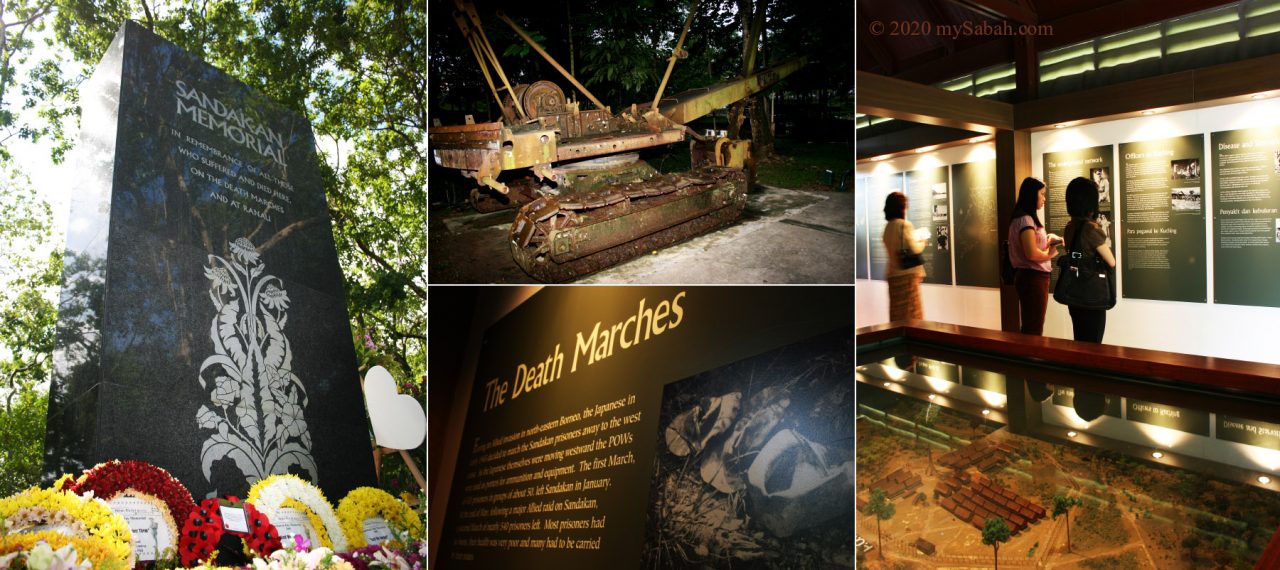 2. Kundasang War Memorial
Location: Kundasang (GPS: 5.987052, 116.576250, View Map)
As the end point of the Death Marches, Kundasang War Memorial is dedicated to the British and Australian soldiers who perished in the Sandakan POW camp and their Death Marches from Sandakan to Ranau. I think Kundasang War Memorial is the most beautiful war memorial park of Sabah. It looks like a castle on a knoll.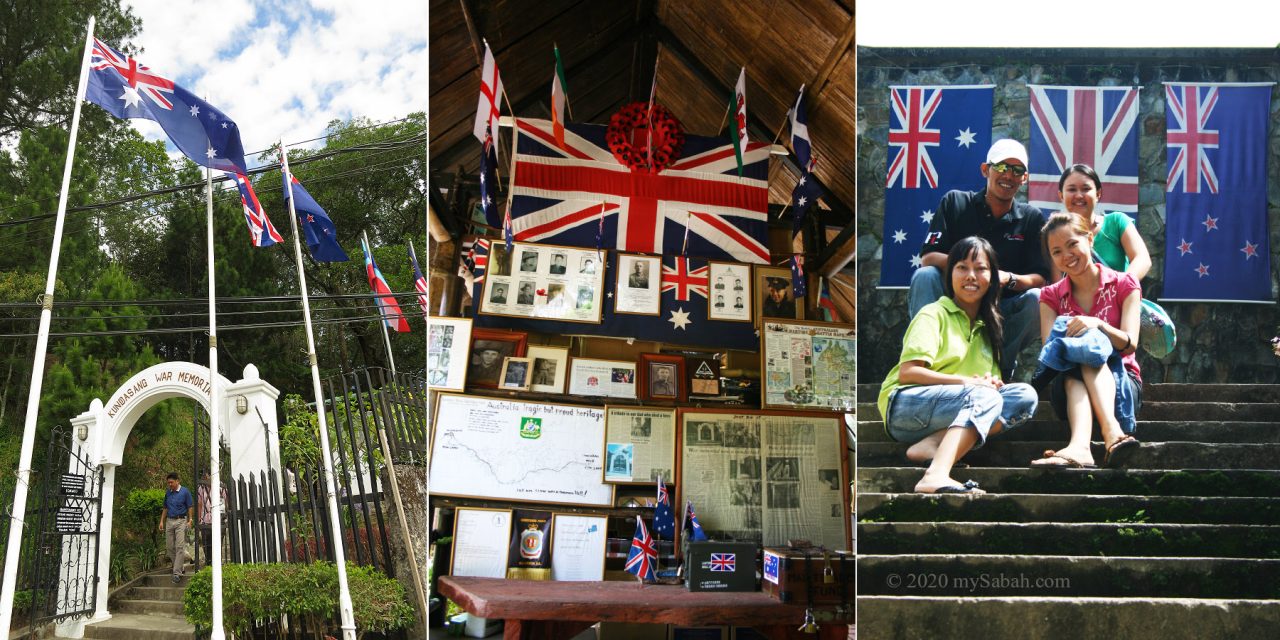 This 60-year-old memorial has four gardens, namely, The Australian Garden, English Rose Garden, Borneo Garden and the Contemplation Garden. There is information booth to learn more about the Death Marches and stories about it.

3. Last POW Camp Memorial
Location: Ranau (GPS: 5.908950, 116.649047, View Map)
The Last POW Camp Memorial is the final station of the Death Marches. In June 1945, 189 men who survived the Death Marches were kept in this camp near Liwagu Valley. However, they all died later, except four who escaped.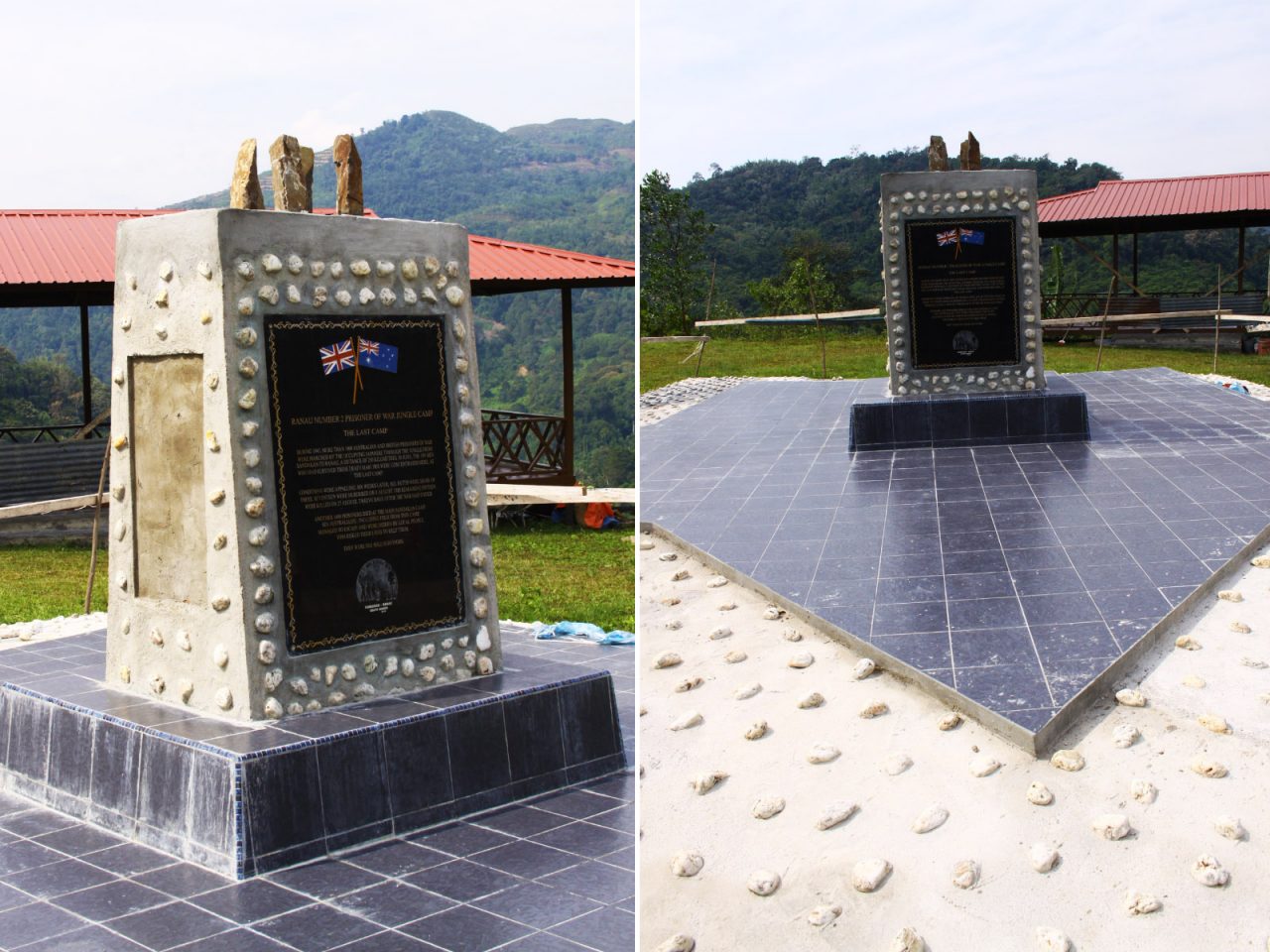 The monument is a stele of concrete on a large concrete surface that embedded with 1,047 river stones, each symbolise individual prisoner of war who died before or after they reached this site.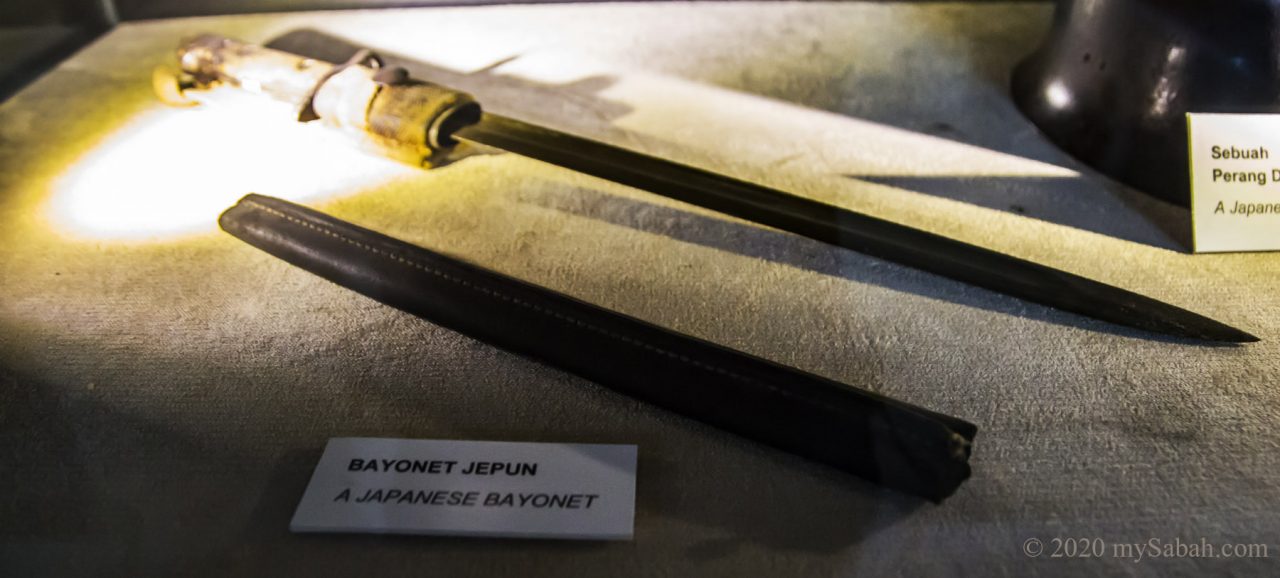 4. Keningau War Memorial
Location: Keningau (GPS: 5.350833, 116.167502, View Map)
Keningau War Memorial is also known as Cho Huan Lai Memorial, which is erected on the spot where five civilians who were executed on 6th July 1945. They were Mr. Cho Huan Lai (Chinese Name: 卓还来), Council for Republic of China; Dr. V. A. Stookes, a medical practitioner, Sandakan; Mr. C. D. Le Gros Clark, Chief Secretary, Government of Sarawak; Mr. W. H. Webber, a Civil Engineer from Manila; Mr. D. Macdonald, a Planter from Kuching, Sarawak.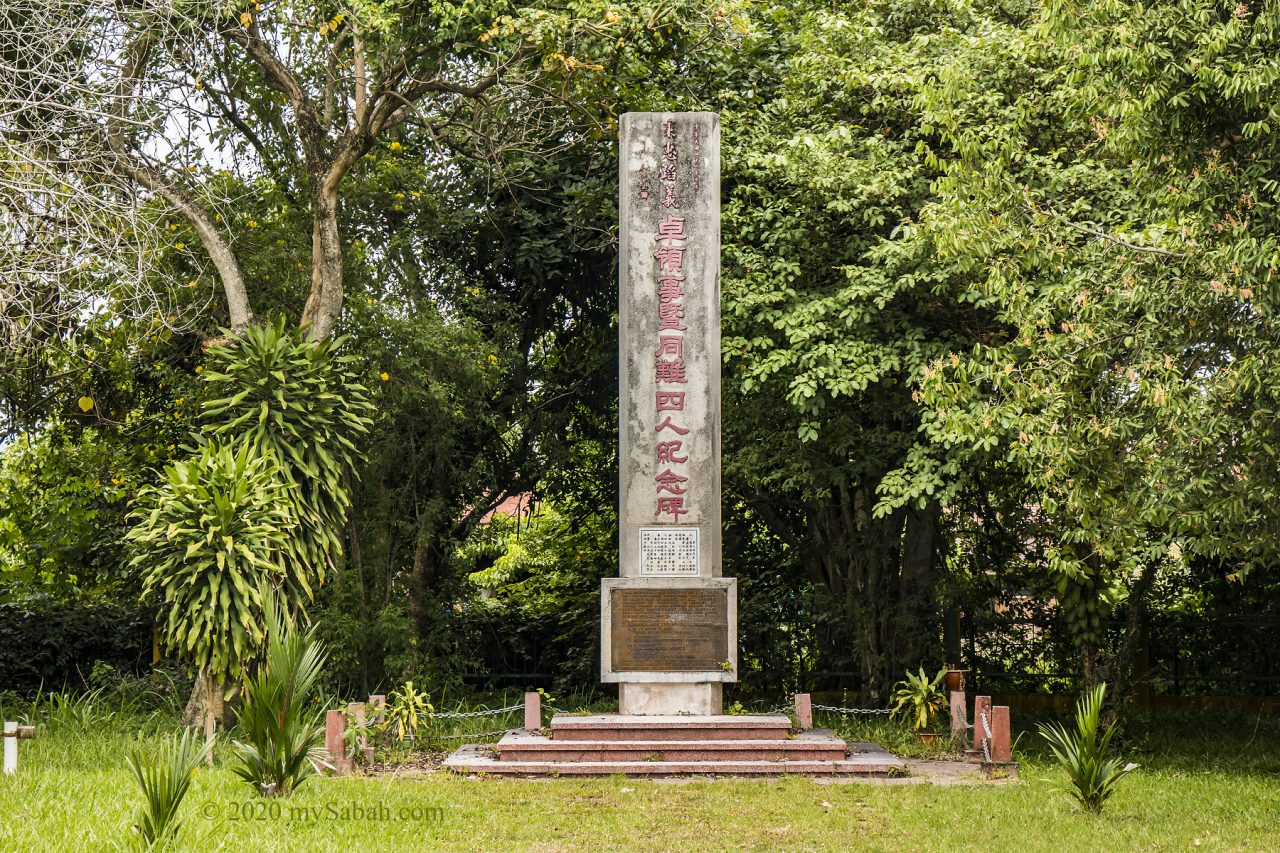 Cho is a respectable man admired by the local Chinese. Japanese kept trying to convince Cho to work with them, so they can control the Chinese community. Cho refused. He had the chance to flee when he was detained by the Japanese. However, he worried that the local Chinese would be punished for that, so he chose to stay and was executed with his British and American colleagues near the former airfield of Keningau. On 31 July every year the locals would gather here to pay tribute. You can read more about the story of Cho in this article (in Chinese).
5. Petagas War Memorial Garden
Location: Kota Kinabalu (GPS: 5.921095, 116.053994, View Map)
This is one of the most heroic uprising of Sabahans fought against Japanese occupying forces. Led by Albert Kwok, 324 members of the Kinabalu Guerillas, most were machete-armed men, launched Double Tenth Revolt on 9th October 1943. The surprise attack killed dozens of Japanese and the guerillas gained control of Jesselton (now Kota Kinabalu) and Tuaran for 2 days. However, they were rounded up by the Japanese reinforcement later and massacred on 21 January 1944.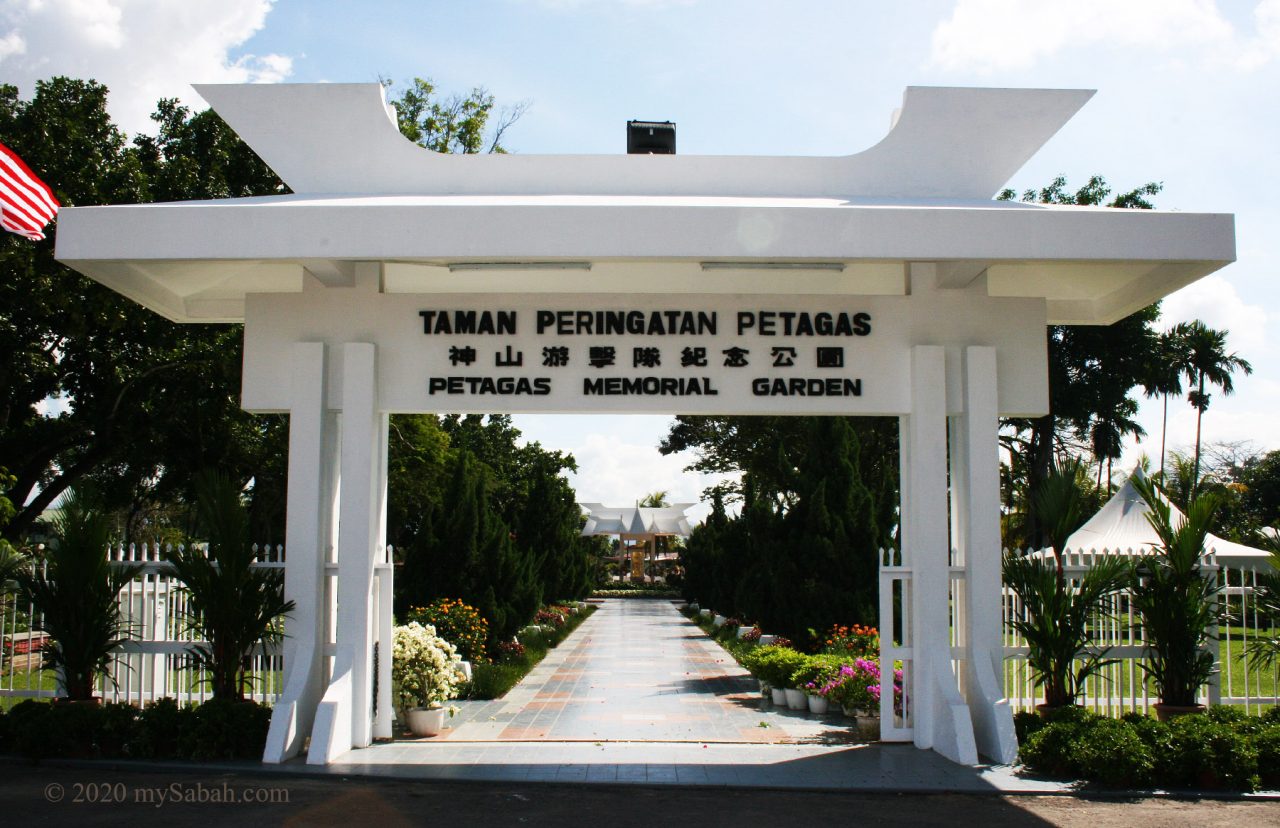 The park is now a nice memorial garden built exactly on the site where they were machine-gun down and beheaded. In the centre of the park is a 7-foot marble memorial stone bearing an epitaph for the Kinabalu Guerillas and a plaque listing the names of the fallen heroes, which consists of Chinese and various ethnic groups. Memorial services and wreath laying ceremony are carried out here on 21 January every year. Read more Double Tenth Revolt…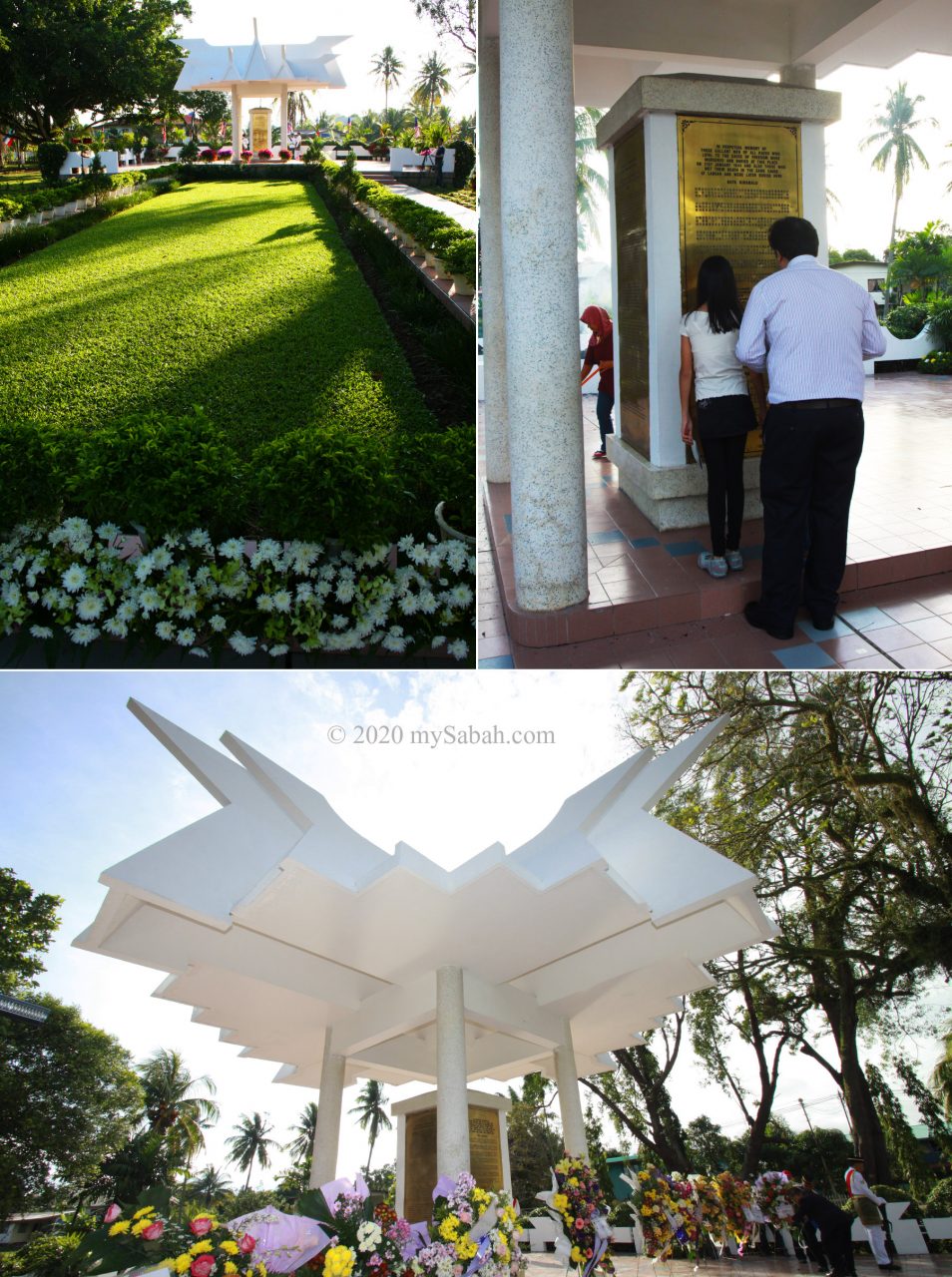 "We don't know them all but we owe them all."
6. Starcevich VC Memorial
Location: Beaufort (GPS: 5.343299, 115.746632, View Map)
In June 1945, Australian forces landed in Sabah and proceeded to attack Japanese troops in Beaufort town, a strategic base for liberation campaign. On 27 June, Australian 2/32nd and 2/43rd Battalion began their assault and faced strong resistance from Japanese on a forested slope.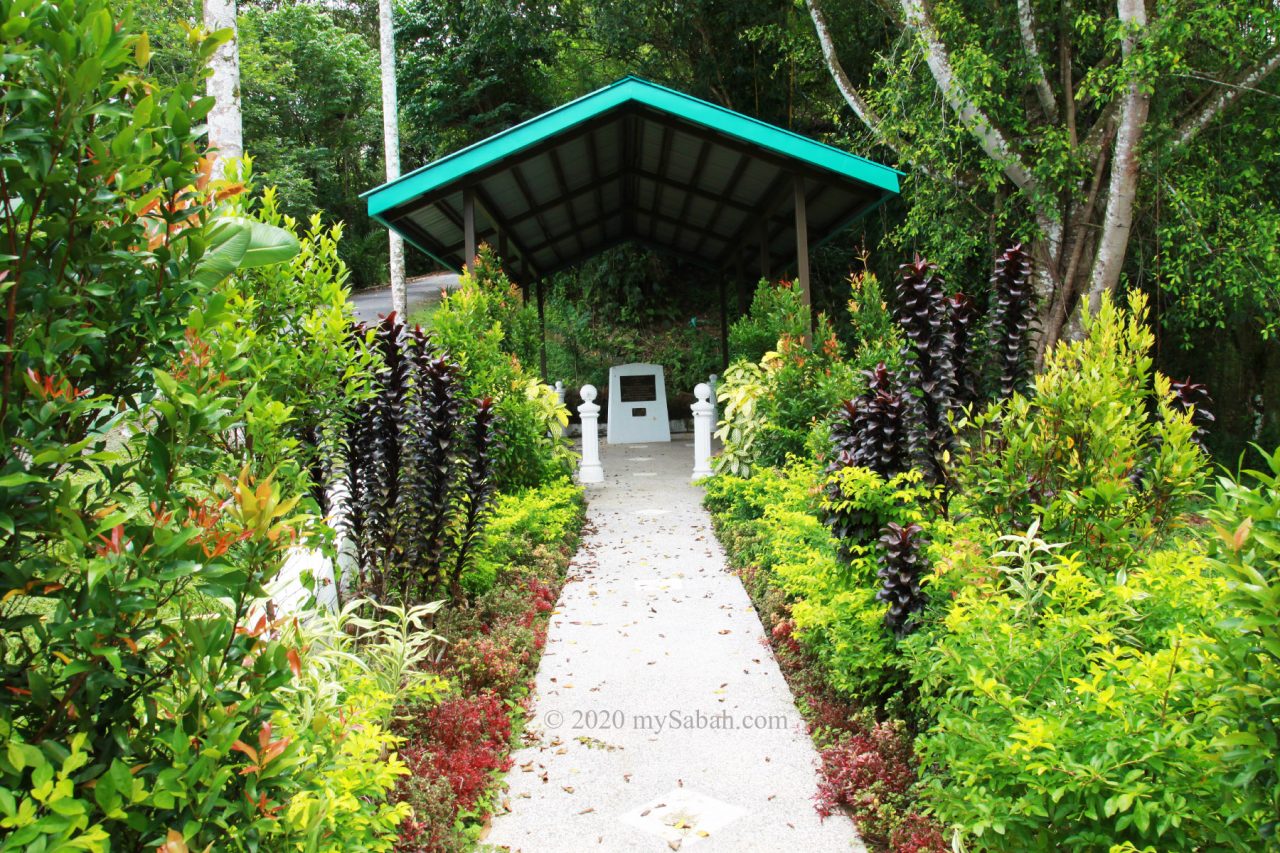 Seeing his comrades pinned down by heavy machine gun fire, Tom Starcevich charged forward and eliminated four enemy posts almost single-handedly. For his bravery, Starcevich was awarded the Victoria Cross medal (the highest honour in Australian military). The citizens of Beaufort erected a monument at the battle site as a gratitude to the Australian warriors. Read more about his story…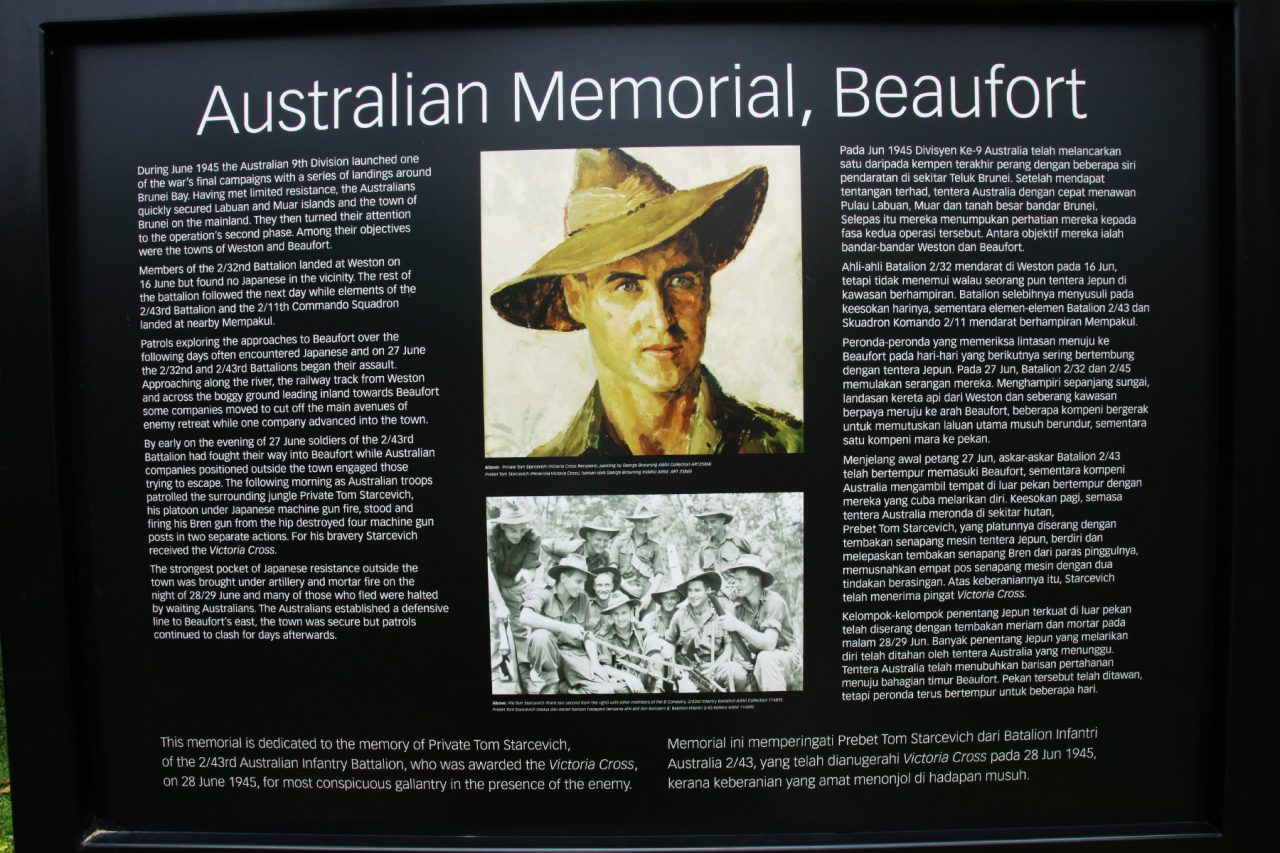 7. Sandakan Massacre Memorial
Location: Sandakan (GPS: 5.843336, 118.120428, View Map)
During WW2, Japanese viewed Malaysian Chinese as a thorn in the flesh because they funded China in war against Japanese invasion. After they took over Sabah, they kept an eye on Chinese and found out 30 Chinese meeting US soldiers after a raid on 27 May 1945.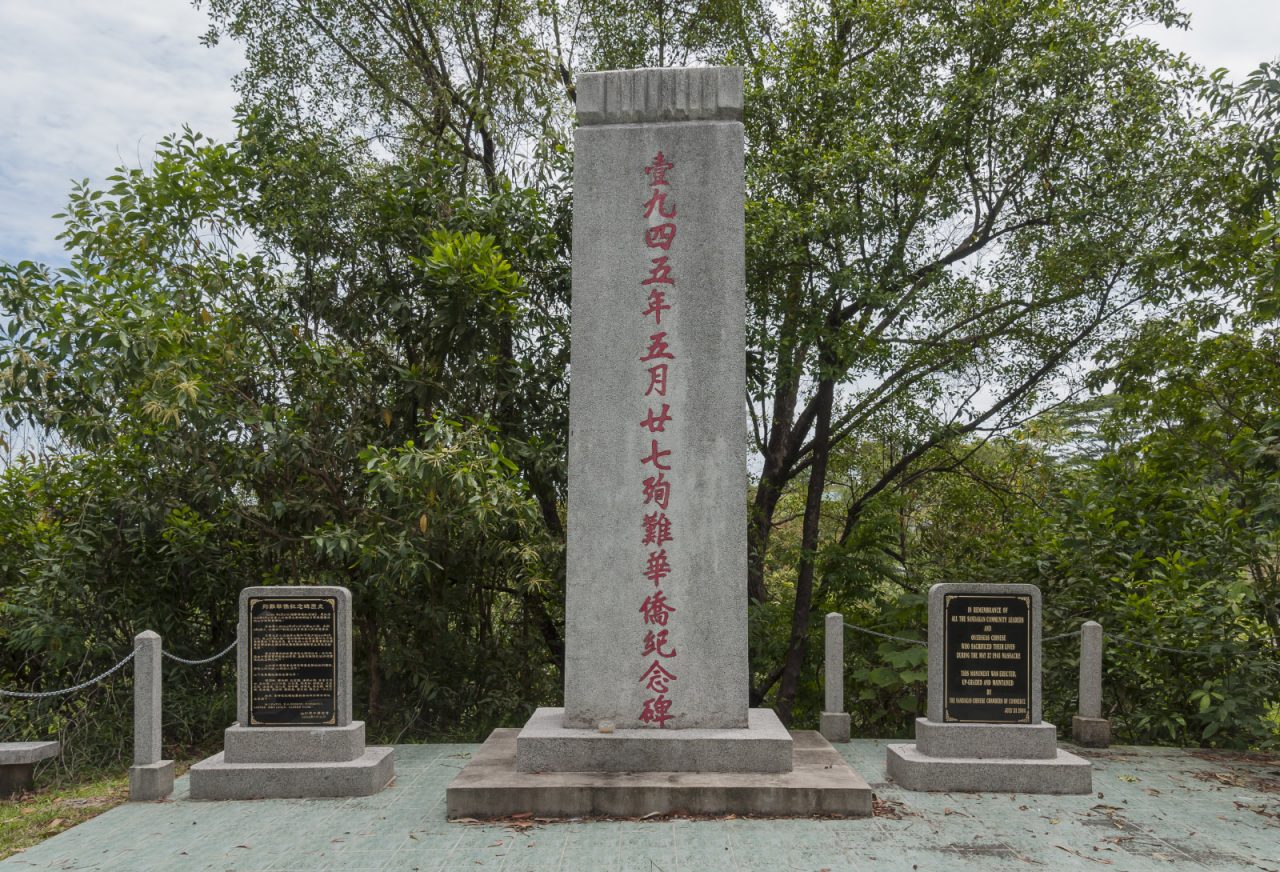 On the same day, they arrested and executed these Chinese, most of them are local elite of an underground movement. One of them is Khoo Kim Cheng, a Chinese community leader in Sandakan. The Sandakan Massacre Memorial was built on the spot where the massacre took place.
8. Sandakan War Monument
Location: Sandakan (GPS: 5.840774, 118.116106, View Map)
The Sandakan War Monument is established by the British and located in Sandakan town (near Sandakan Heritage Museum), to commemorate the citizens who lost their lives during the Second World War. Now it's one of the historical points of the Sandakan Heritage Trails.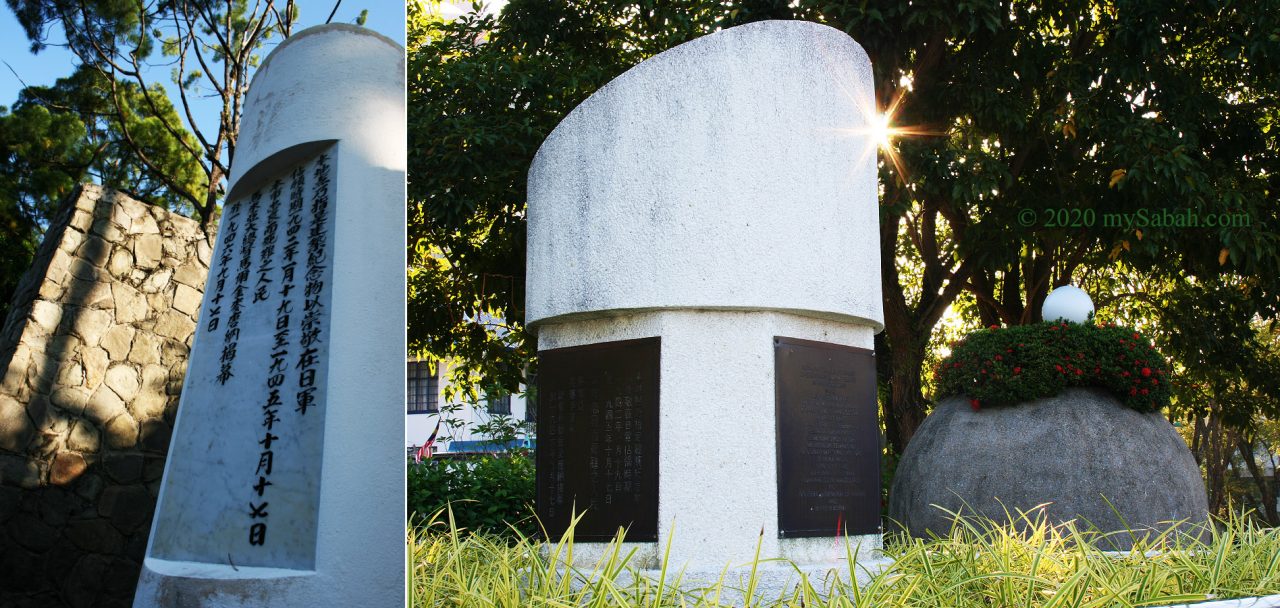 The English inscription on the monument reads: "This Site Is Set Apart For A Memorial In Honour Of Those Citizens Of This Town Who By Reason Of Their Loyalty Lost Their Lives During The Japanese Occupation 19th Jan. 1942 – 17th Oct. 1945".
9. Quailey's Hill Memorial
Location: Ranau (GPS: 5.945264, 116.780766, View Map)
Quailey's Hill Memorial is built for remembrance of an Australian POW, Allan Quailey who was killed by the Japanese guards on 16 February 1945 during the first Sandakan Death Marches because he was unable to walk anymore. He was one of the 2,428 Australian and British POW who died at Sandakan, Ranau or Death Marches.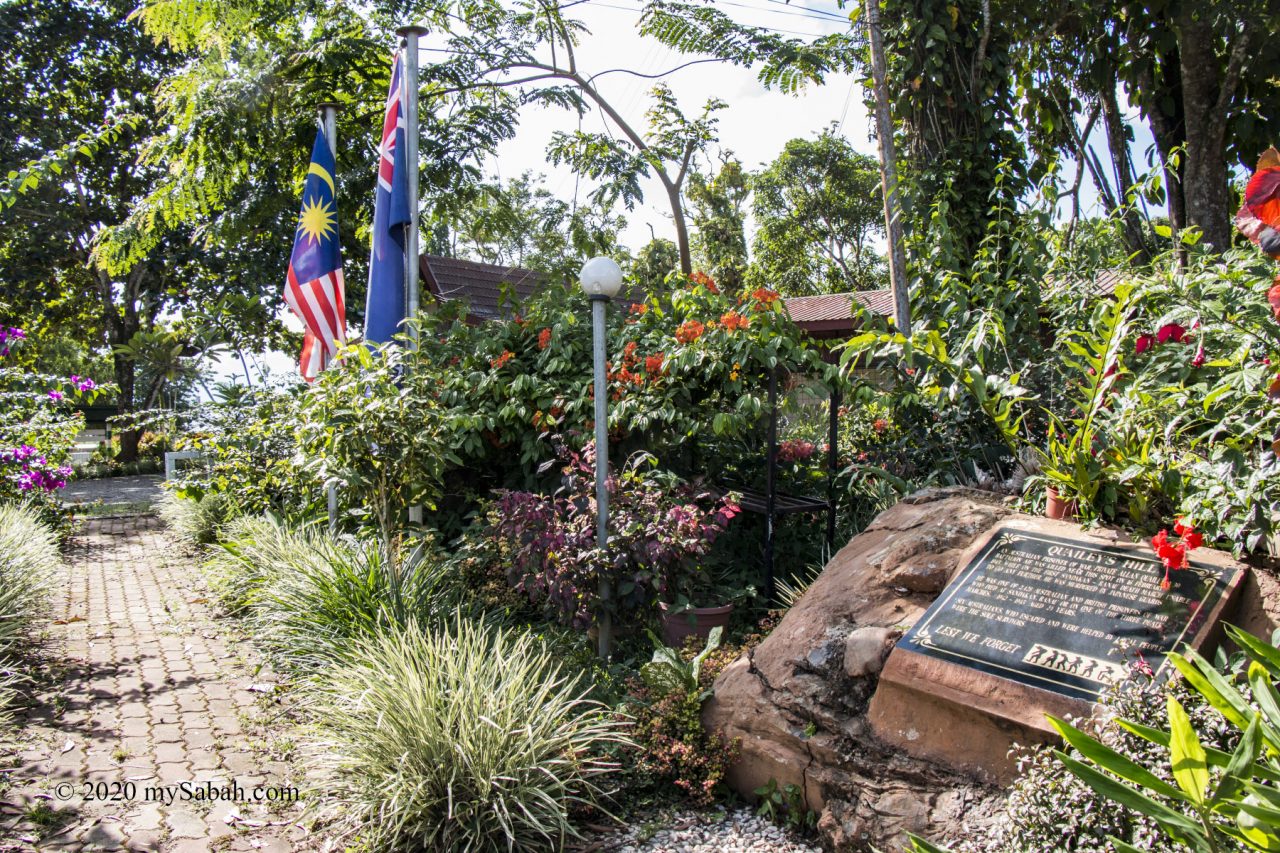 In 2005, Lynette Silver identified the spot inside Sabah Tea Garden, where he spent his last moment of life. On 14 July 2007, the monument was inaugurated there.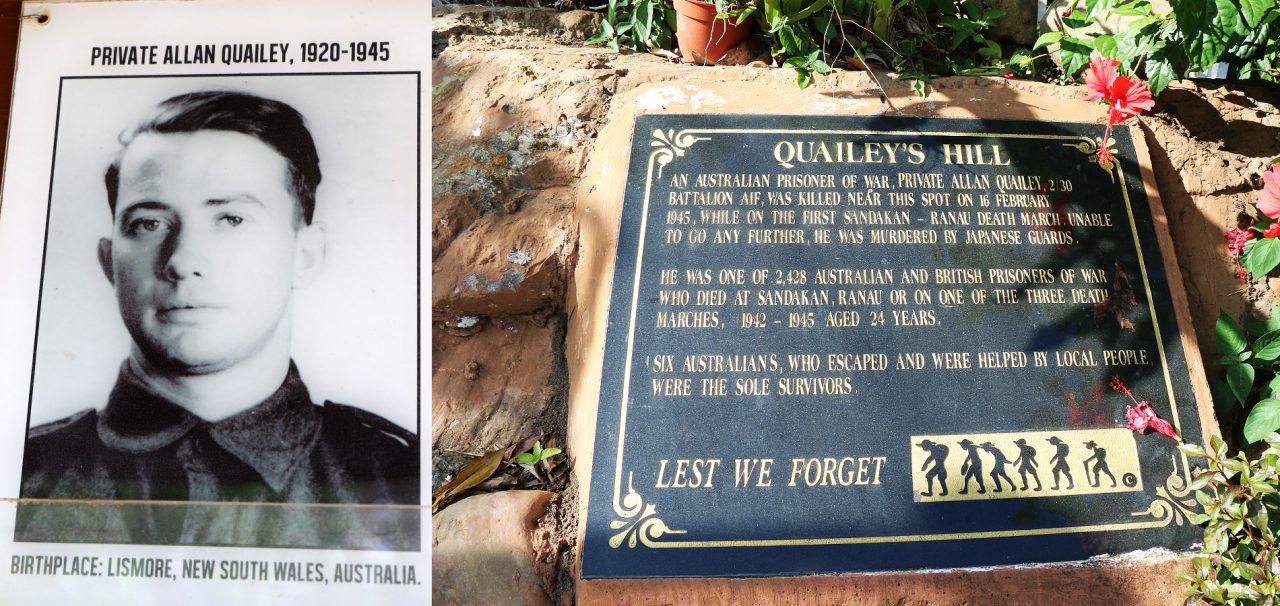 10. North Borneo War Monument
Location: Kota Kinabalu (GPS: 5.981641, 116.074699, View Map)
The North Borneo War Monument was erected on 8 May 1923 during British colony, making it the oldest war monument in Sabah. It was a memorial to mourn the fallen British soldiers during the First World War, then extended to include the Australian soldiers in World War II, and later also the Malaysian armed force sacrificed in the Indonesia–Malaysia confrontation between 1963 and 1966.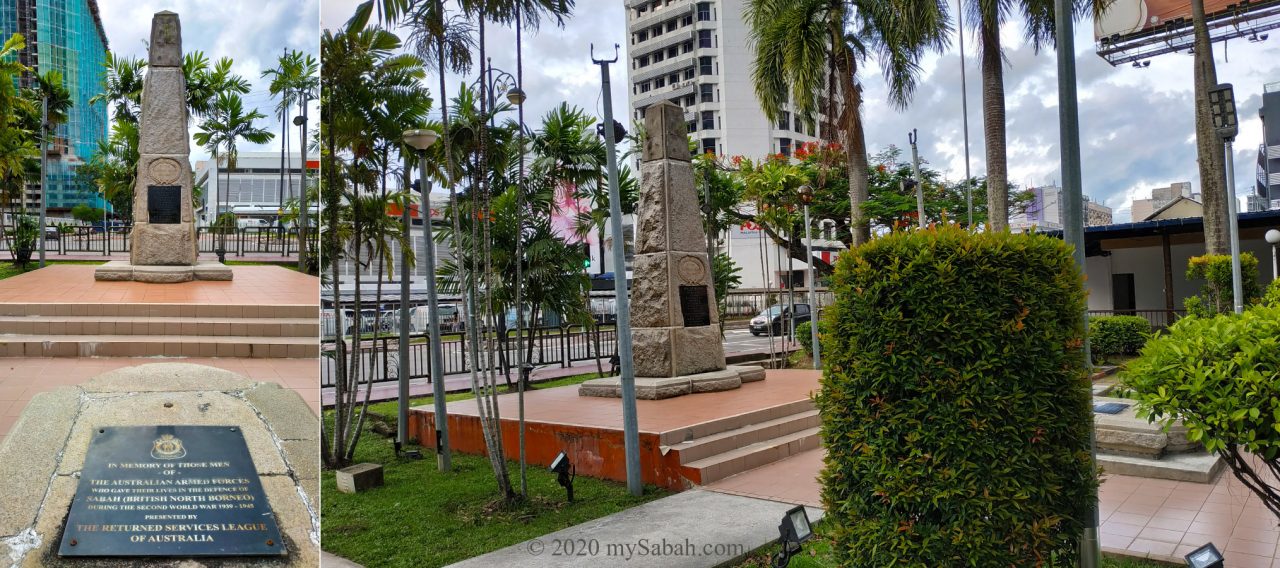 This 3-in-1 obelisk monument is located in city centre of Kota Kinabalu, in front of KK City Council (DBKK) building.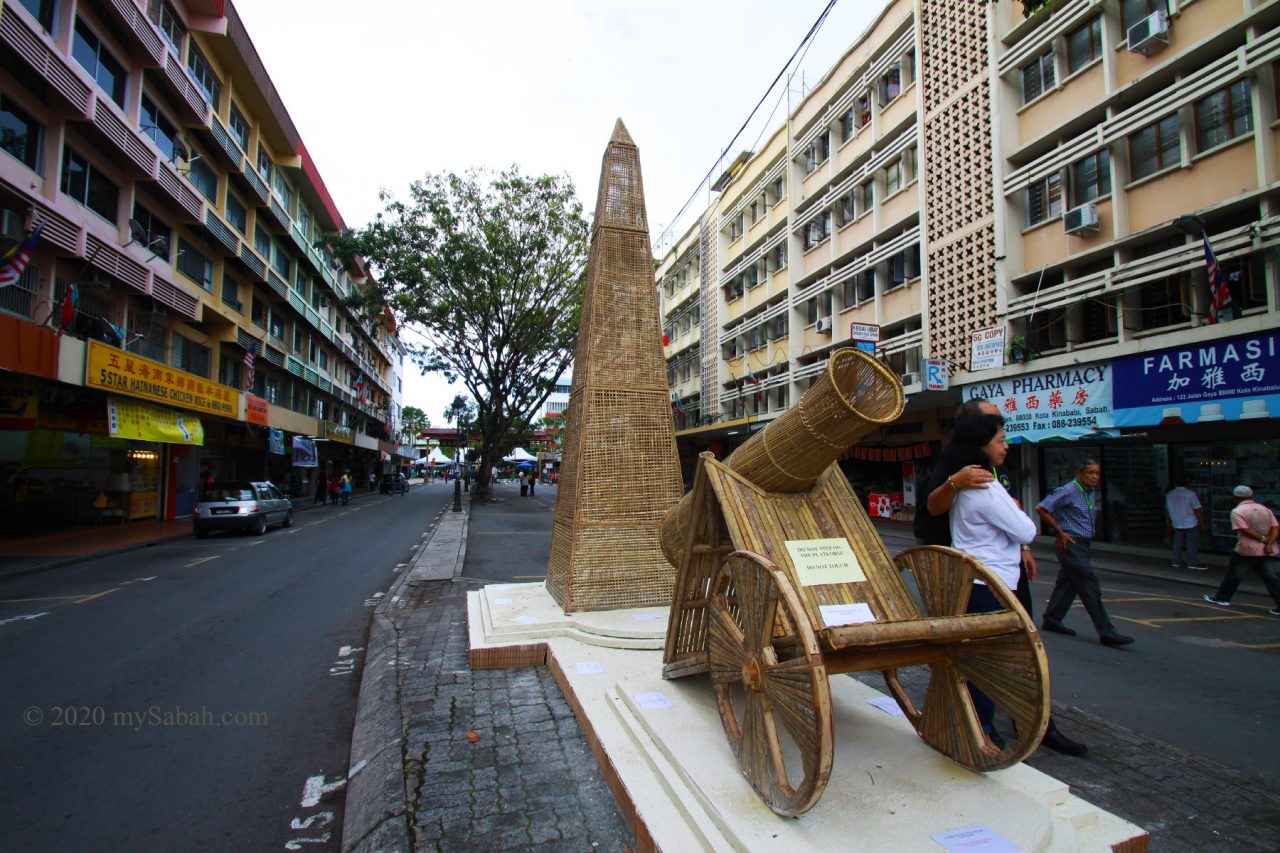 11. Gunner Cleary Memorial
Location: Ranau (GPS: 5.937199, 116.669373, View Map)
This memorial is built on the actual spot where an Australian POW, Albert Neil Cleary passed away. Neil Cleary ran away from Ranau camp and was recaptured. The Japanese guards chained him to a post and tortured him for 11 days without any food or water. He finally died at age 22 on 20 March 1945, after such a long, painful and slow suffering. Gunner Cleary Memorial is adjacent to the Sidang Injil Borneo (SIB) church near to Ranau town.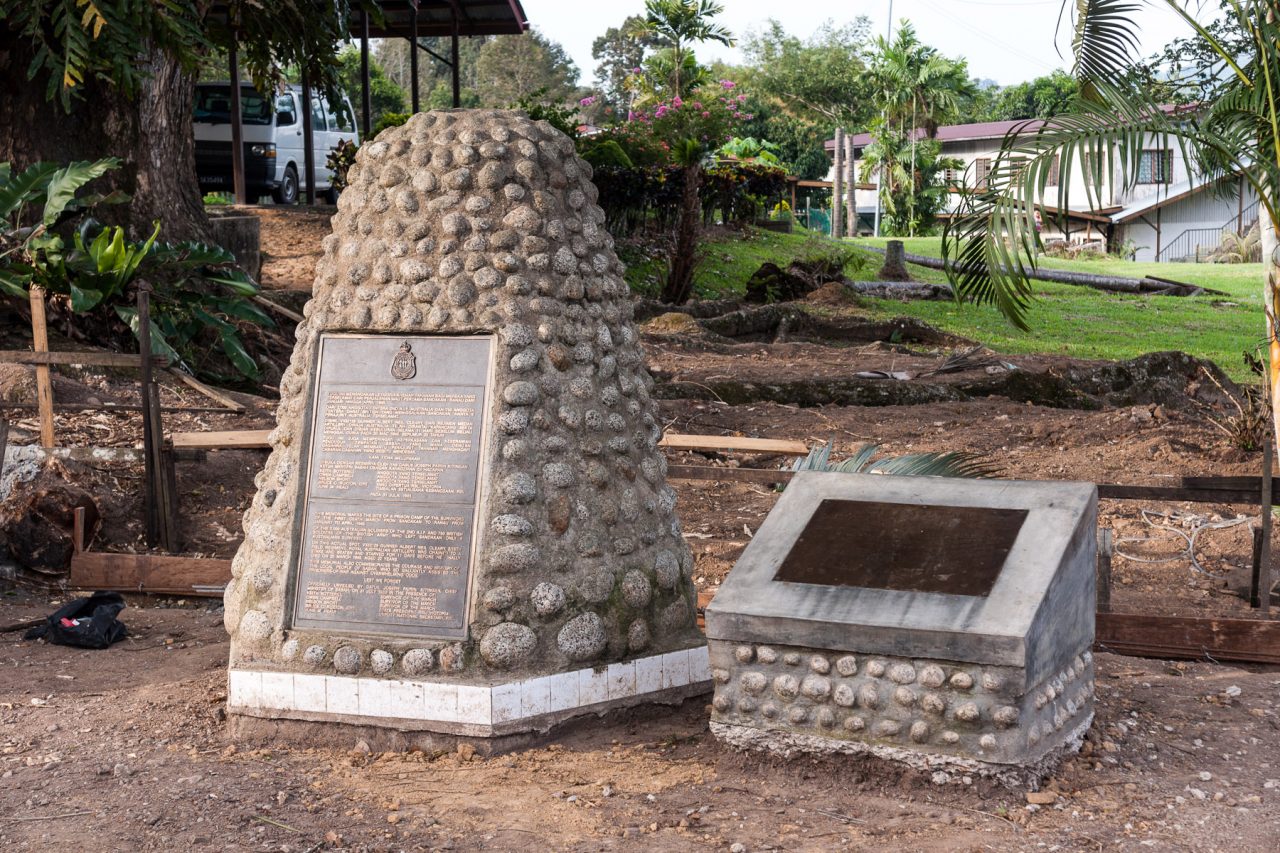 Everyone, even the enemies, has a family waiting for their return. Nobody wants war, only extremists glorify wars and love to create conflicts. The past generations had paid for our peace and freedom with their tears and lives. After a visit to a memorial, I would not complain about my life.
Photos taken in Sabah, Malaysia Borneo