For those of you who have been to Shangri-La Rasa Ria Hotel in Tuaran, you would not miss the beautiful view of Mengkabong River (estuary) from a bridge nearby. In fact, that bridge is the most photographed point for Mt. Kinabalu, almost every photographers got a sunrise photo of majestic Mt. Kinabalu from this angle.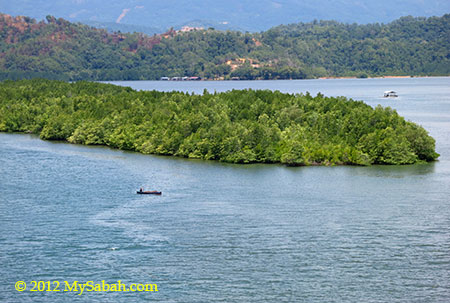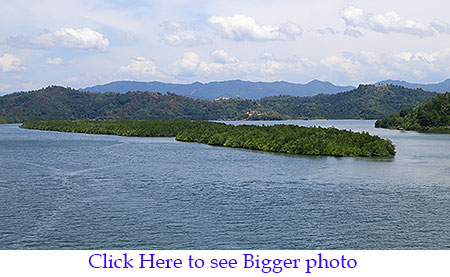 >> Click Here to see more photos of Kayaking
Anyway, personally I think that angle is "shot to death", so I am not interested in photographing it at all. However, every time I pass by, I do think, "wow, isn't that wonderful if I can do kayaking in that river?" And it did happen last month, but at a price of waking up at 4am!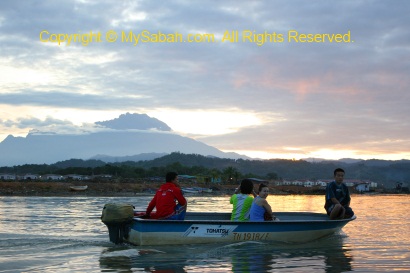 Transfer to Mengkabong water village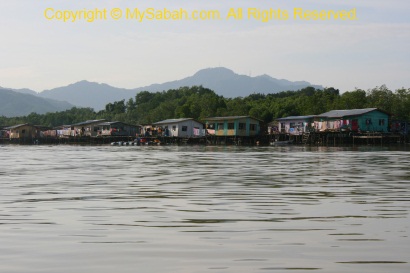 Mengkabong Village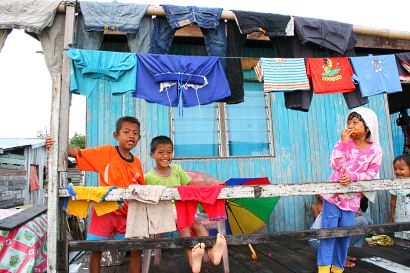 Friendly and shy children of Mengkabong
>> Click Here to see more photos of Kayaking
Our guide, a friendly and gentle Japanese named Yasushi (but we like to call him "Sushi"), runs a kayaking programme at Mengkabong River. He picked us up in Kota Kinabalu at 5am, then we headed to the kayaking site in Mengkabong Village, which is in Tuaran and about 35KM away from the city. We arrived the village around 6am and have a coffee break in the house of a villager, Uncle Usop. Mengkabong Village is a traditional fishing village and most of the population are Bajau people. Many tourists come here to see the stilt houses on the riverbank here.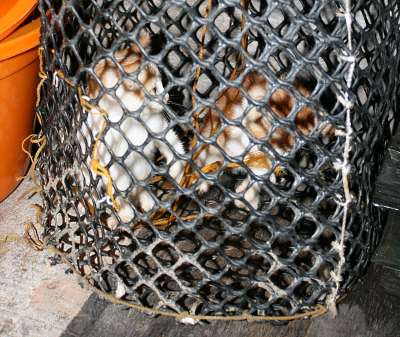 Above: cute devil of Mengkabong. The owner locks them up coz worry that they might fall into river.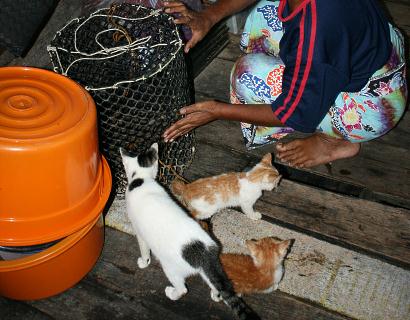 Release of cute devil..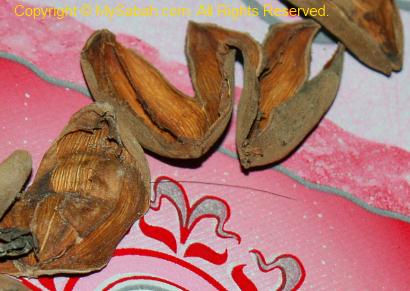 Dry langsat fruit skin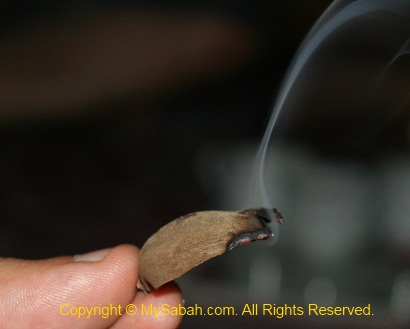 Above: locals burn langsat peel to remove odour and also believe it can calm the wind.
>> Click Here to see more photos of Kayaking
After having light refreshment, we started our kayaking on fiber glass kayak (2 seats). At first I worried that the kayak could capsize, so I only brought my old (spare) camera. Later I found that I worried too much. The Kayak is very stable and the water in estuary is calm. The activity is very simple and relaxing, we just paddle and follow the kayak of Sushi to explore the river and mangrove area.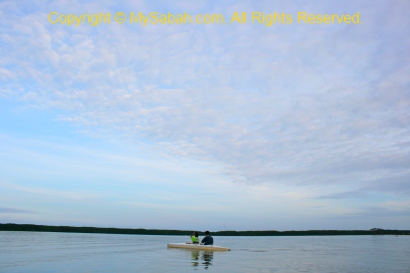 Above: see the dark line? It's the wide area of mangrove on the river.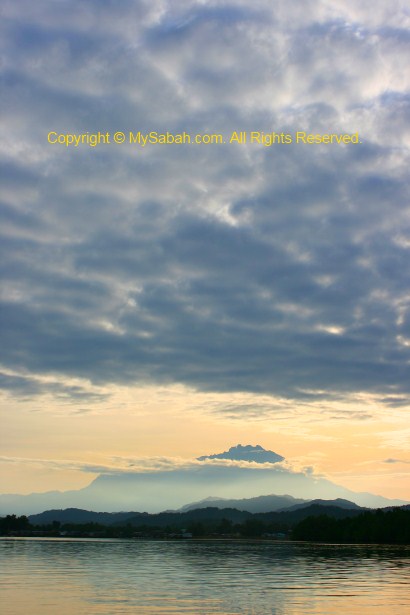 Sunrise view of Mt. Kinabalu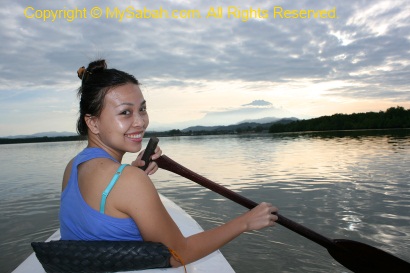 >> Click Here to see more photos of Kayaking
Luckily the weather was good and the air was refreshing. The sky is lighten up by sunrise and Mt. Kinabalu becomes a beautiful backdrop over the river. Now I know why we need to wake up so early, to catch the breath-taking view in magic moment. FYI, you also can try sunset kayaking, the view would be less impressive but you can see the fireflies in mangrove. You can do fishing on the kayak too. This estuary is a mix of freshwater and sea water, so you could get both types of fishes. We saw oyster farm in the river, an evident that the water is clean.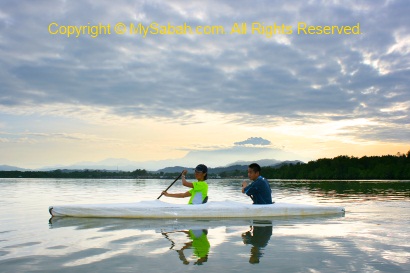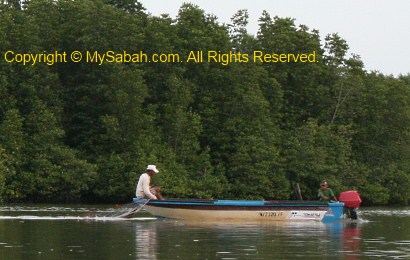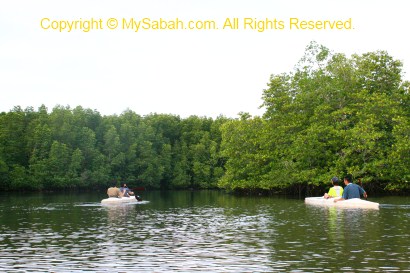 >> Click Here to see more photos of Kayaking
Besides sunrise view of Mt. Kinabalu, the network of densely-grown mangrove forest on river is also fun to explore. The mangrove forest is so vast, and soon we are surrounded by walls of mangrove trees, as if we are inside a maze. I saw a pair of beautiful Stork-billed kingfisher. Btw, you should apply sunblock before kayaking. There are some mosquitoes in the mangrove, so you better bring insect repellant too. Anyway, according to the villager, the mosquito in mangrove is not dangerous and doesn't carry terrible diseases such as malaria, though their bites are very itchy.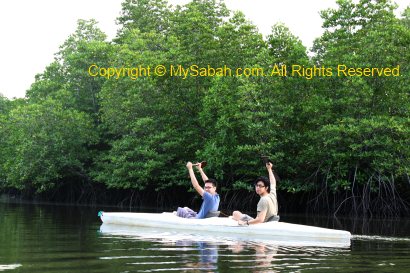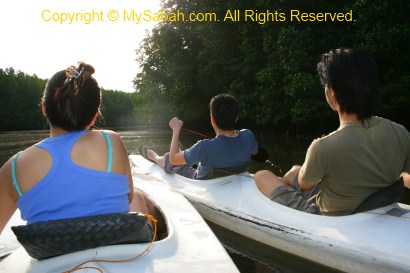 We stay close to chit chat.
>> Click Here to see more photos of Kayaking
The last part of the kayaking is to navigate through the very narrow passage inside the mangrove. It is challenging but quite fun, and require team work of front and rear kayakers. Finally the kayaking ended at 8am. Frankly I don't mind kayak until afternoon. Some of my friends are asking for such trip, if you are interested, you may contact Mr. Yasushi at 019-8109510 (Website (Japanese version): http://www.kayakdeborneo.sakura.ne.jp/). His clients are mainly Japanese but he welcomes local group to join too.
>> Click Here to see more photos of Kayaking
Photos taken in Tuaran, Sabah, Malaysia Borneo